26th June 2022
First solar-powered car will debut this year
A futuristic new solar-powered vehicle is now road-legal, with first delivery expected as early as November and will give drivers the freedom to exceed 1,000 km of range between charges.
Lightyear, a high-tech Dutch company developing a solar car, has premiered the finalised version of its long-awaited vehicle – the Lightyear 0. Following six years of R&D, design, engineering, prototyping, and testing, the new vehicle is scheduled to go into production this November. It will enable drivers to freely travel for up to seven months without ever plugging into a household outlet or charging station. With Lightyear 0, the company is offering a new future for motorists who want freedom of mobility combined with sustainable energy.
"Today is the day we've all been waiting for since us five co-founders sat in a kitchen sketching out our dream of building the most sustainable car on the planet," said Lightyear's Co-Founder and CEO, Lex Hoefsloot. "In 2016, we only had an idea; three years later, we had a prototype. Now, after six years of testing, iterating, redesigning, and countless obstacles, Lightyear 0 is proof that the impossible is actually possible."
Lightyear 0 features five square metres of curved solar arrays, allowing it to charge itself while either moving or parked outdoors. This offers up to 70 km (43 mi) of range per day in optimal conditions, on top of its estimated 625 km (388 mi) WLTP range. Thanks to a solar yield of up to 11,000 km (6,835 mi) per year, drivers using the car for their daily commute (defined as 35 km) can drive for months in the summer period before needing to plug into a charger. For climates such as the Netherlands, two months are possible, while in Spain or Portugal, as much as seven months can be achieved.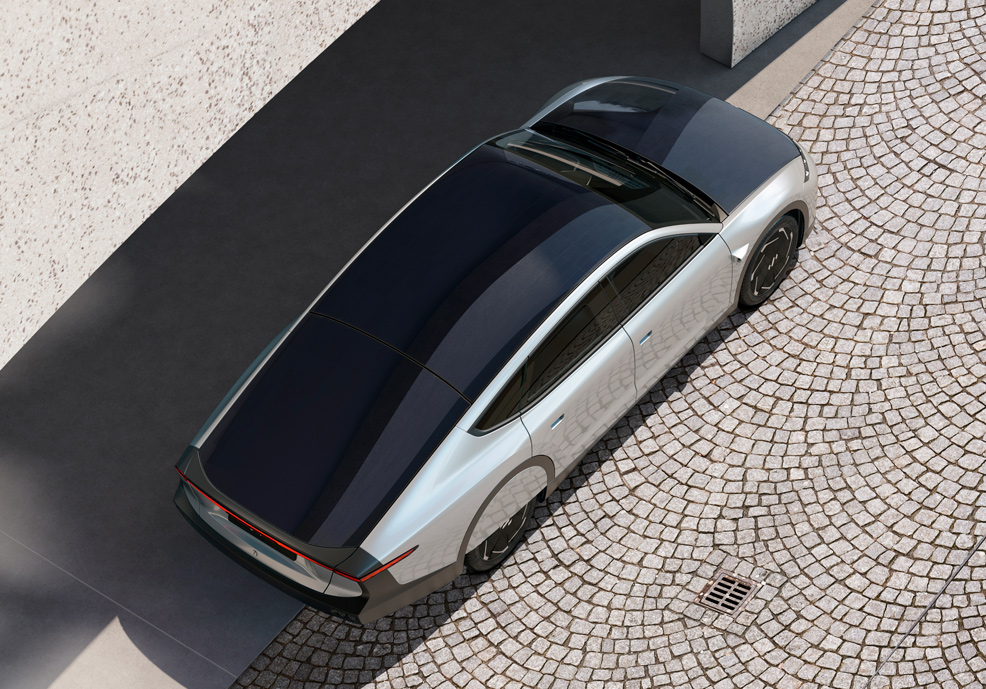 Lightyear 0 is designed to rethink the architecture of electric cars. Its four in-wheel motors form the most efficient electric drivetrain available today. With an energy use of 10.5 kWh per 100 km (at 110km/h), it ranks as the most efficient electric vehicle and its record-breaking drag coefficient of less than 0.19 makes it the most aerodynamic family car to date.
Next to aerodynamics, the car's mass also helps its efficiency. Lightyear 0 measures five metres in length, yet its total weight is only 1,575 kg. The strength of the holistic design is evident in real-life settings – at highway speeds (110 km/h, or 68 mph), Lightyear 0 can drive for 560 km (348 mi) on end.
"It keeps on going," said lead engineer Roel Grooten, in an interview with The Guardian. "What you feel is nothing holding you back. You feel the aerodynamics, you feel the low-rolling resistance of the tyres, of the bearings and the motor."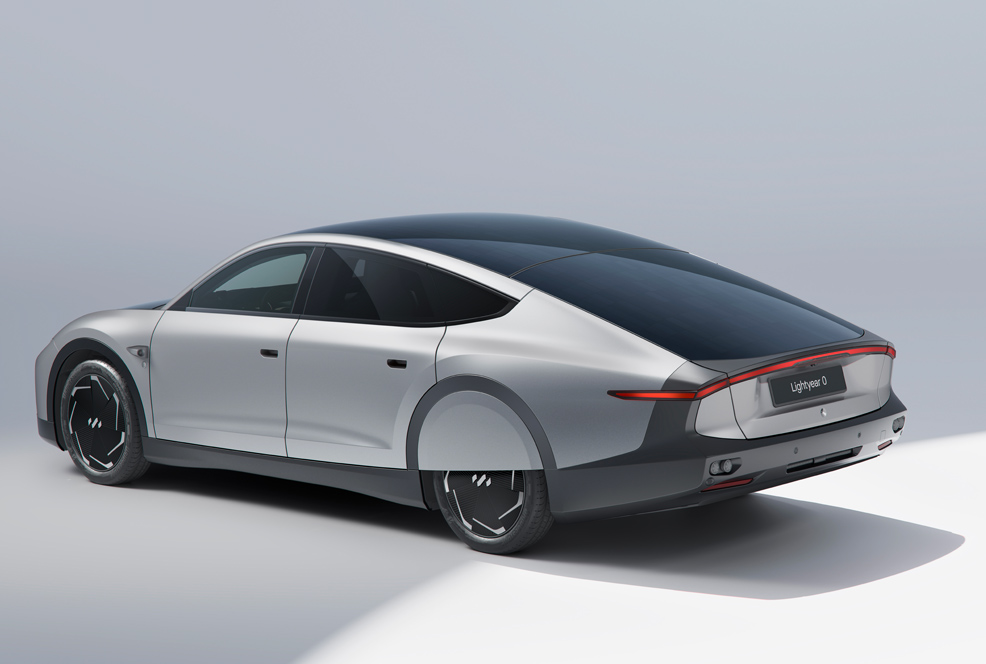 According to the company, since its inception, every design detail has been considered with minimalism, sustainability, and comfort in mind to eliminate strain on the planet and the driver.
A sleek dashboard has a 26 cm (10.1") touchscreen infotainment system that permits cloud-based updates, while the interior is composed entirely of vegan and naturally-sourced materials, such as ecological microfibre suede seats and rattan palm detailing.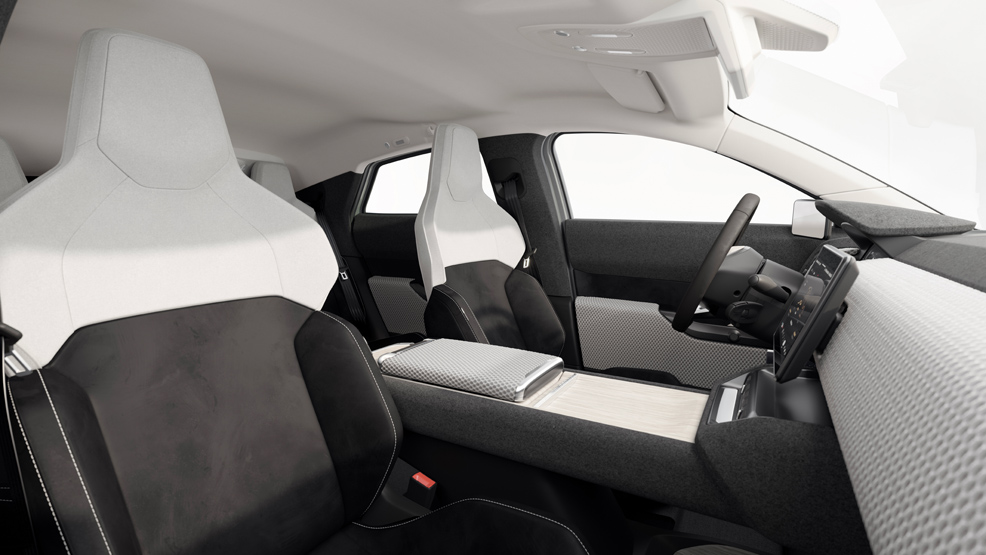 Production of the Lightyear 0 is set to begin this autumn and the first car will be delivered as early as November. As its developers prepare to put the world's first solar cars on the roads, the company has opted to officially introduce its car with a name that better resonates with its journey. Just as they started from the beginning of the roadmap for their technology, a blank slate from nothing, Lightyear 0 will be the car that paves the way for a new era of clean mobility.
A maximum of 946 units of this car will be produced at a cost of €250,000 ($264,000) to effectively introduce this new class of electric vehicle to the market and move forward with Lightyear's next model. The latter, called the Lightyear 2, is being designed for high volume production at a much more accessible price point of €30,000 ($31,700), with production set for late 2024/early 2025.
Comments »
---
If you enjoyed this article, please consider sharing it: