4th September 2022
Largest ever offshore wind farm is fully operational
This week, the massive Hornsea Two project became fully operational off the coast of the UK.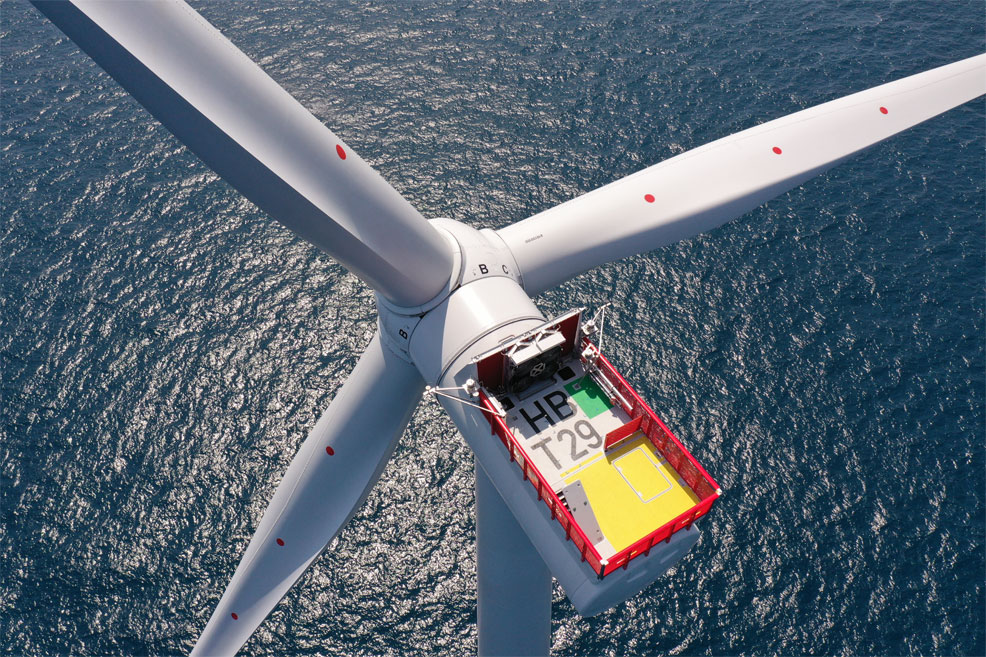 At nearly 1.4 gigawatts (GW), Hornsea Two overtakes the neighbouring Hornsea One as the world's biggest offshore wind farm. The project comprises 165 Siemens Gamesa 8MW turbines, each the height of a skyscraper, which deliver 20% more annual output than those used at Hornsea One. Located 89 km (55 mi) off the Yorkshire Coast, they will power over 1.4 million UK homes with low-cost, clean, and secure renewable energy.
Each wind turbine blade is 81 metres long and the blade tip reaches more than 200 metres above sea level. One revolution of a wind turbine blade can power an average UK home for 24 hours. Subsea export cables take the power generated from Hornsea 2 to the shore at Horseshoe Point in Lincolnshire.
Hornsea One and Two combined will power 2.5 million homes. They are part of the Hornsea zone, an area of the North Sea covering more than 2,000 km2 and set to also include the 2.8 GW Hornsea Three and potentially even a Hornsea Four by 2027. While the capacity of Hornsea Four is currently unknown (due to the ever-increasing size of available wind turbines), all four projects will make a significant contribution to the UK Government's ambition of having 50 GW offshore wind in operation by 2030.
Ørsted, the Danish multinational that is building each project, now has 13 offshore wind farms operational in the UK, providing 6.2 GW of renewable electricity for the country – enough to power more than 7 million homes. A further 2.2 GW is under construction and the company has another 11 GW of awarded capacity under development, including Hornsea Three. Just over a year ago, Ørsted announced its 1,000th turbine installation in UK waters and also welcomed a new state-of-the-art service operations vessel to its fleet, the Wind of Hope.
"The UK is truly a world leader in offshore wind and the completion of Hornsea Two is a tremendous milestone for the offshore wind industry – not just in the UK but globally," said Duncan Clark, Head of Region UK at Ørsted.
"Current global events highlight more than ever the importance of landmark renewable energy projects like Hornsea Two, helping the UK increase the security and resilience of its energy supply and drive down costs for consumers by reducing dependence on expensive fossil fuels.
"Not only will Hornsea Two provide low cost, clean energy for millions of homes in the UK, it has also delivered thousands of high-quality jobs and billions of pounds of investment in the UK's offshore wind supply chain. We look forward to working with government and industry colleagues to continue to accelerate the deployment of offshore wind for the benefit of homes and businesses across the country."
---
• Follow us on Twitter
• Follow us on Facebook
• Subscribe to us on YouTube
Comments »