4th October 2022
Largest combined wind/solar/battery plant opens in U.S.
Wheatridge Renewable Energy Facility, the first large-scale project in North America to co-locate wind, solar, and battery storage, has become operational in Oregon.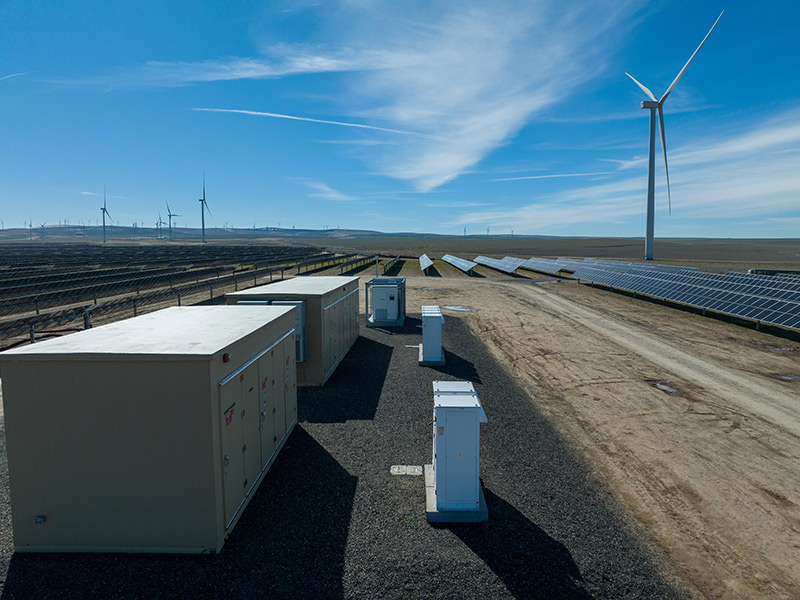 Portland General Electric (PGE), a public utility, has partnered with NextEra Energy Resources to create a 350 megawatt (MW) clean energy project that combines wind, solar, and battery storage. Wheatridge Renewable Energy Facility, located at the northern edge of Oregon, has the capacity to serve 100,000 homes.
Although great progress is being made with scaling up renewables, intermittency remains a significant issue – since wind does not always blow, and the Sun does not always shine. Falling costs and improvements in technology mean that batteries are increasingly a realistic option for utilities, but we are still a long way from such systems being able to fully handle the demands of national electrical grids.
The newly operational Wheatfield facility is among the most notable advances in battery storage to date in the U.S. It consists of 120 turbines (a mix of 2.3 MW and 2.5 MW machines) generating 300 MW, alongside a 50 MW photovoltaic solar array, for a total of 350 MW. An accompanying battery storage facility is charged using power from the grid and provides 30 MW of continuous power for four hours, i.e. 120 megawatt-hours (MWh). When combined, this is enough to supply nearly 60% of the power generated by the Boardman Coal Plant, which became the last coal-fired plant in Oregon before its demolition a few weeks ago.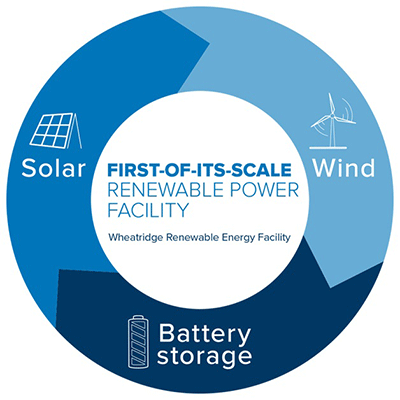 Wheatridge will play a key role in helping to meet Oregon's target for reducing greenhouse gas emissions. Under a climate law passed in 2021 – one of the most ambitious in the nation – utility companies must cut carbon emissions to retail customers by at least 80% by 2030, 90% by 2035, and 100% by 2040.
"It's because of projects like Wheatridge that Oregon is leading the way in growing our clean energy economy. Under my administration, Oregon has taken a comprehensive approach to cutting our carbon emissions and moving Oregon towards 100% clean energy on one of the most ambitious timelines in the nation," said Governor Kate Brown. "I firmly believe we can move to 100% clean electricity sources and create good-paying jobs in rural Oregon at the same time."
A project on the scale of Wheatfield is "getting closer and closer to having something with a very stable output profile that we traditionally think of being what's capable with a fuel-based generation power plant," said Jason Burwen, Vice President of Energy Storage at the American Clean Power Association.
"If the solar is chugging along and cloud cover comes over, the battery can kick in and make sure that the output is uninterrupted," he added "As the Sun goes down and wind comes online, the battery can make sure that that's very smooth so that it doesn't, to the grid operator, look like anything unusual."
"By supporting innovative projects like Wheatridge, we continue to accelerate renewable energy solutions for our state, communities and customers, while maintaining reliability and affordability," said Maria Pope, President and CEO of Portland General Electric. "This partnership marks a technological milestone in decarbonising our system and making clean energy accessible to all Oregonians."
---
• Follow us on Twitter
• Follow us on Facebook
• Subscribe to us on YouTube
Comments »