20th January 2023
CO2 removal needs 1,300x increase by 2050
The first comprehensive, global assessment of carbon dioxide removal (CDR) – including both current developments and projected future trends – has been published this week by Oxford University.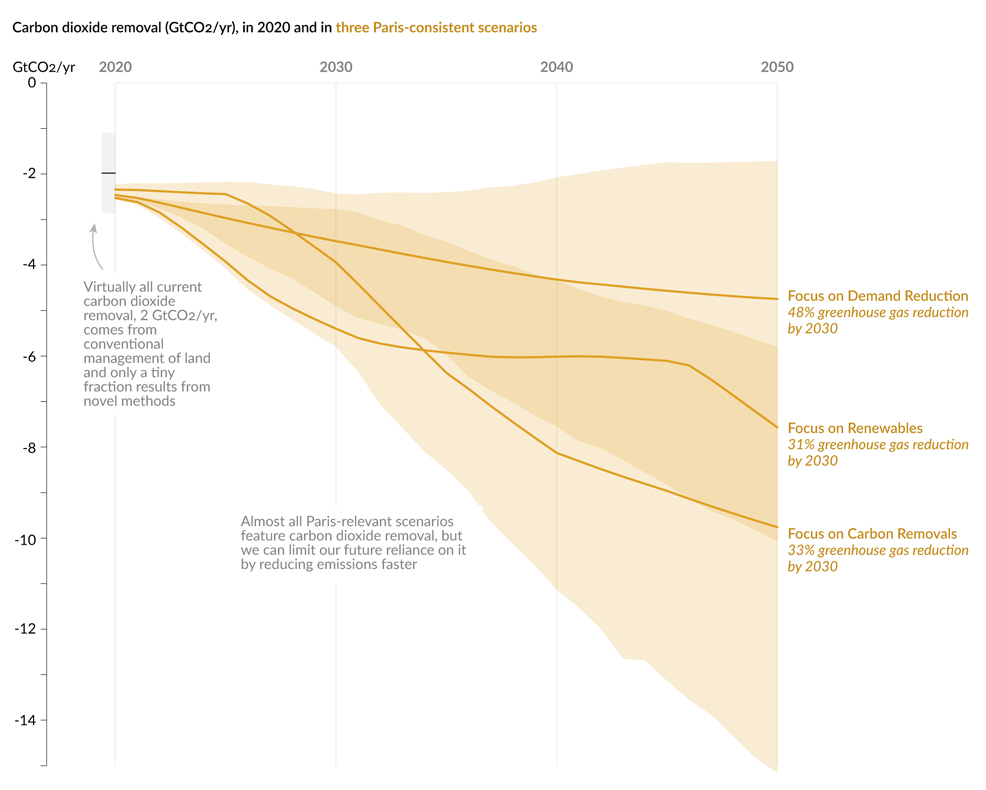 The detailed analysis finds that natural methods (such as tree and soil restoration) will need to double, while new technologies such as direct air capture need a 1,300-fold capacity increase by 2050.
Renewable energy has made excellent progress in recent years – particularly solar and wind power, often exceeding the forecasts of industry analysts. However, even with rapid growth in these and other clean technologies, the world is likely to miss current targets for emission reductions. To ensure a sustainable future, additional long-term strategies are needed. This includes a dramatic scaling up of carbon capture and storage.
The first "State of Carbon Dioxide Removal" report is now publicly available. Oxford University convened more than 20 experts in the field of CDR to produce a complete picture of the latest progress, along with potential scenarios for the 21st century, depending on which methods are used and the level of commitment shown by businesses and governments.
According to the report, almost all current CDR comes from conventional removal methods on land (2 GtCO2 per year), primarily via the planting of trees and management of soils. Countries will need to maintain and expand this, approximately doubling in 1.5°C pathways and increasing by around 50% in 2°C pathways by 2050 compared to 2020 levels. This will be a huge challenge, requiring dedicated policies and management, say the authors.
In addition to those conventional methods, virtually all emission pathways also require new technologies – such as bioenergy with carbon capture and storage (BECCS), biochar, enhanced rock weathering, and direct air capture (DAC). But at present, these make up only a tiny fraction of CDR (0.002 GtCO2 per year). Closing the CDR gap requires massive growth of these new CDR technologies, by a factor of 1,300 on average by 2050.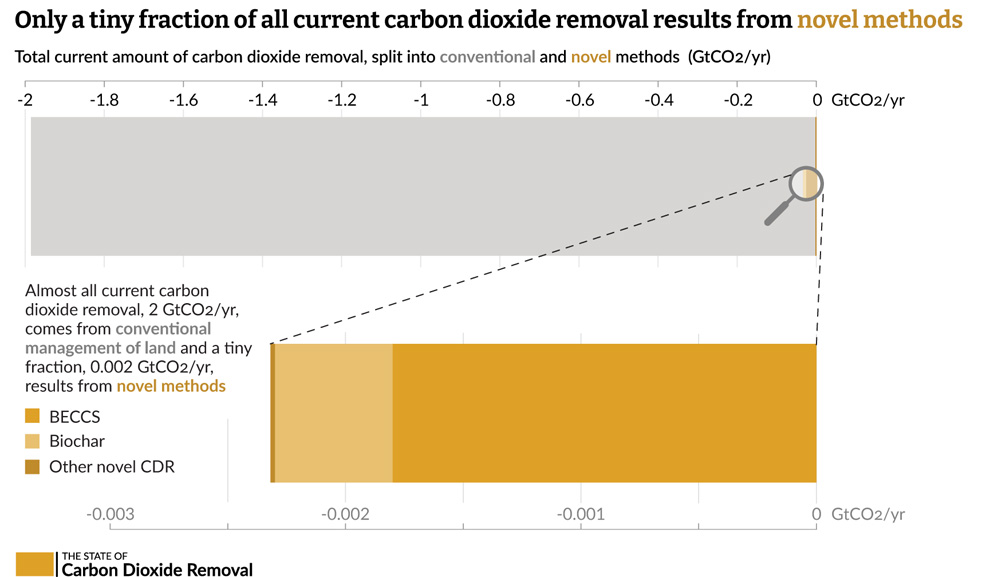 "To limit warming to 2°C or lower, we need to accelerate emissions reductions. But the findings of this report are clear: we also need to increase carbon removal, too, by restoring and enhancing ecosystems and rapidly scaling up new CDR methods," explains Dr Steve Smith of the University of Oxford's Smith School of Enterprise and Environment. "Many new methods are emerging with potential. Rather than focusing on one or two options, we should be encouraging a portfolio – so that we get to net zero quickly, without over-relying on any one method."
"Innovation in CDR has expanded dramatically in the past two years, as measured by investment in capacity, publicly funded research, and patents," explains report co-author Professor Gregory Nemet. "But given the orders of magnitude the CDR industry needs to grow by mid-century to limit warming, there is an urgent need for comprehensive policy support to spur growth."
Two of the companies now developing CDR technology are Climeworks and Brilliant Planet. The former has developed a DAC facility with 4,000 tons of CO2 removal capacity per year, which stores the gas permanently through a natural mineralisation process. The latter is developing open-air, algae pond-based systems on coastal desert land, which could replicate the seasonal ocean blooms that are sometimes visible from space.
These projects are in the pilot stages, and provide only a miniscule reduction in CO2 compared to the annual output of humanity. However, Climeworks and Brilliant Planet both state that their concepts have enormous potential for scaling up. As shown in the figure below, Oxford University's report includes combined totals for various companies investing in DACCS, Biochar, and BECCS, showing their built capacities (squares) and future expansion plans (circles).
"Shaded areas for each method show how the last year of company capacity announcements could grow to meet CDR socio-technical potential by mid-century," the report authors write. "The low and high data points in 2050 represent the range of maximum potential removal, which is dependent on biophysical limits, economic costs, and side effects of deployment."
Since these graphs are on a logarithmic scale, exponential progress can be expected in the decades ahead, if all goes according to plan. DACCS and BECCS each have potential for up to 5 GtCO2 removal per year by 2050, while biochar reaches 2 GtCO2 per year in a best-case scenario. This total of 12 GtCO2 would make a substantial dent in humanity's annual emissions, which are currently at 37 GtCO2 per year. Combined with emission reductions, and natural methods such as forest restoration, it could finally begin reversing the centuries-long build-up of CO2, which is today approaching a cumulative total of nearly 2,000 GtCO2 since the Industrial Revolution.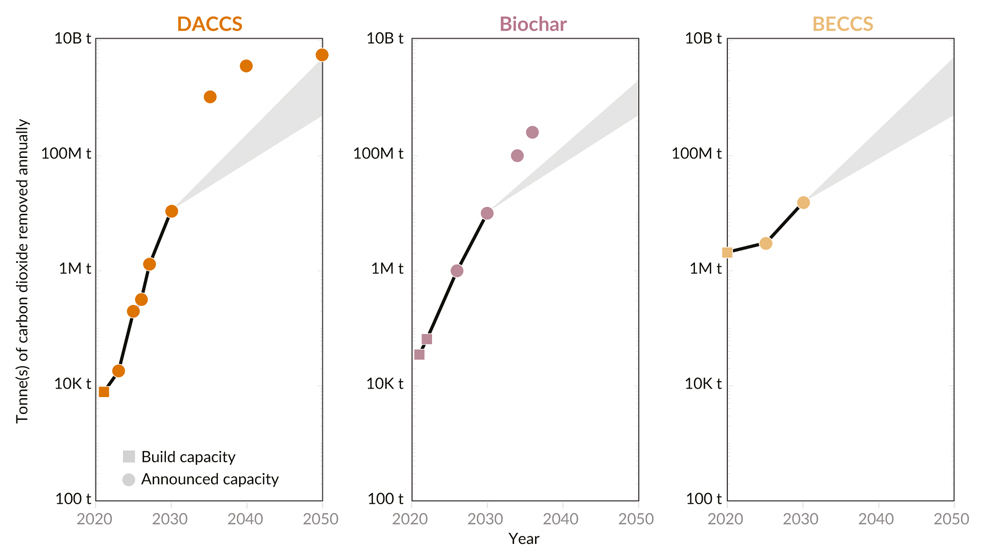 However, the lower bounds of these projections are much lower, at only 0.5 GtCO2 removal per year for each of DACCS, biochar, and BECCS. Many factors will determine the growth trajectory of the CDR industry, and success is by no means guaranteed.
"CDR is not something we could do, but something we absolutely have to do to reach the Paris Agreement temperature goal," said author Dr Oliver Geden of the German Institute for International and Security Affairs. "More than 120 national governments have a net-zero emissions target, which implies using CDR, but few governments have actionable plans for developing it. This presents a major shortfall."
"Right now, critical information on CDR is widely dispersed and difficult to access. This hampers progress," said Jan Minx, Head of Applied Sustainability Science at the Mercator Research Institute on Global Commons and Climate Change, Berlin. "The state of CDR research, development and policy lags behind – similar to renewables 25 years ago. Good decisions and accelerated progress in the field require adequate data. This report will help improve this situation step-by-step with the wider CDR community."
"In the coming years, this global CDR report should continue to regularly inform policymakers on the state of progress, by systematically collecting and analysing the vast amount of data and developments in many parts of the world," said Artur Runge-Metzger, former director of the European Commission's Directorate-General for Climate Action.
---
• Follow us on Facebook
• Follow us on Instagram
• Join us on Reddit
• Follow us on Twitter
• Subscribe to us on YouTube
Comments »