9th December 2016
Giraffes threatened with extinction
The International Union for the Conservation of Nature (IUCN) has announced that giraffes are now listed as "vulnerable" after a huge population decline over the last 30 years.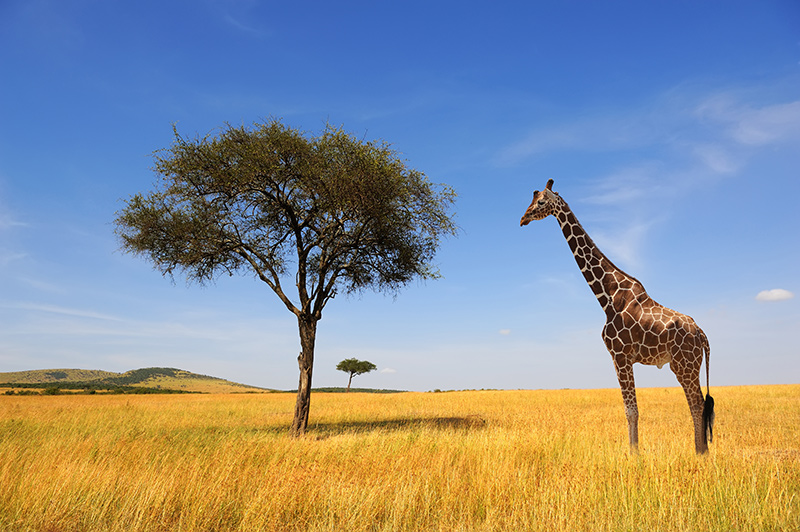 The iconic giraffe (Giraffa camelopardalis), one of the world's most recognisable animals and the tallest land mammal, is now threatened with extinction. The species, which is widespread across southern and eastern Africa, with smaller isolated subpopulations in west and central Africa, has moved from "Least Concern" to "Vulnerable" – due to a dramatic 38% decline from 157,000 individuals in 1985 to 97,000 in 2015.
The growing human population is having a negative impact on many giraffe subpopulations. Illegal hunting, habitat loss and changes through expanding agriculture and mining, increasing human-wildlife conflict, and civil unrest are all pushing the species towards extinction. Of the nine subspecies of giraffe, three have increasing populations and one is stable, but five have decreasing populations.
In September of this year, a genetic analysis showed that the genus giraffe, previously thought to contain one extant species, actually consists of four. For this update of the Redlist, however, the IUCN stuck with the traditional definition of one species with nine subspecies.
These animals are undergoing a "silent extinction", says Dr Julian Fennessy, who co-chairs the IUCN's giraffe specialist group. "If you go on a safari, giraffes are everywhere," he told BBC News. "While there has been great concern about elephants and rhinos, giraffes have gone under the radar but, unfortunately, their numbers have been plummeting – and this is something that we were a little shocked about, that they have declined by so much in so little time."
A resolution adopted at the IUCN World Conservation Congress in September called for action to reverse the decline of the giraffe.
"South Africa is a good example of how you can manage wildlife," says Chris Ransom from the Zoological Society of London. "There is a lot of moving of animals between different conservation areas; it is a very different scenario than in most of the rest of Africa."
"I think giraffes can survive, with the right conservation efforts, and we can ensure that the animals do live in the wild. There are a lot of cases of success in conservation. The giraffes could be one."
---
• Follow us on Twitter
• Follow us on Facebook
8th December 2016
Earth's 'technosphere' now weighs 30 trillion tons, research finds
Researchers have calculated the weight of Earth's technosphere as 30 trillion tons, a mass greater than 50 kilos for every square metre of the planet's surface.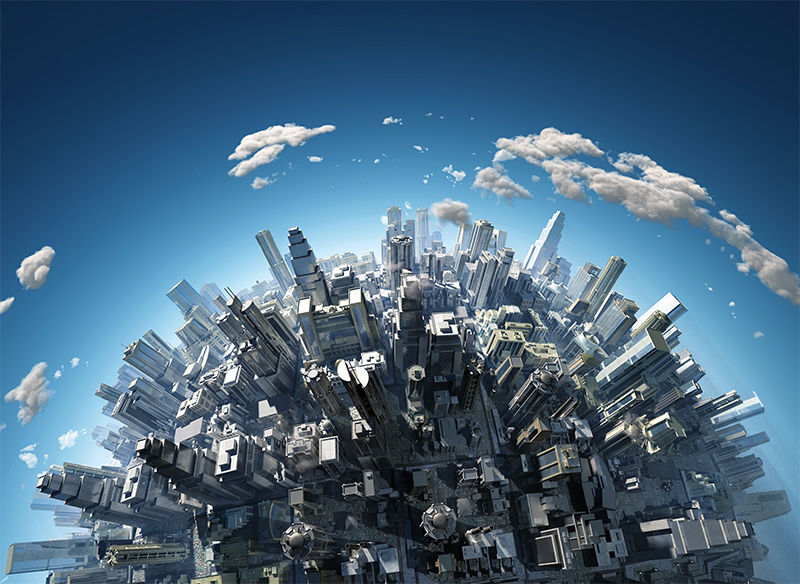 A team led by the University of Leicester has, for the first time, estimated the sheer size of the physical structure that forms our planet's "technosphere" – suggesting that its mass approximates to an enormous 30 trillion tons.
The technosphere is comprised of all the structures and objects that humans have created to keep them alive on the planet – from houses, factories and farms to computer systems, smartphones and CDs, to the waste in landfills and spoil heaps.
Professors Jan Zalasiewicz, Mark Williams and Colin Waters from the University of Leicester Department of Geology led an international team suggesting that the bulk of our planet's technosphere is staggering in scale, with a mass greater than 50 kilos for every square metre of Earth's surface. This is supporting a human biomass around five orders of magnitude smaller.
Professor Zalasiewicz explained: "The technosphere is the brainchild of USA scientist Peter Haff – also one of the co-authors of this paper. It is all of the structures that humans have constructed to keep them alive, in very large numbers now, on the planet: houses, factories, farms, mines, roads, airports and shipping ports, computer systems, together with its discarded waste.
"Humans and human organisations form part of it, too – although we are not always as much in control as we think we are, as the technosphere is a system, with its own dynamics and energy flows – and humans have to help keep it going to survive."
The Anthropocene – a proposed new geological epoch – highlights the impact humans have made and provides an understanding that we have greatly changed the Earth. In March 2015, a paper published in Nature suggested the year 1610 as the beginning of the Anthropocene or the "Age of Man", marking a fundamental change in the relationship between humans and the Earth system.
"The technosphere can be said to have budded off the biosphere and arguably is now at least partly parasitic on it," says Professor Williams. "At its current scale, the technosphere is a major new phenomenon of this planet, and one that is evolving extraordinarily rapidly. Compared with the biosphere, though, it is remarkably poor at recycling its own materials, as our burgeoning landfill sites show. This might be a barrier to its further success – or halt it altogether."
"There is more to the technosphere than just its mass," observes Professor Waters. "It has enabled the production of an enormous array of material objects, from simple tools and coins, to ballpoint pens, books and CDs, to the most sophisticated computers and smartphones. Many of these, if entombed in strata, can be preserved into the distant geological future as 'technofossils' that will help characterise and date the Anthropocene."
If technofossils were to be classified in the same way palaeontologists classify normal fossils – based on their shape, form and texture – the study suggests that the number of individual types of 'technofossil' now likely reaches a billion or more, far outnumbering the two million or so known biotic species that have been described and catalogued.
The research suggests that – like the Anthropocene – the technosphere is another measure of the extraordinary human-driven changes affecting Earth. Zalasiewicz adds: "The technosphere may be geologically young, but it is evolving with furious speed, and has already left a deep imprint on our planet."
The team's study is published by the journal The Anthropocene Review.
---
• Follow us on Twitter
• Follow us on Facebook
5th December 2016
Hydrogen-powered truck with 1,200 mile range to be launched by 2020
American hybrid truck design company, Nikola Motors, has unveiled a class 8 truck powered by a hydrogen fuel cell that will have an operational range of up to 1,200 miles (1,900 km) when launched by 2020.
Class 8 trucks are the largest trucks in the United States and the type most commonly used for long-haul routes, with 3.6 million delivering about 70% of the country's freight. They are the largest CO2 emitters and fuel users. The trucking industry, as a whole, consumed approximately 54.3 billion gallons of diesel fuel and gasoline in 2015.
However, in yet another boost for clean technology, Nikola Motor Company has unveiled a highly anticipated electric semi-truck – the Nikola One – at an event held in its Salt Lake City headquarters.
The Nikola One utilises a fully electric drivetrain, powered by high-density lithium batteries. Energy is supplied on-the-go by a hydrogen fuel cell providing a range of 800-1,200 miles, while delivering 2,000 ft. lbs. of torque and 1,000 horsepower – nearly double that of any semi-truck on the road. Never has a production model class 8 truck achieved best-in-class fuel efficiency while also dramatically improving performance over its diesel competition – all with zero emissions.

The Nikola One leasing program will include unlimited hydrogen fuel, warranty and scheduled maintenance during a 72-month term. The company has accepted reservations totalling nearly three billion dollars in future orders.
"Nikola will build a world-class advanced manufacturing facility which will create thousands of new jobs," said Nikola Founder and CEO Trevor Milton. Nikola is currently in discussions with several states to decide who to partner with in its effort to reduce America's dependence on fossil fuels, advance green energy and revolutionise the trucking industry. The company is developing multiple 100-megawatt solar farms to make hydrogen from electrolysis. The location of the manufacturing facility will be determined in the first half of 2017. During the event, plans were also revealed for a network of 364 hydrogen fuelling stations across the US and Canada. Nikola will begin construction of these in January 2018.
Each vehicle will include a smart dashboard to calculate the most cost-efficient route for drivers. Inside the spacious cab will be one or two full-size beds, a 40-inch curved 4K TV with Apple TV, Wi-Fi, and 4G LTE connectivity, and a refrigerator, freezer, and microwave. Several high definition cameras around the vehicle will provide backing and 360° views while driving, optimising visibility and safety.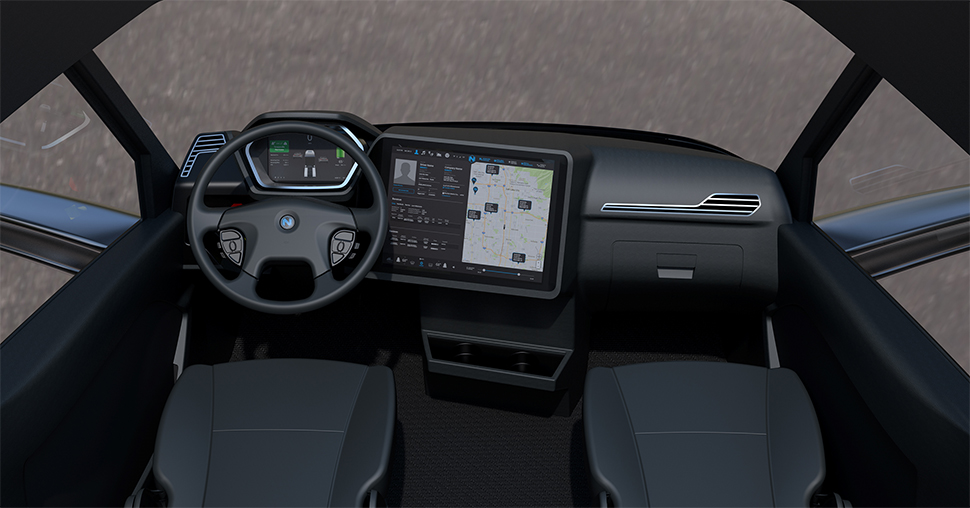 Nikola announced Ryder System, Inc. as its exclusive nationwide distribution and maintenance provider. Ryder has a network of over 800 service locations in North America today.
"We are extremely excited to finally show off the Nikola One to the public for the first time," said Milton. "There are many out there that wondered if we would deliver, but today we proudly show off the most advanced semi-truck ever built. We couldn't be more thrilled to have one of the best brands in America, Ryder, as our trusted partner providing nationwide sales, service and warranty."
Commenting on the new strategic partnership, Ryder's President of Global Fleet Management Solutions, Dennis Cooke said, "We commend Nikola for its leadership in zero emission vehicles, and for its decision to partner with Ryder as their exclusive nationwide distribution and maintenance provider. This relationship is key to expanding our advanced vehicle technology portfolio of innovative solutions. Ryder continually monitors emerging fleet technologies and seeks to establish relationships with companies that are leading innovation within the commercial transportation industry."
---
• Follow us on Twitter
• Follow us on Facebook
5th December 2016
Construction of practical quantum computers radically simplified
Scientists at the University of Sussex have invented a ground-breaking new method that puts the construction of large-scale quantum computers within reach of current technology.
Quantum computers could solve certain problems – that would take the fastest supercomputer millions of years to calculate – in just a few milliseconds. They have the potential to create new materials and medicines, as well as solve long-standing scientific and financial problems.
Universal quantum computers can be built in principle, but the technological challenges are tremendous. The engineering required to build one is considered more difficult than manned space travel to Mars – until now.
Quantum computing experiments on a small scale using trapped ions (charged atoms) are carried out by aligning individual laser beams onto individual ions with each ion forming a quantum bit. However, a large-scale quantum computer would need billions of quantum bits, therefore requiring billions of precisely aligned lasers, one for each ion.
Instead, scientists at the University of Sussex have invented a simple method where voltages are applied to a quantum computer microchip (without having to align laser beams) – to the same effect. The team also succeeded in demonstrating the core building block of this new method with an impressively low error rate.
"This development is a game changer for quantum computing making it accessible for industrial and government use," said Professor Winfried Hensinger, who heads the Ion Quantum Technology Group at the university and is director of the Sussex Centre for Quantum Technologies. "We will construct a large-scale quantum computer at Sussex making full use of this exciting new technology."
Quantum computers may revolutionise society in a similar way as the emergence of classical computers. "Developing this step-changing new technology has been a great adventure and it is absolutely amazing observing it actually work in the laboratory," said Hensinger's colleague, Dr Seb Weidt.
The Ion Quantum Technology Group forms part of the UK's National Quantum Technology Programme, a £270 million investment by the government to accelerate the introduction of quantum technologies into the marketplace.
A paper on this latest research, 'Trapped-ion quantum logic with global radiation fields', is published in the journal Physical Review Letters.
---
• Follow us on Twitter
• Follow us on Facebook
1st December 2016
Almost half of tech professionals expect their job to be automated within ten years
45% of technology professionals believe a significant part of their job will be automated by 2027 – rendering their current skills redundant. Changes in technology are so rapid that 94% say their career would be severely limited if they didn't teach themselves new technical skills.
That's according to the Harvey Nash Technology Survey 2017, representing the views of more than 3,200 technology professionals from 84 countries.
The chance of automation varies greatly with job role. Testers and IT Operations professionals are most likely to expect their job role to be significantly affected in the next decade (67% and 63% respectively). Chief Information Officers (CIOs), Vice Presidents of Information Technology (VP IT) and Programme Managers expect to be least affected (31% and 30% respectively).
David Savage, associate director, Harvey Nash UK, commented: "Through automation, it is possible that ten years from now the Technology team will be unrecognisable in today's terms. Even for those roles relatively unaffected directly by automation, there is a major indirect effect – anything up to half of their work colleagues may be machines by 2027."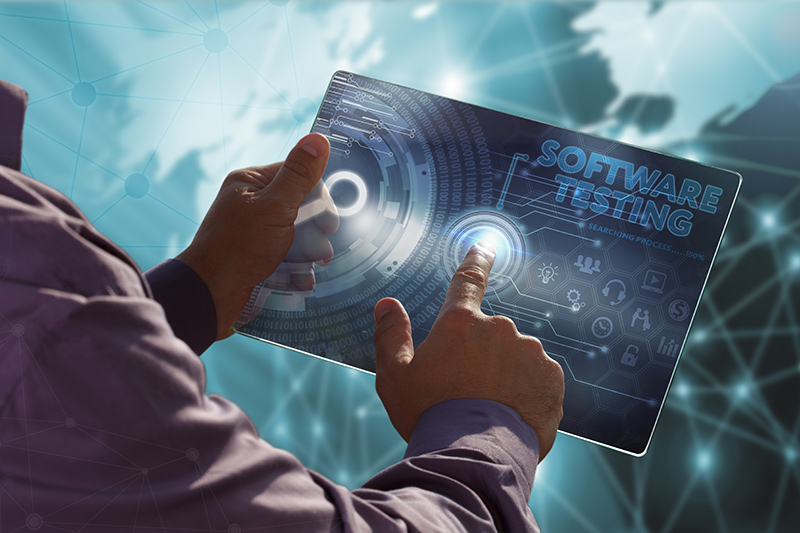 In response to automation technology, professionals are prioritising learning over any other career development tactics. Self-learning is significantly more important to them than formal training or qualifications; only 12 per cent indicate "more training" as a key thing they want in their job and only 27% see gaining qualifications as a top priority for their career.
Despite the increase in automation, the survey reveals that technology professionals remain in high demand, with participants receiving at least seven headhunt calls in the last year. Software Engineers and Developers are most in demand, followed by Analytics / Big Data roles. Respondents expect the most important technologies in the next five years to be Artificial Intelligence, Augmented / Virtual Reality and Robotics, as well as Big Data, Cloud and the Internet of Things. Unsurprisingly, these are also the key areas cited in what are the "hot skills to learn".
"Technology careers are in a state of flux," says Simon Hindle, a director at Harvey Nash Switzerland. "On one side, technology is 'eating itself', with job roles increasingly being commoditised and automated. On the other side, new opportunities are being created, especially around Artificial Intelligence, Big Data and Automation. In this rapidly changing world, the winners will be the technology professionals who take responsibility for their own skills development, and continually ask: 'where am I adding value that no other person – or machine – can add?'"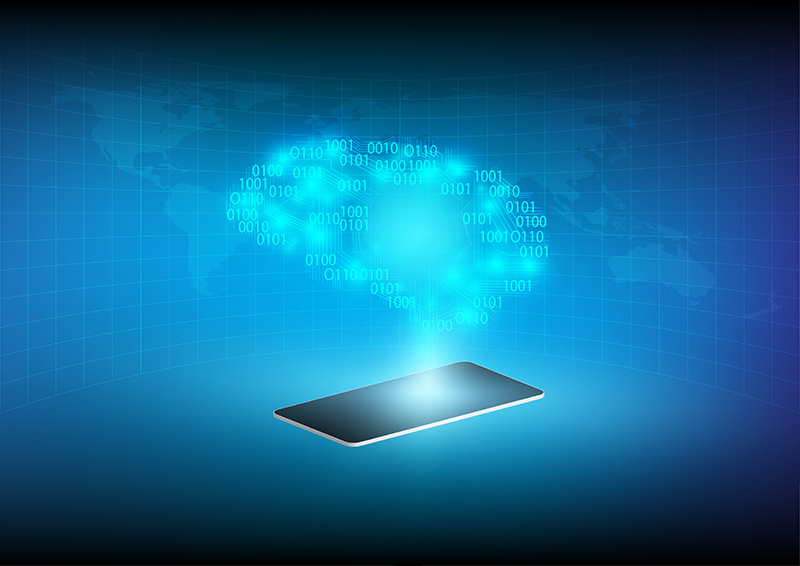 Key highlights from the Harvey Nash Technology Survey 2017:
AI growth: The biggest technology growth area is expected to be Artificial Intelligence (AI). 89% of respondents expect it to be important to their company in five years' time, almost four times the current figure of 24%.
Big Data is big, but still unproven. 57% of organisations are implementing Big Data at least to some extent. For many, it is moving away from being an 'experiment' into something more core to their business; 21% say they are using it in a 'strategic way'. However, only three in ten organisations with a Big Data strategy are reporting success to date.
Immigration is key to the tech industry, and Brexit is a concern. The technology sector is overwhelmingly in favour of immigration; 73% believe it is critical to their country's competitiveness. 33% of respondents to the survey were born outside the country they are currently working. Almost four in ten tech immigrants in the UK are from Europe, equating to one in ten of the entire tech working population in the UK. Moreover, UK workers make up over a fifth of the tech immigrant workforce of Ireland and Germany.
Where are all the women? This year's report reveals that 16% of respondents are women; not very different from the 13% who responded in 2013. The pace of change is glacial and – at this rate – it will take decades before parity is reached.
Tech people don't trust the cloud. Four in ten have little or no trust in how cloud companies are using their personal data, while five in ten at least worry about it. Trust in the cloud is affected by age (the older you are, the less you trust).
The end of the CIO role? Just 3% of those under 30 aspire to be a CIO; instead they would prefer to be a CTO (14% chose this), entrepreneur (19%) or CEO (11%). This suggests that the traditional role of the CIO is relatively unattractive to Gen Y.
Headhunters' radar: Software Engineers and Developers get headhunted the most, followed closely by Analytics / Big Data roles. At the same time, 75% believe recruiters are too focused on assessing technical skills, and overlook good people as a result.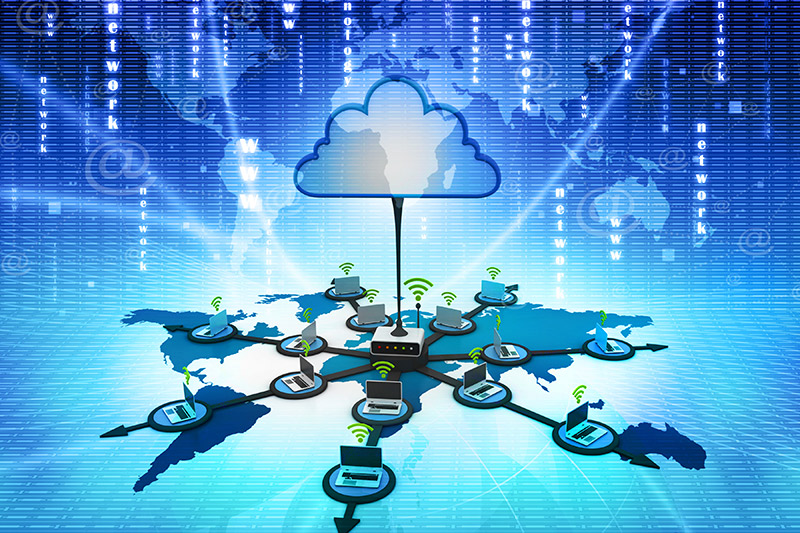 Supporting data from the survey (global averages):
Which technologies are important to your company now, and which do you expect to be important in five years' time?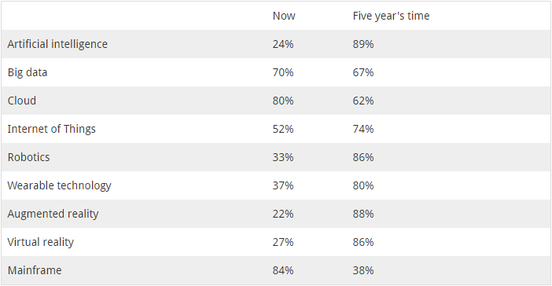 Agree or disagree? Within ten years, a significant part of my job that I currently perform will be automated.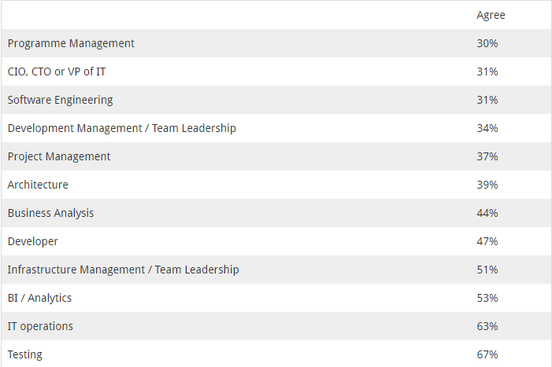 ---
• Follow us on Twitter
• Follow us on Facebook
1st December 2016
Great Barrier Reef suffers largest ever coral die-off
Higher water temperatures during 2016 caused the worst destruction of corals ever recorded on Australia's Great Barrier Reef, with 67% dying in the worst-hit northern section.
Scientists have confirmed the largest coral die-off ever recorded on Australia's Great Barrier Reef. The worst affected area, a 700 km swath of reefs in the northern region of the Great Barrier Reef, has lost an average of 67% of its shallow-water corals in the past 8-9 months. Further south, over the vast central and southern regions, the scientists were relieved to find a much lower death toll.
"Most of the losses in 2016 have occurred in the northern, most-pristine part of the Great Barrier Reef. This region escaped with minor damage in two earlier bleaching events in 1998 and 2002 – but this time around, it has been badly affected," says Professor Terry Hughes, Director of the Australian Research Council (ARC) Centre of Excellence for Coral Reef Studies, based at James Cook University, who undertook extensive aerial surveys at the height of the bleaching.
"The good news is the southern two-thirds of the Reef escaped with minor damage," says Professor Andrew Baird, also from the ARC Centre, who led teams of divers to re-survey the reefs in October and November. "On average, 6% of bleached corals died in the central region in 2016, and only 1% in the south. The corals have now regained their vibrant colour, and these reefs are in good condition."
Tourism on the Great Barrier Reef employs 70,000 people, and generates $5 billion in income each year.
"The patchiness of the bleaching means that we can still provide our customers with a world-class coral reef experience, by taking them to reefs that are still in top condition," says Craig Stephen, who manages one of the Great Barrier Reef's largest live-aboard tourist operations.
Another silver lining was revealed in the northern offshore corner of the Great Barrier Reef Marine Park, where the loss of coral was lower than the other northern reefs.
"We found a large corridor of reefs that escaped the most severe damage along the eastern edge of the continental shelf in the far north of the Great Barrier Reef," says Professor Hughes. "We suspect these reefs are partially protected from heat stress by upwelling of cooler water from the Coral Sea."
Scientists expect that the northern region will take at least 10-15 years to regain the lost corals, but they are concerned that a fourth bleaching event could happen sooner and interrupt the slow recovery.
---
• Follow us on Twitter
• Follow us on Facebook