16th January 2017
Eight people own same wealth as half the world
A pre-Davos report from Oxfam shows that the gap between the world's richest and poorest is even greater than feared.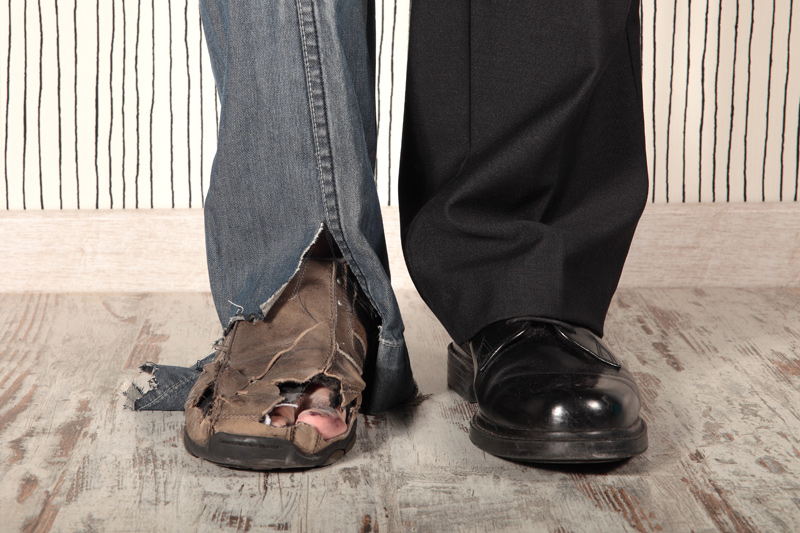 Eight billionaires own the same wealth as the 3.6 billion people who form the poorest half of the world's population, reveals an Oxfam report published today as global political and business elites gather in Davos for their annual meeting.
An Economy for the 99 Percent shows that the gap between rich and poor is far greater than had been feared. New and better data on the distribution of global wealth – particularly in India and China – indicates that the poorest half of the world has even less wealth than previously thought. If this data had been available last year it would have shown that nine billionaires then owned the same wealth as the planet's poorest half, rather than 62 as Oxfam calculated at the time.
Oxfam's new report shows that in 2015 the richest one percent retained their share of global wealth and still own more than the other 99 percent combined. This concentration of wealth at the top is holding back the fight to end global poverty.
The report describes how the inequality crisis is being fuelled by companies whose business models are increasingly focused on delivering ever-higher returns to wealthy owners and top executives. Companies are structured to dodge taxes, drive down workers' wages and squeeze producers instead of fairly contributing to an economy that benefits everyone. The key theme of this year's World Economic Forum is responsive and responsible leadership.
Oxfam is calling for a fundamental change in the way we manage our economies so that they work for everyone, not just a privileged few. The report is published amid increasing concerns about the economic status quo, with the Bank of England's Chief Economist warning recently that a 'rebirth of economics' is needed to replace out-dated models.
Mark Goldring, Oxfam GB Chief Executive, said: "This year's snapshot of inequality is clearer, more accurate and more shocking than ever before. It is beyond grotesque that a group of men who could fit in a single golf buggy own more than the poorest half of humanity.
"While one in nine people on the planet will go to bed hungry tonight, a small handful of billionaires have so much wealth they would need several lifetimes to spend it. The fact that a super-rich elite are able to prosper at the expense of the rest of us at home and overseas shows how warped our economy has become.
"Inequality is not only keeping millions of people trapped in poverty, it is fracturing our societies and poisoning our politics. It's just not right that top executives take home massive bonuses while workers' wages are stagnating, or that multinationals and millionaires dodge taxes while public services are being cut."
While the number of people living in extreme poverty has decreased in recent decades, 700 million more people could have escaped poverty if action had been taken to reduce the gap between rich and poor. Experts including the World Bank and the International Monetary Fund warn that further progress is under threat because of inequality.
Oxfam's report describes how life for the world's poorest people remains brutally hard. Between 1988 and 2011 the incomes of the poorest 10 percent increased by just $65, while the incomes of the richest 1 percent grew by $11,800 – 182 times as much. On current trends, the world's first trillionaire is likely to emerge by 2039.
The poorest are the biggest losers of our distorted global economy, especially women who tend to labour in the worst-paid jobs and take on the lion's share of unpaid care work. On current trends, it will take 170 years for women to be paid the same as men.
Economic inequality has shot up the global political agenda in recent years, with President Obama and the IMF among those who have cited Oxfam's work on the issue. Inequality and a feeling among many people of being excluded from the benefits of global growth have also been cited as driving political upheaval from Brexit to the elections of Rodrigo Duterte and Donald Trump in the Philippines and US.
Oxfam is calling for a more "human" economy where markets – a vital engine for prosperity – are better managed in order to ensure no one is left out or denied basic rights such as decent work, healthcare and education.
Key features of this fairer economy would include:
• improved cooperation between governments to prevent tax dodging that costs poor countries at least $100 billion every year;
• Government action to encourage companies to act for the benefit of their workforces and wider society as well as their executives and shareholders;
• taxes on wealth to generate funds for healthcare, education and job creation;
• action to tackle the barriers that hold back women including lack of education opportunities and the burden of unpaid care work.
Oxfam is calling on business leaders to play their part in creating a more human economy by committing to pay both a living wage and their fair share of tax. The report highlights progressive business practices such as Spanish multinational Mondragon – owned by its 74,000-strong workforce – which structures pay to ensure the highest-paid employee earns no more than nine times the lowest.
In the UK, out-of-control pay ratios means that the average pay of FTSE100 chief executives is 129 times that of the average employee – and equivalent to the earnings of 10,000 people working in garment factories in Bangladesh.
Investors' share of UK corporate profits has soared to 70 percent from 10 percent in the 1970s, meaning that less is being re-invested in workers and the long-term health of the business. Meanwhile, pension funds' holdings of UK shares have plummeted from 30 percent 30 years ago to just three percent today.
Goldring added: "Extreme inequality isn't inevitable – with the right policies, world leaders can rebalance our broken economies so they work for all of us and bring the end of poverty closer. We need a new common-sense approach that ensures a fair deal for workers and producers; requires those who can afford it to pay their fair share of tax; and ensures that women get a fair chance to realise their potential."
"Oxfam welcomes the Prime Minister's pledge to tackle inequality in the UK – we'd like to see her make a similar commitment on the global stage. Standing up to powerful interests and corporate bad behaviour won't be easy, but is vital if we're to ensure a better future for people at home and around the world."
---
• Follow us on Twitter
• Follow us on Facebook
13th January 2017
Scientists discover master regulator of cellular aging
Scientists at the Scripps Research Institute report the discovery of TZAP, a protein that binds the ends of chromosomes and determines how long telomeres can be.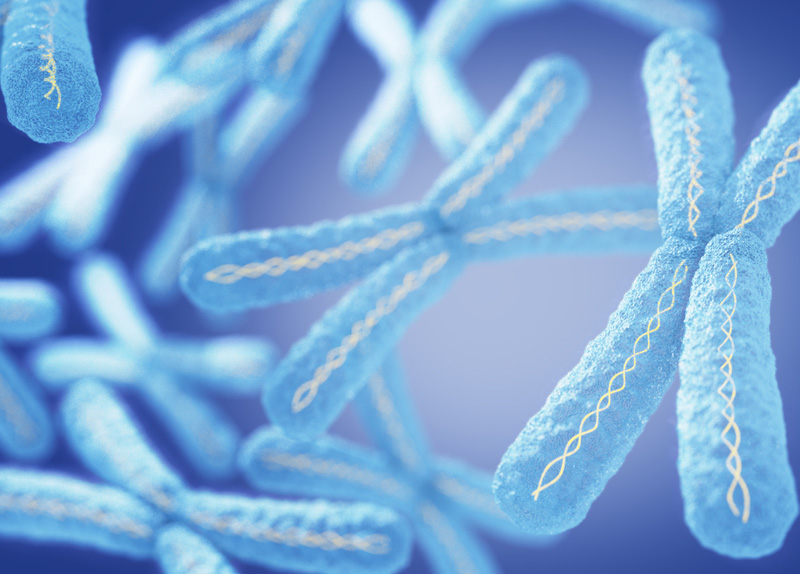 Scientists at the Scripps Research Institute (TSRI) in the U.S. have identified a protein that fine-tunes the cellular clock involved in aging. This novel protein, named TZAP, binds the ends of chromosomes and determines how long telomeres, the segments of DNA that protect chromosome ends, can be. Understanding telomere length is crucial, because telomeres set the lifespan of cells in the body – dictating critical processes such as aging and the incidence of cancer.
"Telomeres represent the clock of a cell," said TSRI Associate Professor Eros Lazzerini Denchi, corresponding author of the study, published yesterday in the journal Science. "You are born with telomeres of a certain length, and every time a cell divides, it loses a little bit of the telomere. Once the telomere is too short, the cell cannot divide anymore."
Naturally, researchers are curious whether lengthening telomeres could slow aging, and many scientists have looked into using a specialised enzyme called telomerase to "fine-tune" the biological clock. One drawback they've found, however, is that unnaturally long telomeres are a risk factor in developing cancer.
"This cellular clock needs to be finely tuned to allow sufficient cell divisions to develop differentiated tissues and maintain renewable tissues in our body and, at the same time, to limit the proliferation of cancerous cells," said Denchi.
In this new study, the researcher found that TZAP controls a process called "telomere trimming", ensuring that telomeres do not become too long.
"This protein sets the upper limit of telomere length," explained Lazzerini Denchi. "This allows cells to proliferate – but not too much."
For the last few decades, the only proteins known to specifically bind telomeres were the telomerase enzyme and a protein complex known as the Shelterin complex. The discovery of TZAP is a surprise, since many scientists in the field believed there were no additional proteins binding to telomeres.
"There is a protein complex that was found to localise specifically at chromosome ends, but since its discovery, no protein has been shown to specifically localise to telomeres," said study first author Julia Su Zhou Li, a graduate student in the Lazzerini Denchi lab.
"This study opens up a lot of new and exciting questions," said Denchi.
---
• Follow us on Twitter
• Follow us on Facebook
12th January 2017
New drug stops spread of melanoma by 90%
Researchers have discovered that a new chemical compound, and potential drug, reduces the spread of melanoma cells by up to 90%.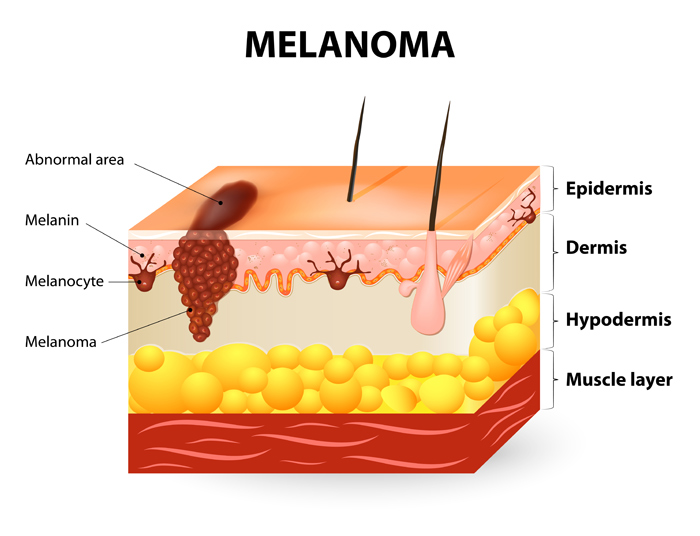 The human-made, small-molecule drug compound targets a gene's ability to make RNA molecules and proteins in melanoma tumours. This gene activity causes the disease to spread, but the compound can shut it down. Until now, few other compounds of this kind have been able to accomplish this.
"It's been a challenge developing small-molecule drugs that can block this gene activity that works as a signalling mechanism known to be important in melanoma progression," says Richard Neubig, pharmacology professor at Michigan State University and co-author of the study. "Our chemical compound is actually the same one that we've been working on to potentially treat the disease scleroderma, which now we've found works effectively on this type of cancer."
Scleroderma is a rare and often fatal autoimmune disease that causes hardening of skin tissue, as well as organs such as the lungs, heart and kidneys. The same mechanisms that produce fibrosis, or skin thickening, in scleroderma also contribute to the spread of cancer.
Small-molecule drugs make up over 90% of drugs on the market today and Neubig's co-author Kate Appleton, a postdoctoral student, said the findings are an early discovery that could be highly effective in battling the deadly skin cancer. About 10,000 people die each year from the disease in the US.
"Melanoma is the most dangerous form of skin cancer," Appleton said. "One reason the disease is so fatal is that it can spread throughout the body very quickly and attack distant organs such as the brain and lungs."
Through their research, Neubig and Appleton, along with their collaborators, found that the compounds were able to stop proteins, known as Myocardin-related transcription factors, or MRTFs, from initiating the gene transcription process in melanoma cells. These triggering proteins are initially turned on by another protein called RhoC, or Ras homology C, which is found in a signalling pathway that can cause the disease to aggressively spread in the body.
Their compound reduced the migration of melanoma cells by 85 to 90 percent. The team also discovered that the potential drug greatly reduced tumours specifically in the lungs of mice that had been injected with human melanoma cells.
"We used intact melanoma cells to screen for our chemical inhibitors," Neubig said. "This allowed us to find compounds that could block anywhere along this RhoC pathway."
Figuring out which patients have this pathway turned on is an important next step in the development of their compound, because it would help them determine which patients would benefit the most. "The effect of our compounds on turning off this melanoma cell growth and progression is much stronger when the pathway is activated," explained Appleton. "We could look for the activation of the MRTF proteins as a biomarker to determine risk, especially for those in early-stage melanoma."
If the disease is caught early, the chance of death is only 2 percent. But if caught late, that figure rises to 84 percent.
"The majority of people die from melanoma because of the disease spreading," said Neubig. "Our compounds can block cancer migration and potentially increase patient survival."
---
• Follow us on Twitter
• Follow us on Facebook
12th January 2017
New tooth repair method could revolutionise dental treatments
Researchers at Kings College London report a way of using an Alzheimer's drug to stimulate the renewal of living stem cells in tooth pulp.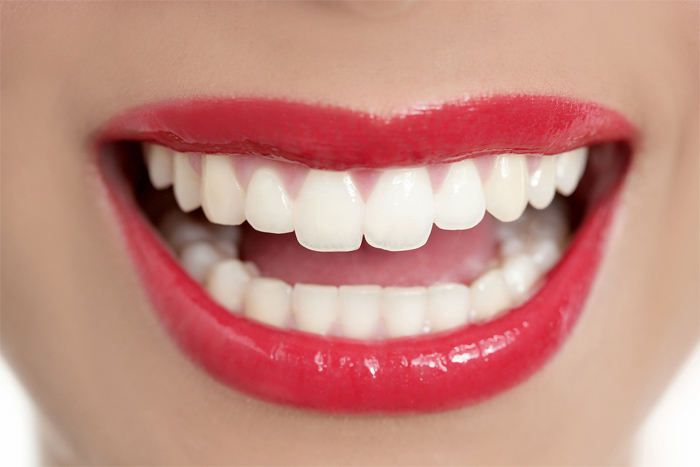 Following trauma or an infection, the soft inner pulp of a tooth can become exposed and infected. To protect the tooth from infection, a thin band of dentine is naturally produced and this seals the tooth pulp, but is insufficient to effectively repair large cavities. Currently, dentists use human-made cements or fillings – such as calcium and silicon-based products – to treat these larger cavities and fill holes in teeth. This cement remains in the tooth and fails to disintegrate, meaning that the normal mineral level of the tooth is never completely restored.
However, in a study published this week by Scientific Reports, scientists from the Dental Institute at King's College London have proven a way to activate the stem cells contained in the pulp of the tooth and generate new dentine – the mineralised material that protects the tooth – in large cavities, potentially reducing the need for fillings or cements.
This novel, biological approach could allow teeth to use their natural ability to fully repair large cavities, rather than using cements or fillings, which are prone to infections and often need replacing a number of times. Indeed, when fillings fail or infection occurs, dentists have to remove and fill an area that is larger than what is affected, and after multiple treatments the tooth may eventually need to be extracted.
Significantly, one of the small molecules used by the team to stimulate the renewal of stem cells included Tideglusib, previously used in clinical trials to treat neurological disorders including Alzheimer's disease. This presents a real opportunity to fast-track the treatment into practice.
Using biodegradable collagen sponges, the team applied low doses of small molecule glycogen synthase kinase (GSK-3) to the tooth. They found that the sponge degraded over time and that new dentine replaced it, leading to complete and natural repair. Collagen sponges are commercially-available and clinically approved, again adding to the potential of the treatment's swift pick-up and use in dental clinics.
"The simplicity of our approach makes it ideal as a clinical dental product for the natural treatment of large cavities – by providing both pulp protection and restoring dentine," says lead author of the study, Professor Paul Sharpe from King's College London. "In addition, using a drug that has already been tested in clinical trials for Alzheimer's disease provides a real opportunity to get this dental treatment quickly into clinics."
---
• Follow us on Twitter
• Follow us on Facebook
12th January 2017
Researchers design one of the strongest and lightest materials known
A team at MIT has designed one of the strongest lightweight materials known, by compressing and fusing flakes of graphene. Tests show it could lead to materials with a density just 5% that of steel, but 10 times stronger.
In its two-dimensional form, graphene is thought to be the strongest of all known materials. But until now, researchers have had a difficult time translating that two-dimensional strength into useful three-dimensional materials.
New findings show that the crucial aspect of these 3-D forms is more to do with their unusual geometrical configuration than the material itself, suggesting that similar strong, lightweight materials could be made from a variety of materials, by creating similar geometric features. The research is published by the journal Science Advances, in a paper led by Markus Buehler, head of MIT's Department of Civil and Environmental Engineering (CEE).
Other groups had suggested the possibility of such lightweight structures – but lab experiments so far had failed to match predictions, with some results exhibiting orders of magnitude less strength than expected. The MIT team decided to solve the mystery by analysing the material's behaviour down to the level of individual atoms. They were able to produce a mathematical framework that very closely matched their experimental observations.
Two-dimensional materials like graphene are basically flat sheets, just one atom in thickness, but able to be indefinitely large in the other dimensions. They have exceptional strength, as well as unique electrical properties. But because of their flatness, "they are not very useful for making 3-D materials that could be used in vehicles, buildings, or devices," Buehler says. "What we've done is to realise the wish of translating these 2-D materials into three-dimensional structures."
The team was able to compress small flakes of graphene using a combination of heat and pressure. This process produced a strong, stable structure whose form resembles that of some corals and microscopic creatures called diatoms. These shapes, which have an enormous surface area in proportion to their volume, proved to be remarkably strong.
"Once we created these 3-D structures, we wanted to see what's the limit – what's the strongest possible material we can produce," said his colleague and Professor of Engineering, Zhao Qin. To do that, they created a variety of 3-D models and subjected them to various tests. In computer simulations, which mimic loading conditions in tensile and compression tests performed in a tensile loading machine, "one of our samples has five percent the density of steel, but 10 times the strength," Qin says.
Buehler says that what happens to their 3-D graphene material, which is composed of curved surfaces under deformation, resembles what would happen with sheets of paper. Paper has little strength along its length and width, and can be easily crumpled up. But when made into certain shapes – for example, rolled up into a tube – suddenly the strength along the length of the tube is much greater and can support substantially more weight. Similarly, the geometric arrangement of the graphene flakes after treatment naturally forms a very strong configuration.
The team demonstrated their new configurations in the lab using a high-resolution, multimaterial 3-D printer. They were mechanically tested for their tensile and compressive properties, and their mechanical response under loading was simulated using the team's theoretical models. The results from these experiments and simulations matched accurately.
Many applications of the material could eventually be feasible, the team explains, for uses needing a combination of extreme strength and light weight. "You could either use the real graphene material, or use the geometry we discovered with other materials like polymers or metals," says Buehler, to gain similar advantages of strength combined with advantages in cost, processing methods, or other properties like transparency or electrical conductivity. "You can replace the material itself with anything. The geometry is the dominant factor. It's something that has the potential to transfer to many things."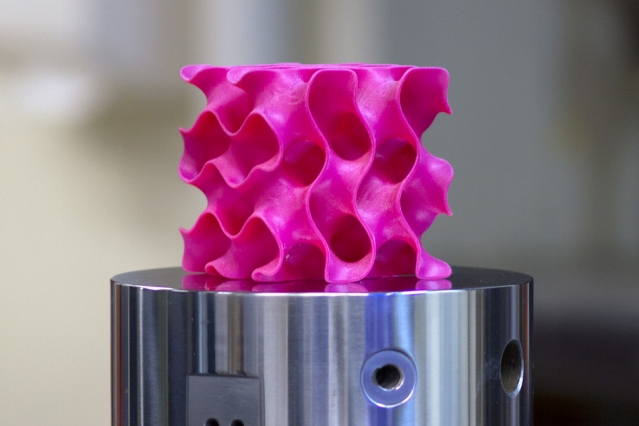 ---
• Follow us on Twitter
• Follow us on Facebook
12th January 2017
Anglo-Indian firm launches groundbreaking new carbon capture and utilisation plant
An Anglo-Indian company has developed a way of making useful products from CO2 captured at just $30 per tonne. The project will allow over 60,000 tonnes of CO2 to be captured and re-used each year.
Anglo-Indian energy and chemical firm, Carbon Clean Solutions Limited (CCSL) – a leader in CO2 separation technology – has announced the launch of a new project that will see more than 60,000 tonnes of CO2 captured from a 10 megawatt coal-fired power station near Chennai, India. Post-start up, the power station is set to become a zero-emission plant.
This groundbreaking project, believed to be the first of its kind, is privately financed and will capture CO2 at just $30 per tonne – much lower than the $60-90 per tonne capture costs typically observed in the global power sector. The captured CO2 will then be used by an Indian firm, Tuticorin Alkali Chemicals & Fertilisers (TACFL), for production of soda ash – a base chemical with a wide range of uses including glass manufacture, sweeteners, detergents and paper products.
Chief Executive Officer at CCSL, Aniruddha Sharma, said: "This project is a game-changer. By capturing and crucially, re-using, CO2 at just $30 per/tonne, we believe that there is an opportunity to dramatically accelerate uptake of carbon capture and utilisation (CCU) technology, with its many benefits, around the world. This is a project that doesn't rely on government funding or subsidies – it just makes great business sense. We are delighted to be partnering with TACFL to make this project a reality."
This announcement follows the successful completion of CCSL's pilot testing programme at Technology Centre Mongstad, the world's largest and most advanced facility for testing and improving CO2 capture, in May 2016. The pilot yielded results showing that use of CCSL's solvent dramatically reduced emission levels and lowered corrosion, while improving system reliability.
---
• Follow us on Twitter
• Follow us on Facebook
10th January 2017
Hubble provides interstellar road map for Voyager probes
Astronomers using NASA's Hubble Space Telescope have measured the material along the Voyager 1 and 2 probes' trajectories as they move through space. Hubble data, combined with the Voyagers, have also provided new insights into how our Sun travels through interstellar space.
NASA's two Voyager spacecraft are hurtling through unexplored territory on their road trip beyond our Solar System. Along the way, they are measuring the interstellar medium, the mysterious environment between stars. NASA's Hubble Space Telescope is providing the road map – by measuring the material along the probes' trajectories as they move through space. Even after the Voyagers run out of electrical power and are unable to send back new data, which may happen in the mid-2020s, astronomers can use Hubble observations to characterise the environment through which these silent ambassadors will glide.
A preliminary analysis from Hubble reveals a rich and complex interstellar ecology, containing multiple clouds of hydrogen laced with other elements. Hubble data – combined with the Voyagers' – have also provided new insights into how our Sun travels through interstellar space.
"This is a great opportunity to compare data from in situ measurements of the space environment by the Voyager spacecraft and telescopic measurements by Hubble," said study leader Seth Redfield of Wesleyan University in Middletown, Connecticut. "The Voyagers are sampling tiny regions as they plough through space at 38,000 miles per hour. But we have no idea if these small areas are typical or rare. The Hubble observations give us a broader view, because the telescope is looking along a longer and wider path. So Hubble gives context to what each Voyager is passing through."
It is hoped that Hubble will help characterise the physical properties of the local interstellar medium. "Synthesising these insights with in situ measurements from Voyager would provide an unprecedented overview of the local interstellar environment," said Hubble team member Julia Zachary, also of Wesleyan University.
NASA launched the twin Voyager 1 and 2 probes in 1977. Both explored the gas giants Jupiter and Saturn, with Voyager 2 going on to visit the outer planets Uranus and Neptune. Voyager 1 is now zooming through interstellar space, the region between star systems that contains gas, dust, and material recycled from dying stars. At 13 billion miles from Earth, Voyager 1 is the farthest human-made object ever built. In about 40,000 years, it will pass within 1.6 light-years of the star Gliese 445. Its twin, Voyager 2, currently 10.5 billion miles away, will reach Sirius in approximately 298,000 AD.
For the next decade or so, until they lose electrical power, the Voyagers will take measurements of interstellar material, magnetic fields and cosmic rays along their trajectories. As shown on the diagram below (click to enlarge), Hubble complements the Voyagers' observations by gazing at two sightlines along each spacecraft's path to map the interstellar structure along their star-bound routes. Each sightline stretches several light-years to nearby stars. Sampling the light from those stars, Hubble's imaging spectrograph can measure how interstellar material absorbs some of the starlight, leaving tell-tale spectral fingerprints.
Based on the Hubble data gathered so far, the astronomers predict that Voyager 2 will move out of the interstellar cloud surrounding our Solar System in a couple of thousand years. It will spend another 90,000 years in a second cloud, before passing into a third.
An inventory of the clouds' composition reveals slight variations in the abundances of chemical elements contained in the structures. "These variations could mean the clouds formed in different ways, or from different areas, and then came together," Redfield said.
Early analysis of the Hubble data also suggests that the Sun is passing through clumpier material in nearby space, which might affect the heliosphere – the large "bubble" containing our Solar System that is produced by our Sun's powerful solar wind. At its boundary, called the heliopause, the solar wind pushes outward against the interstellar medium. Hubble and Voyager 1 made measurements of the interstellar environment beyond this boundary, where the wind comes from stars other than our Sun.
"I'm really intrigued by the interaction between stars and the interstellar environment," Redfield said. "These kinds of interactions are happening around most stars, and it is a dynamic process."
The heliosphere is compressed when the Sun moves through dense material, but it expands back out when the star passes through low-density matter. This expansion and contraction is caused by the interaction between the outward pressure of the stellar wind, composed of a stream of charged particles, and the pressure of the interstellar material surrounding the star.
The Hubble Space Telescope is a project of international cooperation between NASA and the European Space Agency. NASA's Goddard Space Flight Centre in Greenbelt, Maryland, manages the telescope. The Space Telescope Science Institute (STScI) in Baltimore, Maryland, conducts Hubble science operations. STScI is operated for NASA by the Association of Universities for Research in Astronomy in Washington, D.C. The Voyagers were built by the Jet Propulsion Laboratory (JPL), which continues to operate both spacecraft.
---
• Follow us on Twitter
• Follow us on Facebook
8th January 2017
NASA announces new space probes for the 2020s
NASA has announced its choices for the next Discovery Program missions – Lucy, a probe that will visit several asteroids including the Trojans, and Psyche, to study the large metallic asteroid 16 Psyche.
NASA has selected two missions that have the potential to open new windows on one of the earliest eras in the history of our Solar System – a time less than 10 million years after the birth of our Sun. The missions, known as Lucy and Psyche, were chosen from 27 candidates that were narrowed down to five finalists in October 2015. They will now proceed to mission formulation, with the goal of launching in 2021 and 2023, respectively.
"Lucy will visit a target-rich environment of Jupiter's mysterious Trojan asteroids, while Psyche will study a unique metal asteroid that's never been visited before," said Thomas Zurbuchen, associate administrator for NASA's Science Mission Directorate in Washington. "This is what Discovery Program missions are all about – boldly going to places we've never been to enable groundbreaking science."
Lucy is scheduled to launch in 2021 and expected to arrive at its first destination, a main belt asteroid, in 2025. From 2027 to 2033, Lucy will explore six Jupiter Trojan asteroids. These asteroids are trapped by Jupiter's gravity in two swarms that share the planet's orbit, one leading and one trailing Jupiter in its 12-year circuit around the Sun. The Trojans are thought to be relics of a much earlier era in the history of the Solar System, and may have formed far beyond Jupiter's current orbit.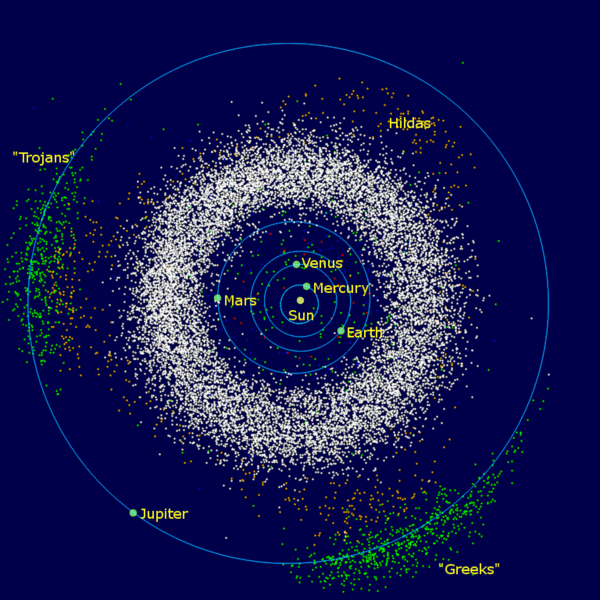 "This is a unique opportunity," said Harold Levison, lead investigator for the Lucy mission. "Because the Trojans are remnants of the primordial material that formed the outer planets, they hold vital clues to deciphering the history of the Solar System. Lucy, like the human fossil for which it is named, will revolutionise the understanding of our origins."
Lucy will build on the success of NASA's New Horizons mission to Pluto and the Kuiper Belt – using more advanced versions of the scientific instruments that have enabled that probe's achievements. Several members of the Lucy mission team are also veterans of the New Horizons mission. Lucy will also build on the success of the OSIRIS-REx mission to asteroid Bennu, with the OTES instrument and several members of the OSIRIS-REx team.
Meanwhile, the Psyche mission will explore one of the most intriguing targets in the main asteroid belt – a giant metal asteroid, known as 16 Psyche, about three times farther away from the Sun than is the Earth. This asteroid measures about 130 miles (210 km) in diameter and, unlike most other asteroids that are rocky or icy bodies, is thought to be composed primarily of metallic iron and nickel, similar to Earth's core. Astronomers wonder whether 16 Psyche could be an exposed core of an early planet that could have been as large as Mars, but which lost its rocky outer layers due to violent collisions billions of years ago. The mission will help scientists understand how planets and other bodies were separated into their layers – including cores, mantles and crusts – early in their histories.
"This is an opportunity to explore a new type of world – not one of rock or ice, but of metal," said Psyche's principal investigator, Lindy Elkins-Tanton of Arizona State University in Tempe. "16 Psyche is the only known object of its kind in the Solar System, and this is the only way humans will ever visit a core. We learn about inner space by visiting outer space."
Psyche, also a robotic mission, is targeted to launch in October of 2023, arriving at the asteroid in 2030, following an Earth gravity assist spacecraft manoeuvre in 2024 and a Mars flyby in 2025.
In addition to selecting Lucy and Psyche for mission formulation, the agency will extend funding for the Near Earth Object Camera (NEOCam) project for an additional year. The NEOCam space telescope is designed to survey regions of space closest to Earth's orbit, where potentially hazardous asteroids may be found.
"These are true missions of discovery that integrate into NASA's larger strategy of investigating how the Solar System formed and evolved," said NASA's Planetary Science Director Jim Green. "We've explored terrestrial planets, gas giants, and a range of other bodies orbiting the Sun. Lucy will observe primitive remnants from farther out in the Solar System, while Psyche will directly observe the interior of a planetary body. These additional pieces of the puzzle will help us understand how the Sun and its family of planets formed, changed over time, and became places where life could develop and be sustained – and what the future may hold."
Discovery-class missions like these are relatively low-cost, with development capped at $450 million. The Discovery Program portfolio includes 12 prior selections such as the MESSENGER mission to study Mercury, the Dawn mission to explore asteroids Vesta and Ceres, and the InSight Mars lander, scheduled to launch in May 2018.
---
• Follow us on Twitter
• Follow us on Facebook
6th January 2017
IBM predicts five innovations for the next five years
IBM has unveiled its annual "5 in 5" – a list of ground-breaking innovations that will change the way people work, live, and interact during the next five years.
In 1609, Galileo invented the telescope and saw our cosmos in an entirely new way. He proved the theory that the Earth and other planets in our Solar System revolve around the Sun, which until then was impossible to observe. IBM Research continues this work through the pursuit of new scientific instruments – whether physical devices or advanced software tools – designed to make what's invisible in our world visible, from the macroscopic level down to the nanoscale.
"The scientific community has a wonderful tradition of creating instruments to help us see the world in entirely new ways. For example, the microscope helped us see objects too small for the naked eye, and the thermometer helped us understand the temperature of the Earth and human body," said Dario Gil, vice president of science & solutions at IBM Research. "With advances in artificial intelligence and nanotechnology, we aim to invent a new generation of scientific instruments that will make the complex invisible systems in our world today visible over the next five years."
Innovation in this area could dramatically improve farming, enhance energy efficiency, spot harmful pollution before it's too late, and prevent premature physical and mental decline. IBM's global team of scientists and researchers is steadily bringing these inventions from laboratories into the real world.
The IBM 5 in 5 is based on market and societal trends, as well as emerging technologies from research labs around the world that can make these transformations possible. Below are the five scientific instruments that will make the invisible visible in the next five years.
---
With AI, our words will open a window into our mental health
In five years, what we say and write will be used as indicators of our mental health and physical well-being. Patterns in our speech and writing analysed by new cognitive systems – including meaning, syntax and intonation – will provide tell-tale signs of early-stage developmental disorders, mental illness and degenerative neurological diseases to help doctors and patients better predict, monitor and track these conditions. What were once invisible signs will become clear signals of patients' likelihood of entering a certain mental state, or how well their treatment plan is working, complementing regular clinical visits with daily assessments from the comfort of their homes.
Hyperimaging and AI will give us superhero vision
In five years, new imaging devices using hyperimaging technology and AI will help us "see" beyond visible light, by combining multiple bands of the electromagnetic spectrum. This will reveal valuable insights or potential dangers that may otherwise be unknown or hidden from view. Most importantly, these devices will be portable, affordable and widely accessible in our daily lives, giving us the ability to perceive or see through objects and opaque environmental conditions anytime, anywhere.
A view of invisible, or vaguely visible objects around us, could help make road and traffic conditions clearer for drivers and self-driving cars. For example, by using millimetre wave imaging, a camera and other electromagnetic sensors, hyperimaging technology could help a vehicle see through fog or rain, detect hazardous and hard-to-see road conditions such as black ice, or tell us if there is some object up ahead – as well as its distance and size. Cognitive computing technologies will reason about this data and recognise what might be a tipped over garbage can versus a deer crossing the road or a pot hole that could result in a flat tire.
Macroscopes will help us understand Earth's complexity in infinite detail
Instrumenting and collecting masses of data from every source in the physical world, big and small, and bringing it together will reveal comprehensive solutions for our food, water and energy needs. Today, the physical world only gives us a glimpse into our highly interconnected and complex ecosystem. We collect exabytes of data – but most of it is unorganised. In fact, an estimated 80 percent of a data scientist's time is spent scrubbing data instead of analysing and understanding what that data is trying to tell us.
Thanks to the Internet of Things (IoT), new sources of data are pouring in from millions of connected objects – from refrigerators, light bulbs and heart rate monitors, to remote sensors such as drones, cameras, weather stations, satellites and telescope arrays. There are already more than six billion connected devices generating tens of exabytes of data per month, with a growth rate of over 30% each year. After successfully digitising information, business transactions and social interactions, we are now in the process of digitising the physical world.
By 2022, we will use machine learning algorithms and software to organise the information about the physical world, bringing the vast and complex data gathered by billions of devices within the range of our vision and understanding. IBM calls this idea a "macroscope" – but unlike microscopes to see the very small, or telescopes that can see far away, this will be a system to gather all of Earth's complex data together to analyse it for meaning.
By aggregating, organising and analysing data on climate, soil conditions, water levels and their relationship to irrigation practices, for example, a new generation of farmers will have insights that help them determine the right crop choices, where to plant them and how to produce optimal yields while conserving precious water supplies.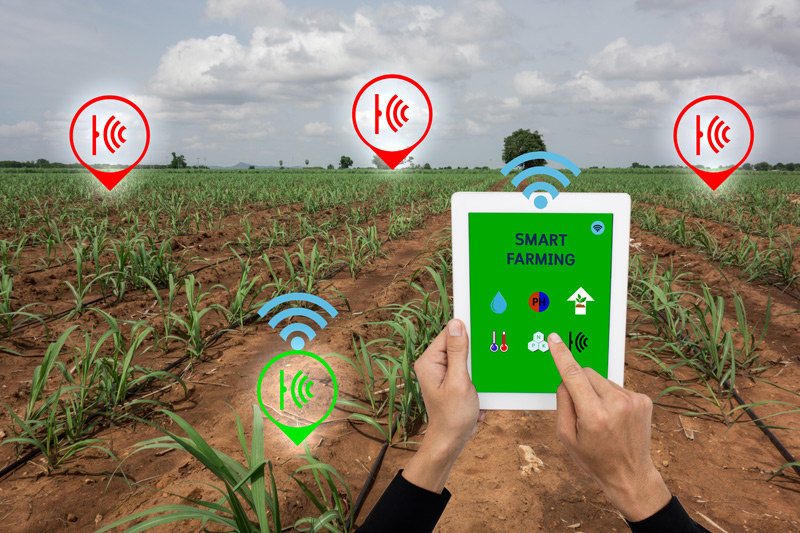 Medical labs "on a chip" will serve as health detectives for tracing disease at the nanoscale
In five years, new medical labs on a chip will serve as nanotechnology health detectives – tracing invisible clues in our bodily fluids and letting us know immediately if we have reason to see a doctor. The goal is to shrink down to a single silicon chip all of the processes necessary to analyse a disease that would normally be carried out in a full-scale biochemistry lab.
Lab-on-a-chip technology will eventually be packaged in a handheld device. This will allow people to quickly and regularly measure the presence of biomarkers found in small amounts of bodily fluids – such as saliva, tears, blood and sweat – sending this information securely into the cloud from the comfort of their home. There it will be combined with real-time health data from other IoT-enabled devices, like sleep monitors and smart watches, and analysed by AI systems for insights. Taken together, this data will give an in-depth view of our health, alerting us to the first signs of trouble – helping to stop disease before it progresses.
IBM scientists are developing nanotechnology that can separate and isolate bioparticles down to 20 nanometres in diameter, a scale that gives access to DNA, viruses, and exosomes. These particles could be analysed to potentially reveal the presence of disease even before we have symptoms.
Smart sensors will detect environmental pollution at the speed of light
In five years, new sensing technologies deployed near natural gas extraction wells, around storage facilities, and along distribution pipelines will enable the industry to pinpoint invisible leaks in real-time. Networks of IoT sensors wirelessly connected to the cloud will provide continuous monitoring of natural gas infrastructure, allowing leaks to be found in a matter of minutes instead of weeks, reducing pollution and waste and the likelihood of catastrophic events.
IBM is researching silicon photonics – an emerging technology that transfers data by light, for computing literally at the speed of light. These chips could be embedded in a network of sensors on the ground or within infrastructure, or even fly on autonomous drones; generating insights that, combined with real-time wind data, satellite data, and other historical sources, will produce complex environmental models to detect the origin and quantity of pollutants as they occur.
---
• Follow us on Twitter
• Follow us on Facebook