22nd February 2017
Life expectancy to reach 90 for the first time
A study published by The Lancet shows that in many countries, average life expectancy will increase significantly by 2030, exceeding 90 for the first time in South Korea. This trend will be slower in the USA, however – due to obesity, homicides and lack of equal access to healthcare.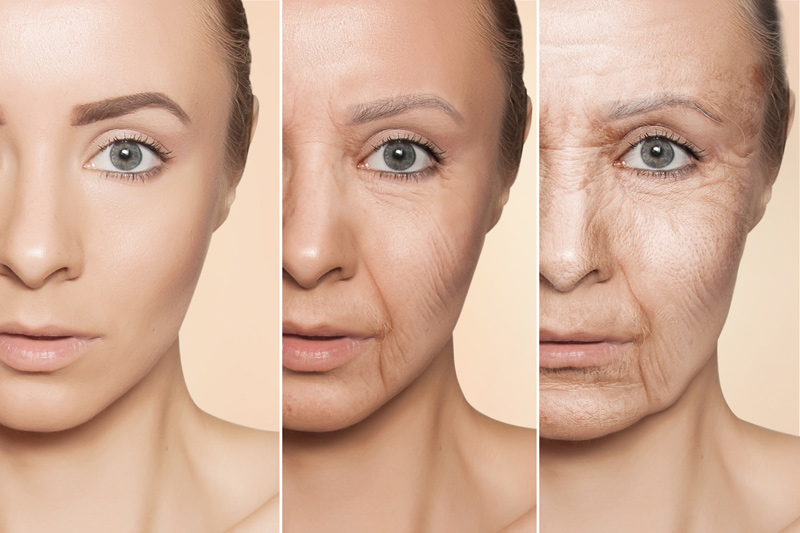 Life expectancies in developed countries are projected to continue increasing, with women's life expectancy surpassing 90 in South Korea by 2030, according to a study published in The Lancet.
The study predicts life expectancy is likely to be highest in South Korea (90.8), France (88.6) and Japan (88.4) for women, and in South Korea (84.1), Australia (84.0) and Switzerland (84.0) for men.
The researchers emphasise that people living longer will have major implications for health and social services. Countries will need to adapt and have policies to support healthy aging, increase investment in health and social care, and possibly change their retirement ages.
"As recently as the turn of the century, many researchers believed that life expectancy would never surpass 90 years," said Professor Majid Ezzati from Imperial College London, the study's lead author. "Our predictions of increasing lifespans highlight our public health and healthcare successes. However, it is important that policies to support the growing older population are in place. In particular, we will need to both strengthen our health and social care systems and to establish alternative models of care, such as technology-assisted home care."
Although life expectancy is predicted to increase for all 35 countries in the study, the extent of the increase varies from place to place. Comparing 2010 and 2030, female life expectancy will increase most in South Korea, Slovenia and Portugal (6.6, 4.7 and 4.4 years, respectively). For men, life expectancy will increase most in Hungary, South Korea and Slovenia (7.5, 7.0 and 6.4 years).
Life expectancy is predicted to increase least in Macedonia, Bulgaria, Japan and the USA (1.4, 1.5, 1.8 and 2.1 years) for women, and in Macedonia, Greece, Sweden and the USA (2.4, 2.7, 3.0 and 3.0 years) for men.
The USA is predicted to see relatively small improvements (from 81.2 in 2010, to 83.3 in 2030 for women; and 76.5 to 79.5 for men). Its life expectancy is already lower than most other high-income nations, and is expected to fall further behind in 2030 – mainly a result of its large inequalities, absence of universal health care and having the highest homicide rate, body mass index (BMI) and death rates for children and mothers of all high-income nations.
Conversely, South Korea's projected gains will be the result of continued improvements in economic status, improved nutrition for children, access to healthcare and medical technology across the whole population. This results in fewer deaths from infections and better prevention and treatment for chronic diseases, in a way that is more equitable than some Western countries.
The research also indicates that the gap in life expectancy between men and women is closing, as Professor Ezzati explains: "Men traditionally had unhealthier lifestyles, and so shorter life expectancies. They smoked and drank more, and had more road traffic accidents and homicides. However as lifestyles become more similar between men and women, so does their longevity."
"We repeatedly hear that improvements in human longevity are about to come to an end," he continues. "Many people used to believe that 90 years is the upper limit for life expectancy – but this research suggests we will break the 90 year barrier. I don't believe we're anywhere near the upper limit of life expectancy, if there even is one."
The researchers explain that the next step of their research will be to extend their model to specific diseases, as well as to all countries to provide more accurate predictions of life expectancy globally. They are careful to note that their study cannot take into account unprecedented events – such as revolutionary advances in medicine, the potentially disastrous effects of climate change, or political upheaval that may affect social and health systems.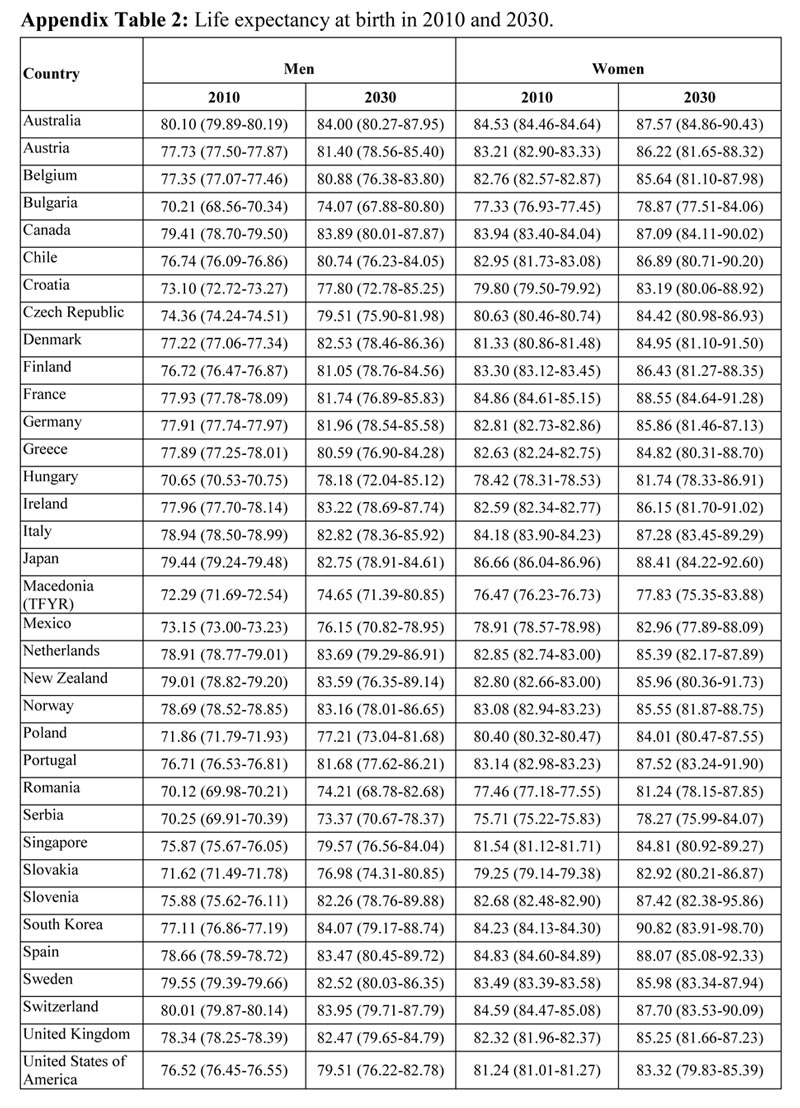 ---
• Follow us on Twitter
• Follow us on Facebook
17th February 2017
Organic material identified on Ceres
NASA's Dawn mission has found evidence of organic material on Ceres – the first clear detection of organic molecules from orbit on a main asteroid belt object.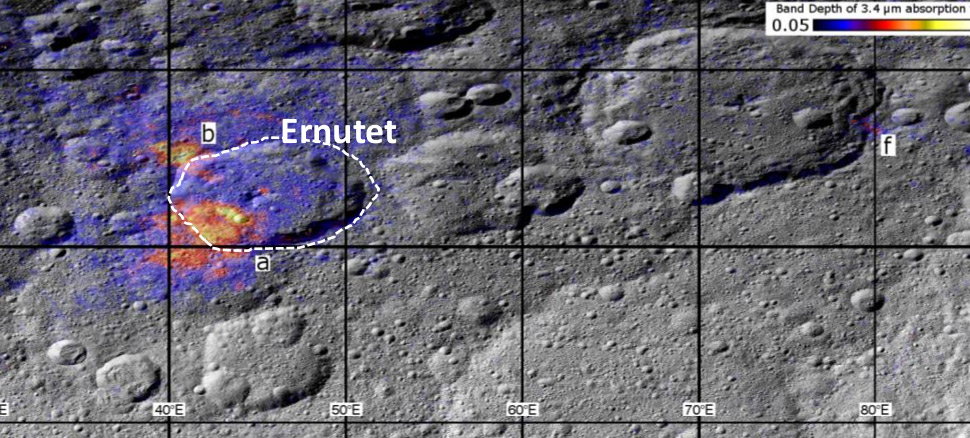 Dawn has detected organic-rich areas on Ceres, the largest object in the asteroid field between the orbits of Mars and Jupiter. Scientists evaluating the geology of the regions conclude that the organics are most likely native to the dwarf planet. Data from the spacecraft suggest that the interior of Ceres is the source of these organic materials, as opposed to arriving via impacting asteroids or comets, according to a paper published today in Science.
"This discovery of a locally high concentration of organics is intriguing, with broad implications for the astrobiology community," says Dr. Simone Marchi, senior research scientist at Southwest Research Institute in Texas and co-author of the paper. "Ceres has evidence of ammonia-bearing hydrated minerals, water ice, carbonates, salts, and now organic materials. With this new finding, Dawn has shown that Ceres contains key ingredients for life."
Ceres is believed to have originated about 4.5 billion years ago, when planets and moons were forming. Studying it can help to explain the origin, evolution and distribution of organics across the Solar System. Data from Dawn's visible and infrared mapping spectrometer show an unusually high concentration of organic matter close to the 50-km diameter Ernutet crater in the northern hemisphere of Ceres. The distribution and characteristics of the organics seem to preclude association with any single crater. The largest concentration appears to drape discontinuously across the southwest floor and rim of Ernutet and onto an older, highly degraded crater. Other organic-rich areas are scattered to the northwest. While other scientists looked at the distribution and spectra of the materials, Marchi focused on the geological settings.
"The overall region is heavily cratered and appears to be ancient; however, the rims of Ernutet crater appear to be relatively fresh," Marchi said. "The organic-rich areas include carbonate and ammoniated species, which are clearly Ceres' endogenous material, making it unlikely that the organics arrived via an external impactor."
Ceres shows clear signatures of pervasive hydrothermal activity, aqueous alteration and fluid mobility, so the organic-rich areas may be the result of internal processes. Dawn scientists will continue to study the dwarf planet to identify a viable method for transporting such material from the interior to the surface in the pattern observed.
---
• Follow us on Twitter
• Follow us on Facebook
17th February 2017
U.S. solar installations grew by 95% in 2016
Annual solar PV installations in the U.S. nearly doubled last year – growing from 7,492 megawatts to 14,626 megawatts.
This new record-breaking figure is revealed by GTM Research and the Solar Energy Industries Association (SEIA) in advance of their upcoming U.S. Solar Market Insight report, due for release on 9th March.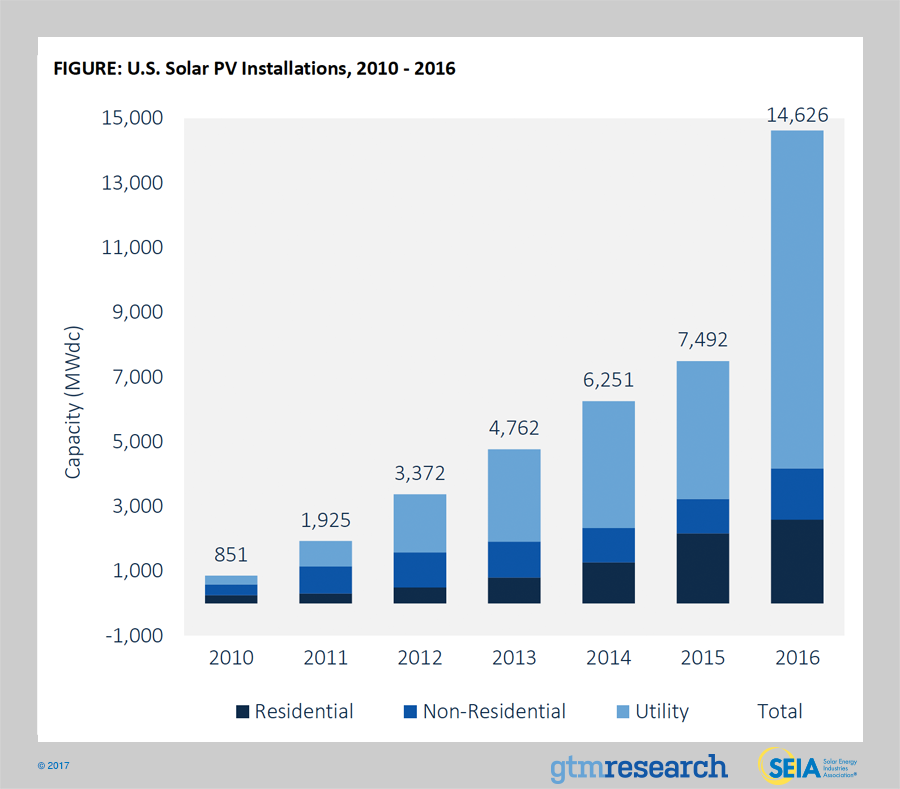 In addition, solar power set another record by achieving the greatest share of capacity additions for the first time ever in the U.S. It accounted for 39% of new installations among all energy types in 2016, ahead of natural gas (29%) and wind (26%). As shown on the graph below, this is almost a ten-fold improvement on its 2010 share of 4%.
"What these numbers tell you is that the solar industry is a force to be reckoned with," said Abigail Hopper, SEIA's president. "Solar's economically winning hand is generating strong growth across all market segments nationwide, leading to more than 260,000 Americans now employed in solar."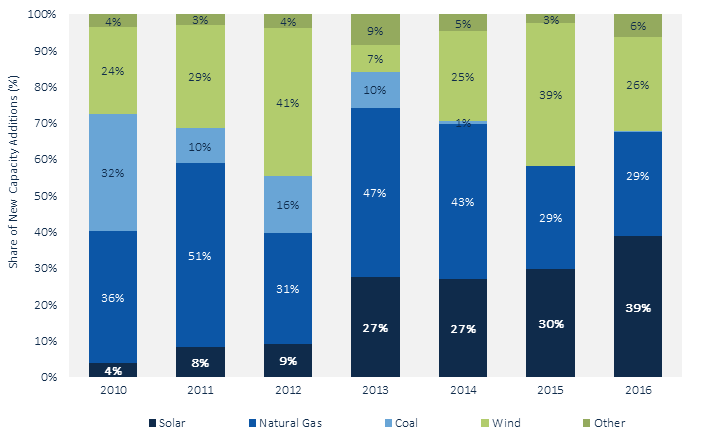 "In a banner year for U.S. solar, a record 22 states each added more than 100 megawatts," said Cory Honeyman, GTM Research's associate director of U.S. solar. "While U.S. solar grew across all segments, what stands out is the double-digit-gigawatt boom in utility-scale solar, primarily due to solar's cost-competitiveness with natural gas alternatives."
The U.S. now has more than 1.3 million solar PV installations, with a cumulative capacity of over 40 gigawatts.
---
• Follow us on Twitter
• Follow us on Facebook
17th February 2017
Oxygen levels in the world's oceans have fallen 2% since the 1960s
A study published in the journal Nature finds that oxygen levels in the oceans have declined by 2% globally in the last 50 years, due to warming and stratification.
Oxygen is an essential necessity of life on land. The same applies for almost all organisms in the ocean. However, the oxygen supply in the oceans is threatened by global warming in two ways: warmer surface waters take up less oxygen than colder waters. In addition, warmer water stabilises the stratification of the ocean. This weakens the circulation connecting the surface with the deep ocean and less oxygen is transported into the deep sea. Therefore, models predict a decrease in global oceanic oxygen inventory of the oceans due to global warming. The first global evaluation of millions of oxygen measurements seems to confirm this trend and points to first impacts of global change.
In the journal Nature this week, oceanographers from GEOMAR Helmholtz Centre for Ocean Research Kiel in Germany have published the most comprehensive ever study on global oxygen content in the world's oceans. It demonstrates that overall oxygen levels have dropped by more than 2% over the last 50 years. While 2% might not sound like much, the effects can be dramatic.
"Just a little loss of oxygen in coastal waters can lead to a complete change in ecosystems – a small decrease in oxygen like this can transform from something desirable to very undesirable," said David Baker, a Professor at the University of Hong Kong's Swire Institute of Marine Sciences. "It's almost like the oceans are getting ready for a heart attack. You're essentially slowing the heartbeat of the ocean, and you're getting less oxygen to the ocean."
"Since large fishes in particular avoid or do not survive in areas with low oxygen content, these changes can have far-reaching biological consequences," comments Dr. Sunke Schmidtko, lead author of the study.
The researchers used all historic oxygen data available around the world for their work, supplemented it with current measurements and refined the interpolation procedures to more accurately reconstruct the development of the oxygen "budget". In some regions, previous research had already shown a decrease in oxygen.
"To quantify trends for the entire ocean, however, was more difficult, since oxygen data from remote regions and the deep ocean is sparse," explains Dr. Schmidtko. "We were able to document the oxygen distribution and its changes for the entire ocean for the first time. These numbers are an essential prerequisite for improving forecasts for the ocean of the future."
The study also shows that, with the exception of a few regions, oxygen content decreased throughout the entire ocean during the period investigated. The greatest loss was found in the North Pacific. So-called "dead zones" are also multiplying – shallow areas where the water is so low in dissolved oxygen that most sea creatures can't survive. The global decline in ocean oxygen may worsen from 2% to 7% by the year 2100.
"While the slight decrease of oxygen in the atmosphere is currently considered non-critical, the oxygen losses in the ocean can have far-reaching consequences because of the uneven distribution. For fisheries and coastal economies this process may have detrimental consequences," said co-author Dr. Lothar Stramma.
"With measurements alone, we cannot explain all the causes," adds Prof. Martin Visbeck. "Natural processes occurring on time scales of a few decades may also have contributed to the observed decrease." However, the team says their results are consistent with most model calculations that predict a further decrease in oxygen in the oceans due to higher atmospheric CO2 concentrations and consequently higher global temperatures.
"The oceans are really a mirror of human health – if they're sick and dying, then that's the future of humanity as well," said Baker.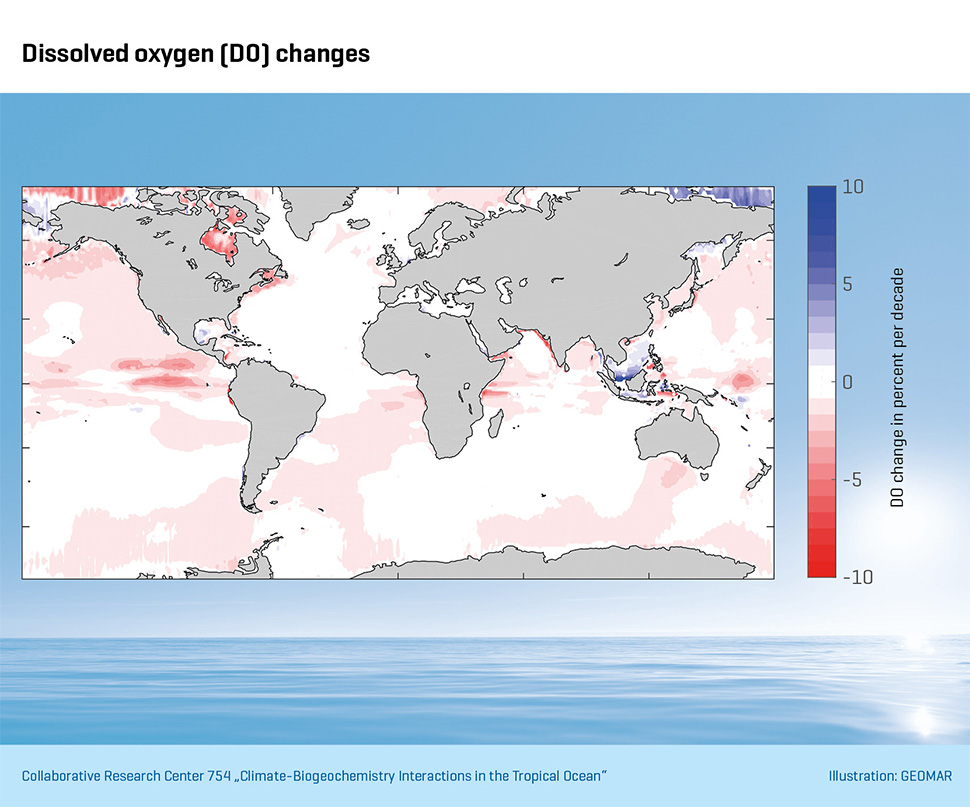 ---
• Follow us on Twitter
• Follow us on Facebook
16th February 2017
Gene editing of human embryos receives backing from U.S. science committee
A committee from the US National Academy of Sciences (NAS) and National Academy of Medicine (NAM) has given cautious backing to gene editing of human embryos.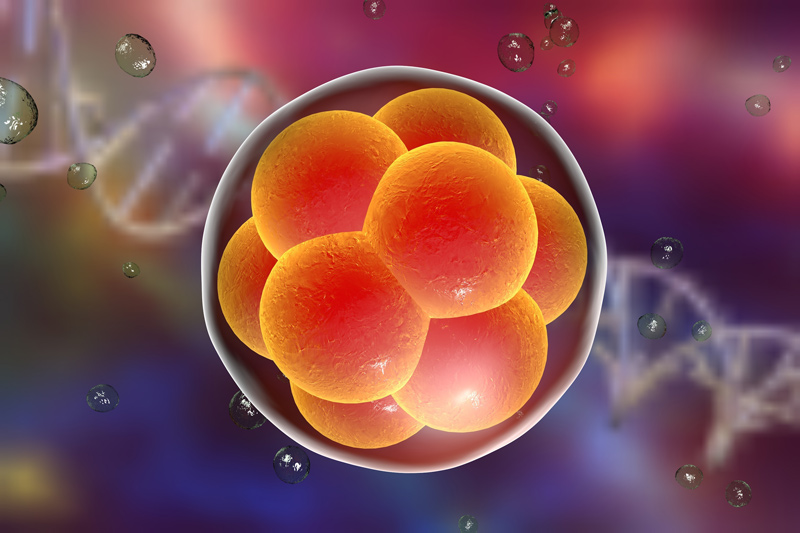 Clinical trials for genome editing of the human germline – adding, removing, or replacing DNA base pairs in gametes or early embryos – could be permitted in the future, but only for serious conditions under stringent oversight, says a new report from the National Academy of Sciences and the National Academy of Medicine. The report outlines criteria that should be met before allowing germline editing clinical trials to go forward. Genome editing has already entered clinical trials for non-heritable applications, but should be allowed only for treating or preventing diseases or disabilities at this time, the report says.
Genome editing is not new. But the emergence of powerful, precise and less costly genome editing tools, such as CRISPR/Cas9, have led to an explosion of new research opportunities and potential clinical applications, both heritable and non-heritable, to address a wide range of human health issues. Recognising the promise and the concerns related to this technology, the NAS and NAM appointed a study committee of international experts to examine the scientific, ethical and governance issues surrounding human genome editing.
Human genome editing is already widely used in basic research and is in the early stages of development and trials for clinical applications that involve somatic (non-heritable) cells. These therapies affect only the patient – not any offspring – and should continue for treatment and prevention of disease and disability, using the existing ethical norms and regulatory framework, the committee says.
However, there is significant public concern about the prospect of using these same techniques for so-called "enhancement" of human traits and capacities such as physical strength, or even for uses that are not possible, such as improving intelligence. The report recommends that genome editing for enhancement should not be allowed at this time, and that broad public input and discussion should be solicited before allowing clinical trials for somatic genome editing for any purpose other than treating or preventing disease or disability.
"Human genome editing holds tremendous promise for understanding, treating, or preventing many devastating genetic diseases, and for improving treatment of many other illnesses," said Alta Charo, committee co-chair and a Professor of Law and Bioethics at the University of Wisconsin-Madison. "However, genome editing to enhance traits or abilities beyond ordinary health raises concerns about whether the benefits can outweigh the risks, and about fairness if available only to some people."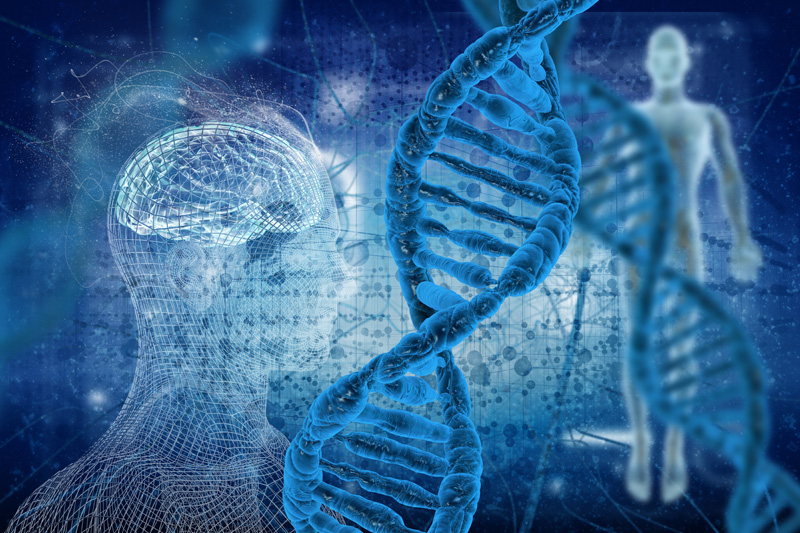 Germline genome editing, in contrast, is contentious because genetic changes would be inherited by the next generation. Many view germline editing as crossing an "ethically inviolable" line, the report says. Concerns raised include spiritual objections to interfering with human reproduction to speculation about effects on social attitudes toward people with disabilities to possible risks to the health and safety of future children. But germline genome editing could provide some parents who are carriers of genetic diseases with their best or most acceptable option for having genetically related children who are born free of these diseases.
Heritable germline editing is not ready to be tried in humans. Much more research is needed before it could meet the appropriate risk and benefit standards for clinical trials. The technology is advancing very rapidly, though – making heritable genome editing of early embryos, eggs, sperm, or precursor cells in the foreseeable future "a realistic possibility that deserves serious consideration," the report says. Although heritable germline genome editing trials must be approached with caution, the committee said, caution does not mean prohibition.
At present, heritable germline editing is not permissible in the United States, due to an ongoing prohibition on the U.S. Food and Drug Administration's ability to use federal funds to review "research in which a human embryo is intentionally created or modified to include a heritable genetic modification." Various other countries have signed an international convention that prohibits germline modification.
If current restrictions are removed, and for countries where germline editing would already be permitted, the committee recommended stringent criteria that would need to be met before going forward with clinical trials. They include:
(1) absence of reasonable alternatives;
(2) restriction to editing genes that have been convincingly demonstrated to cause or strongly predispose to a serious disease or condition;
(3) credible pre-clinical and/or clinical data on risks and potential health benefits;
(4) ongoing, rigorous oversight during clinical trials;
(5) comprehensive plans for long-term multigenerational follow-up; and
(6) continued reassessment of both health and societal benefits and risks, with wide-ranging, ongoing input from the public.
"Previously, it was easy for people to say, 'This isn't possible, so we don't have to think about it much,'" said MIT researcher Richard Hynes, who helped lead the committee. "Now we can see a path whereby we might be able to do it, so we have to think about how to make sure it's used only for the right things and not for the wrong things."
"These kinds of scenarios used to be science fiction; they used to be seen as far-off hypotheticals," said biotechnologist Marcy Darnovsky from the Centre for Genetics and Society. "But actually, right now, I think they're urgent social justice questions ... [W]e're going to be creating a world in which the already privileged and affluent can use these high-tech procedures to make children [with] biological advantages. And the scenario that plays out is not a pretty one."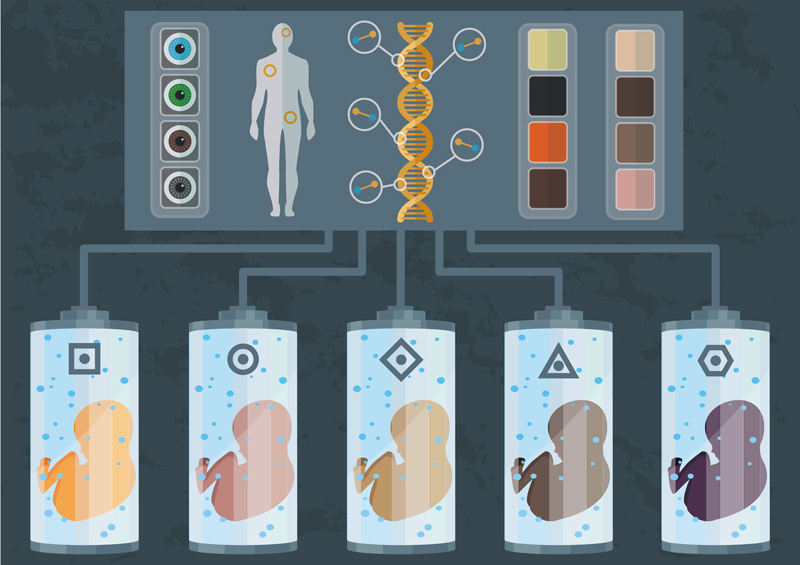 ---
• Follow us on Twitter
• Follow us on Facebook
15th February 2017
Dubai unveils "Mars 2117 Project"
The United Arab Emirates has announced an ambitious long-term project that aims to build the first city on Mars by 2117.
At the 5th World Government Summit yesterday, Dubai ruler Sheikh Mohammed bin Rashid Al Maktoum announced the "Mars 2117 Project" which aims to build a miniature city on the Red Planet within 100 years.
"This new project is a seed that we plant today, and we expect future generations to reap the benefits – driven by a passion to learn, to unveil new knowledge," said Sheikh Mohammed. "The landing of people on other planets has been a long-time dream for humans. Our aim is that the UAE will spearhead international efforts to make this dream a reality."
In the near term, the UAE will focus on developing its education system, he said, to equip its people with the science and technical skills required for leading research across various sectors. The knowledge that flows from the project will be made available to research institutions around the world to foster collaborations and partnerships in the fields of energy, food, housing, mobility, space travel and transportation. These efforts will not only go towards advancing the Mars project, but will also help to improve people's lives here on Earth.
The UAE is becoming "part of a global scientific drive to explore space, and we hope to serve humanity through this project," said the Crown Prince of Abu Dhabi, Mohammed Bin Zayed Al Nahyan, who also attended the event.
During the summit, an Emirati team of engineers and scientists presented a concept for the first city on Mars, which they said would be built by robots. Their plan highlighted the expected lifestyle on Mars in terms of transport, energy and food production, as well as materials needed for construction. Developing faster means of travel between Earth and Mars will be a key objective, according to the researchers.
Working on a project with such a lengthy timescale may seem misguided. Who knows what the world might look like in 100 years? However, the UAE seems more and more determined to prove itself as a major player in the space industry. In 2015, the government reaffirmed its commitment to sending an unmanned probe to Mars in 2021, which will become the first Arabian mission to Mars and is timed to coincide with the 50th anniversary of the country's establishment. Sheikh Mohammed is renowned for embracing technology and innovation – transforming Dubai into a global city; launching a number of major enterprises; and driving development of numerous mega-projects like the Palm Islands and Burj Khalifa, the tallest tower in the world.
---
• Follow us on Twitter
• Follow us on Facebook
14th February 2017
Human activity is changing the climate 170 times faster than natural processes
Humans are causing the climate to change 170 times faster than natural forces, research has found. This study, for the first time, produced a mathematical equation to describe the global impact of human activity on the Earth system, known as the Anthropocene equation.
"Over the past 7,000 years, the primary forces driving change have been astronomical – changes in solar intensity, and subtle changes in orbital parameters, along with a few volcanoes. They have driven a rate of change of 0.01°C per century," said Professor Will Steffen from the Australian National University (ANU), one of the study authors. "Human-caused greenhouse gas emissions over the past 45 years have increased the rate of temperature rise to 1.7°C per century, dwarfing the natural background rate."
His paper, co-authored by Owen Gaffney from the Stockholm Resilience Centre, is published in The Anthropocene Review. It examines our planet as a single complex system and assesses the impact of human activities on the system's trajectory. Under current astronomical forcing, and if atmospheric levels of CO2 had remained at their pre-industrial level of 280 parts per million (ppm), Holocene-like conditions could have been expected for another 50,000 years, the paper says.
"We are not saying the astronomical forces of our Solar System or geological processes have disappeared – but in terms of their impact in such a short period of time, they are now negligible compared with our own influence," said Steffen. "Crystallising this evidence in the form of a simple equation gives the current situation a clarity that the wealth of data often dilutes. It also places the contemporary human impact in the context of the great forces of nature that have driven Earth system dynamics over billions of years. The human magnitude of climate change looks more like a meteorite strike than a gradual change."
In addition to CO2, the researchers looked at a range of other impacts. For example, the release of methane (an even more powerful greenhouse gas) has occurred 285 times faster than the natural background rate, leading to a 150% increase in atmospheric concentration since 1750. Humans have also disrupted the nitrogen cycle, now undergoing its largest and most rapid change in 2.5 billion years. Before the Industrial Revolution, only about 5% of land cover was intensively used, but this has now expanded to 55%. The falling pH level of the oceans is yet another concern – they are currently acidifying at their fastest rate since the carboniferous period, 300 million years ago. Biodiversity is collapsing, with extinction rates up to 100 times faster than normal.
Humanity still has a chance to prevent catastrophic climate change, according to Steffen, but time is rapidly running out: "The global economy can function equally well with zero emissions. Research shows we can feed nine billion people – the projected world population by 2050 – and reduce greenhouse gas emissions at the same time."
---
• Follow us on Twitter
• Follow us on Facebook
13th February 2017
NASA reveals plan for Europa surface lander in 2031
NASA has published a report outlining the mission goals of an unmanned Europa surface lander and which instruments the probe may need.
Europa is one of the four Galilean moons orbiting Jupiter, and is the sixth-largest moon in the Solar System. It has the smoothest surface of any known solid object in our Solar System. The apparent youth and smoothness of the surface have led to the hypothesis that a water ocean exists beneath it, which could conceivably harbour extraterrestrial life.
In addition to telescopes, Europa has been imaged by a succession of space probe flybys, the first occurring in the early 1970s. More missions will be conducted in the future including the Jupiter Icy Moon Explorer (JUICE), a mission to Ganymede that will include two flybys of Europa. NASA's planned Europa Clipper will also be launched in the next several years.
No spacecraft has ever landed, or is scheduled to land, on the surface of Europa. It has been estimated that doing so could add as much as $1 billion to a mission's total cost. However, there are signs that such an expedition may be starting to move forward, as NASA has just released a highly detailed 264-page report, outlining the potential goals and scientific instruments the agency may want to have.
If approved, this mission would be launched in 2024 aboard the next-generation Space Launch System, arriving in 2031. It would perform the first in situ search for evidence of life on another world since the Viking spacecraft on Mars in the 1970s. The lander would dig down at least 10 cm (4 inches) below the surface and obtain five or more samples, analysing the material's organic and inorganic contents. Each sample would be studied under a microscope "capable of distinguishing microbial cells as small as 0.2 microns in diameter, and as dilute as 100 cells per cubic centimeter" according to the report.
In addition to its suite of instruments for analysing the samples, the lander would be equipped with a pair of colour stereo imagers, for examining the landing site in 3-D (including capabilities for characterising the surface composition), and a seismic package for determining Europa's ice and ocean thickness via acoustic monitoring of cracking events in the ice shell. The lander's proximity to liquid water would be determined, as well as the composition of recently erupted materials from ice plumes. The mission would also look for the most promising places to explore in the future.
Due to the extreme radiation of nearby Jupiter, it's unlikely that any life (as we know it) could survive for very long above ground. The spacecraft, too, would have only a short lifespan of about 20 days on the surface, before its electronics were destroyed. Those 20 days could prove to be invaluable for astrobiologists and may revolutionise our understanding of one of the most fascinating places in the Solar System.
---
• Follow us on Twitter
• Follow us on Facebook
13th February 2017
Types of Artificial Intelligence
This is a guest piece by forum member Yuli Ban.
Let's talk about AI. I've decided to use the terms 'narrow and general' and 'weak and strong' as modifiers in and of themselves. Normally, weak AI is the same thing as narrow AI; strong AI is the same thing as general AI. But I mentioned elsewhere on the Internet that there certainly must be such a thing as 'less-narrow AI.' AI that's more general than the likes of, say, Siri, but not quite as strong as the likes of HAL-9000. So my system is this:
• Weak Narrow AI
• Strong Narrow AI
• Weak General AI
• Strong General AI
• Super AI
---
Weak narrow AI (WNAI) is AI that's almost indistinguishable from analogue mechanical systems. Go to the local dollar store and buy a $1 calculator. That calculator possesses WNAI. Start your computer. All the little algorithms that keep your OS and all the apps running are WNAI. This sort of AI cannot improve upon itself meaningfully, even if it were programmed to do so. And that's the keyword— "programmed." You need programmers to define every little thing a WNAI can possibly do.
We don't call WNAI "AI" anymore, as per the AI Effect. You ever notice when there's a big news story involving AI, there's always a comment saying "This isn't AI; it's just [insert comp-sci buzzword]." Problem being, it is AI. It's just not artificial general intelligence.
I didn't use that mention of analogue mechanics passingly— this form of AI is about as mechanical as you can possibly get, and it's actually better that way. Even if your dollar store calculator were an artificial superintelligence, what do you need it to do? Calculate math problems. Thus, the calculator's supreme intellect would go forever untapped as you'd instead use it to factor binomials. And I don't need SAI to run a Word document. Maybe SAI would be useful for making sure the words I write are the best they could possibly be, but actually running the application is most efficiently done with WNAI. It would be like lighting a campfire with Tsar Bomba.
Some have said that "simple computation" shouldn't be considered AI, but I think it should. It's simply "very" weak narrow AI. Calculations are the absolute bottom tier of artificial intelligence, just as the firing of synapses is the absolute bottom of biological intelligence.
WNAI can basically do one thing really well, but cannot learn to do it any better without a human programmer at the helm manually updating it regularly.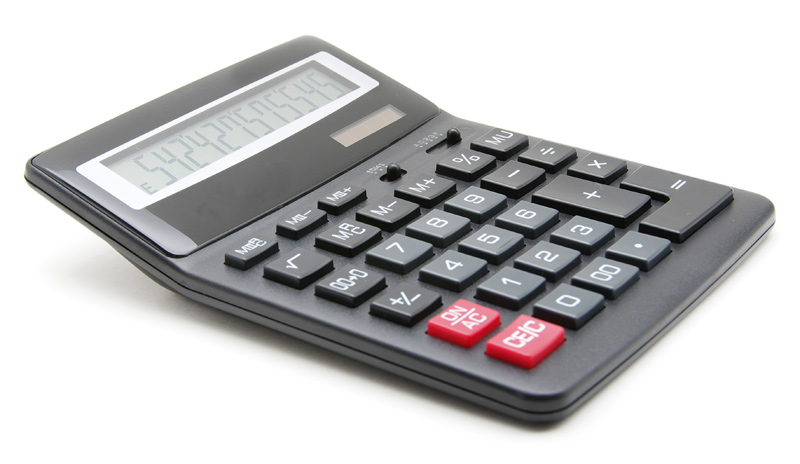 Strong narrow AI (SNAI) is AI that's capable of learning certain things within its programmed field. This is where machine learning comes in. This is the likes of Siri, Cortana, Alexa, Watson, some chatbots, and higher-order game AI, where the algorithms can pick up information from their inputs and learn to create new outputs. Again, it's a very limited form of learning, but learning's happening in some form. The AI isn't just acting for humans; it's reacting to us as well, and in ways we can understand.
SNAI may seem impressive at times, but it's always a ruse. Siri might seem smart at times, for example, but it's also easy to find its limits because it's an AI meant for being a personal virtual assistant, not your digital waifu ala Her. Siri can recognise speech, but it can't deeply understand it, and it lacks the life experiences to make meaningful talk anyhow. Siri might recognise some of your favourite bands or tell a joke, but it can't also write a comedic novel or actually genuinely have a favourite band of its own. It was programmed to know these things, based on your own preferences.
Even if Siri says it's "not an AI", it's only using pre-programmed responses to say so. SNAI can basically do one thing really well and can learn to do that thing even better over time, but it's still highly limited.
Weak general AI (WGAI) is AI that's capable of learning a wide swath of things, even things it wasn't necessarily programmed to learn. It can then use these learned experiences to come up with creative solutions that can flummox even trained professional humans. Basically, it's as intelligent as a certain creature— maybe a worm or even a mouse— but it's nowhere near intelligent enough to enhance itself meaningfully. It may be par-human or even superhuman in some regards, but it's sub-human in others. This is what we see with the likes of DeepMind— DeepMind's basic algorithm can basically learn to do just about anything, but it's not as intelligent as a human being by far. In fact, DeepMind wasn't even in this category until they began using a differentiable neural computing (DNC) system because it could not retain its previously learned information. Because it could not do something so basic, it was squarely strong narrow AI until literally a couple months ago.
Being able to recall previously learned information and apply it to new and different tasks is a fundamental aspect of intelligence. Once AI achieves this, it will actually achieve a modicum of what even the most cynical can consider "intelligence."
DeepMind's yet to show off the DNC in any meaningful way, but let's say that, in 2017, they unveil a virtual assistant (VA) to rival Siri and replace Google Now. On the surface, this VA seems completely identical to all others. Plus, it's a cool chatbot. Quickly, however, you discover its limits— or, should I say, its lack thereof. I ask it to generate a recipe on how to bake a cake. It learns from the Internet, but it doesn't actually pull up any particular article— it completely generates its own recipe, using logic to deduce what particular steps should be followed and in what order. That's nice— now, can it do the same for brownies?
If it has to completely relearn all of the tasks just to figure this out, it's still strong narrow AI. If it draws upon what it did with cakes and figures out how to apply these techniques to brownies, it's weak general AI. Because let's face it— cakes and brownies aren't all that different, and when you get ready to prepare them, you draw upon the same pool of skills. However, there are clear differences in their preparation. It's a very simple difference— not something like "master Atari Breakout; now master Dark Souls; now climb Mount Everest." But it's still meaningfully different.
WGAI can basically do many things really well and can learn to do them even better over time, but it cannot meaningfully augment itself. That it has such a limit should be impressive, because it basically signals that we're right on the cusp of strong general AI and the only thing we lack is the proper power and training.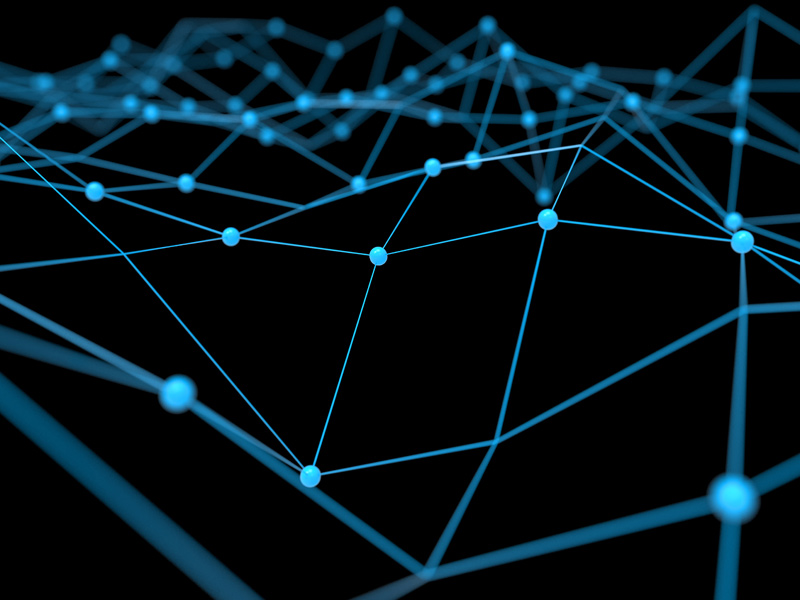 Strong general AI (SGAI) is AI that's capable of learning anything, even things it wasn't programmed to learn, and is as intellectually capable as a healthy human being. This is what most people think of when they imagine "AI". At least, it's either this or SAI.
Right now, we have no analogue to such a creation. Of course, saying that we never will would be as if we were in the year 1816 and discussing whether SNAI is possible. The biggest limiting factor towards the creation of SGAI right now is our lack of WGAI. As I said, we've only just created WGAI, and there's been no real public testing of it yet. Not to mention that the difference between WGAI and SGAI is vast, despite seemingly simple differences between the two. WGAI is us guessing what's going on in the brain and trying to match some aspects of it with code, while SGAI is us building a whole digital brain.
Not to mention there's the problem of embodied cognition— without a body, any AI would be detached from nearly all experiences that we humans take for granted. It's impossible for an AI to be a superhuman cook without ever preparing or tasting food itself. You'd never trust a cook who calls himself world-class, only come to find out he's only ever made five unique dishes, nor has he ever left his house. For AI to truly make the leap from WGAI to SGAI, it'd need someone to experience life as we do. It doesn't need to live 70 years in a weak, fleshy body— it could replicate all life experiences in a week if need be if it had enough bodies— but having sensory experiences helps to deepen its intelligence.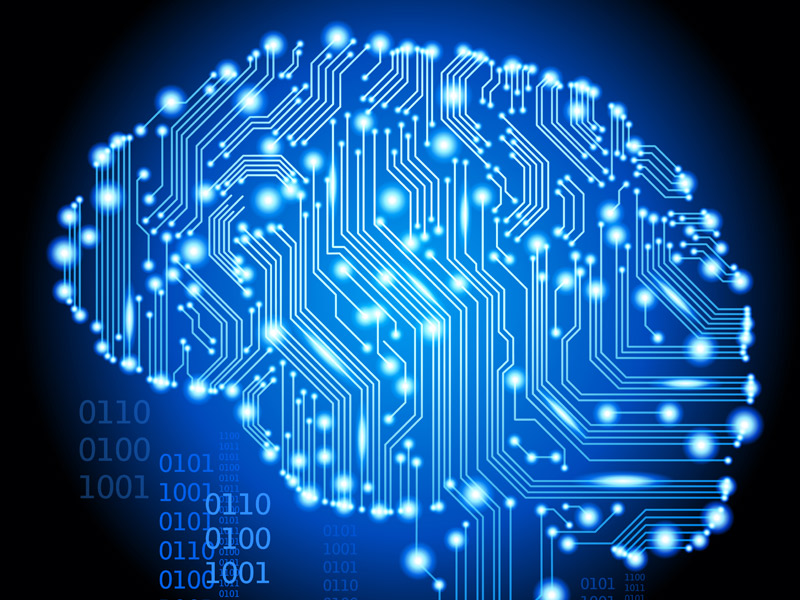 Super AI or Artificial Superintelligence (SAI or ASI) is the next level beyond that, where AI has become so intellectually capable as to be beyond the abilities of any human being.
The thing to remember about this, however, is that it's actually quite easy to create ASI if you can already create SGAI. And why? Because a computer that's as intellectually capable as a human being is already superior to a human being. This is a strange, almost Orwellian case where 0=1, and it's because of the mind-body difference.
Imagine you had the equivalent of a human brain in a rock, and then you also had a human. Which one of those two would be at a disadvantage? The human-level rock. And why? Because even though it's as intelligent as the human, it can't actually act upon its intelligence. It's a goddamn rock. It has no eyes, no mouth, no arms, no legs, no ears, nothing.
That's sort of like the difference between SGAI and a human. I, as a human, am limited to this one singular wimpy 5'8" primate body. Even if I had neural augmentations, my body would still limit my brain. My ligaments and muscles can only move so fast, for example. And even if I got a completely synthetic body, I'd still just have one body.
An AI could potentially have millions. If not much, much more. Bodies that aren't limited to any one form. Basically, the moment you create SGAI is the moment you create ASI. From that bit of information, you can begin to understand what AI will be capable of achieving.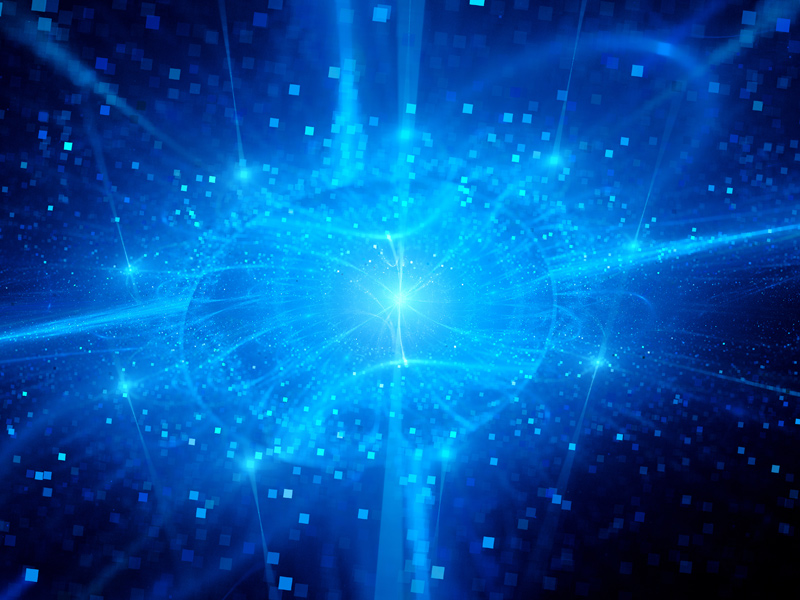 ---
Recap:
"Simple" Computation = Weak Narrow Artificial Intelligence. These are your algorithms that run your basic programs. Even a toddler could create WNAI.
Machine learning and various individual neural networks = Strong Narrow Artificial Intelligence. These are your personal assistants, your home systems, your chatbots, and your victorious game-mastering AI.
Deep unsupervised reinforcement learning + differentiable spiked recurrent progressive neural networks = Weak General Artificial Intelligence. All of those buzzwords come together to create a system that can learn from any input and give you an output without any pre-programming.
All of the above, plus embodied cognition, meta neural networks, and a master neural network = Strong General Artificial Intelligence. AGI is a recreation of human intelligence. This doesn't mean it's now the exact same as Bob from down the street or Li over in Hong Kong; it means it can achieve any intellectual feat that a human can do, including creatively coming up with solutions to problems just as good as, or better than any human. It has sapience. SGAI may be very humanlike, but it's ultimately another sapient form of life all its own.
All of the above, plus recursive self-improvement = Artificial Superintelligence. ASI is beyond human intellect, no matter how many brains you get. It's fundamentally different from the likes of Einstein or Euler. By the very nature of digital computing, the first SGAI will also be the first ASI.
---
• Follow us on Twitter
• Follow us on Facebook
13th February 2017
Japan to build world's largest floating solar power plant
In a joint venture, Kyocera Corporation and Century Tokyo Leasing Corporation have announced plans to start construction of the world's largest floating solar power plant, on the Yamakura Dam reservoir, managed by the Public Enterprises Agency of Chiba Prefecture in Japan for industrial water services.
The 13.7 megawatt (MW) plant will be managed by the Public Enterprises Agency of Chiba Prefecture for industrial water services. It is scheduled for launch during 2018 and will be comprised of approximately 51,000 Kyocera modules installed over a fresh water surface area of 180,000m². The project will generate an estimated 16,170 megawatt hours (MWh) per year – enough to power almost 5,000 typical households – while offsetting 8,170 tons of CO2 emissions annually. This is equal to 19,000 barrels of oil consumed.
The project was initiated in October 2014, when the Public Enterprises Agency of Chiba Prefecture publicly sought companies to construct and operate a floating solar power plant to help reduce environmental impacts. With a decrease in tracts of land suitable for utility-scale solar power plants in Japan, Kyocera has been developing floating solar power plants since 2014, which utilise Japan's abundant water surfaces of reservoirs for agricultural and flood-control uses. The company began operation of 1.7MW and 1.2MW plants in March 2015, followed by the launch of a 2.3MW plant in June.
Like many other nations around the world, Japan is seeing rapid growth in deployment of solar energy. Based on current trends in generating capacity, the country has the potential to be almost 100% solar powered by 2040.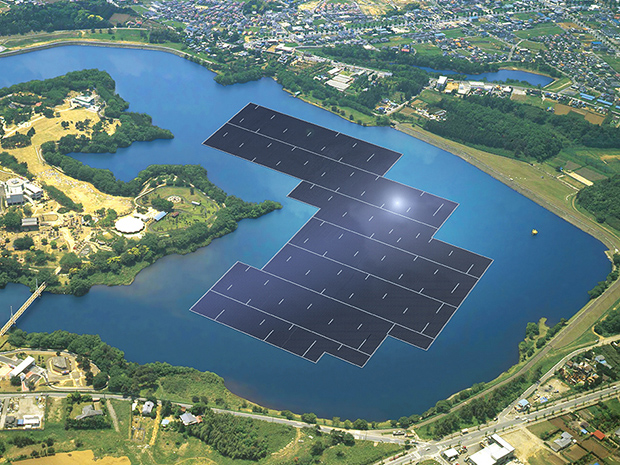 ---
• Follow us on Twitter
• Follow us on Facebook
9th February 2017
World economy predicted to double in size by 2042
A new report by PricewaterhouseCoopers (PwC) forecasts the global economic changes between now and 2050.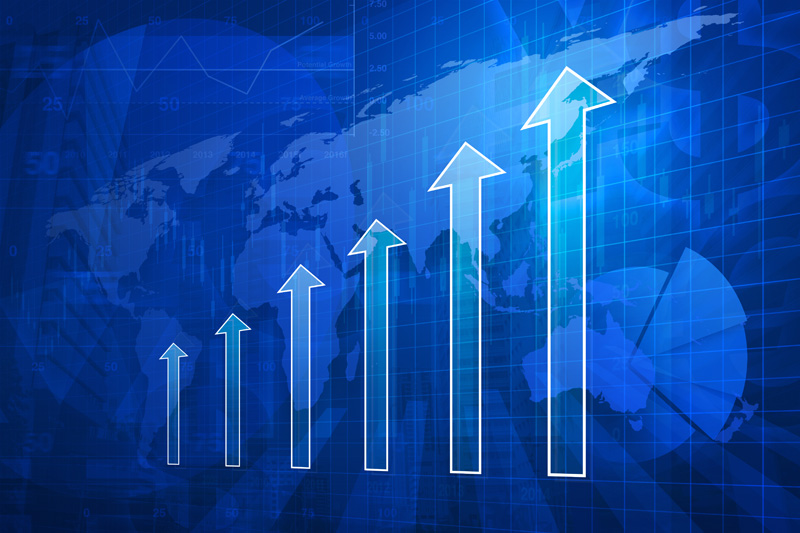 The long-term power shift away from the established advanced economies is set to continue over the period to 2050, as emerging market countries boost their share of world GDP in future decades, despite recent mixed performance in some of these economies.
This is one of the key findings from the latest report by PwC economists, The long view: how will the global economic order change by 2050? This presents forecasts of GDP growth up to 2050 for 32 of the largest economies in the world, which together account for 85% of global GDP. The projections are based on an update of a detailed, long-term, global growth model, first developed by PwC in 2006.
PwC predicts that the world economy will double in size by 2042, growing at an average real rate of 2.5% annually from 2017 to 2050. This growth will be driven largely by emerging market and developing countries, with the E7 economies of Brazil, China, India, Indonesia, Mexico, Russia and Turkey growing at an annual average rate of 3.5% over the next 33 years, compared to only 1.6% for the advanced G7 nations of Canada, France, Germany, Italy, Japan, the UK and the US.
As shown in Figure 1, the E7 could comprise almost 50% of world GDP by 2050, while the G7's share declines to only just over 20%.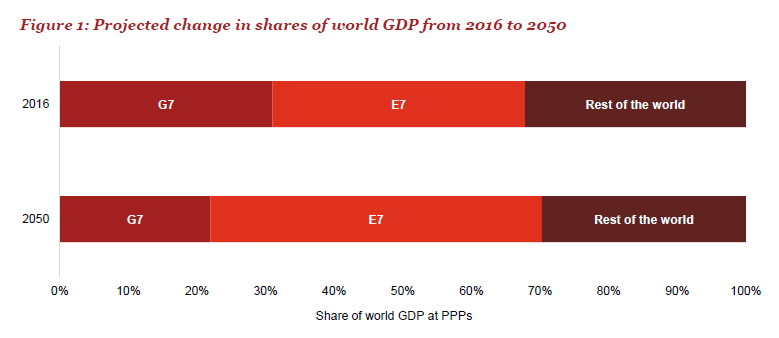 When looking at GDP measured at market exchange rates (MER), there is not quite such a radical shift in global economic power. But China still emerges as the largest economy in the world before 2030 and India is still clearly the third largest in the world by 2050.
But the spotlight will certainly be on the newer emerging markets as they take centre stage. By 2050, Indonesia and Mexico are projected to be larger than Japan, Germany, the UK or France, while Turkey could overtake Italy. In terms of growth, Vietnam, India and Bangladesh could be the fastest growing economies over the period to 2050, averaging growth of around 5% per year.
Nigeria has the potential to move eight places up the GDP rankings to 14th by 2050, but it will only realise this potential if it can diversify its economy away from oil and strengthen its institutions and infrastructure.
Colombia and Poland also exhibit great potential, and are projected to be the fastest growing large economies in their respective regions, Latin America and the EU (though Turkey is projected to grow faster if we consider a wider definition of Europe).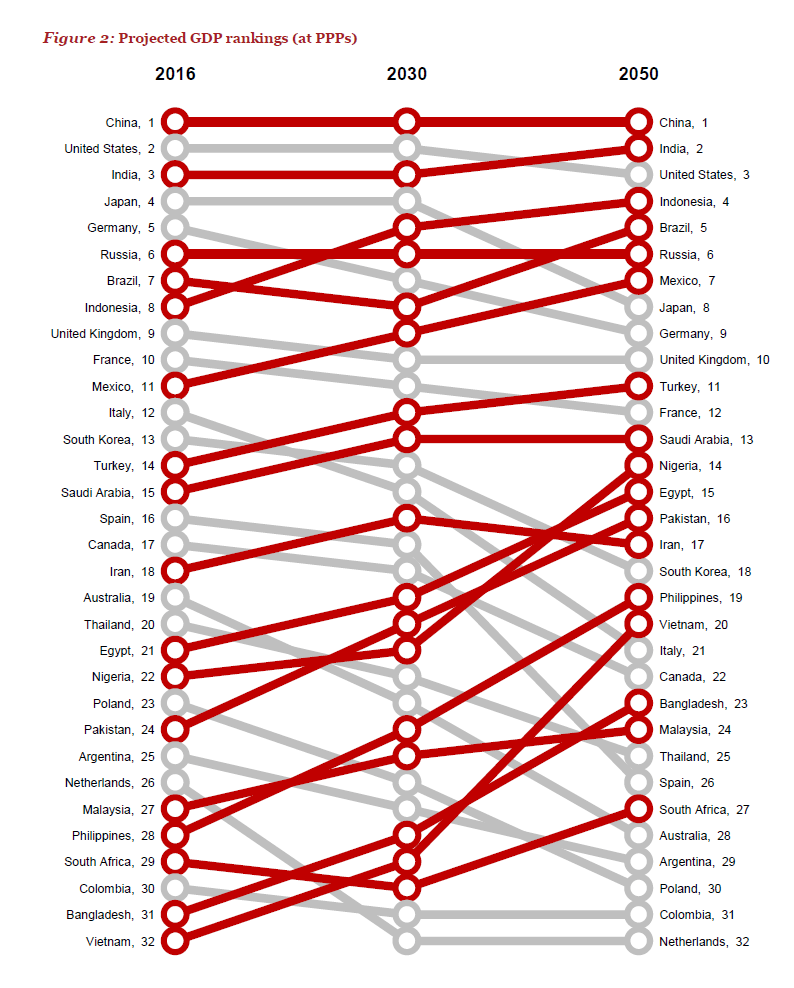 "Growth in many emerging economies will be supported by relatively fast-growing populations, boosting domestic demand and the size of the workforce," comments John Hawksworth, PwC Chief Economist and co-author of the report. "This will need, however, to be complemented with investments in education and improvement in macroeconomic fundamentals to ensure there are sufficient jobs for the growing number of young people in these countries."
One piece of good news for today's advanced economies is that they will continue to enjoy higher average incomes. With the possible exception of Italy, all of the G7 continue to sit above the E7 in the rankings of GDP per capita in 2050. Emerging markets will close this gap gradually over time, but full convergence of income levels across the world is likely to take until well beyond 2050.
China achieves a middling average income level by 2050, while India remains in the lower half of the income range given its starting point, despite relative high projected growth over time. This illustrates that while strong population growth can be a key driver of total GDP growth, it will take much longer to eliminate differences in average income levels.
"Average income gaps between countries will reduce over time, but this process will still be far from complete by 2050," explains Hawksworth. "In 2016, US GDP per capita was almost four times that of China's and almost nine times that of India's. By 2050, these gaps are projected to narrow so that average US income levels may be around double China's and around three times India's – but it is also possible that income inequality within countries will continue to rise, driven in particular by technological change that favours higher skilled workers and the owners of capital."
PwC expects global economic growth to average 3.5% per annum over the years to 2020, slowing to around 2.7% in the 2020s, 2.5% in the 2030s, and 2.4% in the 2040s. This will occur as many advanced economies (and eventually also some emerging markets like China) experience a marked decline in their working-age populations. At the same time, emerging market growth rates will moderate as these economies mature and the scope for rapid catch-up growth declines. These effects are projected to outweigh the impact of emerging economies having a progressively higher weight in world GDP, which would otherwise tend to boost average global growth.
To realise their potential, emerging economies must undertake sustained and effective investment in education, infrastructure and technology. The fall in oil prices from mid-2014 to early 2016 highlighted the importance of more diversified emerging economies for long-term sustainable growth. Underlying all of this is the need to develop the political, economic, legal and social institutions within emerging economies to generate incentives for innovation and entrepreneurship, creating secure and stable economies in which to do business.
Hawksworth continues: "Policymakers across the world face a number of challenges if they are to achieve sustainable long-term economic growth of the kind we project in this report. Structural developments – such as aging populations and climate change – require forward-thinking policy which equips the workforce to continue to make societal contributions later on in life and promotes low carbon technologies.
"Falling global trade growth, rising income inequality within many countries and increasing global geopolitical uncertainties are intensifying the need to create diversified economies which create opportunities for everyone in a broad variety of industries."
Emerging market development will create many opportunities for business. These will arise as these economies progress into new industries, open up to world markets and as their relatively youthful populations get richer. They will become more desirable places to work and live, attracting new investment and talent.
Emerging economies are rapidly evolving and often relatively volatile, however, so companies will need operating strategies that have the right mix of flexibility and patience to succeed in these markets. Case studies in the PwC report illustrate how businesses should be prepared to adjust their brand and market positions to suit differing and often more nuanced local preferences. An in-depth understanding of the local market and consumers will be crucial, which will often involve working with local partners.
John Hawksworth concludes: "Businesses need to be patient enough to ride out the short-term economic and political storms that will inevitably occur from time to time in these emerging markets as they move towards maturity. But the numbers in our report make clear that failure to engage with these emerging markets means missing out on the bulk of the economic growth we expect to see in the world economy between now and 2050."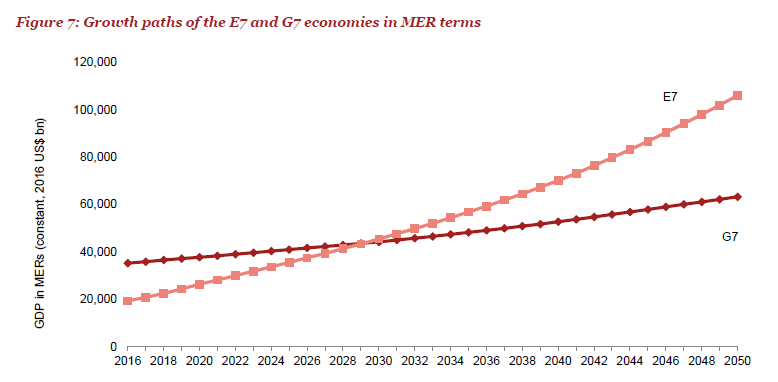 ---
• Follow us on Twitter
• Follow us on Facebook
7th February 2017
New technology could triple sharpness of displays
Researchers have developed a new blue-phase liquid crystal that could triple the sharpness of TVs, computer screens, and other displays while also reducing the power needed to run the device.
An international team of researchers has developed a new blue-phase liquid crystal that could enable televisions, computer screens and other displays that pack more pixels into the same space while also reducing the power needed to run the device. The new liquid crystal is optimised for field-sequential colour liquid crystal displays (LCDs), a promising technology for next-generation displays.
"Today's Apple Retina displays have a resolution density of about 500 pixels per inch," said Shin-Tson Wu, who led the research team at the University of Central Florida's College of Optics and Photonics (CREOL). "With our new technology, a resolution density of 1500 pixels per inch could be achieved on the same sized screen. This is especially attractive for virtual reality headsets or augmented reality technology, which must achieve high resolution in a small screen to look sharp when placed close to our eyes."
Although the first blue-phase LCD prototype was demonstrated by Samsung in 2008, the technology still hasn't moved into production, because of problems with high operation voltage and slow capacitor charging time. To tackle these problems, Wu's research team worked with collaborators from liquid crystal manufacturer JNC Petrochemical Corporation in Japan and display manufacturer AU Optronics Corporation in Taiwan.
In the journal Optical Materials Express, the team explains how combining the new liquid crystal with a special performance-enhancing electrode structure can achieve light transmittance of 74 percent, with 15 volts per pixel – operational levels that could finally be practical for commercial applications.
"Field-sequential colour displays can be used to achieve the smaller pixels needed to increase resolution density," explains Yuge Huang, first author of the paper. "This is important, because the resolution density of today's technology is almost at its limit."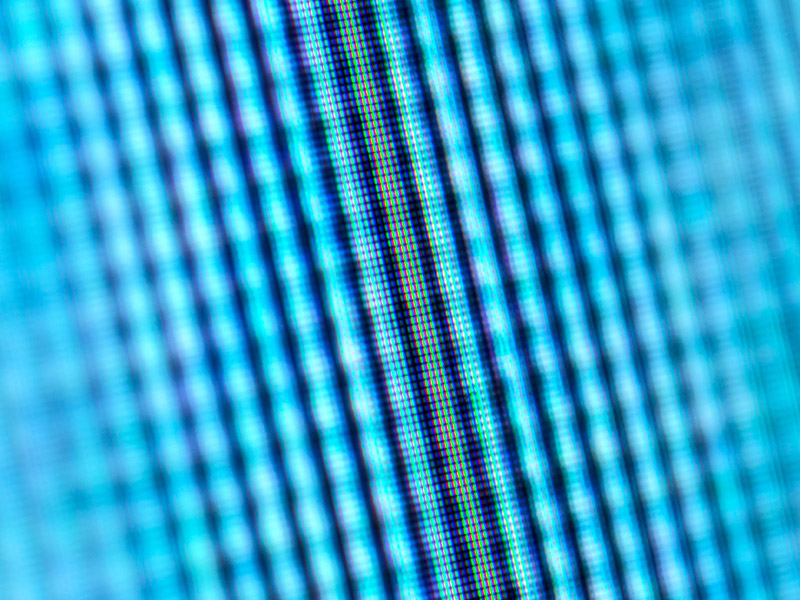 Today's LCD screens contain a thin layer of nematic liquid crystal through which the incoming white LED backlight is modulated. Thin-film transistors deliver the required voltage that controls light transmission in each pixel. The LCD subpixels contain red, green and blue filters that are used in combination to produce different colours to the human eye. The colour white is created by combining all three colours.

Blue-phase liquid crystal can be switched, or controlled, about 10 times faster than the nematic type. This sub-millisecond response time allows each LED colour (red, green and blue) to be sent through the liquid crystal at different times and eliminates the need for colour filters. The LED colours are switched so quickly that our eyes can integrate red, green and blue to form white.
"With colour filters, the red, green and blue light are all generated at the same time," said Wu. "However, with blue-phase liquid crystal, we can use one subpixel to make all three colours – but at different times. This converts space into time, a space-saving configuration of two-thirds, which triples the resolution density."
The blue-phase liquid crystal also triples the optical efficiency because the light doesn't have to pass through colour filters, which limit transmittance to about 30 percent. Another big advantage is that the displayed colour is more vivid because it comes directly from red, green and blue LEDs, which eliminates the colour crosstalk that occurs with conventional filters.
Wu's team worked with JNC to reduce the blue-phase liquid crystal's dielectric constant to a minimally acceptable range, to reduce the transistor charging time and get submillisecond optical response time. However, each pixel still needed slightly higher voltage than a single transistor could provide. To overcome this problem, the researchers implemented a protruded electrode structure that lets the electric field penetrate the liquid crystal more deeply. This lowered the voltage needed to drive each pixel while maintaining a high light transmittance.

"We achieved an operational voltage low enough to allow each pixel to be driven by a single transistor while also achieving a response time of less than a millisecond," said Haiwei Chen, a doctoral student in Wu's lab. "This delicate balance between operational voltage and response time is key for enabling field sequential colour displays."
Wu predicts that a working prototype could be available in the next year.
---
• Follow us on Twitter
• Follow us on Facebook
6th February 2017
Directed energy atmospheric lens could revolutionise future battlefields
Within the next 50 years, scientists at BAE Systems believe that battlefield commanders could deploy a new type of directed energy laser and lens system called a Laser Developed Atmospheric Lens. This would enhance commanders' ability to observe adversaries' activities over much greater distances than existing sensors.
At the same time, the lens could be used as a form of 'deflector shield' to protect friendly aircraft, ships, land vehicles and troops from incoming attacks by high power laser weapons that could also become a reality in the same time period.
The Laser Developed Atmospheric Lens (LDAL) concept, developed by researchers at the company's military aircraft facility in Lancashire, UK, has been evaluated by the Science and Technology Facilities Council (STFC) Rutherford Appleton Laboratory and specialist optical sensors company LumOptica and is based on known science. It works by simulating naturally occurring phenomena and temporarily – and reversibly – changes the Earth's atmosphere into lens-like structures to magnify or change the path of electromagnetic waves, such as light and radio signals.
LDAL is a powerful concept that mimics two existing effects in nature – the reflective properties of the ionosphere; and desert mirages. The ionosphere occurs at very high altitude and is a naturally occurring layer of Earth's atmosphere which can be reflective to radio waves. For example, it results in listeners being able to tune in to radio stations many thousands of miles away. Radio signals bounce off the ionosphere, allowing them to travel very long distances through the air and over the Earth's surface. The desert mirage provides the illusion of a distant lake in the hot desert. This is because the light from the blue sky is 'bent' or refracted by the hot air near the surface and into the vision of the person looking into the distance.
LDAL would simulate both of these effects by using a high pulsed power laser system and exploiting a physics phenomenon called the 'Kerr effect' to temporarily ionise or heat a small region of atmosphere in a structured way. Mirrors, glass lenses, and structures like Fresnel zone plates could all be replicated using the atmosphere, allowing the physics of refraction, reflection, and diffraction to be exploited.
"Working with some of the best scientific minds in the UK, we're able to incorporate emerging and disruptive technologies and evolve the landscape of potential military technologies in ways that, five or ten years ago, many would never have dreamed possible," said Nick Colosimo, BAE Systems' Futurist.
Professor Bryan Edwards, Leader of STFC's Defence, Security and Resilience Futures Programme, said of the work: "For this evaluation project, STFC's Central Laser Facility team worked closely with colleagues at BAE Systems. By harnessing our collective expertise and capabilities, we have been able to identify new ways in which cutting edge technology – and our understanding of fundamental physical processes and phenomena – has the potential to contribute to enhancing the safety and security of the UK."
Craig Stacey, CEO at LumOptica added: "This is a tremendously exciting time in laser physics. Emerging technologies will allow us to enter new scientific territories and explore ever new applications. We are delighted to be working with BAE Systems on the application of such game-changing technologies, evaluating concepts which are approaching the limits of what is physically possible and what might be achieved in the future."
---
• Follow us on Twitter
• Follow us on Facebook
3rd February 2017
Quantum computer blueprint published
Researchers led by the University of Sussex have published the first practical blueprint for how to build a large-scale quantum computer.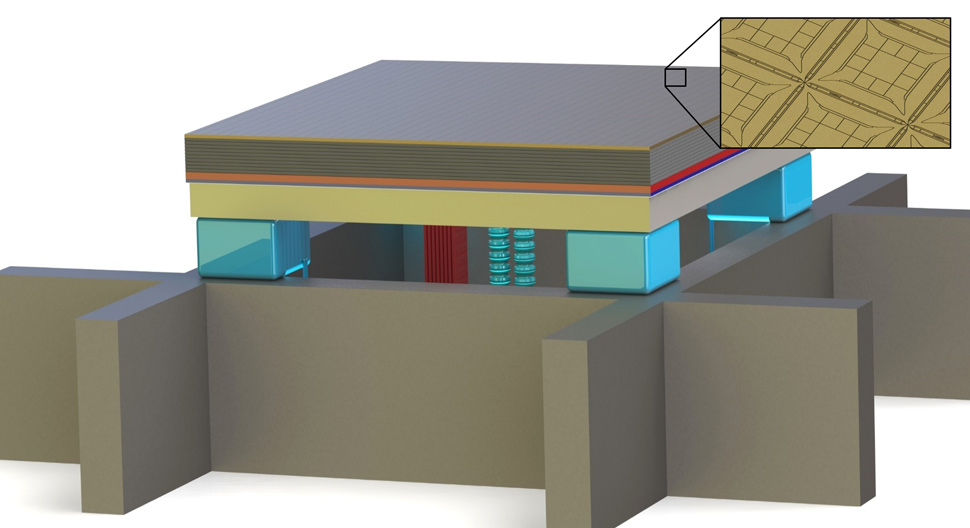 An international team, led by a scientist from the University of Sussex, has published the first practical blueprint for how to build a quantum computer – the most powerful computer in the world. This huge leap forward towards creating a universal quantum computer is detailed in the influential journal Science Advances.
It has long been known that such a computer would revolutionise industry, science and commerce on a similar scale as the invention of ordinary computers. But this new work features the actual industrial blueprint to construct such a large-scale machine, more powerful in solving certain problems than any computer ever built before.
Once operational, the computer's capabilities mean it would have the potential to answer many questions in science; solve the most mind-boggling scientific and mathematical problems; unravel some of the deepest mysteries of space; create revolutionary new medicines; and solve problems that an ordinary computer would take billions of years to compute.
The work features a new invention permitting actual quantum bits to be transmitted between individual quantum computing modules, in order to obtain a fully modular large-scale machine reaching nearly arbitrary large computational processing powers.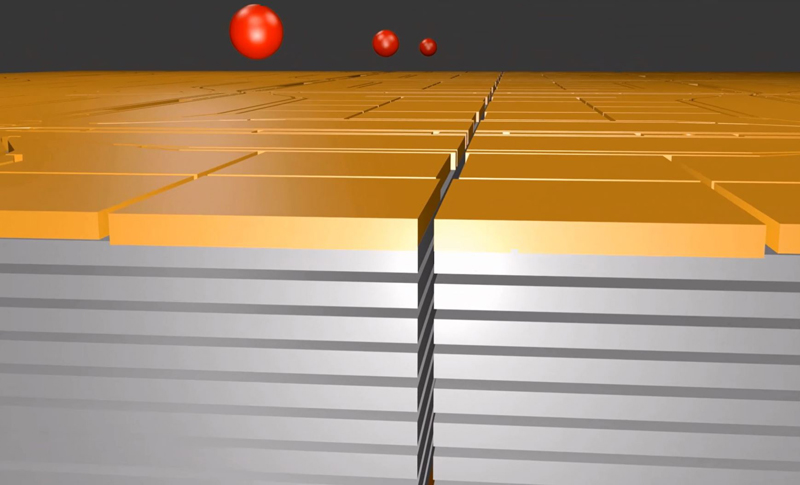 Previously, scientists had proposed using fibre optic connections to connect individual computer modules. The new invention introduces connections created by electric fields that allow charged atoms (ions) to be transported from one module to another. This new approach allows 100,000 times faster connection speeds between individual quantum computing modules compared to current state-of-the-art fibre link technology.
The new blueprint is the work of an international team of scientists from the University of Sussex (UK), Google (USA), Aarhus University (Denmark), RIKEN (Japan) and Siegen University (Germany).
Professor Winfried Hensinger, head of the Ion Quantum Technology Group at the University of Sussex, who has been leading this research, said: "For many years, people said that it was completely impossible to construct an actual quantum computer. With our work, we have not only shown that it can be done, but now we are delivering a nuts and bolts construction plan to build an actual large-scale machine."
Lead author Dr Bjoern Lekitsch, also from the University of Sussex, explains: "It was most important to us to highlight the substantial technical challenges as well as to provide practical engineering solutions."
As a next step, the team will construct a prototype quantum computer, based on this design, at the University.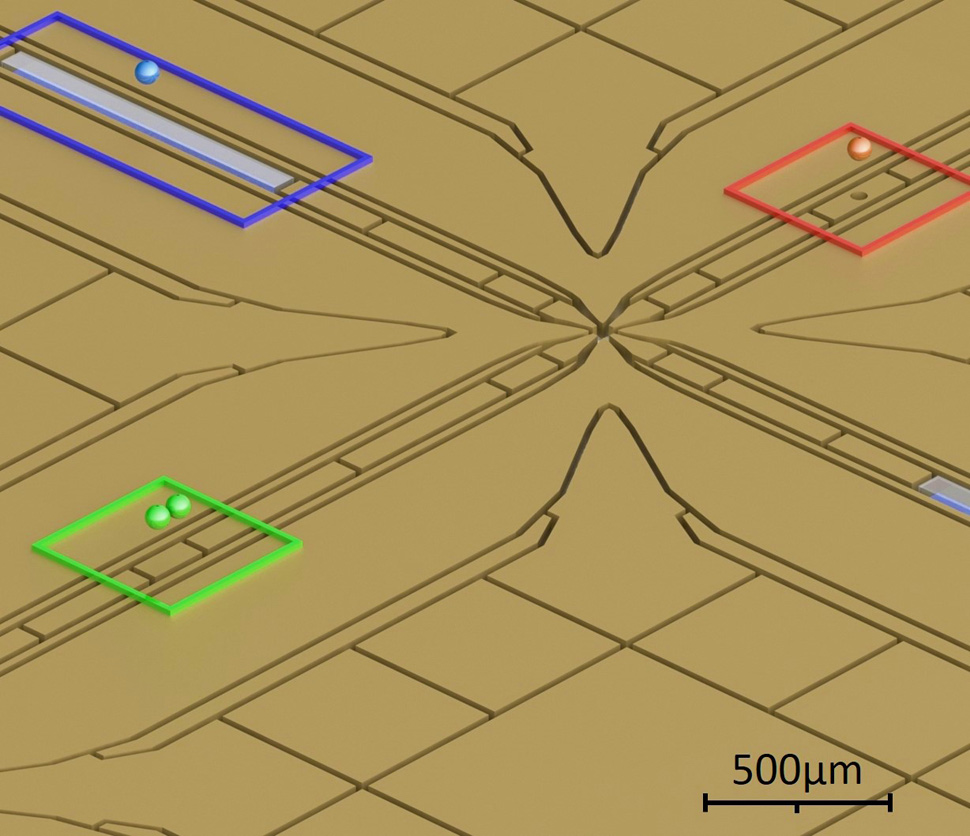 This effort is part of the UK Government's £270m ($337m) plan to accelerate the introduction of quantum technologies into the marketplace. It makes use of a recent invention by the Sussex team that can replace billions of laser beams required for large-scale quantum computer operations with the simple application of voltages to a microchip.
"The availability of a universal quantum computer may have a fundamental impact on society as a whole," said Professor Hensinger. "Without doubt it is still challenging to build a large-scale machine, but now is the time to translate academic excellence into actual application building on the UK's strengths in this ground-breaking technology. I am very excited to work with industry and government to make this happen."
The computer's possibilities for solving, explaining or developing could be endless. However, its size will be anything but small. The machine is expected to fill a large building, consisting of sophisticated vacuum apparatus featuring integrated quantum computing silicon microchips that hold individual charged atoms (ions) using electric fields.
The blueprint to develop such computers has been made public to ensure scientists throughout the world can collaborate and further develop this awesome technology as well as to encourage industrial exploitation.
Note: All images courtesy of the University of Sussex
---
• Follow us on Twitter
• Follow us on Facebook