17th October 2017
Liquid metal brings soft robotics a step closer
Scientists in the UK have invented a way to morph liquid metal into physical shapes.
Researchers at the University of Sussex and Swansea University developed a way to apply electrical charges to manipulate liquid metal into 2D shapes such as letters and a heart. In the picture above, an amorphous blob is seen forming into a letter "S".
The team says their findings represent an "extremely promising" new class of materials that could be programmed to change shape seamlessly. This opens up new possibilities in 'soft robotics' and shape-changing displays, the researcher say.
While the invention might bring to mind the film Terminator 2, in which the main antagonist morphs out of a pool of liquid metal, the creation of such advanced 3D shapes is still some way off. More immediate applications could include reprogrammable circuit boards and conductive ink.
Yutaka Tokuda, the Research Associate working on this project at the University of Sussex, says: "This is a new class of programmable materials in a liquid state which can dynamically transform from a simple droplet shape to many other complex geometries in a controllable manner. While this work is in its early stages, the compelling evidence of detailed 2D control of liquid metals excites us to explore more potential applications in computer graphics, smart electronics, soft robotics and flexible displays."
The electric fields used to shape the liquid are created by a computer, meaning that the position and shape of the liquid metal can be programmed and controlled dynamically.
Professor Sriram Subramanian, head of the INTERACT Lab at the University of Sussex, said: "Liquid metals are an extremely promising class of materials for deformable applications; their unique properties include voltage-controlled surface tension, high liquid-state conductivity and liquid-solid phase transition at room temperature.
"One of the long-term visions of us and many other researchers is to change the physical shape, appearance and functionality of any object through digital control to create intelligent, dexterous and useful objects that exceed the functionality of any current display or robot."
---
• Follow us on Twitter
• Follow us on Facebook
• Subscribe to us on YouTube
16th October 2017
First trans-Neptunian object with a ring
The dwarf planet Haumea is confirmed to have a ring, the first time such a feature has been discovered around a trans-Neptunian object.
On the outskirts of our Solar System, beyond the orbit of Neptune, lies a belt of objects composed of ice and rocks, among which four dwarf planets stand out: Pluto, Eris, Makemake and Haumea. The latter is the least well known of the four and was recently the object of an international observation campaign that established its main physical characteristics. The study, led by astronomers from the Institute of Astrophysics of Andalusia and published in the journal Nature, reveals the presence of a ring around the planet.
Trans-Neptunian objects are difficult to study because of their small size, their low brightness, and the enormous distances that separate us from them. A very efficient but complex method lies in the study of stellar occultations, or the passing of these objects in front of a star (like a small eclipse). It allows astronomers to determine the main physical characteristics of an object (size, shape, and density) and has been successfully applied to dwarf planets Pluto, Eris and Makemake.
"We predicted that Haumea would pass in front of a star on 21st January 2017, and 12 telescopes from ten different European observatories converged on the phenomenon," says José Luis Ortiz, researcher at the Institute of Astrophysics of Andalusia (IAA-CSIC) in charge of the study. "This deployment of technical means allowed us to reconstruct – with a very high precision – the shape and size of dwarf planet Haumea, and discover to our surprise that it is considerably bigger and less reflecting than was previously believed. It is also much less dense than previously thought, which answered questions that had been pending about the object."
Haumea is an interesting body: it rotates around the Sun in an elliptical orbit, which takes 284 years to complete (it presently lies 50 times further from the Sun than the Earth) and takes 3.9 hours to rotate around its axis, far less than any other body of 100 km or greater size in the entire Solar System. This high rotational speed causes it to flatten out, giving it an ellipsoid shape, similar to a rugby ball. The newly published data reveals that Haumea measures 2,320 km in its largest axis – almost the same as Pluto – but lacks the global atmosphere that Pluto has.
"One of the most interesting and unexpected findings was the discovery of a ring around Haumea," says Pablo Santos-Sanz, another member of the IAA-CSIC team. "Until a few years ago, we only knew of the existence of rings around the giant planets. Then, recently, our team discovered that two small bodies between Jupiter and Neptune, belonging to a group called centaurs, have dense rings around them, which came as a big surprise. Now we have discovered that bodies even farther away than the centaurs – bigger and with very different general characteristics – can also have rings."
According to the data obtained from the stellar occultation, the ring lies on the equatorial plane of the dwarf planet, just like its biggest satellite, Hi'iaka, and it displays a 3:1 resonance with respect to the rotation of Haumea, which means that the frozen particles which compose the ring rotate three times slower around the planet than it rotates around its own axis.
"There are different possible explanations for the formation of the ring," says Ortiz. "It may have originated in a collision with another object, or in the dispersal of surface material, due to the planet's high rotational speed. It is the first time a ring has been discovered around a trans-Neptunian object, and shows that the presence of rings could be far more common than was previously thought, in our Solar System as well as other planetary systems."
---
• Follow us on Twitter
• Follow us on Facebook
• Subscribe to us on YouTube
12th October 2017
Scientists find way to genetically boost nutritional value of corn
Scientists at Rutgers University have found an efficient way to enhance the nutritional value of corn, by inserting a bacterial gene from E. coli that stimulates production of a key nutrient called methionine, an amino acid usually found in meat.
A genetic discovery by Rutgers University could benefit millions of people in developing countries, such as in South America and Africa, who depend on corn as a staple. It could also significantly reduce worldwide animal feed costs.
"We improved the nutritional value of corn, the largest commodity crop grown on Earth," said Thomas Leustek, study co-author and professor in the Department of Plant Biology in the School of Environmental and Biological Sciences. "Most corn is used for animal feed, but it lacks methionine – a key amino acid – and we found an effective way to add it."
Methionine, found in meat, is one of the nine essential amino acids that humans get from food. It is needed for growth and tissue repair, improves the tone and flexibility of skin and hair, and strengthens nails. The sulphur in methionine protects cells from pollutants, slows cell aging and is essential for absorbing selenium and zinc. Worldwide, several billion dollars of synthetic methionine is added to corn seeds annually, but the process is costly and energy-intensive.
The scientists inserted an E. coli bacterial gene into the corn plant's genome and grew several generations of corn. The E. coli enzyme – 3′-phosphoadenosine-5′-phosphosulfate reductase (EcPAPR) – spurred methionine production in just the plant's leaves instead of the entire plant to avoid the accumulation of any toxic by-products. As a result, methionine in corn kernels increased by 57 percent. Tests on chickens at the university showed that the genetically engineered corn was nutritious for them.
In the developed world, including the U.S., meat proteins generally have lots of methionine. But in the developing world, subsistence farmers grow corn for their family's consumption: "Our study shows that they wouldn't have to purchase methionine supplements or expensive foods that have higher methionine," said Leustek.
---
• Follow us on Twitter
• Follow us on Facebook
• Subscribe to us on YouTube
11th October 2017
Futuristic pedestrian crossing unveiled in London
A prototype "smart crossing" has been demonstrated in London, which automatically differentiates between vehicles, pedestrians and cyclists – adapting its markings and signals to their needs in real-time, ensuring a safer experience for all users.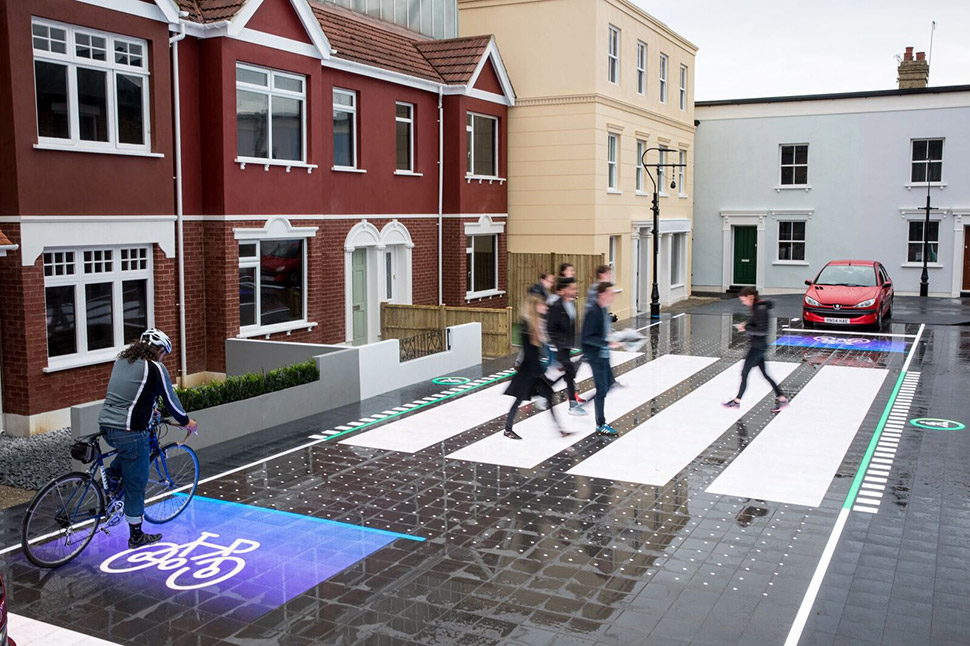 The world's first responsive road crossing is being showcased in London this week, aimed at tackling the 7,000+ incidents recorded each year at UK crossings between vehicles, cyclists and pedestrians. Urban design technologists Umbrellium created the crossing for insurer Direct Line, in response to research by Transport Research Lab (TRL), which unearthed the dangers faced at pedestrian crossings.
Many factors were identified by TRL that affect the safety of pedestrians on road crossings. The pedestrian's position and route as they cross the road, the influence of other pedestrians dangerously crossing the road and the impact of overcrowding at crossing facilities, are all potentially hazardous occurrences that shaped the design of this new technology.
The Smart Crossing, which spans 22m (72 ft) of responsive road surface, uses computer vision technology to "see" exactly what's happening around it, and an LED road surface to change its markings dynamically to keep users safe, without manual input. It can pre-empt pedestrians' movement and where their eyeline is most likely to be, helping to ensure it grabs attention to limit danger.
The project has received backing from road safety charity, Brake and The Parliamentary Advisory Council for Transport Safety (PACTS) – who stated that the Smart Crossing "could offer an innovative solution across the UK and especially in London where the problem is most prevalent."
The Smart Crossing has a number of other features:
• It can widen to accommodate large groups, which could help in preventing crowd-related incidents outside schools or sporting events
• It can instantly adapt in emergency situations, such as a child chasing a ball into the path of oncoming traffic
• It can provide warning signals for pedestrians walking across the road, to ensure they're not hidden by high-sided vehicles that can cause a blind spot for other road users
• It can use dynamic road and pavement patterns to grab the attention of "smombies" (i.e. pedestrians engrossed in their mobile phones), urging them to "look up" and focus on crossing the road safely and to make life safer for the 'head down' generation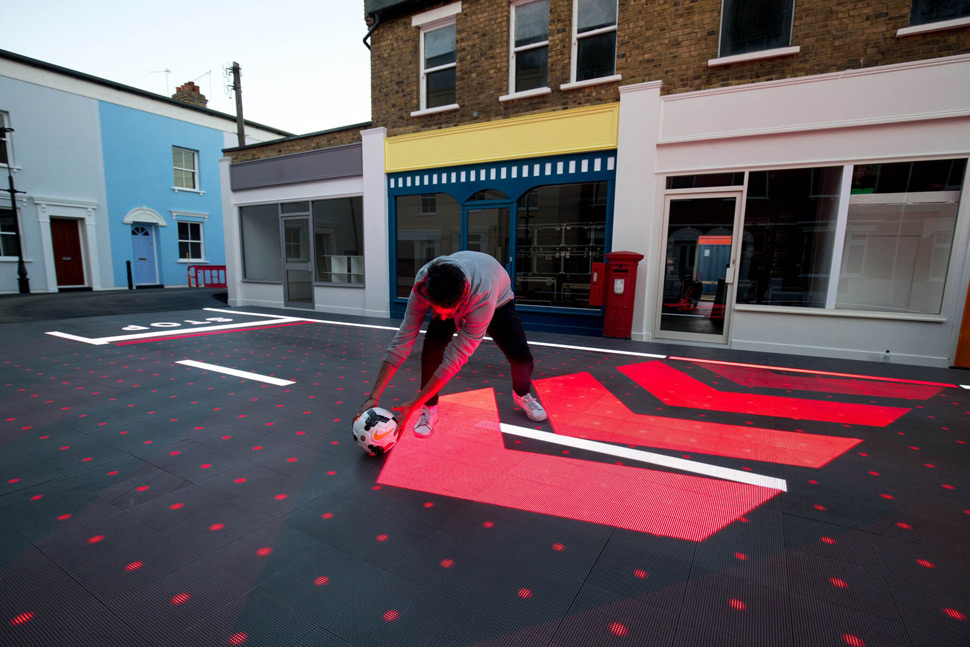 Usman Haque, founding partner of Umbrellium, said: "This is a genuine problem and we've developed a genuine solution. The Smarter Crossing dynamically responds in real-time, using technology which has been designed with colours that we know and understand and practical designs that help those on the crossing feel comfortable, confident and safe.
This is about bringing pedestrian crossings up to speed with the rest of a modern-day city. Pedestrian crossings as we know them were made for a different age, when the human relationship with the city was completely different.
Our prototype is waterproof, can hold the weight of vehicles and can recognise the difference between pedestrians, vehicles and cyclists – it's ready to change the future of how we cross the road."
Rachael Lynch, Brand Activation Marketing Manager at Direct Line, said: "Direct Line develops high performance solutions to everyday challenges and our Smart Crossing is the latest example of this. We've developed a world first piece of technology to address the problems that arise when pedestrians, cyclists and vehicles meet; at a pedestrian crossing.

"Cities across the world are future proofing and we believe our model could be an essential part of everyday life. In a world where we are immersed in mobile technology, the Smart Crossing can pre-empt danger and urge pedestrians to look up before crossing a road."
---
• Follow us on Twitter
• Follow us on Facebook
• Subscribe to us on YouTube
10th October 2017
Vast energy potential of ocean-based wind farms
A study by the Carnegie Institution for Science finds that wind farms in the North Atlantic could, in theory, provide sufficient energy to meet all of humanity's current needs during wintertime.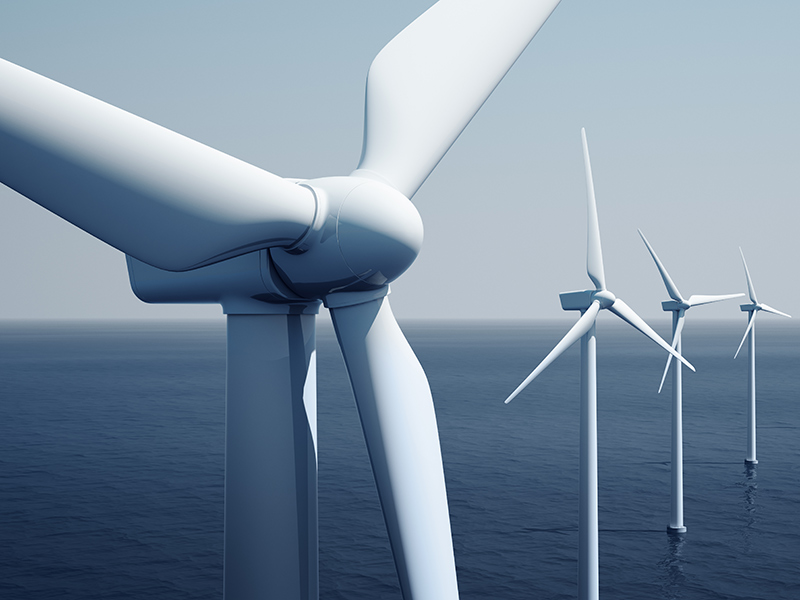 There is massive potential for generating wind power in the open ocean – particularly the North Atlantic – according to new research from Anna Possner and Ken Caldeira from the Carnegie Institution for Science. Their work is published in Proceedings of the National Academy of Sciences.
Because wind speeds are higher on average over ocean than over land, wind turbines in the open ocean could in theory intercept more than five times as much energy as wind turbines over land. This presents an enticing opportunity for generating renewable energy through wind turbines. But it was unknown whether the faster ocean winds could actually be converted to increased amounts of electricity.
"Are the winds so fast just because there is nothing out there to slow them down? Will sticking giant wind farms out there just slow down the winds so much that it is no better than over land?" Caldeira asked.
Most of the energy captured by large wind farms originates higher up in the atmosphere and is transported down to the surface where the turbines may extract this energy. Other studies have estimated that there is a maximum rate of electricity generation for land-based wind farms, and have concluded that this maximum rate of energy extraction is limited by the rate at which energy is moved down from faster, higher up winds.
"The real question is," Caldeira said, "can the atmosphere over the ocean move more energy downward than the atmosphere over land is able to?"
Possner and Caldeira's sophisticated modelling tools compared the productivity of large Kansas wind farms to massive, theoretical open-ocean wind farms and found that in some areas, ocean-based wind farms could generate at least three times more power than the ones on land.
In the North Atlantic, in particular, the drag introduced by wind turbines would not slow down winds as much as they would on land, Possner and Caldeira found. This is largely due to the fact that large amounts of heat pour out of the North Atlantic Ocean and into the overlying atmosphere, especially during the winter. This contrast in surface warming along the U.S. coast drives the frequent generation of cyclones, or low-pressure systems, that cross the Atlantic and are very efficient in drawing the upper atmosphere's energy down to the height of the turbines.
"We found that giant ocean-based wind farms are able to tap into the energy of the winds throughout much of the atmosphere, whereas wind farms onshore remain constrained by the near-surface wind resources," Possner explained.
This tremendous wind power is very seasonal. In the summer, such wind farms could generate enough power to cover the electricity demand of Europe, or possibly the United States alone. In the winter, however, North Atlantic wind farms could provide sufficient energy to meet the entire annual global energy demand of 18 terawatts. These wind farms would need to be spread across 3 million square kilometres, the authors calculate.
Wind power production in the open ocean is in its infancy of commercialisation. The huge energy resources identified by this study provide strong incentives to develop lower-cost technologies able to operate in deep water environments and transmit this electricity to land where it can be used.
---
• Follow us on Twitter
• Follow us on Facebook
• Subscribe to us on YouTube
9th October 2017
Batteries that charge up to 20 times faster
A touch of asphalt may be the secret to high-capacity lithium metal batteries that charge up to 20 times faster than commercial lithium-ion batteries, according to Rice University scientists.
The laboratory of James Tour developed anodes comprising porous carbon made from asphalt that showed exceptional stability after more than 500 charge-discharge cycles. A high-current density of 20 milliamps per square centimetre demonstrated the material's promise for use in rapid charge and discharge devices that require high-power density. This finding is reported in the American Chemical Society journal ACS Nano.
"The capacity of these batteries is enormous, but what is equally remarkable is that we can bring them from zero charge to full charge in five minutes, rather than the typical two hours or more needed with other batteries," Tour said.
The Tour lab previously used a derivative of asphalt – specifically, untreated gilsonite, the same type used for the battery – to capture greenhouse gases from natural gas. This time, the researchers mixed asphalt with conductive graphene nanoribbons and coated the composite with lithium metal through electrochemical deposition.
The lab combined the anode with a sulfurised-carbon cathode to make full batteries for testing. The batteries showed a high-power density of 1,322 watts per kilogram and high-energy density of 943 watt-hours per kilogram.
Testing showed another benefit: the carbon mitigated the formation of lithium dendrites. These moss-like deposits invade a battery's electrolyte. If they extend far enough, they short-circuit the anode and cathode and can cause the battery to fail, catch fire or explode. But the asphalt-derived carbon prevents any dendrite formation.
An earlier project by the lab found that an anode of graphene and carbon nanotubes also prevented the formation of dendrites. Tour said the new composite is simpler: "While the capacity between the former and this new battery is similar, approaching the theoretical limit of lithium metal, the new asphalt-derived carbon can take up more lithium metal per unit area, and it is much simpler and cheaper to make," he explained. "There is no chemical vapour deposition step, no e-beam deposition step and no need to grow nanotubes from graphene, so manufacturing is greatly simplified."
---
• Follow us on Twitter
• Follow us on Facebook
• Subscribe to us on YouTube
5th October 2017
Honda reveals prototype disaster response robot
Japanese conglomerate Honda has unveiled the E2-DR, a prototype humanoid robot that could help to save lives in disaster zones.
The robot was presented at the 30th International Conference On Intelligent Robots and Systems (IROS) held in Vancouver, Canada, and is described in a paper entitled "Development of Experimental Legged Robot for Inspection and Disaster Response in Plants".
The E2-DR is designed to be stronger, more robust and more nimble than Honda's earlier creation, the famous ASIMO. It has 33 degrees of freedom – including eight per arm, six per leg, two for its torso (180° rotatable), and one for its hands and head. It stands 1.68 m (5' 6") tall, weighs 85 kg (187 lb) and includes a 1000-Wh lithium-ion battery for 90 minutes of operating time.
The robot's head features two rotating Hokuyo laser rangefinders, a monocular camera with a synchronised LED flash, an SR4000 time of flight camera, and a stereo camera coupled to an infrared light projector. There are also cameras and a 3D sensor on each of its hands. Its thin shape allows the robot to squeeze through gaps of just 25 cm (9.8"), which could be vitally important in emergency situations. It is also waterproof and dustproof.
While still at the prototype stage, the E2-DR already has a number of impressive abilities, as the video below shows.
---
• Follow us on Twitter
• Follow us on Facebook
• Subscribe to us on YouTube
4th October 2017
Sydney and Melbourne could experience 50°C days within a few decades
Due to rising global temperatures, Australia's two biggest cities could swelter through 50°C days by the 2040s, a new study concludes.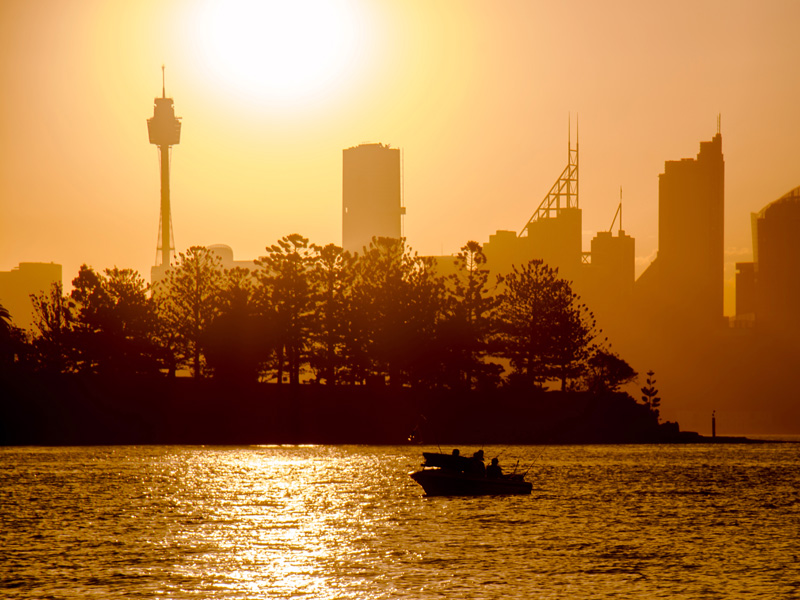 A new study led by the Australian National University (ANU) has warned that Melbourne and Sydney should prepare for 50°C summer days by the 2040s. Lead researcher Dr Sophie Lewis said the study assessed the potential magnitude of future extreme temperatures in Australia under Paris agreement targets of 1.5 and 2 degrees Celsius above pre-industrial levels.
"Major Australian cities, such as Sydney and Melbourne, may experience unprecedented temperatures of 50 degrees Celsius under 2 degrees of global warming," said Dr Lewis. "The increase in Australian summer temperatures indicates that other major cities should also be prepared for unprecedented future extreme heat.
"Our climate modelling has projected daily temperatures of up to 3.8 degrees Celsius above existing records in Victoria and New South Wales, despite the ambitious Paris efforts to curb warming."
Dr Lewis said immediate climate action internationally could prevent record extreme seasons year after year.
"Urgent action on climate change is critical – the severity of possible future temperature extremes simulated by climate models in this study poses serious challenges for our preparedness for future climate change in Australia," she said.
Dr Lewis said the record hot Australian summer in 2012 and 2013 was made more likely due to human-caused greenhouse warming, and such an event was expected to occur more frequently under future warming.
"One of the hottest years on record globally in 2015 could be an average year by 2025," she said.
Co-researcher Dr Andrew King from the University of Melbourne said the research team used a combination of observations and modelling to assess how the magnitude of record-breaking events may change in the future.
"Previous scientific studies have focused on how current temperature extremes have been impacted by climate change, or on how the frequency of these current extremes will change in the future," said Dr King from the School of Earth Sciences and the Centre of Excellence for Climate System Science at the University of Melbourne.
"This study takes a different approach and examines how the severity of future temperature extremes might change in the future."
The research, supported by the Centre of Excellence for Climate System Science, is published in Geophysical Research Letters.
---
• Follow us on Twitter
• Follow us on Facebook
• Subscribe to us on YouTube