7th March 2014
World's tallest vertical garden will rise to 46 storeys
With self-sustaining gardens, this new eco-friendly skyscraper in Sri Lanka will give residents a sensation of ground-level living. The 46-storey tower is planned for completion in 2016.
Pictured here is Clear Point Residences, a new high-rise apartment complex in Kotte, Sri Lanka. The $100 million project – the first of its kind in the country – features an innovative design that is highly sustainable. This includes solar panels for electricity generation, planted facades, automated drip irrigation and water recycling systems.
These self-sustaining gardens provide cool and shady terraces, ensuring that no windows are exposed to direct sunlight, which therefore reduces the need for air conditioning units. They offer enhanced privacy and a tranquil environment that absorbs CO2, air and noise pollution. All of the apartments are cross-ventilated to provide further cooling. In addition to lowering energy consumption, the utility systems cut water usage from the grid by 45% – thanks to harvested rainwater, recycled bathroom water and on-site sewage treatment. Moreover, steps have been taken to allow the building to evolve in time with necessary additions from advancements in technology.
As designer Milroy Perera states: "Ultimately, the aim is to create a living space where you can not only feel at one with the environment, but actively contribute towards safeguarding and sustainable use of its resources. We are working very closely with our contractors Maga Engineering to enable the first self-sustaining building in Sri Lanka. The main focus of the apartment will be to provide an atmosphere and sentiment of ground-level living."
The 186 m (610 ft) structure will consist of 164 three bedroom apartments, four apartments per level, each of 2,300 ft2 with all internal spaces opening into planted terraces. The apartments are designed in a sleek and sophisticated manner. Construction of the tower is now underway and due for completion in early 2016, at which point it will become the world's tallest vertical garden – surpassing the 33-storey, 117 m (384 ft) One Central Park in Sydney, Australia. Given the environmental challenges the world faces, eco-towers like these could be fairly commonplace by 2050.
7th March 2014
New technique for direct imaging of exoplanets
For the first time, astronomers have used the same imaging technology found in digital cameras to take a photo of a planet outside our Solar System with a ground-based telescope.
University of Arizona researchers have taken images of a planet outside our Solar System with an Earth-based telescope using essentially the same type of imaging sensor found in digital cameras, instead of an infrared detector. Although it still has a long way to go, this new method brings astronomers a step closer to obtaining direct images of Earth-like planets from the visible part of the light spectrum.
"This is an important next step in the search for exoplanets, because imaging in visible light instead of infrared is what we likely have to do if we want to detect planets that might be suitable for harbouring life," said Jared Males, lead author on a report to be published in The Astrophysical Journal.
Even though the image was taken at a wavelength just beyond human eye visibility, the use of a digital camera-type imaging sensor – known as a charge-coupled device (CCD) – opens up the possibility of imaging exoplanets in visible light, which has not been possible with Earth-based telescopes until now. So far, all Earth-based images taken of exoplanets close to their stars have been infrared images, which detect the planets' heat. This limits the technology to gas giants – massive, hot planets, still young enough to shed heat. In contrast, older and possibly habitable planets that have cooled since their formation don't show up in infrared images as readily, and to image them, astronomers will have to rely on cameras capable of detecting visible light.
"Our ultimate goal is to image what we call pale blue dots," said Laird Close, a professor in the Department of Astronomy, who co-authored the paper. "After all, the Earth is blue. And that's where you want to look for other planets: in reflected blue light."
The photographed planet, Beta Pictoris b, is located approximately 63 light-years away in the constellation of Pictor, orbiting the 4th magnitude debris disk star Beta Pictoris. It orbits the star at only nine times the Earth-Sun distance, making its orbit smaller than Saturn's. In the team's CCD images, Beta Pictoris b appears about 100,000 times fainter than its host star, making it the faintest object imaged so far at such high contrast and at such relative proximity to its star. New images of this planet helped to confirm that its atmosphere is at a temperature of roughly 2600 degrees Fahrenheit (1700 Kelvin). It is estimated that Beta Pictoris b has a radius about 65% larger than Jupiter's.
"Because the Beta Pictoris system is 63.4 light years from Earth, the scenario is equivalent to imaging a dime right next to a lighthouse beam from more than four miles away," Males said. "Our image has the highest contrast ever achieved on an exoplanet that is so close to its star."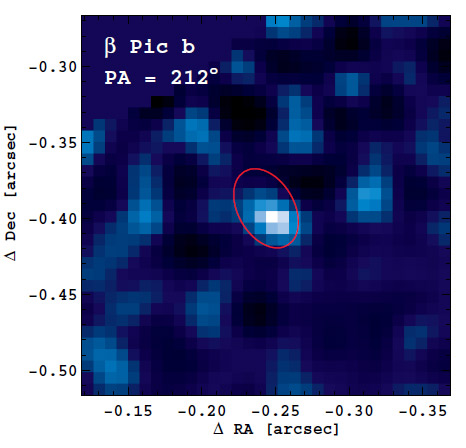 As well as the host star's overwhelming brightness, the astronomers had to overcome turbulence in Earth's atmosphere, which causes stars to twinkle and images to blur. The success reported here is mostly due to an adaptive optics system developed by Close and his team that eliminates much of the atmosphere's effect.
The Magellan Adaptive Optics technology is very good at removing this turbulence, or blurring, by means of a deformable mirror changing shape 1,000 times each second in real time. Adaptive optics have been used for more than 20 years at observatories in Arizona – most recently at the Large Binocular Telescope – and the latest version has now been deployed in the high desert of Chile at the Magellan 6.5-metre telescope.
The team also imaged the planet with both of MagAO's cameras, giving the scientists two completely independent simultaneous images of the same object in infrared, as well as bluer light, to compare and contrast.
"An important part of signal processing is proving that the tiny dot of light is really a planet and not a speckle of noise," said Katie Morzinski, a member of the MagAO team. "I obtained the second image in the infrared spectrum – at which the hot planet shines brightly – to serve as an unequivocal control that we are indeed looking at the planet. Taking the two images simultaneously helps to prove the planet image on the CCD is real and not just noise."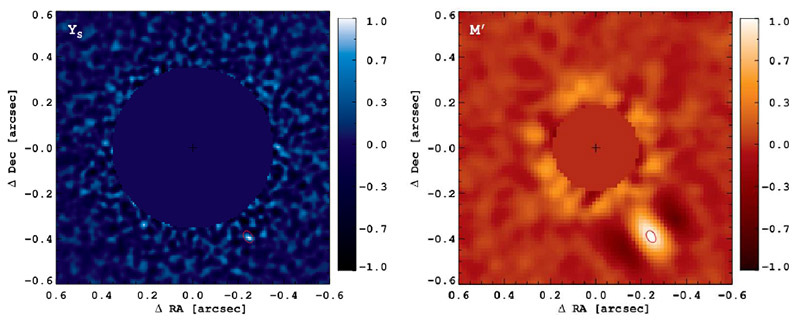 7th March 2014
Human Longevity Inc. (HLI) launched to promote healthy aging using advances in genomics and stem cell therapies
Human Longevity Inc. (HLI) – a new company focused on extending healthy, high performance human lifespan – was announced this week by co-founders Peter Diamandis, Craig Venter and Robert Hariri.

The company, based in San Diego, California, is being capitalised with an initial $70 million investment. These funds will be used to build the most comprehensive and complete human genome, microbiome, and phenotype database in the world – available to tackle the diseases associated with age-related human biological decline. HLI is also leading the development of cell-based therapeutics to address age-related decline in endogenous stem cell function. Revenue streams will be derived from database licensing to pharmaceutical, biotechnology and academic organisations, sequencing and development of advanced diagnostics and therapeutics.
"Using the combined power of our core areas of expertise– genomics, informatics and stem cell therapies, we are tackling one of the greatest medical/scientific and societal challenges – aging and aging related diseases," said Dr. Venter. "HLI is going to change the way medicine is practiced by helping to shift to a more preventive, genomic-based medicine model which we believe will lower healthcare costs. Our goal is not necessarily lengthening life, but extending a healthier, high performing, more productive lifespan."
HLI has purchased two Illumina HiSeq X Ten Sequencing Systems (with an option to acquire three additional systems) to sequence up to 40,000 human genomes per year, with plans to rapidly scale up to 100,000 human genomes per year. HLI will sequence a variety of humans – children, adults and super centenarians, those with diseases and those without.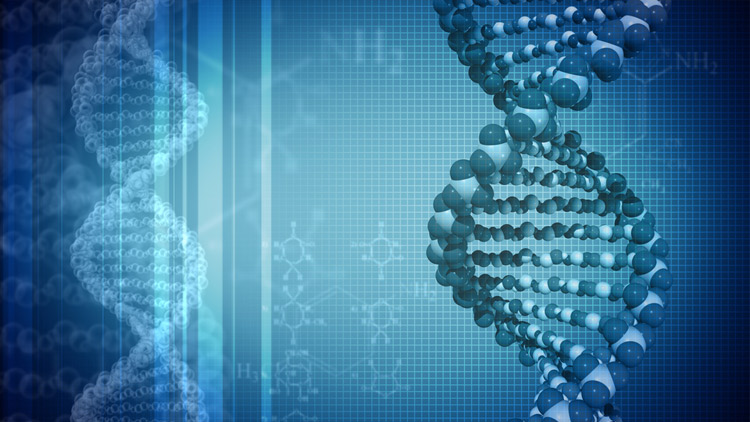 HLI is focusing its initial clinical sequencing efforts on cancer. While many are tackling this area using gene sequencing and other advanced technologies, there has not been a comprehensive clinical effort to combine germ line, human genome and tumour genome sequencing along with comprehensive biochemical information from each patient. Later, the company plans to extend its efforts to diabetes and obesity, heart and liver diseases, as well as dementia.
The goal of HLI is to analyse, utilise and share data, to enhance diagnostic abilities and improve patient outcomes in medical centres worldwide. This will involve strategic collaborations with Metabolon Inc., the J. Craig Venter Institute (JCVI) and the University of California, San Diego. Together, they will undertake an ambitious multi-pronged effort utilising stem cell therapy advances to enhance and improve the healthy life span. HLI's work is premised on the theory that as the human body ages, many biological changes occur – including substantial changes and degradation to the genome of the differentiated, specialised cells found in all body tissues. There is also a depletion and degradation of healthy regenerative stem cell populations in the body over time. HLI will monitor genomic changes that occur during stem cell differentiation, normal aging, and in association with the onset of disease.
"The global market for healthy human longevity is enormous, with total healthcare expenditures in those 65 and older running well over $7 trillion," said Dr. Hariri. "We believe that HLI's unique science and technology, along with our business leadership, will positively impact the healthcare market with novel diagnostics and therapeutics."
"Between 1910 and 2010, improvements in medicine and sanitation increased the human lifespan by 50 percent – from 50 to 75 years," said Dr. Diamandis. "Today, with the emergence of exponential technologies such as those being pioneered and advanced by HLI, we have the potential to meaningfully extend the lifespan even further."
6th March 2014
Controlled by facial expressions, this new "wearable ear PC" can perform a range of functions such as opening apps and monitoring users' health. With a built-in GPS, compass, gyro-sensor, speaker and microphone, the device weighs just 17g. Its creator, Japanese engineer Kazuhiro Taniguchiset, says the device will be launched in 2016.
4th March 2014
No warming hiatus for extreme hot temperatures
Despite claims of a recent slowdown in global mean temperature, the number of local temperature extremes has "dramatically and unequivocally increased in number and area", according to researchers at the University of New South Wales. This has also occurred despite the complete absence of a strong El Niño since 1998.
Extremely hot temperatures over land have dramatically and unequivocally increased in number and area despite claims that the rise in global average temperatures has slowed over the past 10 to 20 years during what some public commentators have called a global warming hiatus period.
Scientists from the University of New South Wales (UNSW) ARC Centre of Excellence for Climate System Science and international colleagues made the finding when they focused their research on the rise of temperatures at the extreme end of the spectrum, where impacts are felt the most.
"It quickly became clear, the 'hiatus' in global average temperatures did not stop the rise in the number, intensity and area of extremely hot days," said one of the paper's authors, Dr Lisa Alexander.
"Our research has found a steep upward tendency in the temperatures and number of extremely hot days over land and the area they impact, despite the complete absence of a strong El Niño since 1998."
The researchers examined the extreme end of the temperature spectrum because this is where global warming impacts are expected to occur first and are most clearly felt. As Australians saw this summer and the last, extreme temperatures in inhabited areas have major impacts on society. The observations also show that extremely hot events are now affecting, on average, more than twice the area when compared to similar events 30 years ago.
To get their results, which are published in the journal Nature Climate Change, the researchers examined hot days starting from 1979. Temperatures of every day throughout the year were compared against temperatures on that exact same calendar day from 1979-2012. The hottest 10 per cent of all days over that period were classified as hot temperature extremes.
Globally, on average, regions normally expect around 36.5 extremely hot days in a year. The observations showed that during the period from 1997-2012, regions that experienced 10, 30 or 50 extremely hot days above this average saw the greatest upward trends in extreme hot days over time and the area they impacted. The consistently upward trend persisted right through the "hiatus" period from 1998-2012.
"Our analysis shows there has been no pause in the increase of warmest daily extremes over land and the most extreme of the extreme conditions are showing the largest change," said Dr Markus Donat.
"Another interesting aspect of our research was that those regions that normally saw 50 or more excessive hot days in a year saw the greatest increases in land area impact and the frequency of hot days. In short, the hottest extremes got hotter and the events happened more often."
While global annual average near-surface temperatures are a widely used measure of climate change, this latest research reinforces that they do not account for all aspects of the climate system. A stagnation in the increase of global annual mean temperatures, over a relatively short period of 10 to 20 years, does not imply that global warming has stopped. Other measures – such as extreme temperatures, ocean heat content and disappearance of land-based ice – all show continuous changes that are consistent with a warming world.
"It is important when we take global warming into account, that we use measures that are useful in determining the impacts on our society," said Professor Sonia Seneviratne from ETH Zurich, who led the study while on sabbatical at the ARC Centre. "Global average temperatures are a useful measurement for researchers, but it is at the extremes where we will most likely find those impacts that directly affect all of our lives. Clearly, we are seeing more heat extremes over land more often as a result of enhanced greenhouse gas warming."
3rd March 2014
3-D printed electronic membrane could prevent heart attacks
Using an inexpensive 3-D printer, biomedical engineers have developed a custom-fitted, implantable device with embedded sensors that could transform treatment and prediction of cardiac disorders.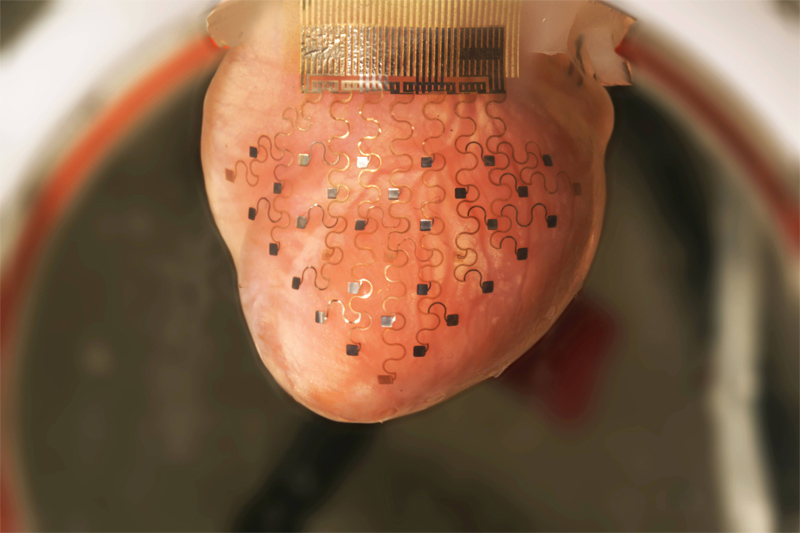 An international team of biomedical engineers and materials scientists have created a 3-D elastic membrane made of a soft, flexible, silicon material, precisely shaped to match the heart's epicardium (its outer layer). Current technology is two-dimensional and cannot cover the full surface of the epicardium or maintain reliable contact for continual use without sutures or adhesives.
Tiny sensors can be printed onto this membrane that precisely measure temperature, mechanical strain and pH level, among other markers, or deliver a pulse of electricity in cases of arrhythmia. These sensors could assist physicians with determining the health of the heart, deliver treatment or predict an impending heart attack before a patient exhibits any physical signs.
"Each heart is a different shape, and current devices are one-size-fits-all and don't at all conform to the geometry of a patient's heart," says Professor Igor Efimov, at Washington University in St. Louis. "With this application, we image the patient's heart through MRI or CT scan, then computationally extract the image to build a 3-D model that we can print on a 3-D printer. We then mold the shape of the membrane that will constitute the base of the device deployed on the surface of the heart."
The video below shows a rabbit heart, kept beating outside the body in a nutrient and oxygen-rich solution. The new cardiac device – with its flexible network of sensors and electrodes – has been custom-designed to fit over the heart and contract and expand as it beats. If all goes well, a version for humans is expected in the next 10-15 years.
Ultimately, this membrane could be used to treat diseases of the ventricles in the lower chambers of the heart or could be inserted inside the heart to treat a variety of disorders – including atrial fibrillation, which affects 3 to 5 million patients in the United States.
"Currently, medical devices to treat heart rhythm diseases are essentially based on two electrodes inserted through the veins and deployed inside the chambers," says Efimov. "Contact with the tissue is only at one or two points, and it is at a very low resolution. What we want to create is an approach that will allow you to have numerous points of contact and to correct the problem with high-definition diagnostics and high-definition therapy."
Recently, Google announced it was developing a contact lens embedded with sensors to monitor glucose levels in diabetes patients. Efimov says the membrane his team has developed is a similar idea, but much more sophisticated.
"Because this is implantable, it will allow physicians to monitor vital functions in different organs and intervene when necessary to provide therapy," he says. "In the case of heart rhythm disorders, it could be used to stimulate cardiac muscle or the brain, or in renal disorders, it would monitor ionic concentrations of calcium, potassium and sodium."
The membrane could even hold a sensor to measure troponin – a protein expressed in heart cells and a hallmark of an impending heart attack. Ultimately, such devices will be combined with ventricular assist devices, Efimov says.
"This is just the beginning," he adds. "Previous devices have shown huge promise and have saved millions of lives. Now we can take the next step and tackle some arrhythmia issues that we don't know how to treat."