19th July 2017
Wearable electronics on skin can provide long-term health monitoring
Researchers at the University of Tokyo have made a "breathable" nanoscale mesh with an electronic sensor that can be worn on the skin for a week without discomfort, and could potentially monitor a person's health continuously for long periods.
A hypoallergenic, electronic sensor can be worn on the skin continuously for a week without discomfort, and is so light and thin that users forget they even have it on, says a group of Japanese scientists. The elastic electrode, constructed of "breathable" nanoscale meshes, holds promise for the development of non-invasive e-skin devices that can monitor a person's health continuously over a long period.
Wearable electronics that monitor heart rate and other health signs have made headway in recent years, with next-generation gadgets employing lightweight, elastic materials attached directly to the skin for more sensitive, precise measurements. However, while the ultrathin films and rubber sheets in these devices adhere and conform well to the skin, their lack of breathability is deemed unsafe for long-term use: dermatological tests show the fine, stretchable materials prevent sweating and block airflow around the skin, causing irritation and inflammation, which could lead to lasting physiological and psychological effects.
"We learned that devices that can be worn for a week or longer for continuous monitoring were needed for practical use in medical and sports applications," says Professor Takao Someya at the University of Tokyo's Graduate School of Engineering. His research group has previously developed an on-skin patch for measuring oxygen in blood.
In their latest research, they developed an electrode constructed from nanoscale meshes containing a water-soluble polymer, polyvinyl alcohol (PVA), and a gold layer – materials considered safe and biologically compatible with the body. The device can be applied by spraying a tiny amount of water, which dissolves the PVA nanofibres and allows it to stick easily to the skin – it will conform seamlessly with curvilinear surfaces of human skin, such as sweat pores and the ridges of fingerprint patterns.
The researchers conducted a skin patch test on 20 subjects and detected no inflammation of skin after they had worn the device for a week. The group also evaluated the permeability, with water vapour, of the nanomesh conductor – along with those of other substrates like ultrathin plastic foil and a rubber sheet – and found that its porous mesh structure exhibited superior gas permeability compared to other materials.
Furthermore, the scientists proved the device's mechanical durability through repeated bending and stretching, exceeding 10,000 times, of a conductor attached on the forefinger; they also established its reliability as an electrode for electromyogram recordings when its readings of the electrical activity of muscles were comparable to those obtained through conventional gel electrodes.
"It will become possible to monitor patients' vital signs without causing any stress or discomfort," says Someya about the future applications. In addition to nursing care and medical uses, the new device could enable continuous, precise monitoring of athletes' physiological signals and bodily motion without impeding their training or performance. The team's research is published this week in Nature Nanotechnology.
---
• Follow us on Twitter
• Follow us on Facebook
• Subscribe to us on YouTube
18th July 2017
Genetically modified bananas high in pro-vitamin A developed
Researchers have announced the development of a GM banana with higher levels of pro-vitamin A, which could improve the nutritional content of bananas in Africa.
Research by Queensland University of Technology has produced a golden-orange fleshed banana, rich in pro-vitamin A. The decade-long effort, led by Distinguished Professor James Dale, involved extensive laboratory tests at QUT, along with field trials in north Queensland. The results are published in the Plant Biotechnology Journal.
The genetic modification process had resulted in the identification and selection of banana genes that could be used to boost pro-vitamin A in bananas, Professor Dale said. The research, backed with $10 million from the Bill & Melinda Gates Foundation and the UK Government's Department for International Development, ultimately aims to improve the nutritional content of bananas in Uganda, where the fruit is a major staple food in daily diets.
"The East African Highland cooking banana is an excellent source of starch. It is harvested green then chopped and steamed," Professor Dale said. "But it has low levels of micronutrients – particularly pro-vitamin A and iron. The consequences of vitamin A deficiency are severe."
Worldwide, up to 700,000 children die from pro-vitamin A deficiency each year, with a further several hundred thousand going blind, according to the latest available figures.
"What we've done is take a gene from a banana that originated in Papua New Guinea and is naturally very high in pro-vitamin A, but has small bunches, and inserted it into a Cavendish banana," Professor Dale explained. "Over the years, we've been able to develop a banana that has achieved excellent pro-vitamin A levels, hence the golden-orange rather than cream-coloured flesh. Achieving these scientific results, along with their publication, is a major milestone in our quest to deliver a more nutritional diet to some of the poorest subsistence communities in Africa.
"We tried and tested hundreds of different genetic variations here in our lab and in field trials in Queensland until we got the best results. These elite genes have been sent to Uganda in test tubes, where they have been inserted into Ugandan bananas for field trials there."
If all goes according to plan, it is hoped that the new GM bananas could be used commercially in Uganda from 2021.
---
• Follow us on Twitter
• Follow us on Facebook
• Subscribe to us on YouTube
14th July 2017
Luxembourg becomes the first European country to pass space mining law
Luxembourg yesterday passed a draft law on the exploration and use of space resources. The Grand Duchy is thus the first European country to offer a legal framework ensuring that private operators can be confident about their rights on resources they extract in space.
The new law – approved by a majority of 55 votes against two – will come into force on 1st August 2017. Its first article provides that space resources are capable of being owned. It also establishes the procedures for authorising and supervising space exploration missions.
This legal and regulatory framework is a key part of the SpaceResources.lu initiative, whose goal is to support the long-term economic development of new, innovative activities in the space industry. Within this strategy, Luxembourg has already begun to support research and development projects of leading players in the space mining industry that have set up their European operations in Luxembourg. For example, US firms Deep Space Industries and Planetary Resources both have subsidiaries there now; the latter finalised a 25 million euro agreement last year to accelerate the company's technical advancements, with the aim of launching a first commercial asteroid mission by 2020.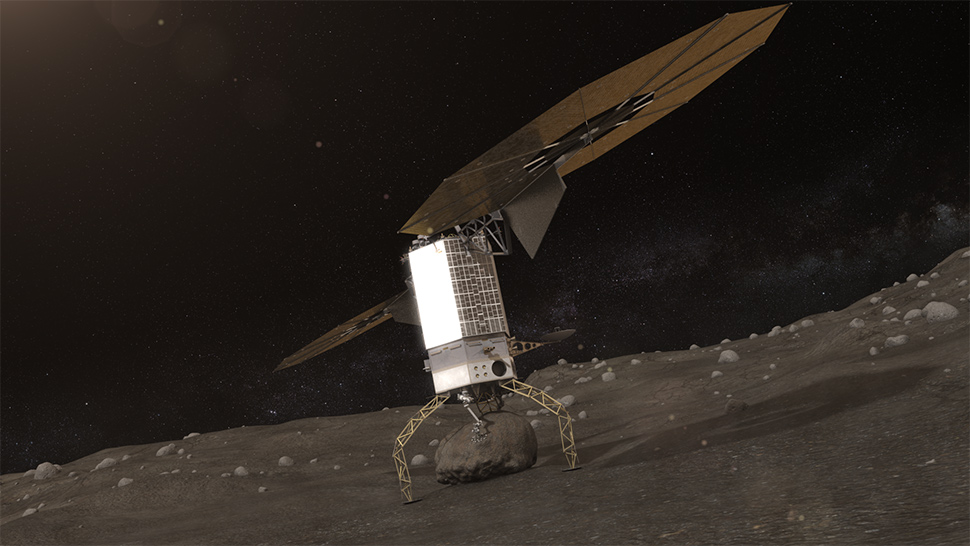 It is hoped that the SpaceResources.lu initiative can build on the experience Luxembourg has gained in sectors that are closely related to space mining, and in particular on its strong track record in the satellite sector. In 1985, a public-private partnership effort launched Société Européenne des Satellites, today known as the largest global satellite operator SES with its headquarters in Luxembourg. This now controls more than 50 satellites.
Deputy Prime Minister, Étienne Schneider, said: "Luxembourg is the first adopter in Europe of a legal and regulatory framework recognising that space resources are capable of being owned by private companies. The Grand Duchy thus reinforces its position as a European hub for the exploration and use of space resources. The legal framework is part of the expertise ecosystem and the business-friendly, innovation-nurturing environment that Luxembourg is offering to space industry companies. By adopting almost unanimously the respective draft law, the Luxembourg Parliament confirmed the strong political cross-party and national commitment to the SpaceResources.lu initiative."
"Luxembourg continues to be a strong partner and a global leader," said Chris Lewicki, Planetary Resources CEO. "They are genuinely forward thinking, have a proven record in the satellite industry, and are making their mark on the space mining industry. The passage of this law is further proof of that."
Alongside steps taken on the national level within the SpaceResources.lu initiative, Luxembourg continues to promote international cooperation in order to make progress on a future governance scheme and a global regulatory framework for space mining. In line with this, the Grand Duchy recently signed a joint statement with the European Space Agency (ESA) on future activities concerning missions to asteroids, related technologies and space resources exploration and utilisation. Luxembourg and the ESA agreed on the opportunity to further study technical and scientific aspects of space resources.
In April, a report by Goldman Sachs revealed that asteroid mining is "more realistic than perceived" – thanks to the falling costs of access to space – and is likely to bring enormous rewards to companies able to develop the necessary technologies for extraction. A single 500-metre-wide asteroid could contain nearly 175 times the global output of platinum.
---
• Follow us on Twitter
• Follow us on Facebook
• Subscribe to us on YouTube
13th July 2017
The first ever movie encoded in DNA
Scientists at Harvard have used the CRISPR gene-editing system to store a GIF animation in the DNA of bacteria.

For the first time, a primitive movie has been encoded in – and then played back from – DNA in living cells. Scientists funded by the National Institutes of Health say it is a major step toward a "molecular recorder". In the future, this could make it possible to get read-outs, for example, of the changing internal states of neurons as they develop.
"We want to turn cells into historians," says neuroscientist Seth Shipman, Ph.D., a post-doctoral fellow at Harvard Medical School, Boston. "We envision a biological memory system that's much smaller and more versatile than today's technologies, which will track many events non-intrusively over time."
This proof-of-concept for a futuristic "molecular ticker tape" was published yesterday in the journal Nature. The ability to record sequential events like a movie at the molecular level could reinvent the concept of recording using molecular engineering, say the researchers. In this scheme, cells themselves could be induced to record molecular events – such as changes in gene expression over time – in their own genomes. Then the information could be retrieved simply by sequencing the genomes of the cells it is stored in.
"If we had those transcriptional steps, we could potentially use them like a recipe to engineer similar cells," added Shipman. "These could be used to model disease – or even in therapies."
The researchers first had to show that DNA can be used to encode not just genetic information, but any arbitrary sequential information into a genome. For this they turned to a revolutionary new gene editing technology, CRISPR. They encoded and retrieved an image of the human hand in DNA inserted into bacteria, before similarly encoding frames from a classic 1870s race horse in motion sequence of photos – an early forerunner of moving pictures.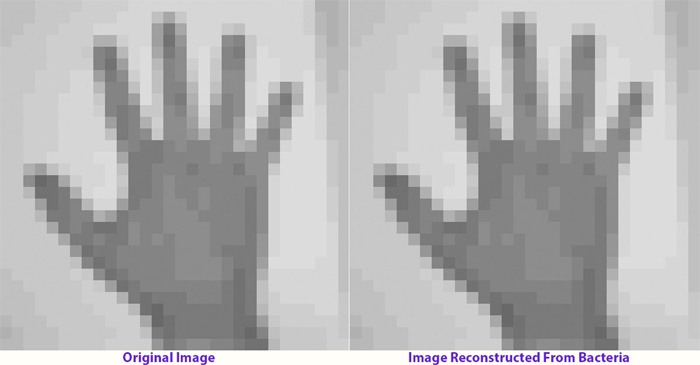 Over the course of five days, they sequentially treated bacteria with a frame of translated DNA. Afterwards, they were able to reconstruct the movie with 90% accuracy by sequencing the bacterial DNA.
"The sequential nature of CRISPR makes it an appealing system for recording events over time," explained Shipman.
Although this technology could be used in a variety of ways, the researchers ultimately hope to use it to study the brain.
"We want to use neurons to record a molecular history of the brain through development," said Shipman. "Such a molecular recorder will allow us to eventually collect data from every cell in the brain at once, without the need to gain access, to observe the cells directly, or disrupt the system to extract genetic material or proteins."
---
• Follow us on Twitter
• Follow us on Facebook
• Subscribe to us on YouTube
13th July 2017
The discovery of the smallest star able to sustain nuclear fusion has been announced; its diameter is just slightly larger than that of Saturn.
The smallest star yet measured has been discovered by a team of astronomers led by the University of Cambridge. With a diameter just slightly larger than that of Saturn, the gravitational pull at its stellar surface is about 300 times stronger than what humans feel on Earth. With just enough mass to enable the fusion of hydrogen nuclei into helium, it is likely as small as stars can possibly become. If it were any smaller, the pressure at its centre would no longer be sufficient to enable this process to take place. Hydrogen fusion is also what powers the Sun, and scientists are attempting to replicate it as a powerful energy source here on Earth.
Very small and dim stars like this one are also the best possible candidates for detecting Earth-sized planets with liquid water on their surfaces, such as TRAPPIST-1, an ultracool dwarf surrounded by seven temperate Earth-sized worlds.
The newly-found star – EBLM J0555-57Ab – is about 600 light years away in the constellation Pictor, in the direction of the Large Magellanic Cloud. It is part of a binary system, and was identified as it passed in front of its much larger companion, a method normally used to detect planets, not stars.
"Our discovery reveals how small stars can be," said Alexander Boetticher, the lead author of the study, and a Master's student at Cambridge's Cavendish Laboratory and Institute of Astronomy. "Had this star formed with only a slightly lower mass, the fusion reaction of hydrogen in its core could not be sustained, and the star would instead have transformed into a brown dwarf."
EBLM J0555-57Ab was identified using data from the Wide Angle Search for Planets (WASP), an experiment run by the Universities of Keele, Warwick, Leicester and St Andrews. It was found to circle its primary star companion with an orbital period of just 7.8 days, and has a mass of 85 Jupiters.
"This star is smaller, and likely colder than many of the gas giant exoplanets that have so far been identified," said Boetticher. "While a fascinating feature of stellar physics, it is often harder to measure the size of such dim low-mass stars than for many of the larger planets. Thankfully, we can find these small stars with planet-hunting equipment, when they orbit a larger host star in a binary system. It might sound incredible, but finding a star can at times be harder than finding a planet."
Despite being the most numerous stars in the Universe, stars with sizes and masses less than 20% that of our Sun are poorly understood, since they are difficult to detect. The EBLM project, which identified the star in this study, aims to plug that gap in knowledge: "Thanks to the EBLM project, we will achieve a far greater understanding of the planets orbiting the most common stars that exist; planets like those orbiting TRAPPIST-1," said co-author Prof. Didier Queloz of Cambridge's Cavendish Laboratory. The team's work is published in the journal Astronomy & Astrophysics.
---
• Follow us on Twitter
• Follow us on Facebook
• Subscribe to us on YouTube
10th July 2017
Large Hadron Collider detects new particle
Physicists at CERN's Large Hadron Collider (LHC) report the detection of Xi-cc++ (pronounced ka-sigh-see-see-plus-plus), a new particle containing two charm quarks and one up quark.
At the EPS Conference on High Energy Physics in Venice, the LHCb experiment at CERN's Large Hadron Collider has reported the observation of Ξcc++ (Xicc++) a new particle containing two charm quarks and one up quark. The existence of this particle from the baryon family was expected by current theories, but physicists have been looking for such baryons with two heavy quarks for many years. The mass of the newly identified particle is about 3621 MeV, almost four times heavier than the most familiar baryon, the proton, a property that arises from its doubly charmed quark content. It is the first time that such a particle has been unambiguously detected.
Nearly all the matter that we see around us is made of baryons, which are common particles composed of three quarks – the best-known being protons and neutrons. But there are six types of existing quarks, and theoretically many different potential combinations could form other kinds of baryons. Baryons so far observed are all made of, at most, one heavy quark.
"Finding a doubly heavy-quark baryon is of great interest as it will provide a unique tool to further probe quantum chromodynamics, the theory that describes the strong interaction, one of the four fundamental forces," said Giovanni Passaleva, spokesperson for the LHCb experiment. "Such particles will thus help us improve the predictive power of our theories."
"In contrast to other baryons, in which the three quarks perform an elaborate dance around each other, a doubly heavy baryon is expected to act like a planetary system, where the two heavy quarks play the role of heavy stars orbiting one around the other, with the lighter quark orbiting around this binary system," added Guy Wilkinson, former spokesperson of the collaboration.

Measuring the properties of the Ξcc++ will help to establish how a system of two heavy quarks and a light quark behaves. Important insights can be obtained by precisely measuring production and decay mechanisms, and the lifetime of the particle. The observation of this new baryon proved to be challenging and was made possible owing to the high production rate of heavy quarks at the LHC and to the unique capabilities of the LHCb experiment, which can identify the decay products with excellent efficiency. A paper on this finding has been published online.
Previous discoveries of the Large Hadron Collider have included pentaquarks and, of course, the Higgs Boson. In 2015, the machine underwent a major upgrade that boosted its power from 8 to 13 trillion electron volts (TeV). It will be given yet another boost in 2026, when it becomes the High Luminosity Large Hadron Collider (HL-LHC), increasing its luminosity by a factor of ten. An even larger successor, known as the Very Large Hadron Collider (VLHC) is expected to be operational from 2035 to 2075.
---
• Follow us on Twitter
• Follow us on Facebook
• Subscribe to us on YouTube
9th July 2017
China to build first "forest city" in 2020
The masterplan for an eco-friendly "forest city" in China has been revealed by Italian architecture firm, Stefano Boeri Architetti.
Known as Liuzhou Forest City, the project will be built north of Liuzhou, in a mountainous part of Guangxi Province, in an area that covers 175 hectares along the Liujiang River. The new green city, initially hosting 30,000 people, will feature various residential areas, commercial and recreational spaces, along with two schools and a hospital. It will include electric cars and a connection to Liuzhou through a fast rail line.
Liuzhou Forest City will be self-sufficient in clean energy, utilising geothermal and rooftop solar power. While this may seem impressive enough, an even greater innovation is the widespread use of vegetation covering every building, of all sizes and functions. A total of 40,000 trees (1.3 for every person) and almost a million plants of more than 100 different species will make this a true "forest city".
The diffusion of plants – not only in parks, gardens and along streets, but also over building facades – will greatly improve the air quality, decrease the average air temperature, and create barriers for reducing noise, while improving the biodiversity of living species, generating new habitats for birds, insects and other small animals that inhabit the Liuzhou territory. According to Stefano Boeri Architetti, the city will absorb 57 tons of dust and other pollutants each year, generate 900 tons of oxygen and sequester almost 10,000 tons of CO2 annually. For the residents, being surrounded by so much vegetation may have yet another benefit: studies have repeatedly shown that the presence of trees and plants can significantly improve mental health.
The architects hope that Liuzhou Forest City could serve as a model or template for other cities, both in China and around the world. Given the challenges faced by humanity, perhaps this style of architecture may become necessary, rather than optional, in the not-too-distant future. It would be interesting to see major world cities like New York, London and Paris being transformed into much larger forest cities.
Images credit: Stefano Boeri Architetti
---
• Follow us on Twitter
• Follow us on Facebook
• Subscribe to us on YouTube
6th July 2017
Volvo Cars has announced that every car it launches from 2019 will be either electric or hybrid, marking the historic end of cars that only have an internal combustion engine (ICE) and placing electrification at the core of its future business.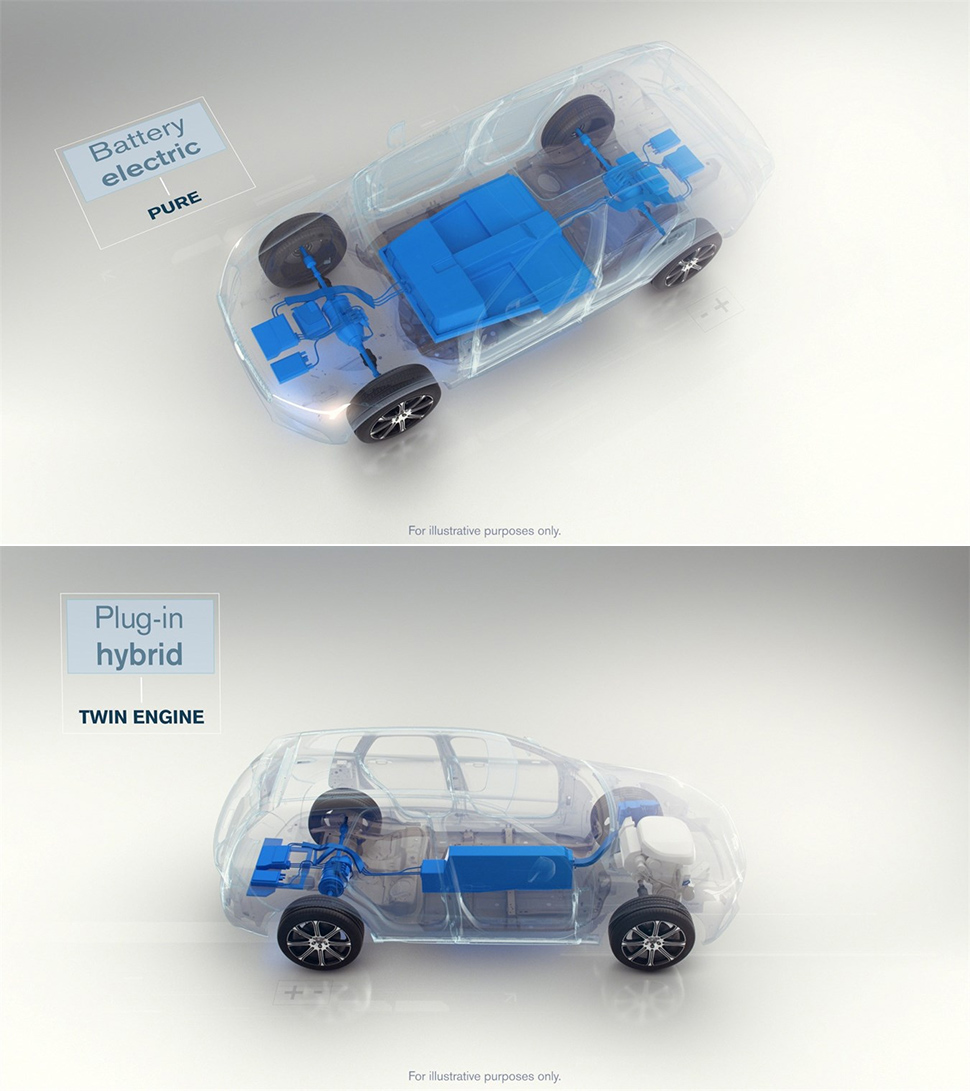 This announcement represents one of the most significant moves by any car maker to embrace electrification. It underscores how, more than a century after the invention of the internal combustion engine, electrification is paving the way for a new chapter in automotive history.
"This is about the customer," said Håkan Samuelsson, president and chief executive. "People increasingly demand electrified cars and we want to respond to our customers' current and future needs. You can now pick and choose whichever electrified Volvo you wish."
Volvo will introduce a portfolio of electrified cars across its model range, embracing fully electric cars, plug-in hybrids and mild hybrid cars. It will launch five fully electric cars between 2019 and 2021, three of which will be Volvo models and two of which will be high performance electrified cars from its performance car arm, Polestar. Full details of these models will be announced at a later date.
These five cars will be supplemented by a range of petrol and diesel plug-in hybrid and mild hybrid 48-volt options on all models – one of the broadest electrified car offerings of any car maker. This means that there will, in the future, be no Volvo cars without an electric motor, as pure ICE cars are gradually phased out and replaced by ICE cars that are enhanced with electrified options.
"This announcement marks the end of the solely combustion engine-powered car," said Mr Samuelsson. "Volvo Cars has stated that it plans to have sold a total of one million electrified cars by 2025. When we said it, we meant it. This is how we are going to do it."
The announcement underlines Volvo's commitment to minimising its environmental impact and making cities of the future cleaner. Volvo is focused on reducing the carbon emissions of both its products as well as its operations. It aims to have carbon neutral manufacturing operations by 2025.
---
• Follow us on Twitter
• Follow us on Facebook
• Subscribe to us on YouTube
5th July 2017
Future pavements could generate electricity from footsteps
Imagine a city where simply walking on pavements and other flat surfaces can produce usable power. One company has demonstrated just such a concept in London's West End.
PaveGen was founded in 2009 by Laurence Kemball-Cook, a graduate in Industrial Technology and Design from Loughborough University. For the last several years, his company has been developing a tile that converts kinetic energy from pedestrian footsteps into electricity, while collecting data about walking traffic patterns. The exact technology is being kept a trade secret, but is said to involve electromagnetic induction by copper coils and magnets.
For its latest project, PaveGen has worked alongside other tech companies to help transform Bird Street in central London. This has been turned from a previously underutilised outdoor space located off Oxford Street, into a haven of calm where visitors can relax and experience a high street of the future.
PaveGen installed a 10 sq m (107 sq ft) array of tiles at this location. Each footstep is able to produce an average of three joules – enough to play recordings of bird sounds during the day, while providing ambient lighting in the evening, for an immersive visitor experience. Bluetooth transmitters are also incorporated on the walkway, enabling passers-by to interact with branded apps – for example, rewarding users with discounts, vouchers and education resources for their steps on the PaveGen system. A data feed on the hourly footfall and power generation is available too.
Laurence Kemball-Cook, CEO and founder of PaveGen, commented: "With installations in Washington DC and vital transport hubs including Heathrow, being able to demonstrate how our technology can bring to life the retail shopping experience is a vital step for us. As retailers compete with online, technologies like ours make being in the busy high street more exciting and rewarding for people and brands alike."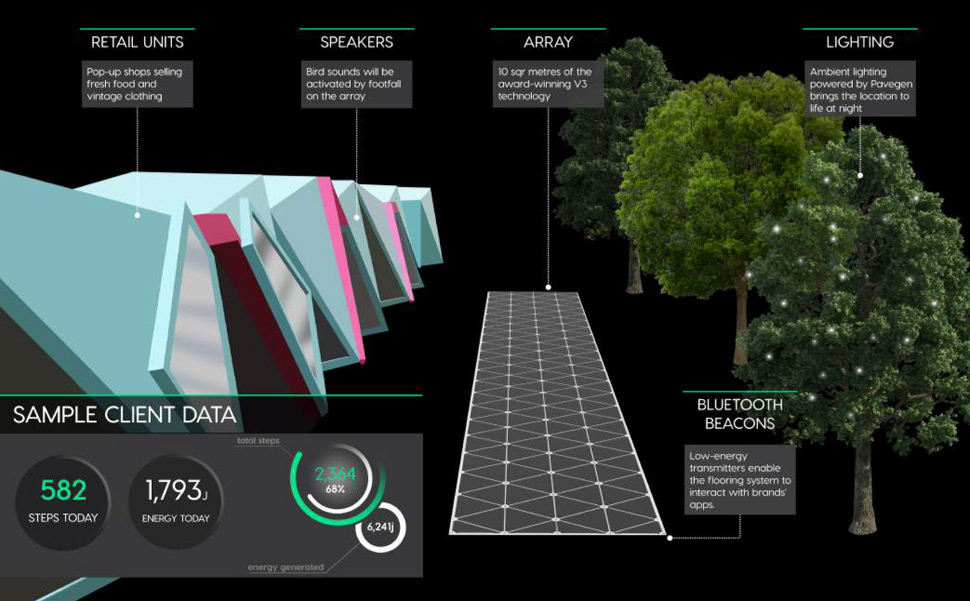 Joining PaveGen at Bird Street is Airlabs' ClearAir bench (pictured below), which removes nitrogen dioxide to create a large "bubble" of clean air. According to the Airlabs website, the volume of air filtered by this bench every day is enough to fill more than 100 double decker buses, yet only a small amount of energy is required to do this. The Airlabs clean air system has previously been demonstrated at three bus stop shelters in central London.
Also featured in the new-look Bird Street is coatings company Airlite, who created a paint that purifies the air from nitrogen dioxide, bacteria and other particulate matter. This reduces overall pollution by almost 90% and removes 99.9% of germs, moulds and odours. This coating was applied to the surfaces of the retail units.
With the integration of these green technologies, Bird Street demonstrates the potential for more sustainable destinations in busy urban environments. Pollution is currently a major problem in London, with levels of NO2 near Oxford Street at almost 60 µg/m3, compared to the World Health Organisation's recommended safe exposure limit of 40 µg/m3.
Steven Medway, Managing Director of Trading Environment, New West End Company, said: "Visitors to London's West End expect the ultimate shopping and dining experience and they won't be disappointed. Transforming Bird Street will bring a world first offer to the West End, a space where fashion meets technology with brands set to transform the future of retail as we know it."
Alex Williams, Director of City Planning at Transport for London, said: "It's great to see an innovative 'smart street' scheme delivered on Bird Street, the concepts and ideas of which could easily be adapted across London. I hope we can see further examples of this innovative 21st Century thinking in the future as we work to transform Oxford Street and the surrounding area to make it a world-class public space for all."
---
• Follow us on Twitter
• Follow us on Facebook
• Subscribe to us on YouTube
3rd July 2017
Select memories can be erased, leaving others intact
A study of snail neurons, published in Current Biology, suggests memories that trigger anxiety and PTSD could be "erased" without affecting normal memory of past events.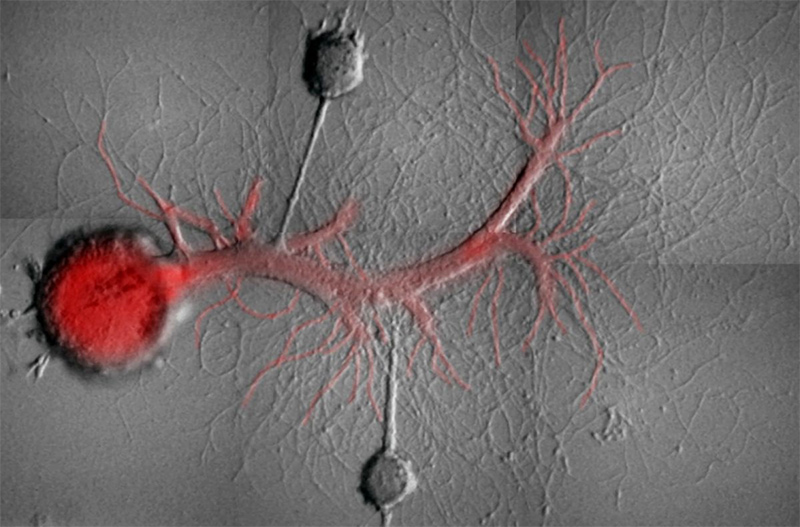 Different types of memories stored in the same neuron of the marine snail Aplysia can be selectively erased, according to a new study by researchers at Columbia University Medical Center (CUMC) and McGill University. Published in Current Biology, the findings suggest that it may be possible to develop drugs to "delete" memories that trigger anxiety and post-traumatic stress disorder (PTSD) without affecting other important memories of past events.
During their experiments, researchers stimulated two sensory neurons connected to a single motor neuron of the snail; one sensory neuron was stimulated to induce an associative memory and the other to induce a non-associative memory. By measuring the strength of each connection, it was found that the increase in the strength of each connection produced by the different stimuli was maintained by a different form of a Protein Kinase M (PKM) molecule (PKM Apl III for associative synaptic memory and PKM Apl I for non-associative). They found that each memory could be erased – without affecting the other – by blocking one of these two molecules.
In addition, they found that specific synaptic memories may also be erased by blocking the function of distinct variants of other molecules that either help produce PKMs or protect them from breaking down.
The researchers say their results could be useful in understanding human memory, because vertebrates have similar versions of the snail proteins that create long-term memories. The PKM-protecting protein KIBRA is also expressed in humans, and mutations of this gene produce intellectual disability.
"Memory erasure has the potential to alleviate PTSD and anxiety disorders by removing the non-associative memory that causes the maladaptive physiological response," says Jiangyuan Hu, PhD, an associate research scientist in the Department of Psychiatry at CUMC and co-author of the paper. "By isolating the exact molecules that maintain non-associative memory, we may be able to develop drugs that can treat anxiety without affecting the patient's normal memory of past events."
"Our study is a 'proof of principle' that presents an opportunity for developing strategies and perhaps therapies to address anxiety," said co-author Samuel Schacher, PhD, a professor of neuroscience in the Department of Psychiatry at CUMC. "For example, because memories are still likely to change immediately after recollection, a therapist may help to 'rewrite' a non-associative memory by administering a drug that inhibits maintenance of non-associative memory."
Future studies in preclinical models are needed, the researchers say, to better understand how PKMs are produced and localised at the synapse before it can be determined which drugs may weaken non-associative memories.
---
• Follow us on Twitter
• Follow us on Facebook
• Subscribe to us on YouTube
1st July 2017
Climate change will increase inequality in the USA
Unmitigated climate change will exacerbate inequality in the USA, with southern states losing up to 20% of their income by century's end.
Unmitigated climate change will make the USA poorer and more unequal, according to a study published yesterday in the journal Science. The poorest third of counties could sustain economic damage costing as much as 20 percent of their income if warming proceeds unabated.
States in the South and lower Midwest, which tend to be poor and hot already, will lose the most, with economic opportunity traveling northward and westward. Colder and richer counties along the northern border and in the Rockies could benefit the most as health, agriculture and energy costs are projected to improve.
Overall, the study – led by Solomon Hsiang of the University of California, Berkeley, Robert Kopp of Rutgers University-New Brunswick, Amir Jina of the University of Chicago, and James Rising, also of UC Berkeley – projects losses, economic restructuring and widening inequality.
"Unmitigated climate change will be very expensive for huge regions of the United States," said Hsiang. "If we continue on the current path, our analysis indicates it may result in the largest transfer of wealth from the poor to the rich in the country's history."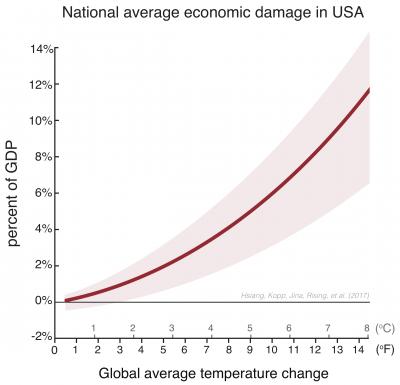 The pioneering study used state-of-the-art statistical methods and 116 climate projections developed by scientists around the world to price the impacts of climate change the way the insurance industry or an investor would – comparing risks and rewards. A team of economists and climate scientists computed the real-world costs and benefits: how agriculture, crime, health, energy demand, labour and coastal communities are likely to be affected by higher temperatures, changing rainfall, rising seas and intensifying hurricanes.
"In the absence of major efforts to reduce emissions and strengthen resilience, the Gulf Coast will take a massive hit," said Kopp, a professor of Earth and Planetary Sciences at Rutgers. "Its exposure to sea-level rise, made worse by potentially stronger hurricanes, poses a major risk to its communities. Increasingly extreme heat will drive up violent crime, slow down workers, amp up air-conditioning costs, and threaten people's lives."
By 2100, economic damage in the poorest regions could be "many times larger" than the Great Recession and be permanent, according to the study, based on a projected rise of 3-5°C (6-10°F) above pre-industrial temperatures.
"The 'hidden costs' of carbon dioxide emissions are no longer hidden, since now we can see them clearly in the data," said Jina, a postdoctoral scholar in the department of economics at the University of Chicago. "The emissions coming out of our cars and power plants are reshaping the American economy. Here in the Midwest, we may see agricultural losses similar to the Dustbowl of the 1930s."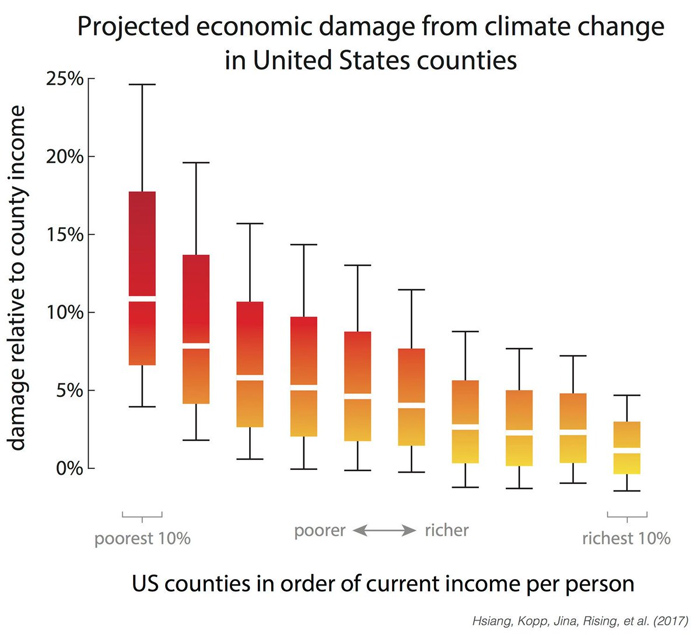 The study is the first of its kind to price warming using data and evidence accumulated by the research community over decades. From this data, the team estimates that for each one degree Fahrenheit (0.55°C) increase in global temperatures, the U.S. economy loses about 0.7 percent of Gross Domestic Product, with each degree of warming costing more than the last. This metric can help the country manage climate change as it does other systematic economic risks – for example, the way the Federal Reserve uses interest rates to manage the risk of recession.
"We could not have done this study without the ongoing revolution in big data and computing," said Rising, a Postdoctoral Fellow at UC Berkeley, describing the 29,000 simulations of the economy run for the project. "For the first time in history, we can use these tools to peer ahead into the future. We are making decisions today about the kinds of lives we and our children want to lead. Had the computing revolution come twenty years later, we wouldn't be able to see the economic hole we're digging for ourselves."
---
• Follow us on Twitter
• Follow us on Facebook
• Subscribe to us on YouTube