23rd June 2016
U.S. drone industry welcomes new regulations
The Federal Aviation Administration (FAA) has finalised the first operational rules for commercial use of drones across the USA.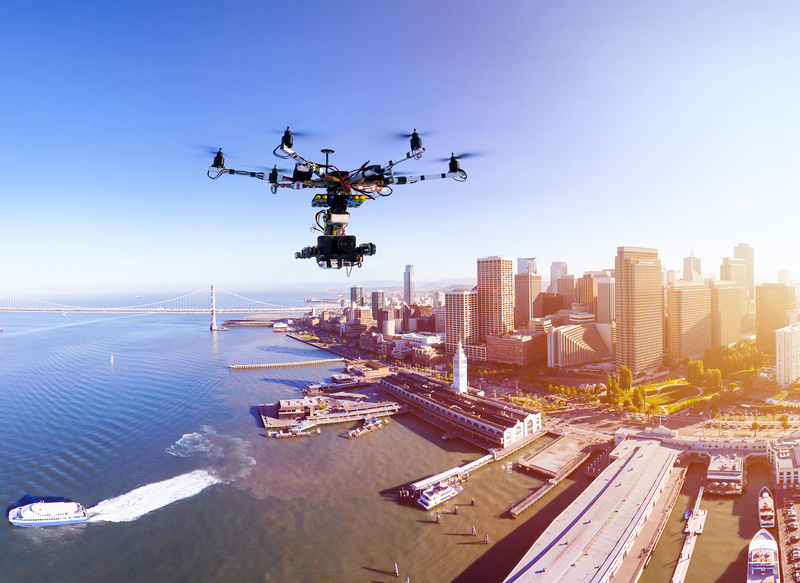 The FAA has just released the first operational rules for routine commercial use of small unmanned aircraft systems (UAS or "drones"). This greatly relaxes the existing laws, and paves the way towards fully integrating these flying machines into the nation's airspace. The new regulations are designed to harness technological innovations safely, to spur job growth, to advance critical scientific research and to save lives.
"We are part of a new era in aviation, and the potential for unmanned aircraft will make it safer and easier to do certain jobs, gather information, and deploy disaster relief," said U.S. Transportation Secretary Anthony Foxx. "We look forward to working with the aviation community to support innovation, while maintaining our standards as the safest and most complex airspace in the world."
The guidelines, which take effect in late August, offer safety regulations for unmanned aircraft drones weighing less than 55 pounds that are conducting non-hobbyist operations. The rule's provisions are designed to minimise risks to other aircraft, as well as people and property on the ground. Pilots will be required to keep an unmanned aircraft within visual line of sight. Operations are allowed during daylight and during twilight if the drone is equipped with anti-collision lights. Drones will be limited to a maximum speed of 100 mph (160 km/h) and maximum altitude of 400 feet above ground level (AGL) or, if higher, must remain within 400 feet of a structure. The person actually flying a drone must be at least 16 years old.
Drones are still prohibited from carrying packages or other goods across US airspace – a setback for companies like Amazon and Google, which for the last few years have been trying to achieve this. However, the commercial potential for drones remains huge. According to industry estimates, they could generate more than $82 billion for the U.S. economy and create 100,000 new jobs over the next 10 years.
Until now, the FAA laws were highly restrictive, cumbersome and expensive. Commercial operators needed a pilot's licence for even small drones and were forced to apply on a case-by-case basis. The new system is far simpler and will greatly increase the number of drones appearing in the skies.
"This is just our first step," said FAA Administrator Michael Huerta. "We're already working on additional rules that will expand the range of operations."
DJI, a major manufacturer of drones, called the FAA's announcement a "milestone" and commented further: "The new rules codify common sense – making it easier for a farmer to fly a drone over his fields, for a contractor to inspect property without climbing a ladder, and for a rescue service to use drones to save lives."
However, concerns will arise over issues of privacy, security and civil liberties. For example, some of the more advanced drones may feature remote sensing technology and hi-res cameras. They could scan entire cities, at sufficient detail to read a milk carton from 60,000 feet away. Others could intercept mobile texts and phone calls. The new law does not specifically deal with privacy issues in the use of drones, and the FAA does not regulate how drones gather data on people or property. However, the FAA confirms it will be acting to address privacy considerations in this area.
---
• Follow us on Twitter
• Follow us on Facebook
21st June 2016
The first supercomputer to reach 100 petaflops
China has announced the Sunway TaihuLight – the world's fastest supercomputer, with a Linpack rating of 93 petaflops and peak performance of 125 petaflops.
The Sunway TaihuLight is the first system in the world to reach a peak performance of over 100 petaflops (100,000,000,000,000,000 floating point operations per second). It is a completely home-grown machine, designed and operated by the National Supercomputing Centre in Wuxi (NSCC-Wuxi), eastern China.
As the world's fastest supercomputer, it will contribute to research such as Earth system modelling, ocean surface wave modelling, atomistic simulations, phase-field simulations, hi-tech manufacturing and big data analytics. With advancements in these and other fields, the models that scientists use are becoming increasingly complex, and the temporal and spatial resolutions they require are also increasing rapidly. All of these factors contribute to the demand for exponential improvements in computing power.
The Sunway TaihuLight is three times faster than the previous record holder, Tianhe-2, which ran at 34 petaflops. In fact, it actually surpasses the next five machines on the TOP500 list combined. It has a total of 10.6 million CPU cores and features 1.3 petabytes of RAM. The system is so powerful that it requires about 15 megawatts (MW) of electricity. However, this is actually less than the 17.8 MW needed by Tianhe-2, making it far more energy efficient. The system runs on its own operating system, Raise OS.
"As the first number one system of China that is completely based on home-grown processors, the Sunway TaihuLight system demonstrates the significant progress that China has made in the domain of designing and manufacturing large-scale computation systems," said director of the NSCC, Prof. Guangwen Yang.
China now has more supercomputers among the world's top 500 than any other nation. Although lagging behind in the supercomputer race, America is planning to launch a new machine of its own in 2018 called the Summit that should run between 150-300 petaflops. By 2019, experts believe the first exaflop computer may arrive. Longer term, zettaflop and yottaflop machines could arise in the 2030s and 2040s, respectively. If trends continue, a billion human brains could be simulated in real time by the 2050s.
---
• Follow us on Twitter
• Follow us on Facebook
20th June 2016
New method of carbon capture turns CO2 into stone underground
A way of pumping CO2 underground and turning it from a gas into solid carbonate minerals has been demonstrated in Iceland – offering a potentially better method of carbon capture and storage.
Scientists have announced a more efficient way of removing man-made carbon dioxide emissions from the atmosphere – turning it into rock. Their study, published in the journal Science, has shown that carbon dioxide (CO2) can be permanently and rapidly locked away from the atmosphere, by injecting it down into volcanic bedrock. The CO2 reacts with the surrounding rock, forming environmentally benign minerals.
Measures to tackle the problem of increasing greenhouse gas emissions and resultant climate change are numerous. One approach is Carbon Capture and Storage (CCS), where CO2 is physically removed from the atmosphere and trapped underground. Geoengineers have long explored the possibility of sealing CO2 gas in voids underground, such as in abandoned oil and gas reservoirs, but these are susceptible to leakage. So attention has now turned to the mineralisation of carbon to permanently dispose of CO2.
Until now, it was thought that this process would take centuries or millennia, and therefore wasn't a practical option. But the current study – led by the University of Iceland, Columbia University, University of Toulouse and Reykjavik Energy – has demonstrated it can be done in just two years.
Lead author, Dr Juerg Matter, Associate Professor of Geoengineering at the University of Southampton, says: "Our results show that between 95 and 98 per cent of the injected CO2 was mineralised over the period of less than two years, which is amazingly fast."
The gas was injected into a deep well in Iceland. As a volcanic island, Iceland is made up of 90 per cent basalt, a rock rich in elements such as calcium, magnesium and iron that are required for carbon mineralisation. The CO2 is dissolved in water and carried down the well. On contact with the target storage rocks, at 400-800 metres underground, the solution quickly reacts with surrounding basaltic rock, forming carbonate minerals. The diagram below shows conventional methods of CCS (left) and the new method (right):
"Carbonate minerals do not leak out of the ground – thus, our newly developed method results in permanent and environmentally-friendly storage of CO2 emissions," says Dr Matter, who also works at Columbia University. "On the other hand, basalt is one of the most common rock types on Earth, potentially providing one of the largest CO2 storage capacities."
To monitor what was happening underground, the team also injected 'tracers', chemical compounds that literally trace the transport path and reactivity of the CO2. There were eight monitoring wells at the study site, where they could test how the chemical composition of the water had changed. The researchers discovered that by the time the groundwater had migrated to the monitoring wells, the concentration of the tracers – and therefore the CO2 – had diminished, indicating that mineralisation had occurred.
"Storing CO2 as carbonate minerals significantly enhances storage security, which should improve public acceptance of Carbon Capture and Storage as a climate change mitigation technology," says Dr Matter.
However, it will require huge efforts to be scaled up to the level needed to store the gigatons of gases currently being emitted by human activity.
"The overall scale of our study was relatively small. So, the obvious next step for CarbFix is to upscale CO2 storage in basalt. This is currently happening at Reykjavik Energy's Hellisheidi geothermal power plant, where up to 5,000 tonnes of CO2 per year are captured and stored in a basaltic reservoir."
The investigation is part of the CarbFix project, a European Commission and U.S. Department of Energy funded programme to develop ways to store anthropogenic CO2 in basaltic rocks through field, laboratory and modelling studies.
---
• Follow us on Twitter
• Follow us on Facebook
19th June 2016
The world has become less peaceful in 2016
The world has become less peaceful this year – reinforcing an underlying, decade-long deterioration in world peacefulness, driven primarily by increased terrorism and higher levels of political instability.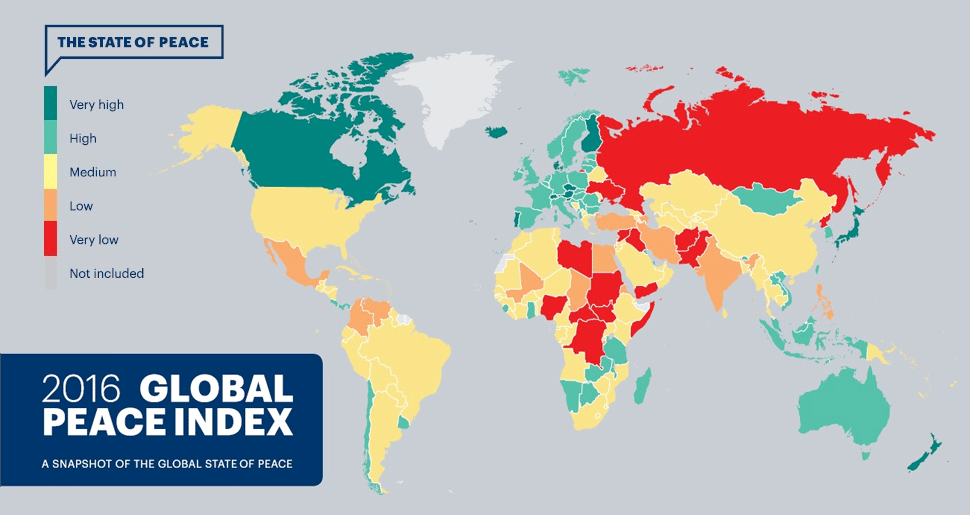 The tenth edition of the Global Peace Index, published this month, highlights a stark and growing inequality in global levels of peacefulness as the gap between the most and least peaceful countries continues to widen. The study, by international think-tank the Institute for Economics and Peace (IEP), finds that, while 81 countries improved, the deterioration in another 79 outweighed these gains, meaning that overall peace declined at a faster rate than in the previous year. Despite this, some of the most peaceful countries are now recording historically high levels of peace.
The score for the Middle East and Africa (MENA) – the least peaceful region in the world last year – dropped further, as regional conflicts intensified, dragging down global peacefulness. So intense is the current concentration of violence and conflict in MENA that, when considered separately, the rest of the world's average peace levels improved. Three of the five biggest declines in peace occurred in the region including Yemen, Libya and Bahrain.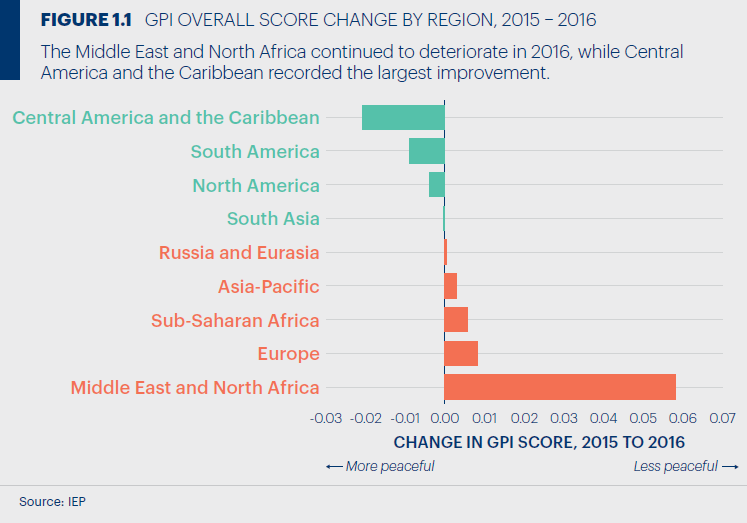 Steve Killelea, Founder and Executive Chairman of the IEP, commented: "As internal conflicts in MENA become more entrenched, external parties are increasingly becoming more involved and the potential for indirect or 'war by proxy' between nation states is rising. This was already evident in Syria with the conflict between the Assad regime and multiple non-state actors, and is now spilling into countries such as Yemen. There is a broader proxy conflict between Saudi Arabia and Iran, and more recently both US and Russia have increased their level of involvement."
The global deterioration of peace in 2015 was driven by increased terrorism and higher levels of political instability. While the majority of terrorist activity is highly concentrated in five countries – Syria, Iraq, Nigeria, Afghanistan and Pakistan – the breadth of terrorism is spreading, with just 23% of countries in the Index not experiencing a terrorist incident. Europe, although still the most peaceful region, saw its average score deteriorate in this year's report, following terrorist attacks in Paris and Brussels. Deaths from terrorism in Europe have more than doubled over the last five years.
The number of refugees and displaced persons has risen dramatically over the last decade, doubling to approximately 60 million people between 2007 and 2016, nearly 1% of the world's population. There are now nine countries with over 10% of their population displaced in some form; 20% of Somalia and South Sudan's population respectively, and over 60% of Syria's.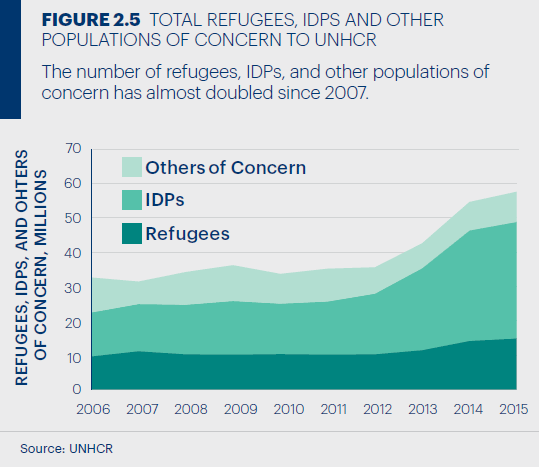 While the global economic impact of violence dropped by 2% compared to last year's report, it was still a staggering $13.6 trillion in 2015 – equivalent to 11 times the size of global foreign direct investment (FDI), or about 700 times the annual budget of NASA. This represents 13.3% of world GDP, or $1,876 per person. Over the last ten years, the cumulative total impact of violence was $137 trillion; greater than global GDP in 2015.
Steve Killelea remarked, "The increasing internationalisation of internal conflicts has coincided with UN peacekeeping funds reaching record highs in 2016 – it was the largest improved indicator in this year's report, with more deployed peacekeepers and more countries being up-to-date with their UN peacekeeping dues. However, peacebuilding and peacekeeping spending remains proportionately small compared to the economic impact of violence, representing just 2% of global losses from armed conflict. Addressing the global disparity in peace and achieving an overall 10% decrease in the economic impact of violence would produce a peace dividend of $1.36 trillion. This is approximately equivalent to the size of world food exports."
Of particular concern is Yemen. Its long-standing political crisis exploded into outright civil war in early 2015. This country has witnessed a major decline in the level of peace, as shown in the diagram below – driven by the rising casualty rate, a large increase in the number of refugees and internally displaced people, and higher levels of terrorist attacks by both al-Qaeda and ISIL. Adding to Yemen's troubles is an emerging water crisis that is likely to worsen from 2017-2025.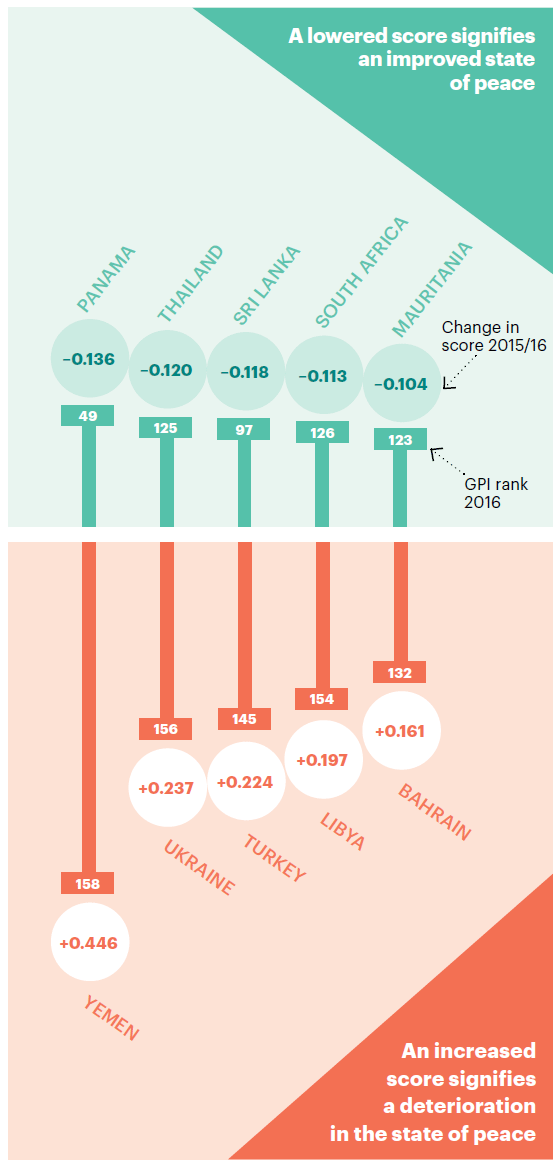 The report also provides an audit of available data to measure Goal 16 of the Sustainable Development Goals for 2030 (successor to the Millennium Development Goals of 2015). This new goal – formally agreed last year by UN member states – recognises the critical importance of peace, justice and strong institutions for advancing global development. It finds that, while there is some existing data to track progress and hold member states accountable to meeting their targets, serious investment will be needed to measure the goals.
The report concludes with new research into resilience and what the IEP identifies as "Positive Peace" – the attitudes, institutions and structures which can best achieve and sustain global peace. Among those listed are: a well-functioning government with low levels of corruption, good relations with neighbouring countries, the free flow of information, an equitable distribution of resources, investment in education, gender equality and worker's rights.
---
• Follow us on Twitter
• Follow us on Facebook
17th June 2016
The first recorded mammalian extinction due to anthropogenic climate change
Australian researchers have announced that the Bramble Cay melomys is now likely extinct, adding: "Significantly, this probably represents the first recorded mammalian extinction due to anthropogenic climate change."
University of Queensland and Queensland Government researchers have confirmed that the Bramble Cay melomys – the only mammal species endemic to the Great Barrier Reef – is the first mammal to go extinct due to human-induced climate change. In their newly published report, the scientists describe how a comprehensive survey failed to find any trace of the rodent, which is also known as the mosaic-tailed rat. The animals were known only to live on a small island, Bramble Cay, just 340m long and 150m wide (1,120 ft × 490 ft) in the Torres Strait, between Australia and Papua New Guinea.
"Because a limited survey in March 2014 failed to detect the species, Bramble Cay was revisited from August to September 2014, with the explicit aims of establishing whether the Bramble Cay melomys still persisted on the island and to enact emergency measures to conserve any remaining individuals," said Dr Luke Leung, from the University of Queensland's School of Agriculture and Food Sciences.
"A thorough survey effort involving 900 small animal trap-nights, 60 camera trap-nights and active daytime searches produced no records of the species, confirming that the only known population of this rodent is now extinct. Anecdotal information obtained from a professional fisherman who visited Bramble Cay annually for the past 10 years suggested that the last known sighting of the Bramble Cay melomys was made in late 2009."
When first recorded by European sailors in 1845, the animals were seen in high density on the island. Ship crews reported shooting these "large rats" with their bows and arrows. In 1978, there were estimated to be several hundred melomys, but their numbers dwindled rapidly in subsequent decades. Just 10 were captured during a 2002 survey and 12 in 2004. The fact that such exhaustive efforts have now failed to record a single living animal at their only known location, while extensive surveys have not found it on any other islands along the Torres Strait or Great Barrier Reef, gives Dr Leung confidence that Australia has lost another mammal species.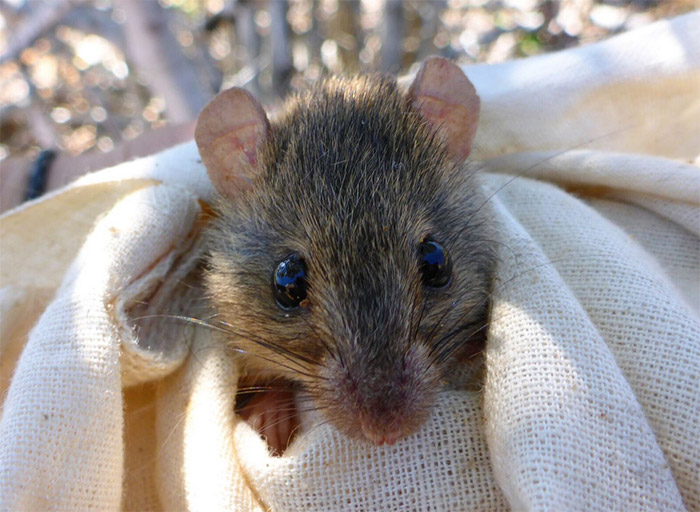 The key factor responsible for the destruction of this population was almost certainly ocean inundation of the low-lying cay, Dr Leung said – very likely on multiple occasions during the past decade, causing dramatic habitat loss and perhaps also direct mortality of individuals. At its highest point, the cay sits just 3m (9.8 ft) above sea level. Around the Torres Strait, sea level rose at almost twice the global average rate between 1993 and 2014.
"Available information about sea-level rise and the increased frequency and intensity of weather events – producing extreme high water levels and damaging storm surges in the Torres Strait region over this period – point to human-induced climate change being the root cause of the loss of the Bramble Cay melomys," Leung said. "Significantly, this probably represents the first recorded mammal extinction due to anthropogenic climate change."
The International Union for Conservation of Nature and Natural Resources (IUCN) lists one other mammal – the Little Swan Island hutia – that was driven to extinction partly by extreme weather (the severe hurricane Janet in 1955). However, cats being introduced onto the island were considered the primary driver of their disappearance. In contrast, the Bramble Cay melomys has been lost "solely (or primarily) due to anthropogenic climate change."
Anthony D. Barnosky, a professor at the University of California, Berkeley, is a leading expert on the impacts of climate change on biodiversity. He called the disappearance of the melomys "a cogent example of how climate change provides the coup de grâce to already critically endangered species."
"I think this is significant because it illustrates how the human-caused extinction process works in real time," Dr. Barnosky added, noting that rising seas and storm surges had wiped out a species that had no possible escape route. "On land, we're seeing the same thing, except rather than water barriers, the barriers are the 51% of the Earth's land surface that has been taken over by people."
The loss of the Bramble Cay melomys is likely just the tip of the iceberg. There is widespread talk among scientists that Earth has entered a new geological era – termed the Anthropocene – with strong evidence that a sixth mass extinction is imminent. If the global average temperature increase exceeds 3.5°C (6.3°F), model projections suggest major extinctions (40-70% of species assessed) around the globe.
---
• Follow us on Twitter
• Follow us on Facebook
12th June 2016
Four new additions to the periodic table
The International Union of Pure and Applied Chemistry (IUPAC) has proposed the final names of four new additions to the periodic table.
Following earlier reports that the claims for discovery of these elements have been fulfilled, the discoverers have been invited to propose names and they are now disclosed for public review:
• Nihonium and symbol Nh, for the element 113
• Moscovium and symbol Mc, for the element 115
• Tennessine and symbol Ts, for the element 117
• Oganesson and symbol Og, for the element 118
The IUPAC Inorganic Chemistry Division has reviewed and considered these proposals and recommends them for acceptance. A five-month public review is now being held, expiring on 8th November 2016, prior to formal approval by the IUPAC Council.
The guidelines for naming elements were recently revised and shared with discoverers to assist in their proposals. Keeping with tradition, a newly discovered element can be named after:
(a) a mythological concept or character (including an astronomical object),
(b) a mineral or similar substance,
(c) a place, or geographical region,
(d) a property of the element, or
(e) a scientist.
Nihonium, with atomic number 113, is a synthetic element (that can be created in a laboratory, but is not found in nature) and is extremely radioactive; its most stable known isotope, ununtrium-286, has a half-life of just 20 seconds. The name comes from one of the pronunciations of the Japanese word for Japan (nihon) that literally means "the Land of Rising Sun". Its research team hopes that pride and faith in science will displace the lost trust of those who suffered from the 2011 Fukushima nuclear disaster.
Moscovium, with atomic number 115, is in recognition of the Moscow region and honours the ancient Russian land that is the home of the Joint Institute for Nuclear Research, where the discovery experiments were conducted using the Dubna Gas-Filled Recoil Separator, in combination with the heavy ion accelerator capabilities of the Flerov Laboratory of Nuclear Reactions. Like nihoniuim, it is extremely radioactive; its most stable isotope has a half-life of only 220 milliseconds. About 100 atoms of moscovium have been observed to date.
Tennessine, with atomic number 117, recognises the contribution of the Tennessee region, including Oak Ridge National Laboratory, Vanderbilt University, and the University of Tennessee at Knoxville, to superheavy element research, including the production and chemical separation of unique actinide target materials for superheavy element synthesis at the High Flux Isotope Reactor (HFIR) and Radiochemical Engineering Development Centre.
Oganesson, with atomic number 118, was discovered by teams at the Joint Institute for Nuclear Research, Dubna (Russia) and Lawrence Livermore National Laboratory (USA). The name is in line with the tradition of honouring a scientist and recognises Professor Yuri Oganessian (born 1933) who played a leading role in discovering the heaviest elements of the periodic table, made significant advances in the nuclear physics of superheavy nuclei and produced experimental evidence for the "island of stability". Oganesson has the highest atomic number and mass of all known elements. It is extremely unstable, due to its high mass, and since 2005, only three or possibly four atoms of the isotope 294Uuo have been detected.
"It is a pleasure to see that specific places and names (country, state, city, and scientist) related to the new elements is recognised in these four names. Although these choices may perhaps be viewed by some as slightly self-indulgent, the names are completely in accordance with IUPAC rules", commented Jan Reedijk, who corresponded with each team and invited the discoverers to make proposals. "In fact, I see it as thrilling to recognise that international collaborations were at the core of these discoveries and that these new names also make the discoveries somewhat tangible."
Ultimately, and after the lapse of the public review in November, the final recommendations will be published in the journal Pure and Applied Chemistry.
---
• Follow us on Twitter
• Follow us on Facebook
8th June 2016
Arctic sea ice hits record low for May
The National Snow and Ice Data Centre reports that Arctic sea ice reached its lowest extent on record for May by an unusually wide margin.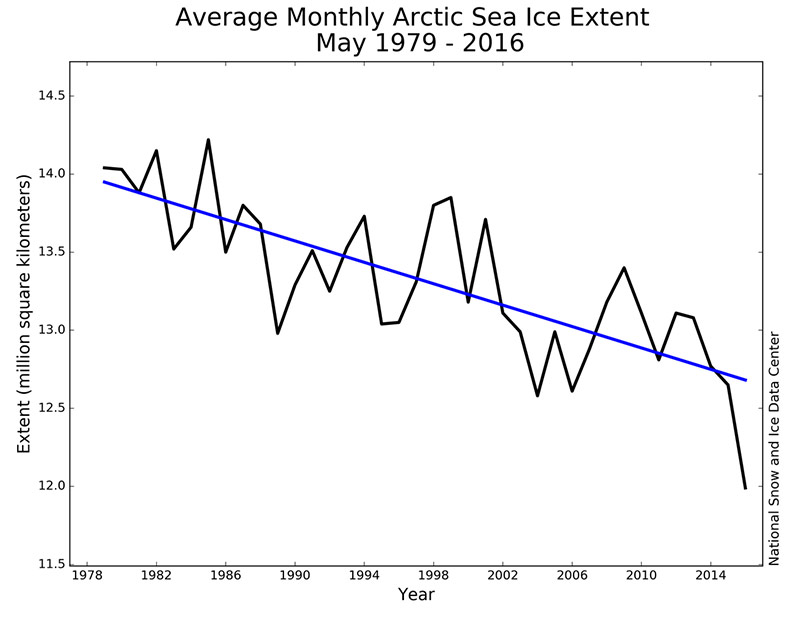 The Arctic sea ice extent for last month was 580,000 sq km (224,000 sq mi) below the previous record low for the month set in 2004, according to the latest analysis of satellite data by the National Snow and Ice Data Centre (NSIDC).
"We've never seen anything like this before," said Professor Mark Serreze, director of NSIDC. "It's way below the previous record – very far below it – and we're something like almost a month ahead of where we were in 2012."
To put things in perspective: sea ice cover broke the previous record low for May by an area larger than California. When compared to the average May between 1981 and 2010, the difference is even starker: equivalent to more than three Californias.
Melting sea ice does not contribute to rising sea levels, because the ice is floating. However, it has a strong effect on the Earth's albedo – a measure of the planet's reflectivity. When ice disappears, it creates darker areas of open water that absorb sunlight (and therefore heat) more easily. The Arctic is now warming twice as fast as the rest of the world.
Last month's record of 12 million sq km (4.63 million sq miles), follows previous record lows this year in January, February, and April. The NSIDC report explains that winds from northern Europe and Alaska have been pushing higher than average temperatures into the Arctic Ocean, producing hot spots across the region. Air temperatures in May were 2.8°C (5°F) above average, with some pockets of anomalous warmth even higher than that.
"The impacts on ocean and land systems are transformational," said Prof. Chris Rapley at University College London. "The situation is changing the circulation patterns and behaviours of the atmosphere and oceans."
In addition to a reduced surface area, ice thickness has also been declining – especially in the Beaufort Sea (up to 40 cm below the 2011-2016 average) and the Barents and Kara seas (10 to 30 cm thinner). A self-reinforcing feedback cycle is being produced, as the NSIDC's report explains: "When this thinner ice melts, dark open water areas may grow rapidly as energy is absorbed, which in turn melts more ice and can accelerate multiyear ice decay."
The NASA image above, taken on 21st May, shows a highly fragmented field of ice in the Beaufort Sea above Canada, and a large gap of open water separating the ice from the coast. It remains to be seen whether 2016 as a whole will beat the previous annual record of 2012, which will depend on the summer weather.
"All we can say is that we are on a very bad footing," says Professor Serreze. "However, this is also part and parcel of a longer trend ... we've always known that the Arctic would be the place most sensitive to climate change, and that's what we're seeing."
---
• Follow us on Twitter
• Follow us on Facebook
5th June 2016
Renewable energy grew by its largest ever amount during 2015
Worldwide, renewable energy grew by its largest ever amount last year, according to a report from the Renewable Energy Policy Network for the 21st Century (REN21).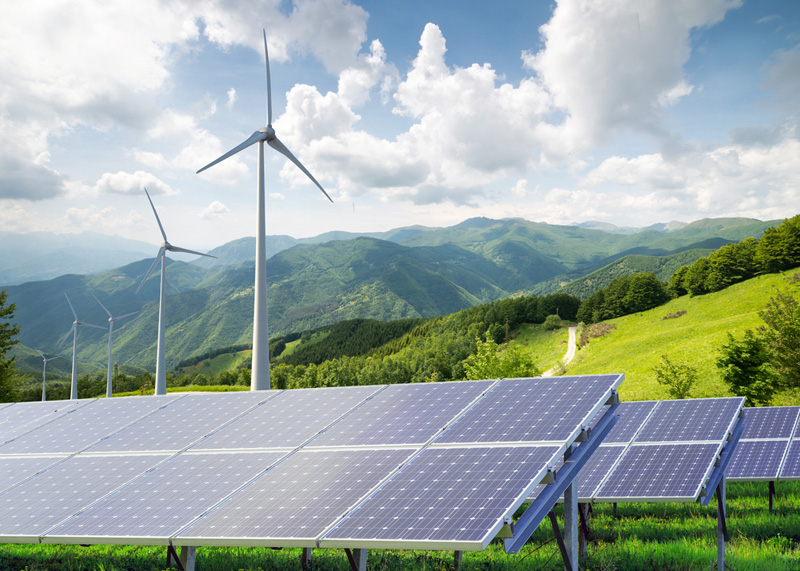 This week, REN21 published the most comprehensive annual overview of the state of renewable energy. The Renewables 2016 Global Status Report reveals that renewables are now firmly established as competitive, mainstream sources of energy in many countries around the world.
2015 was a record year for new installations. Renewable power generating capacity saw its largest increase ever, with an estimated 147 gigawatts (GW) added. Modern renewable heat capacity also continued to rise, and renewables use expanded in the transport sector. Distributed renewable energy is advancing rapidly to close the gap between the energy haves-and have-nots.
These results were driven by several factors. First and foremost, renewables are now cost competitive with fossil fuels in many markets. In addition, government leadership continues to play a key role in driving the growth of renewables – particularly wind and solar – in the power sector. As of today, 173 countries have renewable energy targets in place and 146 have support policies. Cities, communities and companies are leading the rapidly expanding "100% renewable" movement, playing a vital role in advancing the global energy transition.
Additional growth factors include better access to financing, concerns about energy security and the environment and the growing demand for modern energy services in developing and emerging economies.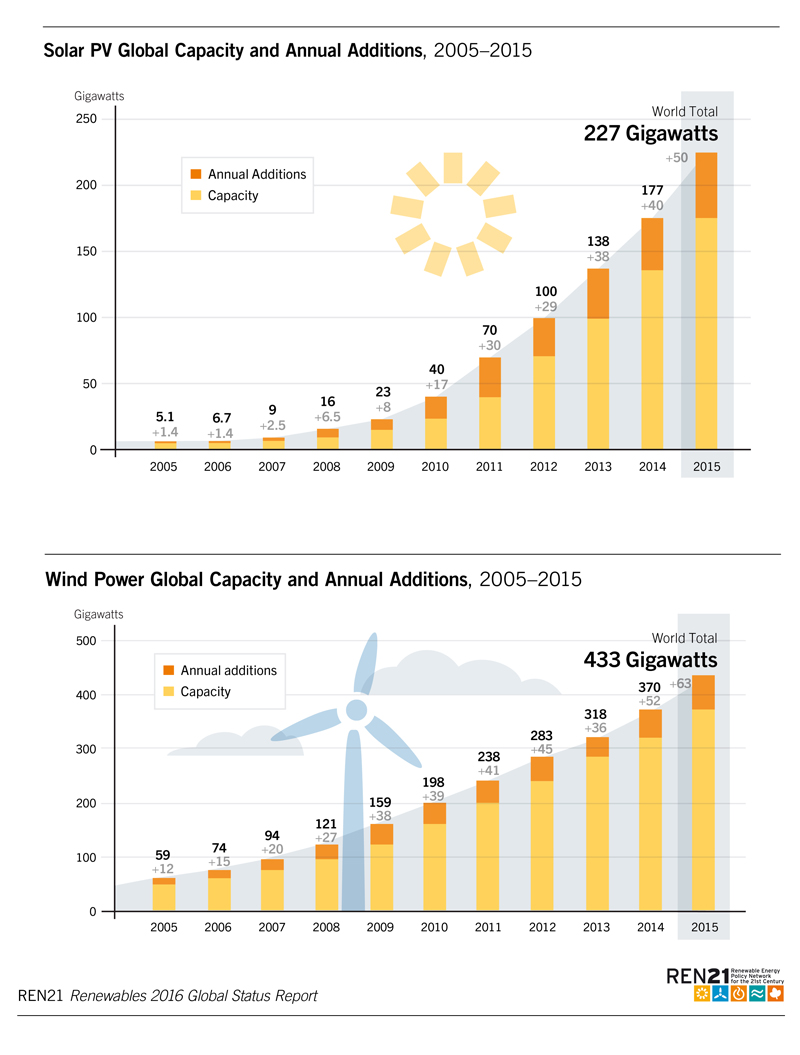 Christine Lins, Executive Secretary of REN21, said: "What is truly remarkable about these results is that they were achieved at a time when fossil fuel prices were at historic lows, and renewables remained at a significant disadvantage in terms of government subsidies. For every dollar spent boosting renewables, nearly four dollars were spent to maintain our dependence on fossil fuels."
2015 was a record year not only for new installations, but also for investment – reaching USD 286 billion in renewable power and fuels; if investment in large hydropower (>50 MW) and in heating and cooling is taken into account, the total is far higher. With China accounting for more than one third of the global total, developing countries surpassed developed countries in total renewable energy investments for the first time.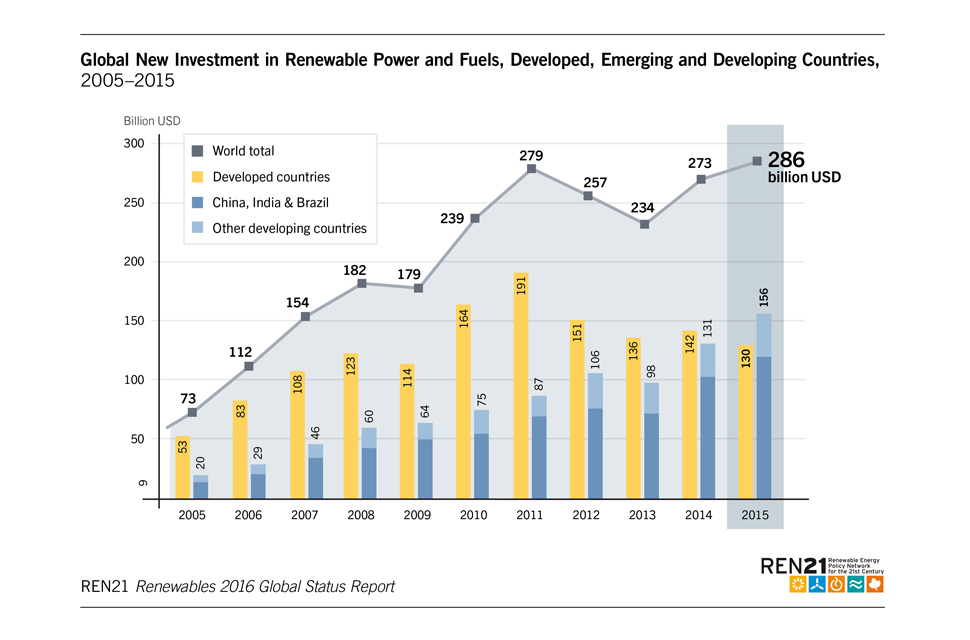 With increased investment came an increase in technological advances, cost reductions and jobs. There are now 8.1 million people working in the renewable energy sector – representing steady growth in stark contrast with depressed labour markets in the broader energy sector.
REN21's Renewables 2016 Global Status Report presents developments and trends through the end of 2015, as well as observed trends from early 2016 where available. This means that accelerated action to reduce greenhouse gas emissions stemming from the Paris Climate Agreement in December is not reflected in these results.
While trends are generally positive, the report highlights several challenges that remain to be addressed if governments are to fulfil their commitments to achieve a global transition away from fossil fuels. These include: achieving effective integration of high shares of renewables into the grid; addressing policy and political instability, regulatory barriers, and fiscal constraints. Further, there is far less policy focus on transport and, particularly, heating and cooling, so these sectors are progressing much more slowly.
Arthouros Zervos, Chair of REN21: "The renewables train is barrelling down the tracks, but it's running on 20th century infrastructure; a system based on outdated thinking where conventional baseload is generated by fossil fuels and nuclear power. To accelerate the transition to a healthier, more secure and climate-safe future, we need to build the equivalent of a high-speed rail network – a smarter, more flexible system that maximises the use of variable sources of renewable energy, and accommodates decentralised and community-based generation."
In related news, the G7 nations have – for the first time – set a deadline for ending fossil fuel subsidies, which currently amount to half a trillion dollars annually worldwide. Leaders of Canada, the European Union, France, Germany, Italy, Japan, the UK and US have encouraged all countries to join them in eliminating coal, oil and gas subsidies by 2025.
---
• Follow us on Twitter
• Follow us on Facebook
4th June 2016
Pancreatic cancer survival could be increased from 16% to 29%
A new combination of chemotherapy drugs for pancreatic cancer, presented at the world's biggest cancer conference, shows long-term survival could be increased from 16% to 29%.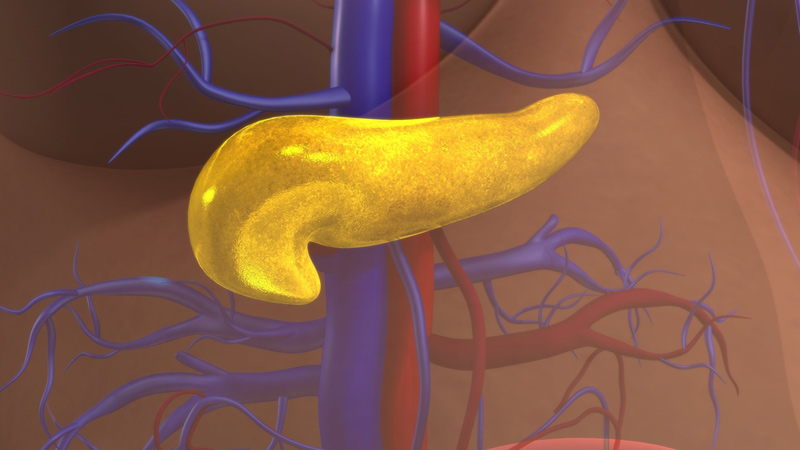 An extra 13 percent of pancreatic cancer patients will live for at least five years when given a combination of chemotherapy drugs compared with standard treatment, according to the results of a Cancer Research UK trial being presented at the American Society of Clinical Oncology (ASCO). Researchers involved in this major clinical trial have described the results as "incredibly exciting" and a "major win" in the fight against cancer. They are recommending the new treatment to become the standard therapy for patients with the disease.
Doctors on the trial – which took place in many hospitals across the United Kingdom, Germany, Sweden and France – treated 732 patients who had surgery to remove their tumour. Around half received the chemotherapy drug gemcitabine (currently the standard treatment for pancreatic cancer), while the other half received a combination of both gemcitabine and capecitabine. The trial showed that 29 per cent of patients given the drug combination lived at least five years compared with only 16 per cent of patients given gemcitabine alone. There was no significant difference in side effects between the patients on the standard treatment and the combination treatment.
The trial was set up in 2008 to address the very poor survival rates for pancreatic cancer. It is normally diagnosed at a late stage, when the cancer is already locally advanced or has spread to other parts of the body. An estimated 8,800 people die from the disease each year in the UK, making it the fifth leading cause of cancer death. In the USA the figure is 42,000, making it the fourth leading cause. Worldwide, it is responsible for 6% of all cancer deaths each year. The majority of cases occur in developed countries.
Professor John Neoptolemos from the University of Liverpool, who led the trial, commented: "This important trial shows that this drug combination could give pancreatic patients valuable extra months and even years and so will become the new treatment for patients with this disease. The difference in short term survival may seem modest, but improvement in long-term survival is substantial for this cancer.
"Although pancreatic cancer is difficult to treat, finding drugs that will shrink the tumour enough to make it suitable for surgery will help in the fight against this disease. We've learnt a lot about pancreatic cancer from our clinical trials and now this drug combination will become the new standard of care for patients with the disease."
Professor Peter Johnson, Cancer Research UK's chief clinician, said: "Nearly 10,000 people are diagnosed with pancreatic cancer each year in the UK and it remains a very difficult disease to find and treat. Despite this, we are making steady progress, through trials like this one, where the use of better chemotherapy after surgery was able to increase the number of people surviving the disease. We still have a long way to go, but Cancer Research UK is investing heavily into research to take on pancreatic cancer, and we are just starting to see the results."
Alex Ford, chief executive of Pancreatic Cancer UK, commented: "These are incredibly exciting results from a major trial for those diagnosed with this dreadful disease. The outlook for pancreatic cancer has been grim. With few treatment options, survival rates have barely changed in 40 years. At the same time, incidence is set to soar by a third, to more than 12,000 people being diagnosed every year by 2030. The possibility of increasing survival for those who have undergone surgery will give great hope to patients and their families who may benefit. The importance of clinical trials to help transform the outlook for pancreatic cancer cannot be over-estimated. We now need to see these results quickly translate to a change in approach by clinicians so that patients start to benefit more widely straightaway."
---
• Follow us on Twitter
• Follow us on Facebook
2nd June 2016
First gene therapy for children is approved in Europe
Strimvelis, a gene therapy for a rare immune deficiency, which is also the first gene therapy for children, has been granted regulatory approval by the European Commission (EC).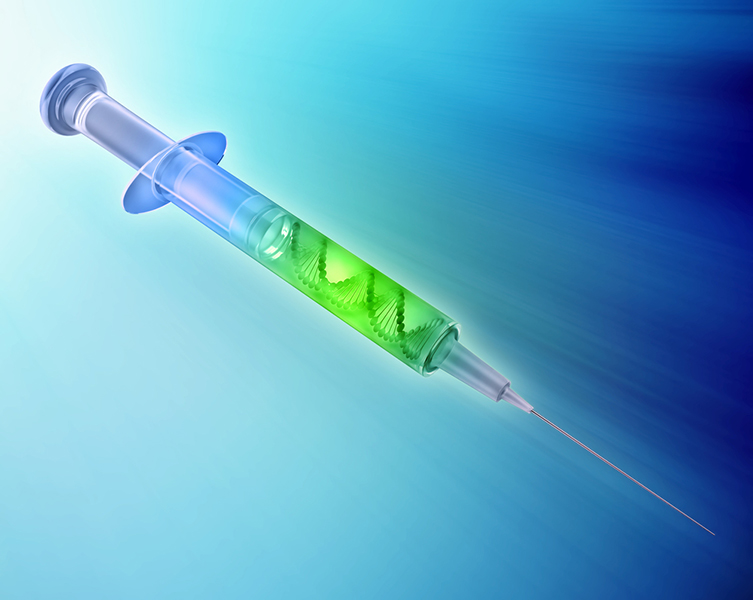 Adenosine deaminase deficiency (ADA-SCID) is a very rare disorder caused by a faulty gene inherited from both parents. This faulty gene stops the production of an essential protein called adenosine deaminase (ADA), which is required for the production of lymphocytes (a type of white blood cell). Children born with ADA-SCID do not develop a healthy immune system, so cannot fight off everyday infections, which results in severe and life-threatening illness. The disorder often proves fatal within the child's first year of life. ADA-SCID is so rare that it is estimated to occur in just 15 patients per year in Europe.
Thankfully, hope is now arriving in the form of a breakthrough new treatment. British pharmaceutical company GlaxoSmithKline (GSK) – in partnership with Fondazione Telethon and San Raffaele Hospital in Italy – have announced a life-saving gene therapy known as Strimvelis. After more than 20 years of research and development, the European Commission (EC) has just granted regulatory approval of this medicine. Strimvelis will be the first corrective gene therapy for children anywhere in the world. It is recommended for the treatment of patients with ADA-SCID for whom no suitable human leukocyte antigen (HLA)-matched related stem cell donor is available.
Martin Andrews, Head of the Rare Disease Unit at GSK, commented: "Today's approval is the result of many years' work with our collaborators in Milan and is the next step towards bringing life-changing treatment to patients with ADA-SCID and their families. This is the start of a new chapter in the treatment of rare genetic diseases. We hope that this therapeutic approach could also be used to help patients with other rare diseases in the future."
The decision to approve was based on data collected from 18 children. A 100% survival rate at three years post-treatment with Strimvelis was observed for all children in the pivotal study and every child receiving the treatment who contributed to the data package is alive today, with a median follow-up duration of approximately seven years. Full results of the analysis were published recently in the journal BLOOD1.
Strimvelis is only administered once and does not rely on a third-party donor, so there is no risk of immune incompatibility causing rejection, which is a common side effect of bone marrow transplant treatments. With Strimvelis, the patient's own bone marrow cells are removed, and a vector is used to insert a normal copy of the ADA gene into the cells. This step is known as transduction. The gene-corrected cells are then re-introduced to the patient through an intravenous infusion, after which some of the cells home back to the bone marrow.
Professor Alessandro Aiuti, Clinical Research Coordinator in a joint research collaboration between Fondazione Telethon and San Raffaele Hospital, said: "We are delighted with today's news, which marks the culmination of more than 20 years of research and development. This innovative and individualised treatment approach uses a patient's own gene modified stem cells to correct the root cause of the disease. It has been gratifying for all of us to see patients affected by this severe immune deficiency growing over the years, being able to play with other children and then going to school. Working alongside GSK, we can now make Strimvelis available to ADA-SCID patients and transform the lives of children who so desperately need it."
---
• Follow us on Twitter
• Follow us on Facebook
1st June 2016
World's longest and deepest rail tunnel officially opens in Switzerland
After nearly 20 years of construction work, the Gotthard Base Tunnel was officially opened today.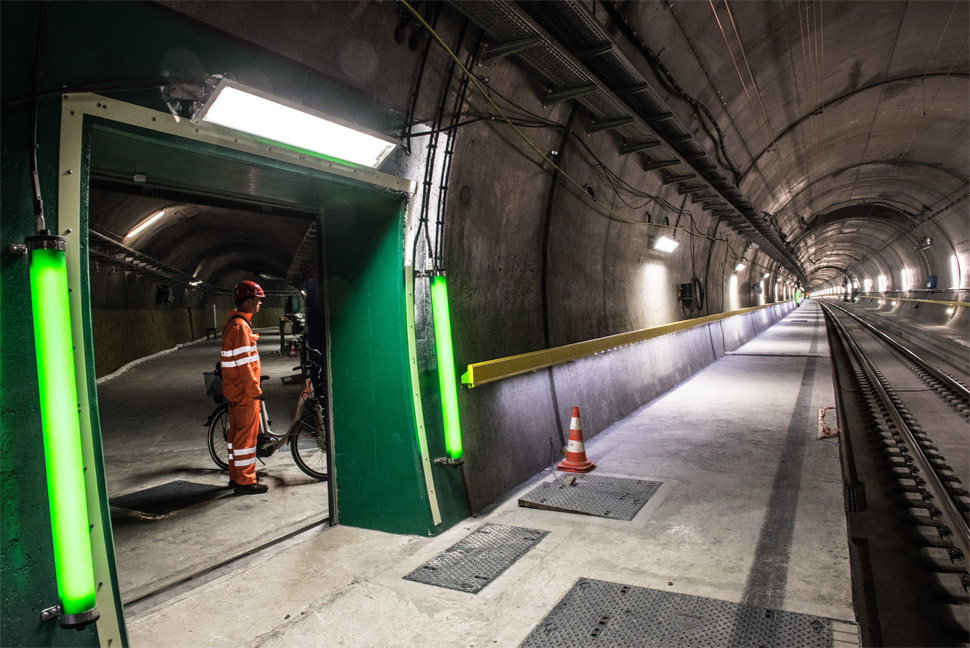 With a route length of 57 km (35 miles) and a total of 152 km (94 miles) of tunnels, shafts and passages, the Gotthard Base Tunnel (GBT) becomes the world's longest rail tunnel. It is also the deepest, reaching as far down as 2500m (8,200 ft) below the Alps mountain range.
This remarkable feat of engineering is designed to provide a high-speed rail link from Rotterdam in the Netherlands to Genoa in Italy. The tunnel will slash the 3.5-hour travel time from Zürich to Milan by an hour, while the journey from Zürich to Lugano is reduced by 45 minutes. Trains will operate as fast as 250 km/h (155 mph) along the new route.
The GBT is part of the AlpTransit project, which also includes the shorter Ceneri Base Tunnel, scheduled to open in December 2020. After 64 percent of Swiss voters accepted the proposals in a 1992 referendum, construction began in 1996. The total projected cost was around 9.8 billion Swiss francs (€8.85 billion or US$10.3 billion), but the final cost exceeded $12 billion.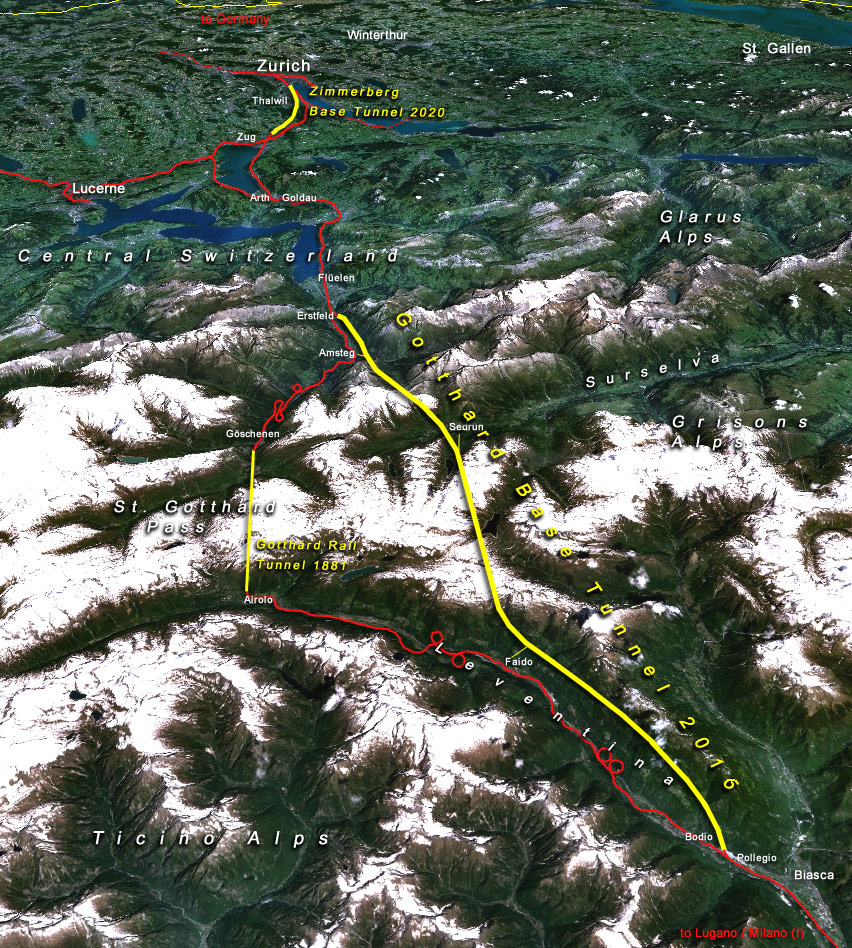 During the construction of the Gotthard Base Tunnel, workers had to bore through a wide variety of different rock strata, from hard granite to crumbly sedimentary rock. Tunnel boring machines carried out 80 per cent of the work in the main tunnels, while conventional blasting methods were used for the other 20 per cent. A total of 28.2 million tonnes of excavated material was removed – equivalent to six Egyptian pyramids. To save time and money, teams worked in different sections of tunnel at the same time, via access galleries and shafts. Temperatures inside reached as high as 50°C (122°F).
The tunnel will be hugely important to Europe's economy. More than 20 million people are located in the catchment area between southern Germany and northern Italy. As many as 260 freight trains and 65 passenger trains will pass through every day. Thanks to a flat and relatively straight route, connections will be faster and more punctual. The speed, capacity and reliability of freight traffic will increase, making it more competitive. In addition to boosting the trade route between northern and southern Europe, it will also shift alpine traffic from road to rail, cutting CO2 emissions and helping to protect the surrounding ecosystem.
The leaders of France, Germany, Italy and Switzerland attended a grand opening ceremony today. In a speech at the northern entrance to the tunnel, the Swiss President Johann Schneider-Ammann said it was a "giant step for Switzerland, but equally for our neighbours and the rest of the continent."
The GBT is unlikely to hold the record for very long, however. China is planning to build an even longer tunnel underneath the Bohai Strait, forming a vital high-speed route between the north and south of the country. This will measure 76 miles (122 km), over twice as long as the Gotthard Base Tunnel.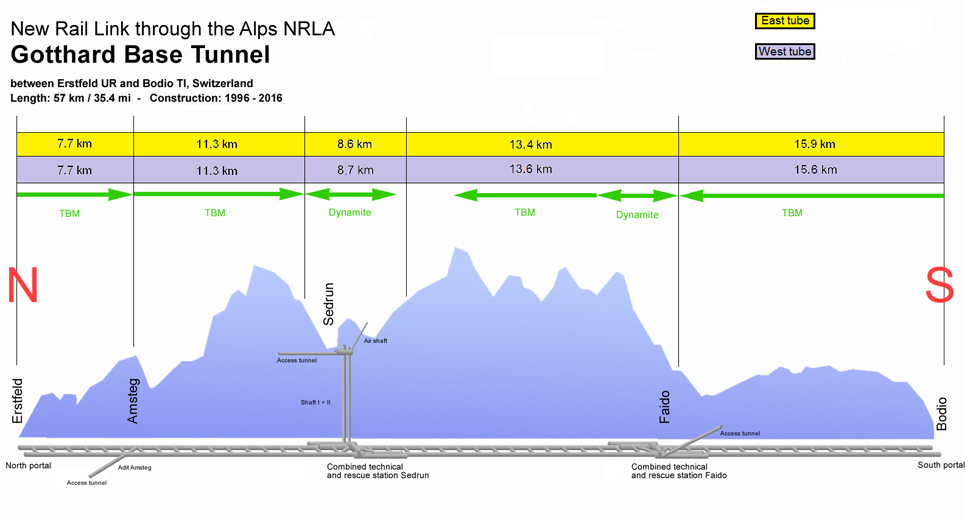 ---
• Follow us on Twitter
• Follow us on Facebook