30th November 2015
Bitcoin debit card introduced in USA
Coinbase has unveiled the first US-issued Bitcoin debit card, accepted at over 38 million merchants worldwide. It is predicted that Bitcoin will become the world's sixth largest reserve currency by 2030.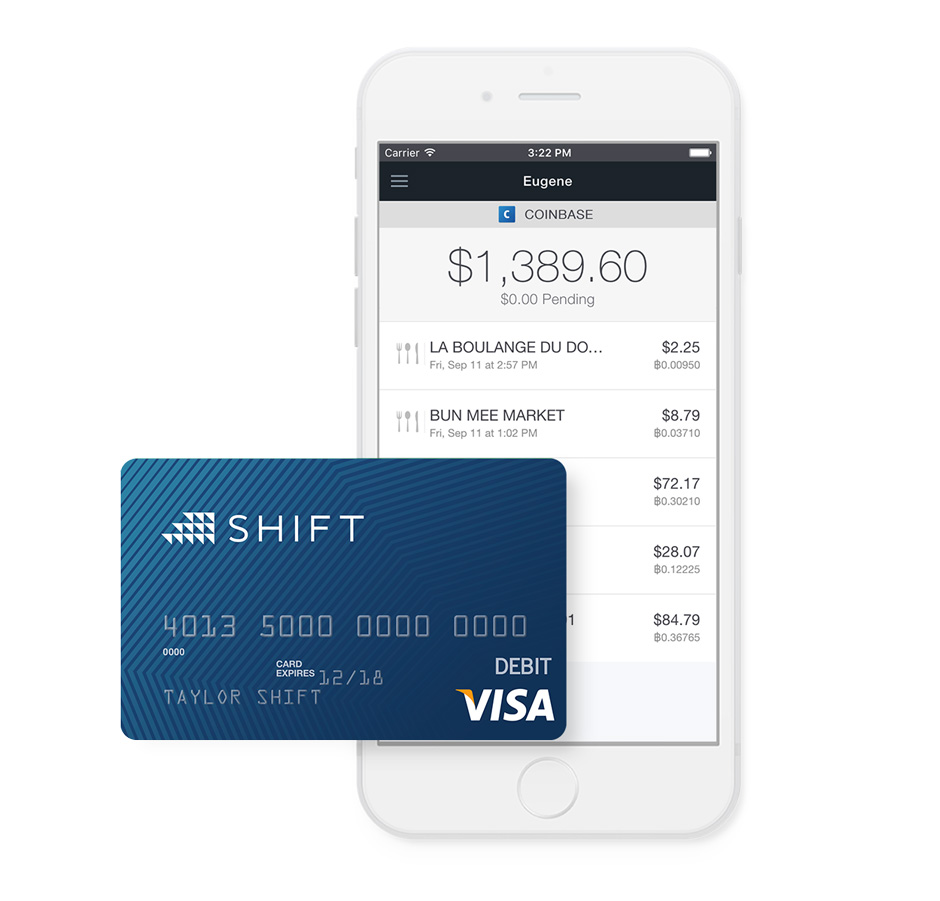 Bitcoin has been around for a while now. Launched worldwide in 2009, this form of digital money isn't controlled or issued by any bank or government and isn't pegged to the value of any other currency. Instead, it works as a decentralised virtual currency with an open network managed by its users. Fast, secure and reliable, Bitcoin is designed for the Internet age – allowing the transfer of any amount of money to anyone in the world, without needing a bank.
An increasing number of large online businesses now accept Bitcoin payments, including Dell, Expedia, Google, OkCupid, Paypal, Reddit and many others. It has drawn the support of some politicians, notably U.S. Presidential candidate Rand Paul, who accepts donations in Bitcoin.
Although growing in popularity, it's still difficult to make regular day-to-day purchases with Bitcoin in the USA, such as buying petrol from a station or groceries at a neighbourhood store, or a meal at a restaurant. That could be about to change, however, thanks to a new Bitcoin debit card. Known as the Shift Card, it can function like a normal VISA debit card – allowing users in 24 states across the USA to spend their virtual money both online and offline at over 38 million merchants around the world. It can also be used to withdraw cash from an ATM, with funds taken out of the person's online Bitcoin balance, not a bank account, although this requires a fee. An accompanying Shift mobile app enables you to check account balances and transaction details, or easily add and edit account information for quick selection at time of payment.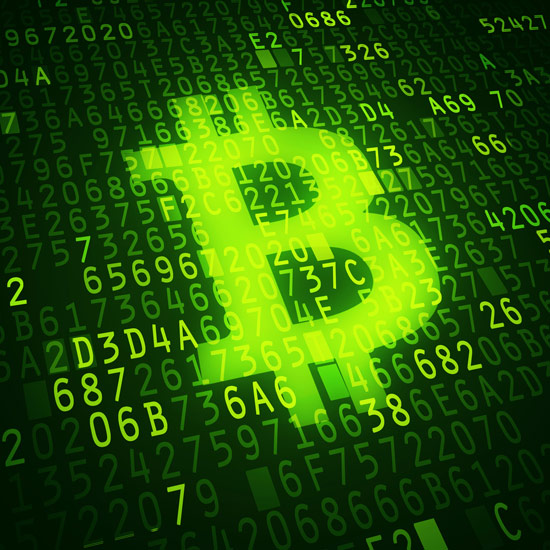 Shift Card has been developed by Coinbase, a Bitcoin wallet and exchange company founded in 2012 and headquartered in San Francisco. It operates exchanges between Bitcoin and fiat currencies in 32 countries, and Bitcoin transactions and storage in 190 countries worldwide. Coinbase and Shift are working through legal and regulatory issues to make the card available throughout all 50 states of the USA.
"At the end of the day, what we're trying to do is make Bitcoin easy to use," says Adam White, vice president at Coinbase. "We want to make it easy to buy and sell Bitcoin, and we want to make it easy to spend. A mainstream debit card based on Bitcoin is a key element."
"It's now possible to live on Bitcoin alone, through a combination of an employer paying the user in Bitcoin and the user spending Bitcoin for everyday items via their debit card," says White.
In a related story, UK-based Magister Advisors has predicted that Bitcoin will become the world's sixth largest reserve currency by 2030. According to their survey, banks and financial institutions are willing to spend around $1 billion on developing blockchain technology over the next two years.
"Blockchain technology will underpin a growing number of routine transactions globally as trust grows," said Jeremy Millar, a partner at Magister Advisors, in a statement released by the organisation. "Our interviews with 30 of the leading Bitcoin companies worldwide cement our view that the currency is gaining traction. Growing vendor acceptance and the adoption of Bitcoin in developing markets are creating a pincer movement that will lead to widespread business and consumer acceptance and adoption over time."
28th November 2015
Cell survival genes identified
By switching off, one by one, almost 18,000 genes — about 90 per cent of the entire human genome — scientists have identified the genes that are essential for cell survival. This could improve our understanding of which genes are most important in diseases like cancer.
Scientists from the University of Toronto's Donnelly Centre have mapped out the genes that keep our cells alive, creating a long-awaited foothold for understanding how our genome works and which genes are crucial in disease like cancer. A team of researchers led by Professor Jason Moffat have switched off, one by one, almost 18,000 genes — 90% of the entire human genome — to find the genes that are essential for cell survival.
The data, published on 25th November in the peer-reviewed journal Cell, reveals a "core" set of 1,500 essential genes. This lays the foundation for reaching the long-standing goal in biomedical research of pinpointing a role for every single gene in the human genome.
By turning genes off in five different cancer cell lines — including brain, retinal, ovarian, and two kinds of colorectal cancer cells — the team uncovered that each set of cells relies on a unique set of genes that can be targeted by specific drugs. This finding raises hope of devising new treatments that would target only cancerous cells, leaving the healthy tissue unharmed.
"It's when you get outside the core set of essential genes, that it starts to get interesting in terms of how to target particular genes in different cancers and other disease states," says Moffat.
Sequencing of the human genome in 2003 allowed scientists to compile a list of parts – our 20,000 genes – which form our cells and bodies. But despite this major achievement, they still didn't understand the function of each individual gene, or how some genes make us sick when they go wrong. For this, scientists realised they would have to switch genes off, one by one across the entire genome to determine what processes go wrong in the cells. But the available tools were either inaccurate or too slow.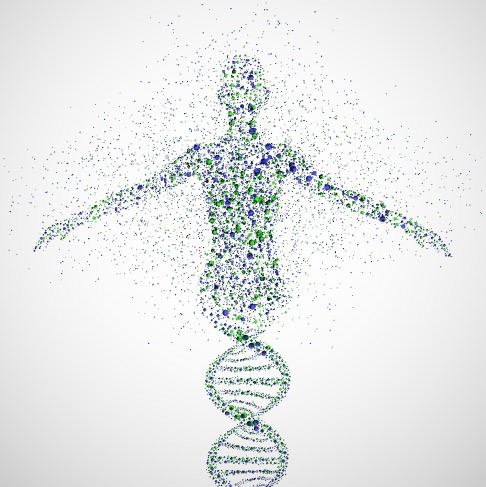 The recent arrival of the gene editing technology CRISPR has finally made it possible to turn genes off, swiftly and with pinpoint accuracy, kicking off a global race among multiple competing research teams. The Toronto study, along with the paper from Harvard and MIT, published recently in Science, found that roughly 8% of our genes are essential for cell survival.
These findings show the majority of human genes play more subtle roles in the cell, because switching them off doesn't kill the cell. But if two or more of such genes are mutated at the same time, or the cells are under environmental stress, their loss begins to count.
Because different cancers have different mutations, they tend to rely on different sets of genes to survive. Professor Moffatt's team have identified distinct sets of "smoking gun" genes for each of the tested cancers – each set susceptible to different drugs.
"We can now interrogate our genome at unprecedented resolution in human cells that we grow in the lab with incredible speed and accuracy," he says. "In short order, this will lead to a functional map of cancer that will link drug targets to DNA sequence variation."
Already, his team has shown how this can work. In their study, a widely prescribed diabetes drug called Metformin successfully killed brain cancer cells and those of one form of colorectal cancer – but was useless against the other cancers he studied. However, the antibiotics chloramphenicol and linezolid were effective against another form of colorectal cancer, and not against brain or other cancers studied. These data illustrate the clinical potential of the data in pointing to more precise treatments for the different cancers – and show the value of personalised medicine.
"The Moffat group has developed a powerful CRISPR library that could be used by investigators around the world to identify new strategies for the treatment of cancer," says Dr. Aaron Schimmer from Princess Margaret Cancer Centre in Toronto, who was not involved in the study. "I would be interested in using this tool to identify new treatment approaches for acute myeloid leukaemia – a blood cancer with a high mortality rate."
26th November 2015
No substantive evidence for 'pause' in global warming
A review of scientific literature by Bristol University finds no substantive evidence of a "pause" or "hiatus" in global warming.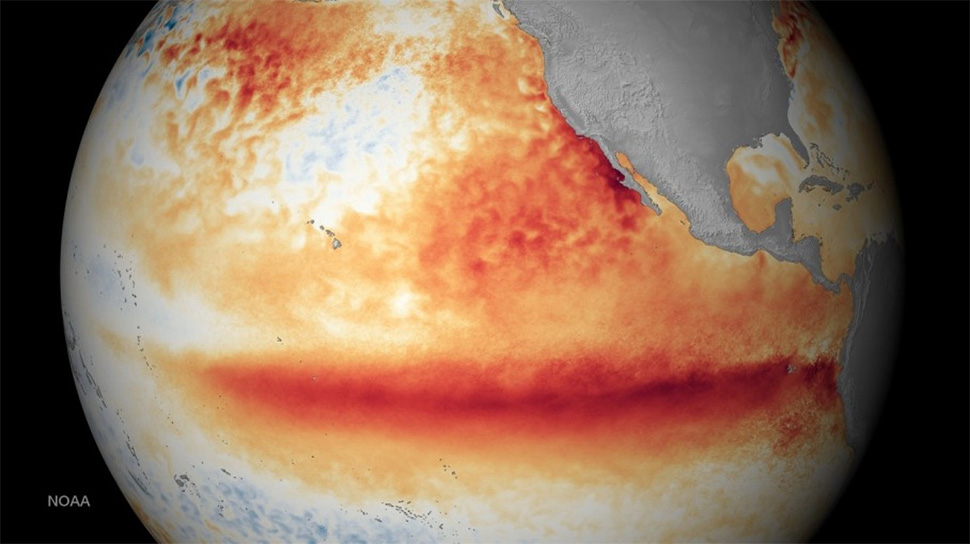 There is no substantive evidence for a 'pause' or 'hiatus' in global warming and the use of those terms is therefore inaccurate, new research from the University of Bristol has found.
The researchers, led by Professor Stephan Lewandowsky of Bristol's School of Experimental Psychology and the Cabot Institute, examined 40 peer-reviewed scientific articles published between 2009 and 2014 that specifically addressed the presumed 'hiatus' and found no consistent or agreed definition of such a 'hiatus', when it began and how long it lasted.
The researchers then compared the distribution of decadal warming trends during the 'hiatus' – as defined by the same scientific articles – against other trends of equivalent length in the entire record of modern global warming. The analysis showed that all definitions of the 'hiatus' in the literature were found to be unexceptional in the context of other trends.
The researchers also found that, if sample size is small, the 'hiatus' will always appear to be present. For example, anyone making a claim for a 'hiatus' of 12 years or below (a claim made by a third of the articles studied) will find one, not because something new and different is happening, but because small sample sizes provide insufficient statistical power for the detection of trends.
"Our study raises the question: why has so much research been framed around the concept of a 'hiatus' when it does not exist?" said Lewandowsky. "The notion of a 'pause' or 'hiatus' demonstrably originated outside the scientific community, and it likely found entry into the scientific discourse because of the constant challenge by contrarian voices that are known to affect scientific communication and conduct."
Discussing climate change using the terms 'pause' or 'hiatus' creates hazards for the public and the scientific community, the study concludes.
Professor Lewandowsky added: "Scientists may argue that when they use the terms 'pause' or 'hiatus' they know – and their colleagues understand – that they do not mean to imply global warming has stopped.
"But while scientists might tacitly understand that global warming continues notwithstanding the alleged 'hiatus', or they may intend the 'pause' to refer to differences between observed temperatures and expectations from theory or models, the public is not privy to that tacit understanding.
"Therefore, scientists should avoid the use of 'pause' or hiatus' when referring to fluctuations of global mean surface temperature around the longer-term warming trend. There is no evidence for a pause in global warming."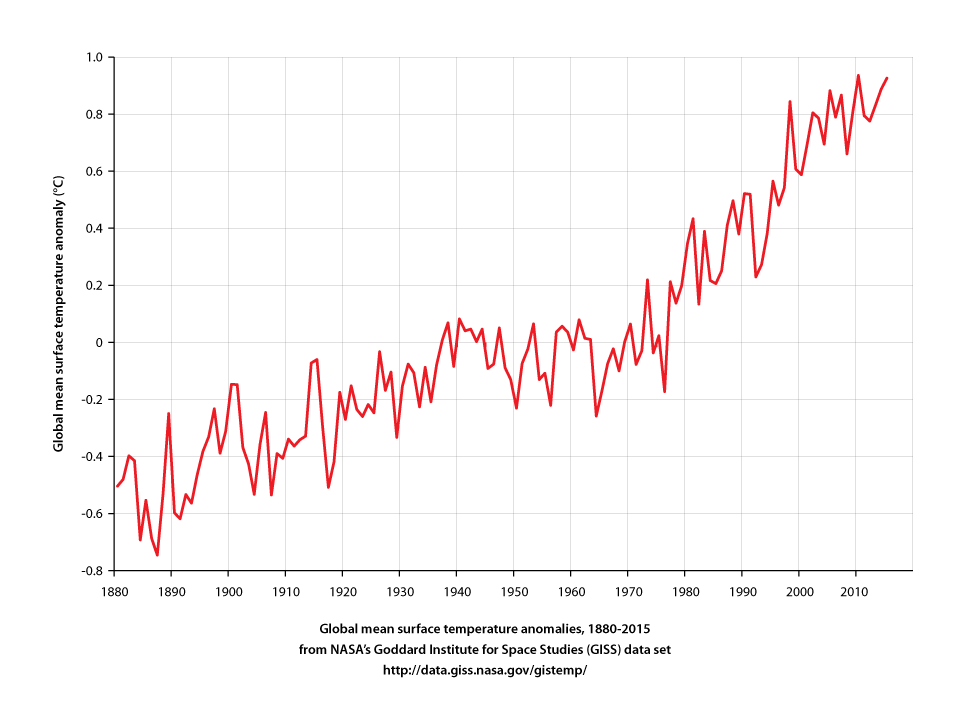 23rd November 2015
Global drug spending to increase 30% by 2020
Global spending on medicines is predicted to rise by 30% over the next five years – driven by expensive new drugs, price hikes, aging populations and increased generic drug use in developing countries, according to a new forecast by IMS Health.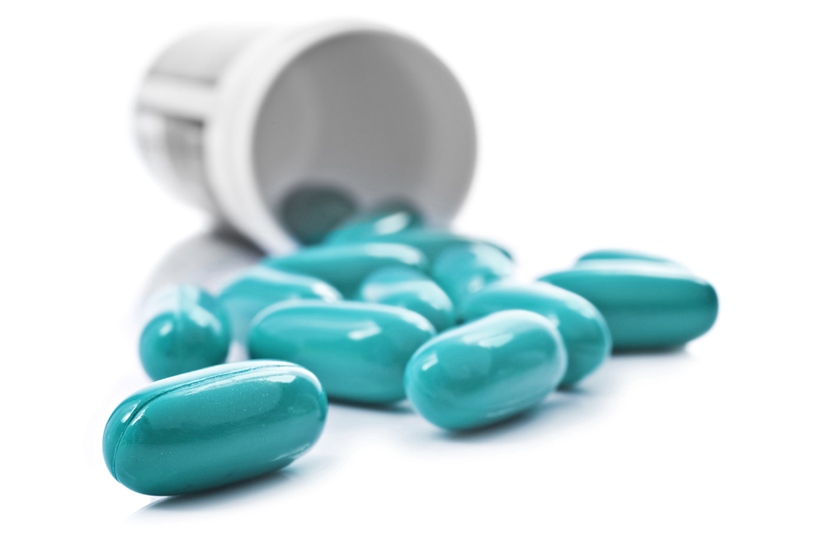 More than half of the world's population will live in countries where medicine use will exceed one dose per person per day by 2020 – up from 31 percent in 2005, as the medicine use gap between the developed and "pharmerging" markets narrows. According to new research by the IMS Institute for Healthcare Informatics, total spending on medicines will reach $1.4 trillion by 2020, due to greater patient access to chronic disease treatments and breakthrough innovations in drug therapies. Global spending is forecast to grow at a 4-7 percent compound annual rate over the next five years.
The report, Global Medicines Use in 2020: Outlook and Implications, found that total global spend for pharmaceuticals will increase by $349 billion on a constant-dollar basis, compared with $182 billion during the past five years. Spending is measured at the ex-manufacturer level before adjusting for rebates, discounts, taxes and other adjustments that affect net sales received by manufacturers. The impact of these factors is estimated to reduce growth by $90 billion or approximately 25 percent of the growth forecast through 2020.
"During the next five years, we expect to see a surge of innovative medicines emerging from R&D pipelines, as well as technology-enabled advances that will deliver measurable improvements to health outcomes," said Murray Aitken, IMS Health senior vice president and executive director of the IMS Institute for Healthcare Informatics. "With unprecedented treatment options, greater availability of low-cost drugs and better use of evidence to inform decision making, stakeholders around the world can expect to get more 'bang for their medicine buck' in 2020 than ever before."
In its latest study, the IMS Institute highlights the following findings:
• Global medicine use in 2020 will reach 4.5 trillion doses, up 24 percent from 2015. Most of the global increase in use of medicines will take place in pharmerging markets, with India, China, Brazil and Indonesia representing nearly half of that growth. Volumes in developed markets will remain relatively stable and trend toward original branded products, as use of specialty medicines becomes more widespread. Generics, non-original branded and over the counter (OTC) products will account for 88 percent of total medicine use in pharmerging markets by 2020, and provide the greatest contribution to increased access to medicines in those countries. Newer specialty medicines, which typically have low adoption rates in pharmerging countries lacking the necessary healthcare infrastructure, will represent less than one percent of the total volume in those markets.
• Global spending will grow by 29-32 percent through 2020, compared with an increase of 35 percent in the prior five years. Spending levels will be driven by branded drugs primarily in developed markets, along with the greater use of generics in pharmerging markets – offset by the impact of patent expiries. Brand spending in developed markets will rise by $298 billion as new products are launched and as price increases are applied in the U.S., most of which will be offset by off-invoice discounts and rebates. Patent expiries are expected to result in $178 billion in reduced spending on branded products, including $41 billion in savings on biologics as biosimilars become more widely adopted. Many of the newest treatments are specialty medicines used to address chronic, rare or genetic diseases and yielding significant clinical value. By 2020, global spending on these medicines is expected to reach 28 percent of the total.
• More than 90 percent of U.S. medicines will be dispensed as generics by 2020. Generic medicines will continue to provide the vast majority of the prescription drug usage in the U.S., rising from 88 percent to 91-92 percent of all prescriptions dispensed by 2020. Spending on medicines in the U.S. will reach $560-590 billion, a 34 percent increase in spending over 2015 on an invoice price basis. While invoice price growth – which does not reflect discounts and rebates received by payers – is expected to continue at historic levels during the next five years, net price trends for protected brands will remain constrained by payers and competition, resulting in 5-7 percent annual price increases. The impact of the Affordable Care Act (ACA) will continue to have an effect on medicine spending during the next five years largely due to expanded insurance coverage. By 2020, there will be broad adoption of ACA provisions that encourage greater care coordination and movement of at least one-third of spending to an outcomes or performance basis.
• More than 225 medicines will be introduced by 2020, with one-third focused on treating cancer. Disease treatments in 2020 will be transformed by the increased number and quality of new drugs in clusters of innovation around cancer, hepatitis C, autoimmune disorders, heart disease and an array of rare diseases. During the next five years, an additional 75 new orphan drugs are expected to be available for dozens of therapeutic areas that currently have limited or no treatment options. By 2020, technology will be enabling more rapid changes to treatment protocols, increasing patient engagement and accountability, shifting patient-provider interaction, and accelerating the adoption of behaviour changes that will improve patient adherence to treatments. Every patient with multiple chronic conditions will have the potential to use wearables, mobile apps and other technologies to manage their health, interact with providers, fellow patients and family members. The ubiquity of smartphones, tablets, apps and related wearable devices, as well as electronic medical records and exponentially increasing real-world data volumes, will open new avenues to connect healthcare while offering providers and payers new mechanisms to control costs.
The full report, including a detailed description of the methodology, is available at theimsinstitute.org. It can also be downloaded as an app via iTunes at https://itunes.apple.com. The study was produced independently as a public service, without industry or government funding.
22nd November 2015
Genetically modified salmon approved by FDA
For the first time, the U.S. Food and Drug Administration (FDA) has approved genetically modified fish for human consumption.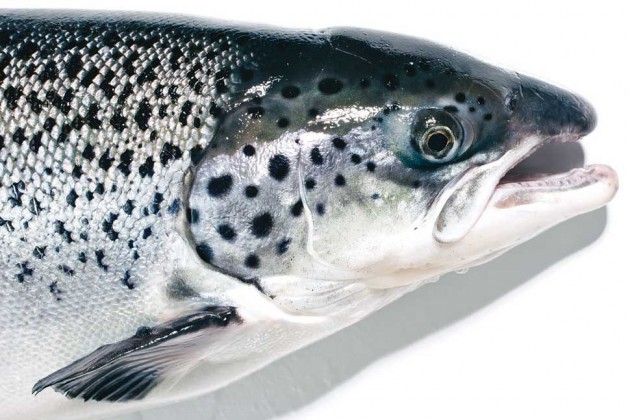 AquaBounty Technologies, Inc., a biotechnology company focused on enhancing productivity in aquaculture, announced this week that the FDA has approved its application for the production, sale and consumption of "AquAdvantage Salmon". This Atlantic salmon has been genetically enhanced to reach market size in less time than conventional farmed Atlantic salmon.
Ronald Stotish, Ph.D., CEO of AquaBounty, commented: "AquAdvantage Salmon is a game-changer that brings healthy and nutritious food to consumers in an environmentally responsible manner without damaging the ocean and other marine habitats. Using land-based aquaculture systems, this rich source of protein and other nutrients can be farmed close to major consumer markets in a more sustainable manner."
The U.S. currently imports over 90% of its seafood – and more specifically, over 95% of the Atlantic salmon it consumes. AquAdvantage Salmon will create the opportunity to grow an economically viable, domestic aquaculture industry. Through greater efficiency and localised production, AquaBounty claims it can increase productivity while reducing the costs and environmental impacts of current salmon farming operations. Land-based aquaculture systems can provide a continuous supply of fresh, safe, traceable and sustainable GM salmon to communities across the U.S. and do so with a lower carbon footprint. This offers an alternative approach to fish farming that does not exploit the oceans.
Jack Bobo, Senior Vice President and Chief Communications Officer at parent company Intrexon, stated: "The U.S. Dietary Guidelines Advisory Committee encourages Americans to eat a wide variety of seafood, including wild caught and farmed, as part of a healthy diet rich in healthy fatty acids. However, this must occur in an environmentally friendly and sustainable manner. FDA's approval of the AquAdvantage Salmon is an important step in this direction."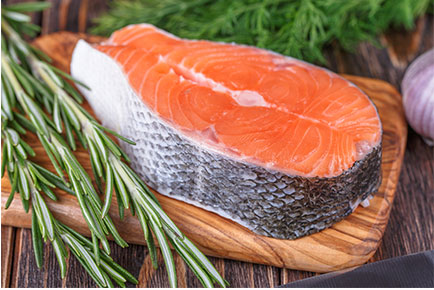 The AquAdvantage fish program is based on a molecular modification that results in more rapid growth during early development. A gene responsible for growth hormone regulation is taken from a Pacific Chinook salmon, combined with a promoter from an ocean pout, then added to the Atlantic salmon's 40,000 genes. This makes it grow year-round, instead of only during spring and summer, without affecting its ultimate size or other qualities. The GM fish grows to market size in 16 to 18 months, rather than three years.
The AquaAdvantage program has other qualities that improve its sustainability credentials. The fish require 25% less feed than other Atlantic salmon on the market today. When farmed in land-based facilities close to major metropolitan areas, they will travel only a short distance to the consumer. Not only will this make them the freshest fish on the market, it will significantly cut the transportation distance from farm to table. Unlike salmon imported from Norway and Chile that travel thousands of miles by airfreight and are then trucked to markets, AquaBounty's salmon will have a carbon footprint that is 23-25 times less.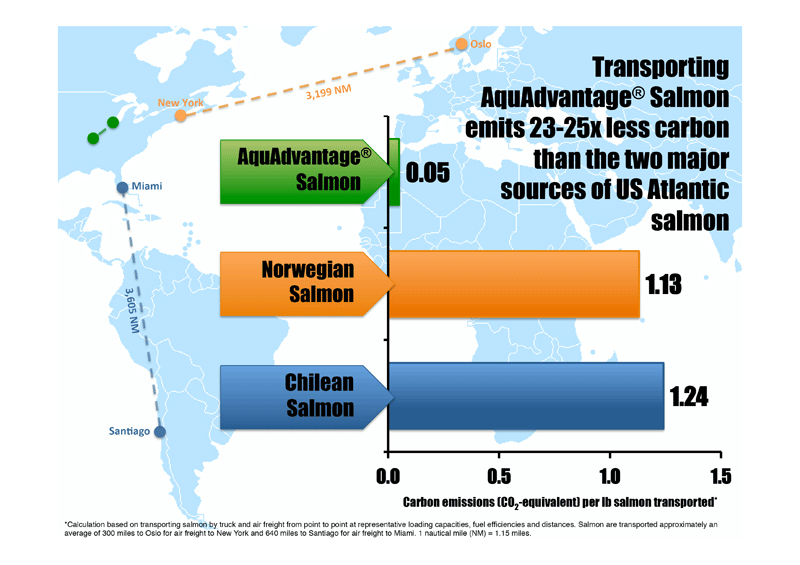 The FDA determined that the approval of the GM technology would not have a significant environmental impact, because of multiple and redundant measures taken to contain the fish and prevent their escape into the wild. These measures include a series of physical barriers placed in the tanks and in the plumbing that carries water out of the facilities to block the eggs and fish. Furthermore, the AquAdvantage Salmon are reproductively sterile, so that even in the highly unlikely event of an escape, they would be unable to interbreed or establish populations in the wild. The FDA will maintain regulatory oversight of the production and facilities and will conduct inspections to confirm these containment measures remain adequate.
Despite a lengthy and detailed review process, however, the FDA's approval has provoked an angry response from some, who have questioned the safety aspects and object to the fact that no labelling will be required to indicate the fish were genetically engineered. The Centre for Food Safety (CFS), a non-profit organisation working to protect human health and promote organic food methods, has already announced plans to sue the FDA and prevent the modified salmon being sold in the U.S.
"The review process by FDA was inadequate, failed to fully examine the likely impacts of the salmon's introduction and lacked a comprehensive analysis," said executive director Andrew Kimbrell in a press statement, citing the 2 million people who filed public comments in opposition, the largest number of comments the FDA has ever received on any issue. "This decision sets a dangerous precedent, lowering the standards of safety in this country. CFS will hold FDA to their obligations to the American people."
Globally, traditional "capture" fisheries have been on a plateau since the late 1980s due to unsustainable yields. Aquaculture is now among the fastest growing industries in the agricultural sector and is projected to supply the majority of the world's seafood by the mid-2020s, overtaking wild catch harvests by weight. With fisheries collapsing from over-exploitation, pollution, climate change and other problems, aquaculture is likely to become a sustainable and vitally important industry of the 21st century.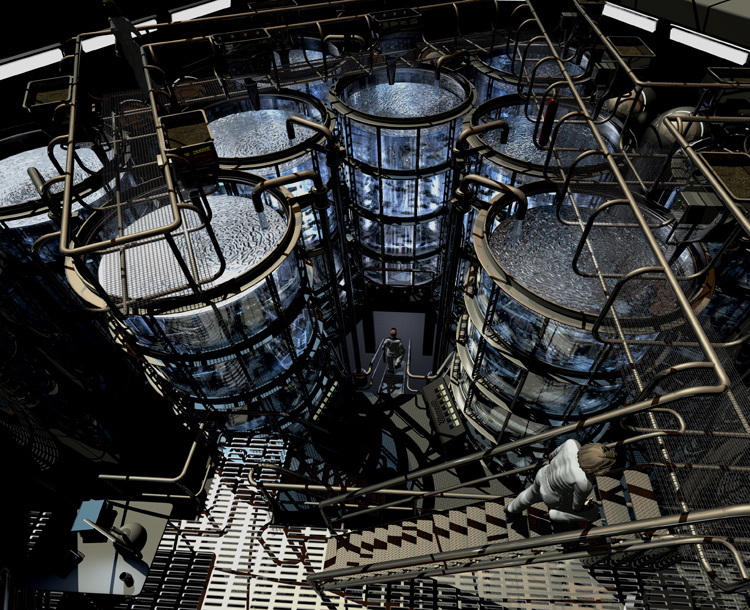 20th November 2015
Self-healing sensor brings 'electronic skin' closer to reality
Scientists have developed a self-healing, flexible sensor that mimics the self-healing properties of human skin. Cuts or scratches to the sensors "heal" themselves in less than one day.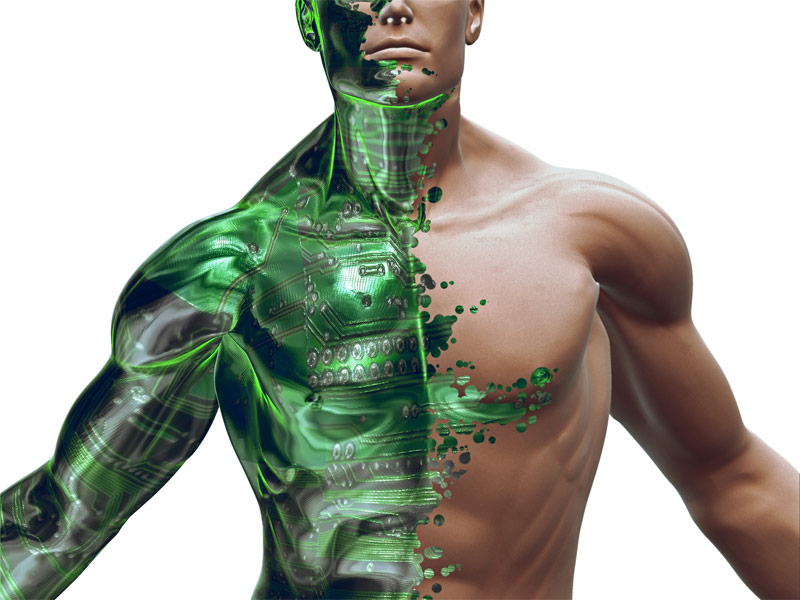 Flexible sensors have been developed for use in consumer electronics, robotics, health care, and space flight. Future possible applications could include the creation of 'electronic skin' and prosthetic limbs that allow wearers to 'feel' changes in their environments.
One problem with current flexible sensors, however, is that they can be easily scratched and otherwise damaged, potentially destroying their functionality. Researchers in the Department of Chemical Engineering at the Technion – Israel Institute of Technology in Haifa (Israel), who were inspired by the healing properties in human skin, have developed materials that can be integrated into flexible devices to "heal" incidental scratches or damaging cuts that might compromise device functionality. The advancement, using a new kind of synthetic polymer (a polymer is a large molecule composed of many repeated smaller molecules) has self-healing properties that mimic human skin, which means that e-skin "wounds" can quickly "heal" themselves in remarkably short time – less than a day.
A paper outlining the characteristics and applications of the unique, self-healing sensor has been published in the current issue of Advanced Materials.
"The vulnerability of flexible sensors used in real-world applications calls for the development of self-healing properties similar to how human skin heals," said self-healing sensor co-developer Professor Hossam Haick. "Accordingly, we have developed a complete, self-healing device in the form of a bendable and stretchable chemiresistor where every part – no matter where the device is cut or scratched – is self-healing."
The new sensor is comprised of a self-healing substrate, high conductivity electrodes, and molecularly modified gold nanoparticles. "The gold particles on top of the substrate and between the self-healing electrodes are able to "heal" cracks that could completely disconnect electrical connectivity," explains Prof. Haick.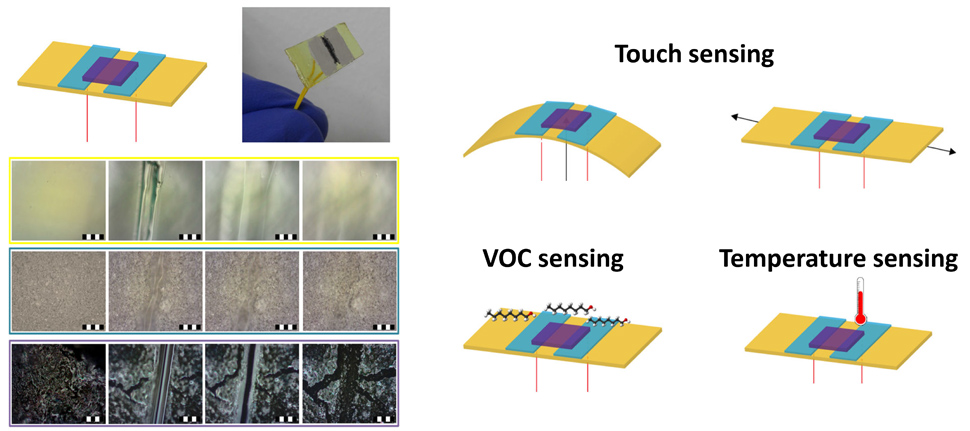 Once healed, the polymer substrate of the self-healing sensor demonstrates sensitivity to volatile organic compounds (VOCs), with detection capability down to tens of parts per billion. It also demonstrates superior healability at the extreme temperatures of -20 degrees C to 40 degrees C. This property, said the researchers, can extend applications of the self-healing sensor to areas of the world with extreme climates. From sub-freezing cold to equatorial heat, the self-healing sensor is environment-stable.
The healing polymer works quickest, said the researchers, when the temperature is between 0 degrees C and 10 degrees C, when moisture condenses and is then absorbed by the substrate. Condensation makes the substrate swell, allowing the polymer chains to begin to flow freely and, in effect, begin "healing." Once healed, the nonbiological, chemiresistor still has high sensitivity to touch, pressure and strain, which the researchers tested in demanding stretching and bending tests.
Another unique feature is that the electrode resistance increases after healing and can survive 20 times or more cutting/healing cycles than prior to healing. Essentially, healing makes the self-healing sensor even stronger. The researchers noted in their paper that "the healing efficiency of this chemiresistor is so high that the sensor survived several cuttings at random positions."
The researchers are currently experimenting with carbon-based self-healing composites and self-healing transistors.
"The self-healing sensor raises expectations that flexible devices might someday be self-administered, which increases their reliability," explained co-developer Dr. Tan-Phat Huynh, also of the Technion, whose work focuses on the development of self-healing electronic skin. "One day, the self-healing sensor could serve as a platform for biosensors that monitor human health using electronic skin."
19th November 2015
Nanosubmarines powered by light
Nano-scale submarines built from 244 atoms and capable of moving at 2 cm per second have been demonstrated by Rice University.
In a study published by Nano Letters, scientists from Rice University in Texas describe how they built and tested nanoscale submarines, which are able to move with incredible speed. The single-molecule, 244-atom submersibles each have a motor powered by ultraviolet light. With each full revolution the motor's tail-like propeller drives the sub forwards a distance of 18 nanometres (nm). However, the motors run at over a million RPM, giving a top speed of nearly two centimetres (0.8 inches) per second: a breakneck pace on the molecular scale.
"These are the fastest-moving molecules ever seen in solution," says chemist James Tour, one of the study authors.
While they can't be steered yet, the study has proved that molecular motors are powerful enough to drive the sub-10-nanometre craft through solutions of moving molecules of about the same size.
From a nano-scale point of view, "this is akin to a person walking across a basketball court with 1,000 people throwing basketballs at him," Tour said.
Tour's group has extensive experience with molecular machines. A decade ago, his lab demonstrated nanocars – single-molecule cars with four wheels, axles and independent suspensions that could be "driven" across a surface. Over the years, many research groups have created microscopic machines featuring motors – but most have either used or generated toxic chemicals. A motor conceived in the last decade by Dutch researchers proved suitable for the Rice submersibles, which were produced in a 20-step chemical synthesis.
"These motors are well-known and used for different things," said Victor García-López, lead author and Rice graduate student. "But we were the first to propose they can be used to propel nanocars – and now submersibles."
The motors, which operate more like a bacteria's flagellum than a propeller, complete each revolution in four steps. When excited by light, the double bond that holds the rotor to the body becomes a single bond, allowing it to rotate a quarter step. As the motor seeks to return to a lower energy state, it jumps adjacent atoms for another quarter turn. This process repeats as long as the light is on. Once built, the team turned to Gufeng Wang at North Carolina State University to measure how well the nanosubs moved.
"We had used scanning tunnelling microscopy and fluorescence microscopy to watch our cars drive, but that wouldn't work for the submersibles," explained Tour. "They would drift out of focus pretty quickly."
The North Carolina team sandwiched a drop of diluted acetonitrile liquid containing a few nanosubs between two slides, then used a custom confocal fluorescence microscope to hit it from opposite sides with both ultraviolet light (for the motor) and a red laser (for the pontoons). The microscope's laser defined a column of light in the solution, in which tracking occurred, García-López said: "That way, the NC State team could guarantee it was analysing only one molecule at a time."
The team hopes future nanosubs will be able to carry cargoes for medical and other purposes. "There's a path forward," García-López said. "This is the first step, and we've proven the concept. Now we need to explore opportunities and potential applications."
16th November 2015
G20 governments spend $452 billion a year subsidising fossil fuel production
A report by the Overseas Development Institute (ODI) and Oil Change International reveals that G20 governments are spending $452 billion annually to subsidise the production of oil, gas and coal – despite promising in 2009 to phase out these subsidies.
G20 governments are handing out $452 billion a year to prop up the production of fossil fuels – despite repeated pledges to phase out subsidies and prevent catastrophic climate change. A new report by the Overseas Development Institute (ODI) and Oil Change International has, for the first time, gathered detailed information on G20 subsidies to oil, gas and coal production.
In the report, "Empty Promises: G20 subsidies to oil, gas and coal production", researchers found G20 support to fossil fuel production alone ($452 billion) was almost four times the entire global subsidies for renewable energy ($121 billion). This support comes despite the declining returns in coal and new hard-to-reach oil and gas reserves, while ignoring scientific evidence that says three-quarters of proven fossil fuel reserves must be kept in the ground.
Report author Shelagh Whitley, from the ODI, said: "G20 governments are paying fossil fuel producers to undermine their own policies on climate change. Scrapping these subsidies would rebalance energy markets and allow a level playing field for clean and efficient alternatives."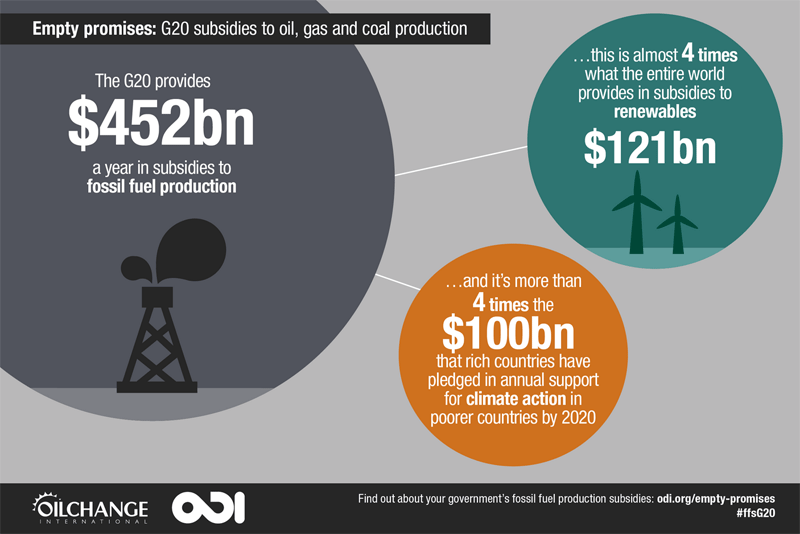 The report, published ahead of the G20 summit in Antalya, Turkey (15–16 November), examines three types of G20 government support in 2013 and 2014 – the most recent years with comparable data. It looks at national subsidies extended through direct spending and tax breaks; investment by state-owned enterprises both domestically and internationally; and public finance extended through – for example – loans from government-owned banks and financial institutions.
The report's other key findings are:
G20 governments provided almost $78bn a year in national subsidies for fossil fuel production; G20 state-owned enterprises invested $286bn, and public finance was estimated to average a further $88bn a year in 2013 and 2014


China's investment in fossil fuel production at home and abroad, through its state-owned enterprises, far exceeded any other G20 country, amounting to almost $77bn annually


The United States provided more than $20bn in national subsidies alone, despite calls from President Obama to scrap support to oil, gas and coal. Certain tax breaks in Alaska are so significant that, in the case of one production tax, the state is handing out more to companies than the tax generates in revenue for the state


The United Kingdom stands out as the only G7 nation dramatically ramping up its support for the fossil fuel industry, with even more tax breaks and industry support handed out to companies operating in the North Sea during 2015. Recent changes to the tax regime (which are protected from future policy changes) now mean that UK taxpayers are effectively footing the bill for as much as half the costs of decommissioning rigs. Support is likely to increase through a legal obligation for the Secretary of State for Energy and Climate Change to "maximise economic recovery" of oil and gas. These new subsidies come despite diminishing budgetary revenues from the sector
At the end of September 2015, the U.S. and China jointly prioritised the establishment of a concrete deadline for the phase-out of fossil fuel subsidies as a key task during China's G20 presidency in 2016. In line with this momentum, the report recommends G20 governments adopt strict timelines for the phase out of fossil fuel production subsidies, increase transparency through improved reporting of fossil fuel subsidies, and transfer government support to wider public goods including low-carbon development and universal energy access.
Stephen Kretzmann, director of Oil Change International, said: "Continuing to fund the fossil fuel industry today is like accelerating towards a wall that we can clearly see. G20 leaders need to slow down and turn us around before we hit climate disaster."
In order to have a 50% or better chance of staying below the 2°C limit, the share of renewables must increase to between 65% and 80% of global electricity production by 2050, the report states.
14th November 2015
Massive Greenland glacier is melting rapidly
The huge Zachariae Isstrom glacier in northeast Greenland, which holds enough ice to raise global sea levels by half a metre, is reported to be melting and crumbling into the North Atlantic Ocean.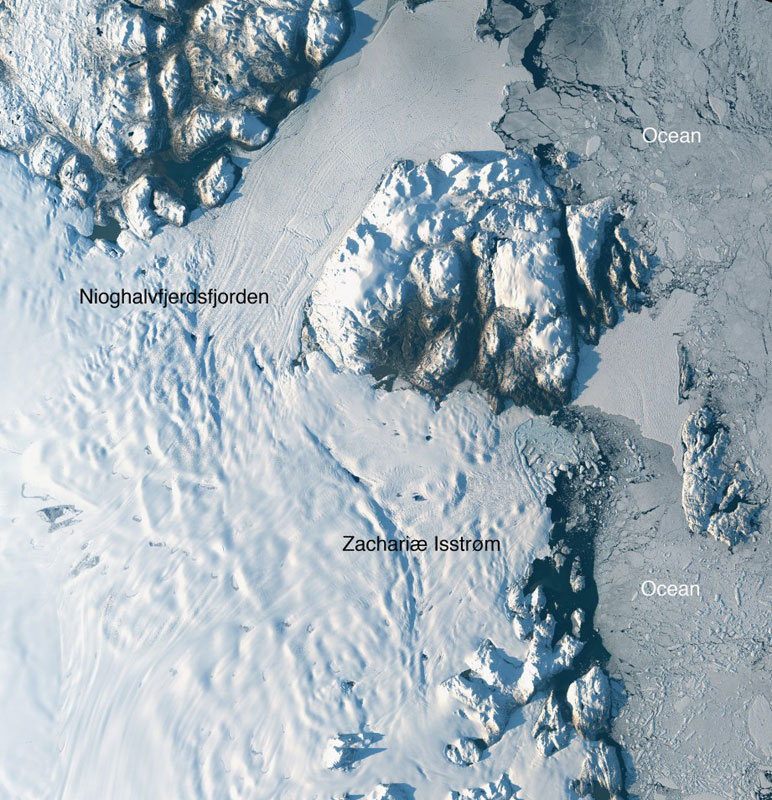 A glacier in northeast Greenland that holds enough water to raise global sea levels by over 0.5 metres has come unmoored from a stabilising sill and is crumbling into the North Atlantic Ocean. Losing mass at a rate of 5 billion tons per year, the glacier Zachariae Isstrom entered a phase of accelerated retreat in 2012, according to findings published this week in the journal Science.
"North Greenland glaciers are changing rapidly," said lead author Jeremie Mouginot, a project scientist at the University of California, Irvine. "The shape and dynamics of Zachariae Isstrom have changed dramatically over the last few years. The glacier is now breaking up and calving high volumes of icebergs into the ocean, which will result in rising sea levels for decades to come."
The research team – including scientists from NASA's Jet Propulsion Laboratory and the University of Kansas – used 40 years of data from aerial surveys by NASA's Operation IceBridge and satellite-based observations by multiple international space agencies (NASA, ESA, CSA, DLR, JAXA and ASI) coordinated by the Polar Space Task Group. The highly sensitive radar sounder, gravimeter and laser profiling systems, coupled with radar and optical images from space, monitor and record changes in the shape, size and position of glacial ice over long time periods, providing precise data on the state of Earth's polar regions.
"For the first 25 years, the glacier was stable," Mouginot says. From 2000 to 2012, however, it began to move more rapidly; and each year since 2012 it has tripled in speed. The leading edge where ice meets the ocean is now melting at a rate of two kilometres per year. There is "huge potential" for increasing the rate of global sea level rise in future decades, as it continues to flow into the warmer ocean, Mouginot notes. "Even if we have some really cool years ahead, we think the glacier is now unstable," he says.
The scientists found that the bottom of Zachariae Isstrom is being rapidly eroded by warmer ocean water, combined with growing amounts of meltwater from the ice sheet surface: "Zachariae Isstrom is being hit from above and below," said senior author Eric Rignot, Chancellor's Professor of Earth system science at UCI. "The top of the glacier is melting away as a result of decades of steadily increasing air temperatures, while its underside is compromised by currents carrying warmer ocean water, and the glacier is now breaking away into bits and pieces and retreating into deeper ground."
Zachariae Isstrom neighbours another large glacier to the north – this one named Nioghalvfjerdsfjorden – that is also melting rapidly, but is receding at a slower rate because it's protected by an inland hill. Combined, the two glaciers make up 12 percent of the Greenland ice sheet and would boost global sea levels by over a metre (39") if they fully collapsed. The entire Greenland ice sheet holds enough water to raise global sea levels by seven metres.
"Not long ago, we wondered about the effect on sea levels if Earth's major glaciers were to start retreating," Rignot noted. "We no longer need to wonder; for a couple of decades now, we've been able to directly observe the results of climate warming on polar glaciers. The changes are staggering and are now affecting the four corners of Greenland."
This week, the UK Met Office announced that global average temperatures for 2015 are likely to exceed 1°C above the pre-industrial baseline (if using 1961-1990 as the baseline, this point is likely to be reached by the early 2020s). That may sound like a small rise, but for an object the size of the Earth it's a vast amount of heat energy: roughly equivalent to four Hiroshima bombs every second of every day. The Arctic region including Greenland is warming twice as fast as the rest of the world.
This year, NASA began a new six-year field campaign, the aptly-named OMG (Oceans Melting Greenland), which aims to study ocean conditions around Greenland affecting the Ice Sheet.
12th November 2015
The U.S. government has passed historic legislation for asteroid mining
The U.S. government has passed historic legislation for asteroid mining, which allows citizens to own, transport and sell "any asteroid resource or space resource" obtained during commercial operations in space.
The U.S. Congress has just passed historic legislation (H.R. 2262), recognising the right of U.S. citizens to own space resources they obtain as property and encouraging the commercial exploration and recovery of materials from asteroids, free from harmful interference.
This legislation creates a pro-growth environment for the development of the commercial space industry by encouraging private sector investment and ensuring a more stable and predictable regulatory regime. The law is important for the industry and will be integral to supporting U.S. interests as the commercial space sector continues to expand.
"We are proud to have the support of Congress," said Chris Lewicki, President and Chief Engineer of Planetary Resources. "Throughout history, governments have spurred growth in new frontiers by instituting sensible legislation. Long ago, the Homestead Act of 1862 advocated for the search for gold and timber, and today, H.R. 2262 fuels a new economy that will open many avenues for the continual growth and prosperity of humanity. This off-planet economy will forever change our lives for the better here on Earth."
Eric Anderson, Co-Founder and Co-Chairman of Planetary Resources, said: "Many years from now, we will view this pivotal moment in time as a major step toward humanity becoming a multi-planetary species. This legislation establishes the same supportive framework that created the great economies of history, and it will foster the sustained development of space."
Daniel Faber, the CEO of rival firm Deep Space Industries (DSI), also commented: "This is a very thoughtfully worded piece of legislation that is sensitive to the existing Outer Space Treaty, and yet moves the ball far forward in terms of giving companies like DSI the legal certainty we need to invest in capitally intensive missions and equipment."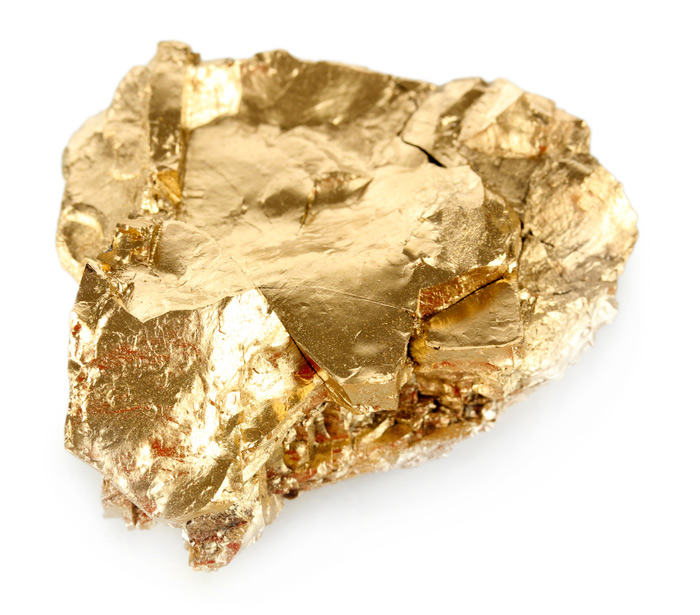 Previously confined to the realm of science fiction, asteroid mining has begun to seem like a serious possibility in recent years. Thanks to the entrepreneurial efforts of Planetary Resources, DSI and other firms, new technologies are being developed that could soon unlock the vast untapped metal and mineral wealth buried throughout the Solar System. In July of this year, Planetary Resources successfully deployed its Arkyd 3 Reflight (A3R) spacecraft from the Kibo airlock of the International Space Station (ISS). This test featured a number of core technologies that will be incorporated into future spacecraft. A larger and more advanced demonstration craft, the Arkyd-6 (A6), is now planned.
Eventually, these prototypes will be followed by probes capable of rendezvousing with Near-Earth objects (NEOs) identified as being rich in resources. They will deploy machines able to drill into rocks and extract their contents for in-situ utilisation (e.g. construction materials and rocket propellant) or return to Earth. Planetary Resources is confident it will begin commercial operations in the 2020s.
With sufficient commitment and long-term investment, asteroid mining could solve the looming resource shortage here on Earth. A single 500-metre asteroid could contain more platinum group metals than have ever been mined in human history. Establishing a solid legal foundation for the development of space resources is a necessary first step in opening the frontier. The new legal framework passed this week is essential for serious investment to occur in what may become one of the biggest industries of all time.
9th November 2015
Fastest ever brain-computer interface for spelling
Researchers in China have achieved high-speed spelling with a noninvasive brain-computer interface.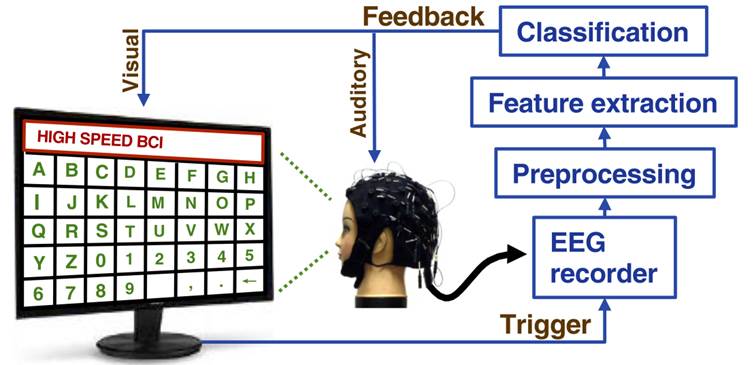 Brain–computer interfaces (BCI) are a relatively new and emerging technology allowing direct communication between the brain and an external device. They are used for assisting, augmenting, or repairing cognitive or sensory-motor functions. Research on BCIs began in the 1970s and the first neuroprosthetic devices implanted in humans appeared in the mid-1990s.
The past 20 years have seen major progress in BCIs. However, they are still limited by low communication rates, caused by interference from spontaneous electroencephalography (EEG) signals. Now, a team of researchers from Tsinghua University in China, State Key Laboratory Integrated Optoelectronics, Institute of Semiconductors (IOS), and the Chinese Academy of Sciences have developed a greatly improved system. Their EEG-based BCI speller can achieve information transfer rates (ITRs) of 60 characters (∼12 words) per minute, by far the highest ever reported in BCI spellers for either noninvasive or invasive methods. In some of the tests, they reached up to 5.32 bits per second. For comparison, most other systems in recent years have been at 1 or 2 ITRs.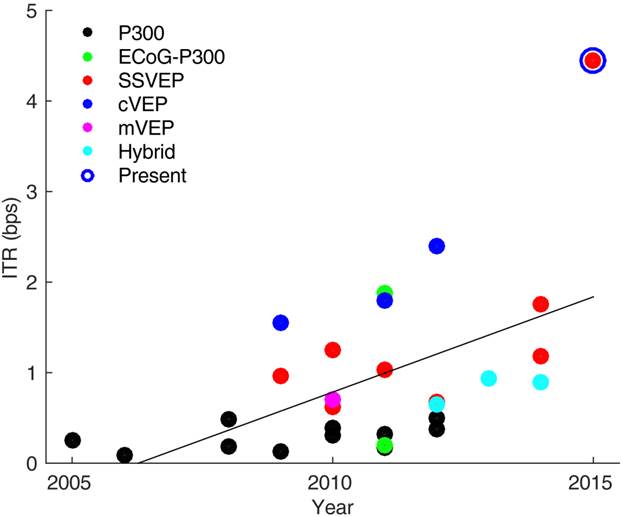 According to the researchers, they achieved this via an extremely high consistency of frequency and phase between the visual flickering signals and the elicited single-trial steady-state visual evoked potentials. Specifically, they developed a new joint frequency-phase modulation (JFPM) method to tag 40 characters with 0.5-seconds-long flickering signals, and created a user-specific target identification algorithm using individual calibration data. A paper describing this breakthrough appears in the 3rd November edition of the journal Proceedings of the National Academy of Sciences (PNAS).
In the not-too-distant future, this kind of technology could be applied to other uses, besides medicine. For example, it could be incorporated into smartphones and other consumer electronics to allow texting, typing or other on-screen actions by thought power alone. A partnership between the Japanese government and private sector aims to achieve this by 2020. With continued progress in the speed of BCIs, a new form of "virtual telepathy" could emerge within a few decades.
5th November 2015
First AI-based scientific search engine will accelerate research process
A new search engine – Semantic Scholar – uses artificial intelligence to transform the research process for computer scientists.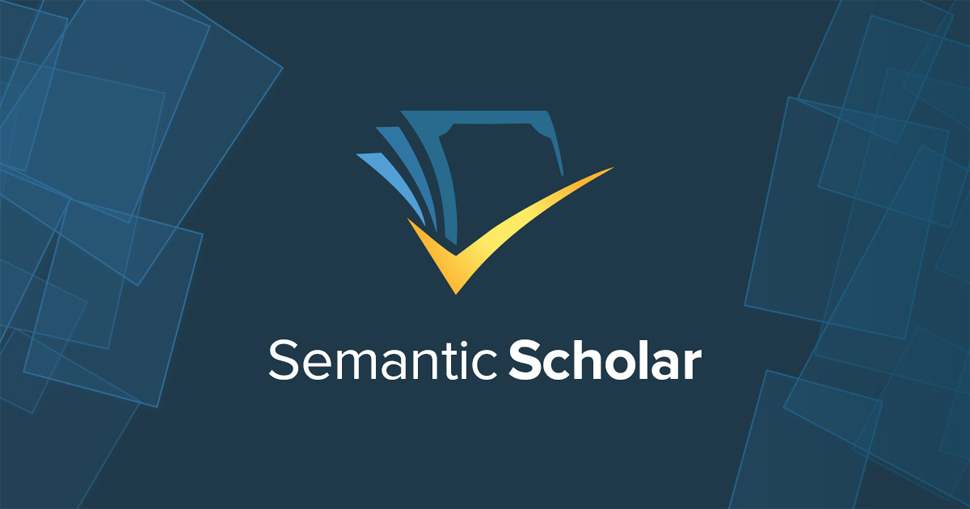 The Allen Institute for Artificial Intelligence (AI2) this week launches its free Semantic Scholar service, which allows scientific researchers to quickly cull through the millions of scientific papers published each year to find those most relevant to their work. Leveraging AI2's expertise in data mining, natural-language processing and computer vision, Semantic Scholar provides an AI-enhanced way to quickly search and discover information. At launch, the system searches over three million computer science papers, and will add new scientific categories on an ongoing basis.
"No one can keep up with the explosive growth of scientific literature," said Dr. Oren Etzioni, CEO at AI2. "Which papers are most relevant? Which are considered the highest quality? Is anyone else working on this specific or related problem? Now, researchers can begin to answer these questions in seconds, speeding research and solving big problems faster."
With Semantic Scholar, computer scientists can:
• Home in quickly on what they are looking for, with advanced selection tools. Researchers can filter results by author, publication, topic, and date published. This gets the most relevant result in the fastest way possible, and reduces information overload.
• Instantly access a paper's figures and tables. Unique among scholarly search engines, this feature pulls out the graphic results, which are often what a researcher is really looking for.
• Jump to cited papers and references and see how many researchers have cited each paper, a good way to determine citation influence and usefulness.
• Be prompted with key phrases within each paper, to winnow the search further.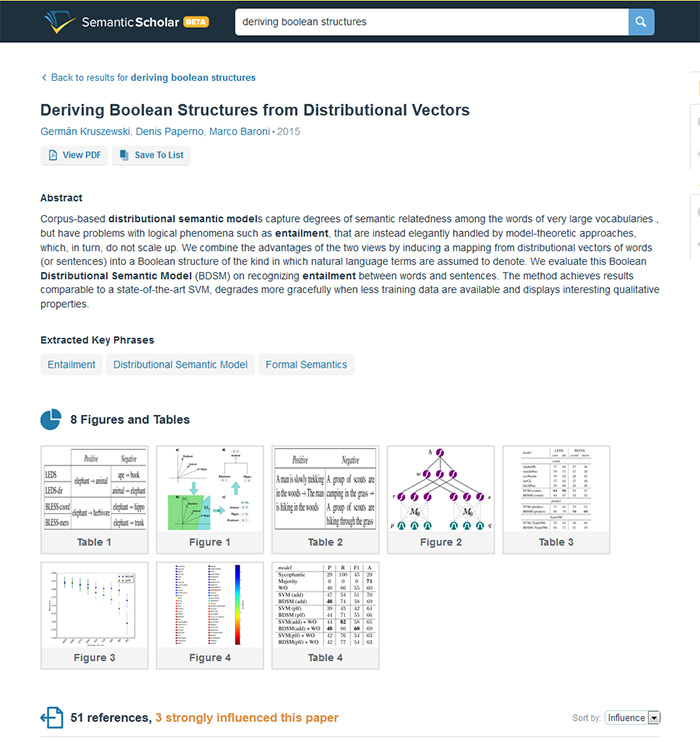 Using machine reading and vision methods, Semantic Scholar crawls the web – finding all PDFs of publicly available papers on computer science topics – extracting both text and diagrams/captions, and indexing it all for future contextual retrieval. Using natural language processing, the system identifies the top papers, extracts filtering information and topics, and sorts by what type of study and how influential its citations are. It provides the scientist with a simple user interface (optimised for mobile) that maps to academic researchers' expectations. Filters such as topic, date of publication, author and where published are built in. It includes smart, contextual recommendations for further keyword filtering as well. Together, these search and discovery tools provide researchers with a quick way to separate wheat from chaff, and to find relevant papers in areas and topics that previously might not have occurred to them.
Only a small number of free academic search engines are currently in widespread use. Google Scholar is by far the largest, with 100 million documents. However, researchers have noted problems with the current generation of these search engines.
"A significant proportion of the documents are not scholarly by anyone's measure," says Péter Jacsó, an information scientist at the University of Hawaii who identified a series of basic errors in search results from Google Scholar. While some of the issues have recently been fixed, says Jacsó, "there are still millions and millions of errors."
"Google has access to a lot of data. But there's still a step forward that needs to be taken in understanding the content of the paper," says Jose Manuel Gomez-Perez, who works on search engines and is director of research and development in Madrid for the software company Expert System.
Semantic Scholar builds on the foundation of current research paper search engines, adding AI methods to overcome information overload and paving the way for even more advanced and intelligent algorithms in the future.
"What if a cure for an intractable cancer is hidden within the tedious reports on thousands of clinical studies? In 20 years' time, AI will be able to read – and more importantly, understand – scientific text," says Etzioni. "These AI readers will be able to connect the dots between disparate studies to identify novel hypotheses and to suggest experiments which would otherwise be missed. AI-based discovery engines will help find the answers to science's thorniest problems."
3rd November 2015
A shape-shifting, self-driving concept car by Nissan
A new futuristic concept car by Nissan has been unveiled at the 2015 Tokyo Motor Show.
At the Tokyo Motor Show 2015, Nissan Motor Company unveiled a concept vehicle that the company says embodies its vision for the future of autonomous driving and zero emission EVs: the Intelligent Driving System (IDS).
"Nissan's forthcoming technologies will revolutionise the relationship between car and driver, and future mobility," said Carlos Ghosn, Nissan president and CEO, presenting at the show. "Nissan Intelligent Driving improves a driver's ability to see, think and react. It compensates for human error, which causes more than 90% of all car accidents. As a result, time spent behind the wheel is safer, cleaner, more efficient and more fun."
After leading the development and expansion of EV technology, Nissan once again stands at the forefront of automotive technology. By integrating advanced vehicle control and safety technologies with cutting-edge artificial intelligence (AI), Nissan is among the leaders developing practical, real-world applications of autonomous driving. The company plans to include this technology on multiple vehicles by 2020, and progress is well on track to achieve this goal, said Ghosn.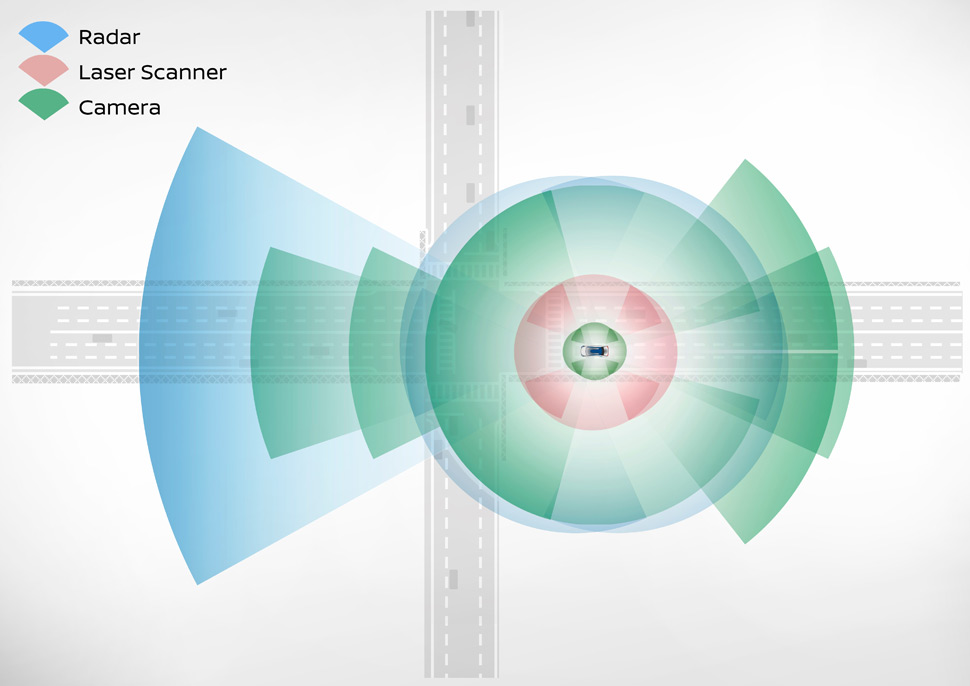 Some have compared a future with autonomous drive to living in a world of conveyer belts that simply ferry people from point A to B, but the Nissan IDS promises a very different vision. Even when a driver selects Piloted Drive and turns over driving to the vehicle, the car's performance – from accelerating to braking to cornering – imitates the driver's own style and preferences.
In Manual Drive mode, the driver has control. The linear acceleration and cornering are pure and exhilarating. Yet behind the scenes, the Nissan IDS continues to provide assistance. Sensors constantly monitor conditions and assistance is available even while the driver is in control. In the event of imminent danger, the Nissan IDS will assist the driver in taking evasive action.
In addition to learning, the IDS concept's AI communicates like an attentive partner. From information concerning traffic conditions, the driver's schedule to personal interests, it has what is needed to create a driving experience that is comfortable, enjoyable and safe.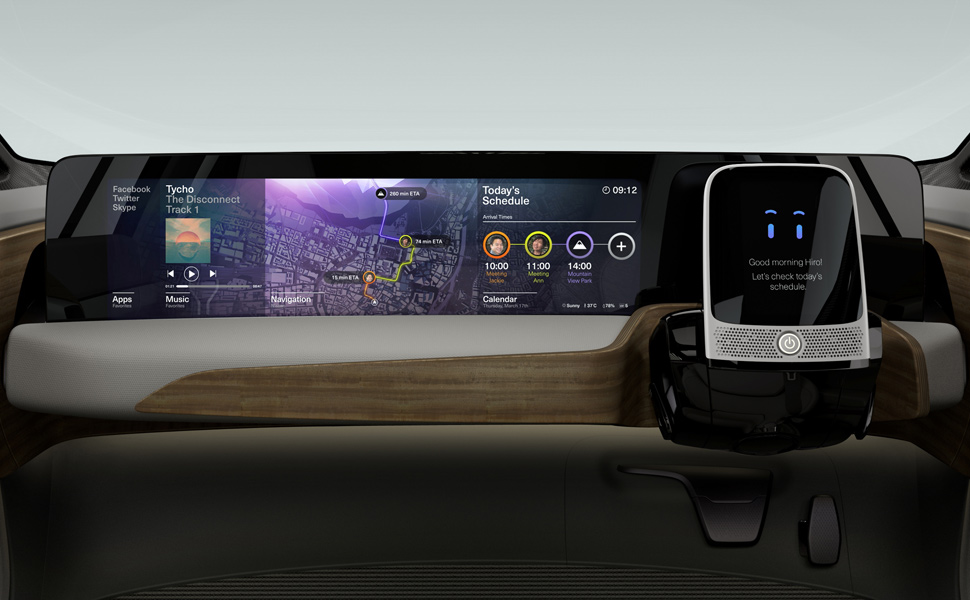 "A key point behind the Nissan IDS Concept is communication. For autonomous drive to become reality, as a society we have to consider not only communication between car and driver but also between cars and people. The Nissan IDS Concept's design embodies Nissan's vision of autonomous drive as expressed in the phrase together, we ride," says Mitsunori Morita, Design Director.
Together, we ride is demonstrated in the shape-shifting interior design: "The Nissan IDS Concept has different interiors, depending on whether the driver opts for Piloted Drive or Manual Drive. This was something that we thought was absolutely necessary to express our idea of autonomous drive," explains Morita.
In piloted self-driving mode, all four seats rotate inward, and the steering wheel recedes into the dashboard, giving the driver space to relax and making it easier to see and talk to other passengers. The interior, comprised of natural materials such as mesh leather, is illuminated by soft light, adding a further layer of comfort that feels almost like a home living room.
"In every situation, it is about giving the driver more choices and greater control," Ghosn said at the show. "And the driver will remain the focus of our technology development efforts."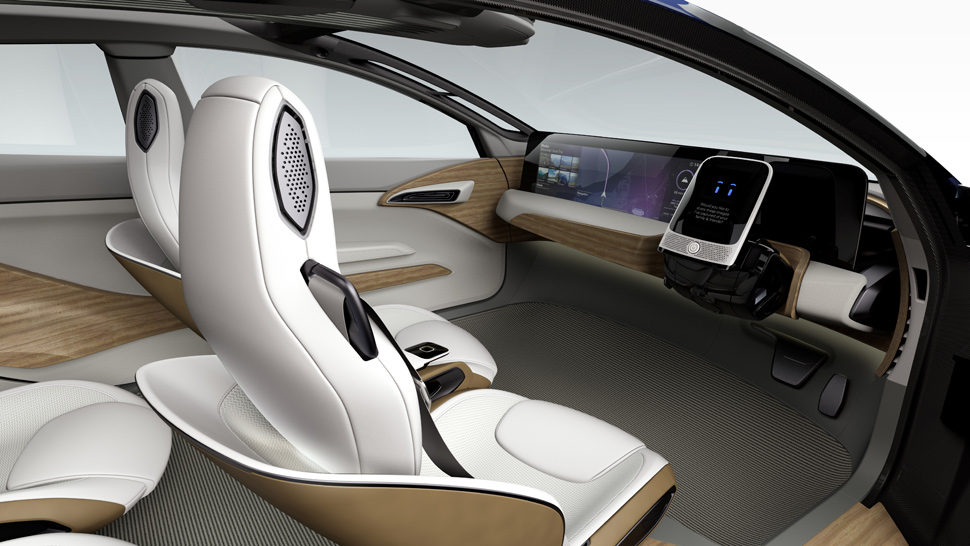 For autonomous drive to be widely accepted, people need to fully trust the technology. Through its innovative communication features, the Nissan IDS promotes confidence and a sense of harmony for those outside the car as well. Various exterior lights and displays convey to pedestrians and others the car's awareness of its surroundings and signals its intentions. The car's silver side body line, for example, is actually an LED that Nissan calls the Intention Indicator. If there are pedestrians or cyclists nearby, the strip shines red, signalling that the car is aware of them. Another electronic display, facing outside from the instrument panel, can flash messages such as "After you" to pedestrians.
Another feature of this electric vehicle is energy efficiency, with advanced aerodynamic performance for a greater driving range. The carbon fibre body is lightweight and constrained in height to sharply minimise aerodynamic drag, while the tires are designed to minimise air and roll resistance. The wheels have a layered form that creates tiny vortexes of air on their surface, which further contributes to smooth air flow. The Nissan IDS concept is fitted with a high-capacity 60 kWh battery.
"By the time Nissan Intelligent Driving technology is available on production cars, EVs will be able to go great distances on a single charge," says Mitsunori Morita, Design Director. "Getting to this point will, of course, require the further evolution of batteries – but aerodynamic performance is also very important. We incorporated our most advanced aerodynamic technology in the design of the Nissan IDS Concept."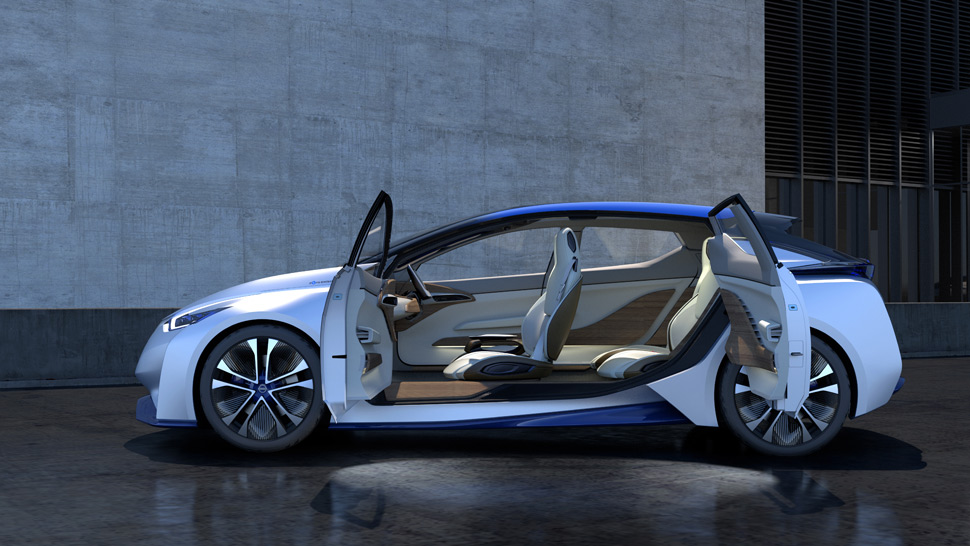 At Nissan's annual shareholder meeting in June, Executive Vice President Hideyuki Sakamoto said: "Our zero emission strategy centres on EVs. We are pursuing improved electric powertrain technologies – such as motors, batteries and inverters – which will enable us to mass produce and market EVs that equal or surpass the convenience of gasoline-powered cars."
Other technologies on the Nissan IDS concept include "Piloted Park" that can be operated by smartphone or tablet, and wireless charging technologies. Through these, the driver can leave parking and charging to the car.
Self-driving, zero emission cars are clearly the future, and Nissan appears to be well-positioned for delivering this vision. The Nissan LEAF is the world's most popular electric vehicle, with 96% of customers willing to recommend the car to friends. Yesterday, the firm posted a rise of 37.4% in net income for the six months ending in September.
"Nissan has delivered solid revenue growth and improved profitability in the first half of the fiscal year, driven by encouraging demand for our vehicles in North America and a rebound in western Europe," said chief executive Carlos Ghosn.
2nd November 2015
New Star Trek TV series coming in 2017
CBS Television Studios announced today it will launch a totally new "Star Trek" TV series in January 2017, almost 50 years after the original.
CBS Television Studios announced today it will launch a totally new Star Trek television series in January 2017. The futuristic show will blast off with a special preview broadcast on the CBS Television Network. The premiere episode and all subsequent first-run episodes will then be available exclusively in the United States on CBS All Access, the Network's digital subscription video on demand and live streaming service. The next chapter of the franchise will also be distributed concurrently for TV and multiple platforms around the world by CBS Studios International.
CBS claims the brand new Star Trek will introduce "new characters seeking imaginative new worlds and new civilisations, while exploring the dramatic contemporary themes that have been a signature of the franchise since its inception in 1966."
Alex Kurtzman will serve as executive producer for the new TV series. Kurtzman co-wrote and produced the blockbuster films Star Trek (2009) with Roberto Orci, and Star Trek Into Darkness (2013) with Orci and Damon Lindelof. Both films were produced and directed by J.J. Abrams.
Star Trek – which celebrates its 50th anniversary in 2016 – is one of the most successful entertainment franchises of all time. The original spawned a dozen feature films and five successful television series. Almost half a century later, the franchise is licensed across a variety of different platforms in over 190 countries, and still generates more than a billion social media impressions every month.
Born from the mind of Gene Roddenberry, the original Star Trek series debuted on 8th September 1966 and aired for three seasons – a short run that belied the influence it would have for generations. The series also broke new ground in storytelling and cultural mores, providing a progressive look at topics including race relations, global politics and the environment.
"There is no better time to give Star Trek fans a new series than on the heels of the original show's 50th anniversary celebration," said David Stapf, President of CBS Television Studios. "Everyone here has great respect for this storied franchise, and we're excited to launch its next television chapter in the creative mind and skilled hands of Alex Kurtzman, someone who knows this world and its audience intimately."
"This new series will premiere to the national CBS audience, then boldly go where no first-run Star Trek series has gone before – directly to its millions of fans through CBS All Access," said Marc DeBevoise, Executive Vice President/General Manager – CBS Digital Media. "We've experienced terrific growth for CBS All Access, expanding the service across affiliates and devices in a very short time. We now have an incredible opportunity to accelerate this growth with the iconic Star Trek, and its devoted and passionate fan base, as our first original series."
"Every day, an episode of the Star Trek franchise is seen in almost every country in the world," said Armando Nuñez, President and CEO of the CBS Global Distribution Group. "We can't wait to introduce Star Trek's next voyage on television to its vast global fan base."
The new television series is not related to the upcoming feature film Star Trek Beyond, which is scheduled to be distributed by Paramount Pictures in the summer of 2016.
2nd November 2015
BAE Systems and Reaction Engines to develop a groundbreaking new aerospace engine
BAE Systems and Reaction Engines Ltd. today announced a strategic investment by BAE Systems and a working collaboration to accelerate the development of SABRE – a new class of aerospace engine that combines both jet and rocket technologies and could potentially revolutionise hypersonic flight and the economics of space access.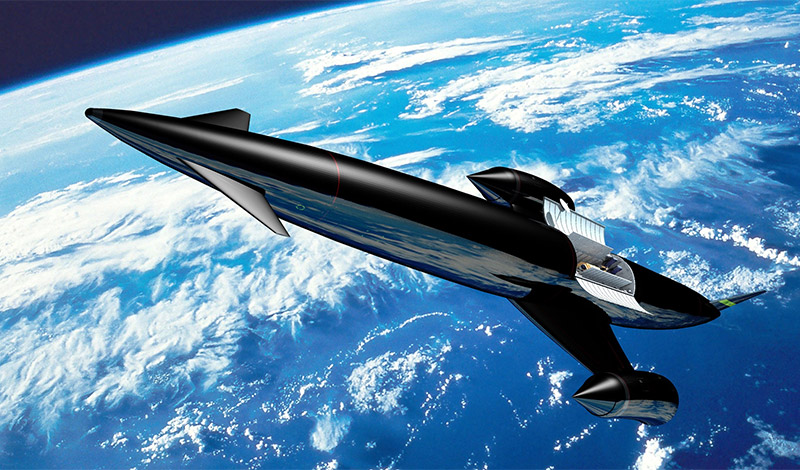 Under the terms of the agreement, BAE Systems will invest £20.6 million in Reaction Engines to acquire 20 per cent of its share capital and also enter into a working partner relationship. The working partnership will draw on BAE Systems' extensive aerospace technology development and project management expertise and will provide Reaction Engines with access to critical industrial, technical and capital resources to progress towards the demonstration of a ground-based engine – a key milestone in the development of the technology. Under the agreement, BAE Systems will enter into a preferred supplier relationship with Reaction Engines in certain agreed areas and will have representation on the board of Reaction Engines.
Reaction Engines is a privately held company based in the United Kingdom developing the technologies needed for an advanced combined cycle air-breathing rocket engine called SABRE (Synergetic Air-Breathing Rocket Engine). This new class of aerospace engine is designed to enable aircraft to operate from standstill on the runway to speeds of over five times the speed of sound in the atmosphere. SABRE can then "transition" to a rocket mode of operation, allowing spaceflight at speeds up to orbital velocity, equivalent to 25 times the speed of sound. Reaction Engines' technology has undergone extensive independent technical assessments which have confirmed its viability and potential applications.
A key element of the SABRE engine is a breakthrough in aerospace engine technology of ultra-lightweight heat exchangers that allow the cooling of very hot airstreams from over 1,000 °C to minus 150 °C in less than 1/100th of a second, whilst preventing the formation of ice at sub-zero temperatures.
The UK Government is expected to confirm grant funding of £60 million for Reaction Engines to further SABRE's development towards a ground-based test engine and to investigate its applications for space access vehicles. Together with BAE Systems' investment, this injection of capital will support the transition from a research phase into development and testing of the engine. The ground-based test engine is expected to be ready by 2020 and the first unmanned test flights could happen by 2025.
Mark Thomas, Managing Director of Reaction Engines: "Today's announcement represents an important landmark in the transition of Reaction Engines – from a company that has been focused on the research and testing of enabling technologies for the SABRE engine, to one that is now focused on the development and testing of the world's first SABRE engine. BAE Systems brings industry-leading capabilities in programme delivery and wider engineering systems integration that will accelerate the development of SABRE as a new engine class and its vehicle applications. This partnership builds on the outstanding technical breakthroughs that Reaction Engines has made and the positive assessments received on the potential of the technology from experts at the European Space Agency and the United States' Air Force Research Laboratory."
Nigel Whitehead, Group Managing Director, Programmes & Support, BAE Systems: "Reaction Engines is a highly innovative UK company and our collaboration gives BAE Systems a strategic interest in a breakthrough air and space technology with significant future potential. Our partnership with Reaction Engines is part of our sustained commitment to investing in and developing prospective emerging technologies. BAE Systems' considerable engineering and development expertise will help support the delivery of the first demonstrator for the SABRE engine."
Jo Johnson MP, UK Minister for Universities and Science said: "This investment by BAE Systems reflects the strength of British engineering and technology and our ambitions as a leading space nation. I am sure that this partnership will strengthen both organisations – helping to create more jobs in the UK's growing space sector and ultimately to make the SABRE engine a reality."