9th September 2017
Biggest and most powerful X-ray laser begins operation
The European X-ray Free Electron Laser (XFEL) has been opened in Germany. Described as a "high-speed camera for the nanoworld", it will feature 200 times the speed of previous X-ray facilities and a billion times the brightness.
European XFEL, the largest and most powerful X-ray laser ever built, has been officially inaugurated in Hamburg, Germany, with the first two experiments getting underway.
Dr. Johanna Wanka, German Minister for Education and Research, stressed the importance of the new international research facility: "The establishment of the XFEL has created a unique cutting-edge research facility, which promises groundbreaking insights into the nanocosmos. The foundations for tomorrow's innovations are laid by today's basic research."
Prof. Helmut Dosch, Chairman of the German Electron Synchrotron (DESY) Board of Directors, said: "What started as a vision and was set in motion at DESY more than 20 years ago has now become a reality: the world's most powerful laser for X-ray light. Now scientists from around the world will conduct research at this most advanced high-speed camera for the nanocosmos in the world, and I wish them many exciting results – both fundamental and revolutionary."
The European XFEL produces extremely bright and ultra-short light pulses. The facility will generate up to 27,000 pulses per second – 200 times more than other X-ray lasers. With the help of specialised instruments, these X-rays will enable completely new insights into the atomic details and extremely fast processes of the nanoworld. Scientists will use the X-ray flashes to map the 3-D structure of biological molecules, for example, faster and with more detail than has ever been previously possible. Furthermore (as illustrated below), single snapshots produced with the X-ray lasers will be stitched together to create "molecular movies" for studying the movement and progress of reactions – the basis for developing new medicines and therapies or environmentally friendlier production methods. Other potential applications include the development of new materials and substances, the optimisation of storage media for computers, or the investigation of extreme matter conditions such as those found on exoplanets.
"The 3.4-kilometre-long underground X-ray laser is truly state-of-the-art," said Łukasz Szumowski, Polish Deputy Minister of Science and Education. "What is important is that it will contribute not only to basic science, but also practical applications, e.g. in materials science, biology and even medicine, which is close to my heart."
Scientists from around the world will come to the billion-euro XFEL by applying for access to the instruments via a selection process. So-called beamtime, generally one or two weeks per group and experiment, is awarded based on the scientific excellence of the submitted proposals. Initially, one photon beamline with two experimental stations can be used. Later, this will be upgraded to five photon beamlines and a total of ten experimental stations.
Dr. Mauro Dell'Ambrogio, State Secretary for Education, Research, and Innovation of Switzerland, said: "Today, 11 countries showed that together they are able to build a very complicated, very expensive facility dedicated to science, and all of this in record time and within budget. European XFEL is a new landmark in the worldwide scientific landscape that opens up a brand-new spectrum of possible experiments."
Prof. Andrei Fursenko, Aide to the President of the Russian Federation and former Research Minister, said: "This international research megaproject is our common intellectual contribution to the world of science. Many young people from different countries work on this project, which testifies that this project is designed for the future."
---
• Follow us on Twitter
• Follow us on Facebook
• Subscribe to us on YouTube
6th September 2017
SanDisk has just unveiled a 400 gigabyte (GB) microSD card, which it claims is the world's highest capacity.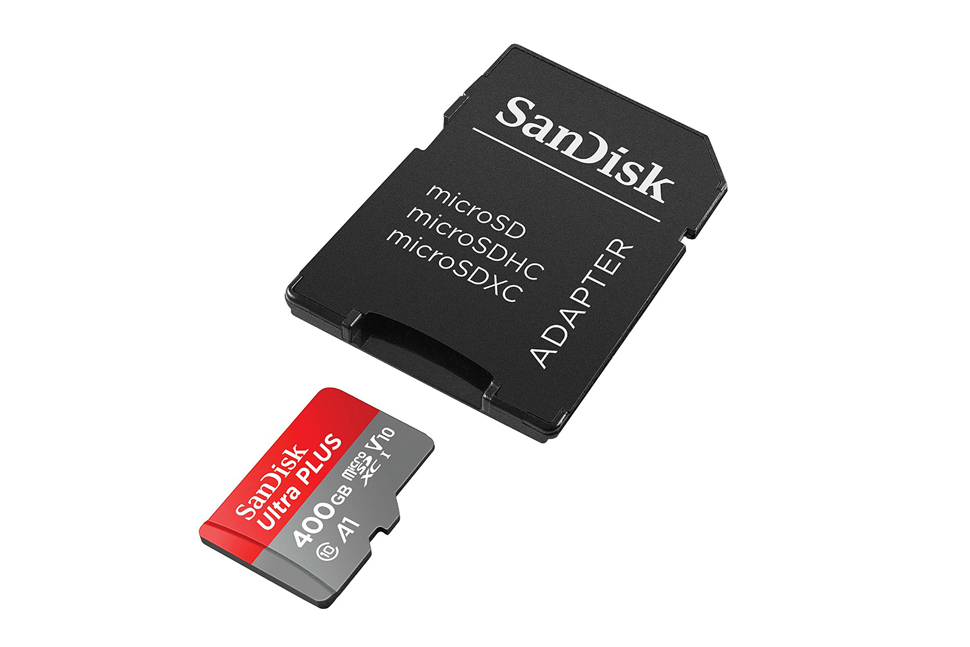 SanDisk, a subsidiary of Western Digital Corporation, has announced the launch of its 400GB Ultra microSDXC UHS-I card, which it claims to be the world's highest-capacity microSD card. Just two years after introducing its record-breaking 200GB microSD card, SanDisk has doubled the capacity within the same tiny form factor.
"Mobile devices have become the epicentre of our lives, and consumers are now accustomed to using their smartphones for anything from entertainment to business. We are collecting and sharing massive amounts of data on smartphones, drones, tablets, PCs, laptops and more. We anticipate that storage needs will only continue to grow as people continue to expect more sophisticated features on their devices and desire higher quality content," said Jeff Janukowicz, vice president of research. "We estimate that mobile device users worldwide will install over 150 billion applications alone this year, which require a ton of memory on all of our favourite devices."
SanDisk has achieved this capacity breakthrough by leveraging its proprietary memory technology and design and production processes that allow for more bits per die.
"We continue to push technology boundaries and transform the way consumers use their mobile devices," said Sven Rathjen, vice president of product marketing at Western Digital. "By focusing on achieving new technology milestones, we enable consumers to keep up with their mobile-centric lifestyles with storage solutions they trust."
The new card holds up to 40 hours of Full HD video and offers transfer speeds of up to 100MB/s, meaning it can move up to 1,200 photos per minute. Additionally, it meets the A1 App Performance Class specification, which means that the card can load apps faster.
Storage capacities of SD and microSD cards are an excellent example of the exponential growth seen in many forms of information technology in recent years and decades. On current trends, it appears likely that the first 1TB microSD card will arrive by around 2020-21.
---
• Follow us on Twitter
• Follow us on Facebook
• Subscribe to us on YouTube
1st September 2017
Repeating radio signals detected from distant galaxy
Astronomers have detected 15 repeating Fast Radio Bursts coming from FRB 121102, located in a dwarf galaxy about 3 billion light-years away from Earth. The researchers note that FRB 121102 is presently in a "heightened activity state, and follow-on observations are encouraged, particularly at higher radio frequencies".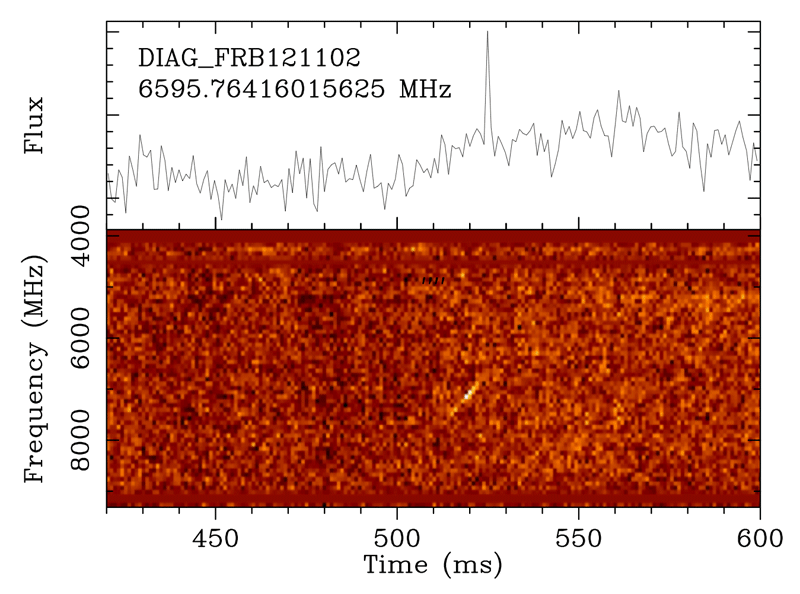 Breakthrough Listen – a $100 million program to look for evidence of extraterrestrial communications in the Universe – is the most comprehensive and detailed search ever undertaken for artificial radio and optical signals beyond Earth. The project was started in January 2016 by Russian entrepreneur, venture capitalist and physicist Yuri Milner, as part of his Breakthrough Initiatives program, and is expected to continue for 10 years.
Astronomers are studying radio wave observations from Green Bank Observatory (West Virginia, USA), Parkes Observatory (New South Wales, Australia) and the Automated Planet Finder (California, USA). They have just announced the detection of 15 fast radio bursts (or FRBs) emanating from the mysterious "repeater" known as FRB 121102.
FRBs, are brief, bright pulses of radio emission from distant galaxies. First detected with the Parkes Telescope, FRBs have now been seen by several radio telescopes around the world. FRB 121102 was discovered on 2nd November 2012 (hence its name). In 2015, it was the first FRB seen to repeat, ruling out theories of the bursts' origins that involved the catastrophic destruction of the progenitor (at least in this particular instance). And in 2016, the repeater was the first FRB to have its location pinpointed with sufficient accuracy to allow its host galaxy to be identified. It is now confirmed to reside in a dwarf galaxy about 3 billion light years away from Earth.
Attempts to understand the mechanism that generates FRBs have made this particular galaxy a target of ongoing monitoring campaigns by instruments around the world. Possible explanations for FRBs range from outbursts from rotating neutron stars with extremely strong magnetic fields, to more speculative ideas that they are directed energy sources used by extraterrestrial civilisations to power spacecraft.
In the early hours of Saturday, 26th August 2017, UC Berkeley's Dr. Vishal Gajjar observed the location of FRB 121102 using the Breakthrough Listen backend instrument at Green Bank Telescope in West Virginia. The instrument accumulated 400 TB of data on the object over a five hour observation of the entire 4 to 8 GHz frequency band. This huge dataset was searched for signatures of short pulses from the source over a broad range of frequencies, with a characteristic dispersion or delay as a function of frequency, caused by the presence of gas in space between us and the source. The distinctive shape that the dispersion imposes on the initial pulse is an indicator of the amount of material between us and the source, and hence an indicator of the distance to the host galaxy.
Analysis by Dr. Gajjar and his team revealed 15 new pulses from FRB 121102. As well as confirming that the source is in a newly active state, the high resolution of the data obtained by the Listen instrument will allow measurement of the properties of these mysterious bursts at a higher precision than ever possible before.
The observations also show, for the first time, that FRBs emit at higher frequencies (with the brightest emission occurring at around 7 GHz) than was previously observed. The extraordinary capabilities of the Listen backend, which can record several gigahertz of bandwidth at a time, split into billions of individual channels, enable a new view of the frequency spectrum of FRBs, and will shed additional light on the processes giving rise to FRB emission.
When the recently-detected pulses left their host galaxy, our Solar System was just two billion years old. Life on Earth was only single-celled organisms, and it would be another billion years before even the simplest multi-cellular life began to evolve. Whether or not FRBs eventually turn out to be signatures of extraterrestrial technology, Breakthrough Listen is helping to push the frontiers of a new and rapidly growing area of our understanding of the Universe.
These new results will be described in more detail by Dr. Gajjar in an upcoming scientific journal article.
---
• Follow us on Twitter
• Follow us on Facebook
• Subscribe to us on YouTube