25th October 2016
AI predicts outcomes of human rights trials
The judicial decisions of the European Court of Human Rights (ECtHR) have been predicted to 79% accuracy using an artificial intelligence (AI) method developed by researchers at University College London (UCL), the University of Sheffield and the University of Pennsylvania.
The method is the first to predict the outcomes of a major international court by automatically analysing case text using a machine learning algorithm.
"We don't see AI replacing judges or lawyers, but we think they'd find it useful for rapidly identifying patterns in cases that lead to certain outcomes," explained Dr Nikolaos Aletras, who led the study at UCL Computer Science. "It could also be a valuable tool for highlighting which cases are most likely to be violations of the European Convention on Human Rights."
In developing their method, the team found that judgements by the ECtHR are highly correlated to non-legal facts, rather than directly legal arguments, suggesting that judges of the Court are, in the jargon of legal theory, 'realists' rather than 'formalists'. This supports findings from previous studies of the decision-making processes of other high level courts, including the US Supreme Court.
"The study, which is the first of its kind, corroborates the findings of other empirical work on the determinants of reasoning performed by high level courts. It should be further pursued and refined, through the systematic examination of more data," explained co-author Dr Dimitrios Tsarapatsanis, Lecturer in Law at the University of Sheffield.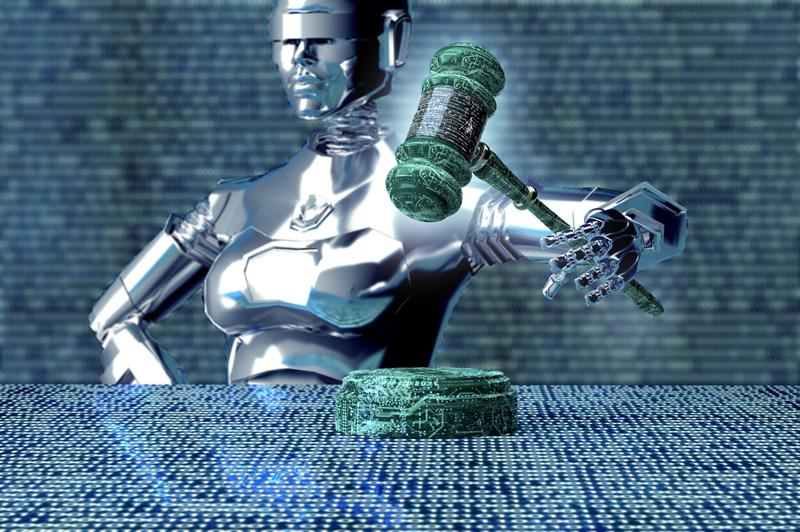 A team of computer and legal scientists from the UK worked alongside Daniel Preoțiuc-Pietro – a postdoctoral researcher in natural language processing and machine learning from the University of Pennsylvania – to extract case information published by the ECtHR. They identified English language data sets for 584 cases relating to Articles 3, 6 and 8 of the Convention. Article 3 forbids torture and inhuman and degrading treatment (250 cases); Article 6 protects the right to a fair trial (80 cases) and Article 8 provides a right to respect for one's "private and family life, his home and his correspondence" (254 cases). They then applied an AI algorithm to find patterns in the text. To prevent bias and mislearning, they selected an equal number of violation and non-violation cases.
The most reliable factors for predicting the court's final decision were found to be the language used, as well as the topics and the circumstances mentioned in the case text. The 'circumstances' section includes information about the factual background to the case. By combining the information extracted from the abstract 'topics' that the cases cover and 'circumstances' across data for all three Articles, an accuracy of 79% was achieved.
"Previous studies have predicted outcomes based on the nature of the crime, or the policy position of each judge – so this is the first time judgements have been predicted using analysis of text prepared by the court," said co-author Dr Lampos, UCL Computer Science.
"There is no reason why it cannot be extended to understand testimonies from witnesses or lawyers' notes," said Dr Aletras.
The study appears in the journal PeerJ Computer Science.
---
• Follow us on Twitter
• Follow us on Facebook
21st October 2016
AI milestone: a new system can match humans in conversational speech recognition
A new automated system that can achieve parity and even beat humans in conversational speech recognition has been announced by researchers at Microsoft.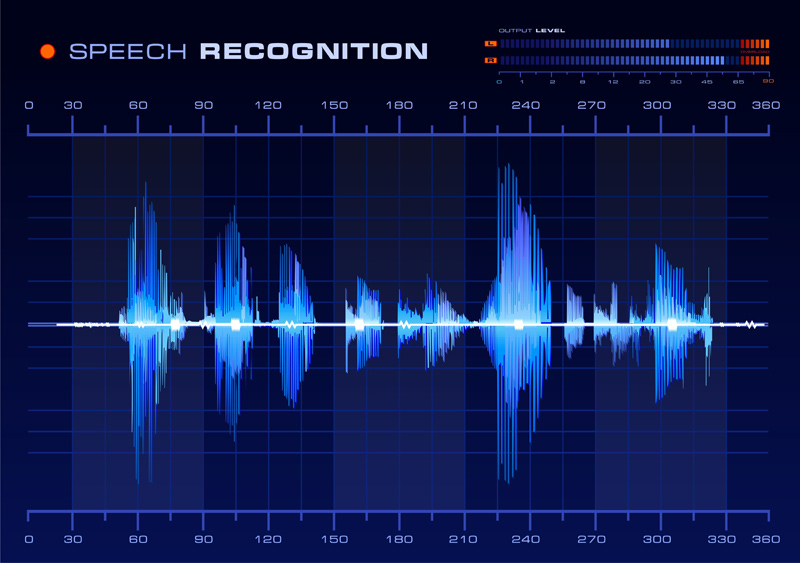 A team at Microsoft's Artificial Intelligence and Research group has published a study in which they demonstrate a technology that recognises spoken words in a conversation as well as a real person does.
Last month, the same team achieved a word error rate (WER) of 6.3%. In their new paper this week, they report a WER of just 5.9%, which is equal to that of professional transcriptionists and is the lowest ever recorded against the industry standard Switchboard speech recognition task.
"We've reached human parity," said Xuedong Huang, the company's chief speech scientist. "This is an historic achievement."
"Even five years ago, I wouldn't have thought we could have achieved this," said Harry Shum, the group's executive vice president. "I just wouldn't have thought it would be possible."
Microsoft has been involved in speech recognition and speech synthesis research for many years. The company developed Speech API in 1994 and later introduced speech recognition technology in Office XP and Office 2003, as well as Internet Explorer. However, the word error rates for these applications were much higher back then.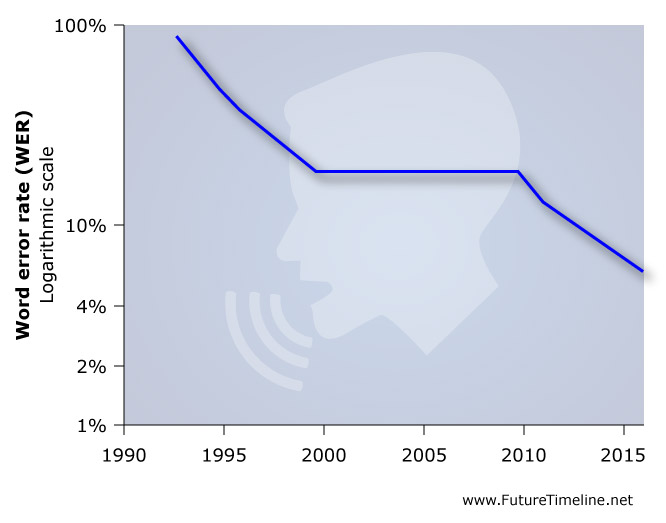 In their new paper, the researchers write: "the key to our system's performance is the systematic use of convolutional and LSTM neural networks, combined with a novel spatial smoothing method and lattice-free MMI acoustic training."
The team used Microsoft's own Computational Network Toolkit – an open source, deep learning framework. This was able to process deep learning algorithms across multiple computers, running a specialised GPU to greatly improve its speed and enhance the quality of research. The team believes their milestone will have broad implications for both consumer and business products, including entertainment devices like the Xbox, accessibility tools such as instant speech-to-text transcription, and personal digital assistants such as Cortana.
"This will make Cortana more powerful, making a truly intelligent assistant possible," Shum said.
"The next frontier is to move from recognition to understanding," said Geoffrey Zweig, who manages the Speech & Dialog research group.
Future improvements may also include speech recognition that works well in more real-life settings – places with lots of background noise, for example, such as at a party or while driving on the highway. The technology will also become better at assigning names to individual speakers when multiple people are talking, as well as working with a wide variety of voices, regardless of age, accent or ability.
The full study – Achieving Human Parity in Conversational Speech Recognition – is available at: https://arxiv.org/abs/1610.05256
---
• Follow us on Twitter
• Follow us on Facebook
20th October 2016
Quantum computers: 10-fold boost in stability achieved
A team at Australia's University of New South Wales has created a new quantum bit that remains in a stable superposition for 10 times longer than previously achieved.
Australian engineers have created a new quantum bit which remains in a stable superposition for 10 times longer than previously achieved, dramatically expanding the time during which calculations could be performed in a silicon quantum computer.
The new quantum bit, consisting of the spin of a single atom in silicon and merged with an electromagnetic field – known as 'dressed qubit' – retains quantum information for much longer than 'undressed' atoms, opening up new avenues to build and operate the superpowerful quantum computers of the future.
"We have created a new quantum bit where the spin of a single electron is merged together with a strong electromagnetic field," comments Arne Laucht from the School of Electrical Engineering & Telecommunications at University of New South Wales (UNSW), lead author of the paper. "This quantum bit is more versatile and more long-lived than the electron alone, and will allow us to build more reliable quantum computers."
Building a quantum computer is a difficult and ambitious challenge, but has potential to deliver revolutionary tools for otherwise impossible calculations – such as the design of complex drugs and advanced materials, or the rapid search of massive, unsorted databases. Its speed and power lie in the fact that quantum systems can host multiple 'superpositions' of different initial states, which in a computer are treated as inputs which, in turn, all get processed at the same time.
"The greatest hurdle in using quantum objects for computing is to preserve their delicate superpositions long enough to allow us to perform useful calculations," said Andrea Morello, Program Manager in the Centre for Quantum Computation & Communication Technology at UNSW. "Our decade-long research program had already established the most long-lived quantum bit in the solid state, by encoding quantum information in the spin of a single phosphorus atom inside a silicon chip placed in a static magnetic field," he said.
What Laucht and colleagues did was push this further: "We have now implemented a new way to encode the information: we have subjected the atom to a very strong, continuously oscillating electromagnetic field at microwave frequencies, and thus we have 'redefined' the quantum bit as the orientation of the spin with respect to the microwave field."
The results are striking: since the electromagnetic field steadily oscillates at a very high frequency, any noise or disturbance at a different frequency results in a zero net effect. The UNSW researchers achieved an improvement by a factor of 10 in the time span during which a quantum superposition can be preserved, with a dephasing time of T2*=2.4 milliseconds.
"This new 'dressed qubit' can be controlled in a variety of ways that would be impractical with an 'undressed qubit'," adds Morello. "For example, it can be controlled by simply modulating the frequency of the microwave field, just like an FM radio. The 'undressed qubit' instead requires turning the amplitude of the control fields on and off, like an AM radio. In some sense, this is why the dressed qubit is more immune to noise: the quantum information is controlled by the frequency, which is rock-solid, whereas the amplitude can be more easily affected by external noise."
Since the device is built upon standard silicon technology, this result paves the way to the construction of powerful and reliable quantum processors based on the same fabrication process already used for today's computers. The UNSW team leads the world in developing silicon quantum computing and Morello's team is part of a consortium who have struck a A$70 million deal between UNSW, researchers, business, and the Australian government to develop a prototype silicon quantum integrated circuit – a major step in building the world's first quantum computer in silicon.
A functional quantum computer would allow massive increases in speed and efficiency for certain computing tasks – even when compared with today's fastest silicon-based 'classical' computers. In a number of key areas – such as searching enormous databases, solving complicated sets of equations, and modelling atomic systems such as biological molecules or drugs – they would far surpass today's computers. They would also be extremely useful in the finance and healthcare industries, and for government, security and defence organisations.
Quantum computers could identify and develop new medicines by vastly accelerating the computer-aided design of pharmaceutical compounds (minimising lengthy trial and error testing), and develop new, lighter and stronger materials spanning consumer electronics to aircraft. They would also make possible new types of computing applications and solutions that are beyond our ability to foresee.
The UNSW study appears this week in the peer-reviewed journal, Nature Nanotechnology.
---
• Follow us on Twitter
• Follow us on Facebook
20th October 2016
Depression's physical source discovered
Researchers have discovered the physical source of depression in the human brain, which is found to affect the lateral orbitofrontal cortex, implicated in non-reward.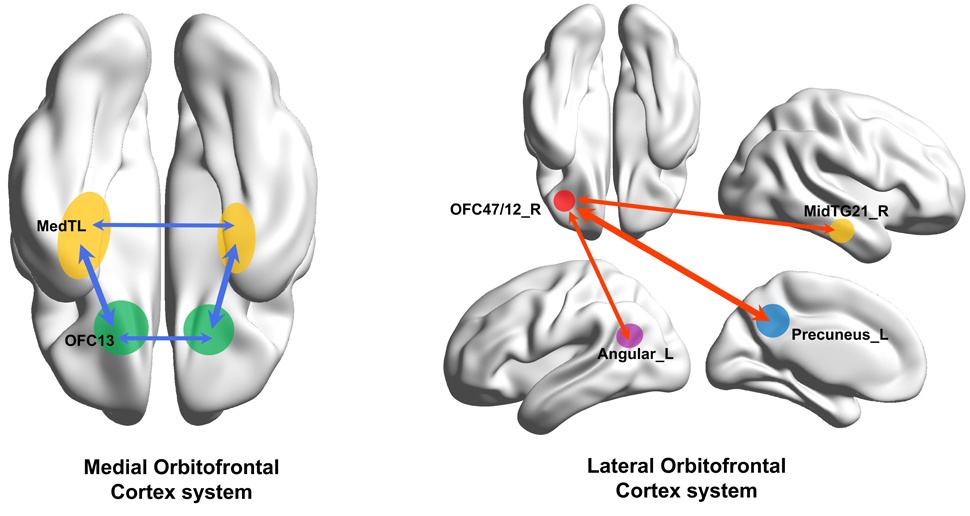 Understanding of the physical root of depression has been advanced, thanks to research by the University of Warwick, UK, and Fudan University, China. The study shows that depression affects the part of the brain which is implicated in non-reward – the lateral orbitofrontal cortex – so that sufferers of the condition feel a sense of loss and disappointment associated with not receiving rewards.
This area of the brain, which becomes active when rewards are not received, is also connected with the part of the brain involved in one's sense of self, thus potentially leading to thoughts of personal loss and low self-esteem. Depression is also associated with reduced connectivity between the reward brain area in the medial orbitofrontal cortex and memory systems in the brain, which may account for sufferers having less focus on happy memories.
These new discoveries could herald a breakthrough in treating depression, by going to the root cause of the illness, and helping depressed people to stop focussing on negative thoughts.
In this particularly large study, almost 1,000 people in China had their brains scanned using a high precision MRI, which analysed the connections between the medial and lateral orbitofrontal cortex – the different parts of the human brain affected by depression. The study was carried out by Professor Edmund Rolls from Warwick, Professor Jianfeng Feng from Warwick and from Fudan University in Shanghai, Dr Wei Cheng from Fudan, and by other centres in China.
Depression is expected to overtake heart disease to become the leading global disease burden by 2030. Professor Jianfeng Feng comments on how it has become increasingly prevalent: "More than one in ten people in their lifetime suffer from depression, a disease which is so common in modern society and we can even find the remains of Prozac (a depression drug) in the tap water in London."
"Our finding, with the combination of big data we collected around the world and our novel methods, enables us to locate the roots of depression which should open up new avenues for better therapeutic treatments in the near future for this horrible disease," says Feng.
Professor Edmund Rolls looks forward to the new treatments the research could lead to: "The new findings on how depression is related to different functional connectivities of the orbitofrontal cortex have implications for treatments in the light of a recent non-reward attractor theory of depression."
The research, 'Medial reward and lateral non-reward orbitofrontal cortex circuits change in opposite directions in depression', is published in the peer-reviewed journal Brain.
---
• Follow us on Twitter
• Follow us on Facebook
19th October 2016
Large-scale deployment of body-worn cameras for London police
The Metropolitan Police Service (MPS) is taking a global lead with what is believed to be the largest rollout of body-worn cameras by police anywhere in the world to enhance the service it gives to London.
This week sees the beginning of a large-scale deployment of Body Worn Video (BWV) which is being issued to more than 22,000 frontline police officers in the British capital. The Met Commissioner, Sir Bernard Hogan-Howe, was joined in Lewisham by the London Mayor, Sadiq Khan, to witness the rollout of the cameras, which follows a successful trial and wide-ranging public consultation and academic evaluation. Over the coming months, cameras will be issued to all 32 London boroughs and a number of frontline specialist roles, including overt firearms officers.
The devices have already shown they can bring speedier justice for victims. This has proved particularly successful in domestic abuse cases, which have seen an increase in earlier guilty pleas from offenders who know their actions have been recorded. The technology offers greater transparency for those in front of the camera as well as behind it. Londoners can feel reassured during their interactions with police, whilst allowing officers to demonstrate professionalism in many challenging and contentious interactions, such as the use of stop and search.
All footage recorded on BWV is subject to legal safeguards and guidance. Footage from the Axon Body Camera is automatically uploaded to secure servers once the device has been docked, and flagged for use as evidence at court or other proceedings. Video not retained as evidence or for a policing purpose is automatically deleted within 31 days. If the public wish to view footage taken of them they can request, in writing, to obtain it under freedom of information laws. It must be within 31 days, unless it has been marked as policing evidence and therefore retained.
The cameras will be worn attached to the officer's uniform and will not be permanently recording. This ensures that officers' interactions with the public are not unnecessarily impeded. Members of the public will be informed as soon as practical that they are being recorded. It is highly visible in any case, with a flashing red circle in the centre of the camera and a frequent beeping noise when the device is activated.
The interactive graphic below explains how body worn video will be used.
Mayor of London, Sadiq Khan, said: "Body Worn Video is a huge step forward in bringing our capital's police force into the 21st century and encouraging trust and confidence in community policing. This technology is already helping drive down complaints against officers and making them more accountable, as well as helping to gather better evidence for swifter justice."
Metropolitan Police Commissioner, Sir Bernard Hogan-Howe: "Body Worn Video will support our officers in the many challenging situations they have to deal with, at the same time as building the public's confidence. Our experience of using cameras already shows that people are more likely to plead guilty when they know we have captured the incident on a camera. That then speeds up justice, puts offenders behind bars more quickly and most importantly protects potential victims. Video captures events in a way that can't be represented on paper in the same detail – a picture paints a thousand words, and it has been shown the mere presence of this type of video can often defuse potentially violent situations without the need for force to be used."
Last month, a study published by the University of Cambridge found that body-worn cameras led to a 93% drop in complaints made against police by the UK and US public, suggesting the cameras result in behavioural changes that 'cool down' potentially volatile encounters. A similar study in 2014 found that officers wearing cameras witnessed a 59% drop in their use-of-force, while complaints against them fell by 87% compared to the previous year.
The deployment of all 22,000 cameras in London will be managed in a phased approach and is expected to be complete by next summer.
---
• Follow us on Twitter
• Follow us on Facebook
19th October 2016
1 in 4 millennials would prefer a giant meteor strike to 2016 U.S. presidential candidates
Nearly a quarter of Americans aged 18 to 35 would rather see a giant meteor strike the Earth than see either Hillary Clinton or Donald Trump in the White House, according to the University of Massachusetts Lowell/Odyssey Millennials poll released yesterday.
The poll asked millennials to choose their preference between Hillary Clinton as president, Donald Trump as president, a random lottery to choose the president from all U.S. citizens, Barack Obama appointing himself to a life term as president, or a giant meteor striking the Earth and extinguishing all human life. Over a Clinton or Trump presidency, 39% of those surveyed said they preferred Obama serve a life term; 26% prefer a random lottery to choose the next president and 23% (nearly 1 in 4) prefer a giant meteor strike.
The national poll – conducted from 10th-13th October – asked millennials (1247 American adults aged 18-35; 966 registered voters; 680 likely voters) about their attitudes and opinions on the upcoming election, from irreverent options to the candidates to serious issues such as race relations, immigration and the legalisation of marijuana.
"We do not take our respondents at their word that they are earnestly interested in seeing the world end, but we do take their willingness to rank two constitutional crises and a giant meteor ahead of these two candidates with startling frequency as a sign of displeasure and disaffection with the candidates and the 2016 election," said Prof. Joshua Dyck, co-director of UMass Lowell's Center for Public Opinion, who wrote and analysed the independent, nonpartisan poll.
By a 3-to-1 margin, millennials who are "likely" voters prefer Democrat Hillary Clinton to Republican Donald Trump in a head-to-head race for president, 66% to 22%, with 12% undecided. When third-party candidates are included, Clinton gets 61% of likely voters' support, Trump stays at 22%, Libertarian Gary Johnson gets 9%, Jill Stein of the Green Party gets 5% and only 3% are undecided.

Hillary Clinton

Democratic Party

61%

Donald Trump

Republican Party

22%

Gary Johnson

Libertarian Party

9%

Jill Stein

Green Party

5%

Undecided

3%
The poll found that millennials dislike Trump and have reservations about Clinton. Trump is viewed favourably by only 25% of registered voters surveyed, compared to 72% who view him unfavourably. Only 19% view him as level-headed, 20% said he had the right experience to be president and 23% believe he cares about people like them. Majorities of respondents also said they view Trump as dishonest, lacking leadership and someone who would not bring the right kind of change to the country. 63% of likely voters said he should drop out of the presidential race.
When it came to Hillary Clinton, 56% of those surveyed said they view her favourably, far less than the approval rating for Bernie Sanders (73%) and Barack Obama (71%). Clinton's biggest liability, according to the millennials surveyed, is honesty (only 36% say she is honest) and 46% said she takes responsibility for her mistakes. 71% said they believe she is intelligent (compared to 35% for Trump), 67% said she has the right experience to be president (compared to 20% for Trump) and 60% said she is level-headed (compared to 19% for Trump). However, millennials are split on whether she cares about people like them (55% said yes, 45% said no) and whether she would bring the right kind of change to the country (51% yes to 49% no).
Millennials were also asked how they would vote if Bernie Sanders was the Democratic candidate instead of Hillary Clinton. In a head-to-head matchup between Trump and Sanders, 67% of millennials would choose Sanders compared to 23% for Trump and 10% were undecided, the same margin (44%) by which Clinton leads Trump in a head-to-head matchup of likely voters. However, among those surveyed who said they were "not likely" to vote, Sanders leads Trump 63% to 15%, with 22% undecided, compared to Clinton leading Trump 42% to 21% with 37% undecided among the same group. The results could be an indicator that Sanders supporters in the millennial age group are still unwilling to support Clinton, and may not plan to vote in the election as a result. However, among Sanders supporters who do intend to vote, they are choosing Clinton over Trump.
Survey respondents were also asked who they would vote for if it was Republican vice presidential candidate Mike Pence, rather than Trump, facing Clinton for the presidency. The poll found Clinton leads Pence among likely voters 63% to 21%, a margin that is almost identical to her lead over Trump.
These results could indicate that, regardless of who the candidates are, millennial voters' preferences are influenced by party identification. Millennials are identifying as Democrats by a nearly 3-to-1 margin. This trend may be a troubling one for the Republican Party if millennials continue on the same ideological path in the future.
"In the 2004 election, young voters were closely divided," said Prof. Dyck. "Democrat John Kerry won 18- to 29-year-olds by 11 points. But since 2008, we have seen a significant shift, with millennials abandoning the GOP in large numbers. The nomination of Donald Trump appears only to have made things worse for Republicans, with fewer than 1 in 4 likely voters 18 to 35 years old supporting the candidate. Since party identification is something that people tend to carry with them throughout their lives, the GOP is not just digging a hole in this election, but also setting the stage for future losses as millennials get older and become a bigger part of the electorate."
Michael Luciano, director of editorial innovation for Odyssey, echoed that opinion: "Among millennials, Hillary Clinton is beating Donald Trump by a significantly larger margin than we saw Barack Obama beat John McCain and Mitt Romney in 2008 and 2012, respectively. As the largest demographic in the country, millennials are going to play an increasingly bigger role in elections in the coming years. If Republicans want to be competitive in future presidential races, they need to reverse what they should consider a troubling trend among the millennial generation."
Other findings from the poll include:
• The only issue that a clear majority of 18-35 year olds agree on is supporting the legalisation and usage of recreational marijuana (58%).
• Trust in government institutions is low – except for teachers, universities, military, police and fire departments.
• Millennials do not believe you can be too careful in dealing with others (58%), think that people are mostly looking out for themselves (55%) and that most people would take advantage if they got the chance (70%).
• Racial disparities are evident throughout question responses, indicating very different perspective on racial discrimination between white and non-white millennials.
The full results of the UMass Lowell/Odyssey Millennials poll are available here: https://www.uml.edu/docs/TOPLINE-Millennials_tcm18-263895.pdf

---
• Follow us on Twitter
• Follow us on Facebook
17th October 2016
Biotech firm to develop 3D bioprinted liver tissue for direct transplantation to patients
Organovo, a company focused on delivering scientific and medical breakthroughs using 3D bioprinting technology, has announced its plan to develop 3D bioprinted human liver tissue for direct transplantation to patients.
Organovo is announcing its program to develop 3D bioprinted human liver tissue based on the achievement of strong results in preclinical studies that used animal models. These demonstrated engraftment, vascularisation and sustained functionality of bioprinted liver tissue, including stable detection of liver-specific proteins and metabolic enzymes. The company expects to pursue this opportunity with a formal preclinical development program.
For patients in need of a liver transplant, no robust alternatives exist today. Approximately 17,000 patients are on the U.S. liver transplant waiting list, but only 6,000 liver transplants are performed each year.
Organovo plans to develop clinical solutions in two initial areas. First, acute-on-chronic liver failure (ACLF) is a recognised and distinct orphan disease entity encompassing an acute deterioration of liver function in patients with liver disease, which affects 150,000 patients annually in the United States. Second, paediatric metabolic liver diseases are another orphan disease indication where a bioprinted liver tissue patch may show therapeutic benefits.
The total addressable market opportunity for these initial indication areas exceeds $3 billion. Assuming development progresses according to its plan, Organovo intends to submit an Investigational New Drug application to the U.S. Food and Drug Administration (FDA) for its therapeutic liver tissue in three to five years. Organovo will seek breakthrough therapy designation, clinical development outside the United States, and other opportunities to help accelerate time to market. The company will also present more detailed preclinical results at upcoming scientific conferences.
"We're excited to introduce an implantable bioprinted liver tissue as the first preclinical candidate in our therapeutic tissue portfolio, and see the early results as extremely promising," said Keith Murphy, CEO of Organovo. "The scientific and commercial progress we have already made with ExVive Human Liver Tissue in drug toxicity testing has given us a firm foundation upon which to build a larger tissue for transplant. Advancing our first therapeutic tissue into preclinical development is an important milestone for Organovo, and it speaks to the power of our technology platform in addressing multiple applications, including preclinical safety, disease modelling and tissue replacement products for surgical implantation. We believe that 3D bioprinted tissues have an opportunity to provide options for patients who suffer from liver disorders."
"Organovo's approach is designed to overcome many challenges that cell therapies and conventional tissue engineering have struggled to address – including limited engraftment and significant migration of cells away from the liver," said Eric Michael David, M.D., J.D., chief strategy officer and executive vice president of preclinical development. "In our preclinical studies, we deliver a patch of functional tissue directly to the liver, which integrates well, remains on the liver and maintains functionality. We believe our tissues have the potential to extend the lives of patients on liver transplant lists, or those who do not qualify for transplants due to other factors."
"Supply issues are a constant and growing challenge in transplant medicine and liver has the second highest transplant need among all organs," commented David A. Gerber, M.D., FACS, Professor of Surgery and Chief of Transplant Surgery, UNC School of Medicine. "New solutions in development, such as 3D bioprinted human tissues, have the potential to create tissues that could augment and extend organ function to give more time to those patients on transplant waiting lists. Moreover, we are continuing to push the boundaries and understand how to scale 3D bioprinting and tissue engineering to develop larger tissues."
"There are many conditions in areas such as liver, kidney, gastrointestinal, vascular, and lung disease where supplying a tissue patch may be curative, or bridge a patient a few more years before they need a transplant," said Dr. John Geibel, at Yale University. "The promise of 3D bioprinting human tissues to address these unmet needs is significant."
---
• Follow us on Twitter
• Follow us on Facebook
16th October 2016
The world's first nation state in space
At a press conference in Paris this week, plans were announced for the creation of 'Asgardia' – the first nation state in outer space.
Named after the city of the skies in Norse mythology, Asgardia is a space-based nation proposed by Dr Igor Ashurbeyli, founder of the Aerospace International Research Centre (Vienna), and Chairman of UNESCO's Science of Space committee. The concept is aimed at creating a new framework for how space activities are regulated and owned, ensuring that "the future of space is peaceful and done for the benefit of humankind."
Dr Ashurbeyli, one of the Russian Federation's most distinguished scientists, has consulted globally renowned scientists, engineers, entrepreneurs and legal experts on the development of the concept. The project's official website is currently requesting people to register for "citizenship" with the aim of applying to the United Nations for official recognition as a nation state. Already, hundreds of thousands have signed up.
As a first step, the organisation plans to crowd-source a satellite for launch in 2017, sixty years after Sputnik 1, the first ever satellite. This will mark a new era in the space age, the organisation claims, as the satellite will be independent of any current nation state on Earth: the satellite will comprise the nation itself – creating its own legal system, flag and other symbols of nationhood.
"The project's concept comprises three parts – philosophical, legal and scientific/technological," Dr Ashburbeyli explained. "Asgardia is a fully-fledged and independent nation, and a future member of the United Nations – with all the attributes this status entails. The essence of Asgardia is 'Peace in Space', and the prevention of Earth's conflicts being transferred into space.
"Asgardia is also unique from a philosophical aspect: to serve entire humanity and each and everyone, regardless of his or her personal welfare and the prosperity of the country where they happened to be born. The scientific and technological component of the project can be explained in just three words – peace, access and protection. The scientific and technological envelope of Asgardia is a space arena for the scientific creativity of its citizens and companies in developing a broad range of future space technologies, products and services for humanity on Earth and humanity in space."
In recent years, access to space has been opening up, but the process remains slow and is tightly controlled by states on Earth, restricting commerce and scientific developments by private enterprise. Of the 196 nation states, just thirteen (China, France, India, Iran, Israel, Japan, North Korea, Russia/former USSR, South Korea, UK, Ukraine, USA) and one regional organisation (the European Space Agency, ESA) have independently launched satellites on their own indigenously developed launch vehicles.
Professor David Alexander, Director of the Rice Space Institute at Rice University in Texas: "As low-Earth orbit becomes more accessible, what's often called the 'democratisation' of space, a pathway is opening up to new ideas and approaches from a rich diversity of participants. The mission of Asgardia to create opportunities for broader access to space, enabling non-traditional space nations to realise their scientific aspirations is exciting."
Under current international space law, including the widely adopted Outer Space Treaty, states are required to authorise and supervise national space activities, including the activities of commercial and not-for-profit organisations. Objects launched into space are subject to their nation of belonging and if a nation launches an object into space, that nation is responsible for any damage that occurs internationally and in outer space.
Asgardia aims to create a new framework for ownership and nationhood in space, adapting current laws governing responsibility, private ownership and enterprise so they are fit for purpose in the new era of space exploration. By creating a new "space nation", private enterprise, innovation and the further development of space technology to support humanity could flourish, free from the tight restrictions of state control that currently exist.
Professor Ram Jakhu, Director, Institute of Air and Space Law at McGill University, Montreal, Canada: "An appropriate and unique global space legal regime is indispensable for governing outer space in order to ensure it is explored on a sustainable basis, for exclusively peaceful purposes and to the benefit of all humanity – including future generations living on planet Earth and in outer space. The development of foundational principles of such a legal regime ought to take place at the same time as technological progress is being made."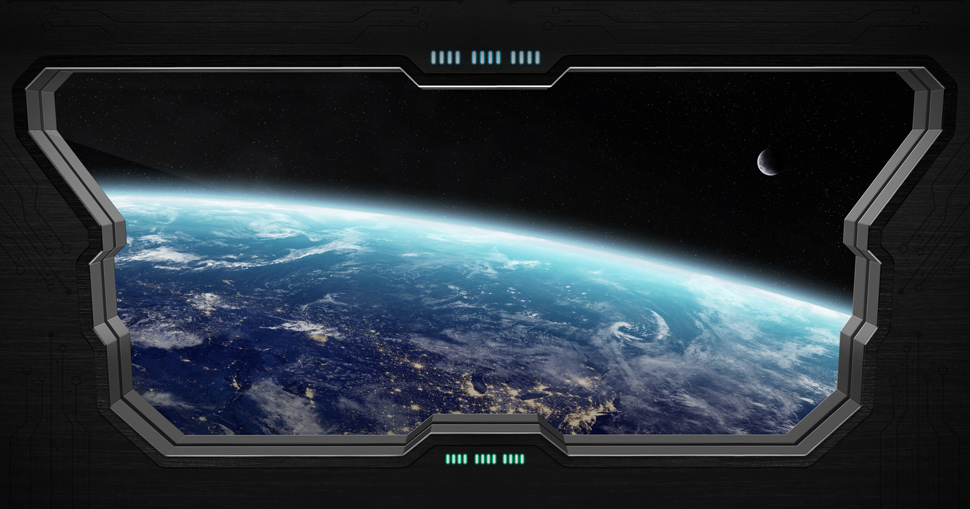 One of the early developments planned by Asgardia's team will be the creation of a state-of-the-art protective shield for all humankind from cosmic manmade and natural threats to life on Earth such as space debris, coronal mass ejections and asteroid collisions.
There are estimated to be more than 20,000 traceable objects of man-made space debris (MSD) including non-active spacecraft, upper-stage rockets and final stage vehicles, as well as fragments of craft that potentially pose a danger in near-Earth orbits. The impact of the Chelyabinsk meteorite which crashed over a Russian town as recently as 2013, injuring 1,100 people and damaging 4,000 buildings, is a reminder of the threat that natural objects pose to life on our planet.
Whilst steps have already been taken by the UN and the Space Mission Planning Advisory Group (SMPAG) to identify potentially hazardous scenarios, Asgardia will build on these developments to offer a more comprehensive mechanism.
Dr. Joseph N. Pelton, former Dean of the International Space University in Strasbourg, France: "The Asgardia project, among other things, may help prepare better answers to the future governance of outer space – a topic of major concern to the United Nations. The exciting aspect of this initiative is its three phase approach to providing broader access to space; promoting peace in outer space; and addressing cosmic hazards and planetary defence."
The Asgardia Project Team will comprise a collaborative, multi-disciplinary effort from leading experts around the globe which it is envisaged will grow over time as the project evolves. But as well as expert involvement in the project, Asgardia is looking to capture the wider public imagination by crowd-sourcing key aspects of the missions and involving members of the public in competitions – for example, to help design the nation's flag, insignia and other symbols of nationhood.
To coincide with the press conference, a website with further details was launched at www.asgardia.space. The project can also be followed on Twitter where updates will be provided, along with interaction between the Asgardia team and members of the public.
---
• Follow us on Twitter
• Follow us on Facebook
15th October 2016
A guest piece by sci-fi author Drew Wagar.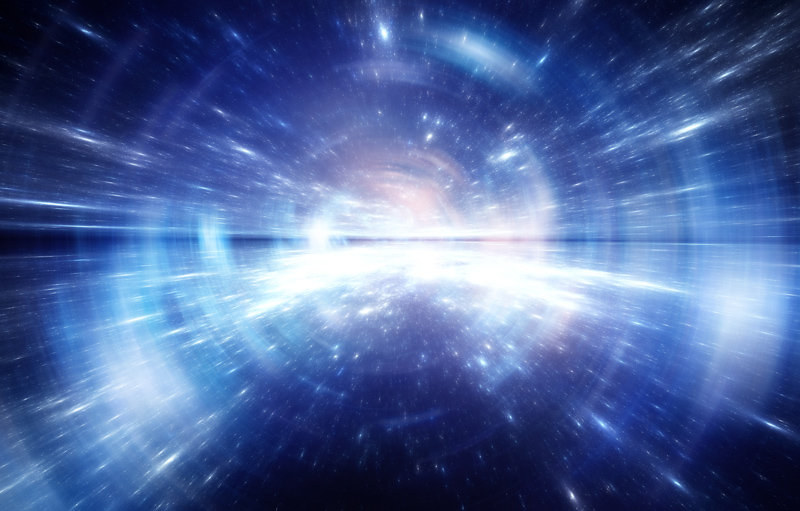 In this guest piece, we talked to sci-fi author Drew Wagar about his predictions for the next five, 50, 500 and 5,000 years.
---
Being an SF writer means you have to imagine different futures, different worlds. It is generally easier to do that when you aren't tied to the present, or you can pick another world or civilisation and use your imagination.
Predicting where we might be in the future is rather more tricky, and, almost certainly, is going to be wrong – but it's a fun exercise and here are my thoughts on where we might be...
The next 5 years (2021)
This period is probably the hardest as it is most likely to be wrong, or at least, proved as inaccurate by progress!
On the technology front, 3D printing is one to watch in the next few years; it has the potential to revolutionise the provision and transport of items, in the same way that email displaced the letter. 4G (and better) mobile network access will become the norm for all devices, relegating 'wired' connections to history for most users. 2 terabyte SD cards will appear in this time frame. Storage will soon cease to be an issue for most users.
Entertainment will continue to shift away from traditional broadcast media and print to reality augmented and deeply personalised content. I suspect there will be interesting developments as VR and augmented reality leaves the realms of 'geekdom' and moves into the mainstream.
I fear the divide between the haves and have-nots will continue to widen, with continued social unrest. For those without means, the future looks bleaker. Pension provision will continue to erode with massive numbers wakening to the realisation that they will never be able to stop working. Debt will continue to force reductions in public spending, against an outcry regarding social welfare. Unfortunately, the traditional 'left' will continue to field unworkable and outdated solutions to these problems and leave unfettered capitalism as the unopposed solution.
We will spectacularly fail to get to grips with the burgeoning climate crisis, due to political lobbying, ignorance and the impact of religion world-wide. The 2020s will open with territorial conflicts over oil, water and food supply, enflamed by religious disputes continuing or even worse than the 2010s.
The next 50 years (2066)
Being optimistic I'm going to give us commercially available fusion power in this time period. This effectively ends the 'oil years' and makes a range of technology obsolete. Prior to this though, 'history' is punctuated by wars both big and small over the diminishing resources of the old carbon economy and the disastrous impacts of climate change.
Personalised electronics, coupled with emerging genetics and nanotechnology continues to expand, with the youngest generation having no qualms about integrating electronics to augment their minds and bodies. The first signs of 'pure humans' and 'augmented humans' becoming separate societies begins to appear.
AI becomes a recognisable 'thing' in this time period, with many jobs replaced by artificial intelligence, particularly in transport, healthcare and brokerage. There are significant amounts of the planet that are run without any human intervention at all.
The concept of 'owning' a car will seem very old-fashioned, along with 9-5 working hours. This will be part of a changing zeitgeist world-wide, as the 'baby boomer' generation and their thinking finally dies away. Constant 'debt' crises force a change whereby rampant consumerism is replaced by a more pragmatic 'value for money' consideration. Credit, loans and debt become dirty words possibly due to a catastrophic financial crash and resultant restructuring.
There remains the strong possibility of a major world conflict in this time period. India and China capitalise on this and become the dominant economic entities, overtaking the United States by mid-century.
Environmental problems grow worse before getting better, with the melting of Arctic sea ice and the widespread collapse of the Antarctic ice shelves. Coastal flooding causes major upheaval. No sea ice at the North Pole becomes the norm. Major displacement of some established coastal areas.
However, there are signs for optimism as the end of the carbon economy favours different nations and those who have invested in alternative energy sources and modern infrastructure.
The next 500 years (2516)
Humanity is now wrestling with an 'excess energy' problem, whereby energy production is so cheap and commonplace that excessive heat generation is a major global problem again. Climate engineering is a massive undertaking whereby the levels of greenhouse gases are being reduced to cater for the massive amounts of heat that global energy use is generating.
Small parts of Earth are now 'off-limits', marked as enclosures for what came to be known as 'pure humans' prior to the event known by historians as the 'Schism'; in this, humanity separated into distinct cultural sects, characterised by their desire to use, or not, selective nano/bio/electronic technology to augment themselves.
The vast majority opted for the enhancements – there was a brief war, which was a forgone conclusion. All illness, mental and physical, deformities were banished as a result. Sex and other dimorphisms ceased to exist. Humans now are partly cybernetic and have abilities that would have been regarded as 'superpowers' to humans 500 years before – able to fly, withstand harm and survive extreme acceleration. 'Pure humans', without these enhancements, are allowed in the enclosures and left undisturbed to continue their existence. Most consider them fascinating 'zoo animals' with hugely limited lifespans and intelligence.
Mars and Venus have been terraformed for the convenience of migration from Earth. They will have been seeded with water from the Kuiper belt and perhaps with minor orbit alterations, courtesy of managed asteroids, to make them even more habitable.
Mining operations across the solar system will have transformed many moons and some planets – though the gas giants will appear largely similar to 21st century eyes.
The next 5,000 years (7516)
Perhaps the most difficult, but certainly the most astonishing changes from the view point of the 21st century.
A major breakthrough in harnessing vacuum energy and a comprehensive understanding of the nature of the universe that eluded 21st century scientists in their entirety now provides the means for humanity to visit other solar systems.
Unlike the imagined crewed spacecraft of thousands of years ago, these ships are merely specialised augmented humans, with humanity's intelligence, biology crafted into the ship itself. They require no crew, as they are the crew. Humanity explores the stars directly, not by means of primitive physical containers. Much of the galaxy has been mapped.
On Earth, the planet is unrecognisable. Gone is any indication of a transport system, or even major cities. Humanity's technology is now so advanced that individuals have no need of 'devices' whether they are transports, housing, communications or sustenance. Thus the planet now looks utterly unspoilt, returned to an 'Eden' of legend. Every individual is utterly self-sufficient in all things.
Culture now revolves around the purest type of entertainment, the exchange of thought, dreams, stories and discovery. Freed from the need to fight to survive, humanity achieves unparalleled greatness.
---
Drew's books include the Shadeward Saga, a four part sci-fi epic set on the tidally-locked world of Esurio, orbiting the red dwarf star Lacaille 9352.
He is currently writing Elite Dangerous: Premonition, the official Elite Dangerous novel being published by Frontier Developments in 2017. Drew himself is a fan of the game – set in 3302 – in which players can explore a scientifically accurate, virtual recreation of the entire Milky Way galaxy. Featuring what is possibly the largest gaming environment ever created, and playable in VR, Elite Dangerous gives players the chance to travel unimaginable distances, witness breathtaking astronomical sights, land on planetary surfaces, mine asteroids, trade commodities, take part in battles and much more.
Drew lives in Kent with his wife, two sons, a dog and a cat. His favourite colour is dark green. Everything else is subject to change without notice.
---
• Follow us on Twitter
• Follow us on Facebook
14th October 2016
Universe contains 10 times more galaxies than previously thought
Using 3D imaging techniques on 20 years of photographs by the Hubble Space Telescope, astronomers estimate there are 2 trillion galaxies in the observable universe – an order of magnitude more than previously thought.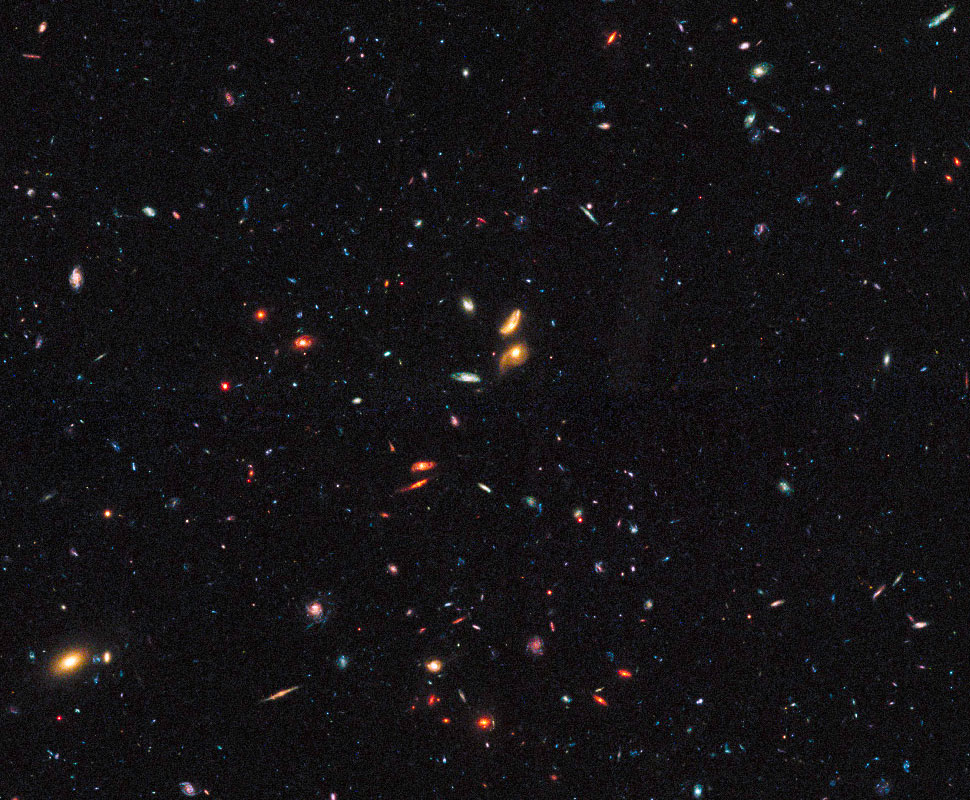 A team of astronomers led by Christopher Conselice of the University of Nottingham, UK, has found that 10 times as many galaxies were packed into a given volume of space in the early universe than today. Most of these galaxies were relatively small and faint, with masses similar to those of the satellite galaxies surrounding the Milky Way. As they merged to form larger galaxies, the population density of galaxies in space dwindled. This means that galaxies are not evenly distributed throughout the universe's history.
"These results are powerful evidence that a significant galaxy evolution has taken place throughout the universe's history, which dramatically reduced the number of galaxies through mergers between them – thus reducing their total number," said Conselice. "This gives us a verification of the so-called top-down formation of structure in the universe."
One of the most fundamental questions in astronomy is that of just how many galaxies the universe contains. The landmark Hubble Deep Field – taken in the mid-1990s – gave the first real insight into the universe's galaxy population. Later more sensitive observations, such as Hubble's Ultra Deep Field, revealed a myriad of faint galaxies. This led to an estimate that the observable universe contained about 200 billion galaxies. The new research shows that this estimate must be at least 10 times too low.
Conselice and his team reached this conclusion using deep-space images from Hubble, as well as published data from other teams. They painstakingly converted the images into 3-D, to make accurate measurements of galaxy numbers at different epochs in the universe's history. In addition, they used new mathematical models allowing them to infer the existence of galaxies that the current generation of telescopes cannot observe. This led to the surprising conclusion that for the numbers of galaxies we now see and their masses to add up, there must be a further 90 percent of galaxies in the observable universe that are too faint and too far away to be seen with present-day telescopes. These small, faint galaxies from the early universe merged over time into larger galaxies we can now observe.
"It boggles the mind that over 90 percent of the galaxies in the universe have yet to be studied. Who knows what interesting properties we will find when we discover these galaxies with future generations of telescopes? In the near future, the James Webb Space Telescope will be able to study these ultra-faint galaxies," said Conselice.
The decreasing number of galaxies as time progresses also contributes to the solution for Olbers' paradox (first formulated in the early 1800s by German astronomer Heinrich Wilhelm Olbers): Why is the sky dark at night if the universe contains an infinity of stars? The team came to the conclusion that indeed there actually is such an abundance of galaxies that, in principle, every patch in the sky contains part of a galaxy. However, starlight from the galaxies is invisible to the human eye and most modern telescopes due to other known factors that reduce visible and ultraviolet light in the universe. Those factors are the reddening of light due to the expansion of space, the universe's dynamic nature, and the absorption of light by intergalactic dust and gas. All combined, this keeps the night sky dark to our vision.
---
• Follow us on Twitter
• Follow us on Facebook
13th October 2016
Playing golf can add five years to your life expectancy
Playing golf is likely to increase life expectancy, help prevent chronic diseases and improve mental health, a new study suggests.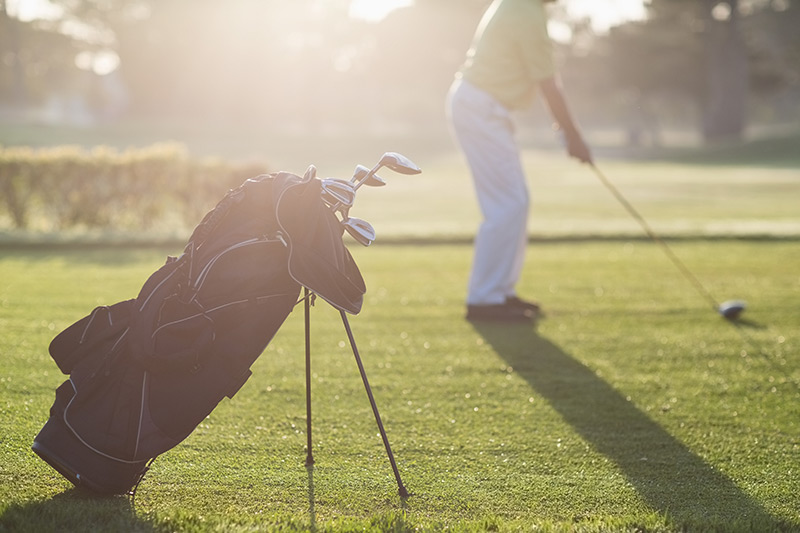 Researchers from the University of Edinburgh reviewed 5,000 studies into golf to build a comprehensive picture of the sport's health benefits, as well as its potential drawbacks. They found it can significantly improve both physical and mental health for people of all ages, genders and backgrounds. Furthermore, it was shown that these improvements are of particular help to seniors, as the benefits of playing golf increase with age. Balance and muscle endurance, for example, can be enhanced in older people.
Golfers playing a regular round of 18 holes can walk four to eight miles, typically burning a minimum of 500 calories – easily enough to reach and exceed the minimum government recommendations for exercise. Even those using an electric cart were found to average four miles of walking. In addition to the obvious physical benefits, golf can significantly improve mental health and well-being – increasing exposure to sunshine and fresh air, while reducing the risk of anxiety, depression and dementia.
In one of the studies they analysed, the researchers noted a 40% reduction in mortality rates among 300,000 members of the Swedish Golf Federation, corresponding to an increase in life expectancy of about five years.
"The moderate physical activity that golf provides increases life expectancy, has mental health benefits, and can help prevent and treat more than 40 major chronic diseases, such as heart attacks, stroke, diabetes, breast and colon cancer," says Dr Andrew Murray, lead author and researcher for the Golf & Health Project at the University of Edinburgh. "Evidence suggests golfers live longer than non-golfers, enjoying improvements in cholesterol levels, body composition, wellness, self-esteem and self-worth. Given that the sport can be played by the very young to the very old, this demonstrates a wide variety of health benefits for people of all ages."
However, there were also a number of risks found to be associated with playing golf – such as lightning strikes, and accidents involving carts. Golf was found to be the sport with the highest incidence of lightning strikes in the US, while more than 15,000 golf cart-related injuries were reported a year.
Their study is published online this month in the British Journal of Sports Medicine.
---
• Follow us on Twitter
• Follow us on Facebook
12th October 2016
Climate change has doubled western US forest fires
A study by the Earth Institute at Columbia University finds that wildfires in the western US have doubled in area over the last 30 years due to climate change.
| | |
| --- | --- |
| | In July and August, the Roaring Lion wildfire devoured more than 8,000 acres of forest, along with over 60 homes and outbuildings in eastern Montana's Bitterroot Range. Here, the fire burns through dense conifers, 31st July 2016. Credit: Mike Daniels. |
A new study concludes that human-induced climate change has doubled the area affected by forest fires in the western U.S. over the last 30 years. According to the study, since 1984 heightened temperatures and resulting aridity have caused fires to spread across an additional 16,000 square miles than they otherwise would have – an area larger than the states of Massachusetts and Connecticut combined. The authors warn that further warming will increase fire exponentially in coming decades. The study appears today in the peer-reviewed journal Proceedings of the National Academy of Sciences.
"No matter how hard we try, the fires are going to keep getting bigger, and the reason is really clear," said Park Williams, co-author and bioclimatologist at Columbia University's Lamont-Doherty Earth Observatory. "Climate is really running the show in terms of what burns. We should be getting ready for bigger fire years than those familiar to previous generations."
Fires in western forests began increasing abruptly in the 1980s, as measured by area burned, the number of large fires, and length of the fire season. Those increases have since continued, and recently scientists and public officials have in part blamed human-influenced climate change. The new study is perhaps the first to quantify that assertion.
"A lot of people are throwing around the words climate change and fire – specifically, last year fire chiefs and the governor of California started calling this the 'new normal,' " said lead author John Abatzoglou, a professor of geography at the University of Idaho. "We wanted to put some numbers on it."
Warmth drives fire by drying out the land. Warmer air holds more moisture, and the air sucks it out of plants, trees, and dead vegetation on the ground, as well as soil. Average temperatures in forested parts of the U.S. West have increased by 1.4°C (2.5°F) since 1970, and are expected to continue rising in the future. The resultant drying effect is evident in the expansion of fires. Williams published a study last year showing how climate-driven removal of moisture from land worsened the recent California drought, which was accompanied by widespread fires.
| | |
| --- | --- |
| | Satellite image of wildfires in California, August 2015. Credit: NASA/Goddard/Jeff Schmaltz/MODIS Rapid Response Team/Lynn Jenner |
The overall increase in fire since the 1980s is about twice what the researchers attribute to climate change; the rest is due to other factors, they say. One has been a long-term natural climate oscillation over the Pacific Ocean, which has steered storms away from the western United States. Another is firefighting itself. By constantly putting out fires, authorities have allowed areas they "saved" to build up more dry fuel, which later ignites, causing ever more catastrophic blazes. The costs of firefighting have risen sharply in step – last year, the federal government alone spent more than $2.1 billion. "We're seeing the consequence of very successful fire suppression, except now it's not that successful anymore," said Abatzoglou.
The authors teased out the effects of climate warming from other factors by looking at eight different systems for rating forest aridity; these included the Palmer Drought Severity Index, the MacArthur Forest Fire Danger Index and the Canadian Forest Fire Danger Rating System. They then compared such measurements with observations of actual fires and large-scale climate models that estimate man-made warming. The crunched data showed that 55% of the increase in fuel aridity expected to lead to fires could be attributed to human-influenced climate change. Climate's role in increasing such aridity has grown since 2000 and will continue to do so, the researchers say. Previous studies have tried to understand the effects of climate on wildfires in parts of Canada, but nothing has been done for the United States on this scale, until now.
Globally, wildfires of all kinds have been increasing, often with a suspected climate connection. A huge fire that levelled part of Fort McMurray, Alberta, this May (see video below) is thought to have been the result of a warming trend that is drying out the northern forests. Fires are even spreading beyond, into the tundra, in places where blazes have not been seen for thousands of years.
The effects go beyond loss of trees and other vegetation. A 2012 study estimates that smoke from fires worldwide causes long-term health effects that kill some 340,000 people each year. Carbon released to the air adds to the burden of greenhouse gases already there, producing even more warming. Soot settling on snow and ice causes them to absorb more heat and melt faster.
Williams believes that ultimately, so many western forests will have burned, they will become too fragmented for fires to spread easily, and the growth in wildfires will cease. But, he explains, "There's no hint we're even getting close to that yet. I'd expect increases to proceed exponentially for at least the next few decades." In the meantime, he says, "It means getting out of fire's way. I'd definitely be worried about living in a forested area with only one road in and one road out."
---
• Follow us on Twitter
• Follow us on Facebook
12th October 2016
Scientists create the smallest ever transistor – just a single nanometre long
Researchers at the Department of Energy's Lawrence Berkeley National Laboratory have demonstrated a working 1 nanometre (nm) transistor.
For more than a decade, engineers have been eyeing the finish line in the race to shrink the size of components in integrated circuits. They knew that the laws of physics had set a 5-nanometre threshold on the size of transistor gates among conventional semiconductors, about one-third the size of high-end 14-nanometre-gate transistors currently on the market.
However, some laws are made to be broken, or at least challenged.
A research team led by faculty scientist Ali Javey at the Department of Energy's Lawrence Berkeley National Laboratory (Berkeley Lab) has done just that by creating a transistor with a functioning 1-nanometre gate. For comparison, a strand of human hair is about 50,000 nanometres thick.
"We made the smallest transistor reported to date," said Javey, lead principal investigator of the Electronic Materials program in Berkeley Lab's Materials Science Division. "The gate length is considered a defining dimension of the transistor. We demonstrated a 1-nanometre-gate transistor, showing that with the choice of proper materials, there is a lot more room to shrink our electronics."
The key was to use carbon nanotubes and molybdenum disulfide (MoS2), an engine lubricant commonly sold in auto parts shops. MoS2 is part of a family of materials with immense potential for applications in LEDs, lasers, nanoscale transistors, solar cells, and more.
This breakthrough could help in keeping alive Intel co-founder Gordon Moore's prediction that the density of transistors on integrated circuits would double every two years, enabling the increased performance of our laptops, mobile phones, televisions, and other electronics.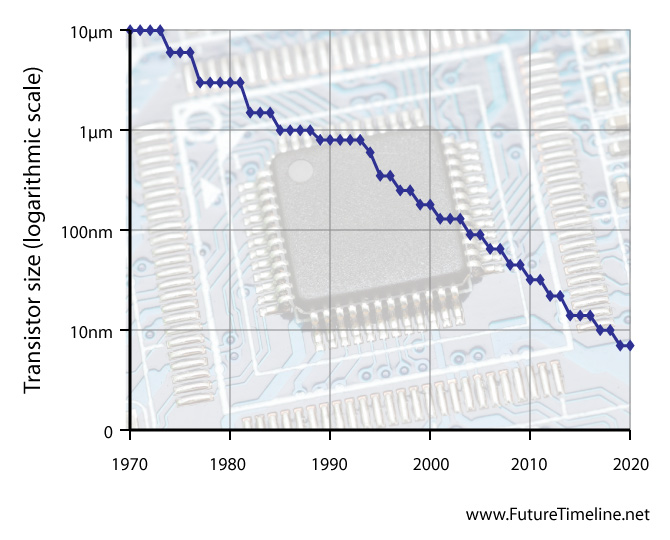 "The semiconductor industry has long assumed that any gate below 5 nanometres wouldn't work – so anything below that was not even considered," said study lead author Sujay Desai, a graduate student in Javey's lab. "This research shows that sub-5-nanometre gates should not be discounted. Industry has been squeezing every last bit of capability out of silicon. By changing the material from silicon to MoS2, we can make a transistor with a gate that is just 1 nanometre in length, and operate it like a switch."
"This work demonstrated the shortest transistor ever," said Javey, who is also a UC Berkeley professor of electrical engineering and computer sciences. "However, it's a proof of concept. We have not yet packed these transistors onto a chip, and we haven't done this billions of times over. We also have not developed self-aligned fabrication schemes for reducing parasitic resistances in the device. But this work is important to show that we are no longer limited to a 5-nanometre gate for our transistors. Moore's Law can continue a while longer by proper engineering of the semiconductor material and device architecture."
His team's research is published this month in the peer-reviewed journal Science.
---
• Follow us on Twitter
• Follow us on Facebook
7th October 2016
Saturn's moon Dione may contain a subsurface ocean
The Cassini mission has revealed evidence of a subsurface ocean within Saturn's moon Dione.
A subsurface ocean lies deep within Saturn's moon Dione, according to new data from the Cassini spacecraft. Two other moons of the gas giant – Titan and Enceladus – are already known to hide global oceans beneath their icy crusts, but a new study suggests an ocean exists in Dione as well.
In this study, researchers from the Royal Observatory of Belgium show gravity data from recent Cassini flybys can be explained if Dione's crust floats on an ocean located 100 km (62 miles) below the surface. The ocean is several tens of kilometres deep and surrounds a large rocky core. Seen from within, Dione is similar to its smaller but more famous neighbour Enceladus, whose south polar region spurts huge jets of water vapour into space. Dione seems to be quiet now, but its broken surface bears witness of a more tumultuous past.
The researchers modelled the icy shells of Enceladus and Dione as global icebergs immersed in water, where each surface ice peak is supported by a large underwater keel. Scientists have used this approach in the past, but previous results have predicted a very thick crust for Enceladus and no ocean at all for Dione.
"As an additional principle, we assumed that the icy crust can stand only the minimum amount of tension or compression necessary to maintain surface landforms", said Mikael Beuthe, lead author of the new study. "More stress would break the crust down to pieces."
According to the new study, published in Geophysical Research Letters, Enceladus' ocean is much closer to the surface, especially near the south pole where geysers erupt through a few kilometres of crust. These findings agree well with the discovery last year that Enceladus undergoes large back-and-forth oscillations, or "libration", during its orbit. Enceladus' libration would be much smaller if its crust was thicker. As for Dione, the new study finds it contains a deep ocean between its crust and core.
"Like Enceladus, Dione librates – but below the detection level of Cassini,'' said Antony Trinh, co-author of the study. "A future orbiter hopping around Saturn's moons could test this prediction."
Dione's ocean has probably survived for the whole history of the moon, and thus offers a long-lived habitable zone for microbial life. "The contact between the ocean and the rocky core is crucial", said Attilio Rivoldini, co-author of the study. "Rock-water interactions provide key nutrients and a source of energy, both being essential ingredients for life." The ocean of Dione is too deep for easy access, but Enceladus as well as Jupiter's moon Europa are generous enough to eject water samples in space, ready to be captured by a passing spacecraft.
The club of "ocean worlds" – icy moons or planets with subsurface oceans in common parlance – is gaining new members with each new mission to the outer Solar System. Three ocean worlds orbit Jupiter, three orbit Saturn, and Pluto could also belong to the club, according to recent observations of the New Horizons spacecraft. The approach to modelling planetary bodies used in this study is a promising tool to study these worlds if we can measure their shape and gravity field, according to Mikael Beuthe. "Future missions will visit Jupiter's moons, but we should also explore Uranus' and Neptune's systems", he said.
Cassini was launched in 1997 and has been operational since 2004. Next year, on 15th September 2017, its 20-year mission will end as it plunges into Saturn's hydrogen and helium atmosphere.
---
• Follow us on Twitter
• Follow us on Facebook
6th October 2016
Scientists calculate the upper limit of human lifespan
Gains in the maximum human lifespan reached a plateau in the 1990s, according to researchers. They report that the absolute physical limit of human lifespan is 125 years.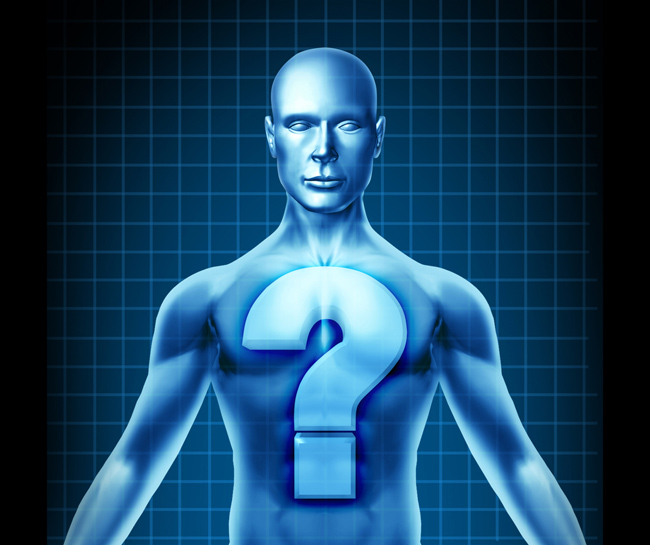 A study published yesterday in Nature by the Albert Einstein College of Medicine suggests that it may not be possible to extend the human lifespan beyond the ages already attained by the oldest people on record.
Since the 19th century, average life expectancy has risen almost continuously – thanks to improvements in public health, diet, living standards and other areas. On average, for example, U.S. babies born today can expect to live to nearly 79, compared with only 47 for those born in 1900. Since the 1970s, the maximum duration of life – the age to which the oldest people live – has also risen. But according to the Einstein College researchers, this upward arc for maximal lifespan has a ceiling: and we've already touched it.
"Demographers, as well as biologists, have contended there is no reason to think that the ongoing increase in maximum lifespan will end soon," said senior author Jan Vijg, Ph.D., professor and chair of genetics. "But our data strongly suggest that it has already been attained and that this happened in the 1990s."
Dr. Vijg and his colleagues analysed data from the Human Mortality Database, which compiles mortality and population data from more than 40 nations. Since 1900, those countries generally show a decline in late-life mortality: the fraction of each birth cohort (i.e. people born in a particular year) who survive to old age (defined as 70 and up) increased with their calendar year of birth, pointing toward a continuing increase in average life expectancy.
But when the researchers looked at survival improvements since 1900 for people aged 100 and above, they found that gains in survival peaked at around 100 and then declined rapidly, regardless of the year people were born. "This finding indicates diminishing gains in reducing late-life mortality and a possible limit to human lifespan," said Dr. Vijg.
He and his colleagues then looked at "maximum reported age at death" data from the International Database on Longevity. They focused on people verified as living to age 110 or older between 1968 and 2006 in the four countries (the U.S., France, Japan and the U.K.) with the largest number of long-lived individuals. Age at death for these supercentenarians increased rapidly between the 1970s and early 1990s, but reached a plateau around 1995 – further evidence for a lifespan limit. This plateau, the researchers note, occurred close to 1997 – the year of death for 122-year-old French woman, Jeanne Calment, who achieved the maximum documented lifespan of any person in history.
Using maximum-reported-age-at-death data, the Einstein researchers put the average maximum human lifespan at 115 years – a calculation allowing for record-oldest individuals occasionally living longer or shorter than 115 years (Jeanne Calment, they conclude, was a statistical outlier). Finally, they calculate 125 years as the absolute limit of human lifespan. Expressed another way, this means the probability in any given year of seeing a person live to 125 anywhere in the world is less than 1 in 10,000.
"Further progress against infectious and chronic diseases may continue boosting average life expectancy – but not maximum lifespan," says Dr. Vijg. "While it's conceivable that therapeutic breakthroughs might extend human longevity beyond the limits we've calculated, such advances would need to overwhelm the many genetic variants that appear to collectively determine the human lifespan. Perhaps resources now being spent to increase lifespan should instead go to lengthening healthspan – the duration of old age spent in good health."
---
• Follow us on Twitter
• Follow us on Facebook
6th October 2016
Caffeine may reduce the risk of dementia
A study by the University of Wisconsin-Milwaukee shows that caffeine consumption may cut the risk of dementia in older women by 36%.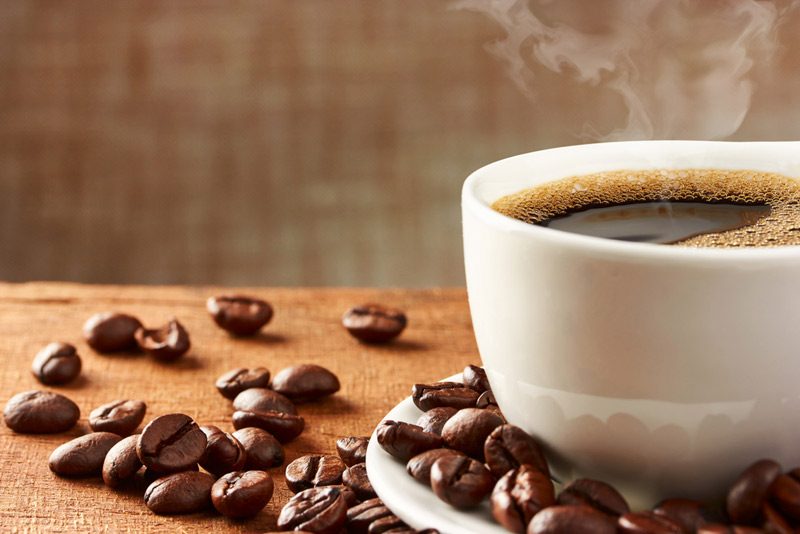 Among a group of older women, self-reported caffeine consumption of more than 261 mg per day was associated with a 36 percent reduction in the risk of incident dementia over 10 years of follow-up. This level is equivalent to two to three 8-oz cups of coffee per day, five to six 8-oz cups of black tea, or seven to eight 12-ounce cans of cola.
"The mounting evidence of caffeine consumption as a potentially protective factor against cognitive impairment is exciting given that caffeine is also an easily modifiable dietary factor with very few contraindications," said Ira Driscoll, PhD, the study's lead author and a professor of psychology at the University of Wisconsin-Milwaukee. "What is unique about this study is that we had an unprecedented opportunity to examine the relationships between caffeine intake and dementia incidence in a large and well-defined, prospectively-studied cohort of women."
The findings come from participants in the Women's Health Initiative Memory Study, which is funded by the National Heart, Lung, and Blood Institute. Driscoll and her research colleagues used data from 6,500 community-dwelling, postmenopausal women aged 65 and older who reported some level of caffeine consumption. Intake was estimated from questions about coffee, tea, and cola beverage intake, including frequency and serving size.
In 10 years or less of follow-up with annual assessments of cognitive function, 388 of these women received a diagnosis of probable dementia or some form of global cognitive impairment. Those who consumed above the median amount of caffeine for this group (with average intake of 261 mg per day) were diagnosed at a lower rate than those who fell below the median (with an average intake of 64 mg per day). The researchers adjusted for risk factors such as hormone therapy, age, race, education, body mass index, sleep quality, depression, hypertension, prior cardiovascular disease, diabetes, smoking, and alcohol consumption.
The paper "Relationships Between Caffeine Intake and Risk for Probable Dementia or Global Cognitive Impairment: The Women's Health Initiative Memory Study" is available at: http://biomedgerontology.oxfordjournals.org/content/early/2016/09/20/gerona.glw078
---
• Follow us on Twitter
• Follow us on Facebook
3rd October 2016
Measles has officially been eradicated from the Americas
The Region of the Americas is the first in the world to have officially eliminated measles, a viral disease that can cause severe health problems including pneumonia, brain swelling and even death. This achievement culminates a 22-year effort involving mass vaccination against measles, mumps and rubella throughout the Americas.
The declaration of measles' elimination was made by the International Expert Committee for Documenting and Verifying Measles, Rubella, and Congenital Rubella Syndrome Elimination in the Americas. The announcement came during the 55th Directing Council of the Pan American Health Organisation/World Health Organisation (PAHO/WHO), attended by ministers of health from throughout the region.
Measles is the fifth vaccine-preventable disease to be eliminated from the Americas, after the regional eradication of smallpox in 1971, polio in 1994, and rubella and congenital rubella syndrome in 2015.
"This is a historic day for our region and indeed the world," said Carissa Etienne, PAHO/WHO Director. "It is proof of the remarkable success that can be achieved when countries work together in solidarity towards a common goal. It is the result of a commitment made more than two decades ago, in 1994, when the countries of the Americas pledged to end measles circulation by the turn of the 21st century."
Before mass vaccination was initiated in 1980, measles caused nearly 2.6 million annual deaths worldwide. In the Americas, 101,800 deaths were attributed to the disease between 1971 and 1979. A cost-effectiveness study on measles elimination in Latin America and the Caribbean has estimated that with vaccination, 3.2 million measles cases will have been prevented in the region and 16,000 deaths between 2000 and 2020.
"This historic milestone would never have been possible without the strong political commitment of our Member States in ensuring that all children have access to life-saving vaccines," Etienne continued. "It would not have been possible without the generosity and commitment of health workers and volunteers who have worked so hard to take the benefits of vaccines to all people – including those in vulnerable and hard-to-reach communities."
Measles transmission had been considered interrupted in the region since 2002, when the last endemic case was reported in Venezuela. However, as it continued to circulate in other parts of the world, some countries in the Americas experienced imported cases, with over 5,000 reported infections between 2003 and 2014. The Expert Committee reviewed evidence presented by all the countries of the region between 2015 and August 2016 and decided that it met the established criteria for elimination. This process included six years of work with countries to document evidence of the elimination.
As a result of worldwide measles elimination efforts, only 245,000 measles cases were reported globally in 2015, a substantial decline from earlier years. More than a half of these reported cases were in Africa and Asia. To maintain measles elimination, the Expert Committee have recommended that all countries of the Americas strengthen active surveillance and maintain their populations' immunity through routine vaccination.
"I would like to emphasise that our work on this front is not yet done," warned Etienne. "We cannot become complacent with this achievement but must rather protect it carefully. Measles still circulates widely in other parts of the world, and so we must be prepared to respond to imported cases. It is critical that we continue to maintain high vaccination coverage rates, and it is crucial that any suspected measles cases be immediately reported to the authorities for rapid follow-up."
Under the WHO's Global Vaccine Action Plan, measles will be wiped out by 2020 everywhere except Southeast Asia. Humanity is clearly winning the fight against this particular virus.
---
• Follow us on Twitter
• Follow us on Facebook