17th November 2017
Boston Dynamics reveals new Atlas robot
Boston Dynamics has revealed an upgraded version of its Atlas robot. This new and improved machine is able to jump and perform backflips.
---
• Follow us on Twitter
• Follow us on Facebook
• Subscribe to us on YouTube
16th November 2017
Gene variant may cause obesity
Experiments on mice have shown that variants in a gene called ankyrin-B, carried by millions of Americans, could cause cells to store fat, potentially leading to obesity.
Obesity is often attributed to a simple equation: people are eating too much and exercising too little. But evidence is growing that at least some of the weight gain that plagues modern humans is predetermined. A new study by researchers from North Carolina suggests that variants in a gene called ankyrin-B – carried by millions of Americans – may cause people to put on pounds through no fault of their own.
The study, conducted on mice, shows that the gene variation causes fat cells to suck up glucose faster than normal – more than doubling their size. When a high-fat diet or aging metabolism is added to the equation, obesity becomes all but inevitable.
"We call it fault-free obesity," said Vann Bennett, PhD, Professor of Biochemistry at Duke University School of Medicine. "We believe this gene might have helped our ancestors store energy in times of famine. In current times, where food is plentiful, ankyrin-B variants could be fuelling the obesity epidemic."
Bennett discovered the protein ankyrin-B over 30 years ago. It is present in every bodily tissue and acts like an "anchor" by tethering important proteins to the inside of the cell's membrane. Bennett and other researchers have linked defects in ankyrin-B to a number of human diseases – including aging, autism, diabetes, irregular heartbeat and muscular dystrophy.
Several years ago, Jane Healey, an MD/PhD student working in the Bennett laboratory, noticed that mice with cardiac arrhythmia caused by mutations in ankyrin-B were fatter than their wildtype litter mates. To figure out why, she created mouse models with common human variants of the gene. It was found that these mice quickly grew fat, locking away most of their calories in fat tissue, rather than sending them to other tissues to burn as energy. These findings were published in 2015 in the Journal of Clinical Investigation.
"The problem is, we still didn't know how this gene worked," said Damaris Lorenzo, PhD, a postdoctoral fellow in the laboratory at the time. "There is this common belief in the field that much of obesity can be traced back to appetite – and the appetite control centres that reside in the brain. But what if it isn't all in our head?"
To study that question, Lorenzo had her research group completely knock out the ankyrin-B gene in the fat tissue of mice. They repeated many of the same experiments that were conducted in the previous mouse models, which carried mutant versions of ankyrin-B. Just as before, the knock-out mice gained weight and their energy-storing white fat cells doubled in size – despite eating and exercising the same as normal mice. What's more, the weight gain increased as the mice aged or were fed a high-fat diet.
"We quickly learned that the increased accumulation of lipids in fat cells 'spilled over' to the liver and muscles," Lorenzo said. "The abnormal accumulation of fat in these tissues led to inflammation and disruption of response to insulin, a hallmark of type II diabetes. A similar cascade of events is what often takes place in humans, and that is why obesity can be so detrimental to our health," Lorenzo said.
After conducting a number of biochemistry experiments, Lorenzo showed that eliminating or mutating ankyrin-B changed the dynamics of Glut4, the protein that allows glucose to enter fat cells. As a result, the floodgates were opened, allowing glucose to flow into the cells more quickly than normal.
Lorenzo wondered if the same mechanism held true for other known human mutations of ankyrin-B. Variants in ankyrin-B are carried by 1.3% of Caucasians and 8.4% of African Americans, accounting for millions of people in the U.S. alone. Lorenzo cultured fat cells carrying these variants and found that they too sucked up glucose at a higher rate. The disease seems to originate in fat tissue, though it likely has effects elsewhere in the body.
"We found that mice can become obese without eating more, and that there is an underlying cellular mechanism to explain that weight gain," Bennett said. "This gene could enable us to identify at-risk individuals who should watch what kind of calories they eat and exercise more in order to keep their body weight under control."
But first, Bennett says their findings in the laboratory must be confirmed in the general population. To do so, the researchers will need to identify individuals with ankyrin-B variants, and then assess family histories, height and weight, and characteristic physiological traits as well as glucose metabolism, to determine the impact of these variants on human health. The team's latest study appears in the journal Proceedings of the National Academy of Sciences.
---
• Follow us on Twitter
• Follow us on Facebook
• Subscribe to us on YouTube
16th November 2017
New helium-resistant materials could make fusion energy a reality
Researchers have found a way of protecting the materials in fusion reactors from degradation caused by helium, using nanocomposite solids.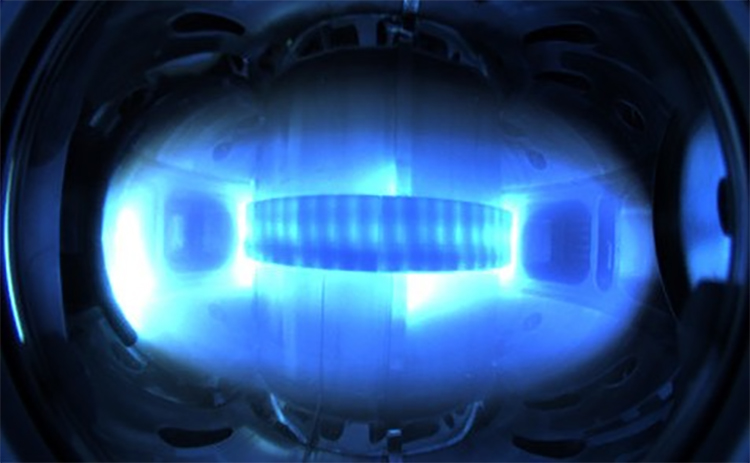 Fusion is the process that powers the Sun. Harnessing it on Earth would provide unlimited clean energy. However, constructing a fusion power plant has proven to be a daunting task, in part because no materials can adequately withstand the conditions found in a reactor core. Now, researchers at Texas A&M University have discovered a way to use materials that may be suitable.
The Sun makes energy by fusing hydrogen atoms – each with one proton – into helium atoms with two protons. Helium is the by-product of this reaction. Although it does not threaten the environment, it wreaks havoc upon the materials needed to make a fusion reactor.
"Helium is an element that we don't usually think of as being harmful," said Dr. Michael Demkowicz, associate professor in the Department of Materials Science and Engineering. "It is not toxic and not a greenhouse gas, which is one reason why fusion power is so attractive."
However, if you force helium inside a solid material, it bubbles out, much like carbon dioxide bubbles in carbonated water.
"Literally, you get these helium bubbles inside of the metal that stay there forever because the metal is solid," Demkowicz said. "As you accumulate more and more helium, the bubbles start to link up and destroy the entire material."
Working with researchers at Los Alamos National Laboratory in New Mexico, Demkowicz investigated how helium behaves in nanocomposite solids – materials stacked into thick metal layers. Their findings, recently published in Science Advances, were a surprise. Rather than making bubbles, the helium in these materials formed long channels, resembling veins in living tissues.
"We were blown away by what we saw," Demkowicz said. "As you put more and more helium inside these nanocomposites, rather than destroying the material, the veins actually start to interconnect, resulting in kind of a vascular system."
This discovery paves the way to helium-resistant materials needed to make fusion energy a reality. Demkowicz and his collaborators believe that helium may move through the networks of veins that form in their nanocomposites, eventually exiting the material without causing any further damage.
"Applications to fusion reactors are just the tip of the iceberg," Demkowicz said. "I think the bigger picture here is in vascularized solids, ones that are kind of like tissues with vascular networks. What else could be transported through such networks? Perhaps heat or electricity or even chemicals that could help the material self-heal."
---
• Follow us on Twitter
• Follow us on Facebook
• Subscribe to us on YouTube
15th November 2017
The first "digital pill" is approved by the FDA
The FDA has approved "Abilify MyCite" – the first drug in the U.S. with a digital ingestion tracking system. This can record when the medication was taken, via a sensor embedded in the pill.
The U.S. Food and Drug Administration (FDA) has this week approved the first drug in the U.S. with a digital ingestion tracking system. Abilify MyCite features an ingestible sensor embedded in the pill that records when medication is taken. The product is approved for the treatment of schizophrenia, acute treatment of manic and mixed episodes associated with bipolar I disorder and for use as an add-on treatment for depression in adults.
The system works by sending a message from the pill's sensor to a wearable patch. The patch transmits the information to a mobile application so that patients can track the ingestion of medication on their smartphone. The patch also records activity levels, sleeping patterns, steps taken, activity and heart rate. Patients can permit their doctor and up to four other people including family members to access the data through a web-based portal.
The sensor itself is made of silicon, copper and magnesium. It produces an electrical signal that is activated upon contact with stomach acid; the sensor then passes through the body naturally.
"Being able to track ingestion of medications prescribed for mental illness may be useful for some patients," said Mitchell Mathis, M.D., a director at the FDA's Center for Drug Evaluation and Research. "The FDA supports the development and use of new technology in prescription drugs and is committed to working with companies to understand how technology might benefit patients and prescribers."
Abilify MyCite was developed in a joint collaboration between Japanese pharmaceutical company Otsuka (which makes the oral aripiprazole tablets) and California-based Proteus (which created the sensor). The pill could help to reduce the problem of non-adherence to prescriptions, which is estimated to cost $100bn in the U.S. each year. It will be particularly useful for elderly people with failing memories to ensure they are taking their drugs properly.
"The approval of Abilify MyCite – the first digital medicine system – means that for the first time in my years of experience as a psychiatrist, there is an innovative way to provide individuals with serious mental illness, and selected members of their families and care teams, with information on objective medication taking patterns to help inform the patient's illness management and personalised treatment plan. This allows the opportunity for an open dialogue with the patient," said John Kane, MD, Vice President for Behavioural Health Services at Northwell Health, New York. "Until now, pharmacologic therapy for serious mental illness has been missing a systematic approach to objectively track and signal that a patient has taken their drug."
"The time is right for the category of Digital Medicines to be available to patients with serious mental illness," said Andrew Thompson, CEO of Proteus. "Consumers already manage important tasks like banking, shopping, and communicating with friends and family by using their smartphones, as they go about their daily lives. With this FDA approval, we can help enable individuals with serious mental illness to engage with their care team about their treatment plan in a new way."
Proteus raised around $400 million from investors to bring its sensor to commercial use. Otsuka has not yet revealed a price for Abilify MyCite, which will be rolled out during 2018, initially to a limited number of health plans. This approval is likely to result in many more "digital pills" for other conditions besides mental health. The FDA is planning to hire more staff with a "deep understanding" of software development in relation to medical devices and engage with entrepreneurs on new guidelines.
---
• Follow us on Twitter
• Follow us on Facebook
• Subscribe to us on YouTube
13th November 2017
Global CO2 emissions hit record high
After a three-year plateau, global emissions of carbon dioxide (CO2) have risen again, dashing hopes that a peak might soon be reached.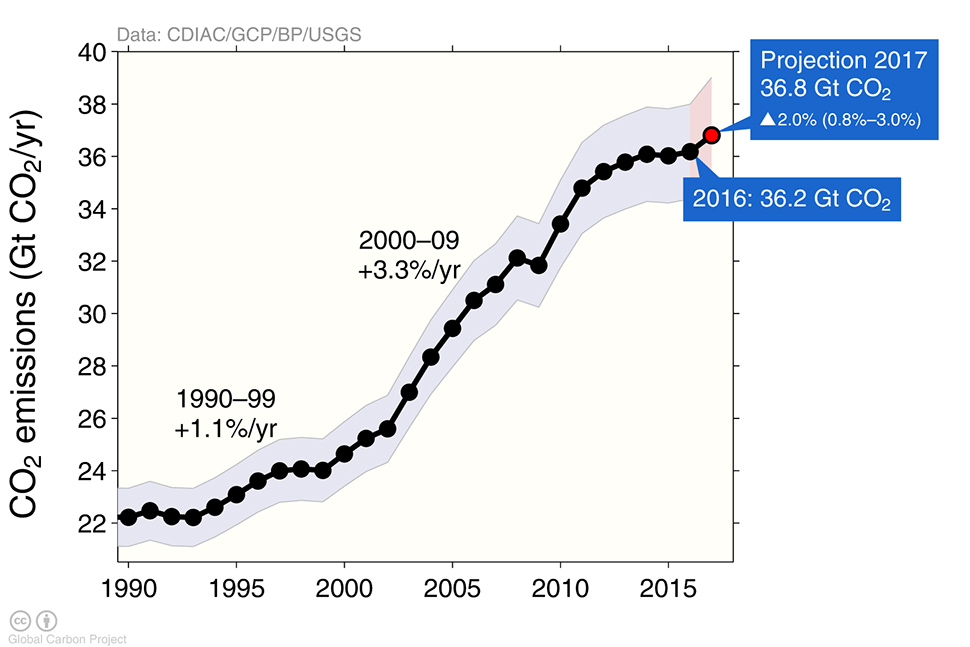 Global carbon emissions are on the rise again in 2017 after three years of little-to-no growth, according to researchers at the University of East Anglia and the Global Carbon Project. It was previously hoped that emissions might soon reach a peak after three stable years, so the new projection for 2017 is an unwelcome message for policy makers and delegates at the UN Climate Change Conference (COP 23) in Bonn this week.
The research, published simultaneously in the journals Nature Climate Change, Earth System Science Data Discussions and Environmental Research Letters, reveals that human emissions of CO2 will reach 36.8 gigatonnes (Gt) in 2017, following a projected 2% rise in burning fossil fuels.
The figures point to China as the main cause of the renewed growth in emissions – with a projected growth of 3.5%. CO2 emissions are expected to decline by 0.4% in the US and 0.2% in the EU, smaller declines than during the previous decade. Increases in coal use in China and the US are expected this year, reversing their decreases since 2013.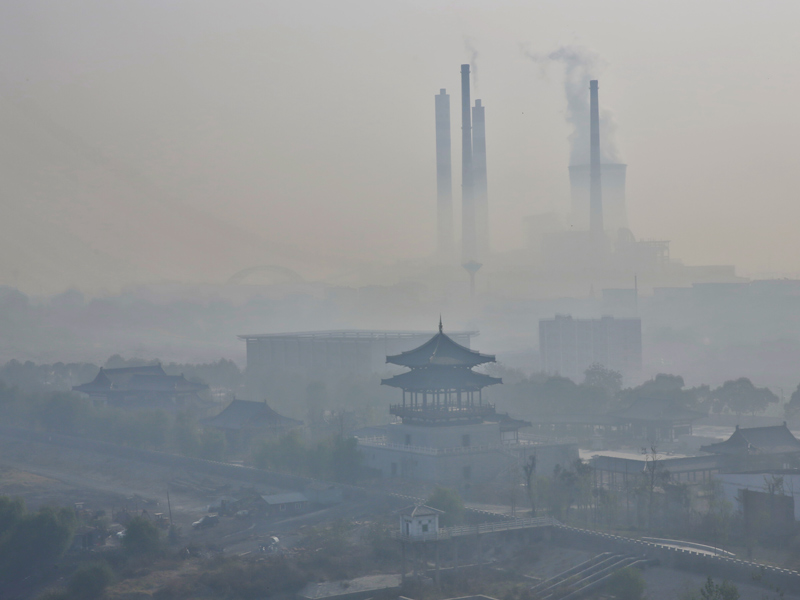 "Global CO2 emissions appear to be going up strongly once again after a three year stable period. This is very disappointing," said the lead researcher, Professor Corinne Le Quéré, director of the Tyndall Centre for Climate Change Research, UK. "Time is running out on our ability to keep warming well below 2°C let alone 1.5°C.
"This year, we have seen how climate change can amplify the impacts of hurricanes with more intense rainfall, higher sea levels and warmer ocean conditions favouring more powerful storms. This is a window into the future. We need to reach a peak in global emissions in the next few years and drive emissions down rapidly afterwards to address climate change and limit its impacts."
This announcement follows recent news from the World Meteorological Organisation that the atmospheric CO2 concentration reached 403ppm in 2016 and is expected to increase by 2.5 ppm in 2017.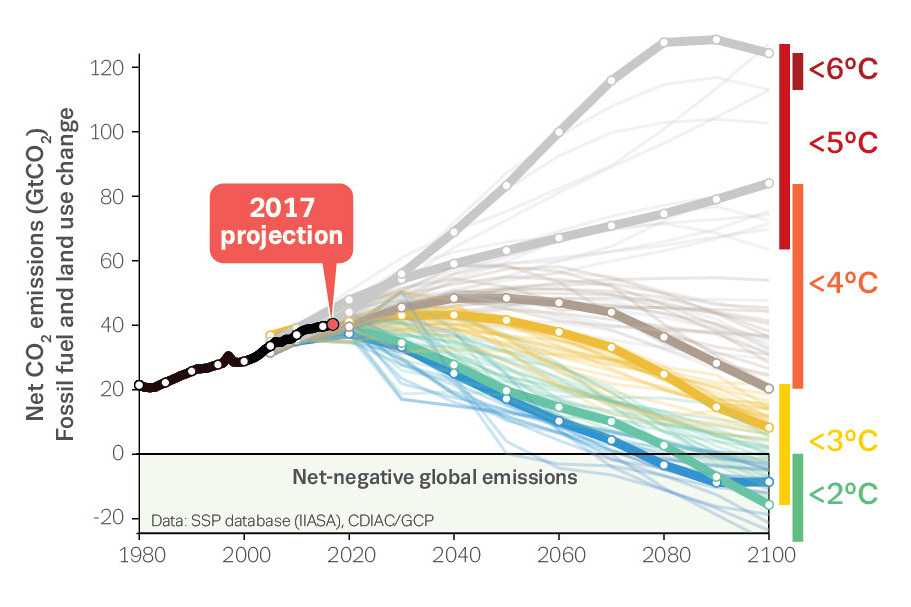 ---
• Follow us on Twitter
• Follow us on Facebook
• Subscribe to us on YouTube
11th November 2017
New drug 'melts away' fat inside arteries
Researchers from the University of Aberdeen report that a single dose of the drug Trodusquemine can "melt away" fat inside mouse arteries.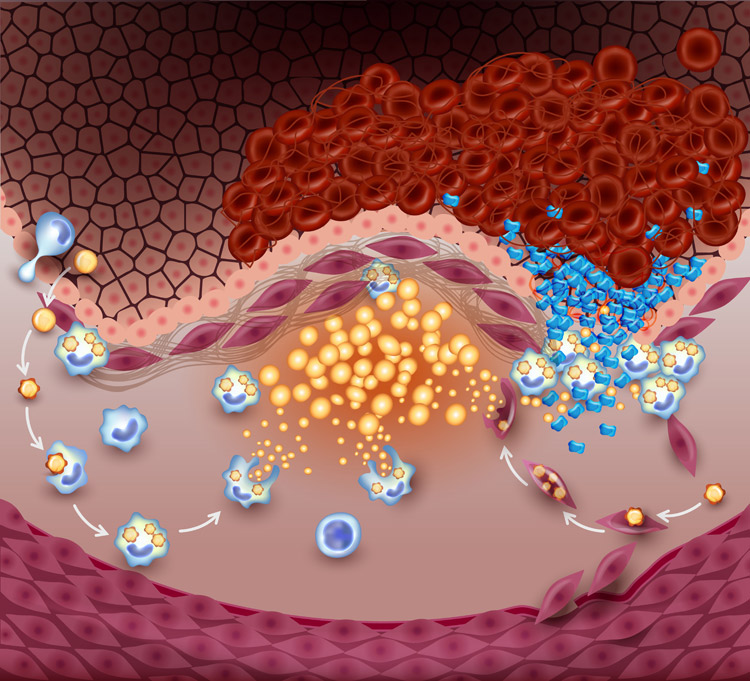 A drug being trialled for treating breast cancer and diabetes has been shown to 'melt away' the fat inside arteries that can cause heart attacks and strokes. Researchers from the University of Aberdeen, using pre-clinical mouse models, showed that just a single dose of the drug (Trodusquemine) completely reversed the effects of a disease that causes a host of heart problems.
Atherosclerosis is the build-up of fatty material inside the arteries. Over time, this fatty material can grow bigger until your arteries become so narrow that not enough blood can pass through. Atherosclerosis is the most common condition that causes heart attacks and strokes.
In pre-clinical tests, mice with set-in atherosclerosis – mimicking what happens in humans – had less fatty plaques in their arteries whether they had regular doses over time or just a single dose of Trodusquemine.
The drug works by stopping an enzyme called PTP1B, which is normally increased in people with obesity or diabetes and conditions involving prolonged inflammation such as sepsis, inflamed diabetic foot ulcers and allergic lung inflammation. The researchers found that it also stimulated the action of another protein (AMPK), which effectively mimics exercise and reduces chronic inflammation. It has already been shown to be effective with diabetes and breast cancer patients, but this is the first time the drug has been shown to have benefits for long-term cardiovascular disease.
Professor Mirela Delibegovic and Dr Dawn Thompson from the University of Aberdeen's Institute of Medical Sciences who led the study said: "All humans have some level of atherosclerosis. As you age, you start to develop these fatty streaks inside your arteries. It is a big problem for people who are overweight or have underlying cardiovascular conditions."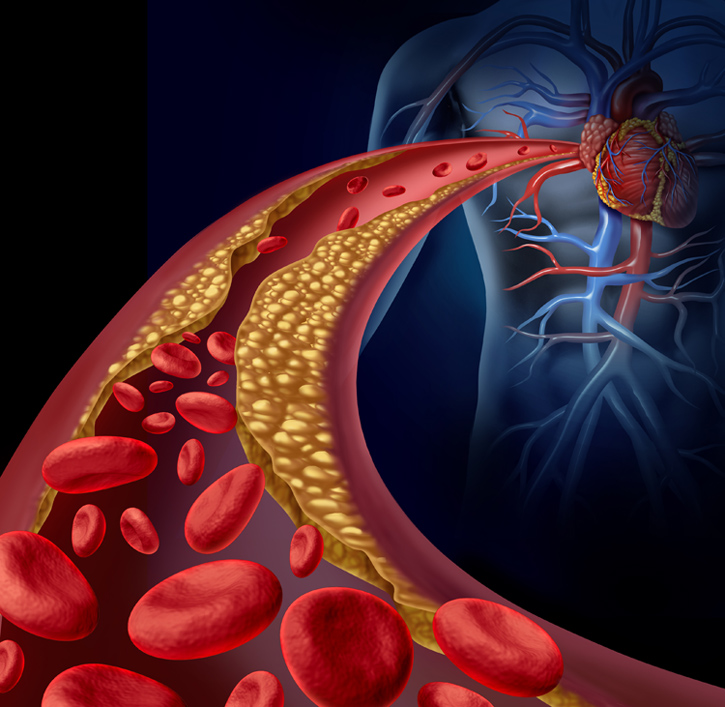 "Trodusquemine has already been trialled for treatment of diabetes and breast cancer, but this is the first time it has been used in models of atherosclerosis. These have only been tested at pre-clinical level, in mice, so far – but the results were quite impressive and showed that just a single dose of this drug seemed to completely reverse the effects of atherosclerosis. The next step is to test the ability of this drug to improve outcomes in human patients with developed atherosclerosis and cardiovascular disease."
Professor Jeremy Pearson, Associate Medical Director at the British Heart Foundation, said: "Trodusquemine is in early clinical trials for the treatment of diabetes. This study shows it can also limit the build-up of fatty atherosclerotic plaques in mice. If we see the same effect in patients, the drug may prove even more useful than currently hoped for."
Atherosclerosis generally starts when a person is young and worsens with age. Almost all people are affected to some degree by the age of 65. It is the number one cause of death and disability in the developed world. If successfully trialled in humans, this new drug, alongside other treatments, may help in reducing deaths from cardiovascular disease to negligible levels by the 2040s, as predicted on our timeline.
---
• Follow us on Twitter
• Follow us on Facebook
• Subscribe to us on YouTube
8th November 2017
Old human cells rejuvenated in aging breakthrough
In yet another breakthrough for aging research, a new way to rejuvenate old cells in the laboratory has been discovered, making them not only look younger, but start to behave more like young cells.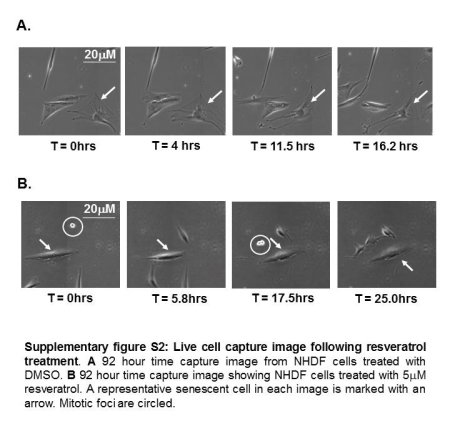 Researchers at the University of Exeter have found a new way to rejuvenate inactive senescent cells. Within hours of treatment, the older cells started to divide and had longer telomeres – the "caps" on the ends of chromosomes that shorten as we age. This discovery builds on earlier findings from the Exeter group that showed how a class of genes called "splicing factors" are progressively switched off as we age. The Exeter team, working with Professor Richard Faragher and Dr Elizabeth Ostler from the University of Brighton, found that splicing factors can be switched back on with chemicals, making senescent cells not only look physically younger, but start to actually behave more like young cells and start dividing.
The researchers applied compounds called resveratrol analogues – chemicals based on a substance naturally found in red wine, dark chocolate, red grapes and blueberries – to cells in culture. These chemicals caused splicing factors to be switched back on. Within hours, the cells looked younger and started to rejuvenate, behaving like young cells and dividing.
The researchers say their discovery could lead to therapies for helping people age better, without experiencing some of the degenerative effects of getting old. Most people by the age of 85 have experienced some kind of chronic illness, and as people get older they are more prone to stroke, heart disease and cancer.
"This is a first step in trying to make people live normal lifespans, but with health for their entire life," said Lorna Harries, Professor of Molecular Genetics at the University of Exeter. "Our data suggests that using chemicals to switch back on the major class of genes that are switched off as we age might provide a means to restore function to old cells."
Dr Eva Latorre, Research Associate at the University of Exeter, was surprised by the extent and rapidity of the changes in the cells: "When I saw some of the cells in the culture dish rejuvenating, I couldn't believe it. These old cells were looking like young cells. It was like magic. I repeated the experiments several times and in each case, the cells rejuvenated. I am very excited by the implications and potential for this research."
As we age, our tissues accumulate senescent cells. These are alive, but do not grow or function as they should. These old "zombie cells" lose the ability to correctly regulate the output of their genes. This is one reason why tissues and organs become susceptible to disease as we age. When activated, genes make a message giving instructions for the cell to behave in a certain way. Most genes can make more than one message, which determines how the cell acts.
Splicing factors are crucial in ensuring that genes perform their full range of functions. One gene can send out several messages to the body – such as the decision whether or not to grow new blood vessels – and splicing factors decide which message to send. As people age, the splicing factors tend to work less efficiently or not at all, restricting the ability of cells to respond to challenges in their environment. Senescent cells, which can be found in most organs from older people, also have fewer splicing factors.
Professor Harries added: "This demonstrates that when you treat old cells with molecules that restore the levels of the splicing factors, the cells regain some features of youth. They are able to grow, and their telomeres – caps on the ends of the chromosomes that shorten as we age – are now longer, as they are in young cells. Far more research is needed now to establish the true potential for these sort of approaches to address the degenerative effects of aging."
"At a time when our capacity to translate new knowledge about the mechanisms of aging into medicines and lifestyle advice is limited only by a chronic shortage of funds, older people are ill-served by self-indulgent science fiction," said Professor Richard Faragher of the University of Brighton. "They need practical action to restore their health and they need it yesterday. Our discovery of cell rejuvenation using these simple compounds shows the enormous potential of aging research to improve the lives of older people."
The team's paper is published in the journal BMC Cell Biology.
---
• Follow us on Twitter
• Follow us on Facebook
• Subscribe to us on YouTube
7th November 2017
Brain device boosts learning in monkeys by 40%
Scientists funded by DARPA have developed a non-invasive cap that stimulates parts of the brain via electrical currents and is shown to improve the learning abilities of macaques. In the not-too-distant future, this technology could be used by humans.
Researchers from HRL Laboratories (California), McGill University (Montreal, Canada), and Soterix Medical (New York) have collaborated on a study of transcranial direct current stimulation (tDCS) in monkeys. Funded by the Defense Advanced Research Projects Agency (DARPA), their work is published in the peer-reviewed journal Cell.
tDCS is a form of neurostimulation that uses constant, low direct currents delivered via electrodes on the head. When these electrodes are placed in the region of interest, the current induces intracerebral current flow. This can increase or decrease neuronal excitability in the specific area being stimulated, based on which type of stimulation is used. The change of neuronal excitability alters brain function, which can be used in therapies as well as to provide more information about the functioning of the human brain. In recent years, it has been used by neuroscientists to link specific brain regions to specific cognitive tasks or psychological phenomena. As of 2017, it has not yet been approved for medical use by the US FDA. It is, however, approved in Europe for treatment of major depressive disorder. The number of studies involving tDCS is growing exponentially.
In their experiments, the DARPA-funded team used tDCS on a group of macaques. They stimulated the prefrontal cortex at the front of the brain, an area known to be involved in complex processes like reason, logic, problem solving, planning and memory. The animals were made to perform a task based on associative learning. To obtain a reward, they had to learn associations between a visual cue and a location. The macaques would hunt for each reward after getting the visual cue.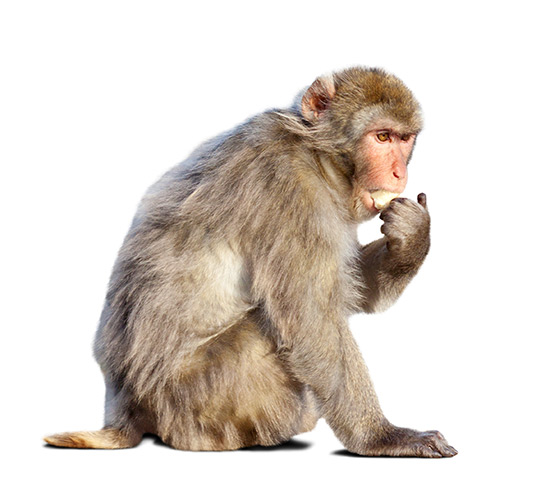 The initial foraging trials took around 15 seconds, and once the animal learned the location of the reward, it took approximately two seconds to recall and find the target. Subjects in a control group (i.e. without neurostimulation) needed an average of 22 trials to learn to obtain the reward immediately. With tDCS, however, they required an average of just 12 trials.
The results of these trials showed that overall, learning was accelerated by 40% when 2 milliamps (mA) were sent noninvasively to the prefrontal cortex without increased neuronal firing. The study showed it was modulated connectivity between brain areas – not the neuron firing rates – that accounted for the increased learning speed.
"In this experiment, we targeted the prefrontal cortex with individualised non-invasive stimulation montages," said Dr. Praveen Pilly, HRL's principal investigator on the study. "That is the region that controls many executive functions including decision-making, cognitive control, and contextual memory retrieval. It is connected to almost all the other cortical areas of the brain, and stimulating it has widespread effects. It is also the target of choice in most published behavioural enhancement studies and case studies with transcranial stimulation. We placed the tDCS electrodes on the scalp in both our control and stimulation conditions. The behavioural effect was revealed when they learned to find the reward faster."
"The improved long-range connectivity between brain areas in the high frequency bands and reduced connectivity in the low frequency bands were the determining factors in our study that could explain the learning improvements with tDCS of the prefrontal cortex," Pilly said. "Just because neurons can be more brisk in their firing may not lead to changes in performance. Boosting memory function likely requires better coordination of task-relevant information across the cortex."
The team concludes: "These results are consistent with the idea that tDCS leads to widespread changes in brain activity and suggest that it may be a valuable method for cheaply and non-invasively altering functional connectivity in humans."
---
• Follow us on Twitter
• Follow us on Facebook
• Subscribe to us on YouTube
6th November 2017
Nestlé to source only cage-free eggs by 2025
Nestlé, the world's largest food and beverage company, with over 2000 brands in 191 countries, has announced that it will source only cage-free eggs for its products from 2025.
The decision comes amid growing concern over the use of battery cages, in which multiple animals are placed in extremely cramped conditions and often share a space just 16 inches wide. Hens can suffer high levels of stress and frustration, because they are unable to perform simple natural behaviours like walking, nesting, perching, stretching their wings, scratching the ground and foraging. A combination of high calcium demand for egg production and a lack of exercise can lead them to develop osteoporosis and bone fractures.
In the U.S. and Europe, Nestlé plans to make the transition by the end of 2020. Around 95% of eggs in the US are currently produced in battery cages. Conventional battery cages were banned in the European Union (EU) from 2012 after a 12-year phase-out. However, the EU Directive still allows for enriched or "furnished" cages to be used. Animal welfare organisations, such as Compassion in World Farming, have criticised this, calling for so-called enriched cages to be prohibited, as they believe they provide no significant or worthwhile welfare benefits compared with conventional battery cages.
For the rest of the Americas, the Middle East, Africa and Oceania, the Nestlé plan will happen by 2025, with the move in Asia to be completed in the same transition period, as conditions allow. The change will include all shell eggs and egg-based products (e.g. whole egg powder and liquid, egg white powder and liquid) directly sourced as ingredients.
"Switching to cage-free supplies worldwide requires time and investment," said Nestlé in a statement. "We will manage this in a sustainable and cost effective way during the implementation period, ensuring consumers continue to access affordable high quality foods throughout. We look forward to working with our suppliers, farmers, civil society and customers to drive progress."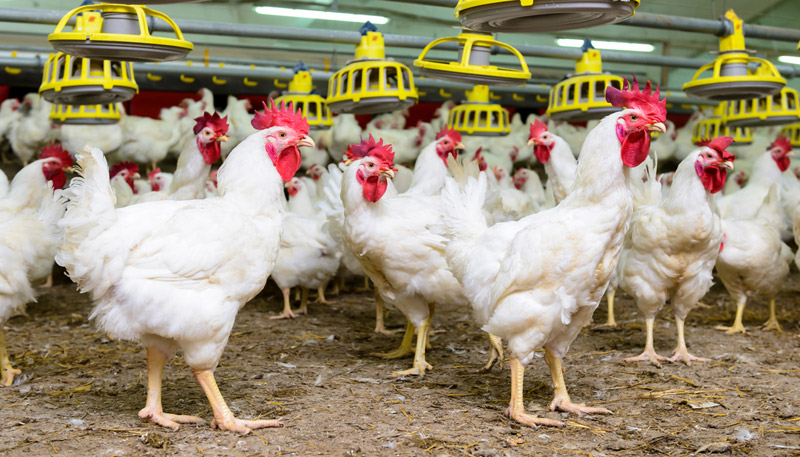 ---
• Follow us on Twitter
• Follow us on Facebook
• Subscribe to us on YouTube
3rd November 2017
Four genes linked to pancreatic cancer
Researchers have identified four genes responsible for how long patients survive with pancreatic cancer.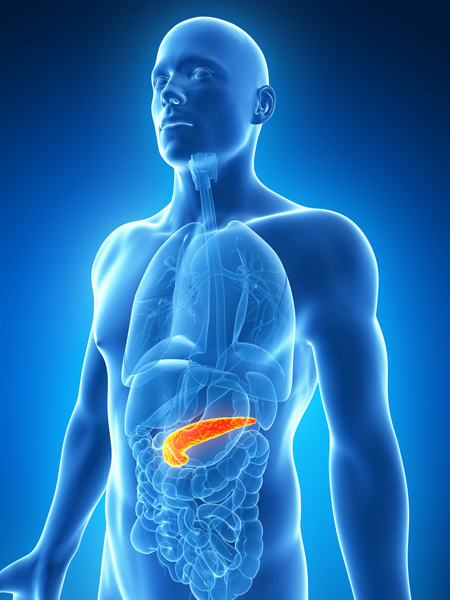 Alterations in four main genes are responsible for how long patients survive with pancreatic cancer, according to a new study in JAMA Oncology.
Until now, the presence and patterns between the genes and disease progression was not clearly established. One key difference in this study is the relatively large size: it involved 356 patients, all with pancreatic adenocarcinoma (by far the most common type of pancreas tumour) that could be surgically removed. Ninety of the patients were treated at the University of Rochester Medical Center's Wilmot Cancer Institute; the others at Dana Farber/Brigham and Women's Cancer Center in Boston and Stanford Cancer Institute.
In all cases after the tumours were removed, scientists extracted DNA from the cancerous tissue and nearby normal tissue, and conducted next-generation DNA sequencing on the specimens.
The analysis centred on the activity of the KRAS, CDKN2A, SMAD4, and TP53 genes. Results showed that patients who had three or four of the altered genes had worse disease-free survival (time between surgery and when the cancer returns), and overall survival (from surgery to death), compared to patients with a single or two altered genes.
"This research helps us to understand how the molecular features of pancreatic cancer impact prognosis on an individual level and gives us more facts to guide patients, and importantly, to design future research studies," said study co-author Aram Hezel, M.D., a gastrointestinal cancer expert.
Pancreatic cancer is aggressive and generally has poor survival odds. Patients who can undergo surgery as part of treatment often survive longer and some patients fare best when they can receive chemotherapy prior to surgery. But having customised, molecular information will provide an even greater understanding of how the disease is likely to progress in each patient.
---
• Follow us on Twitter
• Follow us on Facebook
• Subscribe to us on YouTube
2nd November 2017
CO2 levels now highest in 3 million years
The World Meteorological Organisation (WMO) has announced that concentrations of CO2 in the Earth's atmosphere reached a record high of 403.3 parts per million (ppm) during 2016.

Concentrations of carbon dioxide in Earth's atmosphere surged at a record-breaking speed in 2016, according to the World Meteorological Organisation's Greenhouse Gas Bulletin. The abrupt changes in the atmosphere witnessed in the past 70 years are "without precedent", says the WMO, and the rate of increase in CO2 is nearly 100 times faster than during the end of the last ice age.
Globally averaged concentrations of CO2 reached 403.3 ppm in 2016 – up from 400.0 ppm in 2015 – caused by a combination of human activities and a strong El Niño event. Concentrations of CO2 are now 145% of pre-industrial (before 1750) levels.
"It is the largest increase we have ever seen in the 30 years we have had this network," said Dr Oksana Tarasova, chief of WMO's global atmosphere watch programme, in an interview with BBC News. "The largest increase was in the previous El Niño, in 1997-1998, and it was 2.7ppm; and now it is 3.3ppm. It is also 50% higher than the average of the last 10 years."
If CO2 and other greenhouse gases such as methane continue to rise rapidly, it has the potential to create "unprecedented changes in climate systems", leading to "severe ecological and economic disruptions," says the report.
The annual bulletin is based on observations from the WMO Global Atmosphere Watch Programme – a worldwide network that includes dozens of aircraft, ship and ground-based monitoring stations. These help to track the average level of greenhouse gases and serve as an early warning system for changes in the key atmospheric drivers of climate change.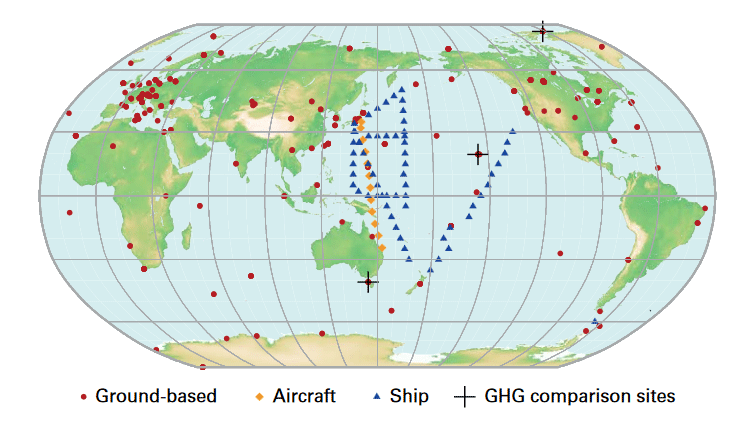 Population growth, intensified agricultural practices, expansion of land use and deforestation, industrialisation and associated energy use from fossil fuel sources have all contributed to increased greenhouse gases in the atmosphere since the industrial era, beginning in 1750.
Since 1990, there has been a 40% increase in total radiative forcing – the warming effect on our climate – by all long-lived greenhouse gases, and a 2.5% increase from 2015 to 2016 alone, according to figures in the bulletin.
"Without rapid cuts in CO2 and other greenhouse gas emissions, we will be heading for dangerous temperature increases by the end of this century, well above the target set by the Paris climate change agreement," said the WMO Secretary-General Petteri Taalas. "Future generations will inherit a much more inhospitable planet. CO2 remains in the atmosphere for hundreds of years and in the oceans for even longer. The laws of physics mean that we face a much hotter, more extreme climate in the future. There is currently no magic wand to remove this CO2 from the atmosphere."
As shown below, the last time Earth had a comparable CO2 concentration was 2.5 million years ago, if using boron isotopes, or 3.5 million years ago based on alkenone proxies. Back then, in the mid-Pliocene, the first bipedals had emerged and recently begun using stone tools. Average temperatures were up to 3°C warmer than now, while the average sea level was up to 20 metres higher. The Greenland and West Antarctic ice sheets had melted and even a chunk of the East Antarctic ice was lost.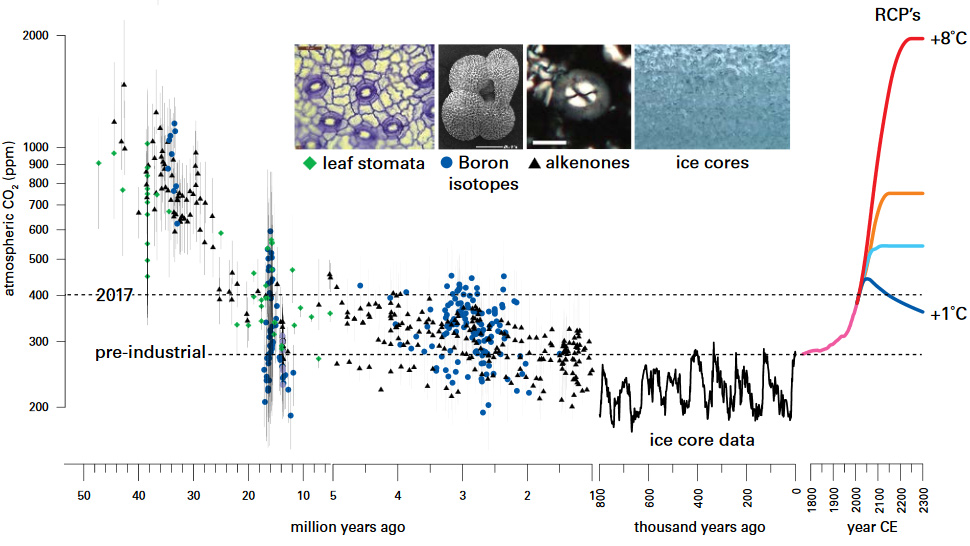 A separate Emissions Gap Report by the UN Environment Programme, released on 31st October, tracks the policy commitments made by countries to reduce greenhouse gas emissions. The report analyses how these policies will translate into emissions reductions through 2030, clearly outlining the emissions gap and what it would take to bridge it.
"The numbers don't lie. We are still emitting far too much and this needs to be reversed," said Erik Solheim, head of UN Environment. "The last few years have seen enormous uptake of renewable energy – but we must now redouble our efforts to ensure these new low-carbon technologies are able to thrive. We have many of the solutions already to address this challenge. What we need now is global political will and a new sense of urgency."
"The 3ppm CO2 growth rate in 2015 and 2016 is extreme – double the rate in the 1990-2000 decade," said Prof Euan Nisbet, University of London. "It is urgent that we follow the Paris agreement and switch rapidly away from fossil fuels. There are signs this is beginning to happen, but so far the air is not yet recording the change."
---
• Follow us on Twitter
• Follow us on Facebook
• Subscribe to us on YouTube
1st November 2017
New efficiency record for quantum dot solar cells
Researchers at the U.S. Department of Energy's (DOE) National Renewable Energy Laboratory (NREL) have set a new world efficiency record for quantum dot solar cells, at 13.4 percent.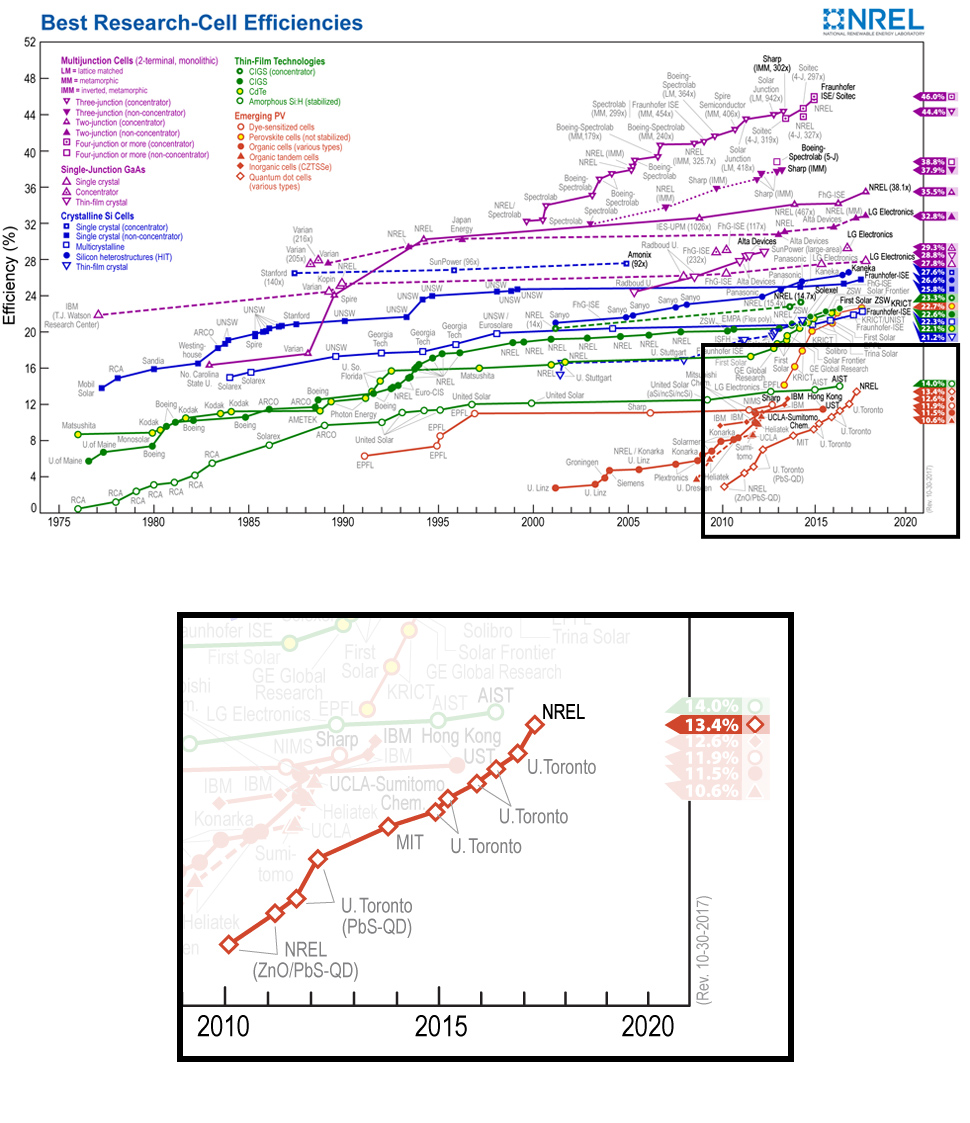 Colloidal quantum dots are electronic materials and because of their astonishingly small size (typically 3-20 nanometres in diameter) they possess fascinating optical properties. Quantum dot solar cells emerged in 2010 as the newest technology on an NREL chart that tracks research efforts to convert sunlight to electricity with increasing efficiency. The first lead sulfide quantum dots, illustrated below, had an efficiency of 2.9 percent. Since then, rapid improvements have pushed that number into double digits. Progress from the initial low efficiency came from better understanding of the connectivity between individual quantum dots, better overall device structures and the prevention of defects in each dot.
The latest development in quantum dot solar cells, however, comes from a completely different material. The new quantum dot leader is cesium lead triiodide (CsPbI3), and is within the recently emerging family of halide perovskite materials. In quantum dot form, CsPbI3 produces an exceptionally large voltage (about 1.2 volts) at open circuit.
"This voltage, coupled with the material's bandgap, makes them an ideal candidate for the top layer in a multijunction solar cell," explains Joseph Luther, senior scientist and project leader in the Chemical Materials and Nanoscience team at NREL. The top cell must be highly efficient but transparent at longer wavelengths to allow that portion of sunlight to reach lower layers. Tandem cells can deliver a higher efficiency than conventional silicon solar panels that dominate today's solar market.
The multijunction approach is often used for space applications where high efficiency is more critical than the cost to make a solar module. The quantum dot perovskite materials developed by Luther and the NREL/University of Washington team could be paired with cheap thin-film perovskite materials to achieve similar high efficiency as demonstrated for space solar cells, but built at even lower costs than silicon technology – making them ideal for both terrestrial and space applications.
"Often, the materials used in space and rooftop applications are totally different. It is exciting to see possible configurations that could be used for both situations," said Erin Sanehira a doctoral student at the University of Washington who conducted research at NREL.
This latest advance, titled "Enhanced mobility CsPbI3 quantum dot arrays for record-efficiency, high-voltage photovoltaic cells," is published in the journal Science Advances.
---
• Follow us on Twitter
• Follow us on Facebook
• Subscribe to us on YouTube