14th May 2015
"Substantial" El Niño predicted for 2015
The Australian Government's Bureau of Meteorology has confirmed that the tropical Pacific is in the early stages of an El Niño that is likely to persist in the coming months.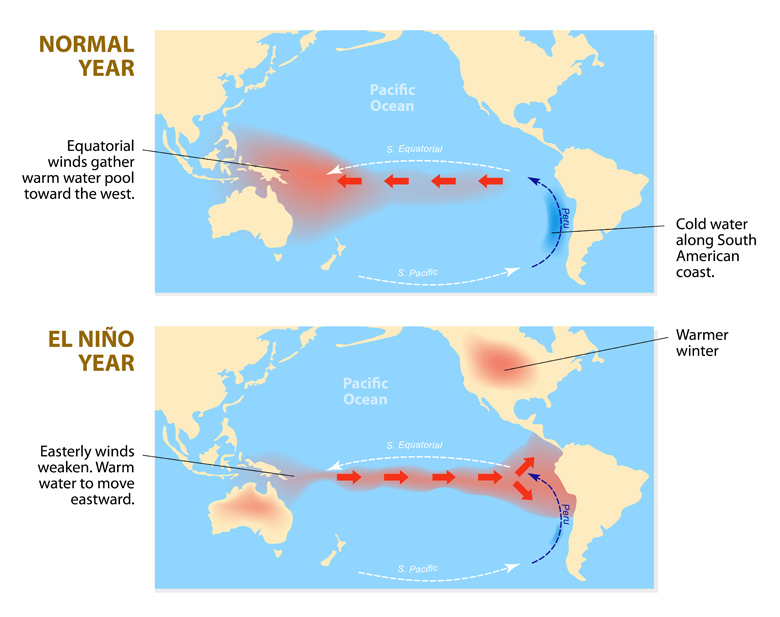 The tropical Pacific is now in the early stages of an El Niño. Based upon the model outlooks and current observations, the Bureau's ENSO Tracker has been raised to El Niño status.
El Niño–Southern Oscillation (ENSO) indicators have shown a steady trend towards El Niño levels since the start of the year. Sea surface temperatures in the tropical Pacific Ocean have exceeded El Niño thresholds for the past month, supported by warmer-than-average waters below the surface. Trade winds have remained consistently weaker than average since the start of the year, cloudiness at the Date Line has increased and the Southern Oscillation Index (SOI) has remained negative for several months. These indicators suggest the tropical Pacific Ocean and atmosphere have started to couple and reinforce each other, indicating El Niño is likely to persist in the coming months. Pacific Ocean temperatures are likely to remain above El Niño thresholds through the coming southern winter and at least into spring.
"This is a proper El Niño effect – not a weak one," David Jones, manager of climate monitoring and prediction, told reporters. "You know, there's always a little bit of doubt when it comes to intensity forecasts, but across the models as a whole we'd suggest that this will be quite a substantial El Niño event."
The last El Niño was observed during 2009–10. A very strong El Niño has not occurred since 1997–98. It was during 1998 that global average temperatures spiked to an unprecedented high. Since then, average temperatures have continued to rise, with 2014 being the hottest year on record even in the absence of significant El Niño conditions. According to Jones, this means there is a "significant probability" that 2015 will top 2014 as the hottest year globally. Seven of the ten warmest years occurred during El Niño years.
"The most obvious thing we know is that El Niño events tend to lead to drier winter and spring periods [in Australia]," Jones explained. "There is an increased risk of drought, which obviously isn't good for people already in drought. Australian temperatures are already warming – and El Niño tends to give those temperatures a boost – so we'd expect winter, spring and even early summer to have well above average daytime temperatures."
Australia is among the regions most dramatically affected by the recurring weather phenomenon, but its effects are felt around the world. South America is hit by heavy rains and floods, while the USA experiences warmer winters. In Africa and parts of Asia, scorching temperatures can lead to rises in the price of commodities such as rice, corn and palm oil. Additional health and social impacts include the increased spread of diseases, especially those which are transmitted by mosquitoes. In Europe, the snowy UK winter of 2009–10 was thought to be an effect of El Niño.
In general, developing countries dependent upon agriculture and fishing, particularly those bordering the Pacific Ocean, are likely to be worst affected. Research by Columbia University suggests that ENSO may have had a role in 21% of all civil conflicts since 1950, with the risk of annual civil conflict doubling from 3% to 6% in countries affected by ENSO during El Niño years, relative to La Niña years.
During the last several decades, the frequency and intensity of El Niño events has increased. This is most likely linked to global warming and the increasing level of greenhouse gases in the atmosphere – although a longer period of observation is needed to confirm this. Scientists have theorised that permanent El Niño conditions may emerge when global average temperatures increase by 3°C (5.4°F).
8th May 2015
Monthly average CO2 is at 400ppm and rising
Atmospheric CO2 remained above 400 parts per million (ppm) through March 2015, the first time it has been at this level for an entire month, according to the National Oceanic and Atmospheric Administration (NOAA). The current concentration of greenhouse gases is the highest it has been for millions of years.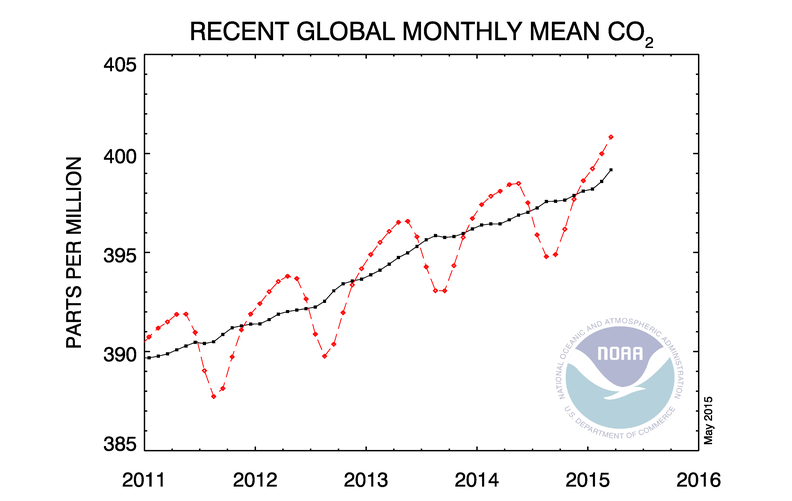 "It was only a matter of time that we would average 400 parts per million globally," says Pieter Tans, lead scientist of NOAA's Global Greenhouse Gas Reference Network. "We first reported 400 ppm when all of our Arctic sites reached that value in the spring of 2012. In 2013, the record at NOAA's Mauna Loa Observatory first crossed the 400 ppm threshold. Reaching 400 parts per million as a global average is a significant milestone.
"This marks the fact that humans burning fossil fuels have caused global carbon dioxide concentrations to rise more than 120 parts per million since pre-industrial times," he adds. "Half of that rise has occurred since 1980."
NOAA bases the global CO2 concentration on air samples taken from 40 sites around the world. NOAA and partner scientists collect air samples in flasks while standing on cargo ship decks, on the shores of remote islands, and other isolated locations. It takes some time after each month's end to compute this global average because samples are shipped for analysis at NOAA's Earth System Research Laboratory in Boulder, Colorado.
"We choose to sample at these sites because the atmosphere itself serves to average out gas concentrations that are being affected by human and natural forces. At these remote sites, we get a better global average," said Ed Dlugokencky, the NOAA scientist who manages the global network.
| | |
| --- | --- |
| | Patricio Eladio Rojas Ledezma, a meteorologist, collects air samples on Easter Island, Chile. |
The last time atmospheric levels of carbon dioxide were at 400ppm was during the mid-Pliocene, over 3 million years ago. Back then, our ancestors had brains about as big as those of modern chimps. They had only recently developed stone tools and were roaming the savannahs of Africa while being hunted by sabre-toothed cats. Average global temperatures in the mid-Pliocene were up to 3°C hotter than today, exceeding 10°C in the polar regions, with sea levels around 25m (82ft) higher. Many species of plants and animals were living several hundred kilometres further north of where their nearest relatives exist today.
On a geological timescale, the present rate of change in atmospheric CO2 level is unprecedented. During the ancient past, a rise of 10ppm might have taken 1,000 years or more. Today, human activity is adding that much every five years, as we overwhelm nature's ability to absorb it. On current trends, the world is on track for a doubling of greenhouse gas levels in the second half of this century – potentially causing 4 to 6°C of warming. This would lead to a radically altered planet with grave consequences for humanity.
Dr. James Butler, director of NOAA's Global Monitoring Division, explains that reversing the global CO2 level would be difficult because of its long lifetime: "Elimination of about 80 percent of fossil fuel emissions would essentially stop the rise in carbon dioxide in the atmosphere – but concentrations of carbon dioxide would not start decreasing until even further reductions are made and then it would only do so slowly."
1st May 2015
Revolutionary new energy storage system announced by Tesla
Tesla has revealed a new battery technology for homes and businesses, which provides a way to store energy from localised renewables and can function as a backup system during power outages.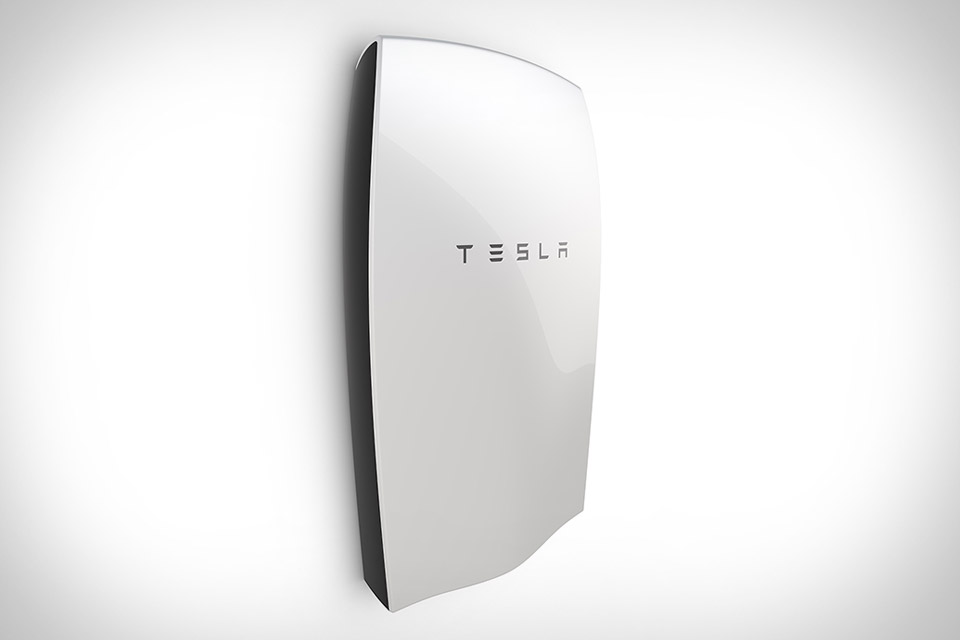 A major barrier to the widespread adoption of clean energy has been the intermittent nature of wind and solar. The Sun doesn't always shine, and the wind doesn't always blow – making it difficult or impossible to harness these resources on a 24-hour basis.
Elon Musk, CEO of electric vehicle firm Tesla Motors, yesterday unveiled a revolutionary new technology that can solve these issues. The Powerwall, pictured above, is a rechargeable lithium-ion battery product, intended primarily for home use. It stores electricity generated from rooftop solar panels, which can then be used for domestic consumption, load shifting, or backup power.
With a constant supply of renewable energy at a local scale, the Powerwall offers complete independence from the utility grid, meaning that customers no longer have to worry about expensive bills incurred during peak hours. If a utility company experiences a major outage, the Powerwall can serve as the home power supply instead, which is especially useful in areas prone to storms or unreliable grids. It also recharges electric vehicles more cheaply during night hours while surplus power can be flowed back to the grid when needed.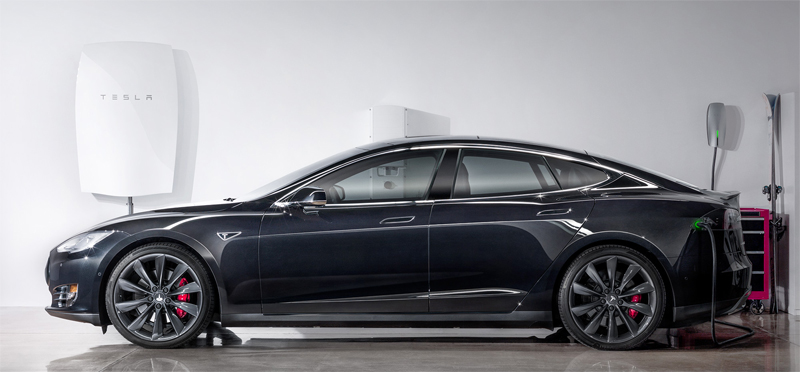 Tesla claims the Powerwall is fully automated, simple to install, and requires no maintenance. It is being marketed in two models: 10 kWh weekly cycle ($3,500) and 7 kWh daily cycle ($3,000) versions. Multiple batteries can be installed together for homes with greater energy needs; up to 90 kWh total for the 10 kWh battery and 63 kWh total for the 7 kWh battery. Both are rated for indoor and outdoor installation, and guaranteed for ten years.
The Powerwall begins shipping this summer. It will be sold to companies including SolarCity, which is running a pilot project in 500 California houses, using 10-kWh battery packs. Tesla is bullish about the prospects for batteries, electric vehicles and clean energy. The company is building a "gigafactory" to develop and expand these technologies at a large scale, with more factories to come in the future.
While the current price of the Powerwall may seem a little on the high side, analysts forecast a substantial decline in battery costs over the next decade and beyond, with a similar fall in solar panel costs. When combined with smart grids, the proliferation of this technology seems inevitable. As predicted on our future timeline, it is likely that home energy storage systems will be commonplace by 2030.
A much larger version of the Powerpack – described as an "infinitely scalable system" – will be made available for businesses and industrial applications. This will come in 100 kWh battery blocks, which can scale from 500 kWH, up to 1 GWh and even higher: "Our goal here is to change the way the world uses energy at an extreme scale," says Musk. You can watch his full keynote presentation (which was powered by solar energy) in the video below.