30th July 2014
Early signs that Earth is nearing a mass extinction
A new report from Stanford University warns that biodiversity is close to a tipping point that will lead to the next mass extinction.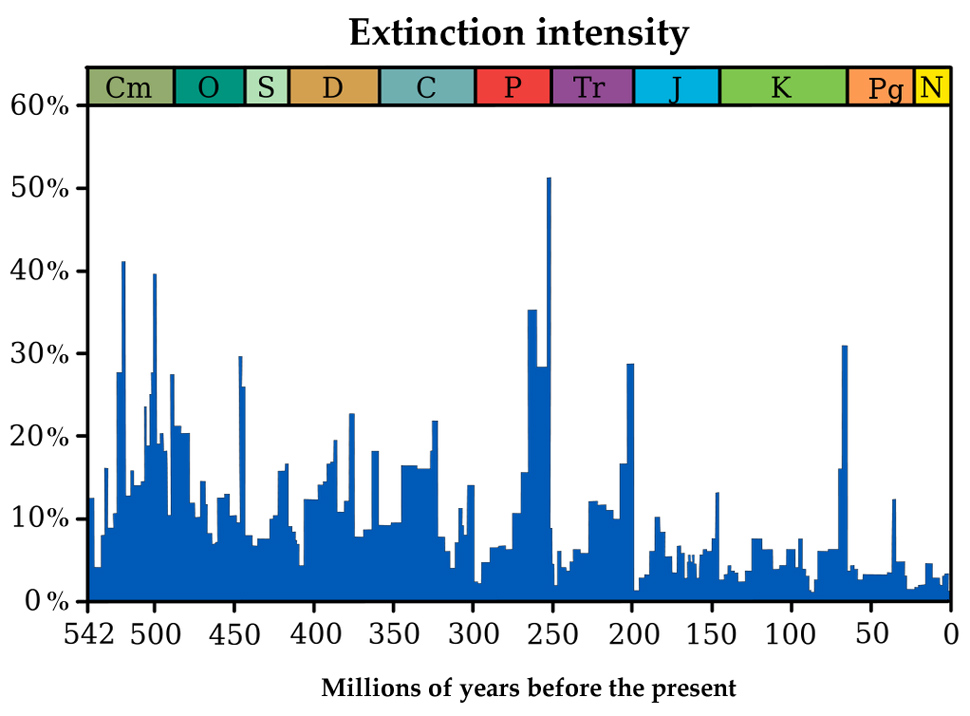 Earth's current biodiversity – the product of 3.5 billion years of evolutionary trial and error – is very high when looking at the long history of life. But it may be reaching a tipping point. In a review of scientific literature and data analysis published in Science, an international team of scientists cautions that the loss and decline of animals is contributing to what appears to be the early days of the planet's next mass extinction event.
Since 1500, over 320 terrestrial vertebrates have gone extinct. Populations of the remaining species show a 25 percent average decline in abundance. The situation is similarly dire for invertebrate animal life. And while previous extinctions have been driven by natural planetary transformations or catastrophic asteroid strikes, the current die-off can be associated to human activity – a situation that lead author Rodolfo Dirzo, professor of biology at Stanford University, calls an era of "Anthropocene defaunation."
Across vertebrates, up to 33 percent of all species are estimated to be globally threatened or endangered. Large animals – described as megafauna and including elephants, rhinoceroses, polar bears and countless other species worldwide – face the highest rates of decline, a trend that matches previous extinction events. Larger animals tend to have lower population growth rates and produce fewer offspring. They need larger habitat areas to maintain viable populations. Their size and meat mass make them easier and more attractive hunting targets for humans.
Although these species represent a relatively low percentage of the animals at risk, their loss would have trickle-down effects that could shake the stability of other species and, in some cases, even human health. For instance, previous experiments conducted in Kenya have isolated patches of land from megafauna such as zebras, giraffes and elephants, and observed how an ecosystem reacts to the removal of its largest species. Rather quickly, these areas become overwhelmed with rodents. Grass and shrubs increase and the rate of soil compaction decreases. Seeds and shelter become more easily available, and the risk of predation drops. Consequently, the number of rodents doubles – and so does the abundance of the disease-carrying ectoparasites that they harbour. If rats dominate ecosystems, they could evolve to giant sizes in the future, according to recent research.
"Where human density is high, you get high rates of defaunation, high incidence of rodents, and thus high levels of pathogens, which increases the risks of disease transmission," says Dirzo. "Who would have thought that just defaunation would have all these dramatic consequences? But it can be a vicious circle."
The scientists also detailed a troubling trend in invertebrate defaunation. Human population has doubled in the past 40 years; during the same period, the number of invertebrate animals – such as beetles, butterflies, spiders and worms – has decreased by 45 percent. As with larger animals, the loss is driven primarily by loss of habitat and global climate disruption, and could have trickle-up effects in our everyday lives. For instance, insects pollinate roughly 75 percent of the world's food crops, an estimated 10 percent of the economic value of the world's food supply. They also play critical roles in nutrient cycling and decomposing organic materials, which helps to ensure ecosystem productivity.
Dirzo says that the solutions are complicated. Immediately reducing rates of habitat change and overexploitation would help, but these approaches need to be tailored to individual regions and situations. He said he hopes that raising awareness of the ongoing mass extinction – and not just of large, charismatic species – and its associated consequences will help spur change.
"We tend to think about extinction as loss of a species from the face of Earth, and that's very important, but there's a loss of critical ecosystem functioning in which animals play a central role that we need to pay attention to as well," he said. "Ironically, we have long considered that defaunation is a cryptic phenomenon, but I think we will end up with a situation that is non-cryptic because of the increasingly obvious consequences to the planet and to human wellbeing."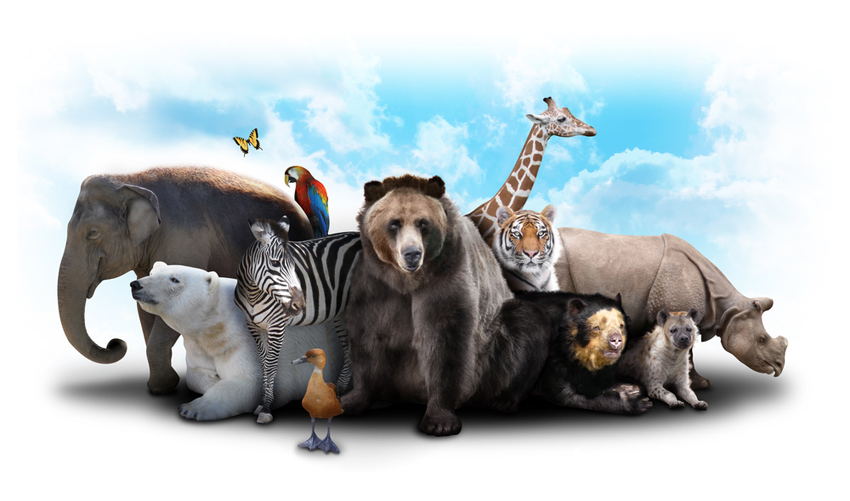 28th July 2014
Globally, June 2014 was the hottest June since records began in 1880. Experts predict that 2014 will be an El Niño year.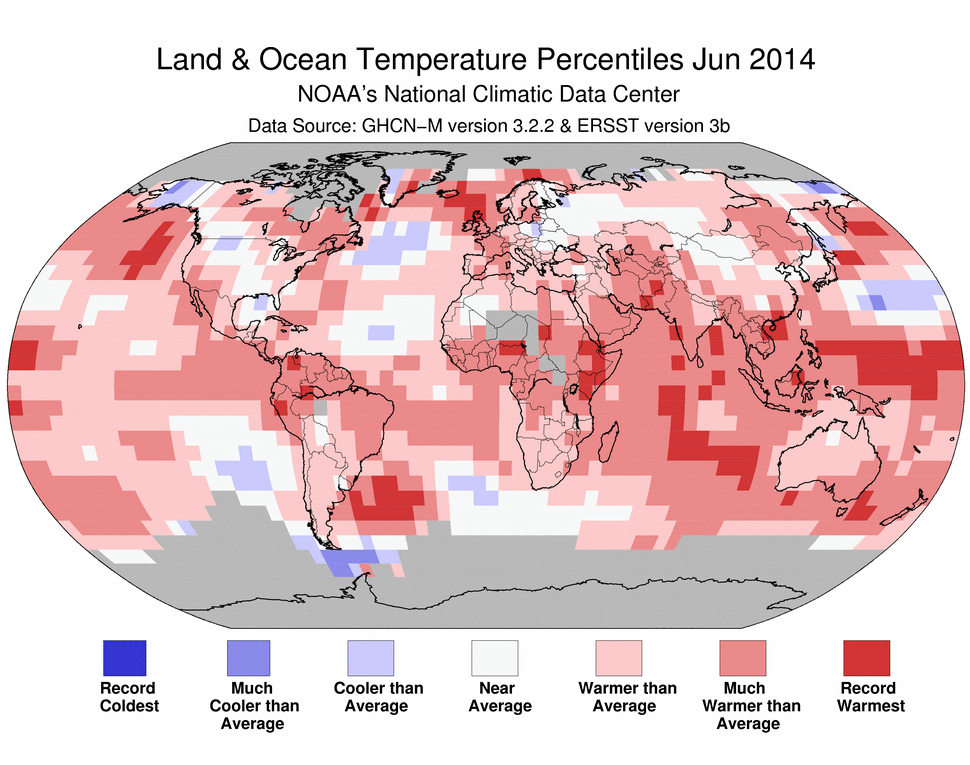 According to NOAA scientists, the globally averaged temperature over land and ocean surfaces for June 2014 was the highest for June since records began in 1880. This follows the hottest May on record the previous month. It also marked the 38th consecutive June and 352nd consecutive month with a global temperature above the 20th century average. The last below-average global temperature for June was in 1976 and the last below-average global temperature for any month was February 1985.
Most of the world experienced warmer-than-average monthly temperatures, with record warmth across part of southeastern Greenland, parts of northern South America, areas in eastern and central Africa, and sections of southern and southeastern Asia. Drought conditions in the southwest U.S. continued to worsen, with Lake Mead dropping to its lowest levels ever – triggering fears of major water shortages within the next several years. Australia saw nationally-averaged rainfall 32 percent below average and in Western Australia precipitation was 72 percent below average.
Ocean surface temperatures for June were 0.64°C (1.15°F) above the 20th century average of 16.4°C (61.5°F), the highest for June on record and the highest departure from average for any month. Notably, large parts of the western equatorial and northeast Pacific Ocean and most of the Indian Ocean were record warm or much warmer than average for the month. Although neither El Niño nor La Niña conditions were present across the central and eastern equatorial Pacific Ocean during June 2014, ocean waters in that region continued to trend above average. NOAA's Climate Prediction Centre estimates there is about a 70 percent chance that El Niño conditions will develop during Northern Hemisphere summer 2014 and 80 percent chance it will develop during the fall and winter.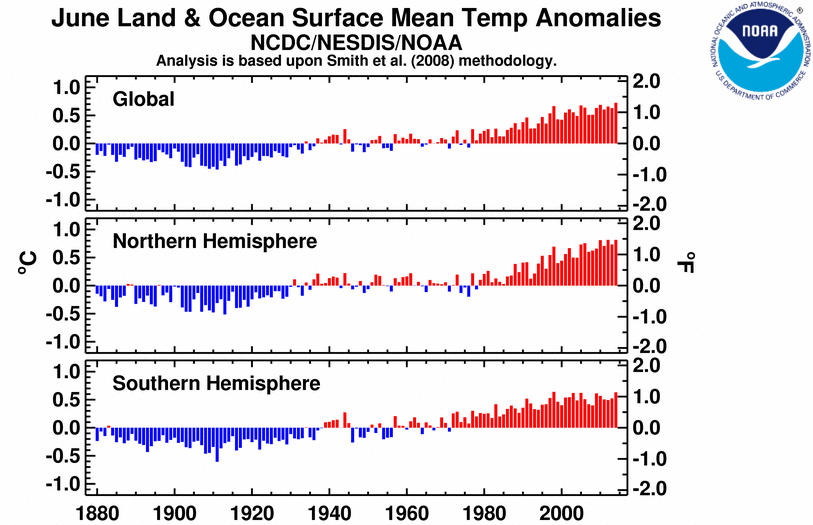 25th July 2014
Deep sea mining moves a step closer
With many of Earth's metals and minerals facing a supply crunch in the decades ahead, deep ocean mining could provide a way of unlocking major new resources. Amid growing commercial interest, the UN's International Seabed Authority has just issued seven exploration licences.
To build a fantastic utopian future of gleaming eco-cities, flying cars, robots and spaceships, we're going to need metal. A huge amount of it. Unfortunately, our planet is being mined at such a rapid pace that some of the most important elements face critical shortages in the coming decades. These include antimony (2022), silver (2029), lead (2031) and many others. To put the impact of our mining and other activities in perspective: on land, humans are now responsible for moving about ten times as much rock and earth as natural phenomena such as earthquakes, volcanoes and landslides. The UN predicts that on current trends, humanity's annual resource consumption will triple by 2050.
While substitution in the form of alternative metals could help, a longer term answer is needed. Asteroid mining could eventually provide an abundance from space – but a more immediate, technically viable and commercially attractive solution is likely to arise here on Earth. That's where deep sea mining comes in. Just as offshore oil and gas drilling was developed in response to fossil fuel scarcity on land, the same principle could be applied to unlock massive new metal reserves from the seabed. Oceans cover 72% of the Earth's surface, with vast unexplored areas that may hold a treasure trove of rare and precious ores. Further benefits would include:
• Curbing of China's monopoly on the industry. As of 2014, the country is sitting on nearly half the world's known reserves of rare earth metals and produces over 90% of the world's supply.
• Limited social disturbance. Seafloor production will not require the social dislocation and resulting impact on culture or disturbance of traditional lands common to many land-based operations.
• Little production infrastructure. As the deposits are located on the seafloor, production will be limited to a floating ship with little need for additional land-based infrastructure. The concentration of minerals is an order of magnitude higher than typical land-based deposits with a corresponding smaller footprint on the Earth's surface.
• Minimal overburden or stripping. The ore generally occurs directly on the seafloor and will not require large pre-strips or overburden removal.
• Improved worker safety. Operations will be mostly robotic and won't require human exposure to typically dangerous mining or "cutting face" activities. Only a hundred or so people will be employed on the production vessel, with a handful more included in the support logistics.
Interest in deep sea mining first emerged in the 1960s – but consistently low prices of mineral resources at the time halted any serious implementation. By the 2000s, the only resource being mined in bulk was diamonds, and even then, just a few hundred metres below the surface. In recent years, however, there has been renewed interest, due to a combination of rising demand and improvements in exploration technology.
The UN's International Seabed Authority (ISA) was set up to manage these operations and prevent them from descending into a free-for-all. Until 2011, only a handful of exploration permits had been issued – but since then, demand has surged. This week, seven new licences were issued to companies based in Brazil, Germany, India, Russia, Singapore and the UK. The number is expected to reach 26 by the end of 2014, covering a total area of seabed greater than 1.2 million sq km (463,000 sq mi).
Michael Lodge of the ISA told the BBC: "There's definitely growing interest. Most of the latest group are commercial companies so they're looking forward to exploitation in a reasonably short time – this move brings that closer."
So far, only licences for exploration have been issued, but full mining rights are likely to be granted over the next few years. The first commercial activity will take place off the coast of Papua New Guinea, where a Canadian company – Nautilus Minerals – plans to extract copper, gold and silver from hydrothermal vents. After 18 months of delays, this was approved outside the ISA system and is expected to commence in 2016. Nautilus has been developing Seafloor Production Tools (SPTs), the first of which was completed in April. This huge robotic machine is known as the Bulk Cutter and weighs 310 tonnes when fully assembled. The SPTs have been designed to work at depths of 1 mile (1.6 km), but operations as far down as 2.5 miles (4 km) should be possible eventually.
As with any mining activity, concerns have been raised from scientists and conservationists regarding the environmental impact of these plans, but the ISA says it will continue to demand high levels of environmental assessment from its applicants. Looking ahead, analysts believe that deep sea mining could be widespread in many parts of the world by 2040.
16th July 2014
Southern Australia in permanent drought:
40% less rainfall by late 21st century
Scientists at the National Oceanic and Atmospheric Administration (NOAA) have developed a new high-resolution climate model, showing that southwestern Australia's long-term decline in fall and winter rainfall is caused by manmade greenhouse gas emissions and ozone depletion.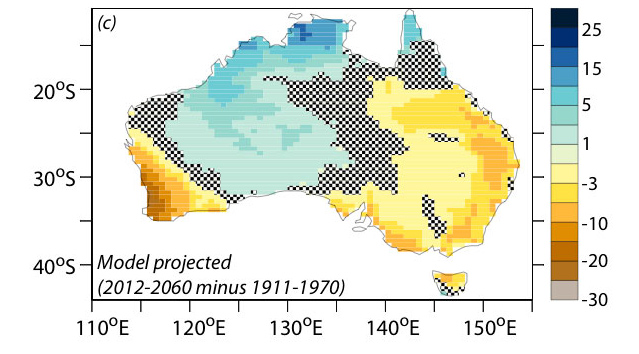 "This new high-resolution climate model is able to simulate regional-scale precipitation with considerably improved accuracy compared to previous generation models," said Tom Delworth, a research scientist at NOAA's Geophysical Fluid Dynamics Laboratory in Princeton, N.J., who helped develop the new model and is co-author of the paper. "This model is a major step forward in our effort to improve the prediction of regional climate change, particularly involving water resources."
NOAA researchers conducted several climate simulations using this global climate model to study long-term changes in rainfall in various regions across the globe. One of the most striking signals of change emerged over Australia, where a long-term decline in fall and winter rainfall has been observed over parts of southern Australia. Simulating natural and manmade climate drivers, scientists showed that the decline in rainfall is primarily a response to manmade increases in greenhouse gases as well as a thinning of the ozone caused by manmade aerosol emissions. Several natural causes were tested with the model, including volcano eruptions and changes in the sun's radiation. However, none of these natural drivers reproduced the long-term observed drying, indicating this trend is clearly due to human activity.
Southern Australia's decline in rainfall began around 1970 and has increased over the last four decades. The model projects a continued decline in winter rainfall throughout the rest of the 21st century, with significant implications for regional water resources. The drying is most severe over the southwest, predicted to see a 40 percent decline in average rainfall by the late 21st century.
"Predicting potential future changes in water resources, including drought, are an immense societal challenge," said Delworth. "This new climate model will help us more accurately and quickly provide resource planners with environmental intelligence at the regional level. The study of Australian drought helps to validate this new model, and thus builds confidence in this model for ongoing studies of North American drought."
The research is published this week in Nature Geoscience.
15th July 2014
World's first climate-controlled city planned for Dubai
Dubai is already known for its luxury tourist experience, super-tall skyscrapers and extravagant megaprojects. Now developers have announced it will host the world's first temperature-controlled city – incorporating the largest mall, largest domed park, cultural theatres and wellness resorts. Known as the "Mall of the World", this gigantic $7bn project will encompass 50 million square feet of floorspace, taking 10 years to construct.
Intended as a year-round destination, its capacity will be large enough to accommodate 180 million visitors each year in 100 hotels and serviced apartment buildings. Glass-roofed streets, modelled on New York's Broadway and London's Oxford Street, will stretch for 7 km (4.6 miles). These will be air-conditioned in summer as temperatures soar above 40°C, but the mall and its glass dome will be open to the elements during cooler winter months. Cars will be redundant in this "integrated pedestrian city."
"The project will follow the green and environmentally friendly guidelines of the Smart Dubai model," explained Ahmad bin Byat, the chief executive of Dubai Holding. "It will be built using state-of-the-art technology to reduce energy consumption and carbon footprint, ensuring high levels of environmental sustainability and operational efficiency."
In response to concerns about another real estate bubble, he insisted there was demand for such a project: "The way things are growing I think we are barely coping with the demand ... tourism is growing in Dubai," he said in an interview with Reuters. "This is a long-term project and we are betting strongly on Dubai."
Speaking at the launch of the mall, Sheikh Mohammed said: "The growth in family and retail tourism underpins the need to enhance Dubai's tourism infrastructure as soon as possible. This project complements our plans to transform Dubai into a cultural, tourist and economic hub for the 2 billion people living in the region around us – and we are determined to achieve our vision."
Mall of the World is one of several hi-tech, futuristic cities that could set the standard for eco-city designs in the coming decades. Others include China's car-free "Great City" (planned to be finished by 2020) and the Masdar City arcology (due in 2025).
14th July 2014
Largest ever study of its kind finds significant differences between organic and non-organic food
The largest ever study of its kind has found significant differences between organic food and conventionally-grown crops. Organic food contains almost 70% more antioxidants and significantly lower levels of toxic heavy metals.
Analysing 343 studies into the differences between organic and conventional crops, an international team of experts led by Newcastle University, UK, found that a switch to eating organic fruit, vegetable and cereals – and food made from them – would provide additional antioxidants equivalent to eating between 1-2 extra portions of fruit and vegetables a day.
The study, published in the British Journal of Nutrition, also shows significantly lower levels of toxic heavy metals in organic crops. Cadmium – one of only three metal contaminants along with lead and mercury for which the European Commission has set maximum permitted contamination levels in food – was found to be almost 50% lower in organic crops than conventionally-grown ones.
Professor Carlo Leifert, who led the study, says: "This study demonstrates that choosing food produced according to organic standards can lead to increased intake of nutritionally desirable antioxidants and reduced exposure to toxic heavy metals. This constitutes an important addition to the information currently available to consumers which until now has been confusing and in many cases is conflicting."
New methods used to analyse the data
This is the most extensive analysis of the nutrient content in organic vs conventionally-produced foods ever undertaken and is the result of a groundbreaking new systematic literature review and meta-analysis by the international team.

The findings contradict those of a 2009 UK Food Standards Agency (FSA) commissioned study, which found there were no substantial differences or significant nutritional benefits from organic food. The FSA study based its conclusions on just 46 publications covering crops, meat and dairy, while Newcastle led meta-analysis is based on data from 343 peer-reviewed publications on composition difference between organic and conventional crops now available.

"The main difference between the two studies is time," explains Professor Leifert, who is Professor of Ecological Agriculture at Newcastle University. "Research in this area has been slow to take off the ground and we have far more data available to us now than five years ago."
Dr Gavin Stewart, a Lecturer in Evidence Synthesis and the meta-analysis expert in the Newcastle team, added: "The much larger evidence base available in this synthesis allowed us to use more appropriate statistical methods to draw more definitive conclusions regarding the differences between organic and conventional crops."
What the findings mean
The study, funded jointly by the European Framework 6 programme and the Sheepdrove Trust, found that concentrations of antioxidants such as polyphenolics were between 18-69% higher in organically-grown crops. Numerous studies have linked antioxidants to a reduced risk of chronic diseases, including cardiovascular and neurodegenerative diseases and certain cancers. Substantially lower concentrations of a range of the toxic heavy metal cadmium were also detected in organic crops (on average 48% lower).
Nitrogen concentrations were found to be significantly lower in organic crops. Concentrations of total nitrogen were 10%, nitrate 30% and nitrite 87% lower in organic compared to conventional crops. The study also found that pesticide residues were four times more likely to be found in conventional crops than organic ones.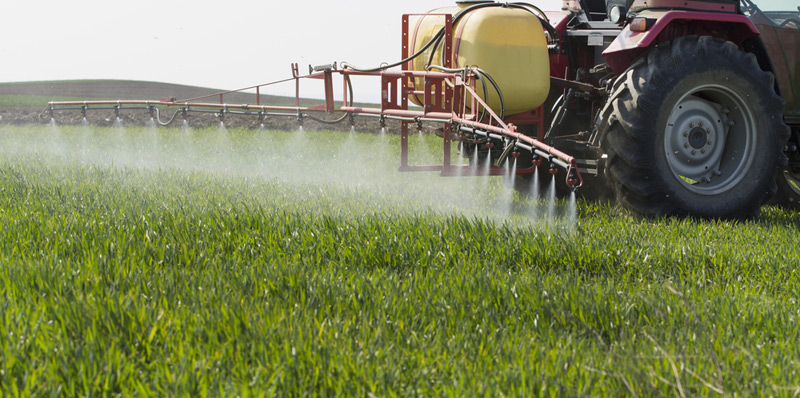 Professor Charles Benbrook, one of the authors of the study and a leading scientist based at Washington State University, explains: "Our results are highly relevant and significant and will help both scientists and consumers sort through the often conflicting information currently available on the nutrient density of organic and conventional plant-based foods."
Professor Leifert added: "The organic vs non-organic debate has rumbled on for decades now, but the evidence from this study is overwhelming – organic food is high in antioxidants and lower in toxic metals and pesticides.
"But this study should just be a starting point. We have shown without doubt there are composition differences between organic and conventional crops, now there is an urgent need to carry out well-controlled human dietary intervention and cohort studies specifically designed to identify and quantify the health impacts of switching to organic food."
The authors of this study welcome the continued public and scientific debate on this important subject. The entire database generated and used for this analysis is freely available on the Newcastle University website for the benefit of other experts and interested members of the public.
13th July 2014
Interactive map shows city temperatures by 2100
A new interactive graphic and analysis released this week by research and journalism organisation Climate Central illustrates how much hotter summers will be in 1,001 U.S. cities by 2100, if current emissions trends continue, and shows which cities they are going to most feel like.
"Summer temperatures in most American cities are going to feel like summers now in Texas and Florida — very, very hot," comments Alyson Kenward, lead researcher of the analysis, which looked at projected changes in summer (June-July-August) high temperatures. On average, those temperatures will be 3.9 to 5.6°C (7-10°F) hotter, with some cities as much as 6.7°C (12°F) hotter by the end of the century.
Among the most striking examples featured in the interactive are:
• Boston, where average summer high temperatures will likely be more than 5.6°C (10°F) hotter than they are now, making it feel as steamy as North Miami Beach is today.

• Saint Paul, Minnesota, where summer highs are expected to rise by an average of 6.7°C (12°F), putting it on par with Mesquite, Texas.

• Memphis, where summer high temperatures could average a sizzling 37.8°C (100°F), typical of Laredo, Texas.

• Las Vegas, with summer highs projected to average a scorching 43.9°C (111°F), like summers today in Riyadh, Saudi Arabia.

• Phoenix, where summer high temperatures would average a sweltering 45.6°C (114°F), which will feel like Kuwait City.
This analysis only accounts for daytime summer heat — the hottest temperatures of the day, on average between June-July-August — and doesn't incorporate humidity or dewpoint, both of which contribute to how uncomfortable summer heat can feel. Other impacts the map does not include are rising sea levels and a likely increase in storms and severe weather events.
Recent articles by Fox News and the Daily Telegraph claimed that scientists have been "tampering" with U.S. temperature data. For those who care about real science (as opposed to conspiracy theories), Skeptical Science has a thorough debunking here.
10th July 2014
Bee foraging chronically impaired by pesticide exposure
A study co-authored by a University of Guelph scientist that involved fitting bumblebees with tiny radio frequency tags shows long-term exposure to a neonicotinoid pesticide hampers bees' ability to forage for pollen.
The research by Nigel Raine, a professor in Guelph's School of Environmental Sciences, and Richard Gill of Imperial College London is published in the British Ecological Society's journal Functional Ecology. The study shows how long-term pesticide exposure affects individual bees' day-to-day behaviour, including pollen collection and which flowers the worker bees chose to visit.
"Bees have to learn many things about their environment, including how to collect pollen from flowers," says Raine, who holds the Rebanks Family Chair in Pollinator Conservation. "Exposure to this neonicotinoid pesticide seems to prevent bees from being able to learn these essential skills."
The researchers monitored bee activity using radio frequency identification (RFID) tags – seen in the photograph above – similar to those used by courier firms to track parcels. They tracked when individual bees left and returned to the colony, how much pollen they collected and from which flowers.
The bees from untreated colonies got better at collecting pollen as they learned to forage. However, bees exposed to neonicotinoid insecticides became less successful over time at collecting pollen. Neonicotinoid-treated colonies even sent out more foragers to try to compensate for lack of pollen from individual bees. Besides collecting less pollen, said Raine, "flower preferences of neonicotinoid-exposed bees were different to those of foraging bees from untreated colonies."
Raine and Gill studied the effects of two pesticides – imidacloprid, one of three neonicotinoid pesticides currently banned for use on crops attractive to bees by the European Commission, and pyrethroid (lambda cyhalothrin) – used both alone and together, on the behaviour of individual bumblebees from 40 colonies over four weeks.
"Although pesticide exposure has been implicated as a possible cause for bee decline, until now we had limited understanding of the risk these chemicals pose, especially how it affects natural foraging behaviour," Raine said.
Neonicotinoids make up about 30 per cent of the global pesticide market. Plants grown from neonicotinoid-treated seed have the pesticide in all their tissues, including the nectar and pollen.
"If pesticides are affecting the normal behaviour of individual bees, this could have serious knock-on consequences for the growth and survival of colonies," explained Raine.
He suggests reform of pesticide regulations, including adding bumblebees and solitary bees to risk assessments that currently cover only honeybees.
"Bumblebees may be much more sensitive to pesticide impacts as their colonies contain a few hundred workers at most, compared to tens of thousands in a honeybee colony," he added.