26th November 2015
No substantive evidence for 'pause' in global warming
A review of scientific literature by Bristol University finds no substantive evidence of a "pause" or "hiatus" in global warming.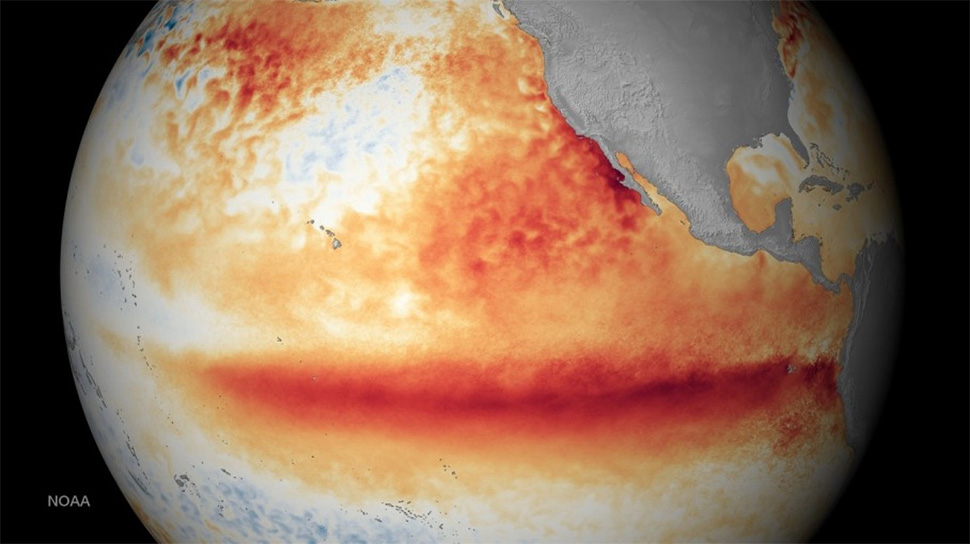 There is no substantive evidence for a 'pause' or 'hiatus' in global warming and the use of those terms is therefore inaccurate, new research from the University of Bristol has found.
The researchers, led by Professor Stephan Lewandowsky of Bristol's School of Experimental Psychology and the Cabot Institute, examined 40 peer-reviewed scientific articles published between 2009 and 2014 that specifically addressed the presumed 'hiatus' and found no consistent or agreed definition of such a 'hiatus', when it began and how long it lasted.
The researchers then compared the distribution of decadal warming trends during the 'hiatus' – as defined by the same scientific articles – against other trends of equivalent length in the entire record of modern global warming. The analysis showed that all definitions of the 'hiatus' in the literature were found to be unexceptional in the context of other trends.
The researchers also found that, if sample size is small, the 'hiatus' will always appear to be present. For example, anyone making a claim for a 'hiatus' of 12 years or below (a claim made by a third of the articles studied) will find one, not because something new and different is happening, but because small sample sizes provide insufficient statistical power for the detection of trends.
"Our study raises the question: why has so much research been framed around the concept of a 'hiatus' when it does not exist?" said Lewandowsky. "The notion of a 'pause' or 'hiatus' demonstrably originated outside the scientific community, and it likely found entry into the scientific discourse because of the constant challenge by contrarian voices that are known to affect scientific communication and conduct."
Discussing climate change using the terms 'pause' or 'hiatus' creates hazards for the public and the scientific community, the study concludes.
Professor Lewandowsky added: "Scientists may argue that when they use the terms 'pause' or 'hiatus' they know – and their colleagues understand – that they do not mean to imply global warming has stopped.
"But while scientists might tacitly understand that global warming continues notwithstanding the alleged 'hiatus', or they may intend the 'pause' to refer to differences between observed temperatures and expectations from theory or models, the public is not privy to that tacit understanding.
"Therefore, scientists should avoid the use of 'pause' or hiatus' when referring to fluctuations of global mean surface temperature around the longer-term warming trend. There is no evidence for a pause in global warming."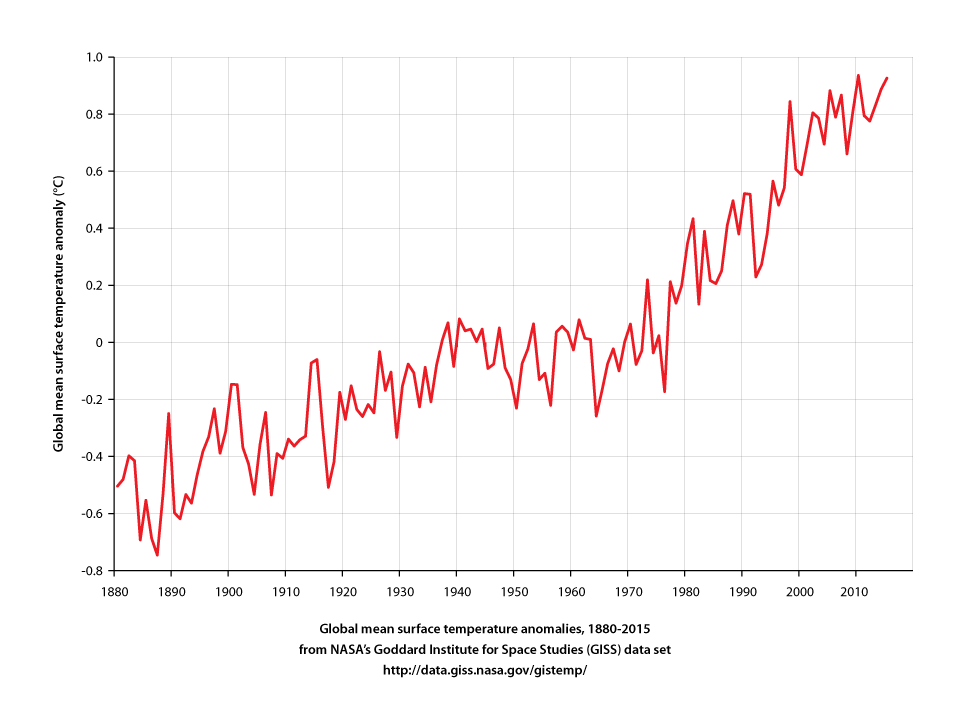 22nd November 2015
Genetically modified salmon approved by FDA
For the first time, the U.S. Food and Drug Administration (FDA) has approved genetically modified fish for human consumption.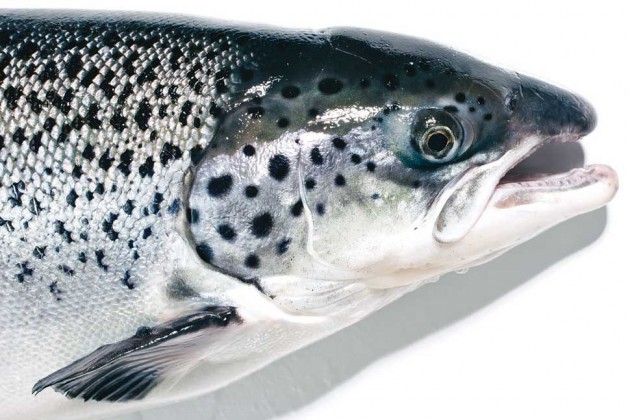 AquaBounty Technologies, Inc., a biotechnology company focused on enhancing productivity in aquaculture, announced this week that the FDA has approved its application for the production, sale and consumption of "AquAdvantage Salmon". This Atlantic salmon has been genetically enhanced to reach market size in less time than conventional farmed Atlantic salmon.
Ronald Stotish, Ph.D., CEO of AquaBounty, commented: "AquAdvantage Salmon is a game-changer that brings healthy and nutritious food to consumers in an environmentally responsible manner without damaging the ocean and other marine habitats. Using land-based aquaculture systems, this rich source of protein and other nutrients can be farmed close to major consumer markets in a more sustainable manner."
The U.S. currently imports over 90% of its seafood – and more specifically, over 95% of the Atlantic salmon it consumes. AquAdvantage Salmon will create the opportunity to grow an economically viable, domestic aquaculture industry. Through greater efficiency and localised production, AquaBounty claims it can increase productivity while reducing the costs and environmental impacts of current salmon farming operations. Land-based aquaculture systems can provide a continuous supply of fresh, safe, traceable and sustainable GM salmon to communities across the U.S. and do so with a lower carbon footprint. This offers an alternative approach to fish farming that does not exploit the oceans.
Jack Bobo, Senior Vice President and Chief Communications Officer at parent company Intrexon, stated: "The U.S. Dietary Guidelines Advisory Committee encourages Americans to eat a wide variety of seafood, including wild caught and farmed, as part of a healthy diet rich in healthy fatty acids. However, this must occur in an environmentally friendly and sustainable manner. FDA's approval of the AquAdvantage Salmon is an important step in this direction."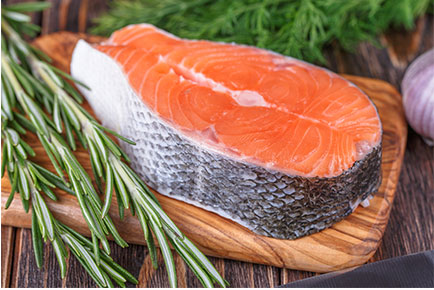 The AquAdvantage fish program is based on a molecular modification that results in more rapid growth during early development. A gene responsible for growth hormone regulation is taken from a Pacific Chinook salmon, combined with a promoter from an ocean pout, then added to the Atlantic salmon's 40,000 genes. This makes it grow year-round, instead of only during spring and summer, without affecting its ultimate size or other qualities. The GM fish grows to market size in 16 to 18 months, rather than three years.
The AquaAdvantage program has other qualities that improve its sustainability credentials. The fish require 25% less feed than other Atlantic salmon on the market today. When farmed in land-based facilities close to major metropolitan areas, they will travel only a short distance to the consumer. Not only will this make them the freshest fish on the market, it will significantly cut the transportation distance from farm to table. Unlike salmon imported from Norway and Chile that travel thousands of miles by airfreight and are then trucked to markets, AquaBounty's salmon will have a carbon footprint that is 23-25 times less.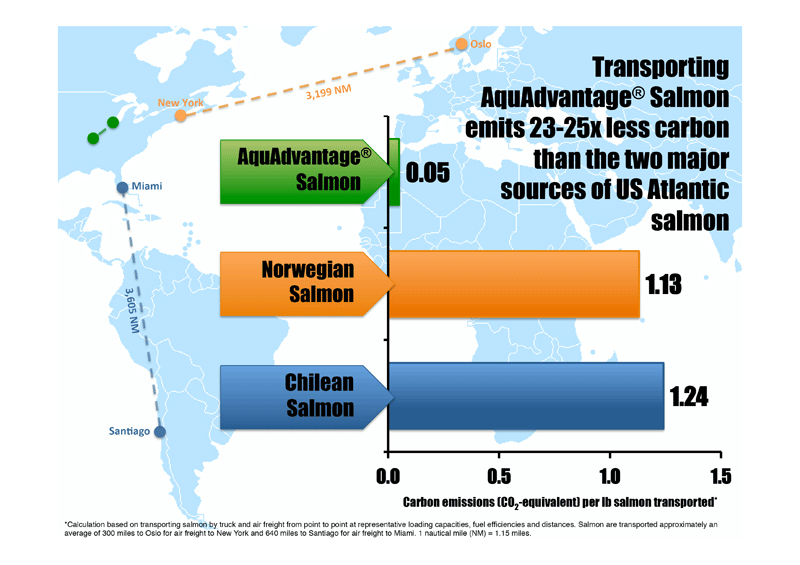 The FDA determined that the approval of the GM technology would not have a significant environmental impact, because of multiple and redundant measures taken to contain the fish and prevent their escape into the wild. These measures include a series of physical barriers placed in the tanks and in the plumbing that carries water out of the facilities to block the eggs and fish. Furthermore, the AquAdvantage Salmon are reproductively sterile, so that even in the highly unlikely event of an escape, they would be unable to interbreed or establish populations in the wild. The FDA will maintain regulatory oversight of the production and facilities and will conduct inspections to confirm these containment measures remain adequate.
Despite a lengthy and detailed review process, however, the FDA's approval has provoked an angry response from some, who have questioned the safety aspects and object to the fact that no labelling will be required to indicate the fish were genetically engineered. The Centre for Food Safety (CFS), a non-profit organisation working to protect human health and promote organic food methods, has already announced plans to sue the FDA and prevent the modified salmon being sold in the U.S.
"The review process by FDA was inadequate, failed to fully examine the likely impacts of the salmon's introduction and lacked a comprehensive analysis," said executive director Andrew Kimbrell in a press statement, citing the 2 million people who filed public comments in opposition, the largest number of comments the FDA has ever received on any issue. "This decision sets a dangerous precedent, lowering the standards of safety in this country. CFS will hold FDA to their obligations to the American people."
Globally, traditional "capture" fisheries have been on a plateau since the late 1980s due to unsustainable yields. Aquaculture is now among the fastest growing industries in the agricultural sector and is projected to supply the majority of the world's seafood by the mid-2020s, overtaking wild catch harvests by weight. With fisheries collapsing from over-exploitation, pollution, climate change and other problems, aquaculture is likely to become a sustainable and vitally important industry of the 21st century.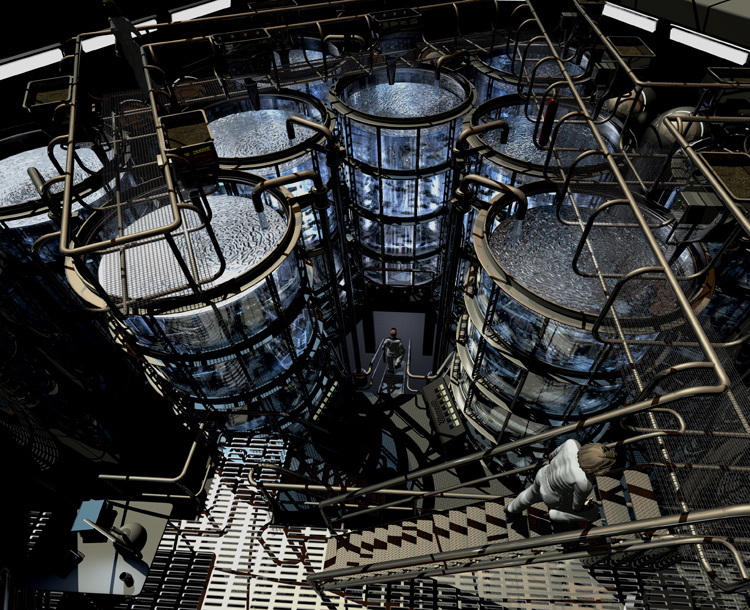 16th November 2015
G20 governments spend $452 billion a year subsidising fossil fuel production
A report by the Overseas Development Institute (ODI) and Oil Change International reveals that G20 governments are spending $452 billion annually to subsidise the production of oil, gas and coal – despite promising in 2009 to phase out these subsidies.
G20 governments are handing out $452 billion a year to prop up the production of fossil fuels – despite repeated pledges to phase out subsidies and prevent catastrophic climate change. A new report by the Overseas Development Institute (ODI) and Oil Change International has, for the first time, gathered detailed information on G20 subsidies to oil, gas and coal production.
In the report, "Empty Promises: G20 subsidies to oil, gas and coal production", researchers found G20 support to fossil fuel production alone ($452 billion) was almost four times the entire global subsidies for renewable energy ($121 billion). This support comes despite the declining returns in coal and new hard-to-reach oil and gas reserves, while ignoring scientific evidence that says three-quarters of proven fossil fuel reserves must be kept in the ground.
Report author Shelagh Whitley, from the ODI, said: "G20 governments are paying fossil fuel producers to undermine their own policies on climate change. Scrapping these subsidies would rebalance energy markets and allow a level playing field for clean and efficient alternatives."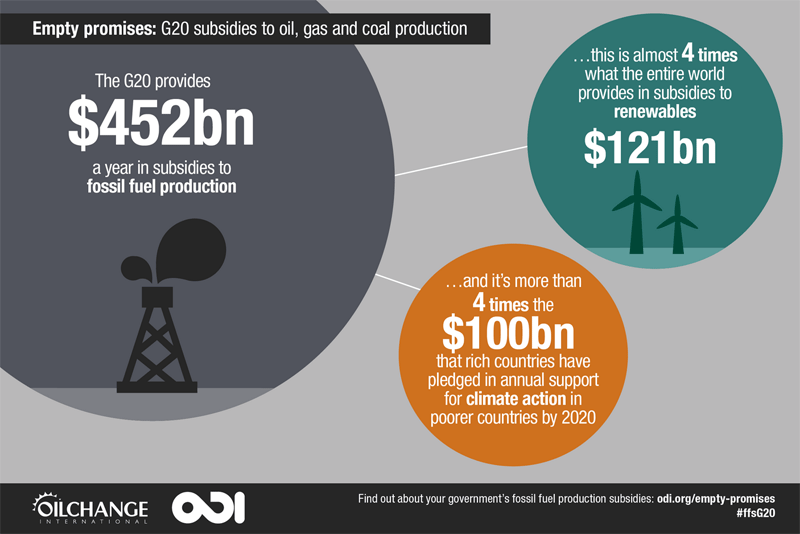 The report, published ahead of the G20 summit in Antalya, Turkey (15–16 November), examines three types of G20 government support in 2013 and 2014 – the most recent years with comparable data. It looks at national subsidies extended through direct spending and tax breaks; investment by state-owned enterprises both domestically and internationally; and public finance extended through – for example – loans from government-owned banks and financial institutions.
The report's other key findings are:
G20 governments provided almost $78bn a year in national subsidies for fossil fuel production; G20 state-owned enterprises invested $286bn, and public finance was estimated to average a further $88bn a year in 2013 and 2014


China's investment in fossil fuel production at home and abroad, through its state-owned enterprises, far exceeded any other G20 country, amounting to almost $77bn annually


The United States provided more than $20bn in national subsidies alone, despite calls from President Obama to scrap support to oil, gas and coal. Certain tax breaks in Alaska are so significant that, in the case of one production tax, the state is handing out more to companies than the tax generates in revenue for the state


The United Kingdom stands out as the only G7 nation dramatically ramping up its support for the fossil fuel industry, with even more tax breaks and industry support handed out to companies operating in the North Sea during 2015. Recent changes to the tax regime (which are protected from future policy changes) now mean that UK taxpayers are effectively footing the bill for as much as half the costs of decommissioning rigs. Support is likely to increase through a legal obligation for the Secretary of State for Energy and Climate Change to "maximise economic recovery" of oil and gas. These new subsidies come despite diminishing budgetary revenues from the sector
At the end of September 2015, the U.S. and China jointly prioritised the establishment of a concrete deadline for the phase-out of fossil fuel subsidies as a key task during China's G20 presidency in 2016. In line with this momentum, the report recommends G20 governments adopt strict timelines for the phase out of fossil fuel production subsidies, increase transparency through improved reporting of fossil fuel subsidies, and transfer government support to wider public goods including low-carbon development and universal energy access.
Stephen Kretzmann, director of Oil Change International, said: "Continuing to fund the fossil fuel industry today is like accelerating towards a wall that we can clearly see. G20 leaders need to slow down and turn us around before we hit climate disaster."
In order to have a 50% or better chance of staying below the 2°C limit, the share of renewables must increase to between 65% and 80% of global electricity production by 2050, the report states.
14th November 2015
Massive Greenland glacier is melting rapidly
The huge Zachariae Isstrom glacier in northeast Greenland, which holds enough ice to raise global sea levels by half a metre, is reported to be melting and crumbling into the North Atlantic Ocean.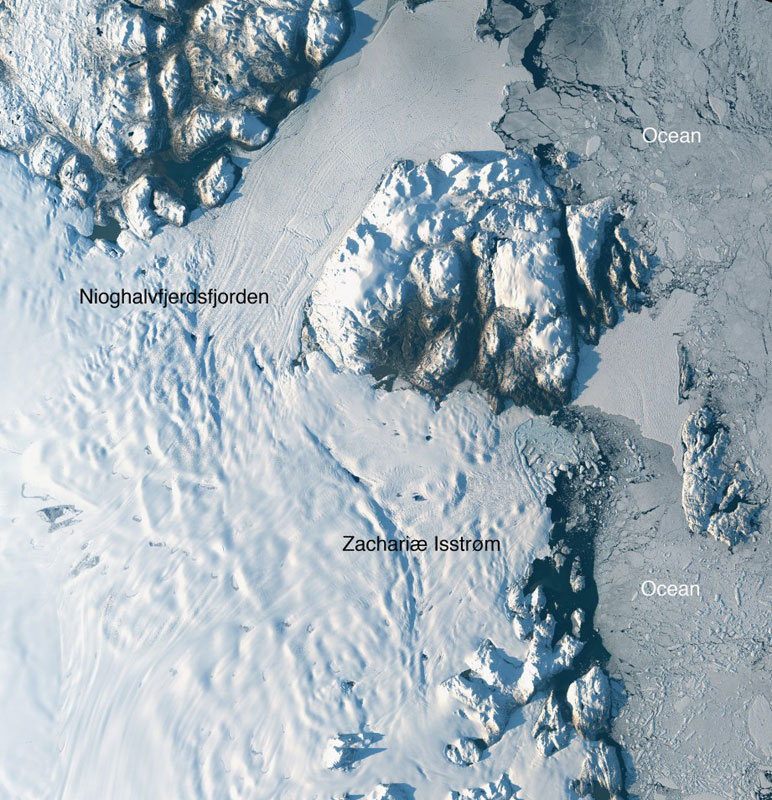 A glacier in northeast Greenland that holds enough water to raise global sea levels by over 0.5 metres has come unmoored from a stabilising sill and is crumbling into the North Atlantic Ocean. Losing mass at a rate of 5 billion tons per year, the glacier Zachariae Isstrom entered a phase of accelerated retreat in 2012, according to findings published this week in the journal Science.
"North Greenland glaciers are changing rapidly," said lead author Jeremie Mouginot, a project scientist at the University of California, Irvine. "The shape and dynamics of Zachariae Isstrom have changed dramatically over the last few years. The glacier is now breaking up and calving high volumes of icebergs into the ocean, which will result in rising sea levels for decades to come."
The research team – including scientists from NASA's Jet Propulsion Laboratory and the University of Kansas – used 40 years of data from aerial surveys by NASA's Operation IceBridge and satellite-based observations by multiple international space agencies (NASA, ESA, CSA, DLR, JAXA and ASI) coordinated by the Polar Space Task Group. The highly sensitive radar sounder, gravimeter and laser profiling systems, coupled with radar and optical images from space, monitor and record changes in the shape, size and position of glacial ice over long time periods, providing precise data on the state of Earth's polar regions.
"For the first 25 years, the glacier was stable," Mouginot says. From 2000 to 2012, however, it began to move more rapidly; and each year since 2012 it has tripled in speed. The leading edge where ice meets the ocean is now melting at a rate of two kilometres per year. There is "huge potential" for increasing the rate of global sea level rise in future decades, as it continues to flow into the warmer ocean, Mouginot notes. "Even if we have some really cool years ahead, we think the glacier is now unstable," he says.
The scientists found that the bottom of Zachariae Isstrom is being rapidly eroded by warmer ocean water, combined with growing amounts of meltwater from the ice sheet surface: "Zachariae Isstrom is being hit from above and below," said senior author Eric Rignot, Chancellor's Professor of Earth system science at UCI. "The top of the glacier is melting away as a result of decades of steadily increasing air temperatures, while its underside is compromised by currents carrying warmer ocean water, and the glacier is now breaking away into bits and pieces and retreating into deeper ground."
Zachariae Isstrom neighbours another large glacier to the north – this one named Nioghalvfjerdsfjorden – that is also melting rapidly, but is receding at a slower rate because it's protected by an inland hill. Combined, the two glaciers make up 12 percent of the Greenland ice sheet and would boost global sea levels by over a metre (39") if they fully collapsed. The entire Greenland ice sheet holds enough water to raise global sea levels by seven metres.
"Not long ago, we wondered about the effect on sea levels if Earth's major glaciers were to start retreating," Rignot noted. "We no longer need to wonder; for a couple of decades now, we've been able to directly observe the results of climate warming on polar glaciers. The changes are staggering and are now affecting the four corners of Greenland."
This week, the UK Met Office announced that global average temperatures for 2015 are likely to exceed 1°C above the pre-industrial baseline (if using 1961-1990 as the baseline, this point is likely to be reached by the early 2020s). That may sound like a small rise, but for an object the size of the Earth it's a vast amount of heat energy: roughly equivalent to four Hiroshima bombs every second of every day. The Arctic region including Greenland is warming twice as fast as the rest of the world.
This year, NASA began a new six-year field campaign, the aptly-named OMG (Oceans Melting Greenland), which aims to study ocean conditions around Greenland affecting the Ice Sheet.
3rd November 2015
A shape-shifting, self-driving concept car by Nissan
A new futuristic concept car by Nissan has been unveiled at the 2015 Tokyo Motor Show.
At the Tokyo Motor Show 2015, Nissan Motor Company unveiled a concept vehicle that the company says embodies its vision for the future of autonomous driving and zero emission EVs: the Intelligent Driving System (IDS).
"Nissan's forthcoming technologies will revolutionise the relationship between car and driver, and future mobility," said Carlos Ghosn, Nissan president and CEO, presenting at the show. "Nissan Intelligent Driving improves a driver's ability to see, think and react. It compensates for human error, which causes more than 90% of all car accidents. As a result, time spent behind the wheel is safer, cleaner, more efficient and more fun."
After leading the development and expansion of EV technology, Nissan once again stands at the forefront of automotive technology. By integrating advanced vehicle control and safety technologies with cutting-edge artificial intelligence (AI), Nissan is among the leaders developing practical, real-world applications of autonomous driving. The company plans to include this technology on multiple vehicles by 2020, and progress is well on track to achieve this goal, said Ghosn.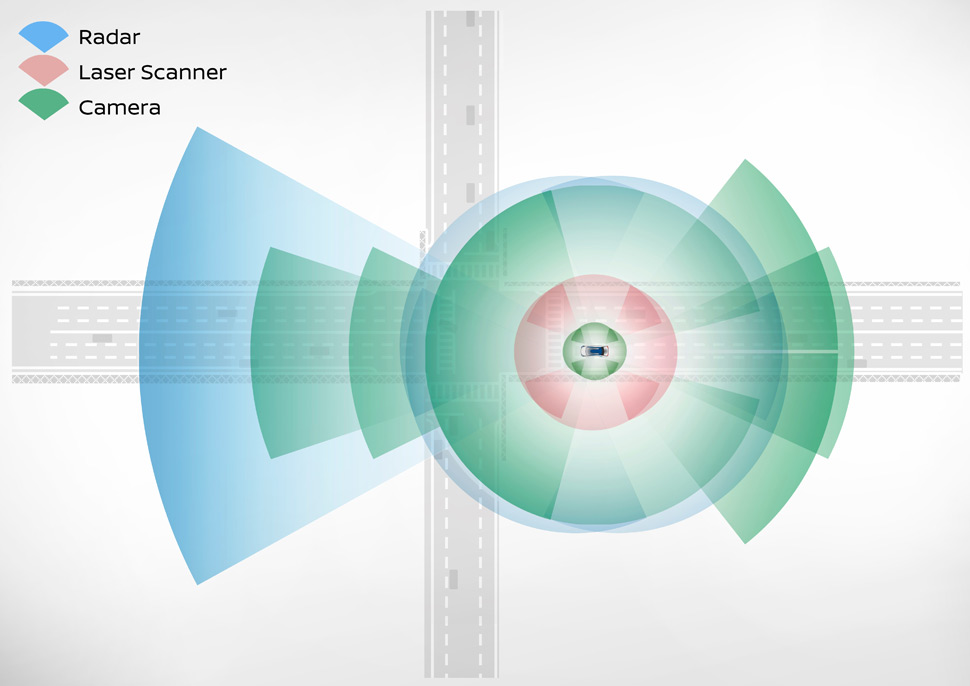 Some have compared a future with autonomous drive to living in a world of conveyer belts that simply ferry people from point A to B, but the Nissan IDS promises a very different vision. Even when a driver selects Piloted Drive and turns over driving to the vehicle, the car's performance – from accelerating to braking to cornering – imitates the driver's own style and preferences.
In Manual Drive mode, the driver has control. The linear acceleration and cornering are pure and exhilarating. Yet behind the scenes, the Nissan IDS continues to provide assistance. Sensors constantly monitor conditions and assistance is available even while the driver is in control. In the event of imminent danger, the Nissan IDS will assist the driver in taking evasive action.
In addition to learning, the IDS concept's AI communicates like an attentive partner. From information concerning traffic conditions, the driver's schedule to personal interests, it has what is needed to create a driving experience that is comfortable, enjoyable and safe.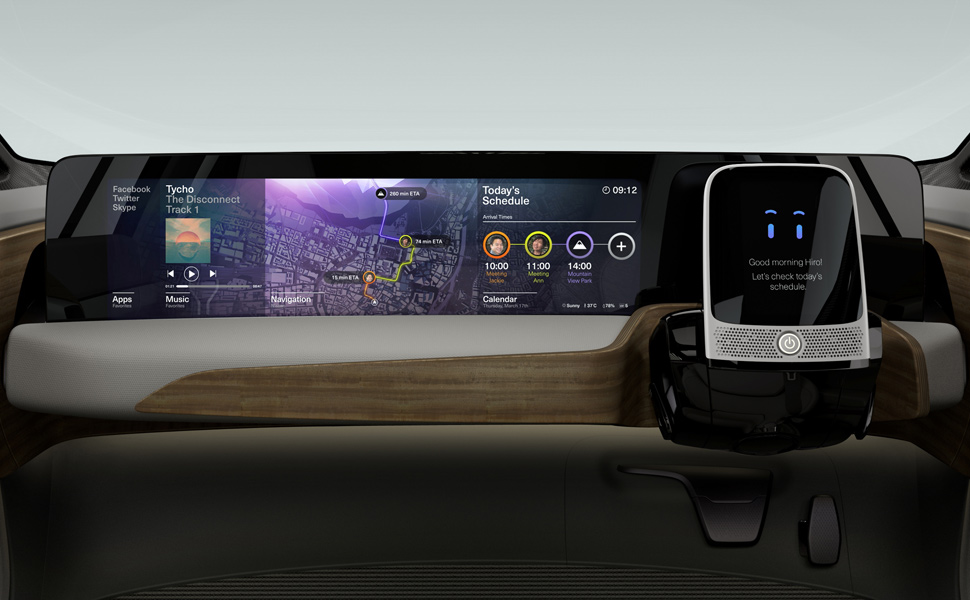 "A key point behind the Nissan IDS Concept is communication. For autonomous drive to become reality, as a society we have to consider not only communication between car and driver but also between cars and people. The Nissan IDS Concept's design embodies Nissan's vision of autonomous drive as expressed in the phrase together, we ride," says Mitsunori Morita, Design Director.
Together, we ride is demonstrated in the shape-shifting interior design: "The Nissan IDS Concept has different interiors, depending on whether the driver opts for Piloted Drive or Manual Drive. This was something that we thought was absolutely necessary to express our idea of autonomous drive," explains Morita.
In piloted self-driving mode, all four seats rotate inward, and the steering wheel recedes into the dashboard, giving the driver space to relax and making it easier to see and talk to other passengers. The interior, comprised of natural materials such as mesh leather, is illuminated by soft light, adding a further layer of comfort that feels almost like a home living room.
"In every situation, it is about giving the driver more choices and greater control," Ghosn said at the show. "And the driver will remain the focus of our technology development efforts."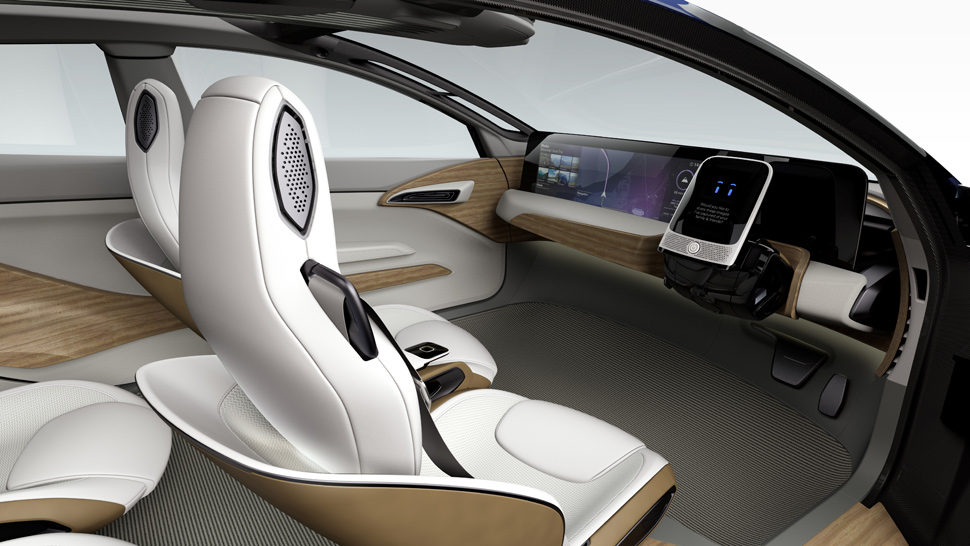 For autonomous drive to be widely accepted, people need to fully trust the technology. Through its innovative communication features, the Nissan IDS promotes confidence and a sense of harmony for those outside the car as well. Various exterior lights and displays convey to pedestrians and others the car's awareness of its surroundings and signals its intentions. The car's silver side body line, for example, is actually an LED that Nissan calls the Intention Indicator. If there are pedestrians or cyclists nearby, the strip shines red, signalling that the car is aware of them. Another electronic display, facing outside from the instrument panel, can flash messages such as "After you" to pedestrians.
Another feature of this electric vehicle is energy efficiency, with advanced aerodynamic performance for a greater driving range. The carbon fibre body is lightweight and constrained in height to sharply minimise aerodynamic drag, while the tires are designed to minimise air and roll resistance. The wheels have a layered form that creates tiny vortexes of air on their surface, which further contributes to smooth air flow. The Nissan IDS concept is fitted with a high-capacity 60 kWh battery.
"By the time Nissan Intelligent Driving technology is available on production cars, EVs will be able to go great distances on a single charge," says Mitsunori Morita, Design Director. "Getting to this point will, of course, require the further evolution of batteries – but aerodynamic performance is also very important. We incorporated our most advanced aerodynamic technology in the design of the Nissan IDS Concept."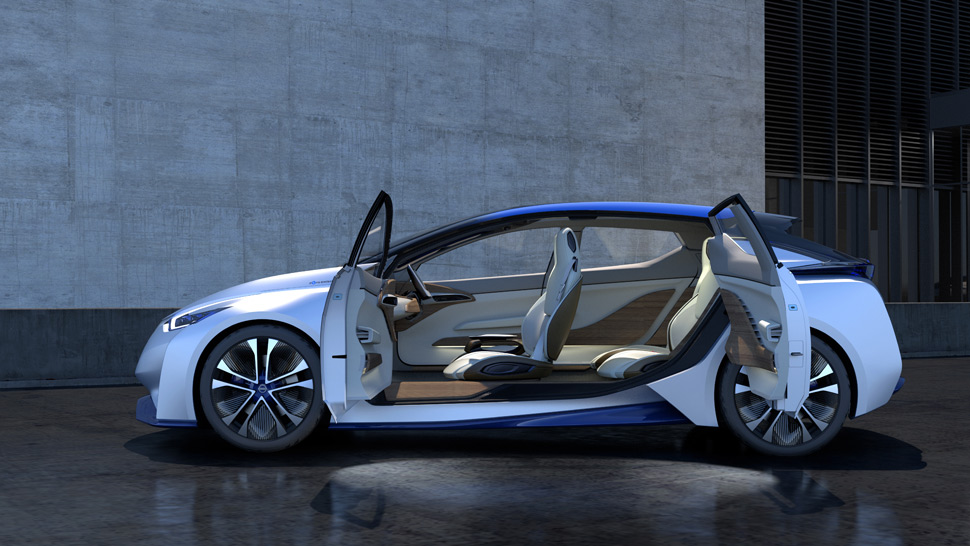 At Nissan's annual shareholder meeting in June, Executive Vice President Hideyuki Sakamoto said: "Our zero emission strategy centres on EVs. We are pursuing improved electric powertrain technologies – such as motors, batteries and inverters – which will enable us to mass produce and market EVs that equal or surpass the convenience of gasoline-powered cars."
Other technologies on the Nissan IDS concept include "Piloted Park" that can be operated by smartphone or tablet, and wireless charging technologies. Through these, the driver can leave parking and charging to the car.
Self-driving, zero emission cars are clearly the future, and Nissan appears to be well-positioned for delivering this vision. The Nissan LEAF is the world's most popular electric vehicle, with 96% of customers willing to recommend the car to friends. Yesterday, the firm posted a rise of 37.4% in net income for the six months ending in September.
"Nissan has delivered solid revenue growth and improved profitability in the first half of the fiscal year, driven by encouraging demand for our vehicles in North America and a rebound in western Europe," said chief executive Carlos Ghosn.
18th October 2015
New crystal captures carbon from humid gas
A new material with micropores might be a way to fight climate change. Scientists have created crystals that capture carbon dioxide much more efficiently than previously known materials, even in the presence of water.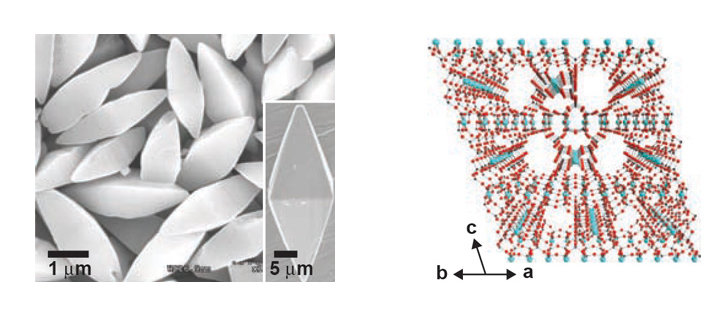 One way to mitigate climate change could be to capture carbon dioxide (CO2) from the air. So far this has been difficult, since the presence of water prevents the adsorption of CO2. Complete dehydration is a costly process. Scientists have now created a stable and recyclable material, where the micropores within the crystal have different adsorption sites for carbon dioxide and water.
"As far as I know, this is the first material that captures CO2 in an efficient way in the presence of humidity," says Osamu Terasaki, Professor at the Department of Materials and Environmental Chemistry at Stockholm University. "In other cases, there is competition between water and carbon dioxide and water usually wins. This material adsorbs both, but the CO2 uptake is enormous."
The new material is called SGU-29, named after Sogang University in Korea, and is the result of international cooperation. It is a copper silicate crystal that forms two nanotube regions – one hydrophobic and one hydrophilic – repelling water while trapping carbon dioxide. The material could be used for capturing carbon directly from the atmosphere, and especially to clean emissions from power plants or other sources.
"CO2 is always produced with moisture, and now we can capture CO2 from humid gases. Combined with other systems that are being developed, the waste carbon can be used for new valuable compounds. People are working very hard and I think we will be able to do this within five years. The most difficult part is to capture carbon dioxide, and we have a solution for that now," concludes Terasaki.
Major advances in carbon capture and storage will be needed if the world is to avoid 2°C or higher of global warming. Current emission plans by the world's nations ahead of the UN climate change conference in Paris next month fall well short of what is truly needed. Materials such as that demonstrated by Terasaki could pave the way towards a new generation of cheaper, more efficient and widespread carbon sequestration in the coming years and decades. His team's research is published this week in the journal Science.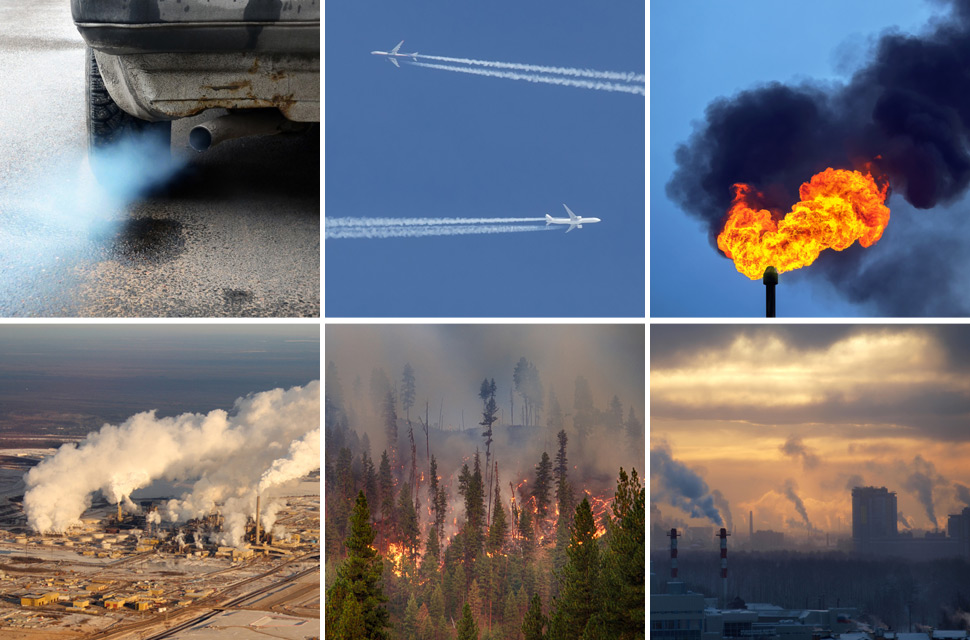 9th October 2015
Worldwide coral bleaching event now underway
Scientists confirm that a third global coral bleaching event is now underway that is likely to be the most intense ever recorded. As trends continue to worsen, it is likely that every year will see these events from 2030.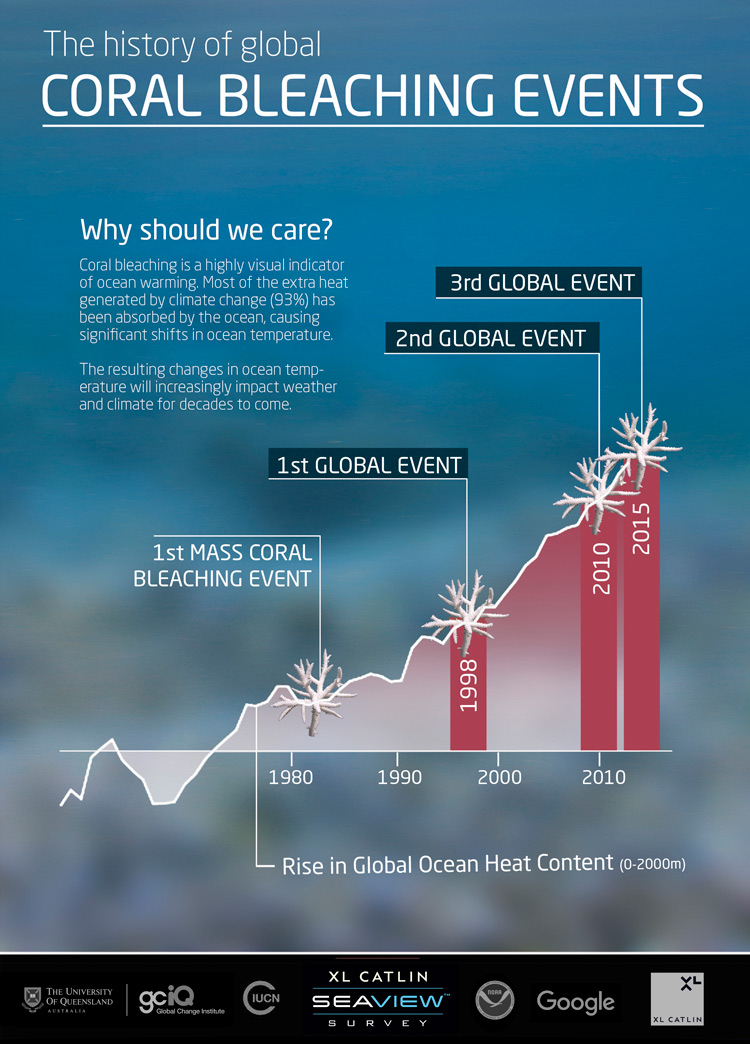 A consortium of ocean scientists, reef mappers and community-based monitoring teams has confirmed that a "global coral bleaching event" is underway. Increased ocean temperatures due to climate change, combined with the warming effects of an El Niño pattern and a warm water mass in the Pacific referred to as "The Blob", are driving temperatures to record levels – threatening to severely deplete coral reef ecosystems that support fish habitats, shoreline protection and coastal economies.
This global event – only the third of its kind in recorded history – is expected to impact roughly 38% of the world's coral reefs by the end of this year and kill over 12,000 square kilometres (4,633 sq miles) of reefs, according to the National Oceanic and Atmospheric Administration (NOAA). Although reefs represent less than 0.1 percent of the world's ocean floor, they help support 25 percent of all marine species. As a result, the livelihoods of 500 million people and income worth over $30 billion are at stake.
The declaration of the 2015-16 global coral bleaching event was confirmed by NOAA after its bleaching predictions were verified by scientists and citizen scientists in the Atlantic and Caribbean basin, including rapid response surveying teams from the XL Catlin Seaview Survey, the University of Queensland and Reef Check. These reports added to the growing list of reports in the Pacific and Indian Oceans.
Earth's oceans absorb 93 percent of the increase in the planet's heat from climate change, making them one of the most visual indicators of the issue – particularly when change is revealed through dramatic episodes like global coral bleaching. During a bleaching event, corals expel the golden-brown algae that grow within their body tissue, exposing their white skeletons; hence the term "bleaching." If the ocean temperature remains higher than the seasonal norm for a number of weeks, the corals can die en masse, causing the loss of some corals that may be centuries old.
Bleaching can transform healthy coral reefs into reefs dominated by other organisms such as seaweeds. This can take decades to reverse and will only happen if conditions become hospitable for corals again.
Caused by unusual warming of the Northern Hemisphere oceans, 2015 has now seen coral bleaching occur in reefs in the northern Pacific, Indian, equatorial Pacific, and western Atlantic Oceans. Recorded for the first time in 1998 and again in 2010, global coral bleaching is declared when all three major ocean basins (Indian, Pacific, Atlantic) have recorded widespread bleaching episodes across multiple reefs spanning 100 km (62 miles) or more.
The first two global bleaching events were observed due to a chain of warming events caused by El Niño cycles and increased ocean temperatures resulting from climate change. This year's widespread bleaching shows the same characteristics – warmer-than-usual water temperatures combined with what could potentially be the strongest El Niño ever recorded.
Coral bleaching in the Pacific Ocean began in mid-2014 and has not stopped since, moving around as warm conditions have enveloped different regions. With forecasts of the El Niño remaining strong into 2016, the worst may be yet to come.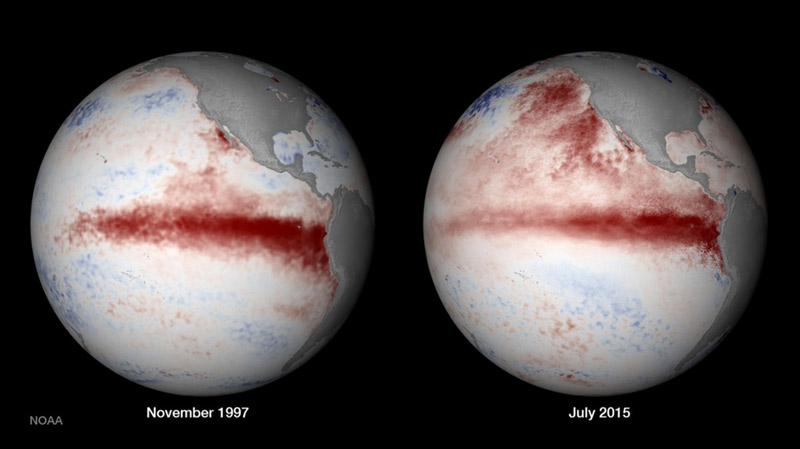 During the global coral bleaching event of 1997-98, the world simply didn't have the technology, understanding, or teams in place to reveal and record such events properly. However, recent advancements in bleaching prediction and near-real-time satellite monitoring have allowed scientists to deploy a rapid response team to capture images of coral bleaching as it happens.
Primed for immediate deployment to locations where major coral bleaching is taking place, XL Catlin Seaview Survey's Rapid Response team uses their advanced SVII camera and other technologies to gather visual and other data of bleaching. The revolutionary camera system is attached to an underwater scooter that takes 1,000 high-resolution, 360-degree underwater images across distances of up to 2 kilometres (1.2 miles) in a single dive – increasing the team's data-gathering efficiency 30-fold compared to previous methods. These images are added to an online research tool that allows scientists and resource managers to better analyse and monitor changes in reef ecosystems on a local, regional, and global level. The data collected will also help research teams advance their understanding of coral recovery and support future restoration efforts.
"This is only the third time we've seen a global-scale bleaching event," said Dr. Mark Eakin, NOAA Coral Reef Watch coordinator. "What really has us concerned is this event has been going on for over a year and is likely to last another year."
"Just like in 1998 and 2010, we're observing bleaching on a global scale, which will cause massive loss of corals. With hundreds of millions of people relying on fisheries and reefs for sustenance, the repercussions of a global coral bleaching event could be potentially disastrous," said Professor Ove Hoegh-Guldberg, the Survey's chief scientist from the University of Queensland. "Through accurate coral reef mapping, monitoring and recovery initiatives worldwide, we have been able to study and understand the destructive effects of coral bleaching. We are now continuing our efforts to support these activities and create the foundations for a truly global call for action to protect these vital ecosystems."
The world has lost roughly half of its coral reefs since the early 1980s. Hoegh-Guldberg says the current trend is directly in line with predictions he made in 1999 that continued global temperature rise would lead to the complete loss of coral reefs by the middle of this century.
"It's certainly on that road to a point about 2030 when every year is a bleaching year," he says. "So unfortunately I got it right."
8th October 2015
Fusion reactors economically viable "within a few decades" say experts
Fusion reactors could be economically viable within a few decades, and policy makers should start planning to build them as a replacement for conventional nuclear power stations, according to research by Durham University.
Fusion reactors could become an economically viable means of generating electricity within a few decades, and policy makers should start planning to build them as a replacement for conventional nuclear power stations, according to new research.
Researchers at Durham University and Culham Centre for Fusion Energy in Oxfordshire, have re-examined the economics of fusion, taking account of recent advances in superconductor technology for the first time. Their analysis of building, running and decommissioning a fusion power station shows the financial feasibility of fusion energy in comparison to traditional fission nuclear power.
The research, published in the journal Fusion Engineering and Design, builds on earlier findings that a fusion power plant could generate electricity at a similar price to a fission plant and identifies new advantages in using superconductor technology.
Professor Damian Hampshire, of the Centre for Material Physics at Durham University, who led the study, said: "Obviously we have had to make assumptions, but what we can say is that our predictions suggest that fusion won't be vastly more expensive than fission."
Such findings support the possibility that – within a generation or two – fusion reactors could offer an almost unlimited supply of energy without contributing to global warming or producing hazardous products on a significant scale.
Fusion reactors generate electricity by heating plasma to around 100 million degrees centigrade so that hydrogen atoms fuse together, releasing energy. This differs from fission reactors, which work by splitting atoms at much lower temperatures.
The advantage of fusion reactors over current fission reactors is that they create almost no radioactive waste. Fusion reactors are safer as there is no high level radioactive material to potentially leak into the environment, which means disasters like Chernobyl or Fukushima are impossible because plasma simply fizzles out if it escapes.
Fusion energy is also politically safer because a reactor would not produce weapons-grade products that proliferate nuclear arms. It is fuelled by deuterium, or heavy water, which is extracted from seawater, and tritium, which is created within the reactor, so there is no problem with security of supply either.
A test fusion reactor, the International Thermonuclear Experimental Reactor (ITER), is expected to begin experiments during the early 2020s in France. Its aim is to prove the scientific and technological feasibility of fusion energy. A successor to ITER, known as DEMO (DEMOnstration Power Plant) is proposed for construction in the 2030s and could generate 2,000 MW by around 2040, an energy density that exceeds even large fission power plants.
Professor Hampshire said that he hoped his team's analysis would persuade policy-makers and the private sector to take fusion energy more seriously and to invest more heavily in research and development.
"Fission, fusion or fossil fuels are the only practical options for reliable large-scale base-load energy sources. Calculating the cost of a fusion reactor is complex, given the variations in the cost of raw materials and exchange rates. However, this work is a big step in the right direction" he said.
"We have known about the possibility of fusion reactors for many years, but many people did not believe that they would ever be built because of the technological challenges that have had to be overcome and the uncertain costs."
"While there are still some technological challenges to overcome we have produced a strong argument, supported by the best available data, that fusion power stations could soon be economically viable. We hope this kick-starts investment to overcome the remaining technological challenges and speeds up the planning process for the possibility of a fusion-powered world."
The report, which was commissioned by Research Council UK's Energy Programme focuses on recent advances in high temperature superconductors. These materials could be used to construct the powerful magnets that keep the hot plasma in position inside the containing vessel, known as a tokamak, at the heart of a fusion reactor.
This advancing technology means that the superconducting magnets could be built in sections rather than in one piece. This would mean that maintenance, which is expensive in a radioactive environment, would be much cheaper because individual sections of the magnet could be withdrawn for repair or replacement, rather than the whole device.
While the analysis considers the cost of building, running and decommissioning a fusion power plant, it does not take into account the costs of disposing of radioactive waste that is associated with a fission plant. For a fusion plant, the only radioactive waste would be the tokamak, when decommissioned, which would have become mildly radioactive during its lifetime.
7th October 2015
Nearly one-third of cactus species face extinction
31 percent of cactus species are facing extinction – largely due to illegal trade and other human activity – according to the first comprehensive global assessment.
Thirty-one percent of cactus species are threatened with extinction, according to the first comprehensive, global assessment by the International Union for Conservation of Nature (IUCN) and its partners, published this week in the journal Nature Plants. This places cacti among the most threatened taxonomic groups assessed on the IUCN Red List of Threatened Species – more threatened than mammals and birds.
According to the report, cacti are under increasing pressure from human activity, with more than half of the world's 1,480 cactus species used by people. The illegal trade of live plants and seeds for the horticultural industry and private collections, as well as their unsustainable harvesting are the main threats to cacti, affecting 47% of threatened species.
"These findings are disturbing," says Inger Andersen, the IUCN Director General. "They confirm that the scale of the illegal wildlife trade – including trade in plants – is much greater than we had previously thought, and that wildlife trafficking concerns many more species than the charismatic rhinos and elephants which tend to receive global attention. We must urgently step up international efforts to tackle the illegal wildlife trade and strengthen the implementation of the CITES Convention on International Trade in Endangered Species, if we want to prevent the further decline of these species."
Other threats to cacti include smallholder livestock ranching, affecting 31% of threatened species, and smallholder annual agriculture affecting 24% of threatened species. Residential and commercial development, quarrying and aquaculture – especially shrimp farming, which expands into cacti's habitats – are also among major threats faced by these species.
Cacti are key components of New World arid ecosystems and are critical to the survival of many animal species. They provide a source of food and water for many species including deer, woodrats, rabbits, coyotes, turkeys, quails, lizards and tortoises, all of which help with cactus seed dispersal in return. Cactus flowers provide nectar to hummingbirds and bats, as well as bees, moths and other insects, which, in turn, pollinate the plants.
Cactus species are widely used by people in the horticultural trade, as well as for food and for medicine. Their fruit and highly nutritious stems are an important food source for rural communities. The nutritional value of one cactus stem of Opuntia ficus-indica – a 'prickly pear' cactus popular in Mexico, where it is known as 'nopal' – is often compared to that of a beef steak, and the roots of species such as Ariocarpus kotschoubeyanus which is listed as Near Threatened, are used as anti-inflammatories.
Trade in cactus species occurs at national and international levels and is often illegal, with 86% of threatened cacti used in horticulture taken from wild populations. European and Asian collectors are the biggest contributors to the illegal cactus trade. Specimens taken from the wild are particularly sought after due to their rarity.
"The results of this assessment come as a shock to us," says Barbara Goettsch, lead author of the study and Co-Chair of IUCN's Cactus and Succulent Plant Specialist Group. "We did not expect cacti to be so highly threatened and for illegal trade to be such an important driver of their decline. Their loss could have far-reaching consequences for the diversity and ecology of arid lands and for local communities dependent on wild-harvested fruit and stems."
"This study highlights the need for better and more sustainable management of cactus populations within range countries. With the current human population growth, these plants cannot sustain such high levels of collection and habitat loss."
The illegal trade in cacti has been reduced to a certain extent by the inclusion, since 1975, of most cactus species on CITES appendices and through the increased availability of plants grown from seed on the international market. However, the threat of collection prevails, especially in countries where the implementation of CITES has only recently been enforced.
For example, Peru's once-abundant Echinopsis pampana (pictured below) has been collected illegally for the ornamental plant trade at such high rates that over 50% of the population has disappeared in the last 15 years. Its loss is irreversible, as the areas that were once populated by the species have since undergone land use change for housing purposes. The species is now listed as Endangered.
Cacti are renowned for their diverse forms and beautiful flowers. The tallest free-standing cactus is Pachycereus pringlei, with a maximum recorded height of 19.2m (63 ft), and the smallest is Blossfeldia liliputana, only 1 cm (0.4 in) in diameter at maturity. A fully grown saguaro (Carnegiea gigantea) is said to absorb as much as 200 U.S. gallons (760 l) of water during a rainstorm.
Cacti are endemic to New World arid lands except for one species – Mistletoe Cactus (Rhipsalis baccifera) – which is also found in southern Africa, Madagascar and Sri Lanka. Hotspots for threatened cactus species include arid areas of Brazil, Chile, Mexico and Uruguay. These areas are perceived as uncharismatic and unimportant, even though they are rich in biodiversity, hence arid-land species like cacti are often overlooked in conservation planning. The report's authors highlight the need to broaden arid land protected area coverage and raise awareness about the importance of sustainable collection of cacti from the wild, in order to better conserve the species.
"The startling results reflect the vital importance of funding and conducting assessments of the threatened status of all of the species in major groups of plants, such as the cacti," says Kevin Gaston, from the University of Exeter, who co-led the Global Cactus Assessment. "Only by so doing will we gain the overall picture of what is happening to them, at a time when, as evidenced by the cacti, they may be under immense human pressures."
"Cacti are extraordinary plants that concentrate water and nutrients used by natural and human communities, in some of the world's most challenging environments," says Mary Klein, President of NatureServe, an IUCN partner in facilitating assessments of North American and Caribbean cacti. "This study confirms that cacti are especially vulnerable – but that with focused attention on reducing the threats such as illegal harvest, we can conserve these miracles of nature for the future."
27th September 2015
New battery technology will double EV range by 2020
German company Bosch – the world's largest supplier of automotive components – is developing a new battery technology that it claims will double the range of electric vehicles by 2020.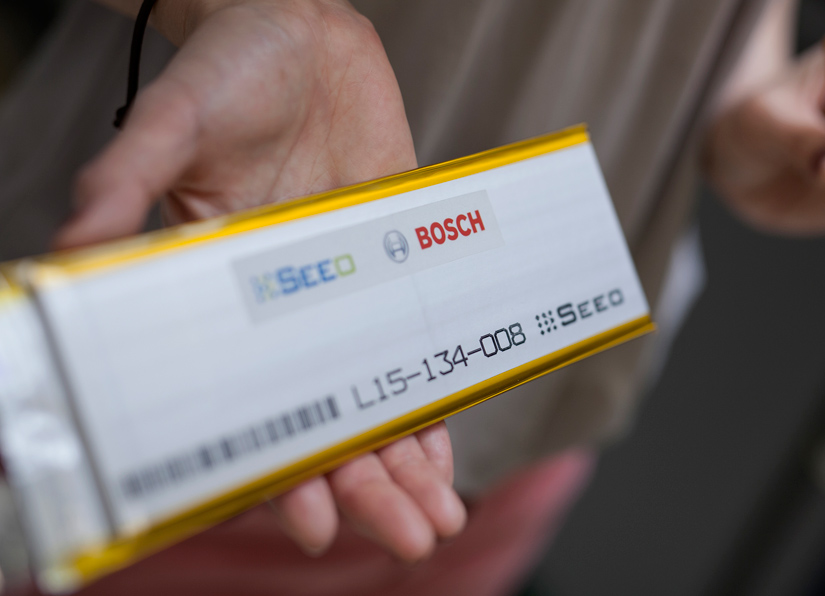 Bosch has announced a new battery technology for electric vehicles (EVs), based on solid-state cells, which could double their driving range while lowering costs and is likely to be production-ready in as little as five years. The recent acquisition of U.S. start-up Seeo Inc. – based near Silicon Valley – will make this possible. As well as its own experience in the area of battery technology, Bosch now has crucial know-how in innovative solid-state cells for lithium batteries, along with exclusive patents.
"Bosch is using its knowledge and considerable financial resources to achieve a breakthrough for electromobility," says Dr. Volkmar Denner, the firm's chairman of the board. "Solid-state cells could be a breakthrough technology. Disruptive start-up technology is meeting the broad systems knowledge and financial resources of a multinational company."
Using solid-state cells, Bosch sees the potential to more than double energy density – while at the same time reducing size requirements by 75% and improving safety with non-combustible materials. A comparable electric car that has a driving range of 150 kilometres today would be able to travel over 300 kilometres without recharging – and at a lower cost.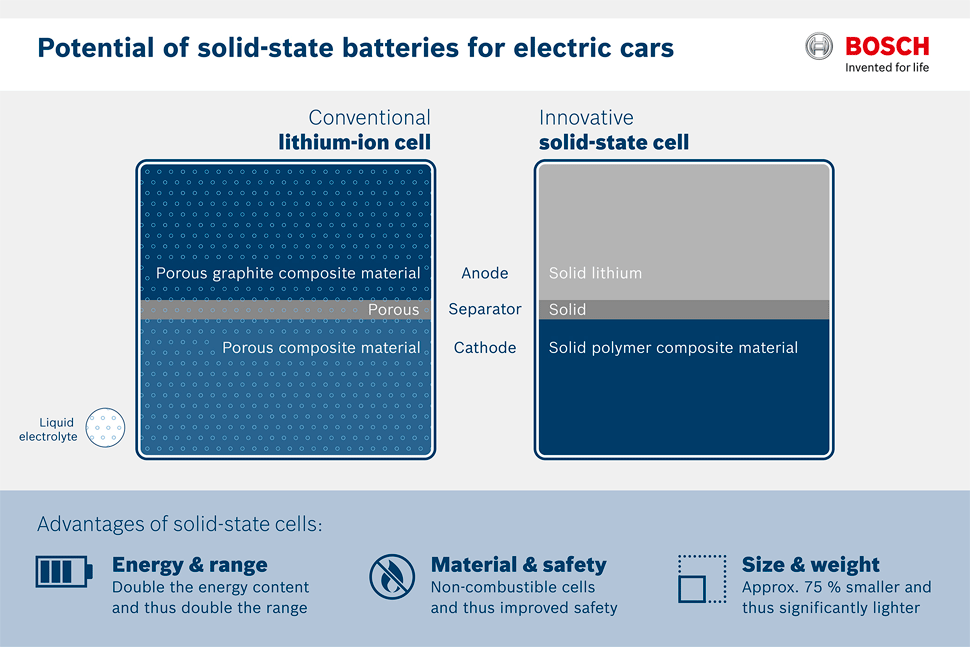 In current lithium-ion batteries, one of the major reasons energy capacity is limited is because the anode consists to a large degree of graphite. Using its new solid-state technology, Bosch will manufacture the anode out of pure lithium. In addition, the cells will function without the need for ionic liquid, meaning they are not flammable.
In 2014, Bosch joined Mitsubishi Corporation and GS Yuasa in establishing the joint venture Lithium Energy and Power, whose objective is to develop a more powerful generation of lithium-ion batteries. Seeo Inc.'s technology complements the work done thus far with Bosch's Japanese partners. The result will be a combination of groundbreaking start-up technology with Bosch's systems and technology know-how, GS Yuasa's cell competence, and Mitsubishi Corporation's broad industrial base.
"The pure lithium anode represents a huge innovative leap in battery cell construction," says Denner. By 2025, the company forecasts that 15 percent of all new cars built worldwide will have at least a hybrid powertrain. In Europe, more than one-third of all new cars will be electrically powered.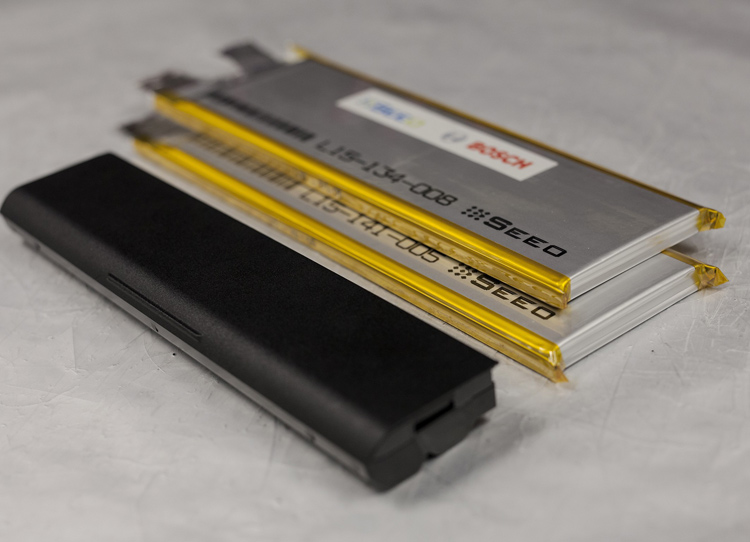 3rd September 2015
Plastic in 99 percent of seabirds by 2050
Researchers from the Commonwealth Scientific and Industrial Research Organisation (CSIRO) and Imperial College London have assessed how widespread the threat of plastic is for the world's seabirds and found the majority of species have plastic in their gut.
The study, led by Dr Chris Wilcox with co-authors Dr Denise Hardesty and Dr Erik van Sebille and published this week in the journal PNAS, found that nearly 60 per cent of all seabird species have plastic in their gut. Based on analysis of published studies since the early 1960s, the researchers found that plastic is increasingly common in seabird's stomachs. In terms of individuals (as opposed to species), plastic was found in the stomach of less than five per cent of birds in 1960, rising to 80 per cent by 2010. It is estimated that 90 per cent of all seabirds alive today have eaten plastic of some kind.
The researchers predict that plastic ingestion will affect 99 per cent of the world's seabird species by 2050, based on current trends. These materials could remain in the biosphere until the year 2600 AD. This includes bags, bottle caps, and plastic fibres from synthetic clothes, which have washed out into the ocean from urban rivers, sewers and waste deposits. Birds mistake the brightly coloured items for food, or swallow them by accident, and this causes gut impaction, weight loss and sometimes even death.
"For the first time, we have a global prediction of how wide-reaching plastic impacts may be on marine species – and the results are striking," senior research scientist at CSIRO Oceans and Atmosphere Dr Wilcox said. "We predict, using historical observations, that 90 per cent of individual seabirds have eaten plastic. This is a huge amount and really points to the ubiquity of plastic pollution."
Dr Denise Hardesty from CSIRO Oceans and Atmosphere said seabirds were excellent indicators of ecosystem health: "Finding such widespread estimates of plastic in seabirds is borne out by some of the fieldwork we've carried out where I've found nearly 200 pieces of plastic in a single seabird."
The researchers found plastics will have the greatest impact on wildlife where they gather in the Southern Ocean, in a band around the southern edges of Australia, South Africa and South America. Dr van Sebille, from the Grantham Institute at Imperial College London, said the plastics had the most devastating impact in areas with greatest diversity of species.
"We are very concerned about species such as penguins and giant albatrosses, which live in these areas," Erik van Sebille said. "While the infamous garbage patches in the middle of the oceans have strikingly high densities of plastic, very few animals live here."
Dr Hardesty said there was still the opportunity to change the impact plastic had on seabirds: "Improving waste management can reduce the threat plastic is posing to marine wildlife," she said. "Even simple measures can make a difference, such as reducing packaging, banning single-use plastic items or charging an extra fee to use them, and introducing deposits for recyclable items like drink containers. Efforts to reduce plastics losses into the environment in Europe resulted in measureable changes in plastic in seabird stomachs within less than a decade, which suggests that improvements in basic waste management can reduce plastic in the environment in a really short time."
Chief Scientist at the US-based Ocean Conservancy, Dr George H. Leonard, said the study was highly important and demonstrated just how pervasive plastics were in the oceans: "Hundreds of thousands of volunteers around the world come face-to-face with this problem during the annual Coastal Cleanup events," he said. "Scientists, the private sector and global citizens working together against the growing onslaught of plastic pollution can reduce plastic inputs to help protect marine biodiversity."
This follows a similar study earlier this year that estimated between 4.8 and 12.7 million metric tons of plastic are entering the oceans each year.
1st September 2015
Japan to open fully automated lettuce factory in 2017
Japanese factory operator SPREAD Co. has announced it will develop the world's first large-scale vegetable factory that is fully automated from seeding to harvest and capable of producing 30,000 heads of lettuce per day.
SPREAD Co. was founded in 2006 and operates the world's largest vegetable factory using artificial lighting in Kameoka, Kyoto Prefecture. Four types of lettuce are currently produced, totalling 21,000 heads per day that are shipped to around 2,000 stores throughout the year.
As the company embarks on global expansion, it is now focussing on environmentally-friendly measures to be featured in the construction of a major next-generation vegetable factory. This new facility will be a vertical farm with total automation of the cultivation process from start to finish. It will cut labour costs by 50 percent, while energy costs will be reduced by 30 percent per head of lettuce through the use of artificial LED lighting specifically created for SPREAD, as well as the development of a unique air conditioning system. Up to 98 percent of water will be recycled onsite.
Thanks to indoor operations, this highly controlled environment will be unaffected by pests, temperature or weather conditions and will not require any chemical pesticides. Productivity per unit volume will be doubled in comparison to the company's existing factory in Kameoka, as a result of innovative efforts to save space in the cultivation area. Stacker machines will carry seedlings and hand them over to robots that will take care of transplanting them. Once fully grown, they will be harvested and delivered automatically to the packaging line.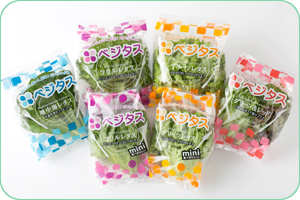 The project will require up to 2 billion yen (US$16.7 million) of investment, which includes onsite R&D and testing facilities. The factory will have a total area of 4,400 square metres (47,400 sq ft) and be capable of producing 30,000 heads of lettuce per day. Construction is expected to start in spring 2016 with commercial operations beginning from summer 2017. The company is predicting annual sales of approximately 1 billion yen (US$8.4 million).
SPREAD Co. has plans for major expansion. They intend to increase the scale of production to 500,000 heads of lettuce per day within five years and will continue expanding their franchise both domestically and internationally.
29th August 2015
U.S. physicists have achieved a breakthrough in fusion power by containing superheated hydrogen plasma for five milliseconds, far longer than any other effort before.
California-based Tri Alpha Energy reportedly held gas in a steady state at 10,000,000°C – only stopping when they ran out of fuel. Particle physicist and adviser to the secretive company, Burton Richter of Stanford University, comments: "They've succeeded finally in achieving a lifetime limited only by the power available to the system."
"Until you learn to control and tame [the hot gas], it's never going to work. In that regard, it's a big deal. They seem to have found a way to tame it," says Jaeyoung Park, head of rival fusion startup Energy/Matter Conversion Corporation in San Diego. "The next question is how well can you confine [heat in the gas]. I give them the benefit of the doubt. I want to watch them for the next 2 or 3 years."
Tri Alpha Energy's reactor is based on field-reversed configuration (FRC). This was first observed in the laboratory in the late 1950s. For decades, research on FRC was limited to plasma lasting for a maximum of only 0.3 milliseconds. In recent experiments, Tri Alpha Energy achieved a huge increase of up to two milliseconds. During their latest attempts, reported this week in the journal Science, angled beams at higher energies of 10 megawatts maintained stability for even longer – five milliseconds without decaying.
The company's goal is to scale their technique up to longer times and higher temperatures (3 billion degrees Celsius), such that atomic nuclei will collide with enough force to fuse and release energy. Tri Alpha Energy intends to dismantle their current machine and build a more powerful version in 2016. Houyang Guo, Chief Experimental Strategist, during a recent physics seminar at the University of Wisconsin–Madison, revealed that confinement times of 100 milliseconds to one second might be possible in the near future. Ultimately, fusion reactors could supply humanity with a practically limitless supply of clean energy.
27th August 2015
Studies highlight deforestation risk in the 21st century and beyond
Two separate studies highlight the need for major policy changes to protect the world's forests over the next century and beyond.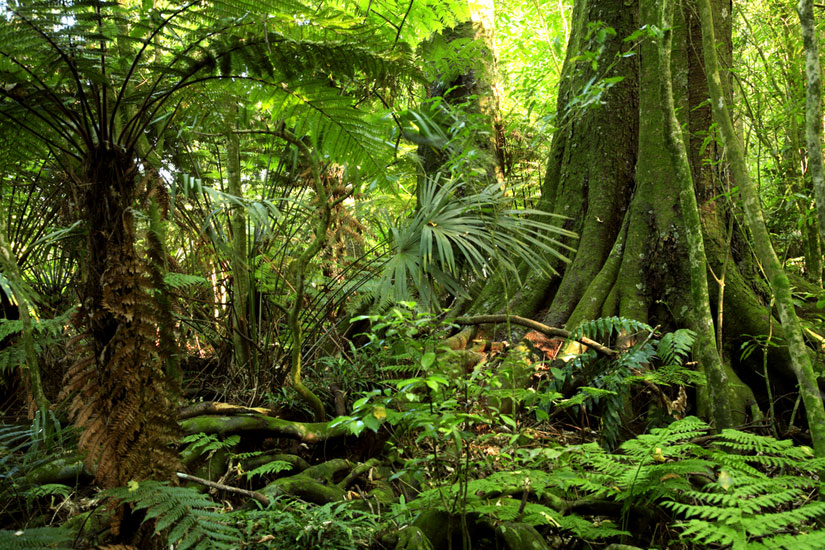 Forests cover an area of four billion hectares (15 million square miles) or about 30 percent of the world's land area. They are the dominant terrestrial ecosystem of Earth, accounting for 75% of the biosphere's gross primary productivity and containing 80% of the world's plant biomass. Forests provide crucial "ecosystem services" that benefit humanity in various ways. These include the sequestering of carbon from the atmosphere, regulation of the water cycle, soil formation, nutrient recycling, biodiversity and gene pool conservation. They also serve an aesthetic function by offering scenic and landscape beauty. The mere presence of trees has been shown to improve both physical and mental health for people living near them, particularly in urban areas.
Unfortunately, the world is losing forests at an alarming rate. As of today, more than three-quarters of the remaining tropical forests have now been degraded by human actions and this figure is likely to increase in the future. Research led by University College London (UCL) and published in the journal Science identifies a new and more dangerous phase of deforestation that is rapidly emerging.
According to the researchers, the first phase occurred when our ancestors moved into tropical forests, as hunter-gatherers. This was followed by a second phase around 6,000 years ago, with the emergence of tropical agriculture. Throughout this time, the overall health of forests was maintained. Today, however, we live in a third phase – characterised by much greater impacts, with distant decision-makers directing how land is used, including permanent intensive agriculture, often for soybeans or palm oil, frontier industrial logging for timber export, cross-continental species invasions, and the early impacts of climate change. The UCL researchers term this phase the era of "Global Integration", affecting even the most remote areas.
Lead author, tropical forest expert Dr Simon Lewis, comments as follows: "Earth has lost 100 million hectares of tropical forest over the last 30 years, mostly to agricultural developments. Few people think about how intertwined with tropical forests we all are. Many foodstuffs include palm oil which comes from once pristine Asian tropical forest, while remaining intact forests are buffering the rate of climate change by absorbing about a billion tonnes of carbon each year."
Current trends look set to intensify without major policy changes, as global food demand is projected to double, over 25 million kilometres of road are predicted to be built by 2050, and climate change intensifies, creating a new phase of human dominance of tropical forests. Having driven the world's highest deforestation rates in South East Asia, the palm oil industry is now gearing up to repeat this process across Africa.
Dr Lewis adds: "I fear a global simplification of the world's most complex forests. Deforestation, logging and road building all create fragmented patches of forest. However, as the climate rapidly changes, the plants and animals living in the rainforest will need to move to continue to live within their ecological tolerances. How will they move? This is a recipe for the mass extinction of tropical forest species this century."
"What is needed are unbroken areas of forest that link today's core tropical regions with forest areas about 4 degrees cooler – so as temperatures rise and rainfall patterns change, species have a better chance of surviving rapid 21st century climate change. We need to bring conservation in line with the reality of climate change," says Lewis.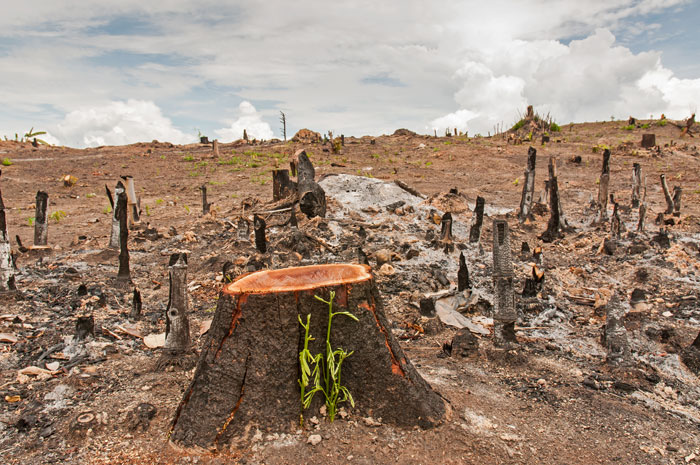 In a separate paper, released by the Centre for Global Development (CGD) this week, researchers conclude that tropical forests will disappear faster than previously thought. Using the most sophisticated satellite imagery available from over 100 countries, CGD environmental economist Jonah Busch and research associate Jens Engelmann have projected a pattern of deforestation that will climb steadily through the 2020s and 2030s before accelerating around 2040.
On a business-as-usual scenario, they find:
• By 2050, an area of tropical forest the size of India will have been cleared – 289 million hectares, or roughly one-third the size of the U.S.

• By 2050, deforestation will have burned through one-sixth of our remaining "carbon budget" – the amount of emissions we have left in order to keep the average global temperature rise below 2° Celsius.
Longer term, the outlook is even worse. If humanity continues its pattern of endless consumption, their research indicates that less than one-fifth of Asia and Latin America's forest cover may remain by 2200.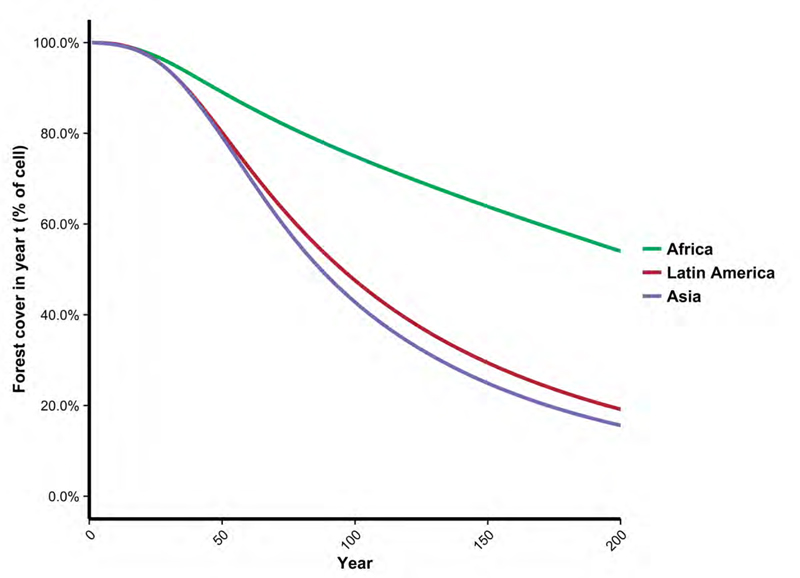 In their report, Busch and Engelmann list three possible solutions that could reverse this trend. The first is an international payment system from rich countries to poor tropical countries, to keep forests standing. This is already beginning to happen – last year, Norway agreed a deal with Liberia and promised to pay the small African nation $150m (£91.4m) in development aid, to stop deforestation by 2020.
The second is for developing countries to introduce carbon pricing. With a charge of $20-per-ton of carbon dioxide on deforestation, emissions would drop by more than 20 percent by 2020; a $50-per-ton price would cut emissions nearly in half by 2050.
Their third solution is restrictive policies on deforestation. If developing countries introduce tighter regulation on deforestation, combined with better satellite monitoring and law enforcement, this would have a drastic impact.
"Conserving tropical forests is a bargain," explains Busch. "Reducing emissions from tropical deforestation costs about a fifth as much as reducing emissions in the European Union."
"The Paris climate agreement needs to provide funding and other resources to stop tropical deforestation," says Engelmann. "A climate agreement without robust action on forests will simply not be enough."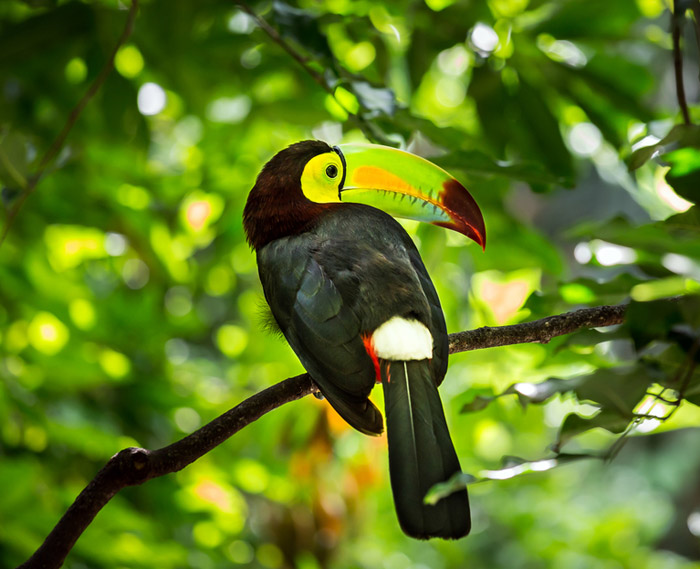 The other paper, by UCL, suggests giving forest dwellers formal collective legal rights over their land, which previous studies have shown is one of the best ways of preserving forests. A study of 292 protected areas in Amazonia showed that indigenous reserves were the most effective at avoiding deforestation in high pressure areas. Ensuring that local people are given collective long-term rights over their lands would mean that benefits flowing from forest lands accrue to the local people. This can provide the beginnings of "development without destruction" programs, tackling poverty while maintaining forest cover. This, the authors have argued, provides human rights and conservation win-wins.
Dr Lewis adds: "With long-term certainty of tenure people can plan, maintaining forests while investing in improving agricultural productivity without expanding into forested lands. Forest dwellers won't be perfect managers of forests – but they won't look for a quick profit and then move on, as big businesses often do."
"The Paris climate change talks in December are doubly important for forests and forest communities. The levels of emission cuts will be a critical factor in determining how many tropical forest plants and animals go extinct over the coming decades and centuries. The agreements on reducing deforestation, including durable finance, will be pivotal. The final test will be whether some funds for adaptation will include land-use planning to retain forest connectivity as the climate rapidly changes."
A new satellite – the BIOMASS Earth Observation mission – will help to improve the global monitoring of forest cover when launched in 2019. This will feature a radar powerful enough to sense both the height and wood content of individual trees. In the Amazon rainforest alone, there are an estimated 390 billion individual trees.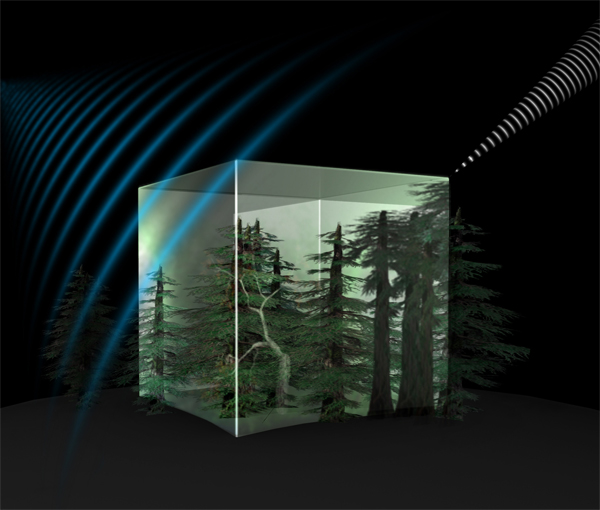 23rd August 2015
Sumatran rhino declared extinct in Malaysia
The Sumatran rhinoceros has been declared extinct in the wild in Malaysia – leaving only nine in captivity and 100 or fewer individuals in neighbouring Indonesia.
Leading scientists and experts in the field of rhino conservation have stated in a new paper that it is safe to consider the Sumatran rhinoceros extinct in the wild in Malaysia. The survival of this species now depends on the 100 remaining individuals in the wild in neighbouring Indonesia and the nine rhinos held in captivity.
Despite intensive survey efforts, there have been no signs of the wild Sumatran rhinoceros (Dicerorhinus sumatrensis) in Malaysia since 2007, apart from two females that were captured for breeding purposes in 2011 and 2014. Scientists now consider the species extinct in the wild in Malaysia. The experts urge conservation efforts in Indonesia to pick up the pace.
The conclusions are published online in Oryx, the International Journal of Conservation, led by the Centre for Macroecology, Evolution and Climate at the University of Copenhagen. Partners include WWF, the International Rhino Foundation, and the International Union for Conservation of Nature (IUCN), which maintains the global Red List of Threatened Species.
| | |
| --- | --- |
| | Only four Sumatran rhinos have been born in captivity so far. Three in the U.S. and one in the Sumatran Rhino Sanctuary in Indonesia, where this footage is from. Filmed by Rasmus Gren Havmøller. |
"It is vital for the survival of the species that all remaining Sumatran rhinos are viewed as a metapopulation – meaning that all are managed in a single program across national and international borders, in order to maximise overall birth rate. This includes the individuals currently held in captivity", says lead author and PhD student Rasmus Gren Havmøller from the Centre for Macroecology, Evolution and Climate.
The experts point to the creation of intensive management zones as a solution; areas with increased protection against poaching, where individual rhinos can be relocated to, in order to increase the number of potential and suitable mating partners.
As illustrated in the map below, the Sumatran rhino was once common in this part of the world – historically ranging across most of South-east Asia. Today, it is found only in a few small pockets of land. Here, less than 100 individuals are thought to live in three separate populations, one of which has seen a critical decline in distribution range of 70% over the last decade. This trend echoes how the population dropped from around 500 to extinction between 1980 and 2005 in Sumatra's largest protected area, the enormous 13,800 km2 Kerinci Seblat National Park.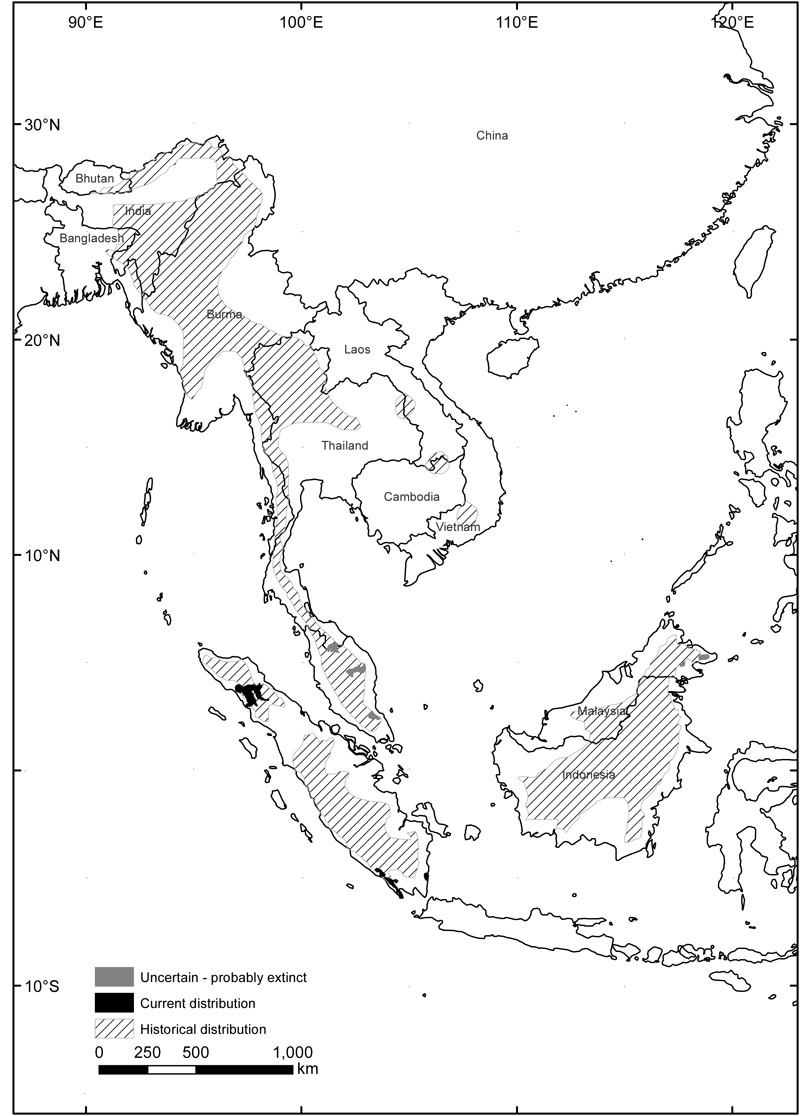 Apart from the wild populations, nine Sumatran rhinos are in captivity – one in Cincinnati Zoo in the U.S. (soon to be moved to Indonesia), three held at facilities in Sabah, Malaysia for attempts to produce embryos by in vitro fertilisation, and five in the Sumatran Rhino Sanctuary in Sumatra, Indonesia.
"The tiger in India was saved from extinction due to the direct intervention of Mrs. Gandhi, the then prime minister, who set up Project Tiger. A similar high level intervention by President Joko Widodo of Indonesia could help pull the Sumatran rhinos back from the brink", says Christy Williams, co-author.
Widodo Ramono, co-author and Director of the Rhino Foundation of Indonesia (YABI) elaborates: "Serious effort by the government of Indonesia should be put to strengthen rhino protection by creating Intensive Protection Zone (IPZ), intensive survey of the current known habitats, habitat management, captive breeding, and mobilising national resources and support from related local governments and other stakeholders."
The conservation strategy so far has included the ongoing development of Rhino Protection Units at sites with remaining viable breeding populations. While this has been achieved, the authors highlight a need for strengthening the units against poaching efforts, especially in northern Sumatra. With a high demand for rhino horns in the black markets of Asia, poaching continues to be a major threat to the species.
Finally, captive breeding was identified as a key action back in 2013 at the Sumatran Rhino Crisis Summit in Singapore, and agreed upon that same year by the Indonesian government, in the Bandar Lampung Declaration. However, the necessary reproductive technology may still take years to develop, during which time we may lose the Sumatran rhino in the wild, the authors conclude.
18th August 2015
Butterfly wings offer clues to vastly improved
solar power
By studying the structure and temperature of butterfly wings, researchers have observed physical properties that could hugely improve the efficiency of solar energy.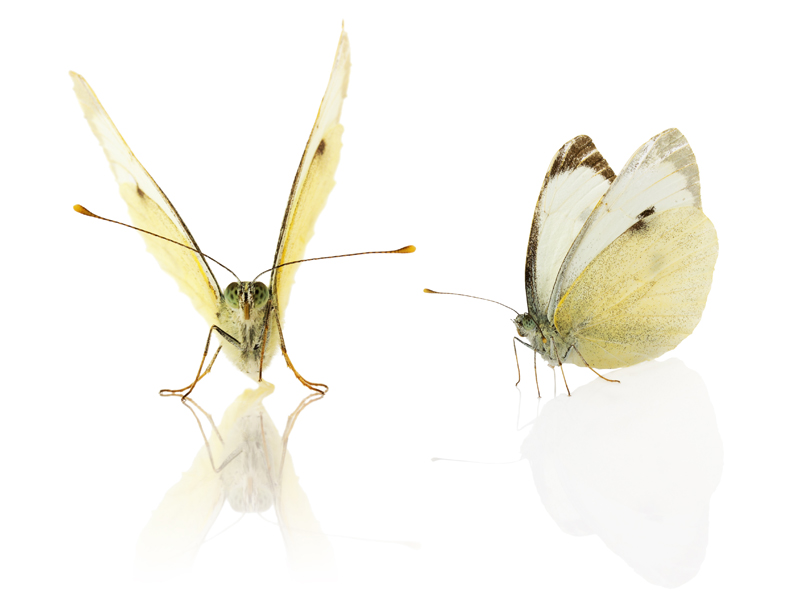 The humble butterfly may hold the key to unlocking new techniques to make solar energy far cheaper and more efficient, pioneering new research has shown. Experts from the University of Exeter have studied new methods for generating photovoltaic (PV) energy – or ways to convert sunlight into power. They showed that by mimicking the v-shaped posture adopted by Cabbage White butterflies to heat up their flight muscles before take-off, the amount of energy produced by solar panels could increase by almost 50 per cent. Crucially, by replicating this 'wing-like' structure, the power-to-weight ratio of the overall solar energy structure is increased 17-fold, making it vastly more efficient.
Professor Tapas Mallick, lead author of the research said: "Biomimicry in engineering is not new. However, this truly multidisciplinary research shows pathways to develop low cost solar power that have not been done before."
Cabbage White butterflies are known to take flight before other butterflies on cloudy days – which limit how quickly the insects can use the energy from the Sun to heat their flight muscles. This ability is thought to be due to the v-shaped posturing, known as reflectance basking, they adopt on such days to maximise the concentration of solar energy onto their thorax, which allows for flight. Furthermore, specific sub-structures of the butterflies' wings allow the light from the Sun to be reflected most efficiently, ensuring the flight muscles are warmed to an optimal temperature as quickly as possible.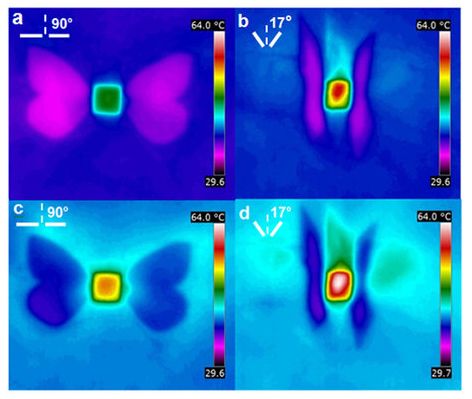 The scientists therefore investigated how to replicate the wings to develop a new, lightweight reflective material that could be used in solar energy production. They found that the optimal angle by which the butterfly should hold its wings to increase temperature to its body was around 17°, which increased the temperature by 7.3°C compared to when held flat. They also showed that by replicating the simple mono-layer of scale cells found in the butterfly wings in solar energy producers, this could vastly improve the power-to-weight rations of future solar concentrators, making them significantly lighter and so more efficient.
Professor Richard ffrench-Constant, who conducts world-leading research into butterfly mimicry at the University of Exeter, said: "This proves that the lowly Cabbage White is not just a pest of your cabbages, but actually an insect that is an expert at harvesting solar energy."
The paper – White butterflies as solar photovoltaic concentrators – was published in the journal Scientific Reports and is available online.