14th September 2016
A tenth of the world's wilderness lost since the 1990s
A tenth of the world's wilderness is reported to have disappeared in the last 20 years – an area twice the size of Alaska – with the Amazon and Central Africa being the hardest hit regions. If trends continue, there will be few areas of wilderness left untouched by human activity by 2050.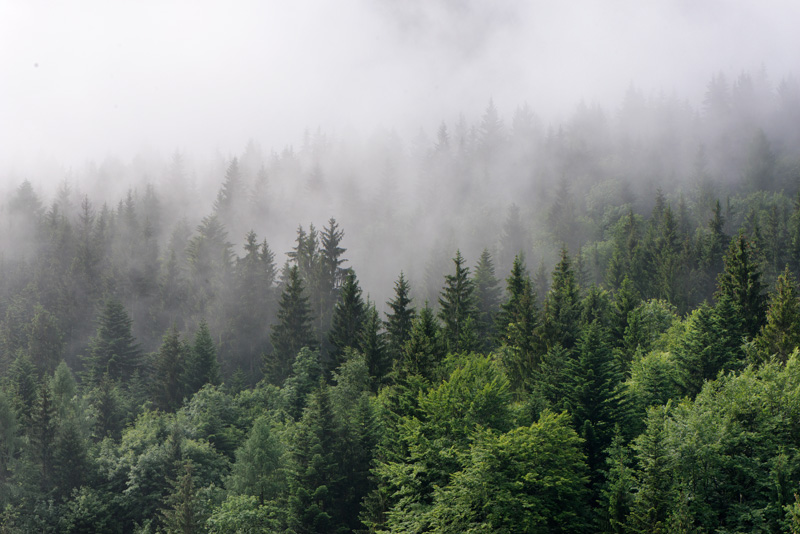 Scientists in the latest issue of Current Biology have reported catastrophic declines in wilderness areas around the planet over the last two decades. Their study describes alarming losses comprising one-tenth of global wilderness since the 1990s – an area twice the size of Alaska and half the size of the Amazon. Their findings underscore an immediate need for international policies to recognise the value of wilderness areas and to address the unprecedented threats they will face in the future, the researchers say.
"Globally important wilderness areas – despite being strongholds for endangered biodiversity, for buffering and regulating local climates, and for supporting many of the world's most politically and economically marginalised communities – are completely ignored in environmental policy," says Dr James Watson of the University of Queensland in Australia, and Wildlife Conservation Society in New York. "Without any policies to protect these areas, they are falling victim to widespread development. We probably have one to two decades to turn this around. International policy mechanisms must recognise the actions needed to maintain wilderness areas before it is too late."
Watson says much policy attention has been paid to loss of species, but comparatively little is known about larger-scale losses of entire ecosystems, especially wilderness areas which tend to be relatively understudied. To fill that gap, he and his colleagues mapped wilderness areas around the globe, with "wilderness" being defined as biologically and ecologically intact landscapes free of any significant human disturbance. The researchers then compared their current map of wilderness to one produced by the same methods in the early 1990s.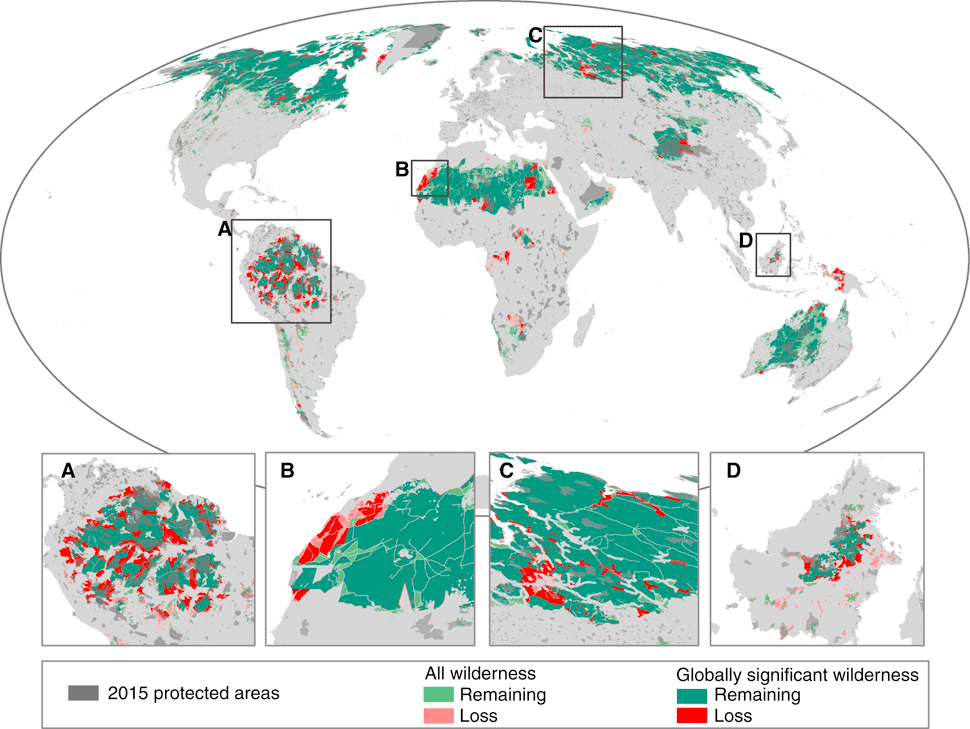 This comparison showed that a total of 30.1 million km² (around 23% of the world's total land area) now remains as wilderness, with the majority being located in North America, North Asia, North Africa, and the Australian continent. However, comparisons between the two maps show that an estimated 3.3 million km² (almost 10%) of wilderness area has been lost in the intervening years. Those losses have occurred mostly in South America, which has experienced a 30% decline in wilderness, and Africa, which has experienced a 14% loss.
"The amount of wilderness loss in just two decades is staggering" says Dr Oscar Venter of the University of Northern British Colombia. "We need to recognise that wilderness areas, which we've foolishly considered to be de facto protected due to their remoteness, are actually being dramatically lost around the world. Without proactive global interventions, we could lose the last jewels in nature's crown. You cannot restore wilderness once it is gone, and the ecological processes that underpin these ecosystems are gone, and it never comes back to the state it was. The only option is to proactively protect what is left."
The UN and others have ignored globally significant wilderness areas in key multilateral environmental agreements, says Watson, and this must change: "If we don't act soon, there will only be tiny remnants of wilderness around the planet, and this is a disaster for conservation, for climate change, and for some of the most vulnerable human communities on the planet. We have a duty to act for our children and their children."
---
• Follow us on Twitter
• Follow us on Facebook
6th September 2016
Latest update of threatened species list brings good and bad news
The IUCN has removed the giant panda from its endangered species list, but added the eastern gorilla to its critically endangered list.
The World Conservation Congress, which convenes every four years, is currently being held in Hawaii, USA. The International Union for Conservation of Nature and Natural Resources (IUCN), which organises the meetings, has just released an update to its "Red List" of species threatened with extinction. This brings some good news, but also a number of worrying developments.
On the plus side, the Giant Panda (Ailuropoda melanoleuca) has now been moved from "Endangered" to "Vulnerable", following decades of efforts to protect and restore the forests on which the animals depend. Their increased population and improved status confirms that the Chinese government's policies are effective. However, climate change is predicted to eliminate more than 35% of the Panda's bamboo habitat later this century and could therefore reverse the gains made since the 1990s.
To protect this iconic species, the IUCN emphasises it is critical that the effective forest protection measures are continued and that newly emerging threats are fully addressed. The Chinese government is planning to expand its existing conservation policy for the species, which the IUCN says must be strongly supported to ensure its effective implementation.
Although the news is encouraging for giant pandas, other species are facing much greater challenges. The Eastern Gorilla – the largest living primate – has been moved from "Endangered" to "Critically Endangered" due to a devastating population decline of more than 70% in 20 years. Its population is now thought to be fewer than 5,000.
Grauer's Gorilla (G. b. graueri), one of the two subspecies, has lost 77% of its population since 1994, declining from 16,900 individuals to only 3,800. Killing or capture of great apes is illegal; yet hunting represents the greatest threat to Grauer's Gorillas. The second of the species, the Mountain Gorilla (G. b. beringei), has been faring better, increasing in number to around 880 individuals.
Four of the six great apes – the Eastern Gorilla, Western Gorilla, Bornean Orangutan and Sumatran Orangutan – are now listed as Critically Endangered, whilst the Chimpanzee and Bonobo are listed as Endangered.
"To see the Eastern Gorilla – one of our closest cousins – slide towards extinction is truly distressing," said Inger Andersen, the IUCN Director General. "We live in a time of tremendous change and each IUCN Red List update makes us realise just how quickly the global extinction crisis is escalating. Conservation action does work and we have increasing evidence of it. It is our responsibility to enhance our efforts to turn the tide and protect the future of our planet."
The latest Red List includes almost 83,000 species of animals and plants, of which nearly 24,000 are threatened with extinction. The IUCN, its Species Survival Commission and nine partner institutions will jointly commit more than US$10 million, as part of an ambitious strategic plan that aims to double the number of species assessed on the Red List by the year 2020.
"The world is changing fast and dramatically," said Dr M Sanjayan, senior scientist from Conservation International. "Now more than ever, amid the updates to the Red List, it's crucial to identify and track the elements of nature that need protection the most. Monitoring the diversity of life is a fundamental part of all our efforts to understand the changes happening on our planet and focusing our conservation efforts so that people and nature can thrive."
"Illegal hunting and habitat loss are still major threats driving many mammal species towards extinction," said Carlo Rondinini, Coordinator of the mammal assessment at Sapienza University of Rome. "We have now reassessed nearly half of all mammals. While there are some successes to celebrate, this new data must act as a beacon to guide the conservation of those species which continue to be under threat."
---
• Follow us on Twitter
• Follow us on Facebook
6th August 2016
Megadam in the heart of Amazon is cancelled
The Brazilian government has announced that São Luiz do Tapajós (SLT), a giant dam planned in the Amazon, has been cancelled. This follows major environmental issues and a campaign supported by over 1.2 million people.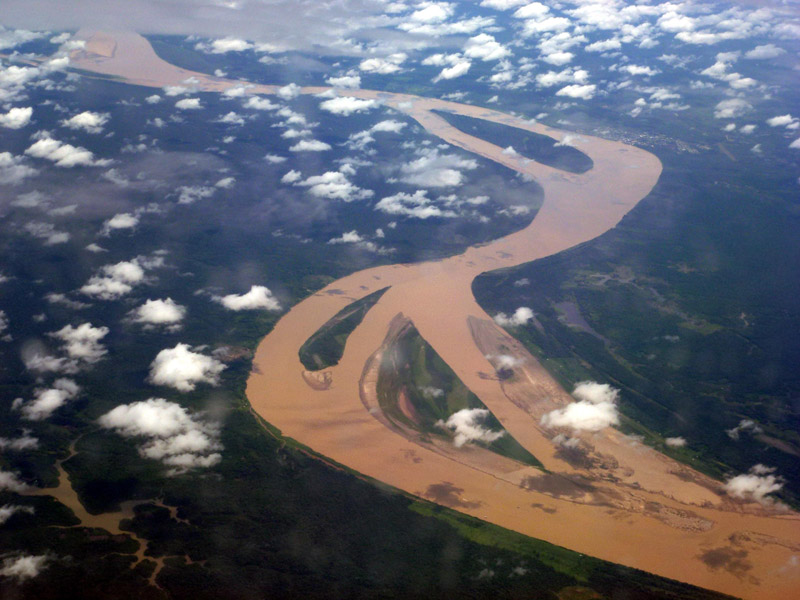 On Thursday this week, Brazil's environment agency, the IBAMA, announced that the licensing process to build the São Luiz do Tapajós (SLT), a giant dam planned for one of the last major free-flowing rivers in the Amazon rainforest, has been cancelled. Without this license, the approval process for the megadam cannot move forward.
Indigenous tribes and conservation groups have applauded the decision – claiming that if allowed to continue, the dam would have caused irreversible damage to the environment and the Munduruku people's way of life.
"We Munduruku people are very happy with the news. This is very important for us. Now we will continue to fight against other dams in our river," said Arnaldo Kabá Munduruku, General Chief Munduruku.
"Now that the license has been cancelled, the Brazilian Ministry of Justice must recognise its obligation and move swiftly to officially demarcate the Sawré Muybu territory," said Danicley Aguiar, Greenpeace Brazil campaigner.
During the last few months, more than 1.2 million people around the world have joined the Munduruku in saying no to the SLT dam and pressuring multinational companies like Siemens to distance themselves from the project.
"This is a great victory for the Munduruku indigenous people who live in the Tapajós region and whose traditions and rights were deeply threatened by the dam and for everyone who cares about the Amazon forest and support the Munduruku globally," said Aguiar.
Other Brazilian agencies – the National Indigenous Foundation (FUNAI) and federal public prosecutors in the state of Pará – had recommended that the IBAMA cancel the license because the project would displace the Munduruku, making it unconstitutional. Under Brazil's constitution, indigenous people cannot be forced off their lands except in case of war or epidemics. The IBAMA also noted that state-run Eletrobrás – Latin America's largest power utility and the company behind the 30 billion reais ($9.40 billion) project – had failed to consider the impact on aquifers, deforestation and biodiversity.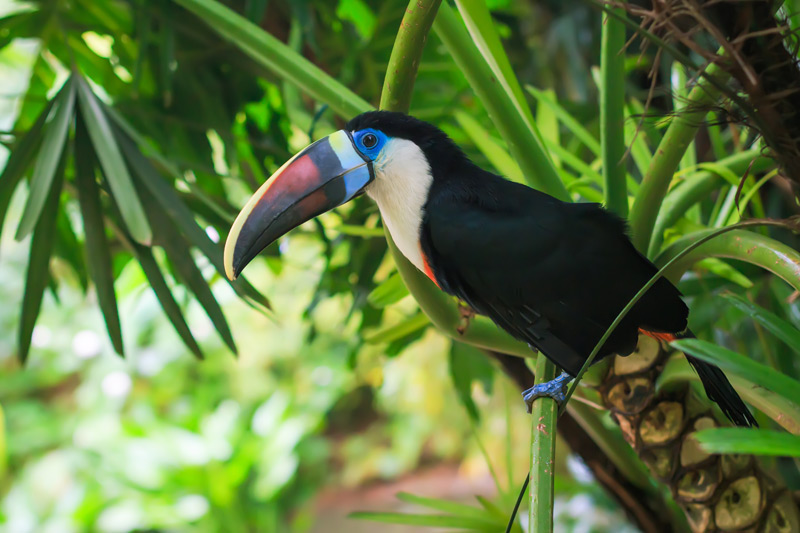 With 8,000 megawatts (MW) of power-generating capacity when fully operational, the SLT would be the second largest dam project in the country and the sixth largest globally. About 376 sq km (145 sq mi) of Munduruku homeland occupied by nearly 12,000 people would be flooded. Sawré Muybu in the Tapajós region, where the Munduruku have lived for centuries, is now in the process of being officially recognised as Indigenous land.
In addition to the SLT, there are 42 other hydropower projects planned in the Tapajós basin and hundreds more earmarked in the Amazon, part of an aggressive economic model that fails to consider the importance of protecting the rainforest and its inhabitants. Previous dams built in the Amazon had significant negative impacts on communities, the environment and have been mired in corruption scandals.
It is possible for a license to be requested for the SLT again. However, the cost of redoing the environmental impact studies, combined with the current recession in Brazil make this unlikely. Greenpeace is calling on the Brazilian government to complete the Munduruku territorial demarcation immediately, urging the nation to focus on truly sustainable ways of producing energy, such as wind and solar. Brazil currently gets about three-quarters of its power from hydroelectric sources.
"Today's decision is a major victory for the Munduruku, their allies and the rule of law in Brazil – sending a shot across the bow of the dam industry juggernaut in the Amazon," said Brent Millikan, Amazon program director at the U.S. non-profit, International Rivers.
---
• Follow us on Twitter
• Follow us on Facebook
1st August 2016
Abundant and diverse ecosystem found in area targeted for deep-sea mining
The seafloor in the Clarion-Clipperton Zone – an area in the Pacific Ocean being targeted for deep-sea mining – has been found to contain an abundance and diversity of life, with more than half of the species collected being new to science.
In a study published by Scientific Reports, researchers discovered impressive abundance and diversity among the creatures living on the seafloor in the Clarion-Clipperton Zone (CCZ) – an area in the equatorial Pacific Ocean being targeted for deep-sea mining. The study, lead authored by Diva Amon, a post-doctoral researcher at the University of Hawai'i at Mānoa (UHM) School of Ocean and Earth Science and Technology (SOEST), found that more than half of the species they collected were new to science, reiterating how little is known about life on the seafloor in this region.
"We found that this exploration claim area harbours one of the most diverse communities of megafauna [animals over 2 cm in size] to be recorded at abyssal depths in the deep sea," said Amon.
As metals and minerals become increasingly scarce on land, the deep sea is where the next frontier of mining will take place. It is predicted to be a widespread activity by 2040. A combination of biological, chemical and geological processes has led to the formation of highly concentrated polymetallic "manganese" nodules on the deep seafloor in the CCZ – an area nearly the size of the contiguous United States. These nodules are potentially valuable sources of copper, nickel, cobalt and manganese, among other metals, which has led to great interest in mining this region. All of the potential polymetallic-nodule exploration contracts that have been granted in the Pacific are in this region, according to the International Seabed Authority (ISA). Just last month, the 16th of these contracts was signed by the ISA and the Cook Islands Investment Corporation (CIIC).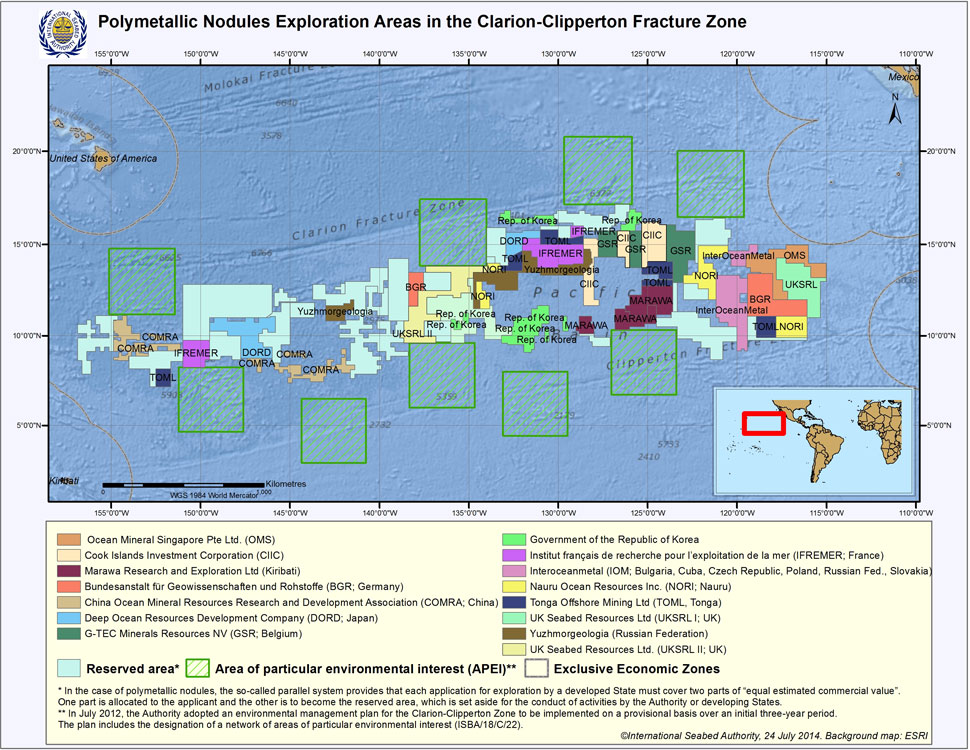 This study, part of the ABYSSLINE Project, was the first to characterise the abundance and diversity of seafloor-dwelling animals, a key component of deep-sea ecosystems, in an exploration claim area leased to UK Seabed Resources Ltd (UK-1) in the eastern portion of the CCZ. Using a remotely operated vehicle, the research team surveyed the seafloor at four sites within the UK-1 exploration contract area and at a site east of the UK-1 area to estimate the abundance and diversity of ecosystems.
Preliminary data from these surveys showed that more animals live on the seafloor in areas with higher nodule abundance. Further, the majority of the megafaunal diversity also appears to be dependent on the polymetallic nodules themselves, and thus will be negatively affected by mining impacts.
"The biggest surprises of this study were the high diversity, the large numbers of new species and the fact that more than half of the species seen rely on the nodules – the very part of the habitat that will be removed during the mining process," said Amon.
Exploitation plans are pushing ahead, even though knowledge of the seafloor ecosystem in this region is still limited.
"In order to more effectively manage the area and mitigate the environmental impacts of deep-sea mining in the CCZ and within the UK-1 contract area, baseline knowledge of the abundance, diversity, and species ranges of megafauna, a key component of this ecosystem, is essential," said Craig Smith, professor of oceanography and ABYSSLINE lead investigator.
The ABYSSLINE team will be publishing many more papers about the seafloor biology of the CCZ, with forthcoming papers from UHM scientists including an atlas of megafauna from the UK-1 exploration contract area, a study documenting extremely high diversity in the community of macrofaunal community (crustaceans, worms, molluscs and other invertebrates) in the exploration claim area.
---
• Follow us on Twitter
• Follow us on Facebook
30th July 2016
Breakthrough solar cell captures CO2 and sunlight, produces burnable fuel
Researchers at the University of Illinois at Chicago have engineered a potentially game-changing solar cell. Their invention can cheaply and efficiently convert atmospheric carbon dioxide directly into usable hydrocarbon fuel, using only sunlight for energy.
With traditional solar cells, light from the Sun is converted into electricity, which must then be stored in heavy batteries. By contrast, a new device created at the University of Illinois at Chicago (UIC), essentially does the work of plants: it converts atmospheric carbon dioxide into fuel, solving two crucial problems at once. Large solar farms of these "artificial leaves" could remove significant amounts of carbon from the atmosphere, while producing energy-dense fuel efficiently.
"The new solar cell is not photovoltaic – it's photosynthetic," says Amin Salehi-Khojin, assistant professor of mechanical and industrial engineering at UIC and senior author on the study. "Instead of producing energy in an unsustainable one-way route from fossil fuels to greenhouse gas, we can now reverse the process and recycle atmospheric carbon into fuel using sunlight."
While plants produce fuel in the form of sugar, the artificial leaf delivers "syngas" – or synthesis gas – a mixture of hydrogen gas and carbon monoxide. This can be burned directly, or converted into diesel or other hydrocarbon fuel. The ability to convert CO2 into fuel at a cost similar to a gallon of gasoline would render fossil fuels obsolete.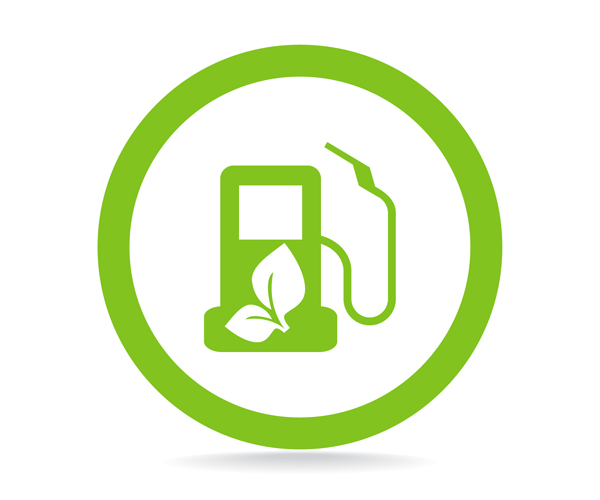 Chemical reactions that convert CO2 into burnable forms of carbon are known as "reduction" reactions – the opposite of oxidation or combustion. Engineers have been exploring different catalysts to drive CO2 reduction; but so far, these have been inefficient and rely on expensive precious metals, such as silver.
"What we needed was a new family of chemicals with extraordinary properties," said Salehi-Khojin.
His team focussed on a family of nano-structured compounds, called transition metal dichalcogenides – or TMDCs – as catalysts, pairing them with an unconventional ionic liquid as the electrolyte inside a two-compartment, three-electrode electrochemical cell. The best of several catalysts they studied turned out to be nanoflake tungsten diselenide.
"The new catalyst is more active; more able to break carbon dioxide's chemical bonds," said Mohammad Asadi, a UIC postdoctoral researcher.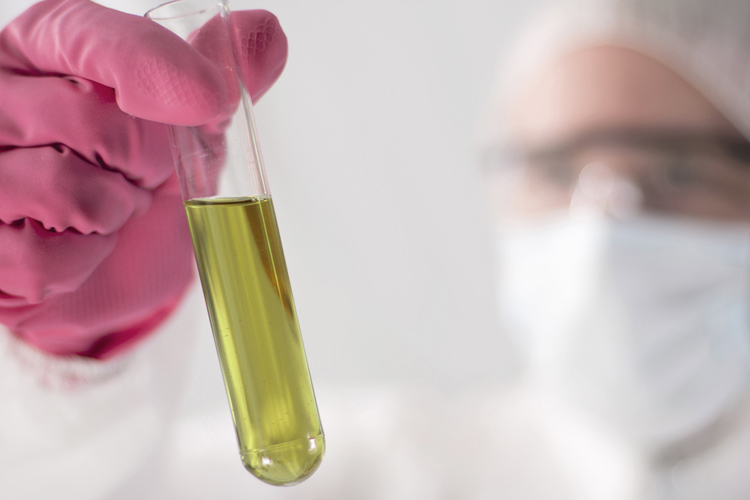 In fact, the new catalyst is 1,000 times faster than noble-metal catalysts, and about 20 times cheaper. The key breakthrough was using an ionic fluid called ethyl-methyl-imidazolium tetrafluoroborate, mixed 50-50 with water. The artificial leaf consists of two silicon triple-junction photovoltaic cells to harvest light – nanoflake tungsten diselenide and ionic liquid co-catalyst system on the cathode side; with cobalt oxide in potassium phosphate electrolyte on the anode side. When light of 100 watts per square metre (simulating the average intensity reaching the Earth) energises the cell, hydrogen and carbon monoxide gas bubble up from the cathode, while free oxygen and hydrogen ions are produced at the anode.
"The hydrogen ions diffuse through a membrane to the cathode side, to participate in the CO2 reduction reaction," explains Asadi.
This technology should be adaptable not only to large-scale use, like solar farms, but also to smaller-scale applications. In the future, it may prove useful on Mars, whose atmosphere is mostly carbon dioxide, if the planet is also found to have water. The study appeared yesterday in the journal Science and was funded by the National Science Foundation and U.S. Department of Energy. A provisional patent application has been filed.
---
• Follow us on Twitter
• Follow us on Facebook
27th July 2016
The first solar-powered aircraft to circumnavigate the Earth
Solar Impulse 2 has become the first solar-powered aircraft to circumnavigate the Earth – a journey of 43,000 kilometres (26,700 miles) – proving that clean technologies can achieve the impossible.
Taking turns at the controls of Solar Impulse 2 (Si2) – their zero-emission electric and solar airplane, capable of flying through day and night without fuel – Bertrand Piccard and André Borschberg have succeeded in their crazy dream of achieving the first ever round-the-world solar flight. By landing back in Abu Dhabi after 23 days of flight and 43,041 km travelled in a 17 leg journey, Si2 has proven that clean technologies can achieve the impossible.
Coming from Egypt, the aircraft landed back in Abu Dhabi yesterday morning at 4:05am local time (UTC+4) completing the final leg of an endeavour that began on 9th March 2015 when Si2 set off from Abu Dhabi with André Borschberg at the controls. Taking turns in the single-seater cockpit, Piccard and Borschberg flew across Asia, the Pacific Ocean, the USA, the Atlantic Ocean, the Mediterranean and the Middle East. A total of 19 world records were set or are still pending by the World Air Sports Federation (FAI). Of particular note were Borschberg's flying five consecutive days and nights over the Pacific from Japan to Hawaii in the longest duration a solo airplane of any kind has ever flown, and when Piccard achieved the historic first crossing of the Atlantic Ocean in a solar airplane.
For the two Swiss pioneers, it's the accomplishment of a dream that was considered impossible by many experts and demonstrates that clean energies and efficient technologies offer tangible solutions for sustainable air travel.
Bertrand Piccard had the vision of an airplane of perpetual endurance after his non-stop round the world balloon flight in 1999, when he made the promise to circumnavigate the Earth again, but this time without any fuel. In 2004, he began bringing together partners who provided funds and technology for this adventure and partnered with André Borschberg. An entrepreneur and skilled aviator, Borschberg took on the technical challenge of developing the solar airplane and making it fly. More than taking turns at the controls of Si2 in the air, the first ever round-the-world solar flight is also a tandem achievement on the ground: while Piccard developed the project outreach to promote clean technologies, Borschberg pulled together the team that designed and constructed Si2 as well as organised the flight missions.
"This is not only a first in the history of aviation – it's before all, a first in the history of energy. I'm sure that within 10 years, we'll see electric airplanes transporting 50 passengers on short to medium haul flights." said Piccard, addressing the crowds after exiting the cockpit of Si2. "But it's not enough. The same clean technologies used on Solar Impulse could be implemented on the ground, in our daily life."
"Flying one leg with a completely new type of airplane is difficult enough, but flying around the world is a real challenge," said his partner Borschberg. "More than a demonstration, it's the confirmation that these technologies are truly dependable and reliable. There is so much potential for the aeronautical world: while one hundred percent solar powered airplanes might take longer to materialise, electric planes will develop in the near future because of their tremendous advantages, such as energy efficiency."
UN Secretary-General Ban Ki-moon spoke to Bertrand Piccard, live from the Si2 cockpit, a few hours before the landing in Abu Dhabi: "Solar Impulse has flown more than 40,000 kilometres without fuel, but with an inexhaustible supply of energy and inspiration. This is a historic day for Captain Piccard and the Solar Impulse team, but it is also a historic day for humanity," said the UN leader. "You may be ending your around the world flight today – but the journey to a more sustainable world is just beginning. The Solar Impulse team is helping to pilot us to that future."
Looking forward, Bertrand Piccard and André Borschberg will continue to actively promote the use of modern clean technologies as a way to improve the quality of life on Earth. Firstly, through the already announced creation of the International Committee for Clean Technologies that will build on the #futureisclean initiative to bring independent and credible guidance on energy policy to governments and businesses. Secondly, by carrying on the work initiated by the engineering team on unmanned and high endurance electric aircrafts, which could fly at high altitude for months – offering services with exponential added value and complementing the work done by satellites today, in a flexible and sustainable way.
"Solar Impulse is very well positioned to contribute to the next generations of manned or unmanned electric aircrafts. By capitalising on the engineering skills and expertise gained over the past decade, we will continue to work to encourage concrete innovations and disruptive solutions," said Borschberg.
"We are pleased to welcome back Bertrand Piccard and Andre Borschberg after their outstanding success in circumnavigating the world using only the power of the Sun," said Sultan Ahmed Al Jaber, minister of state in the United Arab Emirates and chairman of Masdar, a company located in Abu Dhabi and specialising in clean technology, renewable energy, and sustainable development.
"As a leader in developing innovative renewable energy projects and technologies, Masdar is committed to supporting groundbreaking initiatives like Solar Impulse which will inspire and deliver a more sustainable future. Solar Impulse has proven just how practical the application of solar energy can be. It will also provide valuable data that will lead to critical improvements in two key areas, energy storage and efficiency. Masdar is truly excited about the endless possibilities of solar energy and we will be part of taking such technologies to the next level," Dr. Al Jaber concluded.
As stated in Bertrand Piccard's manifesto for clean technologies written in 2004, Solar Impulse's ambition is "for the worlds of exploration and innovation to make a contribution to the cause of renewable energies; to demonstrate the importance of clean technologies for sustainable development; and to place dreams and emotions back at the heart of scientific adventure." There is still much to be done to make the world we live in more energy efficient, but through innovation and pioneering spirit, the first ever round-the-world solar flight is credible proof that change is possible and that there is reason to hope for a more sustainable world.
---
• Follow us on Twitter
• Follow us on Facebook
20th July 2016
2016 climate trends continue to break records
Two key climate change indicators – global surface temperatures and Arctic sea ice extent – have broken numerous records through the first half of 2016, according to NASA analyses of ground-based observations and satellite data.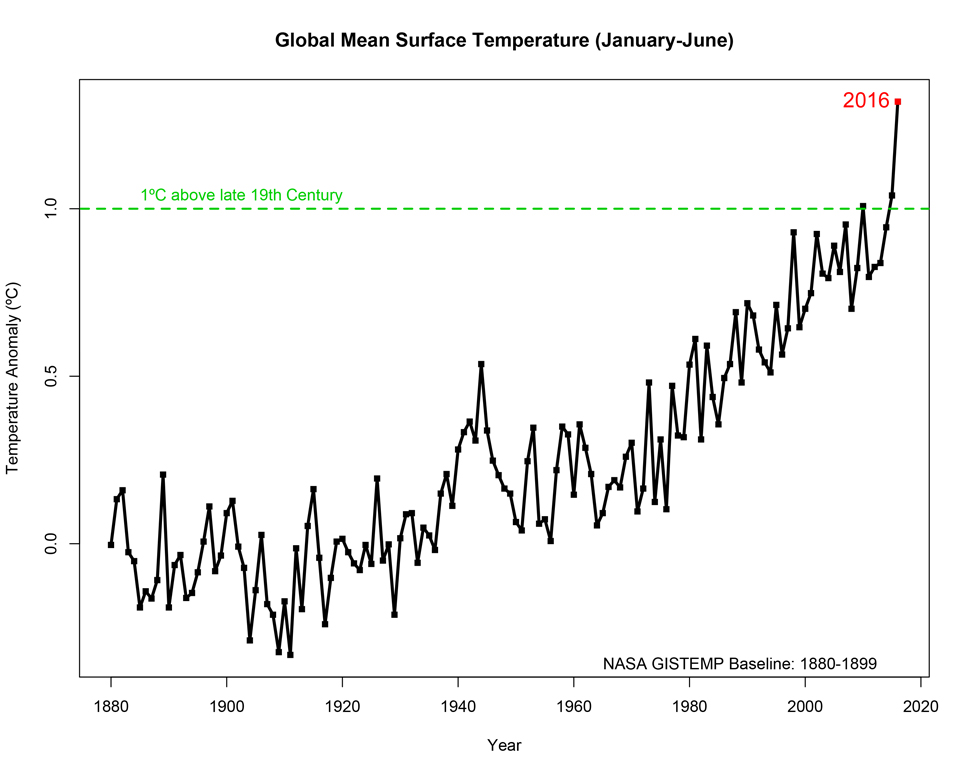 Each of the first six months of 2016 set a record as the warmest respective month globally in the modern temperature record, which dates to 1880, according to scientists at NASA's Goddard Institute for Space Studies (GISS) in New York. The six-month period from January to June was also the planet's warmest half-year on record, with an average temperature 1.3°C (2.4°F) warmer than the late nineteenth century.
Five of the first six months of 2016 also set records for the smallest monthly Arctic sea ice extent since consistent satellite records began in 1979, according to scientists at NASA's Goddard Space Flight Centre in Greenbelt, Maryland. The one exception, March, recorded the second smallest extent for that month.
While these two key climate indicators have broken records in 2016, NASA scientists said it is more significant that global temperature and Arctic sea ice are continuing their long-term trends of change. Both trends are ultimately driven by the rising concentration of heat-trapping carbon dioxide, which has increased by 40% since pre-industrial times, along with various other greenhouse gases in the atmosphere.
The extent of Arctic sea ice at the peak of the summer melt season now typically covers 40% less area than it did in the late 1970s and early 1980s. Arctic sea ice extent in September, the seasonal low point in the annual cycle, has been declining at a rate of 13.4% per decade.
"While the El Niño event in the tropical Pacific this winter gave a boost to global temperatures from October onwards, it is the underlying trend which is producing these record numbers," said GISS Director, Gavin Schmidt.
Previous El Niño events have driven temperatures to what were then record levels – such as during 1998. But in 2016, even as the effects of the recent El Niño taper off, global temperatures have risen well beyond those of 18 years ago because of the overall warming that has occurred since then.
The global trend in rising temperatures is outpaced by the regional warming in the Arctic, according to Walt Meier, a sea ice scientist from NASA Goddard: "It has been a record year so far for global temperatures, but the record high temperatures in the Arctic over the past six months have been even more extreme," says Meier. "This warmth, as well as unusual weather patterns, has led to the record low sea ice extents so far this year."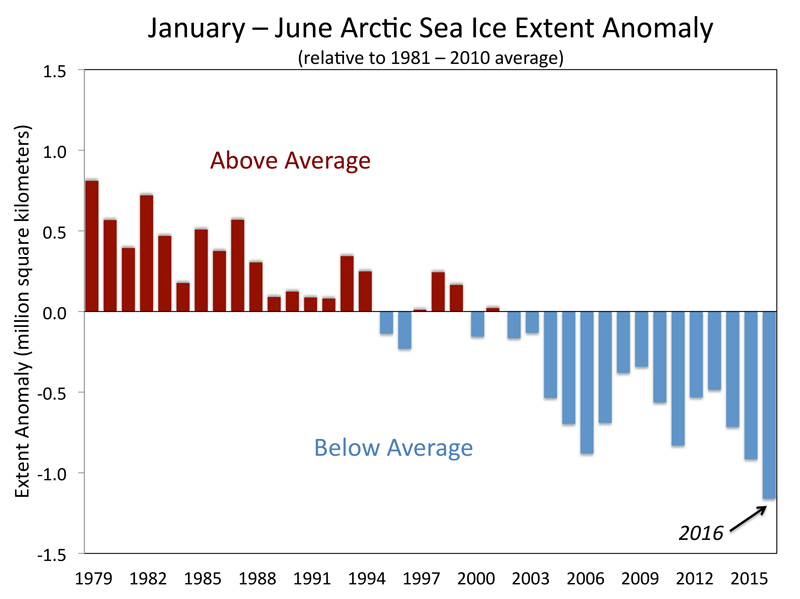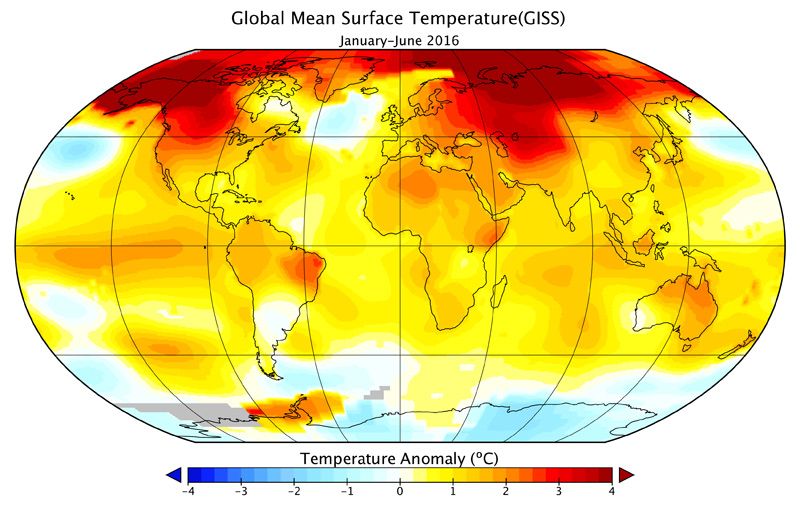 NASA tracks temperature and sea ice as part of its effort to understand the Earth as a system and to understand how Earth is changing. In addition to maintaining 19 Earth-observing space missions, the agency also sends researchers around the globe to investigate different facets of the planet at closer range. Right now, NASA researchers are working across the Arctic to better understand both the processes driving increased sea ice melt and the impacts of rising temperatures on Arctic ecosystems.
NASA's Operation IceBridge campaign last week commenced a series of airborne measurements of melt ponds on the surface of the Arctic sea ice cap. Melt ponds are shallow pools of water, seen in the photo below, that form as ice melts. Their darker surfaces absorb more sunlight and accelerate the melting process. IceBridge is flying out of Barrow, Alaska, during the melt season to observe these at a scale never before achieved. Recent studies have shown that the formation of melt ponds early in the summer is a good predictor of the yearly minimum sea ice extent in September.
"No one has ever, from a remote sensing standpoint, mapped the large-scale depth of melt ponds on sea ice," said Nathan Kurtz, IceBridge's project scientist and a sea ice researcher at NASA Goddard. "The information we'll collect is going to show how much water is retained in melt ponds and what kind of topography is needed on the sea ice to constrain them, which will help improve melt pond models."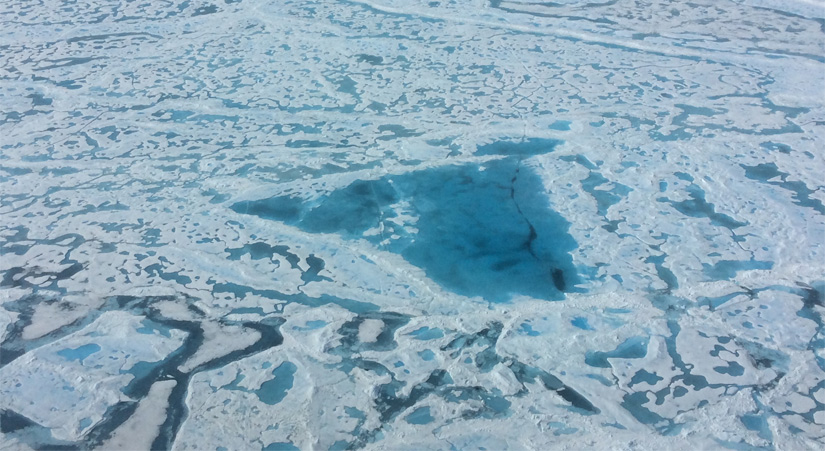 ---
• Follow us on Twitter
• Follow us on Facebook
20th June 2016
New method of carbon capture turns CO2 into stone underground
A way of pumping CO2 underground and turning it from a gas into solid carbonate minerals has been demonstrated in Iceland – offering a potentially better method of carbon capture and storage.
Scientists have announced a more efficient way of removing man-made carbon dioxide emissions from the atmosphere – turning it into rock. Their study, published in the journal Science, has shown that carbon dioxide (CO2) can be permanently and rapidly locked away from the atmosphere, by injecting it down into volcanic bedrock. The CO2 reacts with the surrounding rock, forming environmentally benign minerals.
Measures to tackle the problem of increasing greenhouse gas emissions and resultant climate change are numerous. One approach is Carbon Capture and Storage (CCS), where CO2 is physically removed from the atmosphere and trapped underground. Geoengineers have long explored the possibility of sealing CO2 gas in voids underground, such as in abandoned oil and gas reservoirs, but these are susceptible to leakage. So attention has now turned to the mineralisation of carbon to permanently dispose of CO2.
Until now, it was thought that this process would take centuries or millennia, and therefore wasn't a practical option. But the current study – led by the University of Iceland, Columbia University, University of Toulouse and Reykjavik Energy – has demonstrated it can be done in just two years.
Lead author, Dr Juerg Matter, Associate Professor of Geoengineering at the University of Southampton, says: "Our results show that between 95 and 98 per cent of the injected CO2 was mineralised over the period of less than two years, which is amazingly fast."
The gas was injected into a deep well in Iceland. As a volcanic island, Iceland is made up of 90 per cent basalt, a rock rich in elements such as calcium, magnesium and iron that are required for carbon mineralisation. The CO2 is dissolved in water and carried down the well. On contact with the target storage rocks, at 400-800 metres underground, the solution quickly reacts with surrounding basaltic rock, forming carbonate minerals. The diagram below shows conventional methods of CCS (left) and the new method (right):
"Carbonate minerals do not leak out of the ground – thus, our newly developed method results in permanent and environmentally-friendly storage of CO2 emissions," says Dr Matter, who also works at Columbia University. "On the other hand, basalt is one of the most common rock types on Earth, potentially providing one of the largest CO2 storage capacities."
To monitor what was happening underground, the team also injected 'tracers', chemical compounds that literally trace the transport path and reactivity of the CO2. There were eight monitoring wells at the study site, where they could test how the chemical composition of the water had changed. The researchers discovered that by the time the groundwater had migrated to the monitoring wells, the concentration of the tracers – and therefore the CO2 – had diminished, indicating that mineralisation had occurred.
"Storing CO2 as carbonate minerals significantly enhances storage security, which should improve public acceptance of Carbon Capture and Storage as a climate change mitigation technology," says Dr Matter.
However, it will require huge efforts to be scaled up to the level needed to store the gigatons of gases currently being emitted by human activity.
"The overall scale of our study was relatively small. So, the obvious next step for CarbFix is to upscale CO2 storage in basalt. This is currently happening at Reykjavik Energy's Hellisheidi geothermal power plant, where up to 5,000 tonnes of CO2 per year are captured and stored in a basaltic reservoir."
The investigation is part of the CarbFix project, a European Commission and U.S. Department of Energy funded programme to develop ways to store anthropogenic CO2 in basaltic rocks through field, laboratory and modelling studies.
---
• Follow us on Twitter
• Follow us on Facebook
17th June 2016
The first recorded mammalian extinction due to anthropogenic climate change
Australian researchers have announced that the Bramble Cay melomys is now likely extinct, adding: "Significantly, this probably represents the first recorded mammalian extinction due to anthropogenic climate change."
University of Queensland and Queensland Government researchers have confirmed that the Bramble Cay melomys – the only mammal species endemic to the Great Barrier Reef – is the first mammal to go extinct due to human-induced climate change. In their newly published report, the scientists describe how a comprehensive survey failed to find any trace of the rodent, which is also known as the mosaic-tailed rat. The animals were known only to live on a small island, Bramble Cay, just 340m long and 150m wide (1,120 ft × 490 ft) in the Torres Strait, between Australia and Papua New Guinea.
"Because a limited survey in March 2014 failed to detect the species, Bramble Cay was revisited from August to September 2014, with the explicit aims of establishing whether the Bramble Cay melomys still persisted on the island and to enact emergency measures to conserve any remaining individuals," said Dr Luke Leung, from the University of Queensland's School of Agriculture and Food Sciences.
"A thorough survey effort involving 900 small animal trap-nights, 60 camera trap-nights and active daytime searches produced no records of the species, confirming that the only known population of this rodent is now extinct. Anecdotal information obtained from a professional fisherman who visited Bramble Cay annually for the past 10 years suggested that the last known sighting of the Bramble Cay melomys was made in late 2009."
When first recorded by European sailors in 1845, the animals were seen in high density on the island. Ship crews reported shooting these "large rats" with their bows and arrows. In 1978, there were estimated to be several hundred melomys, but their numbers dwindled rapidly in subsequent decades. Just 10 were captured during a 2002 survey and 12 in 2004. The fact that such exhaustive efforts have now failed to record a single living animal at their only known location, while extensive surveys have not found it on any other islands along the Torres Strait or Great Barrier Reef, gives Dr Leung confidence that Australia has lost another mammal species.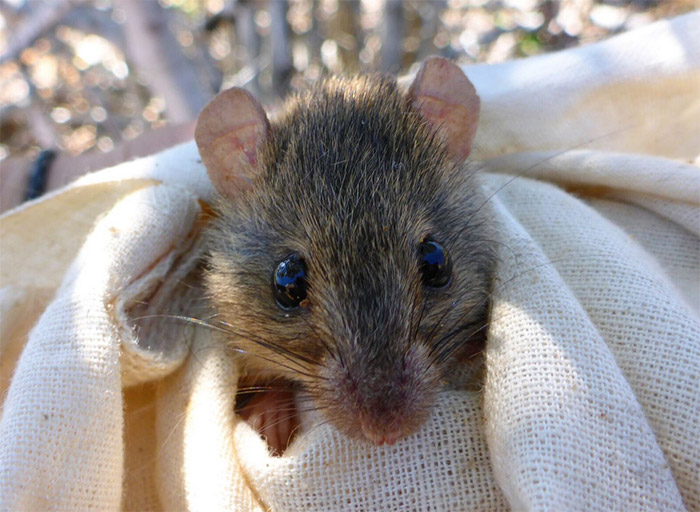 The key factor responsible for the destruction of this population was almost certainly ocean inundation of the low-lying cay, Dr Leung said – very likely on multiple occasions during the past decade, causing dramatic habitat loss and perhaps also direct mortality of individuals. At its highest point, the cay sits just 3m (9.8 ft) above sea level. Around the Torres Strait, sea level rose at almost twice the global average rate between 1993 and 2014.
"Available information about sea-level rise and the increased frequency and intensity of weather events – producing extreme high water levels and damaging storm surges in the Torres Strait region over this period – point to human-induced climate change being the root cause of the loss of the Bramble Cay melomys," Leung said. "Significantly, this probably represents the first recorded mammal extinction due to anthropogenic climate change."
The International Union for Conservation of Nature and Natural Resources (IUCN) lists one other mammal – the Little Swan Island hutia – that was driven to extinction partly by extreme weather (the severe hurricane Janet in 1955). However, cats being introduced onto the island were considered the primary driver of their disappearance. In contrast, the Bramble Cay melomys has been lost "solely (or primarily) due to anthropogenic climate change."
Anthony D. Barnosky, a professor at the University of California, Berkeley, is a leading expert on the impacts of climate change on biodiversity. He called the disappearance of the melomys "a cogent example of how climate change provides the coup de grâce to already critically endangered species."
"I think this is significant because it illustrates how the human-caused extinction process works in real time," Dr. Barnosky added, noting that rising seas and storm surges had wiped out a species that had no possible escape route. "On land, we're seeing the same thing, except rather than water barriers, the barriers are the 51% of the Earth's land surface that has been taken over by people."
The loss of the Bramble Cay melomys is likely just the tip of the iceberg. There is widespread talk among scientists that Earth has entered a new geological era – termed the Anthropocene – with strong evidence that a sixth mass extinction is imminent. If the global average temperature increase exceeds 3.5°C (6.3°F), model projections suggest major extinctions (40-70% of species assessed) around the globe.
---
• Follow us on Twitter
• Follow us on Facebook
8th June 2016
Arctic sea ice hits record low for May
The National Snow and Ice Data Centre reports that Arctic sea ice reached its lowest extent on record for May by an unusually wide margin.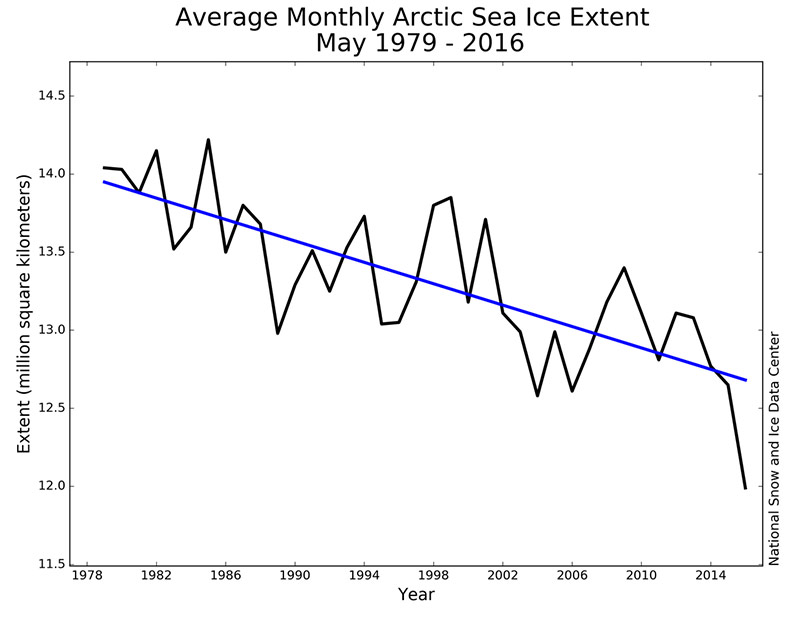 The Arctic sea ice extent for last month was 580,000 sq km (224,000 sq mi) below the previous record low for the month set in 2004, according to the latest analysis of satellite data by the National Snow and Ice Data Centre (NSIDC).
"We've never seen anything like this before," said Professor Mark Serreze, director of NSIDC. "It's way below the previous record – very far below it – and we're something like almost a month ahead of where we were in 2012."
To put things in perspective: sea ice cover broke the previous record low for May by an area larger than California. When compared to the average May between 1981 and 2010, the difference is even starker: equivalent to more than three Californias.
Melting sea ice does not contribute to rising sea levels, because the ice is floating. However, it has a strong effect on the Earth's albedo – a measure of the planet's reflectivity. When ice disappears, it creates darker areas of open water that absorb sunlight (and therefore heat) more easily. The Arctic is now warming twice as fast as the rest of the world.
Last month's record of 12 million sq km (4.63 million sq miles), follows previous record lows this year in January, February, and April. The NSIDC report explains that winds from northern Europe and Alaska have been pushing higher than average temperatures into the Arctic Ocean, producing hot spots across the region. Air temperatures in May were 2.8°C (5°F) above average, with some pockets of anomalous warmth even higher than that.
"The impacts on ocean and land systems are transformational," said Prof. Chris Rapley at University College London. "The situation is changing the circulation patterns and behaviours of the atmosphere and oceans."
In addition to a reduced surface area, ice thickness has also been declining – especially in the Beaufort Sea (up to 40 cm below the 2011-2016 average) and the Barents and Kara seas (10 to 30 cm thinner). A self-reinforcing feedback cycle is being produced, as the NSIDC's report explains: "When this thinner ice melts, dark open water areas may grow rapidly as energy is absorbed, which in turn melts more ice and can accelerate multiyear ice decay."
The NASA image above, taken on 21st May, shows a highly fragmented field of ice in the Beaufort Sea above Canada, and a large gap of open water separating the ice from the coast. It remains to be seen whether 2016 as a whole will beat the previous annual record of 2012, which will depend on the summer weather.
"All we can say is that we are on a very bad footing," says Professor Serreze. "However, this is also part and parcel of a longer trend ... we've always known that the Arctic would be the place most sensitive to climate change, and that's what we're seeing."
---
• Follow us on Twitter
• Follow us on Facebook
5th June 2016
Renewable energy grew by its largest ever amount during 2015
Worldwide, renewable energy grew by its largest ever amount last year, according to a report from the Renewable Energy Policy Network for the 21st Century (REN21).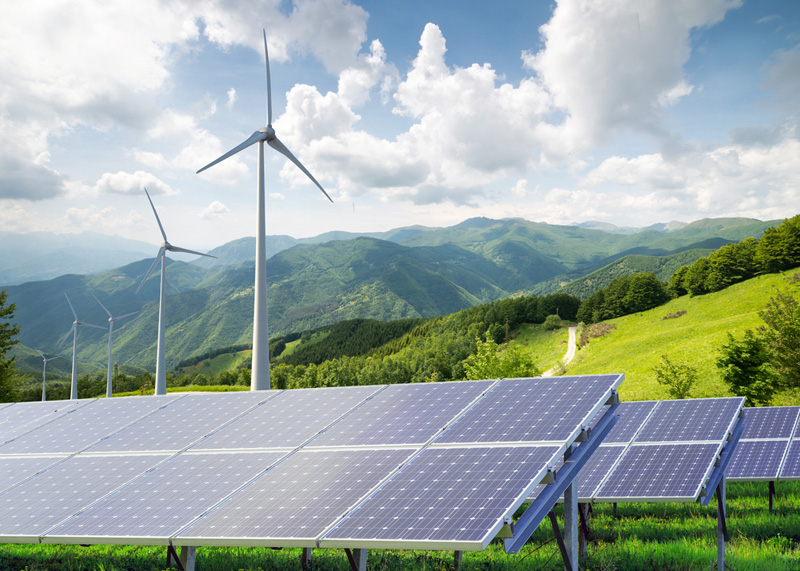 This week, REN21 published the most comprehensive annual overview of the state of renewable energy. The Renewables 2016 Global Status Report reveals that renewables are now firmly established as competitive, mainstream sources of energy in many countries around the world.
2015 was a record year for new installations. Renewable power generating capacity saw its largest increase ever, with an estimated 147 gigawatts (GW) added. Modern renewable heat capacity also continued to rise, and renewables use expanded in the transport sector. Distributed renewable energy is advancing rapidly to close the gap between the energy haves-and have-nots.
These results were driven by several factors. First and foremost, renewables are now cost competitive with fossil fuels in many markets. In addition, government leadership continues to play a key role in driving the growth of renewables – particularly wind and solar – in the power sector. As of today, 173 countries have renewable energy targets in place and 146 have support policies. Cities, communities and companies are leading the rapidly expanding "100% renewable" movement, playing a vital role in advancing the global energy transition.
Additional growth factors include better access to financing, concerns about energy security and the environment and the growing demand for modern energy services in developing and emerging economies.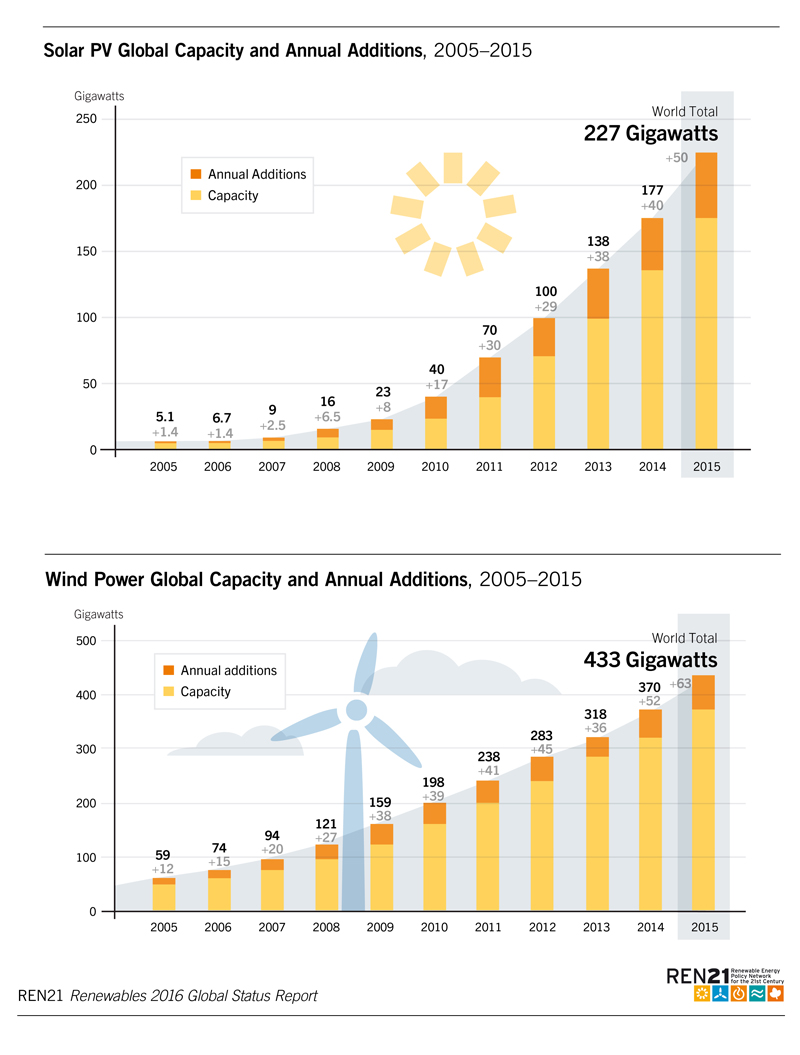 Christine Lins, Executive Secretary of REN21, said: "What is truly remarkable about these results is that they were achieved at a time when fossil fuel prices were at historic lows, and renewables remained at a significant disadvantage in terms of government subsidies. For every dollar spent boosting renewables, nearly four dollars were spent to maintain our dependence on fossil fuels."
2015 was a record year not only for new installations, but also for investment – reaching USD 286 billion in renewable power and fuels; if investment in large hydropower (>50 MW) and in heating and cooling is taken into account, the total is far higher. With China accounting for more than one third of the global total, developing countries surpassed developed countries in total renewable energy investments for the first time.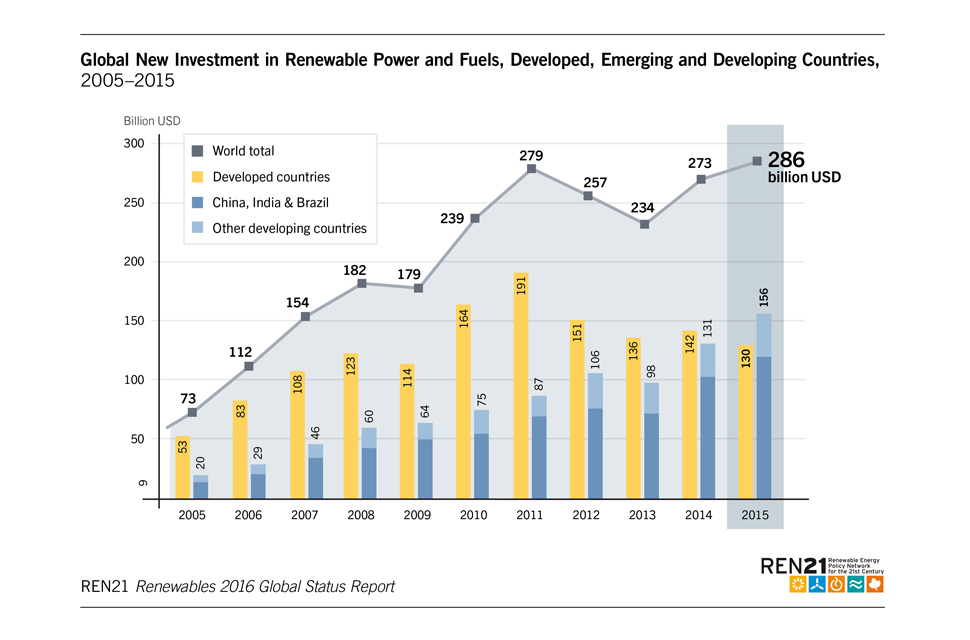 With increased investment came an increase in technological advances, cost reductions and jobs. There are now 8.1 million people working in the renewable energy sector – representing steady growth in stark contrast with depressed labour markets in the broader energy sector.
REN21's Renewables 2016 Global Status Report presents developments and trends through the end of 2015, as well as observed trends from early 2016 where available. This means that accelerated action to reduce greenhouse gas emissions stemming from the Paris Climate Agreement in December is not reflected in these results.
While trends are generally positive, the report highlights several challenges that remain to be addressed if governments are to fulfil their commitments to achieve a global transition away from fossil fuels. These include: achieving effective integration of high shares of renewables into the grid; addressing policy and political instability, regulatory barriers, and fiscal constraints. Further, there is far less policy focus on transport and, particularly, heating and cooling, so these sectors are progressing much more slowly.
Arthouros Zervos, Chair of REN21: "The renewables train is barrelling down the tracks, but it's running on 20th century infrastructure; a system based on outdated thinking where conventional baseload is generated by fossil fuels and nuclear power. To accelerate the transition to a healthier, more secure and climate-safe future, we need to build the equivalent of a high-speed rail network – a smarter, more flexible system that maximises the use of variable sources of renewable energy, and accommodates decentralised and community-based generation."
In related news, the G7 nations have – for the first time – set a deadline for ending fossil fuel subsidies, which currently amount to half a trillion dollars annually worldwide. Leaders of Canada, the European Union, France, Germany, Italy, Japan, the UK and US have encouraged all countries to join them in eliminating coal, oil and gas subsidies by 2025.
---
• Follow us on Twitter
• Follow us on Facebook
27th May 2016
Donald Trump vows to end climate change funding
At the Williston Basin Petroleum Conference on Thursday, Republican presidential nominee Donald Trump promised to end climate change funding and to greatly expand U.S. fossil fuel production.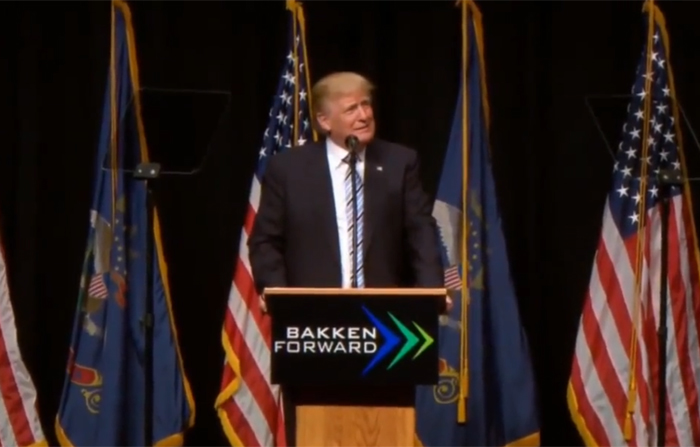 After clinching the GOP nomination for President, Donald Trump outlined his energy and environmental policies yesterday to thousands at the Williston Basin Petroleum Conference in Bismarck, North Dakota. During his speech, for which he received many standing ovations, Mr. Trump emphasised the need for an "America First" agenda.
"We're going to rescind all the job-destroying Obama Executive Actions including the Climate Action Plan and the Waters of the United States Rule," Trump said to applause from the audience.
"We're gonna save the coal industry," he said. "And other industries threatened by Clinton's extremist agenda. And it is indeed an extremist agenda. Perhaps even worse than Obama. I'm going to ask trans-Canada to renew its permit application for the Keystone Pipeline."
In December 2015, a global climate change pact was agreed at the UN COP21 summit. This represented a consensus of the 196 parties attending and included measures to reduce the global temperature rise from 4.5°C to 3.5°C by 2100. While far from adequate, it was the biggest milestone to date in terms of halting climate change, with nations around the world promising to curtail their greenhouse gas emissions and pursuing efforts to limit the rise to 2.0°C or below.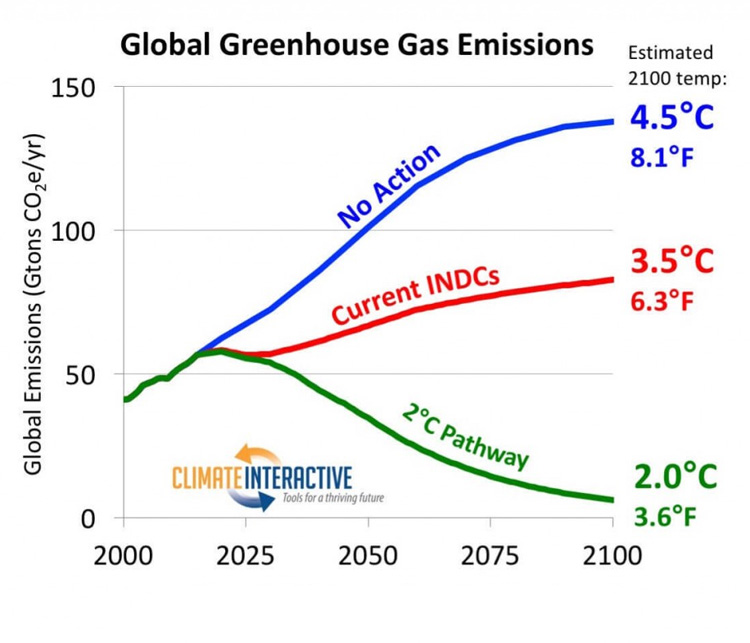 The United States pledged emission cuts of nearly 30% by 2025 (relative to 2005 levels) and claimed it was on track for an 80% cut by 2050. One of the main ways in which this goal would be achieved was through stricter regulations on power plants – the single largest source of emissions – to be introduced by the Obama administration.
In addition to boosting renewables, lowering their costs, and increasing the energy efficiency of homes and workplaces, the plan would also create tens of thousands of new jobs, improve air and water quality, prevent 3,600 premature deaths, prevent 90,000 asthma attacks in children and prevent 300,000 missed workdays and schooldays. Consumers would save an estimated $155 billion from 2020-2030.
However, in his speech yesterday, Trump made it clear that he would "cancel the Paris climate agreement" and "stop all payments of the United States tax dollars to UN global warming programs." He also criticised the Endangered Species Act for being used to limit oil and gas operations and promised to "revoke policies that impose unwarranted restrictions on new drilling."
Interestingly, Trump recently applied for permission to erect coastal defences at his seaside golf resort in County Clare, Ireland. A permit application for the wall specifically refers to erosion caused by rising sea levels and extreme weather as a result of global warming. This is despite him calling it "pseudoscience," "bullshit" and "a total hoax."
Real Clear Politics' national polling shows that Donald Trump and Hillary Clinton are now almost level, following a sharp decline in the latter's popularity over the last two months. Their average scores now stand at roughly 43% each. The full speech at the Williston Basin Petroleum Conference is available on YouTube.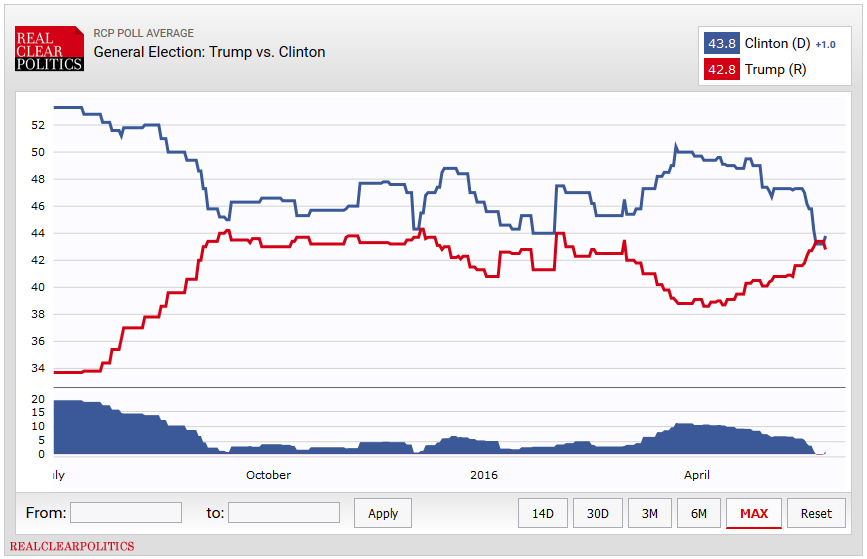 ---
• Follow us on Twitter
• Follow us on Facebook
17th May 2016
More than a billion people exposed to coastal flooding by 2060
To mark the start of Christian Aid Week, a new report launched by the charity highlights the cities most at risk from future coastal flooding.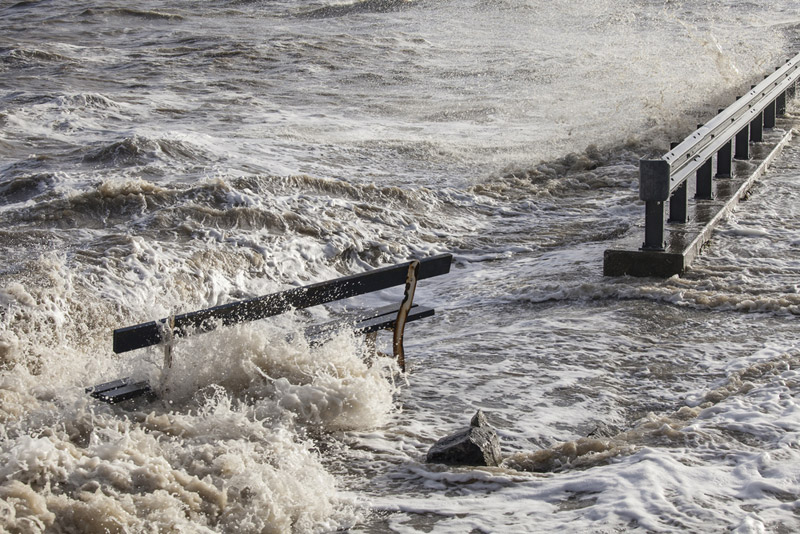 Christian Aid's report – Act Now Or Pay Later: Protecting a billion people in climate-threatened coastal cities – shows that more than a billion people will be exposed to coastal flooding by 2060, through a combination of sea level rise, storm surges and extreme weather. Published yesterday, the report reveals that people living in three of the biggest carbon polluting countries will be most at risk: China, India and the USA.
According to projections for the year 2070 – based on the latest IPCC reports – India's Kolkata and Mumbai top the list of cities whose populations are most exposed to coastal flooding, with 14 million and 11.4 million respectively. The first seven cities on the list are from Asia, followed by Miami in 8th.
Miami is also forecast to suffer the brunt of the financial losses from coastal flooding by 2070, topping a separate list with an eye-watering $3.5 trillion of threatened assets. The USA is likely to pay a hefty price for its carbon footprint – among the world's highest when measured on a per capita basis – as New York also comes in third place with $2.1 trillion. China's Guangzhou splits the two American cities with exposed assets of $3.4 trillion.
In total, of the top 20 most financially vulnerable cities, half are from either of these two countries: four from the USA, six from China.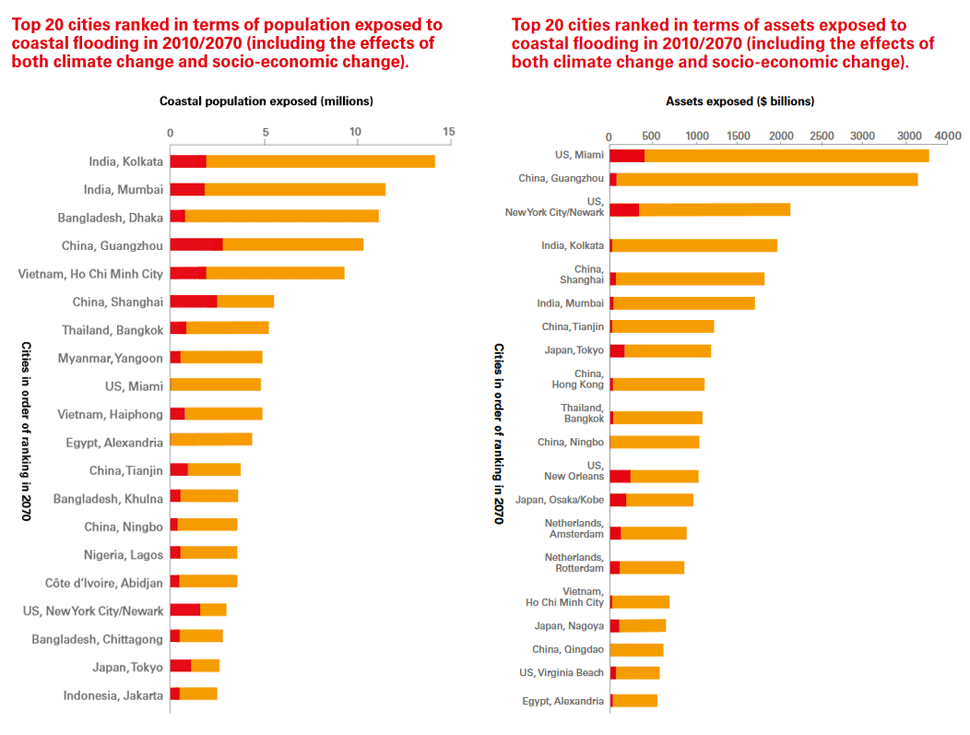 Report author Dr Alison Doig, Christian Aid's Principal Climate Change Advisor, said the figures should be a wakeup call ahead of next week's World Humanitarian Summit in Istanbul (23rd-24th May).
"We are facing a head on collision between the growth of coastal urban areas and climate change which makes coastal flooding more likely," she said. "This perfect storm is likely to bring about a heavy human and financial toll, unless we do something about it.
"Cruelly, it will be the poor that will suffer the most. Although the financial cost to cities in rich countries will be crippling, wealthier people will at least have options to relocate and receive insurance protection.
"Evidence shows that from New Orleans to Dhaka, it is the poorest who are most vulnerable, because they have the worst infrastructure and no social or financial safety nets to help them recover."
Dr Doig added: "There is a chance this horrifying vision of the future can be avoided. It is striking that the cities facing the most severe impacts are in countries with high contributions of carbon emissions. The first thing we can do is speed up the global transition away from dirty fossil fuels to the clean, renewably energy of the future. We can also do more to prepare for such occurrences. For every $1 spent on reducing the risk of disasters, we save around $7 later. Such investment is a no brainer."
Ahead of next week's World Humanitarian Summit, UN General Secretary Ban Ki-moon has called for the percentage of global aid spent on disaster risk reduction to be doubled to 1%. This would bring the figure to $1 billion. Christian Aid is calling for a rise to 5%.
Dr Doig added: "This billion dollars would go some way to help protect people in these cities now, alleviating the threat for the billion vulnerable people at risk from coastal flooding by 2060."
In another ranking, the report lists which nations will have the most people living in exposed coastlines by 2060. China tops the list, followed by India and Bangladesh. The UK comes in 22nd.
"In the UK, we've experienced in recent years the winter flooding that has left large parts of the country deluged," Dr Doig continued. "But these figures show that it's not just more rainfall we need to be wary of. The people living along our coastlines will become vulnerable to rising tides unless we do something about climate change."
The report goes on to examine how men and women are affected differently by climate-related disasters, with women on the whole suffering more acutely. It also shows examples of where Christian Aid is offering practical assistance to help the most vulnerable deal with the climate impacts they are already facing.
Bangladesh is among the most vulnerable countries to climate change and is ranked 142nd out of 187 nations on the UN's Human Development Index. However, donations to Christian Aid are helping lift people away from the floodwaters. One example is Feroza Begum and her family, whose home was flooded multiple times and at one point was underwater for 18 days. Thanks to help from Christian Aid partner organisation GUK, their home and surrounding land was raised onto a sturdy plinth.
Feroza was also given livestock and climate-resistant seeds to diversify her income and become more resilient. "Because of this plinth, I feel better," she told Christian Aid. "Now I have been able to make a small plantation and grow some vegetables. I am doing much better and feel much safer."
Christian Aid's report was published on the same day that NASA confirmed April 2016 was the hottest April on record, beating the previous record set in 2010 by 0.24°C, the largest margin ever. It is likely that 2016 will be the hottest year on record globally.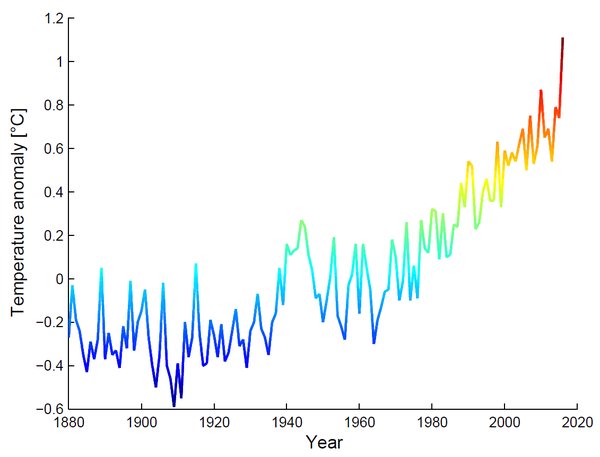 ---
• Follow us on Twitter
• Follow us on Facebook
11th May 2016
Leopards have lost 75% of their historic range
The most detailed ever study of leopard populations reveals that the animals have lost three-quarters of their habitat range since 1750.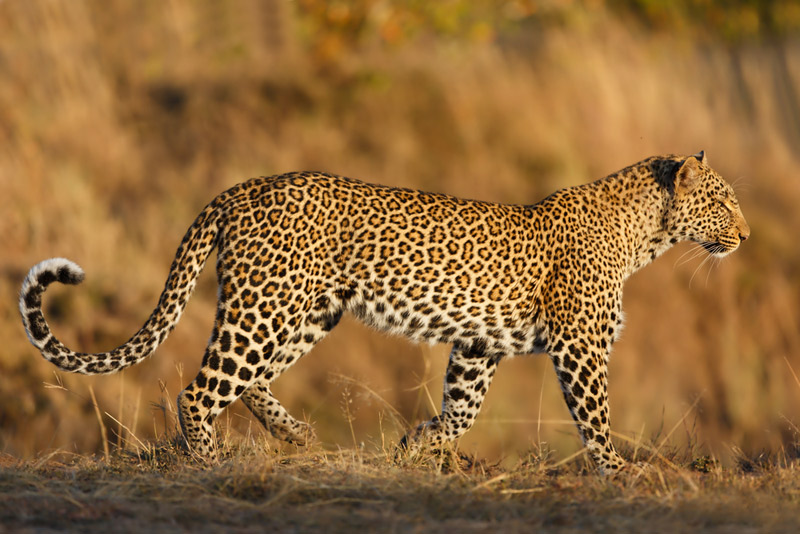 The leopard (Panthera pardus), one of the world's most iconic big cats, has lost as much as 75 percent of its historic range, according to a paper published in the scientific journal PeerJ. Conducted by partners including the National Geographic Society's Big Cats Initiative, international conservation charities the Zoological Society of London (ZSL) and Panthera and the International Union for Conservation of Nature (IUCN) Cat Specialist Group, this study is the first known attempt to produce a comprehensive analysis of leopards' status across their entire range and all nine subspecies.
The research found that historically, leopards occupied a vast range of approximately 35 million square kilometres (13.5 million square miles) throughout Africa, the Middle East and Asia. Today, however, they are restricted to just 8.5 million square kilometres (3.3 million square miles).
To obtain their findings, the researchers spent three years reviewing more than 1,300 sources on the leopard's historic and current range. The results appear to confirm conservationists' suspicions that, while the entire species is not yet as threatened as some other big cats, leopards are facing a multitude of growing threats in the wild, and three subspecies have been almost completely wiped out.
Lead author Andrew Jacobson, of ZSL's Institute of Zoology, University College London and the National Geographic Society's Big Cats Initiative, stated: "The leopard is a famously elusive animal, which is likely why it has taken so long to recognise its global decline. This study represents the first of its kind to assess the status of the leopard across the globe and all nine subspecies. Our results challenge the conventional assumption in many areas that leopards remain relatively abundant and not seriously threatened."
In addition, the research found that while African leopards face considerable threats, particularly in North and West Africa, leopards have also almost completely disappeared from several regions across Asia – including much of the Arabian Peninsula and vast areas of former range in China and Southeast Asia. The amount of habitat in each of these regions is plummeting, having declined by nearly 98 percent.
"Leopards' secretive nature, coupled with the occasional, brazen appearance of individual animals within megacities like Mumbai and Johannesburg, perpetuates the misconception that these big cats continue to thrive in the wild – when actually, our study underlies the fact that they are increasingly threatened," said Luke Dollar, co-author and program director of the National Geographic Society's Big Cats Initiative.
Philipp Henschel, co-author and Lion Program survey coordinator for Panthera, said: "A severe blind spot has existed in the conservation of the leopard. In just the last 12 months, Panthera has discovered the status of the leopard in Southeast Asia is as perilous as the highly endangered tiger. The international conservation community must double down in support of initiatives protecting the species. Our next steps in this very moment will determine the leopard's fate."
Leopards are capable of surviving in human-dominated landscapes, provided they have sufficient cover, access to wild prey and tolerance from local people. In many areas, however, their habitat is converted to farmland and native herbivores are replaced with livestock for growing human populations. This habitat loss, prey decline, conflict with livestock owners, illegal trade in leopard skins and parts, and legal trophy hunting are all factors contributing to leopard decline.
Complicating conservation efforts for the leopard, Jacobson noted: "Our work underscores the pressing need to focus more research on the less studied subspecies, three of which have been the subject of fewer than five published papers during the last 15 years. Of these subspecies, one – the Javan leopard (P. p. melas) – is currently classified as critically endangered by the IUCN, while another – the Sri Lankan leopard (P. p. kotiya) – is classified as endangered, highlighting the urgent need to understand what can be done to arrest these worrying declines."
Despite this troubling picture, some areas of the world inspire hope. Even with historic declines in the Caucasus Mountains and Russia's Far East / Northeast China, leopard populations in these areas appear to have stabilised and may even be rebounding with significant conservation investment through the establishment of protected areas and increased anti-poaching measures.
"Leopards have a broad diet and are remarkably adaptable," said Joseph Lemeris, a National Geographic Society researcher and paper co-author. "Sometimes the elimination of active persecution by government or local communities is enough to jumpstart leopard recovery. However, with many populations ranging across international boundaries, political cooperation is critical."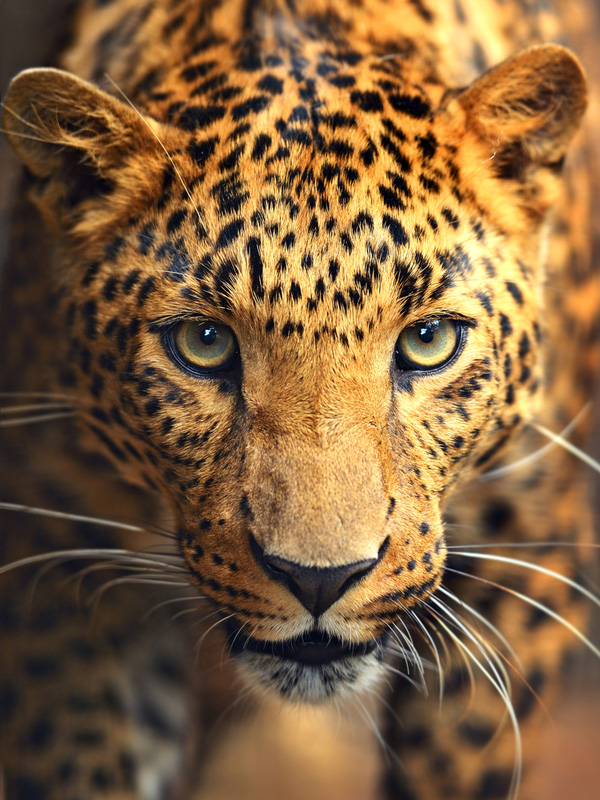 ---
• Follow us on Twitter
• Follow us on Facebook
4th May 2016
Climate exodus predicted in North Africa and the Middle East
Experts have calculated that in future decades, North Africa and the Middle East may become so hot that human habitability is compromised.
The number of climate refugees could increase dramatically in the future. Researchers at the Max Planck Institute for Chemistry and the Cyprus Institute in Nicosia have calculated that the Middle East and North Africa could become so hot that human habitability is compromised. The goal of limiting global warming to less than two degrees Celsius, agreed at the recent UN climate summit in Paris, will not be sufficient to prevent this scenario.
Temperatures during summer in the already very hot Middle East and North Africa will increase at more than twice the rate compared to the worldwide average for global warming. This means that on hot days, regions south of the Mediterranean will exceed 46°C (114°F) by mid-century. Such extremely hot days will occur five times more often than was the case at the turn of the millennium. In combination with increasing air pollution by windblown desert dust, environmental conditions may become intolerable and force people to migrate. More than 500 million people live in North Africa and the Middle East, a region where climate change is already evident. The number of extremely hot days has doubled since 1970.
"In future, the climate in large parts of the Middle East and North Africa could change in such a manner that the very existence of its inhabitants is in jeopardy," says Jos Lelieveld, Director at the Max Planck Institute for Chemistry and Professor at the Cyprus Institute.
Lelieveld and his team investigated how temperatures will develop in the Middle East and North Africa over the course of the 21st century. The result of their study is deeply alarming. Even if Earth's temperature were to increase on average by only two degrees Celsius compared to pre-industrial times, the temperature in summer in these regions will increase more than twofold. By mid-century, during the warmest periods, temperatures will not fall below 30 degrees at night, and during daytime they could rise to 46 degrees Celsius (approximately 114 degrees Fahrenheit). By the end of the century, midday temperatures on hot days could even climb to 50 degrees Celsius (approximately 122 degrees Fahrenheit). Another finding: heat waves will occur ten times more often than they do now.
| | |
| --- | --- |
| | Unbearably hot: average temperatures in winter will rise by 2.5 degrees Celsius (left) by the mid-21st century, and in summer by five degrees Celsius (right) if global greenhouse gas emissions continue to increase according to the business-as-usual scenario (RCP8.5). The cross-hatching indicates that the 26 climate models used are largely in agreement, and the dotting indicates an almost complete match. © MPI for Chemistry |
In addition, the duration of heat waves will be dramatically prolonged. Between 1986 and 2005, it was very hot for an average period of about 16 days; by the middle of the century it will be unusually hot for 80 days per year. By the end of the century, up to 118 days could be unusually hot, even if greenhouse gas emissions decline again after 2040.
"Climate change will significantly worsen the living conditions in the Middle East and in North Africa," says atmospheric researcher Jos Lelieveld, who is convinced that climate change will have a major impact on the health of people in these regions. "Prolonged heat waves and desert dust storms can render some regions uninhabitable, which will surely contribute to the pressure to migrate."
The research team has also published findings on the increase of fine particulate air pollution in the Middle East. It was found that desert dust in the atmosphere over Iraq, Saudi Arabia, and in Syria has increased by up to 70% since the beginning of this century. This is mainly attributable to an increase of sand storms as a result of prolonged droughts. It is expected that climate change will contribute to further increases, which will worsen environmental conditions in the region.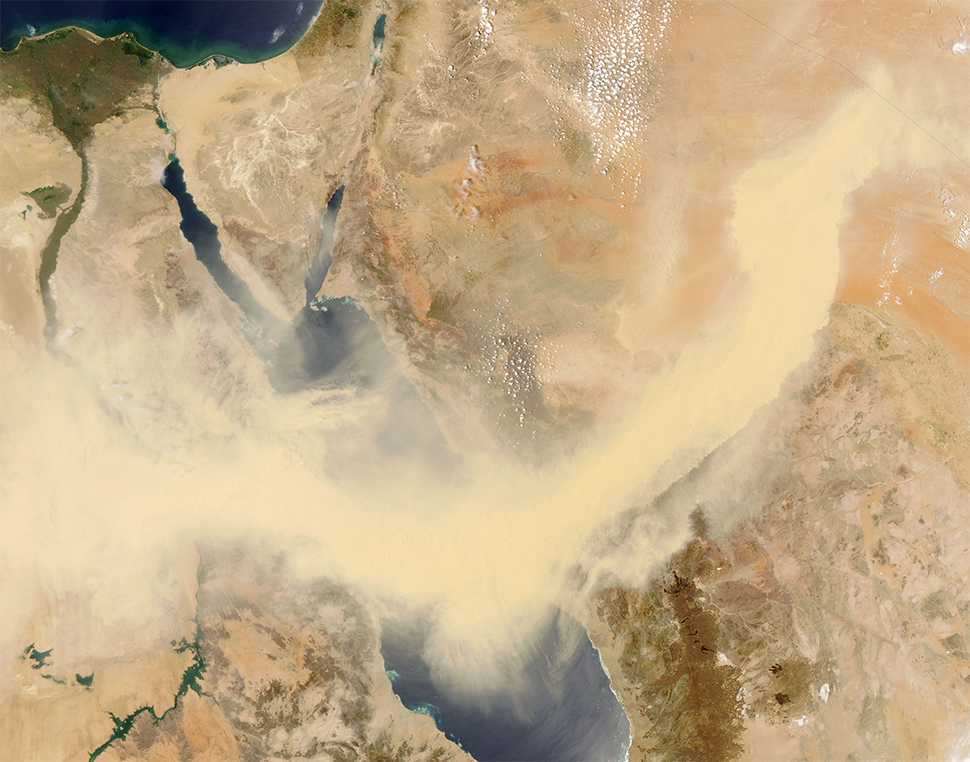 In their study, Lelieveld and his team first compared data from 1986 to 2005 with predictions from 26 climate models over the same time period. It was shown that the measurement data and model predictions matched extremely well, which is why the scientists used these models to project future climate conditions for the period from 2046 to 2065 and the period from 2081 to 2100.
The researchers based their calculations on two future scenarios:
• The first scenario, called RCP4.5, assumes that global emissions of greenhouse gases will start decreasing by 2040 and that the Earth will be subjected to warming by 4.5 Watts per square metre by 2100. This corresponds to the target set at the recent UN summit, which means that global warming should be limited to less than two degrees Celsius.
• The second scenario, RCP8.5, is based on the assumption that man-made greenhouse gas emissions will continue to grow unabated. It is therefore called the "business-as-usual" scenario. According to this scenario, the mean surface temperature of the Earth will increase by more than four degrees Celsius compared to pre-industrial times.
In both scenarios, the strongest temperature increase in the Middle East and North Africa is expected during the summer – when it is already very hot – and not during winter, which is more common in other parts of the globe. This is primarily caused by desert warming amplification in regions such as the Sahara. Deserts do not buffer heat well, which means that the hot and dry surface cannot cool by the evaporation of ground water. Since the surface energy balance is controlled by heat radiation, the greenhouse effect of gases such as CO2 and water vapour will increase disproportionately.
Regardless of which scenario becomes a reality, Lelieveld and his team agree that climate change will cause a significant deterioration in living conditions for the people of North Africa and the Middle East; and that consequently, sooner or later, many people will have to leave the region. From a geopolitical point of view, the resulting influx of refugees into southern Europe and elsewhere could be highly disruptive.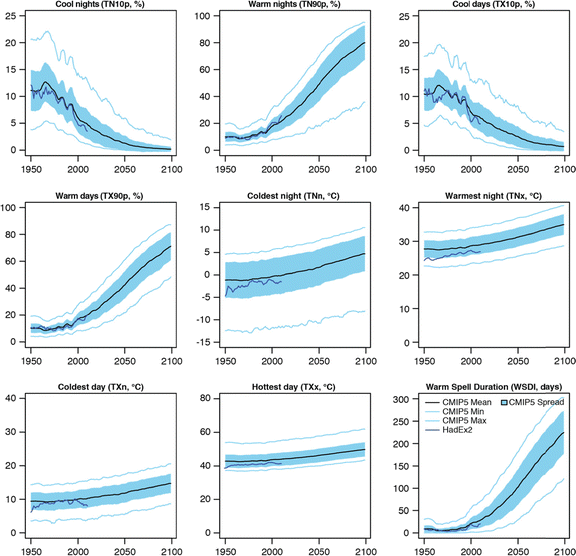 ---
• Follow us on Twitter
• Follow us on Facebook
21st April 2016
Fossil fuels could be phased out worldwide in a decade
The worldwide reliance on burning fossil fuels to create energy could be phased out in a decade, according to an article published by a major energy think tank.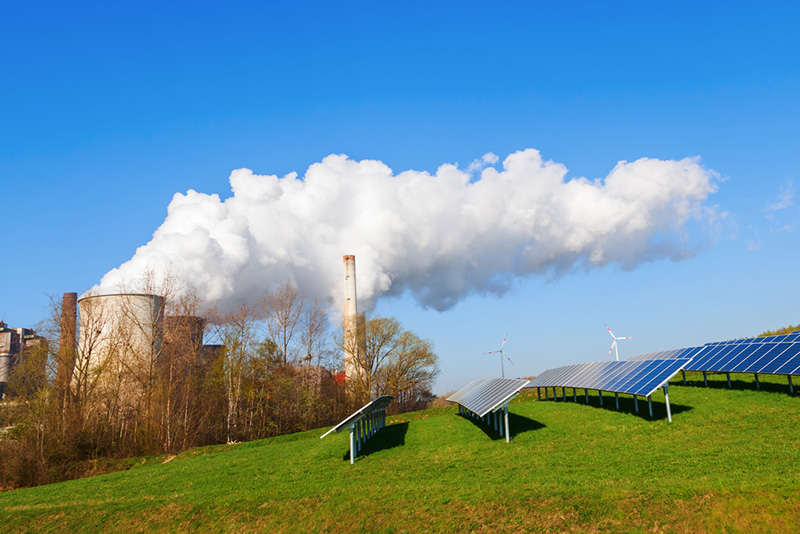 Professor Benjamin Sovacool, from the University of Sussex in the United Kingdom, believes that the next great energy revolution could take place in a fraction of the time of major changes in the past. But it would take a collaborative, interdisciplinary, multi-scalar effort to get there, he warns. And that effort must learn from the trials and tribulations from previous energy systems and technology transitions.
In a paper published by the peer-reviewed journal Energy Research & Social Science, he analyses energy transitions throughout history and argues that only looking at the past can often paint an overly bleak and unnecessary picture. Moving from wood to coal in Europe, for example, took between 96 and 160 years, whereas electricity took 47 to 69 years to enter into mainstream use.
But this time, the future could be different, he says – the scarcity of fossil fuel resources, the threat of climate change and vastly improved technological learning and innovation could greatly accelerate a global shift to a cleaner energy future.
The study highlights numerous examples of speedier transitions that are often overlooked by analysts. For example, Ontario completed a shift away from coal between 2003 and 2014; a major household energy programme in Indonesia took just three years to move two-thirds of the population from kerosene stoves to LPG stoves; and France's nuclear power programme saw supply rocket from four per cent of the electricity supply market in 1970 to 40 per cent in 1982. Each of these cases has in common strong government intervention along with shifts in consumer behaviour, often driven by incentives and pressure from stakeholders.
"The mainstream view of energy transitions as long, protracted affairs, often taking decades or centuries to occur, is not always supported by evidence," says Professor Sovacool. "Moving to a new, cleaner energy system would require significant shifts in technology, political regulations, tariffs and pricing regimes, and the behaviour of users and adopters.
"Left to evolve by itself – as it has largely been in the past – this can indeed take many decades. A lot of stars have to align all at once. But we have learnt a sufficient amount from previous transitions that I believe future transformations can happen much more rapidly."
To summarise, while the study suggests that the historical record can be instructive in shaping our understanding of macro and micro energy transitions, it need not be predictive.
While his forecast may seem outlandish and overly optimistic, there are signs that he might be correct. The worldwide installed capacities of solar and wind power, for example, continue to grow exponentially as costs plummet and efficiencies improve. Likewise, the number of electric cars in the world is rising exponentially and passed the one million mark in 2015. In Europe, the Netherlands is proposing a ban on all gas and diesel car sales by 2025, while UK firm Ecotricity is looking at "green gas", a carbon-neutral alternative to fracking. Meanwhile in the United States, Elon Musk last year unveiled a new battery system – the Powerwall – that could revolutionise clean energy storage for homes and businesses.
---
• Follow us on Twitter
• Follow us on Facebook
10th April 2016
Self-driving trucks complete journey across Europe
Fleets of self-driving trucks this week completed the European Truck Platooning Challenge.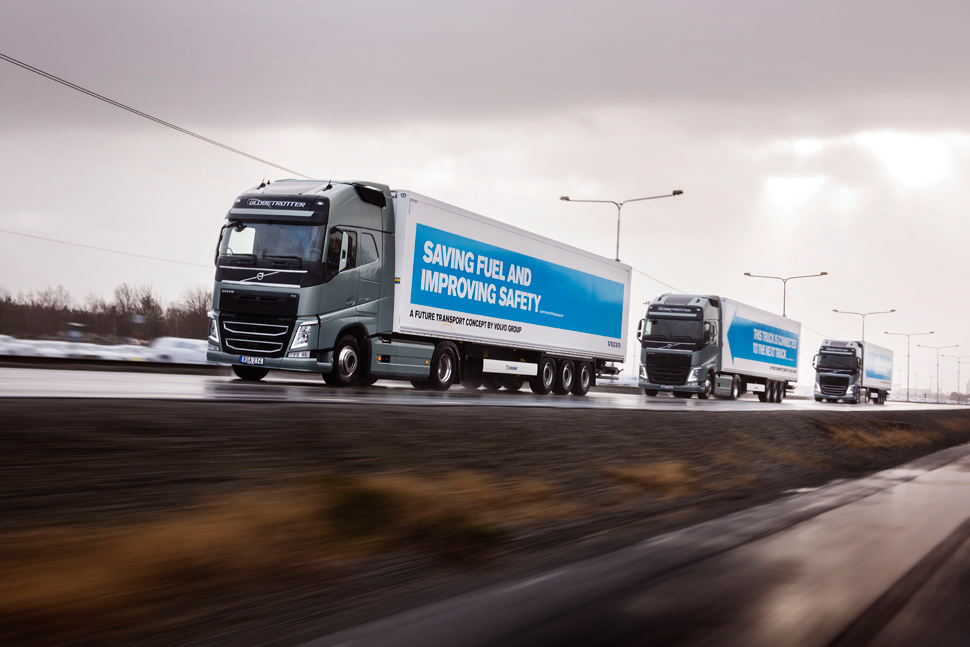 As part of the world's first cross-border initiative with smart trucks, six "platoons" of semi-automated trucks have completed their journeys from various cities across Europe, reaching their final destination at the Port of Rotterdam on 6th April.
They were participating in the European Truck Platooning Challenge organised by the Dutch government as part of its EU Presidency. The European Automobile Manufacturers' Association (ACEA) and commercial vehicle members – including Daimler, Scania and Volvo – are active partners of the initiative with each supplying a platoon. One set of trucks made by Scania travelled over 2,000 km and crossed four borders. Daimler made headlines in 2014 when the company demonstrated the world's first autonomous truck in Magdeburg, Germany, and in 2015 its Freightliner Inspiration Trucks gained a licence for road use in Nevada.
Truck platooning – which has the potential to make transport cleaner, safer and more efficient – is the linking of two or three trucks in a convoy. These vehicles follow each other at a fixed, close distance, by using connectivity technology and automated driving support systems.
Using this technique cuts fuel use by 15%, prevents human error from causing accidents, and reduces congestion, according to research firm TNO. Expenses can be lowered significantly.
Two trucks doing 100,000 miles annually can save €6,000 ($6,840) on fuel by platooning, compared to driving on cruise control. Safety is greatly improved by using technology such as Volvo's emergency braking system and Daimler's Highway Pilot Connect – systems with braking reaction times of under 0.1 seconds, compared to 1.4 seconds for a human driver. A Wi-Fi connection between the trucks ensures synchronised braking and can prevent sudden jolt/shock effects.
When operating in platoon mode, a convoy of three semi-autonomous trucks can travel much closer together – requiring only 80 metres of road space, from end to end. For comparison, if they were driven by humans, they would need to fill 185 metres of road. Congestion on roads will therefore be greatly reduced if more and more self-driving vehicles are deployed in the future, while pollution can also be lowered.
Melanie Schulz, Dutch minister for Infrastructure and the Environment who spearheaded this initiative, commented: "The results of this first ever major try-out in Europe are promising. The hands-on experience gained here will be very useful in the informal European transport council on 14th April in Amsterdam. It will certainly help my colleagues and I discuss the adjustments needed to make self-driving transport a reality."
There are still a number of barriers standing in the way of truck platooning across Europe. These barriers are not of a technical nature as platooning technology exists already; rather they are caused by differences in legislation between the EU member states: "Harmonisation is needed if we want a wide-scale introduction of platooning," stated Harrie Schippers, President of DAF Trucks.
Sufficient demand is also crucial, to ensure the right level of market uptake. Following the Truck Platooning Challenge, there have been encouraging expressions of interest from the business community and the transport sector, including Unilever and major Dutch supermarkets. The testing phase is the most important next step. More and more national governments are offering industry the opportunity to test their latest vehicles and technologies, thereby also supporting efforts to increase public awareness, understanding and acceptance. However, this is also vital on a pan-European scale.
"It is precisely for this reason that we believe that the European Truck Platooning Challenge has been a huge success: it has fostered much-needed cooperation between all relevant stakeholders right across the EU, facilitating cross-border driving and encouraging compatibility on legal and technical issues," said Schippers. "We look forward to harvesting the learnings from this initiative so that, together, we can make truck platoons a common sight on Europe's roads in the future."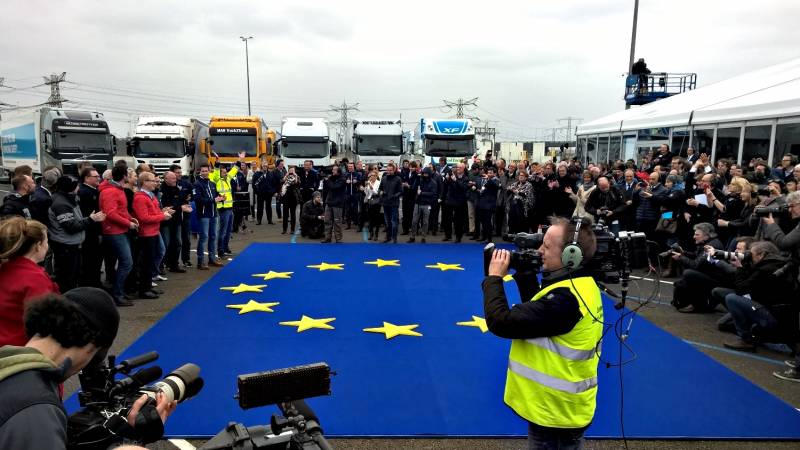 ---
• Follow us on Twitter
• Follow us on Facebook