1st December 2016
Great Barrier Reef suffers largest ever coral die-off
Higher water temperatures during 2016 caused the worst destruction of corals ever recorded on Australia's Great Barrier Reef, with 67% dying in the worst-hit northern section.
Scientists have confirmed the largest coral die-off ever recorded on Australia's Great Barrier Reef. The worst affected area, a 700 km swath of reefs in the northern region of the Great Barrier Reef, has lost an average of 67% of its shallow-water corals in the past 8-9 months. Further south, over the vast central and southern regions, the scientists were relieved to find a much lower death toll.
"Most of the losses in 2016 have occurred in the northern, most-pristine part of the Great Barrier Reef. This region escaped with minor damage in two earlier bleaching events in 1998 and 2002 – but this time around, it has been badly affected," says Professor Terry Hughes, Director of the Australian Research Council (ARC) Centre of Excellence for Coral Reef Studies, based at James Cook University, who undertook extensive aerial surveys at the height of the bleaching.
"The good news is the southern two-thirds of the Reef escaped with minor damage," says Professor Andrew Baird, also from the ARC Centre, who led teams of divers to re-survey the reefs in October and November. "On average, 6% of bleached corals died in the central region in 2016, and only 1% in the south. The corals have now regained their vibrant colour, and these reefs are in good condition."
Tourism on the Great Barrier Reef employs 70,000 people, and generates $5 billion in income each year.
"The patchiness of the bleaching means that we can still provide our customers with a world-class coral reef experience, by taking them to reefs that are still in top condition," says Craig Stephen, who manages one of the Great Barrier Reef's largest live-aboard tourist operations.
Another silver lining was revealed in the northern offshore corner of the Great Barrier Reef Marine Park, where the loss of coral was lower than the other northern reefs.
"We found a large corridor of reefs that escaped the most severe damage along the eastern edge of the continental shelf in the far north of the Great Barrier Reef," says Professor Hughes. "We suspect these reefs are partially protected from heat stress by upwelling of cooler water from the Coral Sea."
Scientists expect that the northern region will take at least 10-15 years to regain the lost corals, but they are concerned that a fourth bleaching event could happen sooner and interrupt the slow recovery.
---
• Follow us on Twitter
• Follow us on Facebook
30th November 2016
A significant collapse of the West Antarctic ice sheet "within our lifetimes"
A massive iceberg that splintered away from West Antarctica was caused by a deep subsurface rift opening within the ice shelf, the first time this has been observed, say researchers. They warn that a significant collapse of the ice sheet is possible "within our lifetimes", with major consequences for sea level rise.
A major glacier in Antarctica is breaking apart from the inside out – suggesting that the ocean is weakening ice on the edges. The Pine Island Glacier – part of the ice shelf that bounds the West Antarctic Ice Sheet – is one of two glaciers that researchers believe are most likely to undergo rapid retreat, bringing more ice from the interior of the ice sheet to the ocean, where its melting would flood coastlines around the world.
In 2015, a nearly 225 square mile (582 square kilometre) iceberg broke away from the glacier. However, it wasn't until researchers were testing some new image-processing software that they noticed something strange in satellite images taken before the event. In these images, they saw evidence that a rift formed at the very base of the ice shelf nearly 20 miles inland during 2013. Over the next two years, the rift propagated upward, until it broke through the ice surface and set the iceberg adrift over 12 days in late July and early August 2015.
"It's no longer a question of whether the West Antarctic Ice Sheet will melt, it's a question of when," said Ian Howat, an associate professor of earth sciences at Ohio State University. "This kind of rifting behaviour provides another mechanism for rapid retreat of these glaciers – adding to the probability that we may see significant collapse of West Antarctica in our lifetimes."
While this is the first time that researchers have witnessed a deep subsurface rift opening within Antarctic ice, they have seen similar breakups in the Greenland Ice Sheet – in spots where ocean water has seeped inland along the bedrock and begun to melt the ice from underneath. Howat said the satellite images provide the first strong evidence that these large Antarctic ice shelves respond to changes at their ocean edge in a similar way as observed in Greenland.
"Rifts usually form at the margins of an ice shelf, where the ice is thin and subject to shearing that rips it apart," he explained. "However, this latest event in the Pine Island Glacier was due to a rift that originated from the centre of the ice shelf and propagated out to the margins. This implies that something weakened the centre of the ice shelf, with the most likely explanation being a crevasse melted out at the bedrock level by a warming ocean."
Another clue: the rift opened in the bottom of a "valley" where the ice had thinned compared to the surrounding ice shelf. The valley is likely a sign of something researchers have long suspected: because the bottom of the West Antarctic Ice Sheet lies below sea level, ocean water can intrude far inland and remain unseen. New valleys forming on the surface would be one outward sign that ice was melting away far below.
The origin of the rift in the Pine Island Glacier would have gone unseen, too, except that the satellite images Howat and his team were analysing happened to be taken when the Sun was low in the sky. Long shadows cast across the ice drew their attention to the valley that had formed there.
"The really troubling thing is that there are many of these valleys further up-glacier," Howat said. "If they are actually sites of weakness that are prone to rifting, we could potentially see more accelerated ice loss in Antarctica."
More than half of the world's fresh water is frozen in Antarctica. The Pine Island Glacier and its nearby twin, the Thwaites Glacier, sit at the outer edge of one of the most active ice streams on the continent. Like corks in a bottle, they block the ice flow and keep nearly 10% of the West Antarctic Ice Sheet from draining into the sea.
Studies indicate that the West Antarctic Ice Sheet is particularly unstable, and could collapse within the next 100 years. This would lead to a sea level rise of nearly 3 metres (10 ft), engulfing major U.S. cities such as New York and Miami and displacing 150 million people living on coasts worldwide.
"We need to understand exactly how these valleys and rifts form, and what they mean for ice shelf stability," Howat said. "We're limited in what information we can get from space, so this will mean targeting air and field campaigns to collect more detailed observations. The U.S. and the U.K. are partnering on a large field science program targeted at that area of Antarctica, so this will provide another piece to the puzzle."
The study by Howat and colleagues – "Accelerated ice shelf rifting and retreat at Pine Island Glacier, West Antarctica" – is published this week in the journal Geophysical Research Letters.
---
• Follow us on Twitter
• Follow us on Facebook
25th November 2016
North America's largest tidal turbine array begins generating power
A massive new tidal turbine has been deployed on the coast of Nova Scotia, Canada, and is now connected to the electrical grid.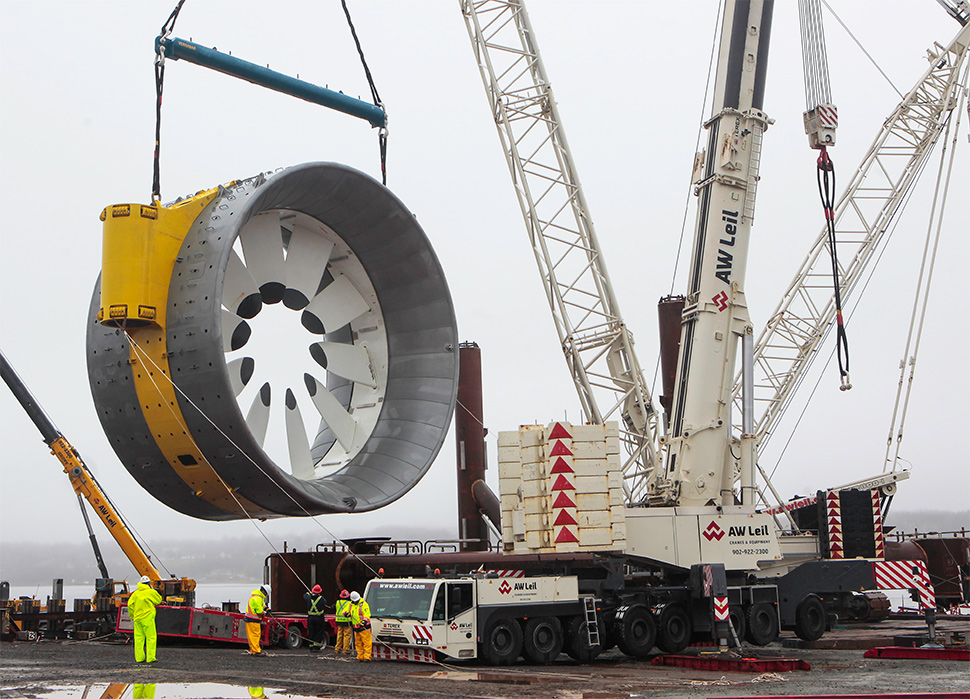 Cape Sharp Tidal, a joint venture between Emera and OpenHydro, is now lighting up homes in Nova Scotia, Canada, after being successfully connected to the grid. North America's largest tidal turbine array, this 2 megawatt (MW) machine weighs 1,000 tons and is the height of a five-storey building when fitted on its base. Following deployment in the Bay of Fundy, a marine operations team safely connected its subsea cable to an onshore substation and then thoroughly tested the entire system, including all monitors and communications links. More than 300 people have been employed on the project in areas such as fabrication, environmental monitoring, engineering, health and safety and marine services.
"This is a huge achievement for Cape Sharp Tidal, a company combining DCNS, OpenHydro and our partners Emera," said Thierry Kalanquin, Chairman of OpenHydro and Senior Vice President of Energy and Marine Infrastructure at DCNS. "Last week, the Open-Centre Turbine supported the most powerful tidal stream of the year without any stress to the system. The successful delivery of this turbine, the most powerful in North America, also represents a significant milestone for the global tidal industry."
The Cape Sharp Tidal project has a simple design with four key components: a horizontal axis rotor, a magnet generator, a hydrodynamic duct and a subsea gravity base foundation. The turbine base sits directly on the seabed floor, out of the way of ships, and without drilling. Nova Scotia's tides are some of the most powerful in the world. All operational surfaces are treated with anti-fouling protection, to minimise growth from algae and zooplankton which could affect the generator and drag co-efficients of the structure.
The machine will be joined by another turbine next year, the pair together producing 4MW from the strength of the tides. Each will displace the need to burn 1,000 tonnes of coal, and eliminate 3,000 tonnes of greenhouse gas (GHG) CO2 emissions. Subject to regulatory approval, the array will grow to an output of 16MW in 2017, 50MW in 2019, and up to 300MW of energy in the 2020s, generating power for nearly 75,000 customers.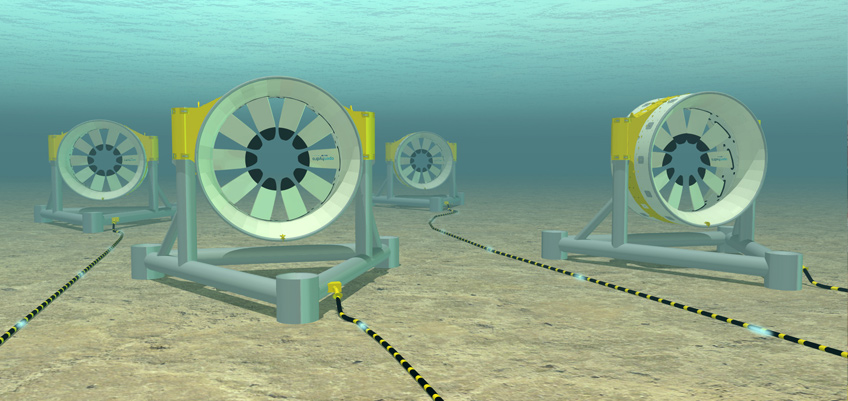 "Cape Sharp Tidal will be one of the largest generating, in-stream tidal energy arrays anywhere in the world," Kalanquin added. "The project is providing us with unique insights into what is required to build commercial-scale arrays. It will help us accelerate delivery of the pipeline of ocean energy projects we have secured across the globe and grow our position at the forefront of the tidal power industry."
Data is being collected from a number of monitoring devices mounted on the turbine to collect information on fish and mammal interactions with the structure. Monitoring reports will contribute to a growing international body of research. The turbine makes about six to eight rotations per minute – similar to walking speed – with fish and mammals able to swim through the 4.5-metre centre.
"We know from other turbine installations around the world that fish and marine mammals are not colliding with turbines," said Sarah Dawson, spokesperson for Cape Sharp Tidal. "With ten years of similar devices we've installed in Scotland, there hasn't been a single incident where any marine mammal, dolphin or whale, has collided."
Cape Sharp Tidal is an important part of Nova Scotia's energy future. By 2020, 40% of the region's energy must be generated from renewable sources. Clean and efficient tidal power can be a part of the solution, while also creating an entire new industry and jobs.
Seawater is 832 times denser than air, so a 5 knot ocean current has more kinetic energy than a 220 mph wind. Therefore, ocean currents have extremely high energy density and require smaller devices to harness than wind power. Since oceans cover 70% of Earth's surface, ocean energy (including wave power, tidal current power and ocean thermal energy conversion) is a vast untapped resource, estimated at 3,000 terawatt hours (TWh) per year. For comparison, this is greater than all of the nuclear power generation in the world (2,500 TWh during 2011).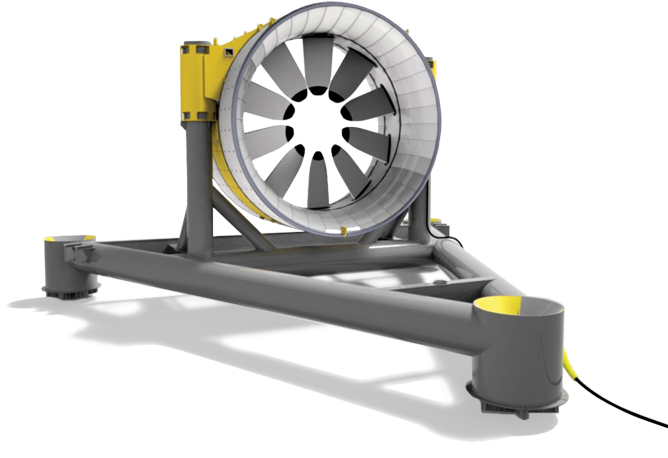 ---
• Follow us on Twitter
• Follow us on Facebook
22nd November 2016
Green gas can replace traditional fossil fuel-based gas
British clean energy company Ecotricity has unveiled its plan to make gas from grass, grown on marginal farmland, of which Britain has enough to heat almost every home in the country.
Ecotricity has unveiled its plan for Britain to make its own gas from grass, grown on marginal farmland, of which Britain has enough to heat almost every home in the country. The company outlines this potential in a new report, Green Gas: The Opportunity for Britain, which shows that green gas from grass could provide the gas needs for 97% of British homes, pump £7.5 billion annually into the economy, and create a new industry with up to 150,000 jobs.
Green gas made this way is virtually carbon neutral, so could play a significant role in Britain meeting its climate targets. Additionally, it would create new habitats for wildlife on an unprecedented scale. Ecotricity has just received permission to build a prototype 'green gas mill', the first of its kind in Britain. This is expected to be operational in 2018. Grass at the plant will be turned into biomethane within 45 days and then injected into the national network. Around 5,000 of these mills could supply the entire country by 2035, if sufficient efforts were made to scale up production.
Dale Vince, Ecotricity founder, said: "As North Sea reserves run out, the big question is where we're going to get our gas from next. The government thinks fracking is the answer, but this new report shows that we have a better option. Recently, it's become possible to make green gas and put it into the grid, in the same way we've been doing with green electricity for the last two decades. The current way of doing that is through energy crops and food waste – but both have their drawbacks. Through our research, we've found that using grass is a better alternative, and has none of the drawbacks of energy crops, food waste or fracking – in fact, it has no drawbacks at all."
"Our first Green Gas Mill has just been given the go-ahead, and we hope to build it soon – though that does depend on whether government energy policy will support this simple, benign and abundant energy source."
"As our report shows, the benefits of Britain making its gas this way are astounding. And in the light of this new option available to us, I call on Theresa May to review the government's plan for where Britain gets its gas – post-North Sea.
"We now have a more than viable alternative to fracking, which people have been fighting tooth and nail up and down the country to prevent. It's not too late, because fracking hasn't started yet. We need a proper review of where Britain gets its gas from – we can either frack the countryside, or we can grow the grass. It's that simple."
In summary: using green gas from grass would cut CO2 emissions, help Britain become energy independent, support food production by improving soils, create wildlife habitats, and provide support for farmers who are set to lose EU subsidies following Brexit.
Lynne Featherstone, Liberal Democrat MP, commented: "If the government would only throw its weight behind green gas, it would go a long way to delivering on our renewable heating targets and secure our energy for the future. I am very grateful to Ecotricity and others who want and are willing to push forward on this vital part of our energy mix."
Doug Parr, Chief Scientist and Policy Director of Greenpeace UK, said: "As long as it's not competing with food production, green gas like this project can be really helpful in getting the UK onto a cleaner and lower carbon path. Agriculture need not simply be part of the problem in tackling climate change, but through innovation it can be part of the solution, and improve wildlife habitats at the same time."
---
• Follow us on Twitter
• Follow us on Facebook
16th November 2016
Solar nanotech clothing could revolutionise wearable technology
Scientists at the University of Central Florida are researching and developing solar nanotech-powered clothing.
Scientists have developed filaments that harvest and store the Sun's energy – and can be woven into textiles. The breakthrough would essentially turn jackets and other clothing into wearable, solar-powered batteries that never need to be plugged in. It could one day revolutionise wearable technology, helping everyone from soldiers who now carry heavy loads of batteries, to smartphone users who could charge a device while on the move by simply placing it in their pocket.
"The idea came to me: we make energy storage devices and we make solar cells in the labs. Why not combine these two devices together?" said Associate Professor Jayan Thomas, a nanotechnology scientist at the University of Central Florida's NanoScience Technology Centre.
Thomas has already been lauded for earlier ground-breaking research. Last year, he received an R&D 100 Award – given to the top inventions of the year worldwide – for his development of a cable that not only transmits energy like a normal cable, but can also store energy like a battery. He's also developing a semi-transparent solar cell that can be applied to windows, allowing some light to pass through, while simultaneously harvesting energy. This new work builds on that research.
Thomas was inspired by the clothing worn by Marty McFly in 80s sci-fi classic, Back to the Future Part II: "That movie was the motivation," he says. "If you can develop self-charging clothes or textiles, you can realise those cinematic fantasies – that's the cool thing."
His research team developed filaments in the form of copper ribbons that are thin, flexible and lightweight. The ribbons have a solar cell on one side and energy-storing layers on the other. Using a small, tabletop loom, the ribbons were woven into a square of yarn.
The proof-of-concept shows that the filaments could be laced throughout jackets or other outwear to harvest and store energy to power phones, personal health sensors and other tech gadgets. It's an advancement that overcomes the main shortcoming of solar cells: the energy they produce must flow into the power grid or be stored in a battery that limits their portability.
"A major application could be with our military," Thomas explains. "When you think about our soldiers in Iraq or Afghanistan, they're walking in the Sun. Some of them are carrying over 30 pounds of batteries on their bodies. It's hard for the military to deliver batteries to these soldiers in this hostile environment. A garment like this can harvest and store energy at the same time if sunlight is available."
There are a host of other potential uses, including electric cars that could generate and store energy whenever they're in the Sun.
"That's the future. What we've done is demonstrate that it can be made," Thomas said. "It's going to be very useful for the general public and the military and many other applications."
His team's research is published in the academic journal Nature Communications.

---
• Follow us on Twitter
• Follow us on Facebook
16th November 2016
Genetically modified "superwheat" could boost yields by 40%
Researchers in the UK have announced a genetically modified "superwheat" that increases the efficiency of photosynthesis to boost yields by 20 to 40 percent. Field trials are expected in 2017.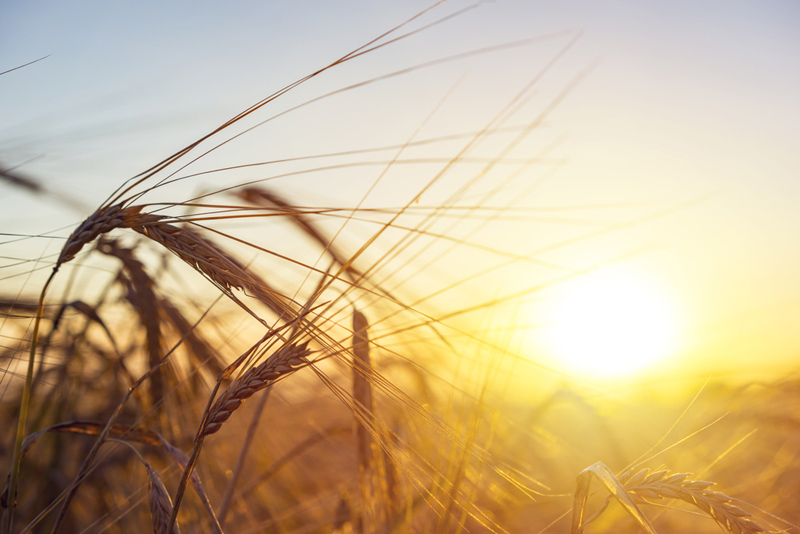 With global population expected to reach 10 billion by mid-century, and rapid economic growth in emerging nations, the world's agricultural systems will be under immense pressure. The UN Food and Agriculture Organisation (FAO) estimates that global agricultural production in 2050 will need to increase by at least 60% compared to now. But with arable land declining due to climate change, soil depletion and other environmental issues, achieving this could be a major challenge. Wheat grain is grown on more land area than any other commercial crop and is the most important staple food for humans, but the growth rate in yields has slowed significantly in recent years. This trend is likely to worsen in the future, with a 6% drop in production for every 1°C rise in global temperature.
One possible way to increase yields is through genetic engineering. The public tends to be distrusting of such methods, according to most opinion polls. However, the vast majority of scientists agree that genetically modified (GM) foods are safe. The American Association for the Advancement of Science states on its website: "consuming foods containing ingredients derived from GM crops is no riskier than consuming the same foods containing ingredients from crop plants modified by conventional plant improvement techniques." Meanwhile, the U.S. National Academy of Sciences states that "no adverse health effects attributed to genetic engineering have been documented in the human population," and a report issued by the European Commission made the same claim. The World Health Organisation concludes that GM foods "are not likely, nor have been shown, to present risks for human health."
None of the GM crops widely grown around the world are currently designed to boost yields directly – but that could be about to change, as scientists in the UK have announced a potentially transformative breakthrough. A team at Rothamsted Research, the longest running agricultural research station in the world, collaborated with the Universities of Essex and Lancaster. They believe it may be possible to increase wheat yields by up to 40%, based on the promising early results of a glasshouse trial.
The researchers focused on improving the efficiency of photosynthesis, the process by which energy from sunlight increases plant biomass, by adding genes from a grass called stiff brome (pictured below). The new GM wheat was found to assimilate carbon dioxide better than conventional wheat.
"We have seen yield increases of 20 to 40% in greenhouse pots, although this is not a yield indication for the field," said Christine Raines from the University of Essex at a briefing. "The efficiency of the process of photosynthesis integrated over the season is the major determinant of crop yield. However, to date, photosynthesis has not been used to select for high yielding crops in conventional breeding programmes and represents an unexploited opportunity. But there is now evidence that improving the efficiency of photosynthesis by genetic modification is one of the promising approaches to achieve higher wheat yield potential."
"In this project, we have genetically modified wheat plants to increase the efficiency of the conversion of energy from sunlight into biomass. We have shown that these plants carry out photosynthesis more efficiently in glasshouse conditions. One of the steps in photosynthesis shown to limit this process is carried out by the enzyme, sedoheptulose-1,7-biphosphatase (SBPase). We have engineered GM wheat plants to produce increased levels of SBPase by introducing an SPBase gene from Brachypodium distachyon (common name stiff brome), a plant species related to wheat and used as a model in laboratory experiments" Raines added.
Rothamsted Research has now applied to the UK's Department for Environment, Food and Rural Affairs (DEFRA) for permission to conduct a field trial of their GM wheat plants. If approved, just under 100sq m of the crop will be grown in Rothamsted's fenced GM-dedicated growing area from spring 2017.
"If we are granted permission to perform a controlled experiment in our already established facilities here at Rothamsted Research, it will be a significant step forward," said Dr Malcolm Hawkesford, Head of the Plant Biology and Crop Science Department at Rothamsted and the lead scientist for this trial. "We will be able to assess in 'real environmental conditions' the potential of these plants to ultimately produce more, using the same resources and land area as their non-GM counterparts. These field trials are the only way to assess the viability of a solution that can bring economic benefits to farmers, returns to the UK tax payer of the long-term investment in this research, benefits to the economy as a whole and the environment in general."
Dr Elizabete Carmo-Silva, co-investigator in this project at Lancaster University, added: "We have produced two types of plants: one in which two extra copies of SBPase are functional and one in which six extra copies of SBPase are functional. If granted permission to carry out the field trial, we will measure the photosynthetic efficiency of the plants in the field and we will determine total above-ground plant biomass and grain yield on an area basis at full maturity. We will also measure the number of wheat ears on an area basis and the grain number and weight per ear. From this data, we will estimate the harvest index, which is the proportion of biomass allocated to the grain."
The researchers believe wheat yields could be boosted even further, by looking at other enzyme levels. If the field trials are successful, they hope their technique could be applied to other crops too. At present, the only GM crop grown commercially in the EU is maize – mostly in Spain, where it protects against a weevil pest. Opposition to GM food is so high in Europe that no other GM crops have been approved and subsequently grown since 1998. However, George Eustice, the UK's Minister for Agriculture, Fisheries & Food, has suggested that British farmers could grow GM crops once the UK leaves the EU, following the Brexit vote in June.
---
• Follow us on Twitter
• Follow us on Facebook
1st November 2016
Urban trees can improve millions of lives by reducing air pollution and temperature, says report
A global investment of just $100 million in tree planting annually could provide 77 million people with cooler cities and 68 million with significant reductions in particulate matter pollution. A new study by the Nature Conservancy claims this pollution can be reduced by up to 24% near trees, while the local cooling effect is up to 2°C (3.6°F).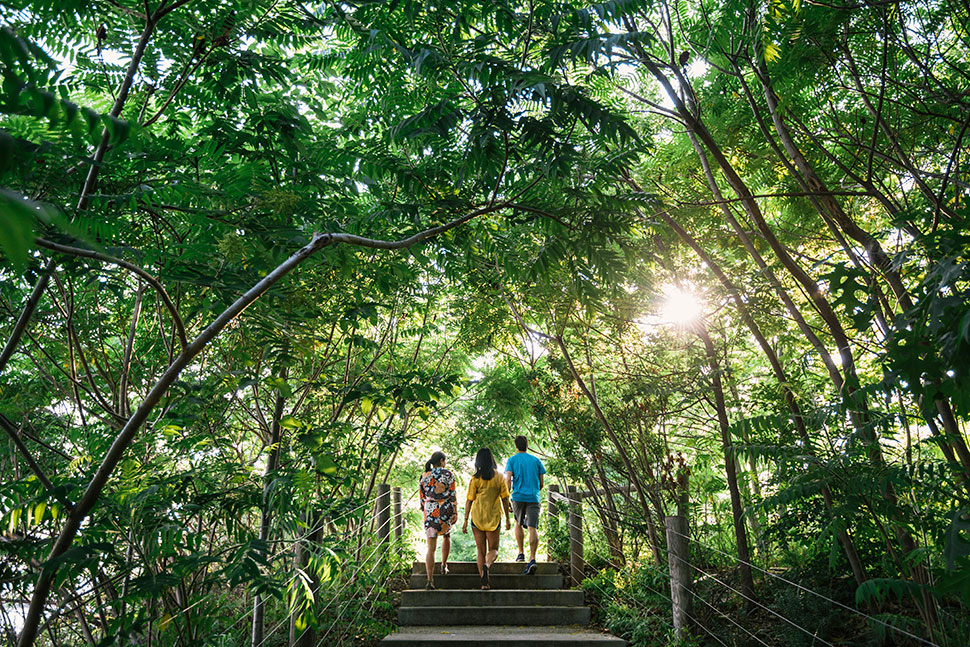 Investment in tree planting of just $4 per resident in some of the world's largest cities could improve the health of tens of millions of people by reducing air pollution and cooling city streets. The Nature Conservancy's Planting Healthy Air study, released at the American Public Health Association (APHA) annual meeting, applies well-established research into how trees clean and cool the air locally, looking instead on a global scale to identify places where tree planting can make the biggest impact.
The Conservancy partnered with the C40 Cities Climate Leadership group to develop the study, with the aim of providing urban leaders with the data they need to demonstrate that investments in tree planting can improve public health in their cities.
"Trees can have a significant local impact on pollution levels and temperatures," said Rob McDonald, lead scientist for global cities at the Nature Conservancy and the study's primary author. "Urban trees can save lives, and are just as cost-effective as more traditional solutions like putting scrubbers on smokestacks or painting roofs white."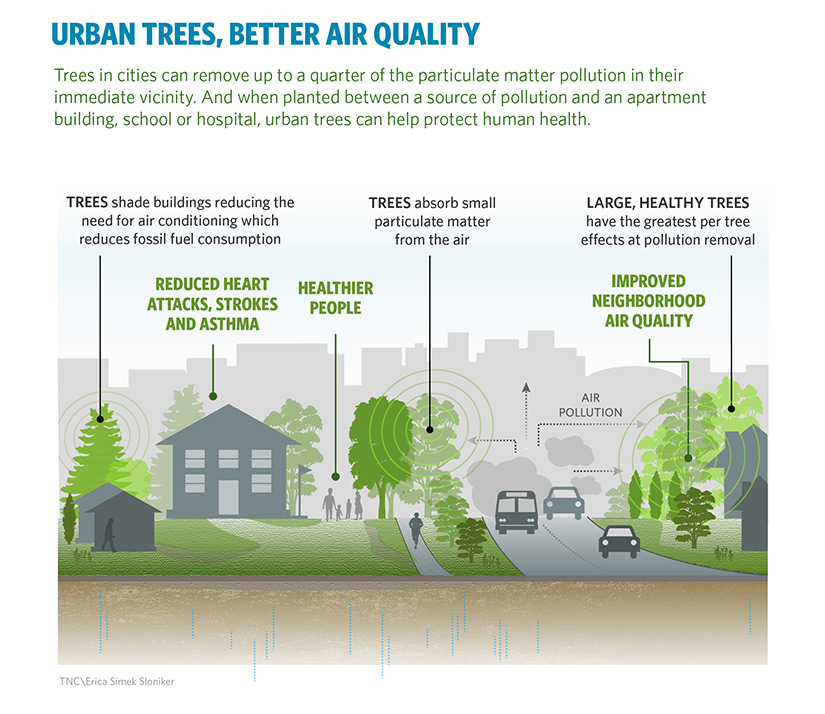 The challenges facing cities are significant, but trees can be an important part of the solution:
• Every year, more than 3 million people die from the effects of fine particulate matter – air pollution so small that it can enter the bloodstream and lungs, causing such ailments as asthma, heart disease and stroke. In cities, much of this pollution comes from the burning of fossil fuels, including in car engines. Trees remove as much as a quarter of the particulate matter pollution within a few hundred metres, and when planted in the right places, can offer a very effective barrier, filtering bad air and protecting local residents.

• Urban heat is already the deadliest type of weather-related disaster facing the world, and the impacts will only increase as our climate continues to change. In France in 2003, a summer heat wave killed 11,000 people in one week, so many that the Paris city morgue was overwhelmed and the bodies had to be stored at a vegetable market. The most vulnerable to deadly heat waves are elderly people without access to air conditioning. Trees can cool their immediate vicinity by as much as 2 degrees C, offering a means of protecting people from the impacts of a changing climate.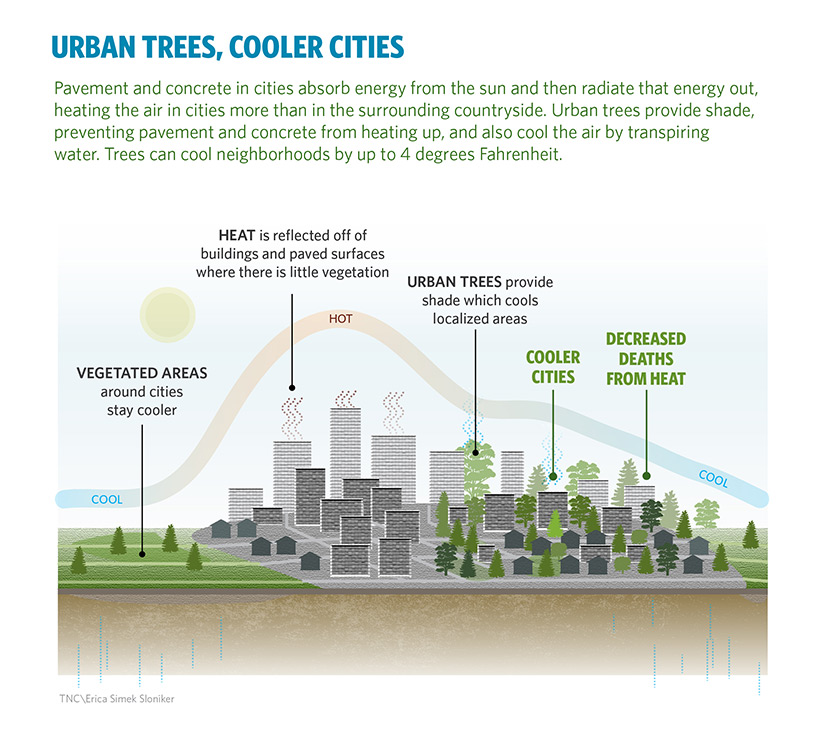 The Conservancy's Planting Healthy Air study found that an annual global investment of US$100 million in tree planting could provide 77 million people with cooler cities and 68 million people with measurable reductions in particulate matter pollution.
Cities with high population density, high pollution and heat levels, and low cost of tree planting showed the highest return on investment, with nations like India, Pakistan and Bangladesh topping the global rankings. But the data also shows neighbourhoods in every city that offer a high potential benefit to residents from tree planting.
Trees are the only solution that both clean and cool the air, while simultaneously offering other benefits, including urban green space for residents, habitat for wildlife and carbon sequestration. Tree planting is a solution that mayors and other municipal leaders around the globe can implement to improve the lives of residents within their communities, reducing air pollution and slowing climate change.
"Trees alone cannot solve all of the world's urban air and heat challenges – but they're an important piece of the solution. In this urban century when there are going to be an extra two billion people living in cities, smart cities should be thinking about how nature and trees can be part of the solution to keep air healthy," explained McDonald. "One of our goals outlined in the report is to remind cities that you have the parks or urban forestry department on one side, and the health department on the other side. On this issue at least, they need to be talking to each other. I am really hopeful that if more cities start thinking that way, then we will see a rebirth in urban tree planting."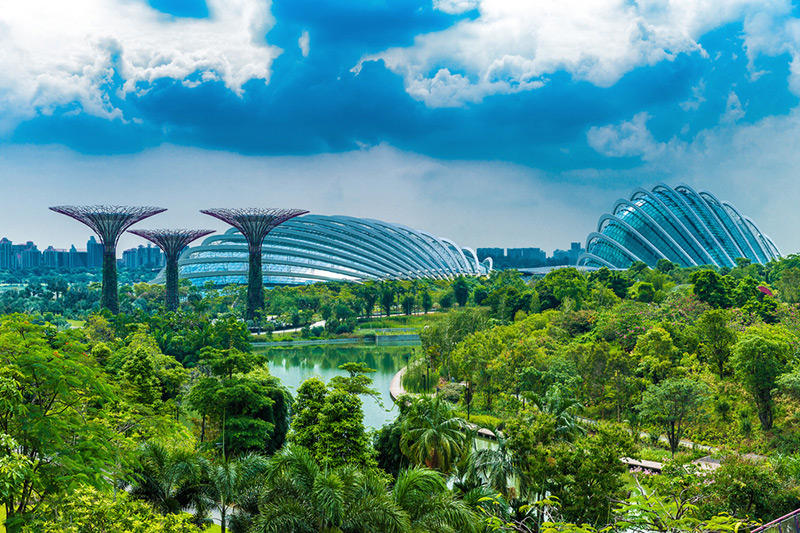 ---
• Follow us on Twitter
• Follow us on Facebook
1st November 2016
New pollution limits for shipping by 2020
In a landmark decision for both the environment and human health, 1st January 2020 has been set as the implementation date for a significant reduction in the sulphur content of the fuel oil used by ships.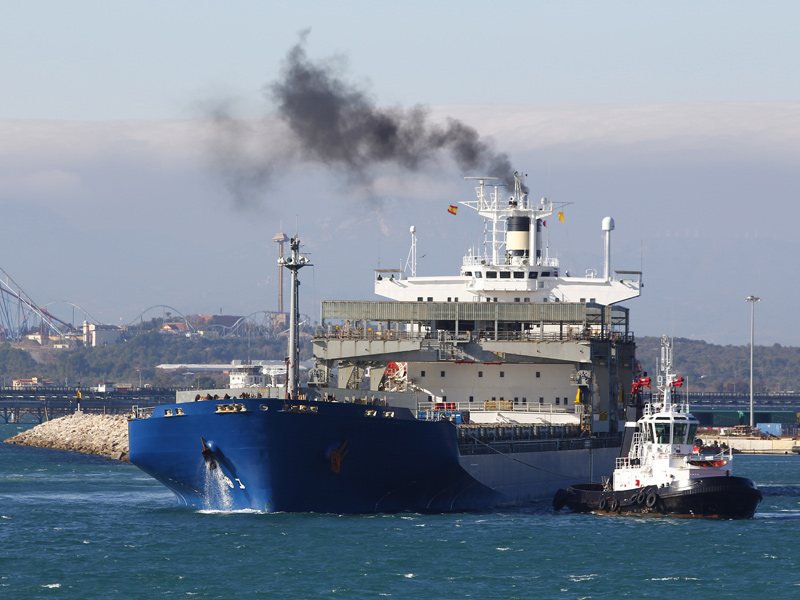 The decision to implement a global sulphur cap of 0.50% m/m (mass/mass) in 2020 was taken by the International Maritime Organisation (IMO), the regulatory authority for international shipping, during its Marine Environment Protection Committee (MEPC), meeting for its 70th session in London.
This represents a significant cut from the 3.5% m/m global limit currently in place and demonstrates a clear commitment by the IMO to ensure shipping meets its environmental obligations.
"The reductions in sulphur oxide emissions resulting from the lower global sulphur cap are expected to have a significant beneficial impact on the environment and on human health, particularly that of people living in port cities and coastal communities, beyond the existing emission control areas," said IMO Secretary-General Kitack Lim.
Further work to ensure effective implementation will continue in the Sub-Committee on Pollution Prevention and Response. Under the new global cap, ships will have to use fuel oil on board with a sulphur content of no more than 0.50% m/m, against the current limit of 3.50%, which has been in effect since 1st January 2012. The interpretation of "fuel oil used on board" includes use in main and auxiliary engines and boilers. Exemptions are provided for situations involving the safety of the ship or saving life at sea, or if a ship or its equipment is damaged.
Ships can meet the requirement by using low-sulphur compliant fuel oil. They can also use exhaust gas cleaning systems or "scrubbers", which "clean" the emissions before they are released into the atmosphere. Overall, the new limit is expected to slash SO2 emissions in the shipping industry by 85% compared to today's levels, and reduce the number of premature deaths by 200,000 globally every year.
In addition to limits on sulphur pollution, another agreement was reached at the IMO's committee meeting. Ships of 5,000 gross tonnage and above will be required to collect consumption data for each type of fuel oil they use, as well as other, additional, specified data including proxies for transport work. These larger ships account for approximately 85% of CO2 emissions from international shipping. The data collected will provide a firm basis on which future decisions on additional measures, over and above those already adopted, can be made. The MEPC approved a roadmap (2017 through to 2023) for developing a "Comprehensive IMO strategy on reduction of GHG emissions from ships", which foresees an initial GHG strategy to be adopted in 2018.
---
• Follow us on Twitter
• Follow us on Facebook
30th October 2016
Tesla unveils solar roof tiles and Powerwall 2
By combining solar roof tiles, battery storage, and electric vehicles, Tesla hopes to create the opportunity for a zero emission lifestyle.
Last year, Tesla revealed the "Powerwall" – a revolutionary new energy storage system for homes and businesses. The company has now taken this concept a step further by unveiling a new range of solar-powered roof tiles, able to blend seamlessly into an existing building's appearance. In addition, Tesla has doubled the energy capacity of the original Powerwall, now released as a version 2. By combining the solar roof tiles, the Powerwall 2, and an electric vehicle, Tesla hopes to create the opportunity for a zero emission lifestyle.
The solar roof tiles will be available in four distinct styles: "Textured Glass Tile," "Slate Glass Tile," "Tuscan Glass Tile," and "Smooth Glass Tile." They can be integrated into both new homes, as well as older buildings whose existing roofs need replacing.
"The goal is to have solar roofs that look better than a normal roof, generate electricity, last longer, have better insulation, and actually have an installed cost that is less than a normal roof plus the cost of electricity," said Elon Musk, Tesla CEO. "So why would you buy anything else?" At his presentation in Los Angeles on Friday, the tiles were showcased on homes once used as the set for US drama Desperate Housewives.
The potential market for solar roof tiles is huge. In the US alone, up to five million new homes are built each year. Globally, the figure is 20 times higher. Musk is hoping Tesla/Solar City can supply at least 10% of new homes in the US with energy-generating solar roof tiles by 2020. Tesla expects the growth rate of energy products around the world to be far greater than that of electric vehicles alone.
The tiles are currently about 98% as efficient as traditional solar panels. However, Tesla is now working alongside 3M to develop an improved coating, which will not only restore the lost 2%, but could possibly even go above normal efficiency by "trapping" more light inside.
The first installations are expected to begin by summer next year. Since they are made from quartz glass, they should last much longer than a typical asphalt tile – at least two or three times longer, according to Musk.
Musk's presentation moved on to the Powerwall 2. This compact, wall-mounted battery unit stores 14kW/hour of energy from the roof tiles in daylight and has 7kW peak power output – twice the amount of the previous version and enough for a family to live comfortably off the grid. The Powerwall makes solar energy available as a power source 24/7. In the event of a grid outage, it can serve as back-up power. If necessary, multiple units can be stacked to combine even greater energy storage. Each device will retail at $5500.
In addition to the Powerwall 2 for homes and small businesses, Tesla offers the utility-scale Powerpack, now also launched as a version 2. Once again, this will provide twice the energy of its predecessor: 210kW/hour of storage and a peak output of 50kW. It has unlimited scalability, meaning it could power an entire town or city. Tesla recently announced the world's biggest utility-scale battery installation for Southern California Edison, an 80MWh project that is already under construction right now. To date, nearly 300MWh of Tesla batteries have been deployed in 18 countries around the world.
The Powerpack 2 is also matched with a new inverter, designed by Tesla and manufactured at the company's new Gigafactory, which started limited production in the first quarter of 2016. It is the lowest cost, highest efficiency and highest power density utility-scale inverter on the market. It also significantly simplifies the installation process of the entire Powerpack system by integrating a number of previously independent components into the inverter itself.
In his presentation, Musk was keen to emphasise that larger utility-scale energy will be just as important as localised power generation in the future – the two should not have to compete with each other, and the future is bright for both. He believes localised systems will account for about one-third of power generation and utilities about two-thirds.
The costs of solar power, batteries/energy storage and electric vehicles have been falling in recent years and will continue falling. In the near future, systems like that presented by Musk will become affordable to many more people and businesses. Solar-powered windows will emerge too, thanks to advances in transparent, light-harvesting materials. Combined with nationwide smart grids, to provide the optimal balancing of demand and production, this offers the prospect of a global clean energy revolution by 2030.
Full details of the solar roof tiles, Powerwall 2 and Powerpack 2 can be seen in the 20 minute presentation by Musk below. You can also visit the Tesla website at: https://www.tesla.com/energy
---
• Follow us on Twitter
• Follow us on Facebook
29th October 2016
New world record for fusion reactor
Massachusetts Institute of Technology has announced a new record for plasma pressure in an Alcator C-Mod tokamak nuclear fusion reactor – achieving over two atmospheres of pressure for the first time.
Scientists and engineers from the Plasma Science and Fusion Center at the Massachusetts Institute of Technology (MIT) have made a leap forward in the pursuit of clean energy. They report a new record for plasma pressure in the Institute's Alcator C-Mod tokamak nuclear fusion reactor, pictured above. Plasma pressure is the key ingredient to producing energy from nuclear fusion, and MIT's new result achieves over two atmospheres of pressure for the first time. Senior researcher, Earl Marmar, presented the results at the IAEA Fusion Energy Conference, in Kyoto, Japan, which ran from 17–22 October.
Nuclear fusion has the potential to produce nearly unlimited supplies of clean, safe, carbon-free energy. Fusion is the same process that powers the Sun, and it can be realised in reactors that simulate the conditions of ultrahot miniature "stars" of plasma – superheated gas – that are contained within a magnetic field.
For over half a century it has been known that to make fusion viable on Earth's surface, the plasma must be very hot (more than 50 million degrees), must be stable under intense pressure, and contained in a fixed volume. Successful fusion also requires that the product of three factors – a plasma's particle density, confinement time, and temperature – reaches a certain value. Above this value (the so-called "triple product"), the energy released from a reactor exceeds the energy required to keep the reaction going.
Pressure, which is the product of density and temperature, accounts for about two-thirds of the challenge. The amount of power produced increases with the square of the pressure – so doubling the pressure leads to a fourfold increase in energy production.
During the 23 years Alcator C-Mod has been in operation, it has repeatedly advanced the record for plasma pressure in a magnetic confinement device. The previous record of 1.77 atmospheres was in 2005 (also at Alcator C-Mod). While setting the new record of 2.05 atmospheres, a 15% improvement, the temperature inside Alcator C-Mod reached over 35 million degrees Celsius, or twice as hot as the centre of the sun. The plasma produced 300 trillion fusion reactions per second and had a central magnetic field strength of 5.7 tesla. It carried 1.4 million amps of electrical current and was heated with over 4 million watts of power. The reaction occurred in a volume of approximately 1 cubic metre (not much larger than a coat closet) and the plasma lasted for two full seconds.
Other fusion experiments conducted in reactors similar to Alcator have reached these temperatures before, but at pressures closer to 1 atmosphere; MIT's result exceeded the next highest pressure achieved in non-Alcator devices by 70 percent.
"This is a remarkable achievement that highlights the highly successful Alcator C-Mod program at MIT," says Dale Meade, former deputy director at the Princeton Plasma Physics Laboratory, who was not directly involved in the experiments. "The record plasma pressure validates the high-magnetic-field approach as an attractive path to practical fusion energy."
"This result confirms that the high pressures required for burning plasma can be best achieved with high-magnetic-field tokamaks such as Alcator C-Mod," says Riccardo Betti, Professor of Mechanical Engineering and Physics and Astronomy at the University of Rochester.
Alcator C-Mod is the world's only compact, high-magnetic-field fusion reactor with advanced shaping in a design called a tokamak, which confines the superheated plasma in a doughnut-shaped chamber. Its high-intensity magnetic field – up to eight tesla, or 160,000 times the Earth's magnetic field – allows the device to create the dense, hot plasmas and keep them stable at such incredibly high temperatures. Its magnetic field is more than double what is typically used in other reactor designs, which quadruples its ability to contain plasma pressure.
Unfortunately, while Alcator C-Mod's contributions to the advancement of fusion energy have been significant, the facility has now been officially closed following this latest experiment. In 2012, the Department of Energy (DOE) decided to cease funding, due to budget pressures from the construction of the ITER project, which is due to be switched on in 2022. Following that decision, Congress restored funding for a few more years – but that funding has now ended.
C-Mod was third in the line of high-magnetic-field tokamaks built and operated at MIT. Unless a new device is announced and constructed, the pressure record just set in C-Mod will likely stand for the next 15 years. ITER will be approximately 800 times larger in volume than Alcator C-Mod, but will operate at a lower magnetic field. ITER is expected to reach 2.6 atmospheres when it reaches full operation by 2032.
---
• Follow us on Twitter
• Follow us on Facebook
29th October 2016
58% decline in vertebrate wildlife since 1970
The Living Planet assessment, by the Zoological Society of London (ZSL) and WWF, reports that vertebrate wildlife populations have fallen by 58% globally since 1970, and suggests this figure may reach two-thirds among vertebrates by 2020.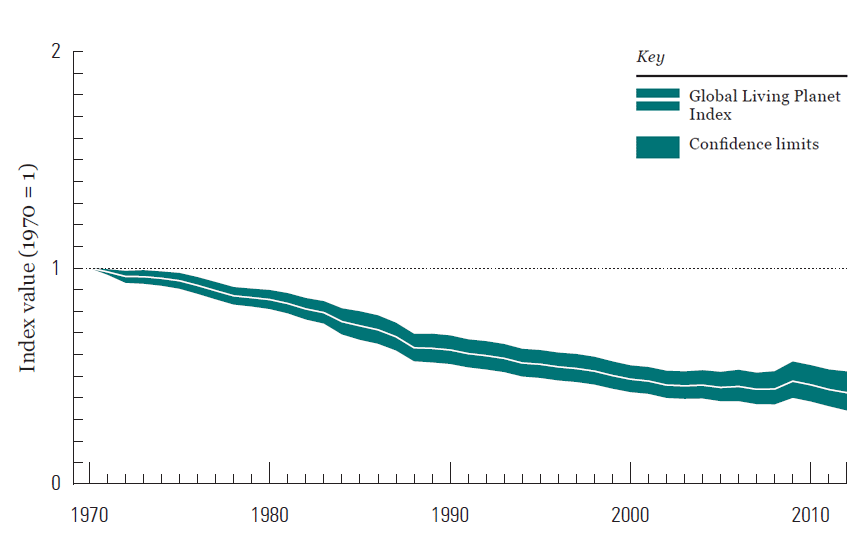 Global populations of vertebrates – mammals, birds, reptiles, amphibians, and fish – declined by 58 percent between 1970 and 2012, according to a new report from the WWF and the Zoological Society of London (ZSL). Animals living in the world's lakes, rivers, and freshwater systems have experienced the most dramatic declines, at 81 percent. Because of human activity, the report states that without immediate intervention, vertebrate populations could drop two-thirds by 2020.
"This research delivers a wake-up call that for decades we've treated our planet as if it's disposable," said Carter Roberts, WWF president. "We created this problem. The good news is that we can fix it. It requires updating our approach to food, energy, transportation, and how we live our lives. We share the same planet. We rely on it for our survival. So we are all responsible for its protection."
The top threat to wildlife is habitat loss and degradation, driven primarily by increasing demand for food and energy. According to the report, global food production is the leading cause for destruction of habitats and overexploitation of wildlife. Agriculture currently occupies approximately one-third of Earth's total land area and accounts for 70 percent of all freshwater use. Wild animals are not the only ones at risk; the report states that increased pressure threatens natural resources that all life – including humanity – depends on.
The report demonstrates the need to rethink how we produce, consume, measure success and value the natural environment, and calls for an urgent system change by individuals, businesses and governments. The report also illustrates the positive momentum that is building, by highlighting recent global agreements on climate change and sustainable development. In particular, the report recognises the 2030 Agenda for Sustainable Development as an essential guide to decision-making that can ensure the environment is valued alongside economic and social interests.
"A strong natural environment is the key to defeating poverty, improving health and developing a just and prosperous future," said Marco Lambertini, WWF director general. "We have proven that we know what it takes to build a resilient planet for future generations; we just need to act on that knowledge."
Living Planet Report 2016: Risk and resilience in a new era is the 11th edition of WWF's biennial flagship publication. The report tracks over 14,000 vertebrate populations of 3,700 species from all around the world, between 1970 and 2012, including research from the Global Footprint Network and the Zoological Society of London.
---
• Follow us on Twitter
• Follow us on Facebook
12th October 2016
Climate change has doubled western US forest fires
A study by the Earth Institute at Columbia University finds that wildfires in the western US have doubled in area over the last 30 years due to climate change.
| | |
| --- | --- |
| | In July and August, the Roaring Lion wildfire devoured more than 8,000 acres of forest, along with over 60 homes and outbuildings in eastern Montana's Bitterroot Range. Here, the fire burns through dense conifers, 31st July 2016. Credit: Mike Daniels. |
A new study concludes that human-induced climate change has doubled the area affected by forest fires in the western U.S. over the last 30 years. According to the study, since 1984 heightened temperatures and resulting aridity have caused fires to spread across an additional 16,000 square miles than they otherwise would have – an area larger than the states of Massachusetts and Connecticut combined. The authors warn that further warming will increase fire exponentially in coming decades. The study appears today in the peer-reviewed journal Proceedings of the National Academy of Sciences.
"No matter how hard we try, the fires are going to keep getting bigger, and the reason is really clear," said Park Williams, co-author and bioclimatologist at Columbia University's Lamont-Doherty Earth Observatory. "Climate is really running the show in terms of what burns. We should be getting ready for bigger fire years than those familiar to previous generations."
Fires in western forests began increasing abruptly in the 1980s, as measured by area burned, the number of large fires, and length of the fire season. Those increases have since continued, and recently scientists and public officials have in part blamed human-influenced climate change. The new study is perhaps the first to quantify that assertion.
"A lot of people are throwing around the words climate change and fire – specifically, last year fire chiefs and the governor of California started calling this the 'new normal,' " said lead author John Abatzoglou, a professor of geography at the University of Idaho. "We wanted to put some numbers on it."
Warmth drives fire by drying out the land. Warmer air holds more moisture, and the air sucks it out of plants, trees, and dead vegetation on the ground, as well as soil. Average temperatures in forested parts of the U.S. West have increased by 1.4°C (2.5°F) since 1970, and are expected to continue rising in the future. The resultant drying effect is evident in the expansion of fires. Williams published a study last year showing how climate-driven removal of moisture from land worsened the recent California drought, which was accompanied by widespread fires.
| | |
| --- | --- |
| | Satellite image of wildfires in California, August 2015. Credit: NASA/Goddard/Jeff Schmaltz/MODIS Rapid Response Team/Lynn Jenner |
The overall increase in fire since the 1980s is about twice what the researchers attribute to climate change; the rest is due to other factors, they say. One has been a long-term natural climate oscillation over the Pacific Ocean, which has steered storms away from the western United States. Another is firefighting itself. By constantly putting out fires, authorities have allowed areas they "saved" to build up more dry fuel, which later ignites, causing ever more catastrophic blazes. The costs of firefighting have risen sharply in step – last year, the federal government alone spent more than $2.1 billion. "We're seeing the consequence of very successful fire suppression, except now it's not that successful anymore," said Abatzoglou.
The authors teased out the effects of climate warming from other factors by looking at eight different systems for rating forest aridity; these included the Palmer Drought Severity Index, the MacArthur Forest Fire Danger Index and the Canadian Forest Fire Danger Rating System. They then compared such measurements with observations of actual fires and large-scale climate models that estimate man-made warming. The crunched data showed that 55% of the increase in fuel aridity expected to lead to fires could be attributed to human-influenced climate change. Climate's role in increasing such aridity has grown since 2000 and will continue to do so, the researchers say. Previous studies have tried to understand the effects of climate on wildfires in parts of Canada, but nothing has been done for the United States on this scale, until now.
Globally, wildfires of all kinds have been increasing, often with a suspected climate connection. A huge fire that levelled part of Fort McMurray, Alberta, this May (see video below) is thought to have been the result of a warming trend that is drying out the northern forests. Fires are even spreading beyond, into the tundra, in places where blazes have not been seen for thousands of years.
The effects go beyond loss of trees and other vegetation. A 2012 study estimates that smoke from fires worldwide causes long-term health effects that kill some 340,000 people each year. Carbon released to the air adds to the burden of greenhouse gases already there, producing even more warming. Soot settling on snow and ice causes them to absorb more heat and melt faster.
Williams believes that ultimately, so many western forests will have burned, they will become too fragmented for fires to spread easily, and the growth in wildfires will cease. But, he explains, "There's no hint we're even getting close to that yet. I'd expect increases to proceed exponentially for at least the next few decades." In the meantime, he says, "It means getting out of fire's way. I'd definitely be worried about living in a forested area with only one road in and one road out."
---
• Follow us on Twitter
• Follow us on Facebook
14th September 2016
A tenth of the world's wilderness lost since the 1990s
A tenth of the world's wilderness is reported to have disappeared in the last 20 years – an area twice the size of Alaska – with the Amazon and Central Africa being the hardest hit regions. If trends continue, there will be few areas of wilderness left untouched by human activity by 2050.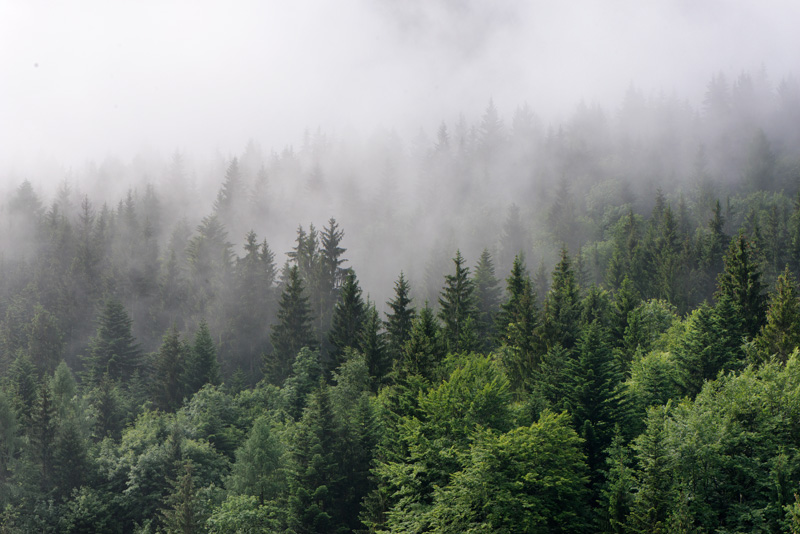 Scientists in the latest issue of Current Biology have reported catastrophic declines in wilderness areas around the planet over the last two decades. Their study describes alarming losses comprising one-tenth of global wilderness since the 1990s – an area twice the size of Alaska and half the size of the Amazon. Their findings underscore an immediate need for international policies to recognise the value of wilderness areas and to address the unprecedented threats they will face in the future, the researchers say.
"Globally important wilderness areas – despite being strongholds for endangered biodiversity, for buffering and regulating local climates, and for supporting many of the world's most politically and economically marginalised communities – are completely ignored in environmental policy," says Dr James Watson of the University of Queensland in Australia, and Wildlife Conservation Society in New York. "Without any policies to protect these areas, they are falling victim to widespread development. We probably have one to two decades to turn this around. International policy mechanisms must recognise the actions needed to maintain wilderness areas before it is too late."
Watson says much policy attention has been paid to loss of species, but comparatively little is known about larger-scale losses of entire ecosystems, especially wilderness areas which tend to be relatively understudied. To fill that gap, he and his colleagues mapped wilderness areas around the globe, with "wilderness" being defined as biologically and ecologically intact landscapes free of any significant human disturbance. The researchers then compared their current map of wilderness to one produced by the same methods in the early 1990s.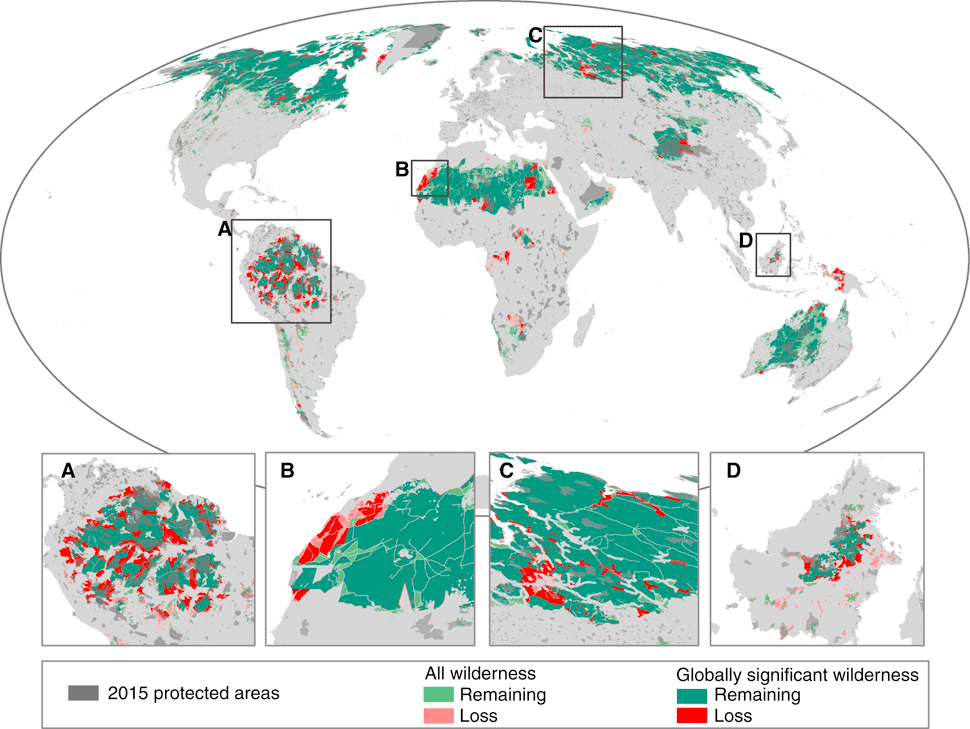 This comparison showed that a total of 30.1 million km² (around 23% of the world's total land area) now remains as wilderness, with the majority being located in North America, North Asia, North Africa, and the Australian continent. However, comparisons between the two maps show that an estimated 3.3 million km² (almost 10%) of wilderness area has been lost in the intervening years. Those losses have occurred mostly in South America, which has experienced a 30% decline in wilderness, and Africa, which has experienced a 14% loss.
"The amount of wilderness loss in just two decades is staggering" says Dr Oscar Venter of the University of Northern British Colombia. "We need to recognise that wilderness areas, which we've foolishly considered to be de facto protected due to their remoteness, are actually being dramatically lost around the world. Without proactive global interventions, we could lose the last jewels in nature's crown. You cannot restore wilderness once it is gone, and the ecological processes that underpin these ecosystems are gone, and it never comes back to the state it was. The only option is to proactively protect what is left."
The UN and others have ignored globally significant wilderness areas in key multilateral environmental agreements, says Watson, and this must change: "If we don't act soon, there will only be tiny remnants of wilderness around the planet, and this is a disaster for conservation, for climate change, and for some of the most vulnerable human communities on the planet. We have a duty to act for our children and their children."
---
• Follow us on Twitter
• Follow us on Facebook
6th September 2016
Latest update of threatened species list brings good and bad news
The IUCN has removed the giant panda from its endangered species list, but added the eastern gorilla to its critically endangered list.
The World Conservation Congress, which convenes every four years, is currently being held in Hawaii, USA. The International Union for Conservation of Nature and Natural Resources (IUCN), which organises the meetings, has just released an update to its "Red List" of species threatened with extinction. This brings some good news, but also a number of worrying developments.
On the plus side, the Giant Panda (Ailuropoda melanoleuca) has now been moved from "Endangered" to "Vulnerable", following decades of efforts to protect and restore the forests on which the animals depend. Their increased population and improved status confirms that the Chinese government's policies are effective. However, climate change is predicted to eliminate more than 35% of the Panda's bamboo habitat later this century and could therefore reverse the gains made since the 1990s.
To protect this iconic species, the IUCN emphasises it is critical that the effective forest protection measures are continued and that newly emerging threats are fully addressed. The Chinese government is planning to expand its existing conservation policy for the species, which the IUCN says must be strongly supported to ensure its effective implementation.
Although the news is encouraging for giant pandas, other species are facing much greater challenges. The Eastern Gorilla – the largest living primate – has been moved from "Endangered" to "Critically Endangered" due to a devastating population decline of more than 70% in 20 years. Its population is now thought to be fewer than 5,000.
Grauer's Gorilla (G. b. graueri), one of the two subspecies, has lost 77% of its population since 1994, declining from 16,900 individuals to only 3,800. Killing or capture of great apes is illegal; yet hunting represents the greatest threat to Grauer's Gorillas. The second of the species, the Mountain Gorilla (G. b. beringei), has been faring better, increasing in number to around 880 individuals.
Four of the six great apes – the Eastern Gorilla, Western Gorilla, Bornean Orangutan and Sumatran Orangutan – are now listed as Critically Endangered, whilst the Chimpanzee and Bonobo are listed as Endangered.
"To see the Eastern Gorilla – one of our closest cousins – slide towards extinction is truly distressing," said Inger Andersen, the IUCN Director General. "We live in a time of tremendous change and each IUCN Red List update makes us realise just how quickly the global extinction crisis is escalating. Conservation action does work and we have increasing evidence of it. It is our responsibility to enhance our efforts to turn the tide and protect the future of our planet."
The latest Red List includes almost 83,000 species of animals and plants, of which nearly 24,000 are threatened with extinction. The IUCN, its Species Survival Commission and nine partner institutions will jointly commit more than US$10 million, as part of an ambitious strategic plan that aims to double the number of species assessed on the Red List by the year 2020.
"The world is changing fast and dramatically," said Dr M Sanjayan, senior scientist from Conservation International. "Now more than ever, amid the updates to the Red List, it's crucial to identify and track the elements of nature that need protection the most. Monitoring the diversity of life is a fundamental part of all our efforts to understand the changes happening on our planet and focusing our conservation efforts so that people and nature can thrive."
"Illegal hunting and habitat loss are still major threats driving many mammal species towards extinction," said Carlo Rondinini, Coordinator of the mammal assessment at Sapienza University of Rome. "We have now reassessed nearly half of all mammals. While there are some successes to celebrate, this new data must act as a beacon to guide the conservation of those species which continue to be under threat."
---
• Follow us on Twitter
• Follow us on Facebook