American wind power reaches 50-gigawatt milestone
14th August 2012
2012 sets red-hot pace, but layoffs hit supply chain amid policy uncertainty for 2013
US wind power has blown through a historic milestone: 50 gigawatts (GW) of electric generating capacity, the American Wind Energy Association has announced, just as Congress works to extend a critical federal policy to continue the growth of the industry.
The 50GW online today means that US wind turbines now power the equivalent of nearly 13 million homes - or as many as Nevada, Colorado, Wisconsin, Virginia, Alabama and Connecticut combined. In addition, 50GW of wind power capacity:
Represents the generating power of 44 coal-fired power plants, or 11 nuclear power plants.
Avoids emitting as much carbon dioxide as taking 14 million cars off the road.
Conserves 30 billion gallons of water a year compared to thermal electric generation, since wind energy uses virtually no water.
Both American wind development and the capacity of a typical turbine have taken off in recent years. Although utility-scale generation dates to the early 1980s, it took 23 years to reach 5 GW of U.S. generating capacity (from 1981 to 2003).
American wind power reached 10 GW in 2006, 25 GW in 2008, and now has doubled that in just four more years. The last time a new energy technology ramped up to 50 GW was nuclear, in the late 1970s and early 1980s. Since then, no new energy technology has been as successful as wind.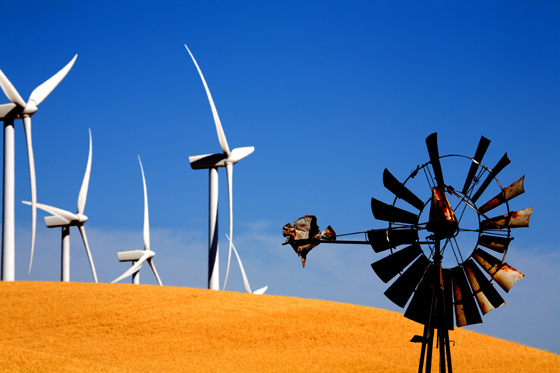 With the growth of capacity has come higher domestic content in US-deployed turbines, surging from 25% US-made in 2005 to over 60% today, with a steadily increasing number of factories joining the supply chain. Today, 500 US factories provide wind components.
Driving this powerful expansion has been relative policy stability starting in 2005, when President Bush and Congress extended the wind energy Production Tax Credit (PTC). With subsequent extensions, the PTC has not expired since, but is scheduled to do so at the end of the year. That has caused the industry's manufacturing supply chain to already start dramatically slowing down, given the 18-month project development cycle under which the industry operates.
"These truly are the best of times and could be the worst of times for American wind power," said Denise Bode, CEO of the American Wind Energy Association. "This month we shattered the 50-gigawatt mark, and we're on pace for one of our best years ever in terms of megawatts installed. But because of the uncertainty surrounding the extension of the Production Tax Credit, incoming orders are grinding to a halt.
"Layoffs have begun up and down our American manufacturing supply chain, which the industry has so proudly built up in support of the US economy and made-in-the USA manufacturing. And when incoming orders stop, so do factories. Congress must act now to give wind energy a stable business environment to keep producing all this homegrown power, and save 37,000 American jobs by the first quarter of next year," Bode said.
The possible expiration of these incentives at the end of this year, along with continued low natural gas prices, modest electricity demand growth, and existing state policies which are not sufficient to support continued capacity additions at the levels witnessed in recent years, threatens to dramatically slow new builds in 2013 and beyond, despite improvements in the cost and performance of wind power technology.
Comments »