'Spray-on skin' offers 52% greater healing of leg ulcers
4th August 2012
Treating venous leg ulcers with a unique spray, containing a living human cell formula, provides 52% greater wound closure than treatment with compression bandages only.
That's the conclusion of a new study conducted in part at the University of North Carolina School of Medicine and published online by The Lancet yesterday.
The Phase II clinical trial looked at the effectiveness of different cell concentrations and dosing frequencies of HP802-247, when combined with standard care in treatment of chronic venous leg ulcers.
HP802-247, developed by Healthpoint® Biotherapeutics, is an allogeneic living cell bioformulation containing keratinocytes and fibroblasts.
Venous leg ulcers affect 2.5 million Americans and are associated with impaired circulation usually resulting from damaged veins or valves. Typically appearing as an open lesion or ulcer on the lower extremities, they are very slow to heal and often reoccur due to the chronic nature of the underlying disease process.
"We are very pleased that the trial results are appearing in such a prestigious general medical journal, thus recognising the impact chronic wounds have across multiple medical specialties," commented Bert Slade, Chief Medical Officer at Healthpoint Biotherapeutics.
The company is now preparing a Phase III pivotal trial, to begin later this year.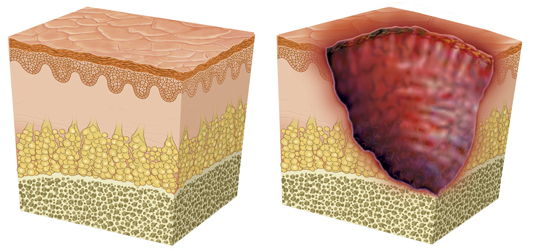 An illustration of skin ulceration. Credit: Alex Luengo
Comments »