Sainsbury's now the largest solar panel operator in the UK and Europe
5th August 2012
Sainsbury's has installed 69,500 new photovoltaic solar panels, or 16 MW of power, across 169 of its 572 stores in the UK. This investment means that, collectively, Sainsbury's supermarkets currently host the largest solar array in the UK and Europe - large enough to cover Wembley Stadium's pitch 24 times. These installations will reduce Sainsbury's total CO2 emissions by an estimated 6,800 tonnes per year, and each store's energy consumption, as well as delivering energy cost savings.
The use of on-site renewable energy is part of Sainsbury's ambitious corporate target to reduce its operational carbon emissions by 30% absolute and 65% relative by 2020 compared with 2005. This is part of a broader target of an absolute carbon reduction of 50% by 2030.
This broader target is one of 20 goals in Sainsbury's 20 by 20 Sustainability Plan, which acts as a cornerstone to the firm's business strategy and sets out 20 sustainability goals to be achieved by 2020.
As well as solar panels, Sainsbury's has installed over 40 biomass boilers and has recently announced the rollout of innovative geo-thermal heat pump technology at up to 100 stores, tapping energy from deep underground to provide heating and hot water.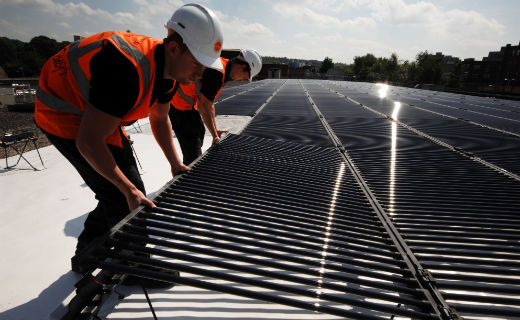 Comments »