High-tech ferry cuts fuel consumption by 50-100%
2nd September 2012
Sauter Carbon Offset Design (SCOD) have announced the world's first "Leap to Zero Greenline Ferry." With a combination of technologies including solar and wind power, they claim it reduces fuel consumption by 50 to 100%.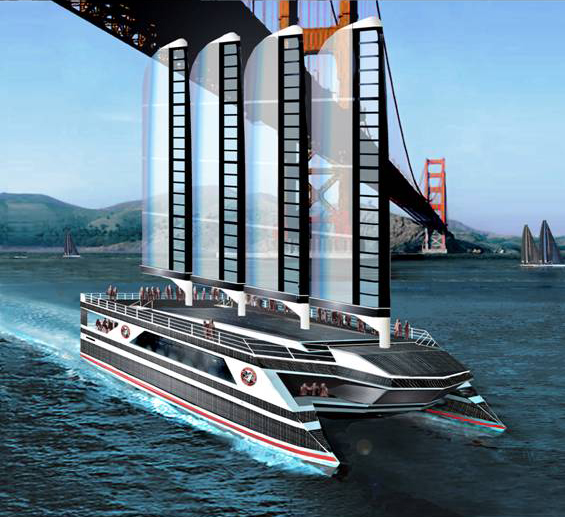 The 25m (82 ft) ship has a maximum speed of 14 knots with a 50-75% reduction in CO2 and fuel consumption. If cruising at 12 knots, however, the reduction can be 75-100%.
A quarter of this reduction comes from its specially designed aluminum catamaran hulls. Automated "Dyna Wing" sails lower fuel consumption by up to 20%; counter-rotating propeller pods cut fuel consumption by another 15%; and solar panels by another 10%. Energy harnessed from the exoskeleton and turbine props can be used immediately to power the vessel, be stored in batteries, or returned to the grid.
In cloudy, low wind conditions during the day, the sails combine with a 500 kilowatt power system allowing the ship to maintain its "zero carbon" cruising speed of 12 knots. When in low light conditions, duel Duramax V8 Hybrid Eco Marine Propulsion engines can be used - the cleanest marine engines available today. Over a 10-year period, greenhouse gas emissions are cut by 5,000 metric tons.
SCOD describes the Greenliner as "an eco-tourism excursions ferry for major ports and harbors and the ideal zero carbon viewing platform for the upcoming America's Cup in the San Francisco Bay." Cost savings from lower fuel consumption will "more than pay for the construction over its service life." Richard Sauter, head of Sauter Carbon Offset Design, commented further: "Considering that the America's Cup is founded on a carbon-free maritime legacy, it's only fitting that spectators viewing from day trip ferries should have the opportunity to revel in nature's bounty as well."
More information can be found on the company's website, which includes many other unique and futuristic ship designs, all of which use technologies available today.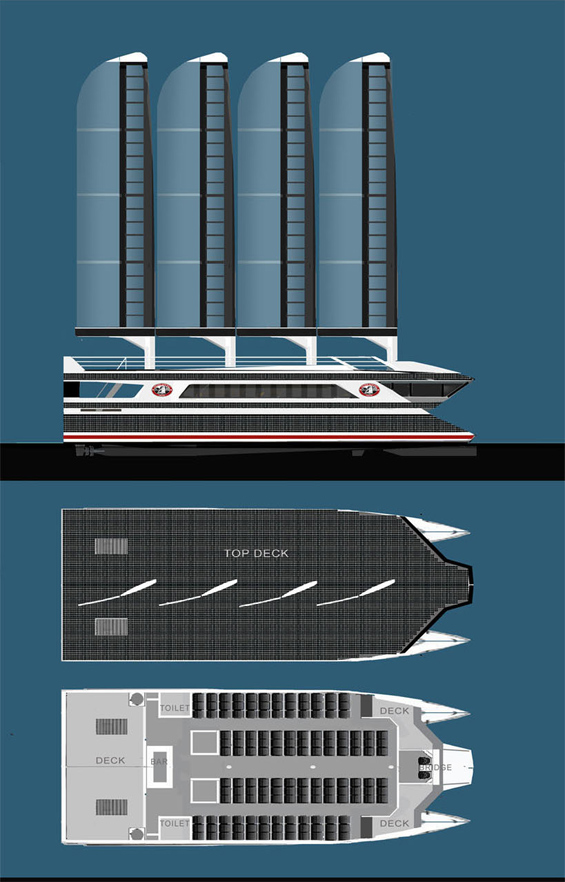 Comments »