16th January 2013
Longest ever turbine blades could boost wind power
The Energy Technologies Institute (ETI) in Britain has appointed Blade Dynamics to develop what are expected to be the world's longest wind turbine blades ever built.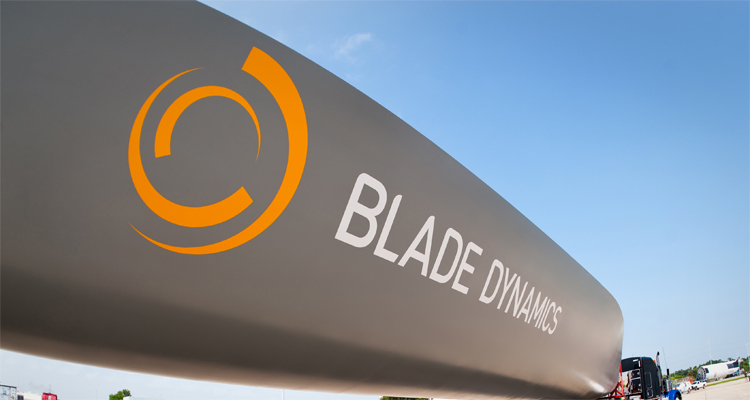 Blade Dynamics will construct blades for the ETI of between 80 to 100 metres in length, incorporating carbon fibre rather than conventional fibre glass. This compares with blades now deployed offshore of between 60 to 75 metres in length.
The ETI commissioned and funded project will be delivered using Blade Dynamics' innovative design and manufacturing processes that construct blades through the assembly of smaller, more accurate and easily manufactured components, rather than from extremely large and expensive full-length mouldings.
The project will see prototype blades manufactured and ready to be put into production by late 2014. Structural testing for the first blade is then expected to be carried out at a UK test facility. The design of the blades will see them weigh up to 40 per cent less than conventional glass-fibre blades, enabling significant weight and cost savings to be achieved throughout the rest of the turbine system. The design will also help to reduce the cost of the energy produced.
The intended end-use for the blade technology is on the next generation of large offshore wind turbines currently under development with a capacity of 8-10MW. This compares with the 5-6MW capacity turbines currently deployed.
UK Minister for Universities and Science, David Willetts: "This investment will enable Blade Dynamics to develop and demonstrate a potentially world-leading technology. The project could vastly improve the manufacturing process of very large turbine blades, as well as helping to reduce the cost of the energy generated. It shows Britain is leading the way in developing innovative solutions to help with the transition to a low carbon economy."
Paul Trinick, Offshore Wind Project Manager at the ETI: "Offshore wind has the potential to be a much larger contributor to the UK energy system if today's costs can be significantly reduced. Investing in this project to develop larger, more efficient blades is a key step for the whole industry in paving the way for more efficient turbines, which will in turn help bring the costs of generating electricity down."
David Cripps, Senior Technical Manager at Blade Dynamics: "We have worked hard on the design of this blade technology for a number of years now. Financial backing from the ETI for this project allows deployment on ultra-large turbines far sooner than would otherwise have been possible and as a result of this project we will be hiring new engineers and technologists to make this possible. Our driver is to make the generation of electricity through offshore wind both more reliable and more economical. We believe longer, low weight blades to be a key part of the solution – but for such blades to be most effective, we need to design their construction differently."
Comments »