29th April 2013
World's first curved OLED TVs go on sale
Pre-orders for a 55-inch curved OLED TV will start today in Korea, shipping next month.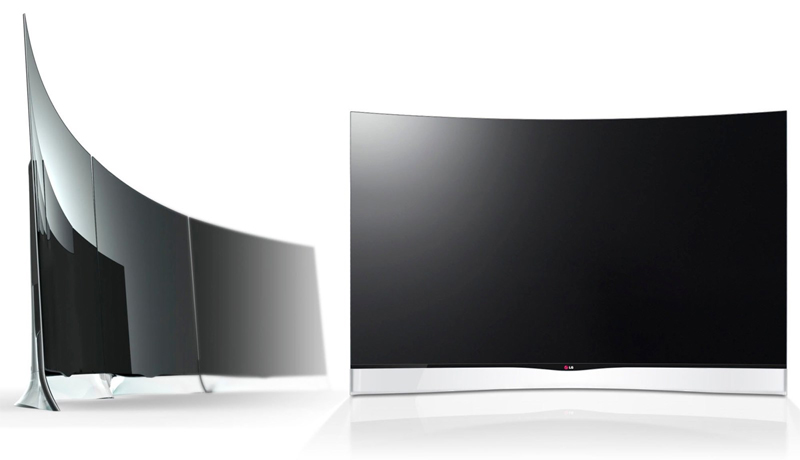 LG Electronics has announced that it will begin accepting pre-orders for its 55-inch (54.6-inch diagonal) Curved OLED TV (Model 55EA9800) in South Korea, with deliveries to begin next month. More than 1,400 LG retail stores will begin taking orders today for the premium TV, priced at KRW 15 million (approximately US$13,500).
The announcement makes LG the first and only company to commercialise both the flat screen OLED TV, which began shipping to Korean customers in February, and the curved OLED TV. This gives LG a significant lead over its competitors.
The new model provides an "IMAX-like" viewing experience in the home. With more than five years of research behind developing the optimum curvature, the entire screen surface is equidistant from the viewer's eyes, eliminating the problem of screen-edge visual distortion and loss of detail.
Only 4.3 millimetres (0.17 inches) thick, LG's Curved OLED TV produces astoundingly vivid and realistic images, thanks to its proprietary WRGB technology. The unique Four-Colour Pixel system features a white sub-pixel, which works in conjunction with the conventional red, blue, green setup to create the perfect colour output. Transparent film speakers are built into the crystal clear stand, providing high-quality sound without compromising the TV's design.
Timing and pricing of the Curved OLED TV in markets outside of Korea will be announced in the months ahead. The OLED segment is expected to grow to 7 million units by 2016 as prices fall.
Comments »