19th June 2013
New world record for solar cell efficiency
The efficiency of solar power continues to inch upward. Japanese electronics company Sharp just announced that it has achieved a conversion efficiency of 44.4% (at the research level) for a concentrator triple-junction compound solar cell. Sharp's previous record for a cell of this type – a lens-based system that focuses sunlight – was 43.5%, set in 2012.
Compound cells typically offer high efficiency by using photo-absorption layers made from multiple elements, such as indium and gallium. Sharp used a proprietary technology featuring three stacked photo-absorption layers, the bottommost of which is made from InGaAs (indium gallium arsenide). The researchers worked to widen the effective concentrator cell surface and ensure uniformity of width at the interface of the connecting concentrator cell and electrodes.
Because of their high conversion efficiency, compound solar cells have thus far been used primarily on space satellites. Looking to the future, Sharp aims to harness this latest development success and make the use of compound solar cells more feasible in terrestrial ground-based applications.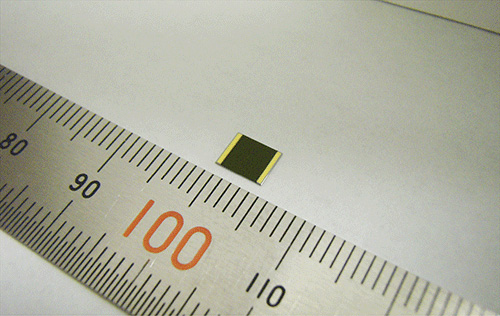 Comments »