22nd June 2013
May 2013 global warming update
According to scientists at the National Oceanic and Atmospheric Administration (NOAA), the global average temperature for May 2013 was tied with 1998 and 2005 as the third warmest May since record-keeping began in 1880. It also marked the 37th consecutive May and 339th consecutive month (more than 28 years) above the 20th century average. The last below-average May temperature was in 1976 and the last below-average temperature for any month was February 1985.
Many areas of the world experienced higher-than-average monthly temperatures – including most of northern Siberia, western Russia, northern and eastern Europe, and central Australia. Meanwhile, western Siberia, northeastern Kazakhstan, western Europe, southwestern Greenland, parts of the central and southeastern United States, and Alaska were notably below average. The year to date (covering the five months from January to May 2013) is shown in the second image.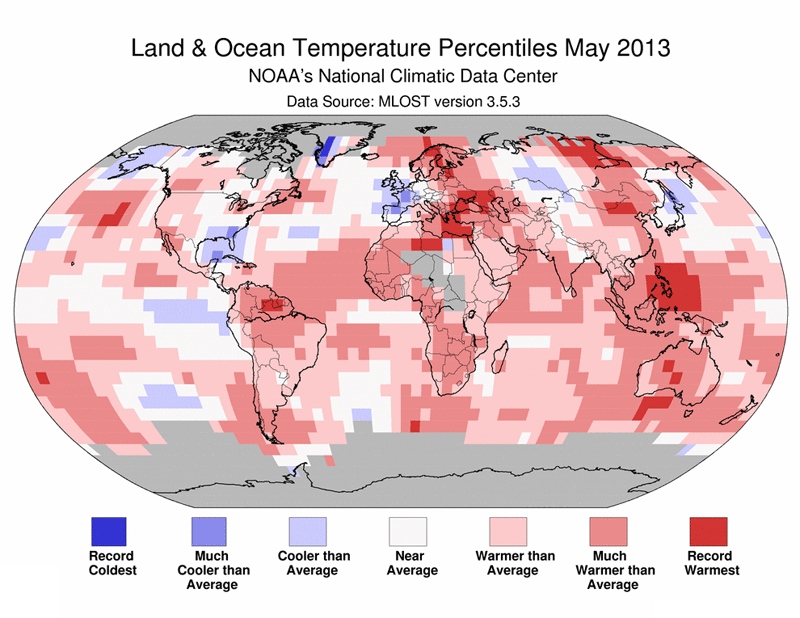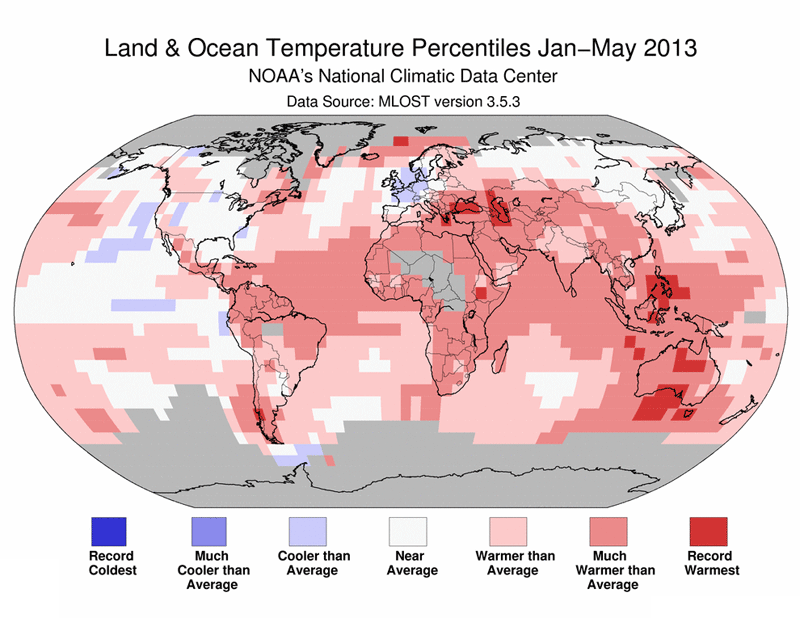 Meanwhile, a report issued by the World Bank this week highlights the dangers and impacts of a warmer climate – expected to disproportionately affect poorer countries. Key findings include:
• In Sub-Saharan Africa, droughts and heat by the 2030s will leave 40 percent of the land now growing maize unable to support that crop, while rising temperatures will cause major loss of savanna grasslands, threatening pastoral livelihoods. By the 2050s, depending on the sub-region, the proportion of the population undernourished is projected to increase by 25-90 percent compared to the present.
• In South Asia, the potential change in regularity and impact of the all-important monsoon could trigger a major crisis in the region. Events like the devastating Pakistan floods of 2010, which affected nearly 20 million people, will become common place. More extreme droughts in large parts of India could lead to widespread food shortages and hardship.
• As warming approaches 4°C later in the century, rural livelihoods will face mounting pressures across South East Asia as sea levels rise, tropical cyclones increase dramatically and vital marine ecosystem services are lost.
• Across all regions, the likely movement of impacted communities into urban areas could lead to ever higher numbers of people in informal settlements being exposed to heat waves, flooding and diseases.
"I do not believe the poor are condemned to the future scientists envision in this report," said Jim Yong Kim, World Bank Group President. "In fact, I am convinced we can reduce poverty even in a world severely challenged by climate change. We can help cities grow clean and climate resilient, develop climate smart agriculture practices, and find innovative ways to improve both energy efficiency and the performance of renewable energies. We can work with countries to roll back harmful fossil fuel subsidies and help put the policies in place that will eventually lead to a stable price on carbon."
"We are determined to work with countries to find solutions," he continued. "But, the science is clear. There can be no substitute for aggressive mitigation targets, and the burden of emissions reductions lies with a few large economies."
The report says sea level rise has been occurring more rapidly than previously projected and a rise of 50 cm by the 2050s may already be unavoidable as a result of past emissions. In some cases, impacts could be felt much earlier. For example, without adaptation measures, sea level rise of 15 cm, coupled with more intense cyclones, threatens to inundate much of Bangkok by the 2030s.
Partly in response to the findings of this new report, the World Bank claims it is stepping up its mitigation, adaptation and disaster risk management work, and will increasingly look at business through a "climate lens." Today, the Bank is helping 130 countries take action on climate change. Last year, it doubled its financial lending that contributes to adaptation. Increasingly, the Bank is supporting action on the ground to finance the kind of projects that help the poor grow their way out of poverty, increase their resilience to climate change, and achieve emission reductions.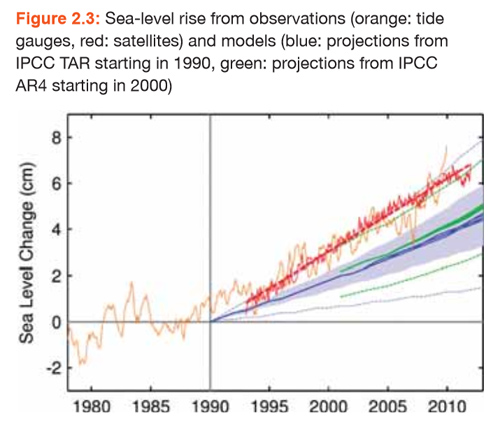 Comments »