31st October 2013
The Climate Change Vulnerability Index 2014
The sixth annual release of Maplecroft's Climate Change and Environmental Risk Atlas has revealed that 31% of global economic output will be based in countries facing 'high' or 'extreme risks' from climate change by 2025 — a 50% increase on current levels and more than double since the company began researching the issue in 2008.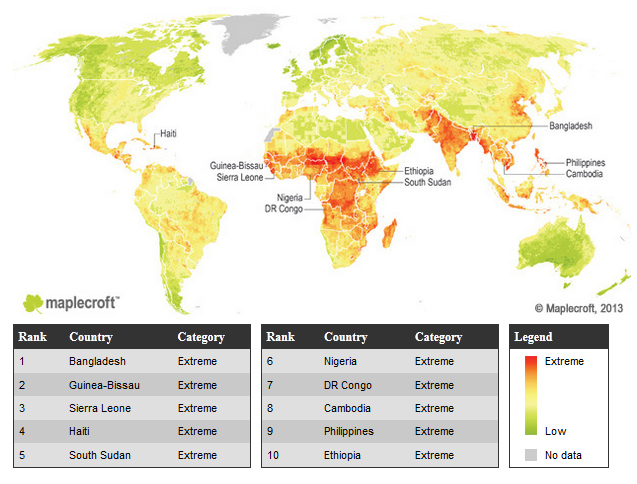 Global business exposed to climate change on multiple levels
Future estimates of the overall cost of climate change on the economy include a wide spectrum of opinions. What cannot be disputed is that the 'high' and 'extreme risk' countries in Maplecroft's CCVI include emerging and developing markets, whose importance to the world economy is ever increasing. By 2025, China's GDP is estimated to treble from current levels to $28 trillion, while India's is forecast to rise to $5 trillion – totalling nearly 23% of global economic output between them.
India's economic exposure to the impacts of extreme climate-related events was recently highlighted by Cyclone Phailin. The storm caused an estimated US$4.15 billion of damage to the agriculture and power sectors alone in the state of Odisha, which is also India's most important mining region. Up to 1 million tons of rice were destroyed, while key infrastructure, including roads, ports, railway and telecommunications were severely damaged, causing major disruption to company operations and the supply chains of industrial mineral users.
"With global brands investing heavily in vulnerable growth markets to take advantage of the spending power of rising middle class populations, we are seeing increased business exposure to extreme climate-related events on multiple levels, including their operations, supply chains and consumer base," states James Allan, Head of Environment at Maplecroft. "Cyclone Phailin demonstrates the critical need for business to monitor the changing frequency and intensity of climate-related events – especially where infrastructure and logistics are weak."
According to Maplecroft, the ability of highly vulnerable countries to manage the direct impact of extreme events on infrastructure will be a significant factor in mitigating the economic impacts of climate change and may present opportunities for investment. Adaptive measures, such as building flood defences and greater infrastructure resiliency, will, however, require the sustained commitment of governments.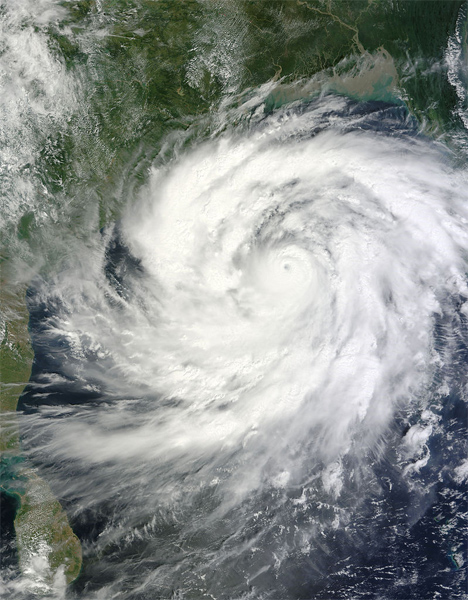 Cyclone Phailin, 11 October 2013
Most at risk cities Dhaka, Mumbai, Manila, Kolkata, Bangkok – lowest risk in London, Paris
With commercial activity and the middle classes predominantly based in urban centres, Maplecroft has also calculated the risks to the world's largest cities to pinpoint where the economic exposure will be highest over the next 30 years.
According to the CCVI's sub-national calculations, of the 50 cities studied, five present an 'extreme risk' – Dhaka in Bangladesh; Mumbai and Kolkata in India; Manila in the Philippines and Thailand's Bangkok – while only London and Paris were classified as 'low risk.' Shenzhen and the Pearl River Delta, which encompasses the cities of Guangzhou, Dongguan and Foshan and make up China's manufacturing heartland, are among the most exposed to physical risks from extreme climate-related events.
West Africa sees greatest increase in risk
Meanwhile, the regions facing the most increased levels of risk are West Africa and the Sahel. Maplecroft's Exposure Index incorporates recently released UN IPCC climate projections for the period up to 2040, and identifies regions that are projected to undergo a significant shift in key climate parameters in that timeframe. Over this period a projected warming of 2°C will combine with substantial changes in rainfall and humidity, which will have a significant impact on communities and businesses located in West Africa and the Sahel.
The region's increased risk is reflected by the inclusion of West Africa's largest economy, Nigeria, as the world's sixth most at risk country in the CCVI. Nigeria's oil sector is left particularly exposed to the impacts of climate-related events. Flooding between July-November 2012 resulted in an estimated loss of 500,000 barrels-per-day in oil production, equivalent to over one-fifth of Nigeria's output. The oil-rich Niger delta is especially vulnerable, with rising sea levels already resulting in erosion and the loss of some oil wells in this area.
Comments »