13th July 2014
The world's first dedicated launch service for nanosatellites
A new rocket design that incorporates methane fuel can provide a low-cost platform for launching clusters of tiny satellites, greatly improving broadband delivery and Earth observation missions.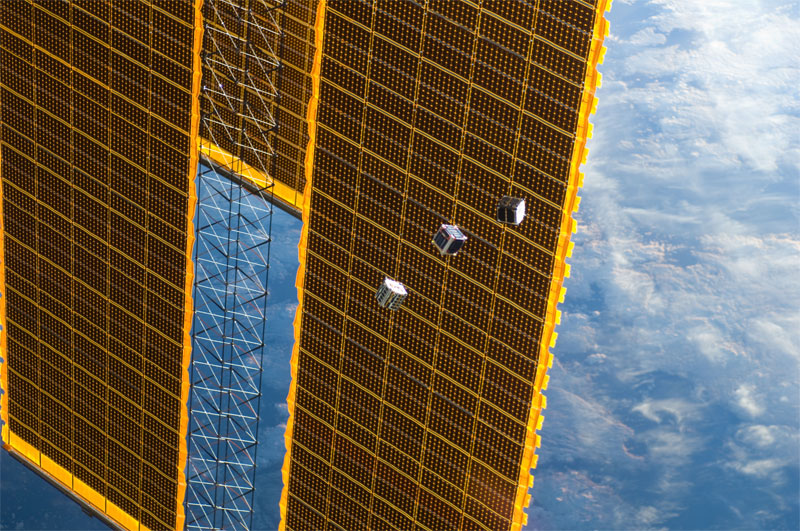 A cluster of tiny "CubeSats" is shown in this image photographed by a crew member on the International Space Station.
Firefly Space Systems, a small satellite launch company, has officially announced its first launch vehicle, "Firefly Alpha." This efficient, brand new rocket, capable of carrying 400kg (882lb) into low earth orbit, will be the world's first dedicated light satellite launch vehicle in this mass class.
Following its launch and seed funding in January, the company – which includes highly experienced aerospace engineers from SpaceX and Virgin Galactic – has aggressively moved forward in its goal to reduce the prohibitively high costs of small satellite launches. Clusters of these micro and nanosatellites placed in low orbit could revolutionise broadband data delivery and Earth observation missions, among other uses. CubeSats like those pictured above are only a litre (10 cm cube) in volume, with masses of little more than a kilogram (2.2lb), typically using off-the-shelf components for their electronics.
"What used to cost hundreds of millions of dollars is rapidly becoming available in the single digit millions," said Firefly CEO Thomas Markusic. "We are offering small satellite customers the launch they need for a fraction of that, around $8 or 9 million – the lowest cost in the world. It's far cheaper than the alternatives, without the headaches of a multi manifest launch."
Simplified and optimised for least cost – and utilising innovations such as a more aerodynamic engine design – Firefly has positioned itself to be a technological and cost effective solution for traditional manufacturers of small satellites.
"To say that this is an exciting and significant technological milestone would be an understatement," said Michael Blum, co-founder of Firefly. "Until now, there existed virtually no dedicated launcher capacity in the small satellite industry to deliver their respective payloads to orbit. This announcement today just changed all that."
Comments »