3rd August 2014
Tesla and Panasonic to build $5 billion "Gigafactory"
Tesla has reached an agreement with Panasonic to build a $5 billion "Gigafactory". This will produce more batteries than all other lithium-ion battery factories in the world combined, slashing costs by nearly one-third and boosting the adoption of electric vehicles.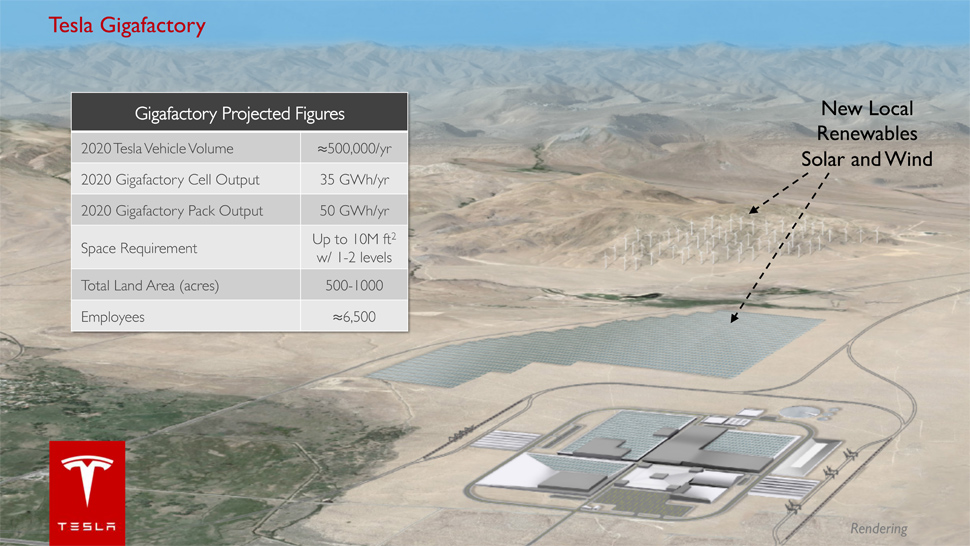 Tesla Motors and Panasonic had been in talks for several months over a massive new factory to produce electric car batteries. This week, they signed an agreement to build the $5 billion facility. Dubbed the "Gigafactory," its location is still unknown – but sites are being evaluated in Arizona, California, Nevada, New Mexico and Texas. Tesla will be responsible for the land, buildings and utilities, while Panasonic will handle the equipment, manufacturing and supply side, based on their mutual approval.
Ground-breaking is planned to begin later this year, and the first batteries are expected to roll off the assembly line in 2017. It is hoped that by 2020, 500,000 battery cells will be produced each year; 35 GWh worth of cells and 50 GWh worth of packs. These will be used to power Tesla's Model S and Model X cars, along with a cheaper Model 3 sedan being introduced in 2017. The Model 3 is expected to be around $35,000 – half the cost of a Model S.
According to the press release, cost reductions at the Gigafactory will be driven by economies of scale previously impossible in battery cell production. Further savings will be achieved by manufacturing cells that have been optimised for electric vehicle design – both in size and function – by co-locating suppliers on-site to eliminate packaging, transportation and duty costs and inventory carrying costs, and by manufacturing at a location with lower utility and operating expenses. As shown in the rendering above, localised solar and wind turbines will be used to power the facility.
Tesla co-founder and CEO, Elon Musk, says there will eventually be a need for "several more" of these Gigafactories. Other efforts by Tesla to boost electric cars have included its revolutionary supercharger network, offering free high-speed charges in less than an hour. There are now more than 100 of these stations operating in the United States, with many more planned, covering 98 percent of the population by the end of 2015. Networks are also being established in Europe and Asia. The company released its patents in June this year, to encourage the spread of its technology. Future historians will surely look back on Elon Musk favourably.
Comments »