30th January 2015
A robot to help improve agriculture and wine production
A robot with advanced, non-invasive sensors and mobility could provide fast, accurate and objective data on the state of farms and vineyards.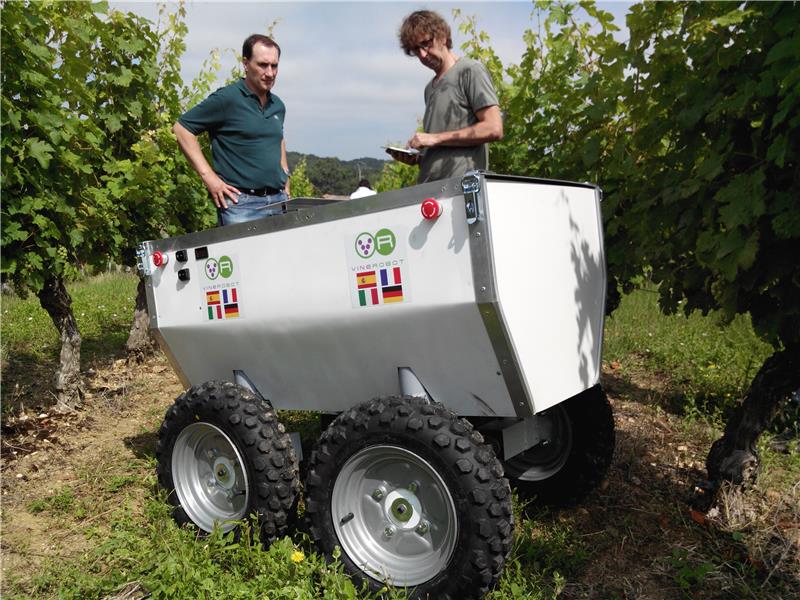 French, German, Italian and Spanish universities and companies are developing an unmanned robot to assist with agriculture and wine production. Equipped with non-invasive advanced sensors and artificial intelligence systems, this machine will provide fast, reliable and objective information on the state of vineyards to grape growers – such as vegetative development, water status, production and grape composition.
The robot is part of the European project VineRobot, whose partners met recently at the Universitat Politècnica de València (UPV). The major advantage of this new technology is the large quantity of automatically obtained data, which any user can interpret easily, since it is represented on simple maps; as well as the wireless transmission of information from the smallholding.
"Robotics and precision agriculture provide producers with powerful tools in order to improve the competitiveness of their farms," says Javier Tardaguila, project manager and researcher at the University of La Rioja, Spain. "Robots like the one we are developing within this project will not substitute the vine grower, but will facilitate their work, so they can avoid the hardest part in field. It has several advantages, including the ability to predict grape production or its degree of ripeness in order to immediately assess its quality without touching it."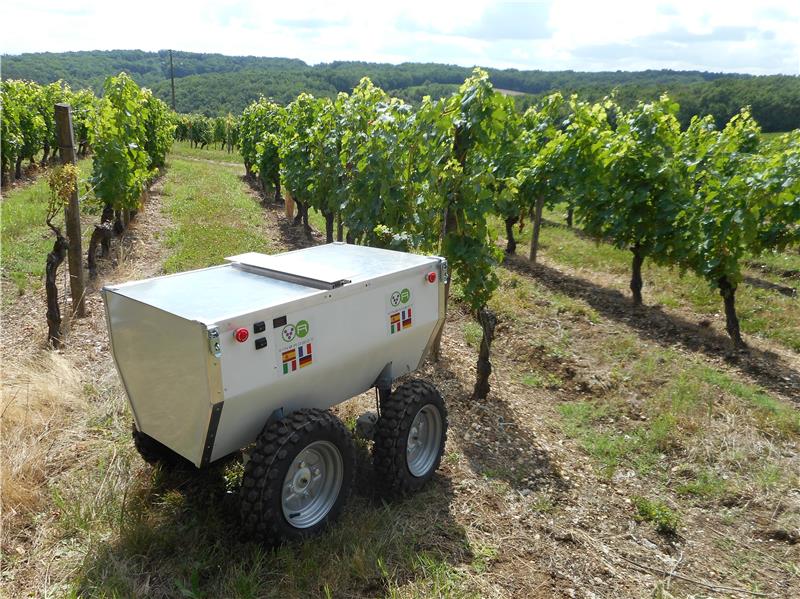 An additional benefit, explains Rovira, is the attractiveness of this new technology for young farmers, "as the high average age of farmers is a recurring matter of concern in industrialised countries."
During the project meeting held at the UPV, the researchers presented their first prototype, which they have been working on for a year. This includes a basic safety circuit with emergency switches and a bumper to stop the robot at any obstacle. The initial work has focused on two main areas: mobility in the field, improving the suspension and traction systems in order to climb up slopes with weeds; and the development of the various sensors.
The challenges for the next year are to give the robot enough autonomy to safely drive between vineyard lines using stereoscopic vision, integrating a side camera to provide information about the vegetation status of plants and possible bunches; and the coupling of the sensors on the robot.
The project will be completed in 2016, by which time a range of hi-tech machines are predicted to be appearing on farms, as this technology begins to enter the mainstream. In subsequent decades, the world faces a major challenge in terms of food and water production. Wine industries in particular will be severely affected by 2050, due to climate change. These fast, accurate and intelligent machines could go some way towards mitigating the impacts.
Comments »