29th April 2015
SABRE engine passes US Air Force feasibility test
Reaction Engines Ltd. – a British aerospace company – has announced that analysis undertaken by the US Air Force Research Laboratory (AFRL) has confirmed the feasibility of the Synergetic Air-Breathing Rocket Engine ('SABRE') concept.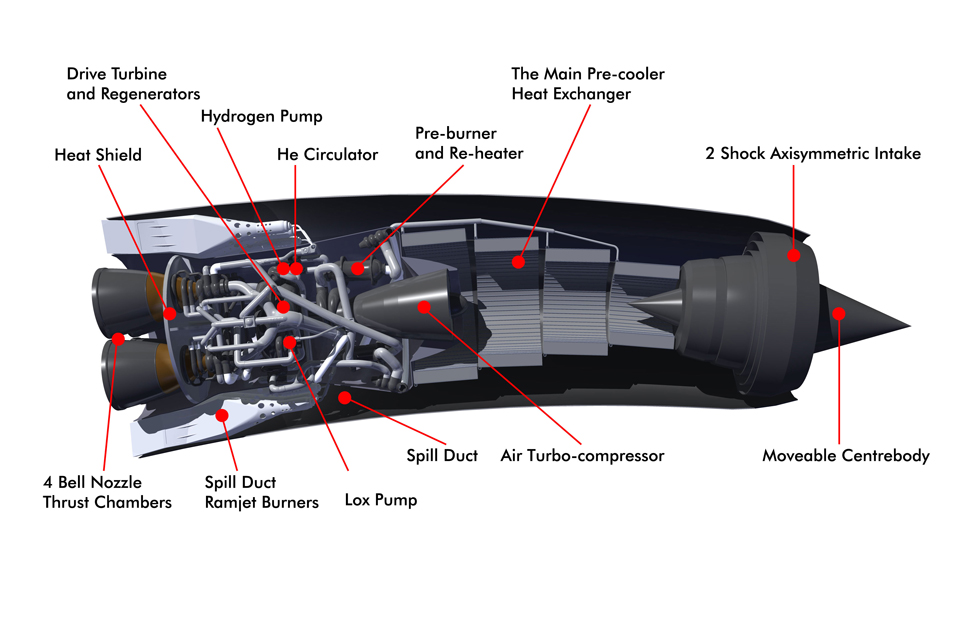 It's been called "the biggest breakthrough in aerospace propulsion technology since the invention of the jet engine". SABRE is a revolutionary new engine concept which – if successfully developed – will enable aircraft to travel around the world in under four hours, or to fly directly into orbit and return in a single stage, taking off and landing on a runway.
Through its ability to "breathe" air from the atmosphere, SABRE could offer a significant reduction in propellant consumption compared to conventional rocket engines that have to carry their own oxygen, which is heavy. The weight saved by carrying less oxygen could improve launch vehicle capabilities, by greatly increasing their operational flexibility and efficiency, while lowering costs by an order of magnitude. Space tourism would become far cheaper and safer. Additionally, the SABRE concept could potentially be configured to efficiently power aircraft flying at high supersonic and hypersonic speeds.
New analysis by the US AFRL, as part of a joint research collaboration agreement, examined the thermodynamic cycle of the SABRE concept. They found no significant barrier to its theoretical viability, provided the engine component and integration challenges are met. Reaction Engines Ltd. and AFRL are now formulating plans for continued collaboration on the SABRE engine. The proposed work will include investigation of vehicle concepts based on a SABRE-derived propulsion system.
The next phase will also include physical testing of SABRE engine components, alongside exploration of the defence applications for Reaction Engines' heat exchanger technologies.
Sam Hutchison, Director of Corporate Development at Reaction Engines, commented as follows: "The confirmation by AFRL of the feasibility of the SABRE engine cycle has further validated our team's own assessment and conviction that the SABRE engine represents a potential breakthrough in propulsion that could lead to game changing space access and high speed flight capability. We look forward to continued collaboration with AFRL".
If all goes to plan, the first test flights of Skylon – a single-stage-to-orbit spaceplane using the SABRE engine – could occur within five years, with visits to the International Space Station during the early 2020s.
Comments »