27th July 2015
China to lead the world's economy by 2026
China is set to edge ahead of the US in just over a decade, while India is expected to move up the rankings to third place – pushing Japan out of the world's top three economies.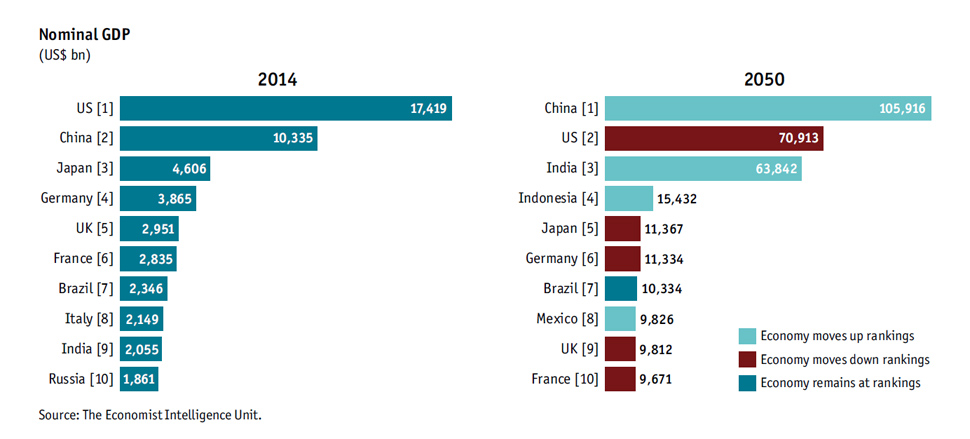 China is expected to overtake the US in 2026 in nominal GDP terms to become the world's largest economy, and will maintain this position until at least 2050 according to The Economist Intelligence Unit (EIU).
In a new report, Long-term macroeconomic forecasts: Key Trends to 2050, which extends the EIU's economic forecast for 82 countries up to 2050, emerging markets are expected to grow faster than developed economies, and as a result countries such as China and India are likely to overtake current global leaders such as Japan and Western Europe.
The report finds that:
• China is expected to narrowly edge ahead of the US for the first time in 2026, with a nominal GDP of US$28.6trn versus the US's US$28.3trn.
• By 2050, China will boast a GDP of US$105.9trn, compared with the US's US$70.9trn.
• The UK will fall out of the world's top 5 economies by 2026.
• Indonesia and Mexico will rank among the top ten economies at market exchange rates by 2050, overtaking economies such as Italy and Russia.
• Asia will continue its rise and by 2050 will represent 53% of global GDP, compared with from 32% in 2014.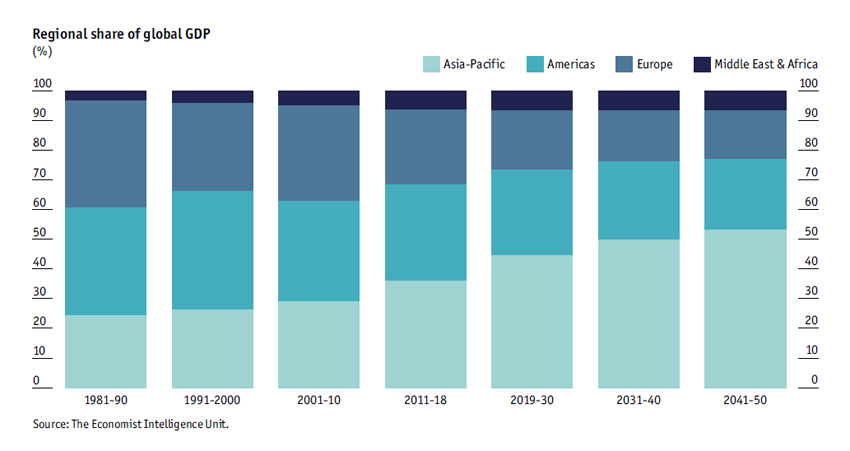 Yet in terms of individual spending power, today's advanced economies are likely to continue to dominate. Emerging economies such as China, India and Indonesia are projected to see levels of consumer spending to rise significantly by 2050, but at best will represent 50% of the individual spending power of an American consumer. Despite their low growth outlook, advanced economies cannot be ignored, as the spending power of consumers in these regions will remain significantly higher.
Patricia Morton, Lead Economist at The Economist Intelligence Unit, comments: "Given China's and India's economic might, they will take on a much bigger role in addressing global issues such as climate change, international security and global economic governance. In the medium term, this will require the world's existing powers – notably the US – to let India, and especially China, play a greater role on the world stage and adapt international institutions to allow them to exert greater influence."

Comments »