5th March 2016
World's largest capacity SSD begins shipping with 15.35TB of storage
Electronics giant Samsung has announced that its new enterprise-grade solid state drive (SSD) – the "PM1633a" – is now shipping.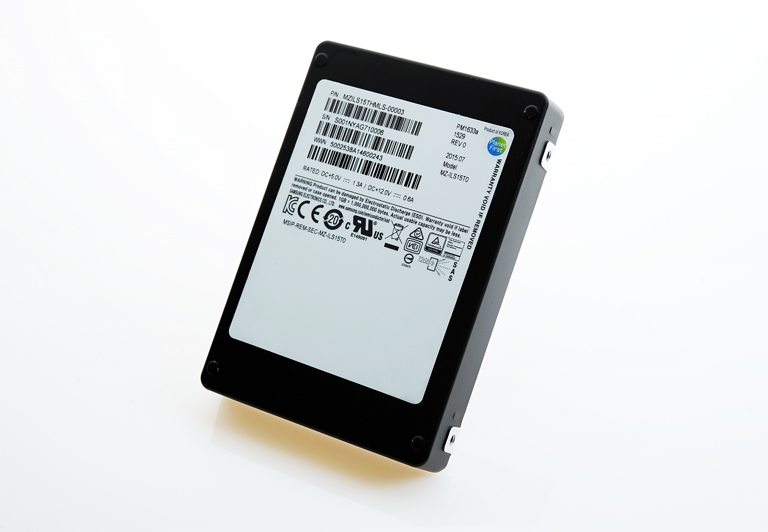 The SSD pictured above, first revealed at the Flash Memory Summit in August 2015, has a whopping 15.35 terabytes (TB) of storage. It has sequential read and write speeds of up to 1,200MB/s – which is twice those of a typical SATA SSD – while the random read IOPS performance is 1,000 times that of SAS-type hard "spinning" disks.
The PM1633a drive supports 1 DWPD (drive writes per day), which means 15.36TB of data can be written every day on this single drive, without failure – a level of reliability that will improve cost of ownership for enterprise storage systems. Because it comes in a 2.5-inch form factor, enterprise managers can fit twice as many of these drives in a standard 19-inch, 2U rack, compared to an equivalent 3.5-inch storage drive. These performance gains stem from Samsung's latest vertical NAND (V-NAND) flash technology, as well as the company's proprietary controller and firmware technology.
The dies are stacked in 16 layers to form a single 512GB package, with a total of 32 NAND flash packages in the drive. Using 3rd generation, 256-gigabit V-NAND which stacks cell-arrays in 48 layers, the PM1633a offers major performance and reliability upgrades from its predecessor, which used Samsung's 2nd generation, 32-layer, 128Gb V-NAND memory.
"To satisfy an increasing market need for ultra-high-capacity SSDs from leading enterprise storage system manufacturers, we are directing our best efforts toward meeting our customers' SSD requests," said Jung-Bae Lee, senior vice president for memory products at Samsung Electronics. "We will continue to lead the industry with next-generation SSDs, using our advanced 3D V-NAND memory technology, in order to accelerate the growth of the premium memory market while delivering greater performance and efficiency to our customers."
Consumer-level SSDs are not expected to reach this capacity until 2018, according to analysts' forecasts. By then, enterprise-grade models will have grown exponentially in size, reaching at least 128TB.
---
• Follow us on Twitter
• Follow us on Facebook
Comments »