18th March 2017
Artificial "power island" to be built in the North Sea
A trio of European energy firms is collaborating to build a gigantic wind power hub in the middle of the North Sea. Providing clean energy transmission between six neighbouring countries, this will be a major step towards meeting Europe's 2050 climate goals.
Denmark's Energinet and the German and Dutch arm of TenneT will sign an agreement on 23rd March to explore ways to build a giant artificial island in the middle of the North Sea. This would create a new "hub" for the generation and transmission of renewable energy across northern Europe that could provide up to 100,000 megawatts (MW) to Belgium, Denmark, Germany, the Netherlands, Norway and the UK.
Known as the North Sea Wind Power Hub, this project would be located in Dogger Bank, a large sandbank in a shallow area of sea about 100 km (62 mi) off the east coast of England. During the last ice age, around 10,000 BC, this bank was part of Doggerland, a large landmass connecting Europe and the British Isles. Today, the water remains of relatively low depth, which combined with optimal wind conditions and a central location makes it an ideal site for land reclamation, according to TenneT.
The artificial island could be surrounded with up to 7,000 wind turbines, providing green energy for 80 million Europeans – not only generating and transmitting energy from the North Sea, but simultaneously forming a power link between six countries, enabling them to trade electricity. With an area of 6 sq km, the island would have its own landing strip and harbour. Staff, components and assembly workshops would be stationed there. The exact schedule for construction is currently unknown, and will depend on feasibility studies, but Energinet and TenneT believe the artificial island could be built on Dogger Bank sometime between 2030 and 2050.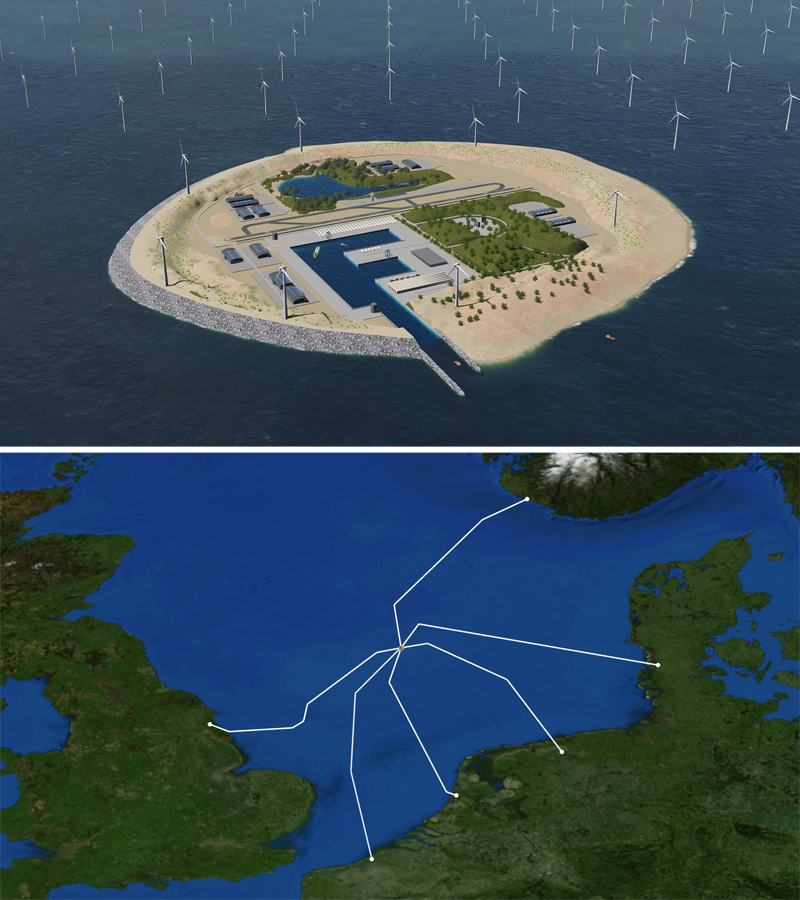 Credit: TenneT
Mel Kroon, the CEO of TenneT, commented on the multi-billion euro plan: "This project can significantly contribute to a completely renewable supply of electricity in Northwest Europe. TenneT and Energinet both have extensive experience in the fields of onshore grids, the connection of offshore wind energy and cross-border connections. Transmission System Operators (TSOs) are best placed to play a leading role in the long-term development of the offshore infrastructure. I am happy that we are going to take this step with our Danish colleagues and I look forward to the participation of other TSOs and possibly other partners."
Peder Østermark Andreasen, the CEO of Energinet, said: "Offshore wind has in recent years proved to be increasingly competitive and it is important to us to constantly focus on further reduction in prices of grid connections and interconnections. We need innovative and large-scale projects so that offshore wind can play an even bigger part in our future energy supply."
The island "could make the wind power of the future a lot cheaper and more effective," said Torben Nielsen, technical director of Energinet. In an interview with the Copenhagen Post, he added: "We haven't let our fantasy gain the upper hand, although it may sound a little crazy and like something out of science fiction. We who have the responsibility of transporting the electricity generated by offshore wind turbines back to land and the consumers must constantly push and make sure that the price continues to fall. That requires innovative, big-scale solutions, and an energy hub in the North Sea is worth thoroughly looking into."
The European targets for reducing CO2 emissions cannot be accomplished by individual member states on their own. Cooperation and synergy will be required on a broader scale – and projects like the North Sea Wind Power Hub could achieve that. Wind power and solar energy complement each other: there is more Sun from spring to autumn, and stronger winds during the colder and darker months of the year. By taking advantage of these variations, Europe and indeed many other parts of the world could fully optimise their energy grids at all times of the year. Longer term, continent-wide supergrids may emerge, allowing the generation and transmission of clean energy on massive scales and very long distances.
---
• Follow us on Twitter
• Follow us on Facebook
Comments »