10th April 2017
Robotics breakthrough could lead to fully automated warehouses
RightHand Robotics, a startup company near Boston, has unveiled a new automated picking solution for warehouses that can recognise and retrieve individual items from boxes.
With an ongoing explosion in e-commerce – combined with a shrinking workforce – pressures have never been higher on warehouses to fulfil orders faster and more efficiently. To address these challenges, a new startup company has developed "RightPick", a combined hardware and software solution that handles the key task of picking individual items, or "piece-picking."
RightHand Robotics (RHR), the developers of RightPick, are based in Massachusetts, USA. The team was formed by a collaboration between researchers from Harvard's Biorobotics Lab, the Yale Grab Lab, and MIT, focused on groundbreaking research into grasping systems, intelligent hardware sensors, computer vision and applied machine learning.
Unlike traditional factory robots that can be complex to setup and with fixed uses, RHR create machines that are simple to integrate and highly flexible. The new system they have demonstrated in the video above can automate a task that robots have previously struggled to master: recognising and retrieving individual items from boxes; up to 600 per hour. This core competency represents a significant advance towards fully automated warehouses that could remove the need for humans. As e-commerce continues to grow, the trend is away from bulk or pallet-load handling, toward single SKUs and piecemeal items.
"The supply chain of the future is more about pieces than pallets," says Leif Jentoft, a co-founder of RHR. "RightHand can help material handling, third-party logistics and e-commerce warehouses lower costs by increasing automation."
RightPick is capable of handling thousands of different items, using a machine learning backend, coupled with a sensorised robot hand that works in concert with all industry-leading robotic arms. The time to value of RightPick can be demonstrated in a matter of hours, as it offers rapid setup, remote support, and easy integration. The machine is able to quickly demonstrate value in a wide variety of workflows – such as sorting batch-picked items, picking items from Automatic Storage and Retrieval Systems (ASRS), inducting items to a unit sorter, order quality assurance, and more. RHR also announced that it has raised $8 million in Series A funding from various companies and angel investors.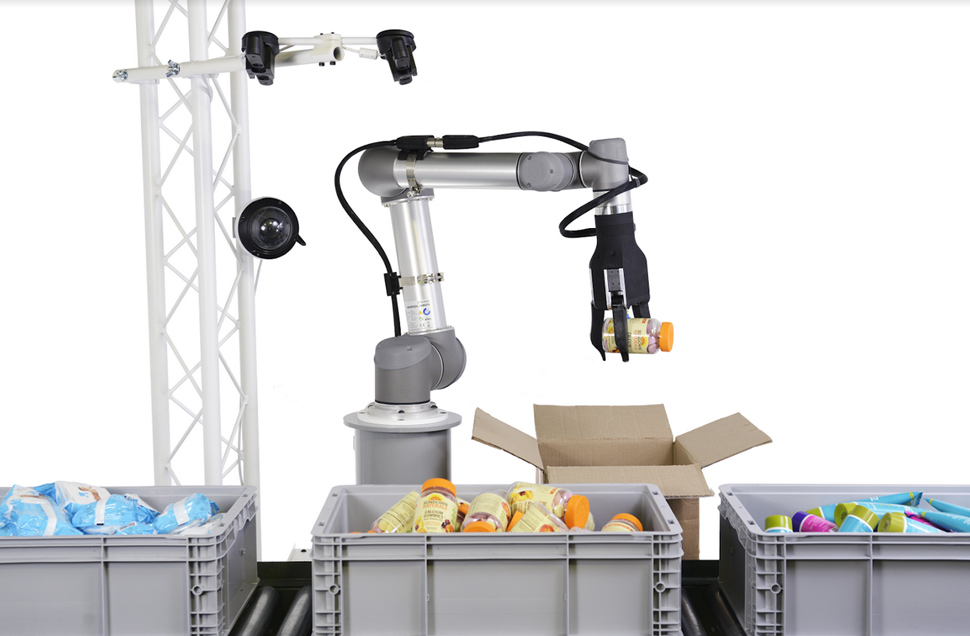 Credit: RightHand Robotics
---
• Follow us on Twitter
• Follow us on Facebook
• Subscribe to us on YouTube
Comments »