30th May 2017
World's first autonomous and zero emissions container ship to launch by 2020
The vessel "YARA Birkeland" will be the world's first fully electric and autonomous container ship, with zero emissions. Operation is planned to start in Norway during the latter half of 2018, with fully autonomous journeys from 2020.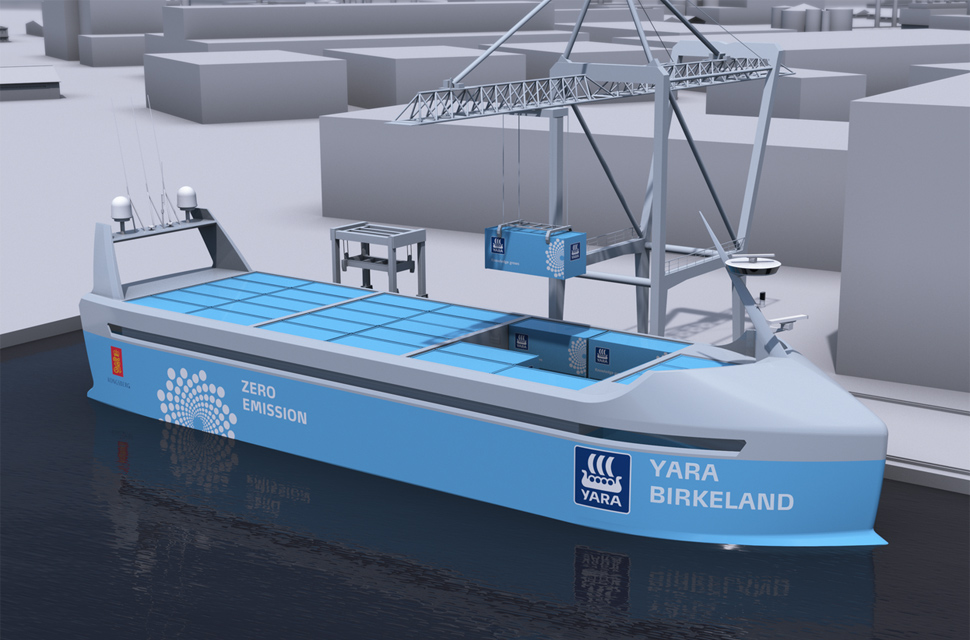 Credit: YARA
"YARA Birkeland" will be the world's most advanced container feeder ship – integrating sensor, control, communications and power into a fully autonomous and 100% electric system.
Named after the company YARA's founder – the scientist and innovator Kristian Birkeland – it will be the world's first fully electric container feeder, reducing NOx and CO2 emissions and improving road safety by removing the need for up to 40,000 truck journeys in populated urban areas.
YARA Birkeland will initially operate as a manned vessel, shifting to remote operations in 2019 and performing fully autonomous operations from 2020. This new zero-emission ship could be a game-changer for global maritime transport, helping to meet the UN sustainability goals for 2030 and beyond. Shipping is currently responsible for 2.5% of global human-made CO2 emissions, but this could rise to 17% by 2050 if no action is taken. There are now over 100,000 transport ships at sea, of which about 6,000 are large container ships.
"As a leading global fertiliser company with a mission to feed the world and protect the planet, investing in this zero emission vessel to transport our crop nutrition solutions fits our strategy well. We are proud to work with KONGSBERG to realise the world's first autonomous, all-electric vessel to enter commercial operation," says Svein Tore Holsether, President and CEO of YARA.
"Every day, more than 100 diesel truck journeys are needed to transport products from YARA's Porsgrunn plant to ports in Brevik and Larvik where we ship products to customers around the world. With this new autonomous battery-driven container vessel, we move transport from road to sea and thereby reduce noise and dust emissions, improve the safety of local roads, and reduce NOx and CO2 emissions," says Holsether.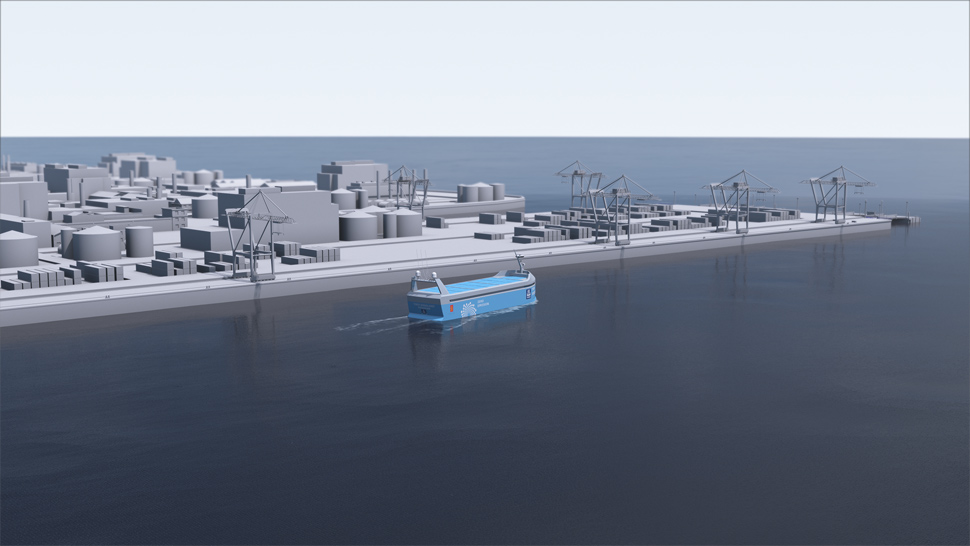 Credit: YARA
KONGSBERG is responsible for development and delivery of all key enabling technologies on the YARA Birkeland, including the sensors and integration required for remote and autonomous operations, in addition to the electric drive, battery and propulsion control systems.
"By moving container transport from land to sea, YARA Birkeland is the start of a major contribution to fulfilling national and international environmental impact goals. The new concept is also a giant step forward towards increased seaborne transportation in general," says Geir Håøy, CEO of KONGSBERG.
As a leading global maritime technology company, KONGSBERG's integrated control and monitoring systems are already capable of facilitating remote and unmanned operations. YARA Birkeland will benefit from competence and new technologies developed across KONGSBERG. In addition to being autonomous and fully electric, it will also be ballast-free, to further reduce its impact on the marine environment. This lack of water discharge will help in preventing the spread of non-native, nuisance, or exotic species of plants, animals, viruses and bacteria, which can often cause extensive ecological and economic damage.
"Developing systems for autonomous operations is a major opening and natural step for KONGSBERG, considering our decades of expertise in the development and integration of advanced sensors, control and communication systems for all areas of ship operations," says Håøy. "YARA Birkeland will set the benchmark for the application of innovative maritime technology for more efficient and environmentally friendly shipping."
---
• Follow us on Twitter
• Follow us on Facebook
• Subscribe to us on YouTube
Comments »