18th June 2017
New moons found orbiting Jupiter
Two new moons – S/2016 J1 and S/2017 J1 – are reported to be orbiting Jupiter, bringing the gas giant's total number of known natural satellites to 69.
They were found by astronomers including Scott Sheppard from the Carnegie Institution for Science in Washington, DC – who is credited with dozens of previous moon discoveries in the outer Solar System – along with minor planet specialists David Tholen and Chadwick Trujillo. The team had been conducting a survey of much more distant objects in the Kuiper Belt, when they happened to spot these points of light moving near Jupiter, which was conveniently close in the sky at the time.
| | | | |
| --- | --- | --- | --- |
| | S/2016 J1 (Jupiter LIV) | | S/2017 J1 (Jupiter LIX) |
The first of these (since renamed Jupiter LIV) is only about 1 km (0.6 miles) in diameter, making it very tiny indeed when compared to the likes of Ganymede, Callisto, Io and Europa, which are thousands of times bigger. The second moon (renamed Jupiter LIX) is larger at 2 km (1.2 miles). Both are members of the widely dispersed Pasiphae group – a family of retrograde satellites with similar orbits and a common origin: they are believed to have formed when Jupiter captured a 60 km asteroid, which subsequently broke up after a collision.
Jupiter LIV and Jupiter LIX are located about 20.5 million km and 23.5 million km from Jupiter, respectively.
Click to enlarge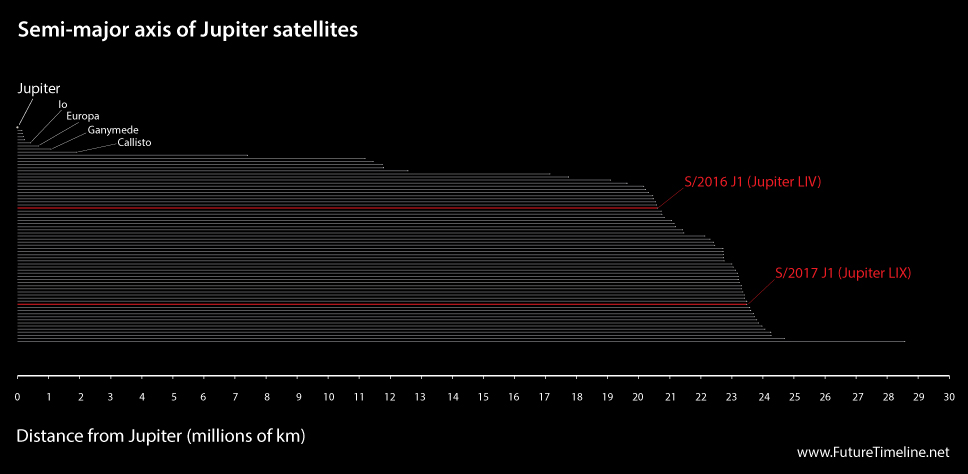 In addition to these new discoveries, the team also rediscovered a number of "lost" moons from earlier years: "There are several lost moons of Jupiter that were discovered in 2003," they write on their website. "They are known moons, but their orbits are not well enough known to accurately predict where they are now, so they are considered lost. There were 14 of these lost moons at the beginning of 2016. We have for sure recovered five."
More discoveries are likely to be on the way, as Sheppard writes: "There are likely a few more new moons as well in our 2017 observations, but we need to reobserve them in 2018 to determine which of the discoveries are new and which are lost 2003 moons. Stay tuned."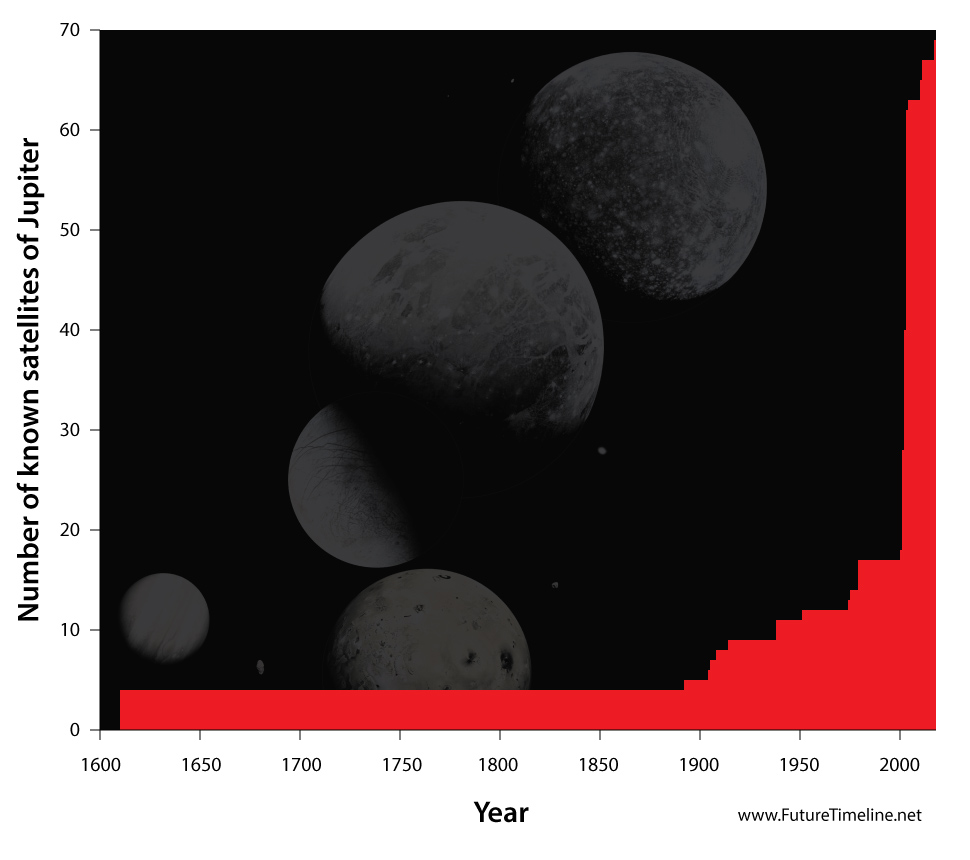 ---
• Follow us on Twitter
• Follow us on Facebook
• Subscribe to us on YouTube
Comments »