5th July 2017
Future pavements could generate electricity from footsteps
Imagine a city where simply walking on pavements and other flat surfaces can produce usable power. One company has demonstrated just such a concept in London's West End.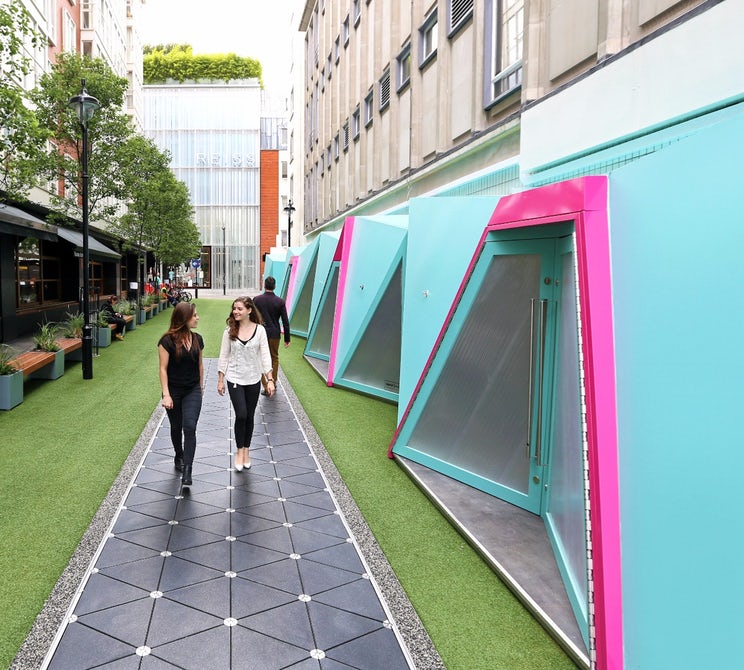 Credit: PaveGen
PaveGen was founded in 2009 by Laurence Kemball-Cook, a graduate in Industrial Technology and Design from Loughborough University. For the last several years, his company has been developing a tile that converts kinetic energy from pedestrian footsteps into electricity, while collecting data about walking traffic patterns. The exact technology is being kept a trade secret, but is said to involve electromagnetic induction by copper coils and magnets.
For its latest project, PaveGen has worked alongside other tech companies to help transform Bird Street in central London. This has been turned from a previously underutilised outdoor space located off Oxford Street, into a haven of calm where visitors can relax and experience a high street of the future.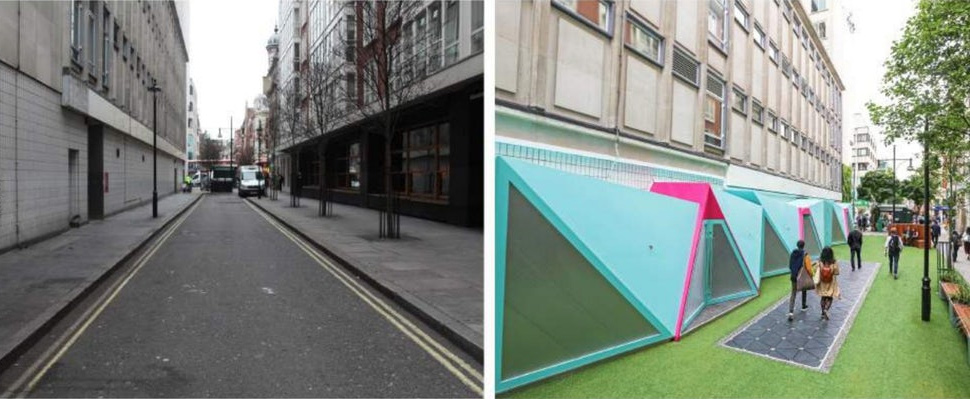 Bird Street in central London, before and after. Credit: PaveGen
PaveGen installed a 10 sq m (107 sq ft) array of tiles at this location. Each footstep is able to produce an average of three joules – enough to play recordings of bird sounds during the day, while providing ambient lighting in the evening, for an immersive visitor experience. Bluetooth transmitters are also incorporated on the walkway, enabling passers-by to interact with branded apps – for example, rewarding users with discounts, vouchers and education resources for their steps on the PaveGen system. A data feed on the hourly footfall and power generation is available too.
Laurence Kemball-Cook, CEO and founder of PaveGen, commented: "With installations in Washington DC and vital transport hubs including Heathrow, being able to demonstrate how our technology can bring to life the retail shopping experience is a vital step for us. As retailers compete with online, technologies like ours make being in the busy high street more exciting and rewarding for people and brands alike."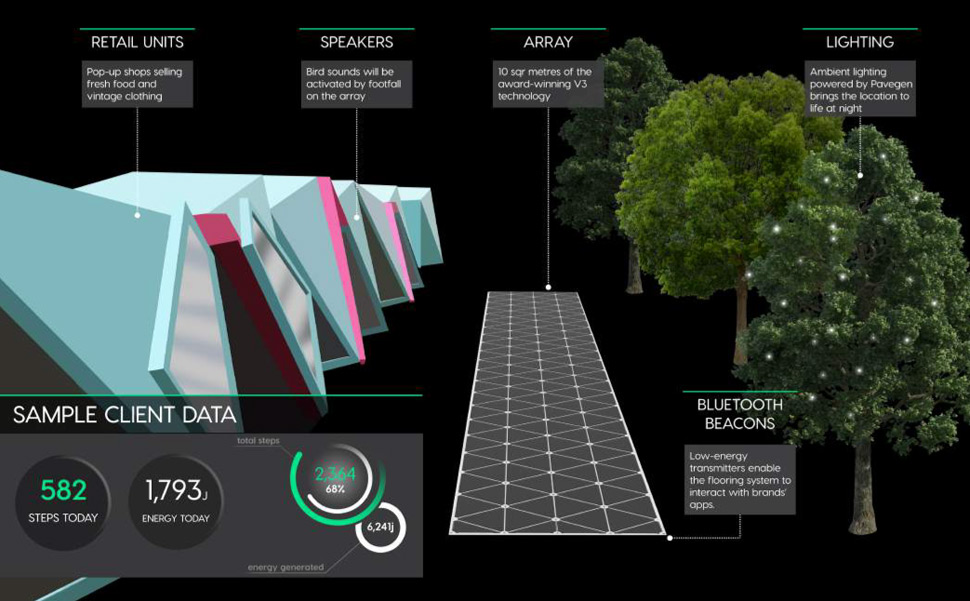 Joining PaveGen at Bird Street is Airlabs' ClearAir bench (pictured below), which removes nitrogen dioxide to create a large "bubble" of clean air. According to the Airlabs website, the volume of air filtered by this bench every day is enough to fill more than 100 double decker buses, yet only a small amount of energy is required to do this. The Airlabs clean air system has previously been demonstrated at three bus stop shelters in central London.
Also featured in the new-look Bird Street is coatings company Airlite, who created a paint that purifies the air from nitrogen dioxide, bacteria and other particulate matter. This reduces overall pollution by almost 90% and removes 99.9% of germs, moulds and odours. This coating was applied to the surfaces of the retail units.
With the integration of these green technologies, Bird Street demonstrates the potential for more sustainable destinations in busy urban environments. Pollution is currently a major problem in London, with levels of NO2 near Oxford Street at almost 60 µg/m3, compared to the World Health Organisation's recommended safe exposure limit of 40 µg/m3.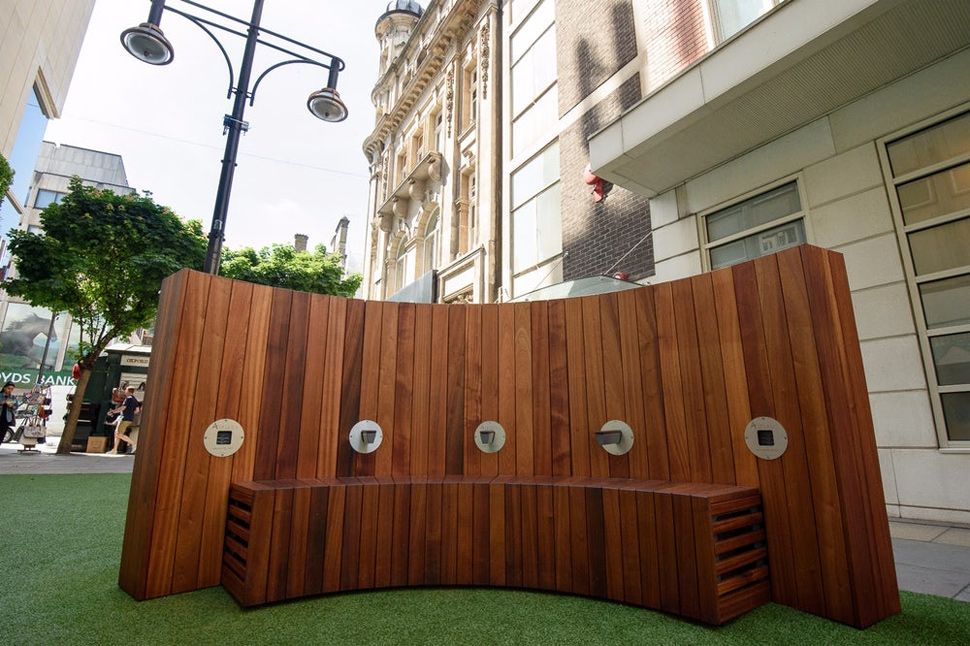 Airlabs' ClearAir bench. Credit: Airlabs
Steven Medway, Managing Director of Trading Environment, New West End Company, said: "Visitors to London's West End expect the ultimate shopping and dining experience and they won't be disappointed. Transforming Bird Street will bring a world first offer to the West End, a space where fashion meets technology with brands set to transform the future of retail as we know it."
Alex Williams, Director of City Planning at Transport for London, said: "It's great to see an innovative 'smart street' scheme delivered on Bird Street, the concepts and ideas of which could easily be adapted across London. I hope we can see further examples of this innovative 21st Century thinking in the future as we work to transform Oxford Street and the surrounding area to make it a world-class public space for all."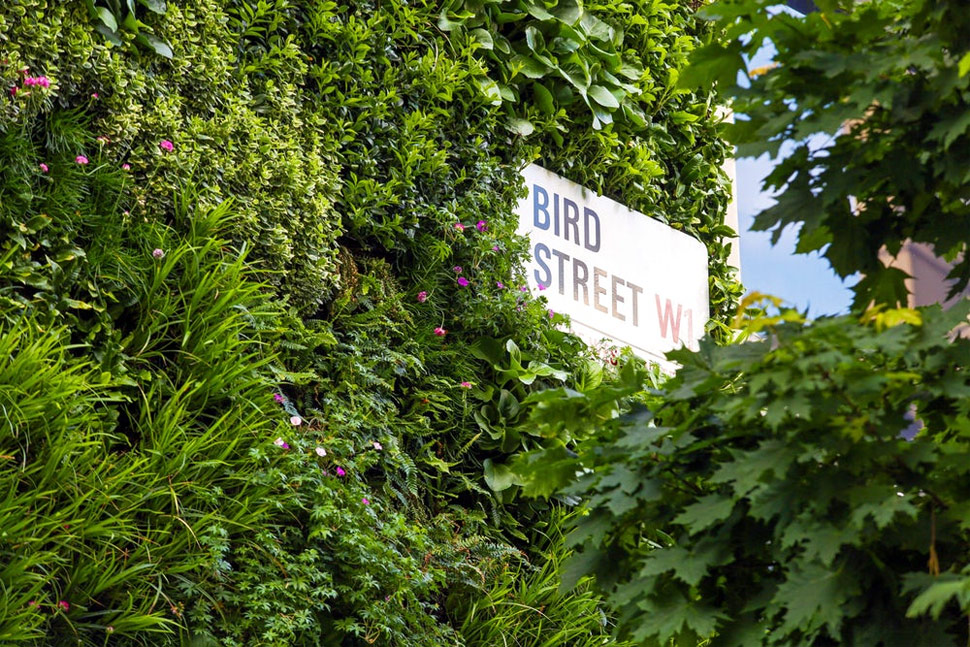 Credit: PaveGen
---
• Follow us on Twitter
• Follow us on Facebook
• Subscribe to us on YouTube
Comments »