15th November 2017
The first "digital pill" is approved by the FDA
The FDA has approved "Abilify MyCite" – the first drug in the U.S. with a digital ingestion tracking system. This can record when the medication was taken, via a sensor embedded in the pill.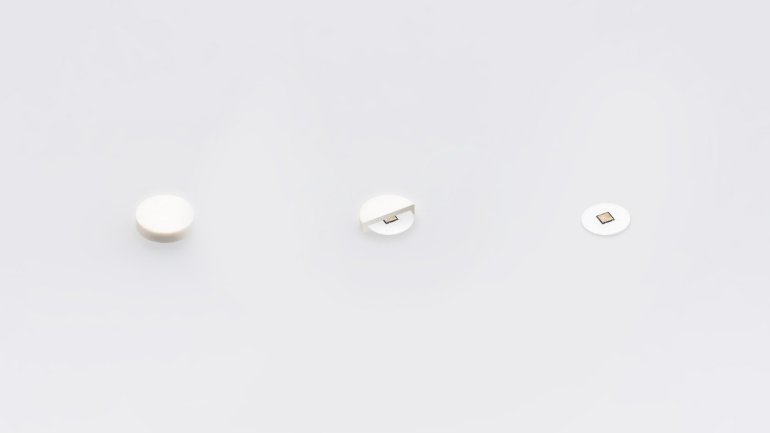 Credit: Proteus Digital Health
The U.S. Food and Drug Administration (FDA) has this week approved the first drug in the U.S. with a digital ingestion tracking system. Abilify MyCite features an ingestible sensor embedded in the pill that records when medication is taken. The product is approved for the treatment of schizophrenia, acute treatment of manic and mixed episodes associated with bipolar I disorder and for use as an add-on treatment for depression in adults.
The system works by sending a message from the pill's sensor to a wearable patch. The patch transmits the information to a mobile application so that patients can track the ingestion of medication on their smartphone. The patch also records activity levels, sleeping patterns, steps taken, activity and heart rate. Patients can permit their doctor and up to four other people including family members to access the data through a web-based portal.
The sensor itself is made of silicon, copper and magnesium. It produces an electrical signal that is activated upon contact with stomach acid; the sensor then passes through the body naturally.
"Being able to track ingestion of medications prescribed for mental illness may be useful for some patients," said Mitchell Mathis, M.D., a director at the FDA's Center for Drug Evaluation and Research. "The FDA supports the development and use of new technology in prescription drugs and is committed to working with companies to understand how technology might benefit patients and prescribers."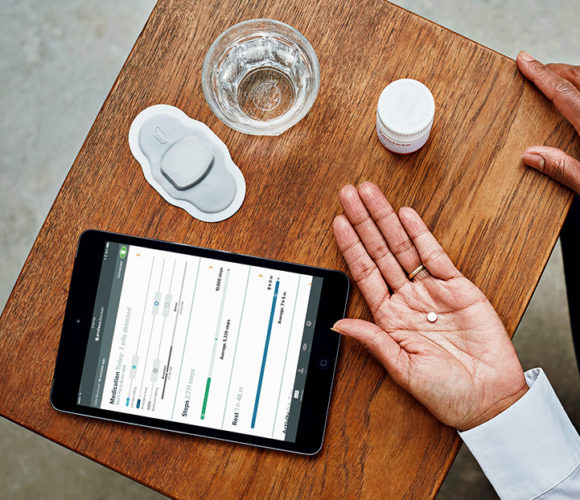 Credit: Proteus Digital Health
Abilify MyCite was developed in a joint collaboration between Japanese pharmaceutical company Otsuka (which makes the oral aripiprazole tablets) and California-based Proteus (which created the sensor). The pill could help to reduce the problem of non-adherence to prescriptions, which is estimated to cost $100bn in the U.S. each year. It will be particularly useful for elderly people with failing memories to ensure they are taking their drugs properly.
"The approval of Abilify MyCite – the first digital medicine system – means that for the first time in my years of experience as a psychiatrist, there is an innovative way to provide individuals with serious mental illness, and selected members of their families and care teams, with information on objective medication taking patterns to help inform the patient's illness management and personalised treatment plan. This allows the opportunity for an open dialogue with the patient," said John Kane, MD, Vice President for Behavioural Health Services at Northwell Health, New York. "Until now, pharmacologic therapy for serious mental illness has been missing a systematic approach to objectively track and signal that a patient has taken their drug."
"The time is right for the category of Digital Medicines to be available to patients with serious mental illness," said Andrew Thompson, CEO of Proteus. "Consumers already manage important tasks like banking, shopping, and communicating with friends and family by using their smartphones, as they go about their daily lives. With this FDA approval, we can help enable individuals with serious mental illness to engage with their care team about their treatment plan in a new way."
Proteus raised around $400 million from investors to bring its sensor to commercial use. Otsuka has not yet revealed a price for Abilify MyCite, which will be rolled out during 2018, initially to a limited number of health plans. This approval is likely to result in many more "digital pills" for other conditions besides mental health. The FDA is planning to hire more staff with a "deep understanding" of software development in relation to medical devices and engage with entrepreneurs on new guidelines.
---
• Follow us on Twitter
• Follow us on Facebook
• Subscribe to us on YouTube
Comments »