2nd November 2017
CO2 levels now highest in 3 million years
The World Meteorological Organisation (WMO) has announced that concentrations of CO2 in the Earth's atmosphere reached a record high of 403.3 parts per million (ppm) during 2016.

Concentrations of carbon dioxide in Earth's atmosphere surged at a record-breaking speed in 2016, according to the World Meteorological Organisation's Greenhouse Gas Bulletin. The abrupt changes in the atmosphere witnessed in the past 70 years are "without precedent", says the WMO, and the rate of increase in CO2 is nearly 100 times faster than during the end of the last ice age.
Globally averaged concentrations of CO2 reached 403.3 ppm in 2016 – up from 400.0 ppm in 2015 – caused by a combination of human activities and a strong El Niño event. Concentrations of CO2 are now 145% of pre-industrial (before 1750) levels.
"It is the largest increase we have ever seen in the 30 years we have had this network," said Dr Oksana Tarasova, chief of WMO's global atmosphere watch programme, in an interview with BBC News. "The largest increase was in the previous El Niño, in 1997-1998, and it was 2.7ppm; and now it is 3.3ppm. It is also 50% higher than the average of the last 10 years."
If CO2 and other greenhouse gases such as methane continue to rise rapidly, it has the potential to create "unprecedented changes in climate systems", leading to "severe ecological and economic disruptions," says the report.
The annual bulletin is based on observations from the WMO Global Atmosphere Watch Programme – a worldwide network that includes dozens of aircraft, ship and ground-based monitoring stations. These help to track the average level of greenhouse gases and serve as an early warning system for changes in the key atmospheric drivers of climate change.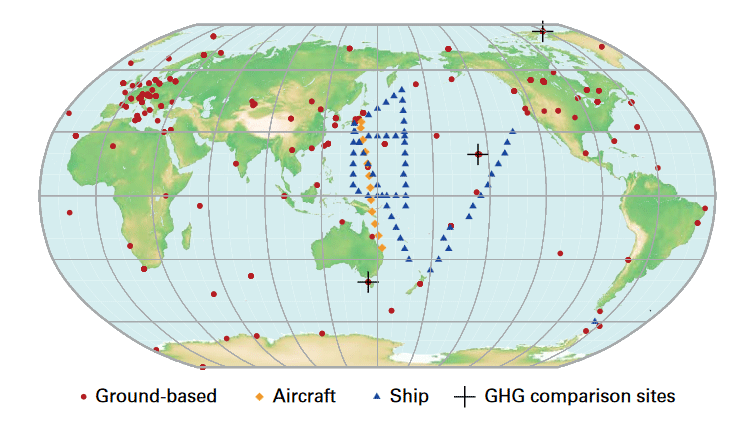 Population growth, intensified agricultural practices, expansion of land use and deforestation, industrialisation and associated energy use from fossil fuel sources have all contributed to increased greenhouse gases in the atmosphere since the industrial era, beginning in 1750.
Since 1990, there has been a 40% increase in total radiative forcing – the warming effect on our climate – by all long-lived greenhouse gases, and a 2.5% increase from 2015 to 2016 alone, according to figures in the bulletin.
"Without rapid cuts in CO2 and other greenhouse gas emissions, we will be heading for dangerous temperature increases by the end of this century, well above the target set by the Paris climate change agreement," said the WMO Secretary-General Petteri Taalas. "Future generations will inherit a much more inhospitable planet. CO2 remains in the atmosphere for hundreds of years and in the oceans for even longer. The laws of physics mean that we face a much hotter, more extreme climate in the future. There is currently no magic wand to remove this CO2 from the atmosphere."
As shown below, the last time Earth had a comparable CO2 concentration was 2.5 million years ago, if using boron isotopes, or 3.5 million years ago based on alkenone proxies. Back then, in the mid-Pliocene, the first bipedals had emerged and recently begun using stone tools. Average temperatures were up to 3°C warmer than now, while the average sea level was up to 20 metres higher. The Greenland and West Antarctic ice sheets had melted and even a chunk of the East Antarctic ice was lost.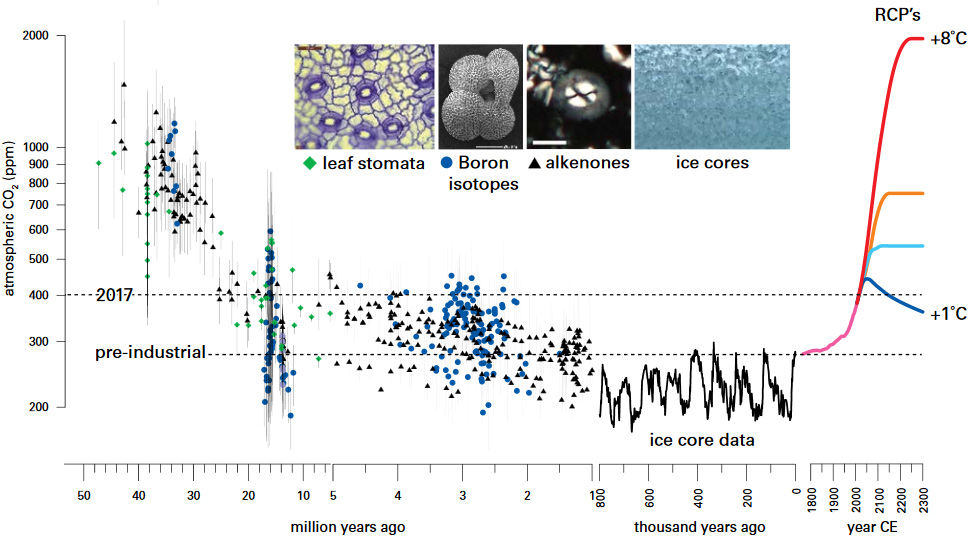 A separate Emissions Gap Report by the UN Environment Programme, released on 31st October, tracks the policy commitments made by countries to reduce greenhouse gas emissions. The report analyses how these policies will translate into emissions reductions through 2030, clearly outlining the emissions gap and what it would take to bridge it.
"The numbers don't lie. We are still emitting far too much and this needs to be reversed," said Erik Solheim, head of UN Environment. "The last few years have seen enormous uptake of renewable energy – but we must now redouble our efforts to ensure these new low-carbon technologies are able to thrive. We have many of the solutions already to address this challenge. What we need now is global political will and a new sense of urgency."
"The 3ppm CO2 growth rate in 2015 and 2016 is extreme – double the rate in the 1990-2000 decade," said Prof Euan Nisbet, University of London. "It is urgent that we follow the Paris agreement and switch rapidly away from fossil fuels. There are signs this is beginning to happen, but so far the air is not yet recording the change."
---
• Follow us on Twitter
• Follow us on Facebook
• Subscribe to us on YouTube
Comments »