6th February 2018
SpaceX launches Falcon Heavy rocket
A powerful next-generation rocket – the largest since the Apollo era – has been successfully launched for the first time.
After years of delays, the much-anticipated Falcon Heavy rocket has been launched by SpaceX. The 70 m (230 ft) launch vehicle, featuring double the thrust of the next largest rocket, blasted off at 15:45 EST (20:45 UTC) from the historic Pad 39A at Florida's Kennedy Space Center – the same launchpad used by the Apollo Moon missions.
The Falcon Heavy configuration consists of a structurally-strengthened Falcon 9 as the "core" component, with two additional Falcon 9 first stages acting as liquid strap-on boosters. Together, these can provide more lift capability than any other current rocket, with payloads of 64,000 kilograms (141,000 lb) to low-Earth orbit and 16,800 kilograms (37,000 lb) to trans-Mars injection. The rocket is designed to meet or exceed all current requirements of human rating. Its structural safety margins are 40% above flight loads, higher than the 25% margins of other rockets. The Falcon Heavy was designed from the outset to carry humans into space and restores the possibility of flying crewed missions to the Moon or Mars.
During today's first test, the two side boosters returned simultaneously to Landing Zones 1 and 2 on Cape Canaveral Air Force Station. The centre core was intended to land on the droneship, Of Course I Still Love You, 300 miles off the coast in the Atlantic, though at the time of writing (23:15 UTC), its exact fate remains unclear.
This maiden flight delivered an unusual payload: a Roadster produced by Tesla Motors, the electric car firm co-founded by Elon Musk. The red sports car – containing a dummy wearing a SpaceX spacesuit – has now entered into an elliptical orbit around the Sun that goes out as far as the orbit of Mars. It is expected to drift in space for a billion years or more.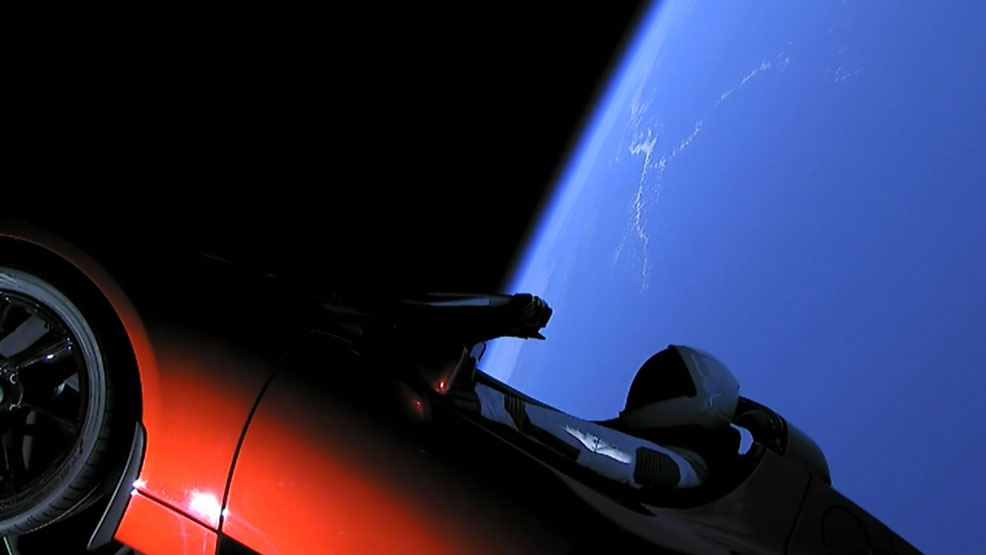 Credit: SpaceX
"If we are successful in this, it is game over for all the other heavy lift rockets," said Elon Musk, CEO of SpaceX, during a press call on Monday. "It'll be like trying to sell an aircraft where one aircraft company has a reusable aircraft and all the other companies had aircraft that were single-use, where you would parachute out at your destination and the plane would crash-land randomly somewhere. Crazy as that sounds – that's how the rocket business works."
Additional launches are planned for later in 2018 – to deliver a communications satellite operated by Arabsat, along with payloads for the U.S. Air Force (USAF) and Department of Defense (DoD), as well as CubeSats and other secondary payloads such as the LightSail, Prox-1 nanosatellite and Deep Space Atomic Clock. Next year, there are plans for two private citizens to fly on a free-return trajectory around the Moon, making them the first lunar tourists.
SpaceX is working on an even larger and more powerful launch vehicle, codenamed "BFR", which may become a reality in the next decade. The BFR is being designed to carry truly enormous payloads of 150,000 kilograms (330,000 lb) and 100 crew members to Mars – paving the way for permanent settlement of the Red Planet. Musk has forecast that using the BFR, a city on Mars with a million inhabitants could be achievable within 50 years.
---
• Follow us on Twitter
• Follow us on Facebook
• Subscribe to us on YouTube
Comments »