21st August 2018
Work begins on Giant Magellan Telescope
The GMTO Corporation (GMTO) has announced the start of hard rock excavation for the Giant Magellan Telescope's (GMT) massive concrete pier and the foundations for enclosure on its site at Las Campanas Observatory in Chile.
The work will be performed by Minería y Montajes Conpax (known as Conpax), a construction services company that has previously performed site work for other observatories in Chile. Using a combination of hydraulic drilling and hammering, the excavation work is expected to take five months to complete. Excavation is a key step towards the construction of the GMT, which is expected to be operational by 2024.
The 25-metre (82 ft) diameter GMT – expected to have a final weight of 1,600 metric tons – will comprise seven 8.4-metre (28 ft) mirrors supported by a steel telescope structure seated on the concrete pier. It will be housed inside a rotating enclosure measuring 65 metres (213 ft) tall and 56 metres (184 ft) in width. Conpax will, in addition, excavate a recess in the summit rock for the lower portion of the mirror coating chamber and foundations for a utility building and tunnel on the summit.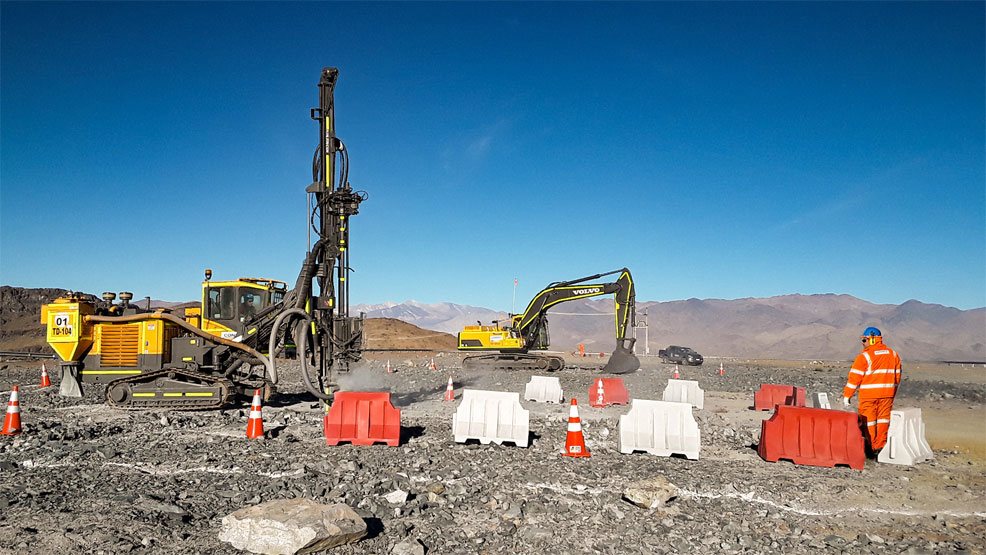 Credit: GMTO Corporation
"With the start of construction of the permanent buildings on the site, the GMT is showing tangible progress towards completion," said Dr. James Fanson, GMTO Project Manager. "We are delighted that Conpax is carrying out this important work. In total, we expect to remove 5,000 cubic metres or 13,300 tons of rock from the mountain and will need 330 dump truck loads to remove it from the summit."
Las Campanas Observatory, located in the southern Atacama Desert of Chile and owned by the Carnegie Institution for Science, is one of the world's premier astronomical sites, known for its clear, dark skies and stable airflow, producing exceptionally sharp images. With its unique design, the GMT will produce images that are 10 times sharper than those from the Hubble Space Telescope in the infrared region of the spectrum and will be used by astronomers to study planets around other stars and to look back to the time when the first galaxies formed. It will feature a total light-gathering area of 368 m sq (3,960 sq ft) – 15 times greater than the older, neighbouring Magellan telescopes.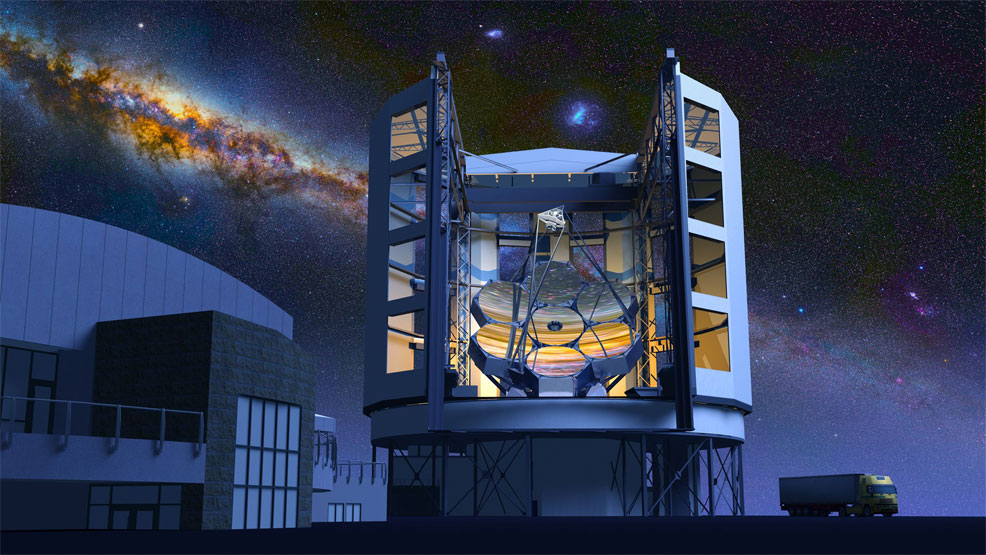 GMTO Corporation [CC BY-SA 3.0], via Wikimedia Commons
---
• Follow us on Twitter
• Follow us on Facebook
• Subscribe to us on YouTube
Comments »