18th September 2018
SpaceX rocket will send a passenger around the Moon in 2023
SpaceX has confirmed that it will deliver a paying passenger on a trip around the Moon, using its planned "Big Falcon Rocket" (BFR) by 2023.
If all goes according to plan, Japanese billionaire and fashion tycoon Yusaku Maezawa, 42, will become the first commercial lunar tourist. Only 24 humans have ever been to the Moon, 12 of whom walked on its surface. The last was nearly 46 years ago in December 1972. Maezawa will take six to eight guests with him as part of an art project called #dearMoon.
SpaceX's next generation launch vehicle – the BFR – will be the most powerful in history, able to carry humans to the Moon, Mars, and beyond. The first suborbital test flights are planned for next year. It will ultimately replace the Falcon 9 and Falcon Heavy rockets, with a huge payload capacity of 150 tons to low-Earth orbit (more than NASA's Saturn V).
Maezawa's journey in 2023, lasting approximately one week, will come as close as 125 miles to the Moon's surface before completing lunar transit and returning back to Earth. "I choose to go to the Moon!" he said in an announcement at SpaceX's headquarters in Hawthorne, California, on Tuesday.
The company said the flight represented "an important step toward enabling access for everyday people who dream of travelling to space."
According to SpaceX CEO, Elon Musk: "[The] Moon mission will be livestreamed in high def VR, so it'll feel like you're there in real-time minus a few seconds for speed of light."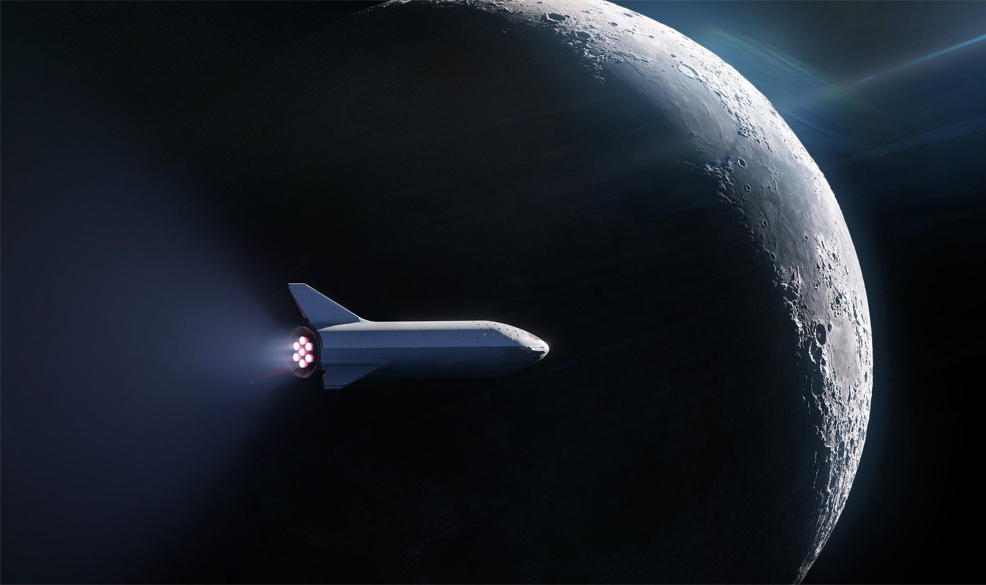 Credit: SpaceX
---
• Follow us on Twitter
• Follow us on Facebook
• Subscribe to us on YouTube
Comments »