4th September 2018
New robotic surgery system arriving in 2019
A next-generation surgical robotic system has been developed in Cambridge, UK. It will be used on NHS patients for the first time next year.
The Versius robot seen here was designed and built by CMR Surgical, formed in 2014, whose five founders brought with them global experience across the diverse disciplines of surgery, medical device development, start-ups and commercialisation. In June 2018, the company announced a record-breaking financing round that raised $100m in total, Europe's largest private Series B medical device funding raise.
CMR's stated aim is "to make minimal access surgery available to all", by creating "a paradigm shift in robotic-assisted surgery". Minimal access surgery (sometimes known as keyhole or minimally invasive surgery) is an alternative to open surgery that was first pioneered around 40 years ago. For patients and healthcare providers alike, the benefits are numerous and compelling – reduced trauma, faster recovery and improved clinical outcomes. For example, the risk of infection from a robotically assisted hysterectomy is reduced by almost a factor of three compared with open surgery (from 6.5% to 2.2%).
There are an estimated six million open surgery procedures each year that could be performed using minimal access surgery. CMR Surgical believes that robotics opens up the potential for millions more people to benefit from laparoscopic surgery.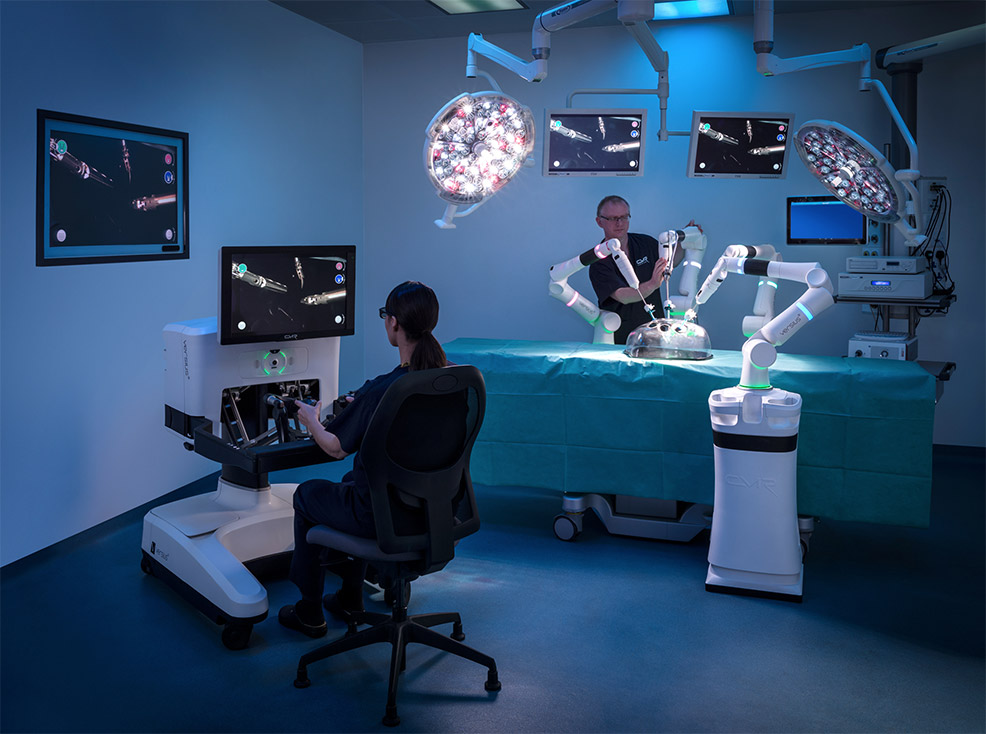 Credit: CMR Surgical
Versius, developed by CMR's team of 100 scientists and engineers, is designed to meet the complex requirements of laparoscopic surgery and is intended to be used across a range of surgical specialities. Versatile and highly capable, its small and modular form factor and individually cart-mounted arms allow it to be moved effortlessly around the operating room, between operating suites and even hospitals. This combination of adaptability and portability allows hospital administrators to drive up utilisation of their robotics programme, improving hospital efficiency and clinical outcomes.
Versius mimics the dexterity and range of movement in the surgeon's own hand and wrist, and is designed to be flexible enough to handle the majority of laparoscopic procedures. With 3D HD vision, easy-to-adopt instrument control and a choice of ergonomic working positions, the open surgeon console has been designed to reduce stress and fatigue; offering the potential to prolong a surgeon's career. In addition, the versatility of the system and compelling commercial model allows healthcare providers to offer the benefits of robotic-assisted procedures in a cost-effective way.
"It takes around 80 hours to teach suturing with manual laparoscopic tools and some surgeons find it impossible to master," said Addenbrooke's Hospital surgeon Mark Slack, a co-founder of CMR Surgical. "By contrast, it takes half an hour to teach using Versius – this will enable many more surgeons to deliver the benefits of keyhole surgery."
The Versius machine is a rival to the American da Vinci system. CMR expects to introduce their new robotic system to hospitals within the next six months, beginning in the UK and Europe, then with international expansion shortly afterwards. The $4bn global market for surgical robots is predicted to increase five-fold to reach $20bn by 2024.
"Surgeons will remain in control, but as we develop the human-robot interface there may be simple parts of an operation, such as suturing or closing a wound that may be automated," said Dr Hachach-Haram, a member of the Royal College of Surgeons' Commission on the Future of Surgery.
In the coming decades, much greater advances may arrive. A large survey of experts in artificial intelligence, conducted last year, suggested that robotic surgery could be fully automated by 2053.
---
• Follow us on Twitter
• Follow us on Facebook
• Subscribe to us on YouTube
Comments »