1st December 2018
UK to begin carbon capture and storage in 2020s
The UK government has announced plans for the country's first carbon capture, usage and storage (CCUS) project, intended to mitigate the effects of climate change.
At a summit in Edinburgh this week, more than 50 international leaders – including CEOs of major energy, manufacturing and finance companies – agreed a plan to commit the UK to building its first CCUS facility.
Energy-intensive industries currently produce 25% of global emissions. CCUS is a potentially vital technology that will capture carbon from power stations and carbon-heavy industries such as cement, chemicals, steel, and oil refining. Then, before it even enters the air, it can be used either for industrial purposes like manufacturing concrete, or stored safely underground, reducing pollution and slowing climate change.
In early 2019, work will begin to identify opportunities for transforming the UK's fossil fuel infrastructure. At least £20 million ($26 million) will be invested in supporting the construction of CCUS technologies at industrial sites across the UK. This is part of the government's £45 million commitment to innovation and comes a year after the publication of its modern Industrial Strategy, a long-term plan to build "high-tech, highly-skilled industries of the future". If all goes according to plan, the UK's first CCUS facility will be up and running from the mid-2020s and the technology will be rolled out "at scale" in the 2030s.
In addition to the main announcement, UK government funding of £175,000 ($225,000) was also confirmed for a scheme in the northeast of Scotland, known as the Acorn Project. This will be matched by the Scottish government, with additional funding from the European Union Commission. It will capture 200,000 tonnes of CO2 from the St Fergus Gas Terminal, transporting it through existing pipelines for storage at one of three depleted gas fields.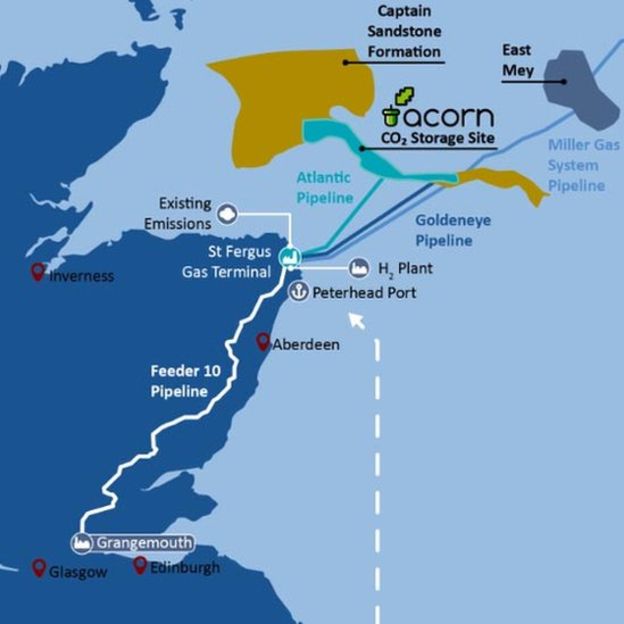 Credit: Acorn / Pale Blue Dot
"Today at this seminal summit, the UK is setting a world-leading ambition for developing and deploying carbon capture and storage technology to cut emissions," said Claire Perry, Energy and Clean Growth Minister. "It shows how determined all countries are to unlock the potential of this game-changing technology that representatives from across the globe are gathered here today in Edinburgh. The time is now to seize this challenge to tackle climate change while kick-starting an entirely new industry."
"Without CCUS as part of the solution, reaching our international climate goals is practically impossible," said Dr Fatih Birol, Executive Director at the International Energy Agency (IEA), which co-hosted the summit. "CCUS can also enhance energy security and boost economic prosperity. Yet up until now, progress has been muted and if this continues the challenges we face in the energy sector will become infinitely greater. That is why the IEA is bringing together industry, governments and our own technology network – as well as the investment community – to make CCUS a reality."
Two other related announcements were made in the UK this week:
• The Oil and Gas Climate Initiative (OGCI), a billion-dollar fund investing in technologies and business models to lower the carbon footprint of the energy and industrial sectors, announced its intention to open the first commercial end-to-end CCUS project in Teesside, northeast England. The facility will use natural gas to generate power, with CO2 then captured and transported by pipeline for storage under the seabed. It is anticipated that the project will progress toward engineering design in 2019.
• Drax Power Station, in North Yorkshire (pictured below), announced that work would start on the commissioning of a Bioenergy Carbon Capture and Storage pilot plant, supported by £2 million of government funding. If successful, Drax could become the world's first negative emissions power station, meaning the electricity it produces would help to reduce the amount of carbon accumulating in the atmosphere.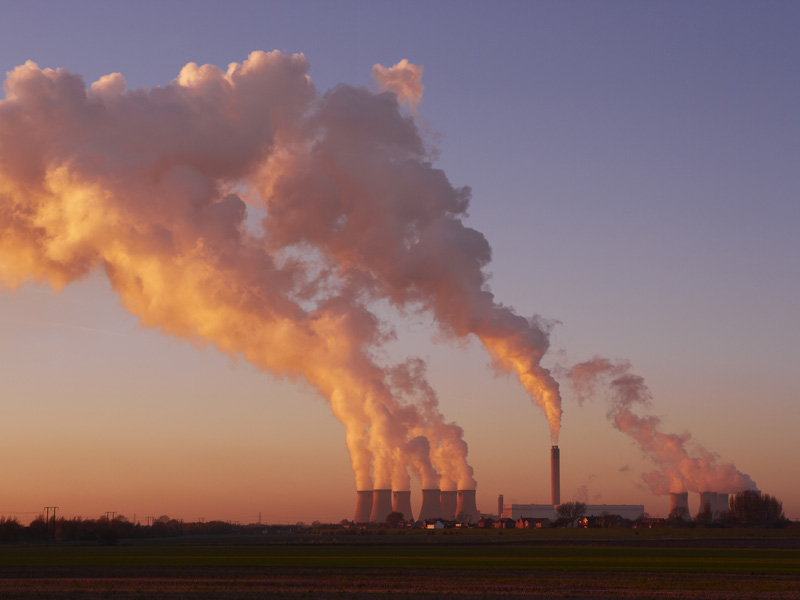 Drax Power Station, North Yorkshire. Credit: By Daniel Heighton
The Committee on Climate Change (CCC), which provides independent advice to the government, earlier this year warned that the UK will miss its legally mandated carbon reduction targets without urgent action. The Climate Change Act (2008) commits the government by law to reducing greenhouse gas emissions by at least 80% of 1990 levels by 2050. The UK has already achieved a 42% reduction and is close to phasing out coal, but more needs to be done if the 2050 goal is to be met.
The CCC's Chief Executive, Chris Stark, responded to the government's plan: "The Committee welcomes the Government's recommitment to carbon capture and storage technology, which is vital to meeting the UK's and the world's climate change commitments. Today's Action Plan sets out the right priorities – but the actions to deliver them need to be accelerated.
"We agree with the Government that the main barriers to rolling out CCS are not technological, but in policy and commercial development – so we welcome the collaboration with industry. We also agree that deployment must begin soon in order to meet those challenges, and we welcome steps to initiate a new project within a year and fully expect that to be operational by the mid-2020s."
In further related news, WWF has published a report – Keeping it cool: how the UK can end its contribution to climate change – demonstrating how the country could reach "net zero" emissions by 2045. This goal is possible through international collaboration and behavioural changes, according to WWF.
The report notes the difficulty in cutting aviation and shipping emissions (as is seen on the graph below), with significant technological advances required. International flights cause 95% of the aviation emissions attributed to the UK. In order to fully achieve the necessary targets, collaboration on research and development is essential, along with international action such as reducing the number of flights.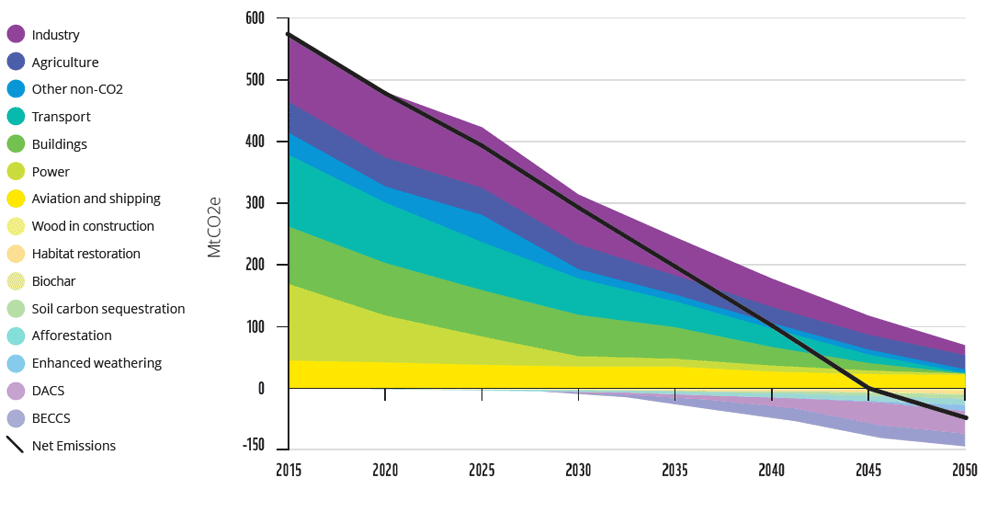 UK CO2 emissions under the "Collab2045" scenario. Credit: WWF/Vivid Economics
"The IPCC recently stated that to prevent the most catastrophic climate change, the whole world must be zero carbon by 2050," said Ed Matthew, Coordinator of the Net-Zero Campaign for The Climate Coalition. "This report is a beacon of hope – because it provides robust, independent evidence showing that the UK can reach net-zero emissions by 2045. There is a pathway for total de-carbonisation which is feasible, fast and is packed full of economic opportunity. If the UK Government commits to this goal, we can inspire the world to follow."
Globally, there is international consensus that CCUS will be critical to meeting the ambitions of the Paris Agreement. In the "below two degrees" scenario of the International Energy Agency (IEA), it accounts for over one-fifth of total emissions reductions. There are now approximately 25 large-scale facilities in operation around the world – with applications in chemicals, iron and steel, gas processing and power generation – along with hundreds of smaller-scale projects and research centres.
The technology is proven, but must be rapidly scaled-up to make a dent in the almost 40 gigatonnes of CO2 now being emitted annually. The IEA estimates that deployment will need to increase by nearly two orders of magnitude, from about 30 megatonnes (Mt) of CO2 currently captured each year to 2,300 Mt by 2040. The UK government, in its Action Plan released this week, reports that "thousands of large-scale facilities" are required globally by 2060, and that global cumulative capture through CCUS may need to reach over 1,200 billion tonnes of carbon dioxide by the end of the century.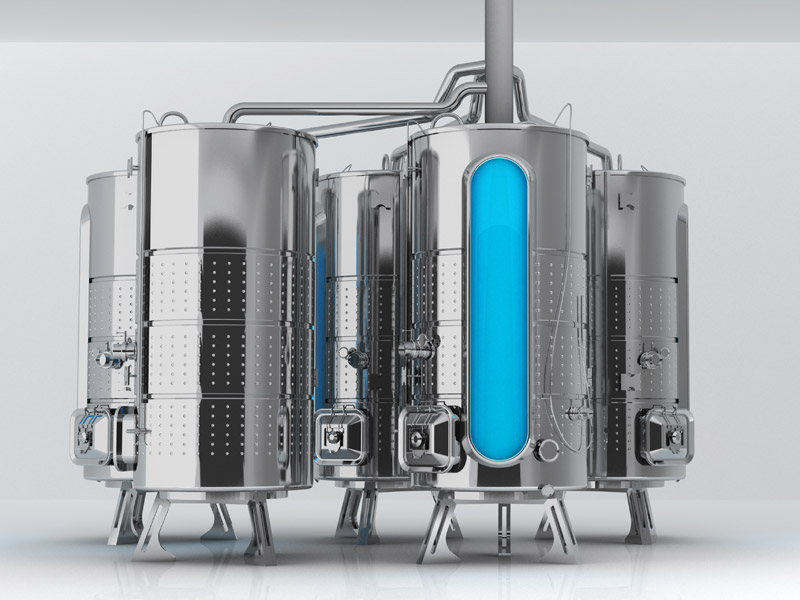 ---
• Follow us on Twitter
• Follow us on Facebook
• Subscribe to us on YouTube
Comments »