4th December 2018
Walmart to deploy cleaning robots
Retail giant Walmart announced yesterday that it plans to have 360 autonomous cleaning robots in its stores by the end of January 2019.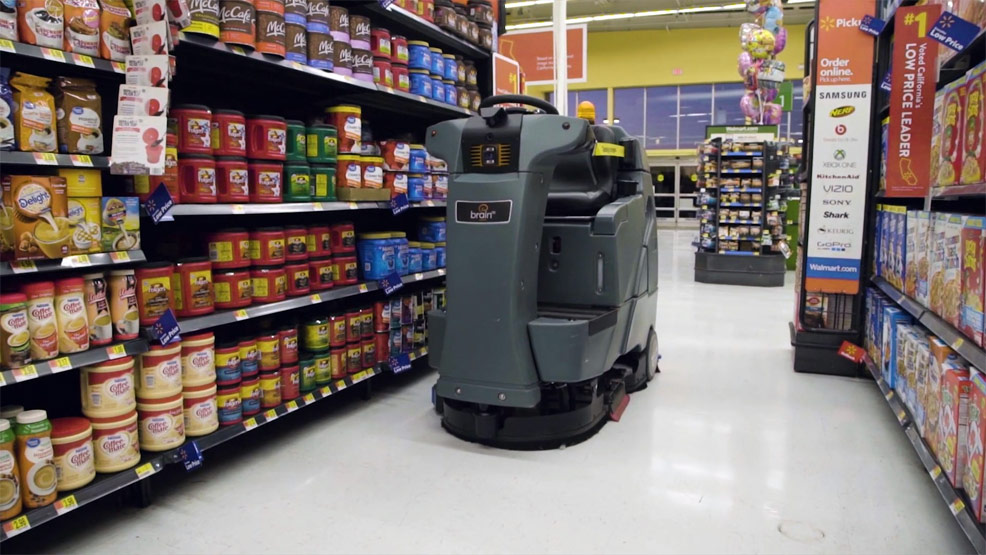 The Auto-C, powered by BrainOS.
Brain Corp, a San Diego-based software technology company, has formed a partnership to provide AI services to the world's largest retailer. Brain Corp's platform known as "BrainOS" currently automates more than a hundred of Walmart's fleet of commercial floor scrubbers across the USA. This provides the machines with autonomous navigation and data collection capabilities, all tied into a cloud-based reporting system. Walmart expects to have 360 of these machines in stores by the end of its fiscal year, 31st January 2019.
These numbers may appear relatively small – given that Walmart has 1.5 million employees in the U.S. and 2.3 million worldwide. However, robots are likely to dominate retail environments over the coming decades and are predicted to surpass humans in the majority of tasks by the early 2030s.
BrainOS allows store associates to quickly map a route during an initial training ride and then activate autonomous floor cleaning with the press of a single button. The robot uses multiple sensors to scan its surroundings for people and obstacles, providing the industry's highest level of safety and performance.
"We're excited to work with Brain Corp in supporting our retail operations and providing our associates with a safe and reliable technology," said John Crecelius, Walmart's VP of Central Operations. "BrainOS is a powerful tool in helping our associates complete repetitive tasks, so they can focus on other tasks within role and spend more time serving customers."
"We are thrilled to partner with Walmart to enhance customer experience at its retail locations," said Dr. Eugene Izhikevich, CEO of Brain Corp. "BrainOS technology allows robots to effectively and safely function in complex, crowded environments, ensuring increased productivity and efficiency across applications. We look forward to continuing to work alongside Walmart to help build intelligent, connected stores."
---
• Follow us on Twitter
• Follow us on Facebook
• Subscribe to us on YouTube
Comments »