10th January 2019
World's first terabyte SD card
The first SD card with a storage capacity of 1 terabyte (TB) has been announced by Lexar.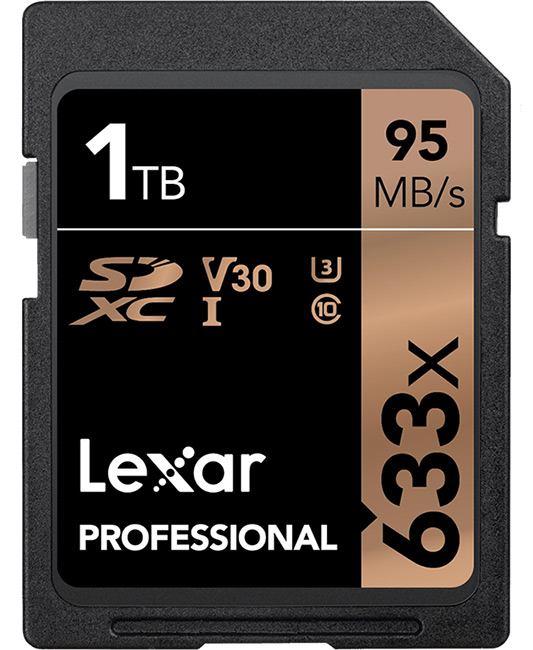 Pictured here is a new Lexar Professional 633x SDXC UHS-I card, the first commercially available SD card with 1 terabyte (1TB) of memory, which has been revealed this week at CES 2019. This new range is available in seven different sizes and speed classes, starting at 16GB. The terabyte version has enough capacity for 650 minutes of 4K video footage, with 95MB/s read and 70MB/s write and has a suggested retail price of $499.99. All models can withstand a temperature range of -25° to 85°C (-13°F to 185°F) and humidity level of up to 95%.
"Almost 15 years ago, Lexar announced a 1GB SD card," said Joey Lopez, Senior Marketing Manager. "Today, we are excited to announce 1TB of storage capacity in the same convenient form factor. As consumers continue to demand greater storage for their cameras, the combination of high-speed performance with a 1TB option now offers a solution for content creators who shoot large volumes of high-resolution images and 4K video."
SanDisk was actually the first company to announce a 1TB card, back at Photokina 2016. However, that card was never commercialised, paving the way for Lexar to be the first to market.
This new product is double the capacity of the previous generation of cards. In recognition of this ongoing, rapid growth, the SD Association last year released a new technical specification that will enable SD cards to achieve a theoretical maximum storage capacity of 128TB, with transfer speeds of up to 985 megabytes per second (MB/s). It is possible that on current trends, devices with a petabyte of storage could emerge in the 2030s.
---
• Follow us on Twitter
• Follow us on Facebook
• Subscribe to us on YouTube
Comments »