7th March 2019
A step closer to an HIV cure
Second and third cases of sustained remission from HIV have been reported, 12 years after the 'Berlin Patient.'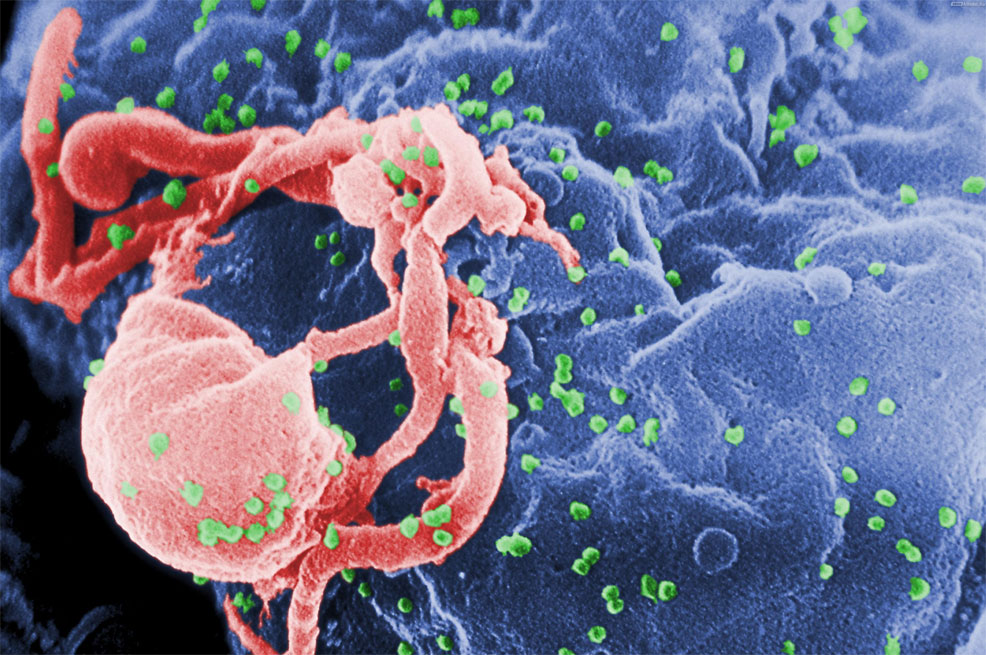 Scanning electron microscopic (SEM) image revealing the presence of numerous human immunodeficiency virus-1 (HIV-1) virions budding from a cultured lymphocyte.
Credit: CDC/C. Goldsmith, P. Feorino, E. L. Palmer, W. R. McManus
This week, it is reported that scientists found no rebound of HIV in two patients who stopped taking their HIV medication after they received stem cell transplants for a haematological (blood) disease. Both patients underwent stem cell transplantation as part of their cancer treatment.
The transplanted donor cells had a gene defect, called CCR5delta32mutant, which results in the absence of a critical entry "gatekeeper" that HIV generally needs to infect cells.
Thus far, only one person in the world – Timothy Ray Brown, known as the 'Berlin patient' – has been cured of HIV. Although Brown still had traces of HIV, the virus never rebounded and he is now celebrating 12 years of being HIV-free. Transplanted cells from a CCR5delta32 donor are likely to have protected Brown's immune system. He also received aggressive chemotherapy, total body irradiation, and two stem cell transplants. For over a decade, the HIV field has puzzled over which of these factors were essential for his cure.
At the Conference on Retroviruses and Opportunistic Infections, held in Seattle, USA, from 4th-7th March 2019, groundbreaking research was presented on two new cases – the 'London patient' and the 'Düsseldorf patient'. These studies are also published in Nature.
Professor Ravi Gupta of University College London presented a potential cure of HIV after stem cell transplantation in his 'London patient', while Dr. Björn Jensen from Düsseldorf University found his 'Düsseldorf patient' also potentially cured. The London patient has not experienced HIV rebound in 18 months of ceasing antiviral medication. This is the longest known adult HIV remission after stem cell transplantation since the Berlin patient. The Düsseldorf patient stopped taking his medication for a shorter period of three-and-a-half months, but also remains HIV-free. Both patients show that after a single transplant and with even mild cancer chemotherapy and without radiation, remission may be achieved.
"Although delta32 donors are primarily found in Caucasian people, the London patient remission case gives important insights into potential mechanisms of cure and should fuel development of strategies that can be more broadly applied," said Annemarie Wensing, a researcher from the IciStem programme on which both patients were registered. IciStem is an international collaboration to investigate a potential HIV cure by stem cell transplantation.
"Continuing our research, we need to understand if we could knock out this receptor in people with HIV, which may be possible with gene therapy," said Professor Gupta.
"The treatment we used was different from that used on the Berlin Patient, because it did not involve radiotherapy. Its effectiveness underlines the importance of developing new strategies based on preventing CCR5 expression," said co-author Dr Ian Gabriel, of Imperial College Healthcare NHS Trust.
"While it is too early to say with certainty that our patient is now cured of HIV, and doctors will continue to monitor his condition, the apparent success of haematopoietic stem cell transplantation offers hope in the search for a long-awaited cure for HIV/AIDS," said co-author Professor Eduardo Olavarria from Imperial College Healthcare NHS Trust and Imperial College London.
Close to 37 million people are living with HIV worldwide, but only 59% are receiving antiretrovirals (ARVs), and drug-resistant HIV is a growing concern. Almost a million people die annually from HIV-related causes.
"This represents a critical moment in our search for an HIV cure," said Professor Maria Papathanasopoulos, a principal investigator for the Strategic Health Innovation Partnerships. "It reaffirms our belief that one day it will be possible to cure HIV with a safe, cost-effective, and easily accessible strategy."
Comments »