16th October 2019
U.S. will test cannon with range over 1,000 miles by 2023
Today, 155mm artillery rounds, fired by U.S. mobile and self-propelled howitzer platforms, have a maximum range of about 30 km (19 miles). However, the U.S. Army is developing a new weapon capable of reaching 1,850 km (1,150 miles).
Plans for the system first began to emerge in 2017, with the establishment of a program aimed at rapidly advancing the next generation of artillery. One of the concepts unveiled by the Army Futures Command, known as the "Strategic Long-Range Cannon" (SLRC), would far exceed anything seen previously.
Essentially, the idea is to scale up existing howitzers and rocket-boosted artillery shells to a much bigger size and range capability. Using these proven technologies from earlier decades, the weapons could also be made mobile, or at least "movable". Army chiefs believe the extreme range of the SLRC could be useful in dealing with advanced over-the-horizon radar, shore defences and air defence systems – around the South China Sea, for example.
U.S. field artillery is "outranged and outgunned" by Russia and China, as former National Security Advisor H.R. McMaster told Congress in 2016. So in November of the following year, the U.S. Army released Directive 2017-33, which led to the establishment of the Army Futures Command Task Force and the outlining of six modernisation priorities. General Mark Milley (the highest ranking officer in the military) officially placed Long-Range Precision Fires (LRPF) at no. 1 on the list. This new family of technologies, of which the SLRC is a part, will replace the Army Tactical Missile System.
The weapon is now progressing from the concept stage, to its first technical and feasibility studies. The Army is working with the Center for Army Analysis and the Research and Analysis Center at White Sands Missile Range (notable as the site of Trinity, the first nuclear detonation in 1945). Additional research is being conducted at the Naval Support Facility in Dahlgren, Virginia, which has a test range for naval artillery.
The SLRC would be cheaper than hypersonic missiles, according to Col. John Rafferty, Director at the Long Range Precision Fires Cross-Functional Team, in a recent interview. It will "be able to deliver a volume of more affordable projectiles," possibly 12, 16 or 20 in shorter order, to destroy a target. Along with its other new artillery systems, the Army wants to demonstrate a prototype of the SLRC by 2023.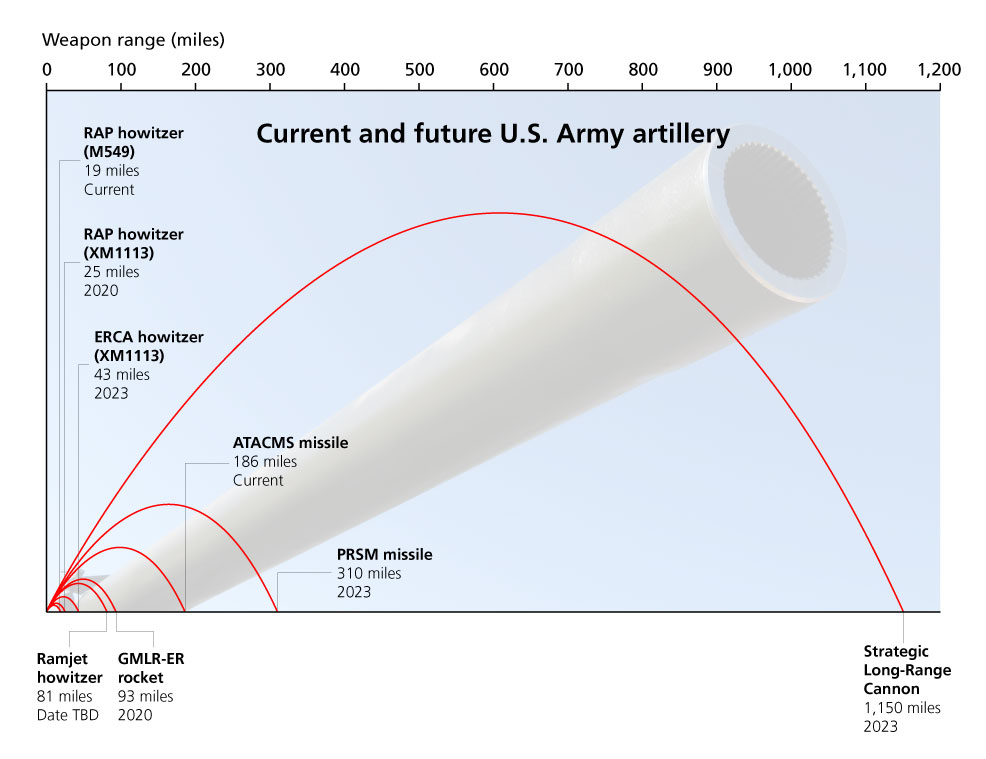 Comments »