23rd January 2020
Lab-grown fish company to launch cell-based seafood products in 2021
BlueNalu, a pioneer in the emerging field of "cellular aquaculture", recently unveiled its first cell-based seafood product at a private culinary demonstration in San Diego.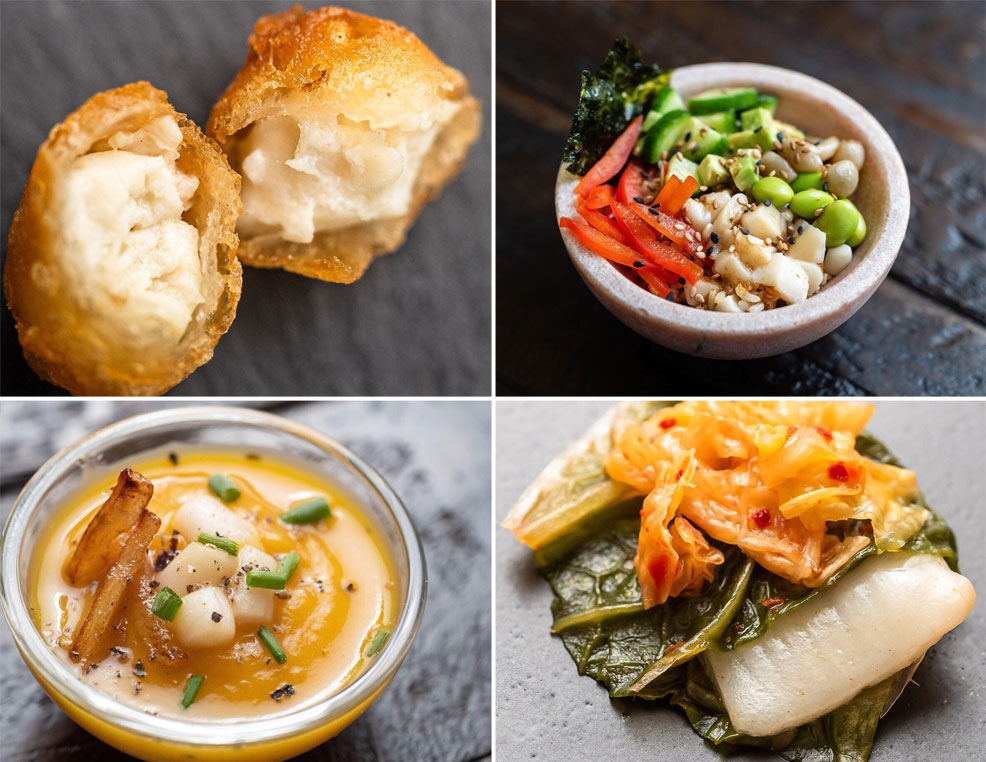 Credit: BlueNalu
In recent years, you have probably been hearing more and more about cultured meat. This new and emerging food technology provides a way of producing beef, chicken, lamb, pork and other meat products without the need to slaughter animals. With in vitro culture of animal cells, the process involves many of the same tissue engineering techniques used in regenerative medicine.
The world's first lab-grown burger was demonstrated in 2013, at a cost of £250,000 ($384,000). Since then, various companies have begun to research and develop cheaper, better ways of growing meat. Tyson Foods, for example – one of the world's largest beef, pork and poultry processors – invested in a startup called Memphis Meats back in 2018. Later that same year, an Israeli company called Aleph Farms announced the first lab-grown sirloin steak and demonstrated a new method for creating more structured and complex meat products.
The industry is forecast to expand rapidly in the near future, with a compound annual growth rate (CAGR) of greater than 40% between 2025 and 2040. Projections indicate that cultured meat will be highly disruptive to traditional farming, especially when combined with novel vegan replacements, which together could see conventional meat consumption overtaken within the next 20 years. Extrapolating into the more distant future, it is even possible that food produced from slaughtered animals could be rendered obsolete before the end of this century.
Aside from ending the mass suffering and death of billions of animals, these new food production methods could have major environmental, health, cultural and economic benefits in comparison to conventional meat. However, this still leaves a whole other area of animal-based food production unaddressed: fish.
This is where BlueNalu comes in.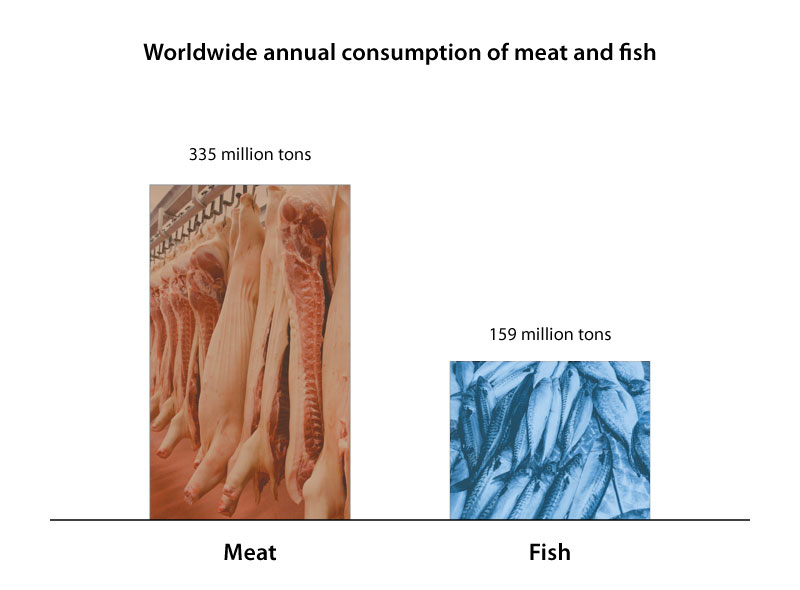 Established in June 2018 and based in San Diego, California, BlueNalu's stated mission is "to be the global leader in cellular aquaculture, providing consumers with great tasting, healthy, safe, and trusted seafood products that support the sustainability and diversity of our oceans."
Since its launch, the company has raised almost $25 million in funding, expanded its staff and moved its operations to a larger research facility. The fast-growing team at BlueNalu includes experts with experience in a broad array of disciplines – food innovation, technology commercialisation, cell biology, tissue engineering, intellectual property, large-scale manufacturing, product safety, and marketing.
BlueNalu is keen to emphasise its strong commitment to safety, ethics and sustainable development. It aims to foster transparency and collaboration with the seafood industry, non-profits, universities, restaurants, chefs, regulators and policy makers. No animal testing, genetic modification or antibiotics will be used in the development or commercialisation phases.
According to its website, these food products "will not only taste great but will be made locally to reduce seafood imports and limit the carbon footprint from shipping fish around the world. And since we're only growing whole fillets without having to grow the rest of the fish, our products will maximise feed conversion and will result in zero fish waste."
In December 2019, just 18 months after hiring its first employee, BlueNalu held a premier culinary event to demonstrate one of its first commercial products – yellowtail amberjack – prepared with various cooking techniques. The company was able to showcase its cell-based yellowtail using three different preparation methods including raw, cooked in oil for fish tacos and acidified as in ceviche or poke.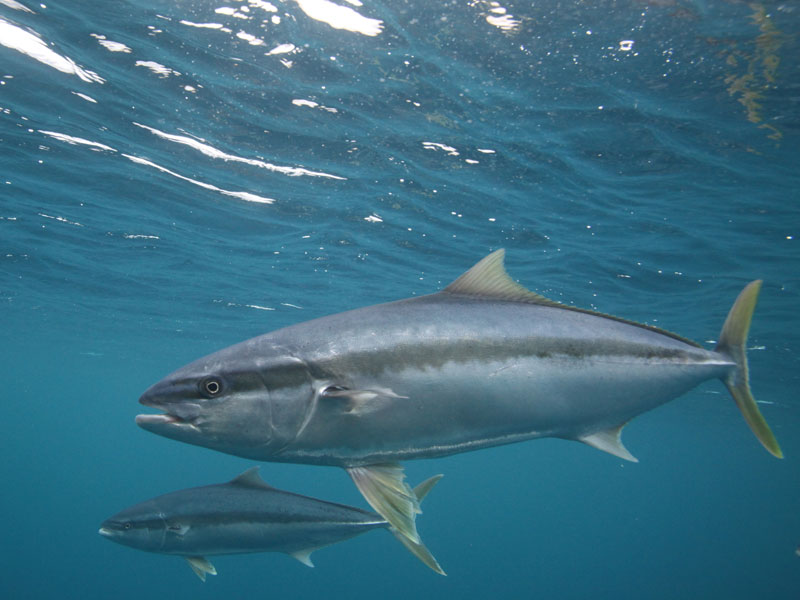 Above: Yellowtail amberjack in its natural environment
"With our recent product demonstration, BlueNalu has accomplished a major milestone," said Lou Cooperhouse, president & CEO of BlueNalu. "Our team has successfully produced whole-muscle portions of yellowtail fish fillet, derived directly from fish cells, in which our product performs the same way as a conventional fish fillet in all cooking applications. Our medallions of yellowtail can be cooked via direct heat, steamed or even fried in oil; can be marinated in an acidified solution for applications like poke, ceviche, and kimchi, or can be prepared in the raw state. This is an enormous accomplishment, and we don't believe that any other company worldwide has been able to demonstrate this level of product performance in a whole-muscle seafood product thus far."
Last week, BlueNalu announced a strategic partnership with Nutreco, a global leader in animal nutrition and aquafeed. The two companies have formalised a partnership agreement that builds upon BlueNalu's platform technology and is intended to create a more stable and sustainable supply-chain solution as the global demand for seafood is continually increasing. Nutreco will provide its expertise in nutrition, raw materials and ingredient procurement at competitive costs, helping to accelerate the progress towards commercialisation.
"Consistent with others in the cell-based meat/poultry/seafood industry, our costs are currently high," said a BlueNalu representative during a recent Q&A in the futurology section of Reddit. "But we are focused on bringing costs down in order to achieve competitive pricing. At this point, it looks like that will happen after building our first factory, which is slated to break ground in 2024. Before that time, our goal is to sell our cell-based seafood products in a small consumer market in the middle of 2021."
The demand for seafood will continue to increase as the global population is forecast to reach almost 10 billion by 2050, putting huge pressure on the oceans and their ecosystems. While the adoption of farm-raised seafood can help to a certain extent, new innovations and technologies will be required to help meet demand in a healthier, more sustainable and cruelty-free manner. BlueNalu offers a third option – cellular aquaculture – to complement wild-caught and farm-raised fish, reduce pressure on fisheries, prevent animal suffering, benefit human health, encourage responsible food consumption and promote food security.
Comments »