25th February 2020
Solar photovoltaic glass market predicted to reach $37.6bn by 2026
A new report published by Allied Market Research finds that the global solar photovoltaic glass market – valued at $4.5 billion in 2018 – is likely to reach $37.6 billion by 2026, expanding at a compound annual growth rate (CAGR) of 30.3%.
Photovoltaic (PV) glass has emerged in recent years as a way of integrating solar cells into windows, electronic displays and other transparent surfaces to convert solar energy into electricity. The solar cells are fixed between two glass panes with a filling of special resin. These resins securely wrap solar cells from all sides. Each cell is connected with two electrical connections and then attached to other cells to form a module.
The relatively high costs of purchase, installation and storage have limited the market share of solar devices until now. However, falling prices and rapid advances in technology – combined with supportive government regulations – are expected to offer major growth opportunities for the solar PV glass market in residential, commercial, and utility-scale settings during the 2020s.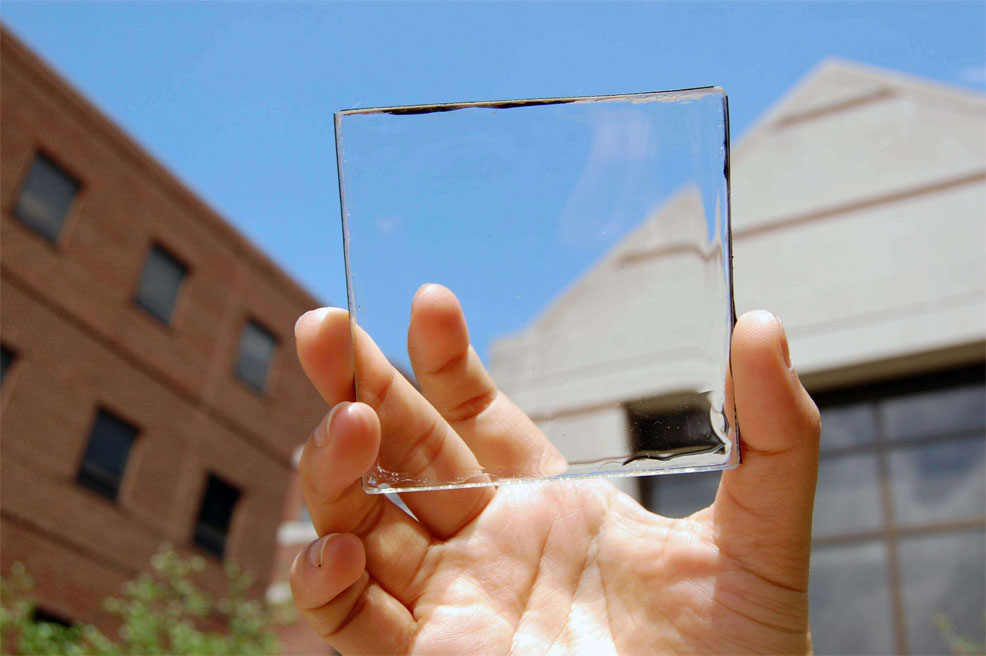 Credit: Richard Lunt/Michigan State University
One such company aiming to make its mark on this emerging industry is Onyx Solar. Its glass has been used in projects on five continents, including in the construction of the Miami Heat Stadium, the Dubai Frame, the Science Pyramid in Colorado and an award-winning residential building known as The General in Northcote, Australia.
In addition to generating electricity from a clean source, the glass provides high thermal and acoustic insulation and protection from harmful solar radiation – filtering out 99% of UV and 95% of IR radiation. It can replace conventional glass in different parts of a building's envelope including skylights, curtain walls, canopies and louvres. In 2016, Onyx Solar installed photovoltaic glass at the entrance of the American Airlines Arena in Miami, Florida, with around 300 crystalline silicon PV glass units producing 34,500 kWh of solar power per year for on-site consumption. Other projects by Onyx Solar include the first photovoltaic walkable floor, as well as photovoltaic furniture capable of charging electronic devices.
Other key players involved in the global solar PV glass market are detailed by Allied Market Research in their report, which can be accessed here.
Currently, the Asia-Pacific region holds a dominant position in the solar photovoltaic glass market, with a share of more than 68%. However, the LAMEA region (Latin America, Middle East and Africa) is expected to grow with the highest CAGR of 31.0% during the forecast period.
Tempered glass – a type of safety glass processed by heat or chemicals to make it stronger and tougher compared with normal glass – is expected to hold a dominant market share in solar PV glass.
Buildings are not the only places where solar PV glass could be incorporated. With improving solar cell efficiencies, vehicles could also take advantage of this technology in future, generating small amounts of electricity from their windows and perhaps even storing it for later use via battery. The potential applications include wearable devices too, such as the eyeglasses pictured below. These were created by the Karlsruhe Institute of Technology, Germany, and feature semi-transparent organic solar cells to power a microprocessor and two displays.
All of the developments mentioned here – along with many others in the clean tech industry – point towards a future of abundant, zero-carbon energy that saturates the world around us, powering countless buildings, electronic devices, and other everyday objects.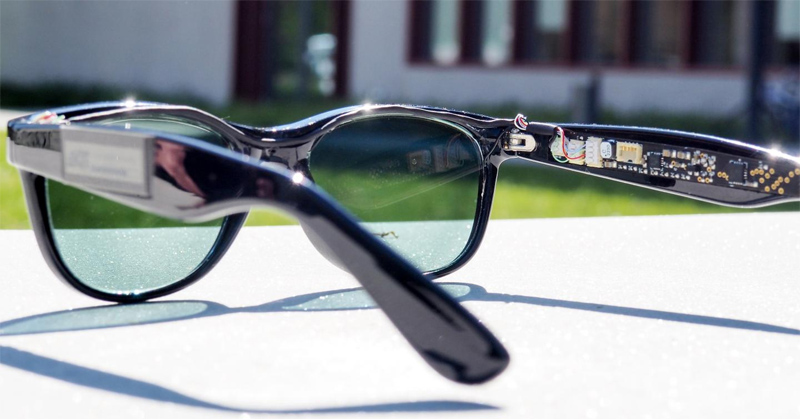 Credit: Karlsruhe Institute of Technology
Comments »