28th February 2020
Amazon opens first large-scale, cashierless grocery store
Retail giant Amazon has just opened a 10,400 square foot, cashierless grocery store, located in Seattle. Is this the future of shopping?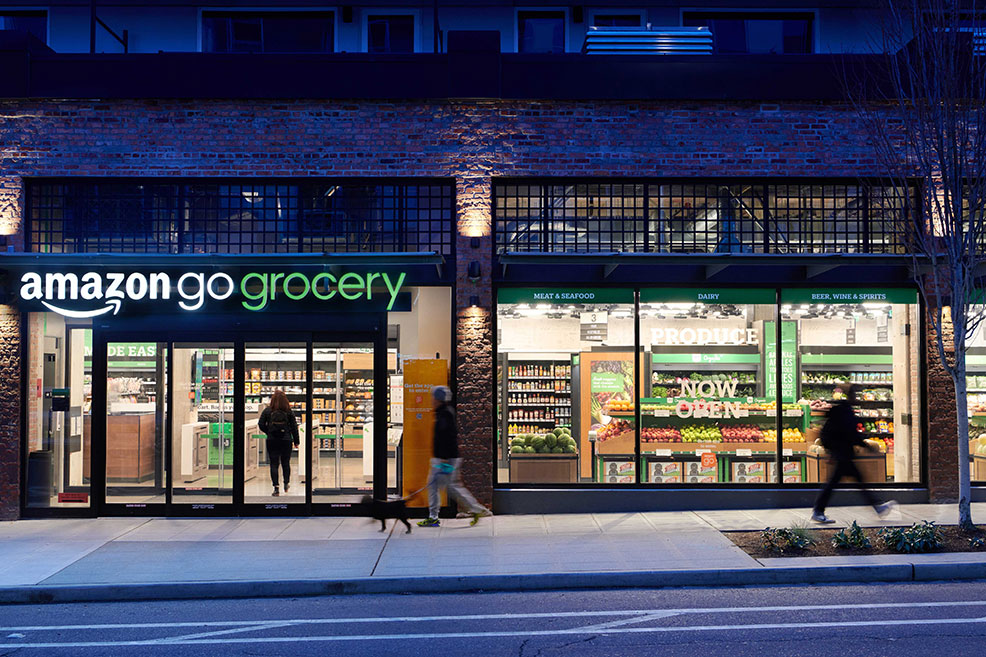 Amazon's futuristic new grocery store in Seattle. Credit: Amazon
In recent years, web giant Amazon has expanded into brick-and-mortar retail, with a number of physical stores appearing across the USA. In addition to a chain of book stores, it has experimented with convenience stores. These are not like ordinary shops, however, as the process of buying relies on a complex and hi-tech system of automation.
Customers who visit a branch of Amazon Go are required to download a smartphone app – which links to their Amazon account and is the primary method of paying for items – before they can enter the store. Once through the gates, people are tracked continuously by an array of technologies that follow their movement and the selection of any products. This includes computer vision, deep learning algorithms, and sensor fusion, all of which can automatically detect whatever items are picked.
No scanning or checkout is therefore required, as the shop already "knows" what needs paying for. A customer simply takes whatever they want and then leaves – a system dubbed "Just Walk Out" by Amazon's marketing team.
The first Amazon Go store, located on the ground floor of the company's headquarters in Seattle, opened to employees in December 2016, and to the general public in January 2018. This offered prepared foods, meal kits, a small selection of groceries, and liquor available for purchase. Others followed, including a store in New York City that opened in September 2018. A total of 25 Amazon Go stores were dotted around the USA by the end of 2019.
This week, on Tuesday 25th February, the company introduced a new variant – not just a convenience store, but a larger-scale grocery store with a much wider selection of product types. This first Amazon Go Grocery shop has opened on Seattle's Pike Street, close to the original at the HQ building. It has a floor area of 10,400 square feet, compared with only 1,800 square feet for that earlier one, making it nearly six times larger. A total of 5,000 items are stocked at the new Pike Street store and its hours of operation are 7:00am–11:00pm, Sunday–Thursday; 7:00am–12:00am, Friday–Saturday.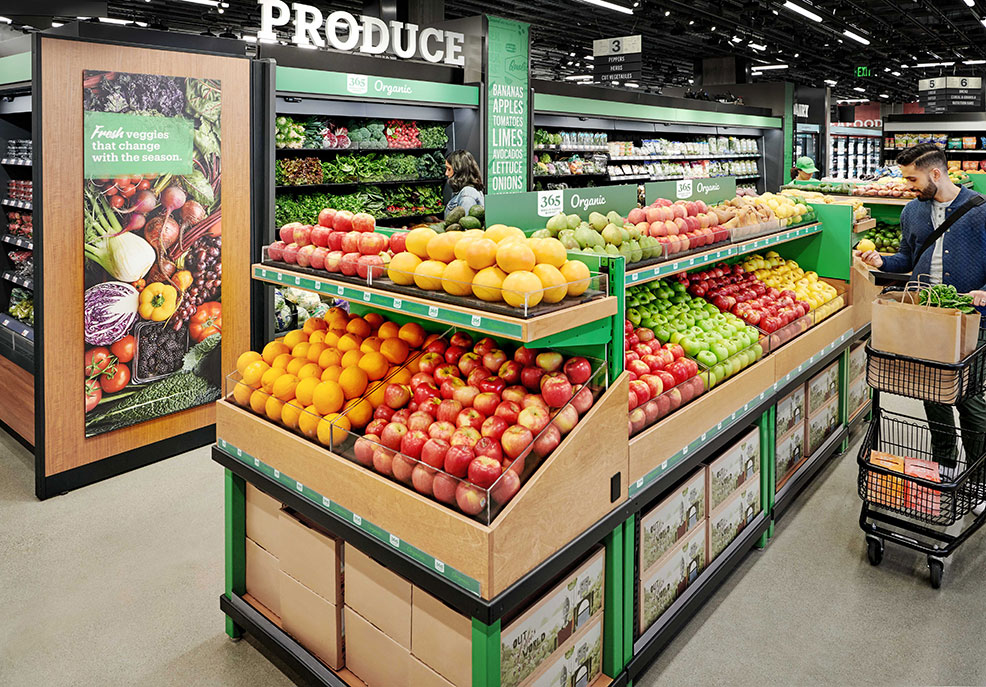 "At Amazon Go Grocery, shoppers will find everyday ingredients and essentials on their shopping list, along with ready-made meals to help make dinner tonight easier," a spokesperson for Amazon told FutureTimeline.net. "We carry an array of fresh fruits and vegetables that change with the seasons, and a selection of quality beef, pork, poultry, and seafood. Our selection of local artisan breads, cheese, and baked goods come from some of the best local kitchens and bakeries daily from around the city and region. Shoppers will also find delicious, ready-to-heat and ready-to-cook meals for dinner tonight and a great selection of beer, wine, and spirits, and much more. We offer a mix of organic and conventional items from well-known brands, along with special finds and local favourites."
There's no confirmation yet on whether Amazon intends to open additional stores of this size, or the extent to which it plans to grow its network of smaller-scale convenience stores. In October 2016, the financial news website Business Insider had reported seeing internal Amazon documents, describing a long-term plan for as many as 2,000 stores. Amazon refuted this report. However, the rumours surfaced again in September 2018, when Bloomberg revealed a plan for up to 3,000 new Amazon Go cashierless stores within a few years, citing insiders familiar with the matter.
What do our readers think? Is this the future of shopping? Could even greater levels of automation be attempted in stores? The number of service robots operational worldwide is predicted to exceed one billion by 2034 – so perhaps by then, it will be a common sight to see machines restocking the shelves or answering customer queries. On the other hand, some people may feel uncomfortable about these changes and might prefer a more traditional store experience. Let us know your thoughts in the comments section below.
Comments »