15th March 2020
New coronavirus test is 10 times faster
The FDA has granted emergency authorisation for a new coronavirus test. The fully automated system provides a ten-fold improvement in the speed of patient testing, and is expected to supply about 400,000 test results per week.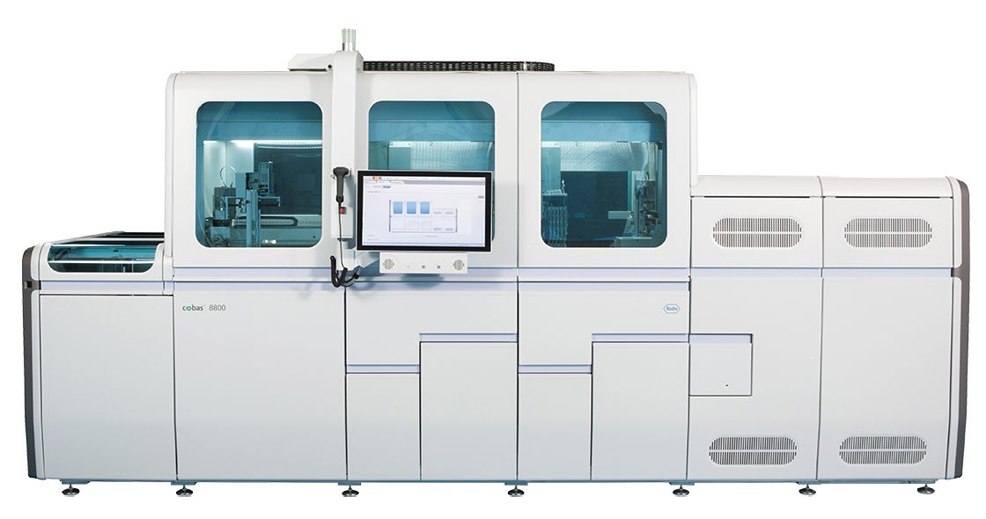 To say the coronavirus pandemic has been a dramatic and unexpected start to the new decade would be an understatement. As of today, the number of infected worldwide stands at 162,000 and is growing exponentially. The current death toll of 6,000 produces a mortality rate at least 20 to 30 times greater than typical seasonal flu.
Aside from the suffering and loss of human life, the economy has been thrown into turmoil by the outbreak, with some of the biggest ever falls witnessed on the Dow Jones and other indices. A recent study by the Australian National University predicts that even a "low severity" outcome could incur a final death toll of around 15 million, with global GDP loss of $2.4 trillion. Their "high severity" model would see 68 million deaths – about 0.9% of the current world population and similar in scale to the casualty figure of World War II – with a massive $9 trillion hit to the economy.
The Centers for Disease Control and Prevention (CDC) reported the first case of the COVID-19 virus in the US on 21st January. Since then, the number of cases nationwide has hit 3,250. The US has been criticised for its testing per capita numbers, which have been shockingly low for such an advanced nation: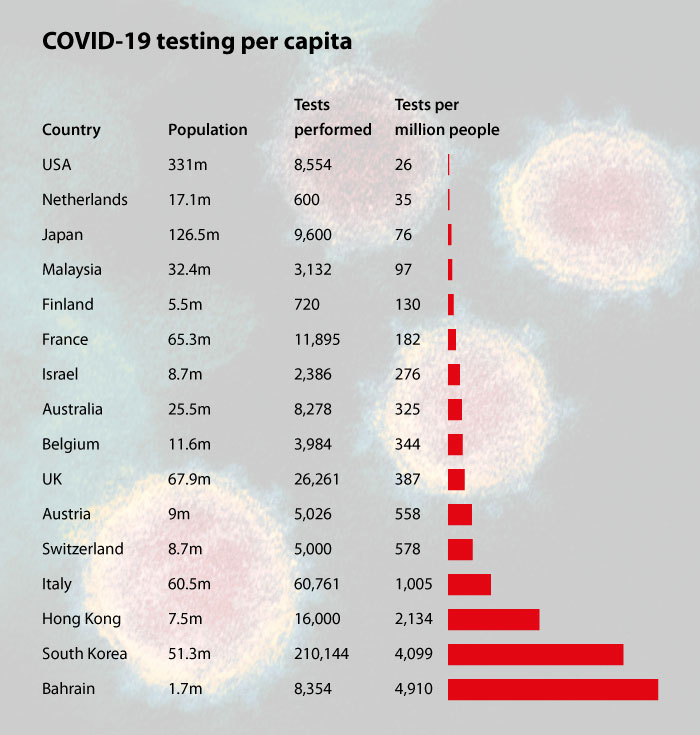 COVID-19 coronavirus testing per capita. Figures correct as of 15th March 2020. Source: Worldometers.info
US testing was further hampered by flawed kits distributed by the federal government in February, which gave some false results. In an effort to speed up the ability to accurately test patients, and provide better tracking of the spread of the virus, the FDA has issued an Emergency Use Authorization (EUA) for the cobas SARS-CoV-2 Test. This newly approved system can detect SARS-CoV-2, the virus that causes COVID-19 disease, in throat and nose swab samples from patients who meet the criteria for testing.
Hospitals and laboratories will now be authorised to run the test on fully automated cobas 8800 and 6800 Systems, developed by Swiss diagnostics maker Roche, which are already widely available in the US. The machines can provide an individual result within 3.5 hours and will process up to 4,128 samples in 24 hours, Roche explained on Friday. The higher-end 8800 version can test patients about 10 times faster than Roche's existing test for the coronavirus, which runs on its MagNA Pure 24 and LightCycler 480 devices.
"Providing quality, high-volume testing capabilities will allow us to respond effectively to what the World Health Organisation has characterised as a pandemic," said Thomas Schinecker, the CEO of Roche Diagnostics. "It is important to quickly and reliably detect whether a patient is infected with SARS-CoV-2. Over the last few weeks, our emergency response teams have been working hard to bring this test to the patients. CE-mark certification and the FDA's granting of EUA supports our commitment to give more patients access to reliable diagnostics which are crucial to combat this serious disease."
"The virus is infecting people in an exponential way. We knew we had to go to the high through-put systems," added Schinecker. "This will help isolate patients who are infected, so you can keep the others healthy."
Roche said it is "going to the limits of our production capacity" to deliver as many of the faster tests as possible. There are currently 110 of these cobas machines in the US, and Roche has installed a "significant amount" of new ones in key locations around the country in recent weeks. The company expects to supply about 400,000 tests per week. As he announced a national emergency on Friday afternoon, President Trump promised that US testing capacity would be scaled up to five million within a month.
Comments »