17th March 2020
First human clinical trial of COVID-19 vaccine
A Phase 1 clinical trial evaluating a potential vaccine to protect against coronavirus disease 2019 (COVID-19) has begun at Kaiser Permanente Washington Health Research Institute (KPWHRI) in Seattle.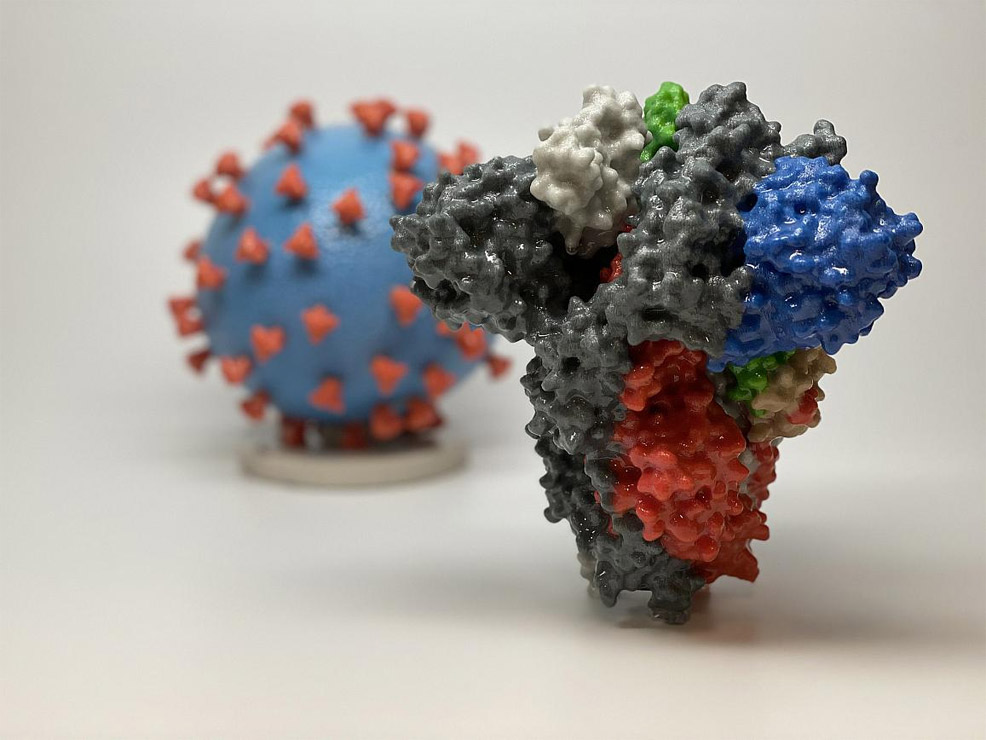 3D print of a spike protein of SARS-CoV-2, the virus that causes COVID-19, in front of a 3D print of a SARS-CoV-2 virus particle. Credit: NIH
Moderna, Inc. – a biotechnology company specialising in messenger RNA (mRNA) therapeutics – has announced that the first participant has been dosed in a Phase 1 study of mRNA-1273, a potential vaccine against the novel coronavirus (SARS-CoV-2). This trial is being conducted by the National Institutes of Health (NIH) and is funded by the National Institute of Allergy and Infectious Diseases (NIAID), which is part of the NIH.
mRNA-1273 is an mRNA-based vaccine encoding for a prefusion stabilised form of the SARS-CoV-2 spike protein. Pictured above, the spike protein (foreground) enables the virus to enter and infect human cells. On the virus model (background), the virus surface (blue) is covered with many spike proteins (red).
The vaccine uses messenger RNA to direct the body's cells to express a virus protein that it is hoped will elicit a robust immune response. mRNA-1273 has already shown promise in animal models, and this is the first trial to examine it in humans.
The open-label trial will enrol 45 healthy adult volunteers ages 18 to 55 years over a period of six weeks. The first participant – 43-year-old Jennifer Haller – received the investigational vaccine yesterday. The study is evaluating different doses of the experimental vaccine for safety and its ability to induce an immune response in participants. This is the first of multiple steps in the clinical trial process, final validation of which could take 12 to 18 months.
On 11th January 2020, Chinese authorities shared the genetic sequence of the novel coronavirus. Two days later, the US Vaccine Research Center (VRC) and Moderna's research team finalised the sequence for the SARS-CoV-2 vaccine and Moderna mobilised toward clinical manufacture. The first clinical batch was completed on 7th February 2020 and underwent analytical testing; it was shipped on 24th February 2020 from Moderna and delivered to the NIH from the company's manufacturing facility in 42 days from sequence selection.
"Finding a safe and effective vaccine to prevent infection with SARS-CoV-2 is an urgent public health priority," said Anthony S. Fauci, NIAID Director and a member of the White House Coronavirus Task Force. "This Phase 1 study, launched in record speed, is an important first step toward achieving that goal."
Moderna is now actively preparing for a potential Phase 2 study to build on data from the ongoing Phase 1 study being conducted by the NIH. Moderna intends to work with the FDA and other government and non-government organisations to be ready for this, and any subsequent trials, which are expected to include a larger number of subjects and will generate additional safety and immunogenicity data. Manufacture of the mRNA-1273 material for the potential Phase 2 trial, which could begin in a few months, is already underway. Moderna continues to prepare for rapid acceleration of its manufacturing capabilities that could allow for the future manufacture of millions of doses, should its vaccine prove to be safe and effective.
Comments »