31st March 2020
New test can detect COVID-19 in just five minutes
In yet another demonstration of how rapidly technology can advance, biotech firm Abbott Laboratories has developed a new molecular test for the detection of novel coronavirus (COVID-19), which delivers results in just five minutes.
Abbott Laboratories, headquartered in Illinois, United States, has been granted Emergency Use Authorisation (EUA) by the Food and Drug Administration (FDA) for adapting COVID-19 tests to its ID NOW platform.
This lightweight (3 kg, or 6.6 lb) and portable device (the size of a small toaster) is already the most widely available molecular point-of-care testing platform in the U.S. today. Its molecular technology – a unique system called isothermal nucleic acid amplification – provides rapid processing of samples and a high degree of accuracy, allowing clinicians to make evidence-based clinical decisions during a patient visit. Essentially, it highlights the presence of a virus by identifying a small section of its genome, then "amplifying" that portion until enough is present for detection.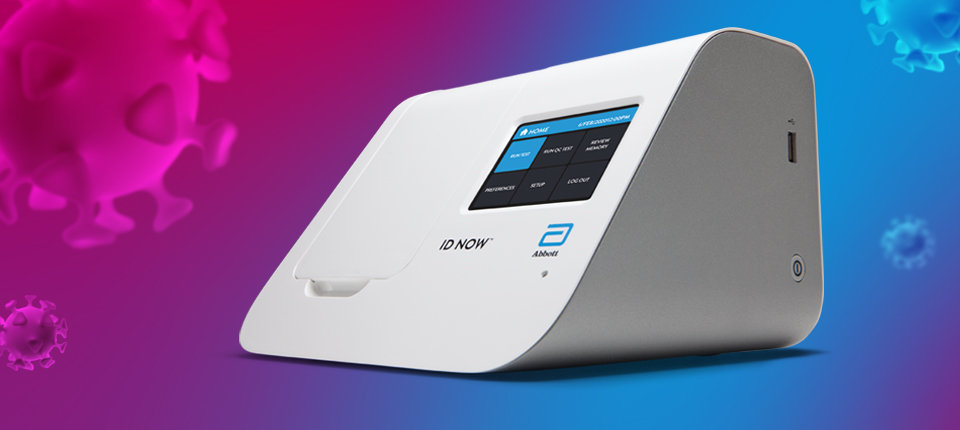 Positive results for COVID-19 are delivered in as little as five minutes – a substantial reduction from the 45 minutes offered by Cepheid's Xpert Xpress that we reported on a week ago, and the 3.5 hours of Roche Diagnostics' cobas systems a week before that. Negative results from ID NOW take slightly longer, but are verified in only 13 minutes.
Having received Emergency Use Authorisation (EUA) last Friday, Abbott is making ID NOW COVID-19 tests available this week to healthcare providers in urgent care settings in the U.S., where the majority of ID NOW instruments are already in use today. The company is working with the Administration to deploy tests where they can have the greatest impact. Thanks to its small size, ID NOW has the advantage of being usable in more non-traditional places. Abbott is accelerating production to deliver 50,000 ID NOW COVID-19 tests per day initially, with a total of five million tests expected by the end of April.
"The COVID-19 pandemic will be fought on multiple fronts, and a portable molecular test that offers results in minutes adds to the broad range of diagnostic solutions needed to combat this virus," said Robert B. Ford, president and chief operating officer, Abbott. "With rapid testing on ID NOW, healthcare providers can perform molecular point-of-care testing outside the traditional four walls of a hospital in outbreak hotspots."
Comments »