21st July 2020
Inhaler cuts risk of severe COVID-19 by 79%
UK respiratory drug company Synairgen has announced promising results from its trial of SNG001.
Hospitalised COVID-19 patients who received the SNG001 – a new formulation of interferon beta – had a 79% lower risk of progressing to severe disease, compared to the placebo.
"We are all delighted with the trial results announced today, which showed that SNG001 greatly reduced the number of hospitalised COVID-19 patients who progressed from 'requiring oxygen' to 'requiring ventilation'," said Richard Marsden, CEO of Synairgen.
"It also showed that patients who received SNG001 were at least twice as likely to recover to the point where their everyday activities were not compromised through having been infected by SARS-CoV-2. In addition, SNG001 has significantly reduced breathlessness – one of the main symptoms of severe COVID-19. This assessment of SNG001 in COVID-19 patients could signal a major breakthrough in the treatment of hospitalised COVID-19 patients. Our efforts are now focused on working with the regulators and other key groups to progress this potential COVID-19 treatment as rapidly as possible."
Interferon beta is already used to help treat multiple sclerosis, via injections. However, SNG001 was formulated to allow the drug to be given via inhalation using the nebuliser pictured below.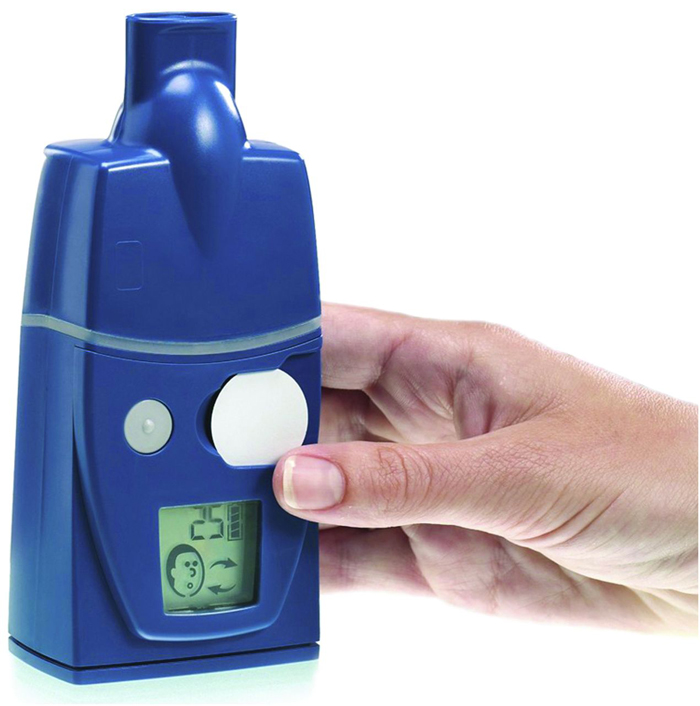 The double-blind, placebo-controlled trial recruited 101 patients from nine specialist UK hospital sites from 30th March to 27th May 2020. Patient groups were evenly matched in terms of average age (56.5 years for placebo and 57.8 years for SNG001), comorbidities and average duration of their COVID-19 symptoms prior to enrolment. Three subjects (6%) died after being randomised to placebo. No deaths occurred among subjects treated with SNG001.
"We are delighted with the positive data produced from this trial, which is the result of a momentous coordinated effort from Synairgen, the University of Southampton, University Hospital Southampton NHS Foundation Trust, and the highly expert research teams across the NIHR network and regulatory bodies in the UK," said Tom Wilkinson, Professor of Respiratory Medicine at the University of Southampton and Trial Chief Investigator. "The results confirm our belief that interferon beta – a widely known drug that, by injection, has been approved for use in a number of other indications – has huge potential as an inhaled drug to restore the lung's immune response, enhancing protection, accelerating recovery and countering the impact of SARS-CoV-2 virus."
"SARS-CoV-2 is known to have evolved to evade the initial antiviral response of the lung," said Stephen Holgate CBE, Professor of Immunopharmacology at the University of Southampton and the Co-Founder of Synairgen. "Our inhaled treatment gives high local concentrations of interferon beta, a naturally occurring antiviral protein – restoring the lung's ability to neutralise the virus, or any mutation of the virus or co-infection with another respiratory virus, such as influenza or RSV, as could be encountered in the winter if there is a resurgence of COVID-19."
Further analysis of results will be conducted over the coming weeks and reported in due course, with larger trials expected to follow.
Comments »