27th July 2020
700-petaflop supercomputer planned for 2021
As the world edges closer towards exascale computing, the University of Florida has announced a partnership with chipmaker NVIDIA that aims to create a 700-petaflop AI supercomputer next year.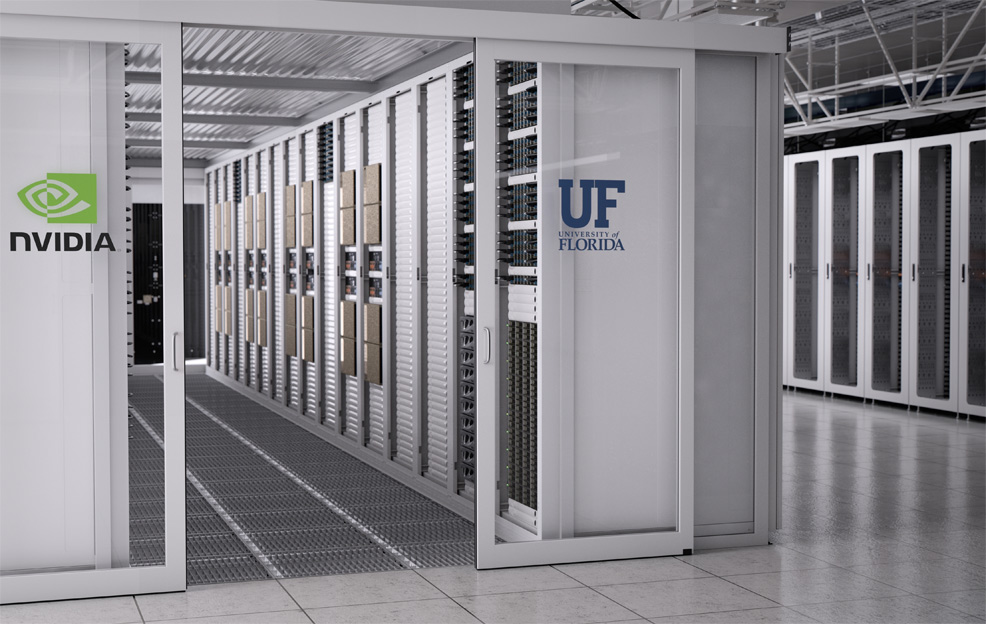 Artist's impression of the new 700 petaflop supercomputer planned for early 2021. Credit: University of Florida
The new machine will become the world's fastest AI supercomputer in academia – capable of 700 quadrillion floating point operations per second – and with a primary focus on artificial intelligence research and applications.
The $70 million public-private partnership is funded by a $25 million donation from alumnus and NVIDIA co-founder Chris Malachowsky, and $25 million in hardware, software, training and services from NVIDIA; plus an additional $20 million from the University of Florida (UF).
"The partnership here with the UF, the state of Florida, and NVIDIA, anchored by Chris' generous donation, goes beyond just money," said Jensen Huang, CEO of NVIDIA who co-founded the company with Malachowsky and Curtis Priem in 1993. "We are excited to contribute NVIDIA's expertise to work together to make UF a national leader in AI and help address not only the region's, but the nation's challenges."
NVIDIA will work closely with UF to upgrade the university's existing supercomputer, HiPerGator, using the recently announced DGX SuperPOD architecture that enables the rapid deployment and scaling of massive AI infrastructure. UF will be the first institution of higher learning in the United States to receive NVIDIA's DGX A100 systems, with 140 of these 5-petaflop units being integrated to produce the combined total of 700 petaflops. Each unit, almost a supercomputer in its own right, will contain 8 x A100 Tensor Core GPUs – the world's most advanced accelerators – for a total of 1,120 GPUs created from a 7-nanometre process and each containing 54 billion transistors.
When fully operational in early 2021, the supercomputer's abilities will be put to use in addressing major issues – such as rising sea levels (a particular challenge for the state of Florida), aging populations, data security, personalised medicine, urban transportation and food insecurity. The university hopes to produce 30,000 graduates in AI-related subjects by 2030.
"Computing power is at the heart of artificial intelligence, and this investment in the fastest AI supercomputer in academia will ensure that the U.S. stays on the cutting edge of research and development," said U.S. Rep. Michael McCaul, ranking member of the House Foreign Affairs Committee. "This system [...] is a model for building an AI economy for all Americans."
---
Follow us: Twitter | Facebook | Instagram | YouTube
Comments »