27th July 2020
World's first cultivated bacon and pork belly
Higher Steaks, a UK food technology start-up, has announced the world's first cultivated bacon and pork belly.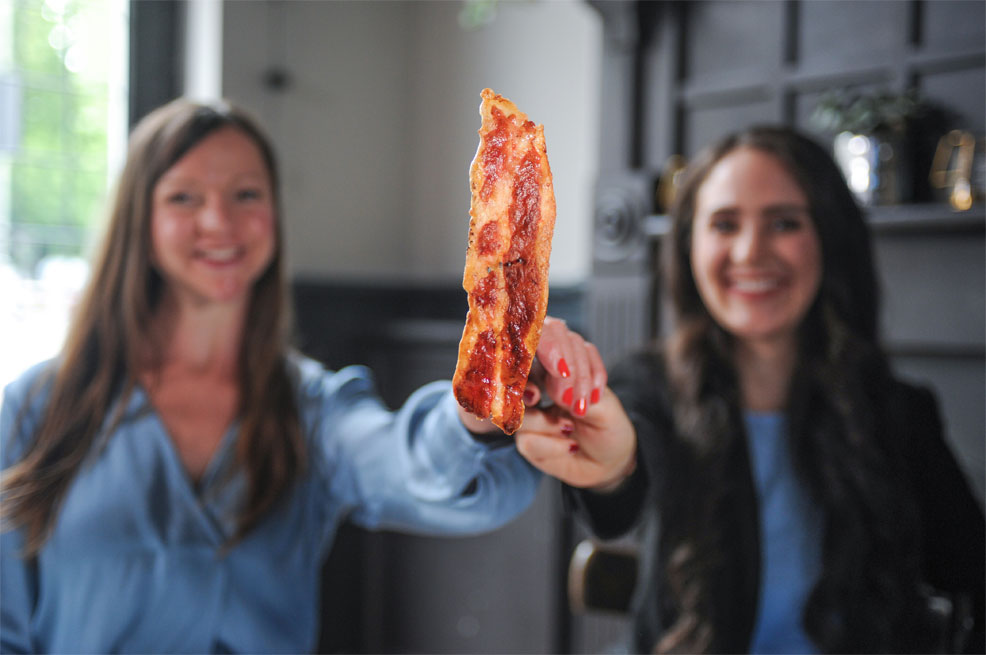 Credit: Higher Steaks
Pork is the most widely eaten meat, accounting for over 36% of global intake, according to the UN's Food and Agriculture Organisation. While demand has remained relatively flat in the USA, Europe, and other developed regions, it has soared in parts of Asia – particularly China, where increased urbanisation and disposable income led to a tripling of consumption during the last 30 years. By 2017, China was consuming half of the world's pork.
Recently, supply has been under major threat, due to the African Swine Fever. Dutch financial services provider Rabobank estimates that at least 40% of China's 360 million pig population in 2019 could have been lost.
In addition to this and other disease issues, pork has environmental impacts – leading to soil and water degradation. High-density pig production can release excessive amounts of nitrogen and phosphorus, while the high doses of copper and zinc given to pigs to promote growth eventually accumulate in the soil. Although greenhouse gas emissions from pork are lower than beef, they remain significant at 819 million metric tons of CO2 equivalent per year, about 10% of the total for livestock worldwide. Additionally, many people have ethical concerns over the treatment and slaughter of pigs.
In recent years, various biotech companies have started to develop new and alternative ways to produce meat. Plant-based inputs are one technique seeing increased popularity. A more exciting and futuristic method is cultured meat, using in vitro cultivation of animal cells. In 2012, scientists demonstrated a simple form of synthetic meat, consisting of thin strips of muscle tissue derived from a cow's stem cells. The following year, they made the first cultured beef burger. Since then, around 30 cultivated protein companies have launched all over the world. Subsequent milestones have included a cultured meatball, cultured chicken and duck dishes, the first lab-grown sirloin steak and even cell-based seafood.
This month, yet another breakthrough is reported. UK start-up Higher Steaks has revealed the world's first lab-grown bacon and pork belly. The prototypes seen in these photographs are produced using a hybrid method – combining both animal cells and plant-based proteins and fats.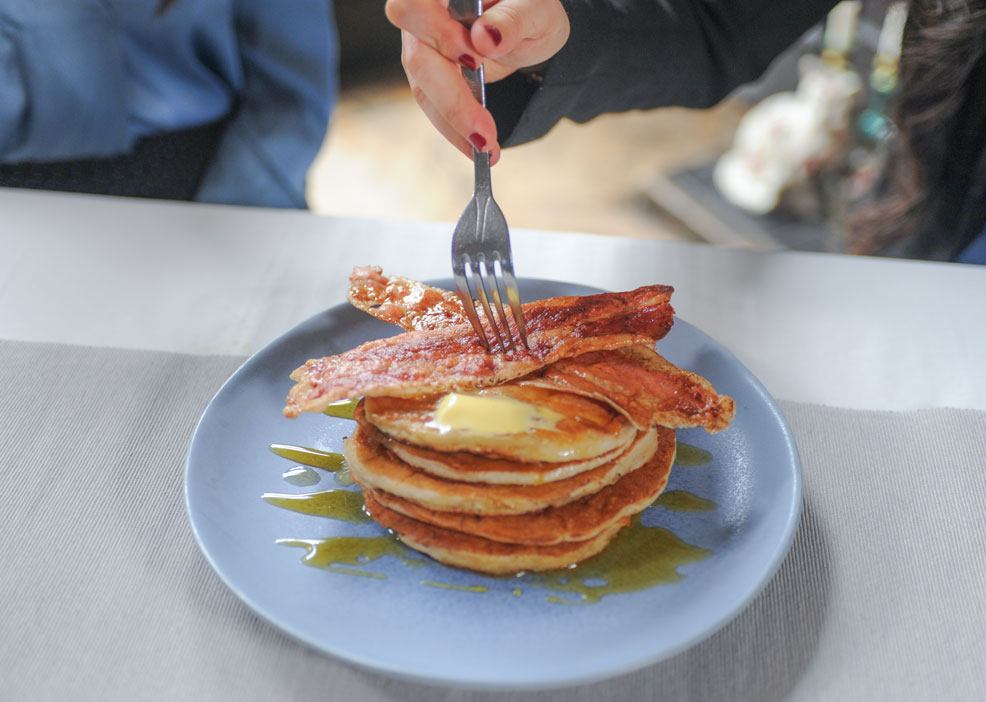 Credit: Higher Steaks
The samples took one month to produce, and are grown from induced pluripotent stem cells. While the pork belly contains around 50% animal muscle cells grown in a bioreactor and 50% plant-based proteins and fats, the ratio for the bacon strips is 70% and 30% respectively. Founded in 2017 by chemical engineer Benjamina Bollag, Higher Steaks now intend to make this prototype a commercial product as soon as possible.
"Our mission is to provide meat that is healthy and sustainable, without the consumer making any sacrifices on taste. The production of the first ever cultivated bacon and pork belly is proof that new techniques can help meet overwhelming demand for pork products globally," said Bollag, CEO. "This is a major milestone for Higher Steaks. We have made substantial advancements in a relatively short amount of time, whilst managing cashflow. We are accelerating the development of cultured pork products and the company is now focused on the next steps to bring our products to everyone's homes."
Dr James Clark, former Chief Technology Officer from Cambridge University spin-out company, PredictImmune, has been appointed as Chief Scientific Officer to help scale the production process. Dr Clark has over 25 years of experience in R&D, leading the development of many biotech and pharma products from discovery to commercialisation to IPO.
"The addition of Dr James Clark to our team gives Higher Steaks a significant advantage," said Dr Ruth Helen Faram, Head of R&D. "Cultivated pork belly and bacon have never been demonstrated before and Higher Steaks is the first to develop a prototype containing over 70% cultivated pork muscle, without the use of bovine serum."
Lab-grown meat offers major benefits in terms of animal welfare, food safety, and long-term sustainability. In particular, it could help in slowing the rise of antibiotic resistance. This nascent industry is forecast to see major growth – potentially accounting for the majority of meat production within a few decades and perhaps rendering traditional methods obsolete towards the end of this century.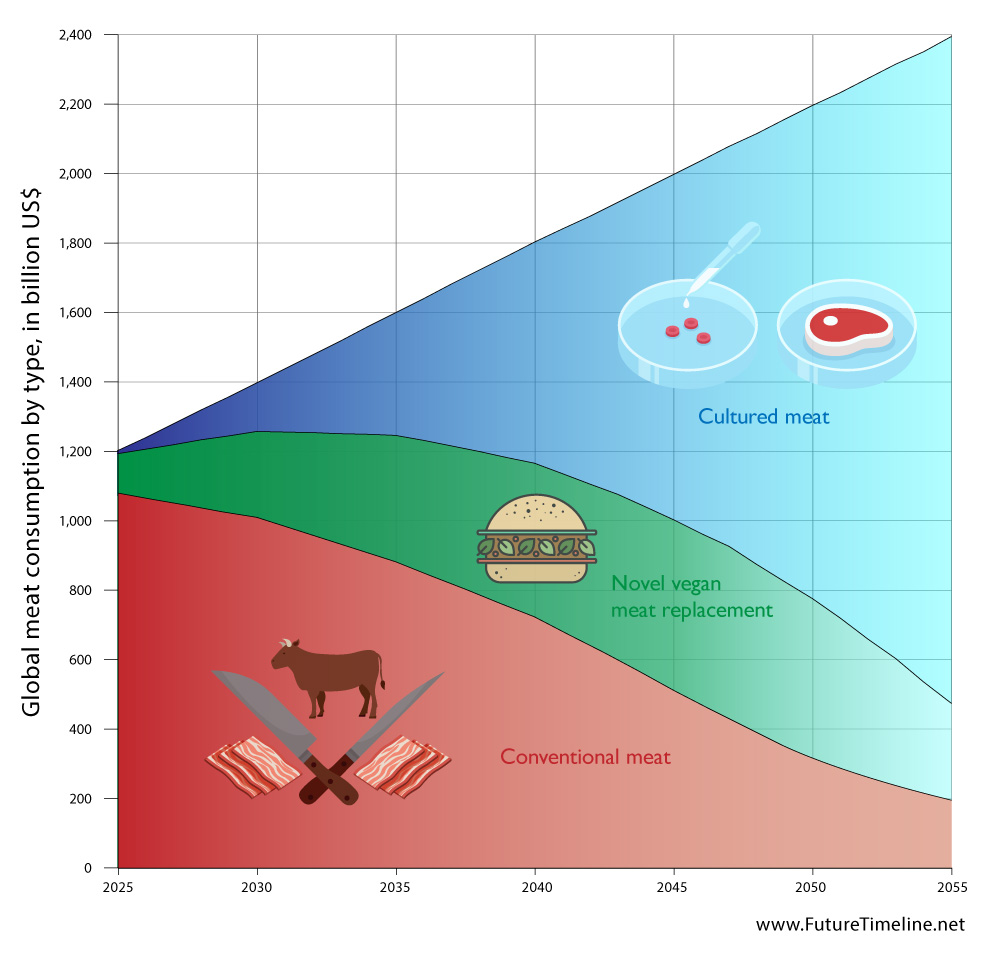 ---
Follow us: Twitter | Facebook | Instagram | YouTube
Comments »