19th May 2016
Superbugs could kill 10 million people a year by 2050
A major new report warns that antibiotic resistance will kill someone every three seconds by 2050, unless the world acts now.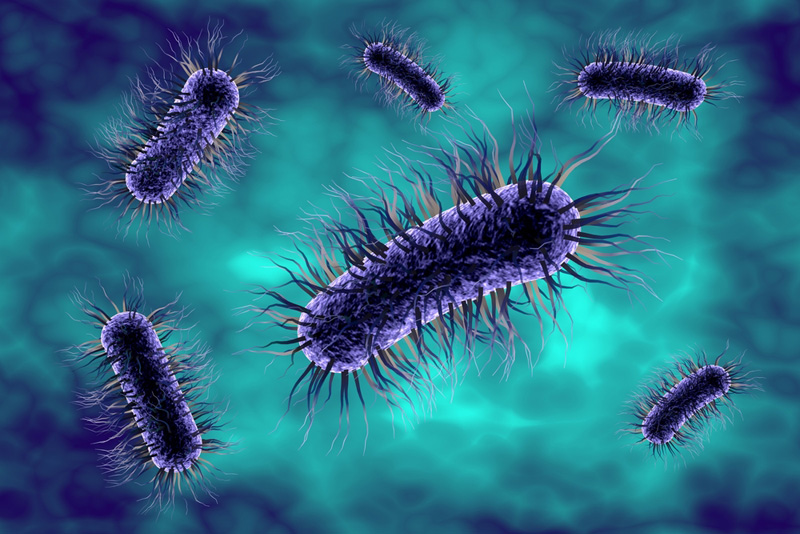 In July 2014, an international commission to investigate antimicrobial resistance (AMR) was established by UK Prime Minister David Cameron, in order to avoid the world being "cast back into the dark ages of medicine". Building on eight interim papers, a final report has been published today, headed by Lord Jim O'Neill. This global review on AMR sets out its final recommendations, providing a comprehensive action plan to combat drug-resistant infections and defeat the rising threat of superbugs – something that could kill 10 million people a year by 2050, the equivalent of 1 person every 3 seconds, and more than cancer kills today.
The report explains why AMR is such a massive problem and that it must be tackled. With each passing year it gets worse. Antimicrobial drugs are becoming less effective and the world is not developing enough new ones to keep up. Unless action is taken now, the cumulative economic cost by 2050 could be $100 trillion.
The report highlights 10 areas where the world needs to take action to tackle AMR. Many of these measures focus on how we can reduce the unnecessary use of antimicrobials, slowing the rate at which resistance increases and making our current drugs last longer. Others look at how to increase the supply of new drugs because, even if we reduce unnecessary use, our arsenal to defeat superbugs is running out and needs replenishing. All 10 areas are important, but four are particularly important and are outlined in more detail here:
• A global public awareness campaign to educate all of us about the problem of drug resistance. This must be an urgent priority and the Review urges international campaign developers, industry experts, and non-governmental organisations to consider how they could help to support such a campaign. This should begin this summer to really make progress, and could be launched formally by heads of state at the UN General Assembly in September.
• The supply of new antibiotics needs to be improved so they can replace existing ones as they become ineffective. A truly new class of antibiotic has not been seen for decades, because the lack of incentives for investment has led to reduced R&D, and many of the 'low hanging fruit' in terms of development have already been picked. We need a group of countries such as the G20 to reward new antibiotics after they are approved for use. These market entry rewards, of around one billion USD each, would be given to developers of successful new drugs, subject to certain conditions that ensure they are not 'over-marketed' but are available to patients who need them wherever they live.
• We need to use antibiotics more selectively through the use of rapid diagnostics, to reduce unnecessary use, which speeds the incidence and spread of drug resistance. To do this, we need a step change in the technology available. Doctors in most countries around the world still prescribe important medicines like antibiotics based only on their immediate assessment of a patient's symptoms, just like when antibiotics first entered common use in the 1950s. Governments of the richest countries should mandate that, by 2020, all antibiotic prescriptions will need to be informed by up to date surveillance and a rapid diagnostic test, wherever one exists.
• We must reduce the global unnecessary use of antibiotics in agriculture. In the US, for example, of the antibiotics defined as medically important for humans by the US Food and Drug Administration (FDA), over 70 percent (by weight) are sold for use in animals. A number of other countries are also likely to use more antibiotics in agriculture than in humans, but many do not even hold or publish the information. Firstly, surveillance needs to be improved in many parts of the world, so we know the extent of antibiotic use in agriculture. Targets must then be set by individual countries for this use, enabling governments to have the flexibility to decide how they will reach lower levels. Alongside this, we need to make far quicker progress on banning or restricting antibiotics that are vital for human health from being used in animals.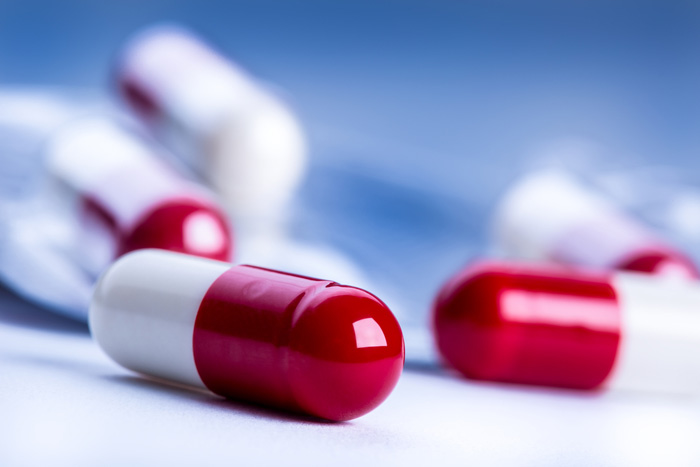 The report then discusses how these solutions would be paid for. The costs of action are dwarfed by the costs of inaction: the proposals made by the Review on AMR would cost up to $40 billion USD over 10 years. However, the cost of antimicrobial resistance between now and 2050 could be as much as $100 trillion USD. The economic case for action is clear, as well as the tragic human consequences of inaction. The solutions could be paid for by one or more of the following:
a) Allocating a very small percentage of G20 countries' existing healthcare spending to tackling AMR
b) Reallocating a fraction of global funding from international institutions to AMR
c) Apply an antibiotic investment charge to pharmaceutical companies who do not invest in research for AMR
d) Implementing a tax on antibiotics
e) Introducing transferrable 'vouchers' to reward new antibiotics
International collaboration – via the World Health Assembly, G7, G20 and United Nations – is needed to deliver these policy proposals and turn discussions on AMR into real action. This needs to build on promising steps made by governments, and by industry recently affirming its commitment to tackle AMR with a landmark declaration at Davos. Here, over 85 companies, including vaccine developers, large pharmaceutical companies, diagnostic developers and biotechs, committed to further action to reduce drug resistance, increase research and improve access. With this momentum, and with 700,000 people already dying each year from antimicrobial resistance, 2016 is a crucial year.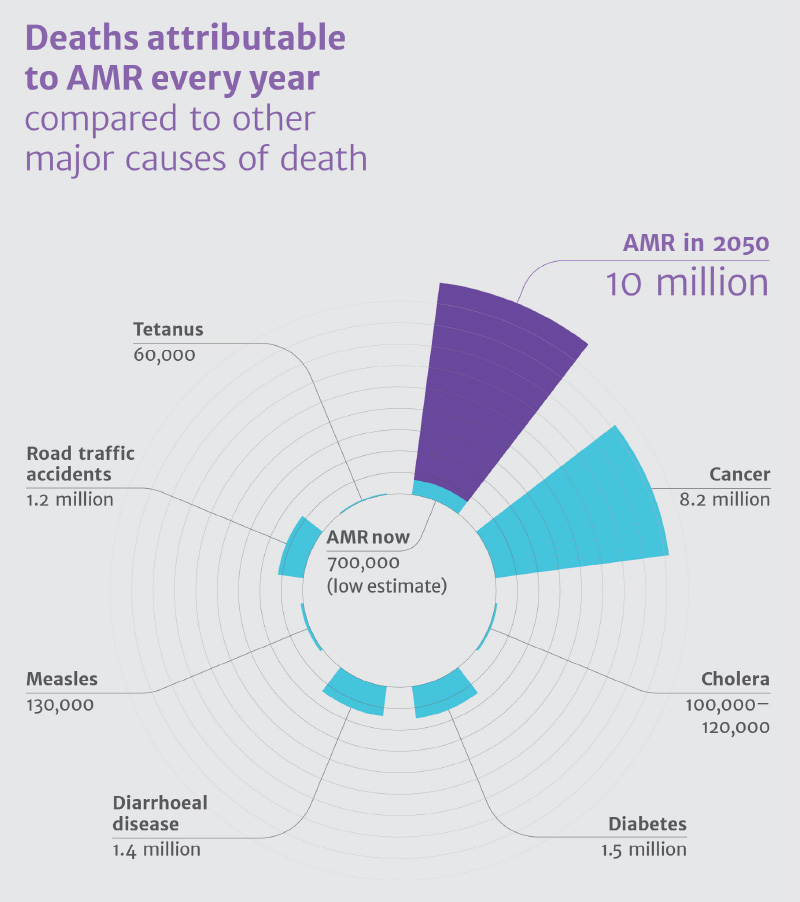 Lord Jim O'Neill, Chairman of the Review on AMR: "My Review not only makes it clear how big a threat AMR is to the world, with a potential 10 million people dying each year by 2050, but also now sets out a workable blueprint for bold, global action to tackle this challenge. The actions that I'm setting out today are ambitious in their scope – but this is a problem which it is well within our grasp to solve if we take action now. I call on the governments of the G7, G20 and the UN to take real action in 2016 on the ten proposals made by my Review, to avoid the terrible human and economic costs of resistance that the world would otherwise face."
George Osborne, the UK's Chancellor of the Exchequer, said: "Lord O'Neill's Review provides a stark warning that unless we take global action, antimicrobial resistance will become a greater threat to mankind than cancer currently is. It is not just a threat to health, but also to the world economy. Apart from the moral case for action of the sort Lord O'Neill proposes, the economic cost of failing to act is too great to contemplate. So I am calling on other finance ministries to come together this year and, working with industry leaders and medical experts, agree a common approach. I also want to thank Lord O'Neill for his tireless work on this subject. He has helped to propel it to the top of the global agenda, for which he deserves great credit."
"The invention of antibiotics in the mid-twentieth century was one of the greatest medical breakthroughs of the modern era," said Lelio Marmora, Executive Director of global health charity UNITAID. "Future generations will judge us harshly if we fail to halt and reverse the spread of antimicrobial resistance. I therefore wholeheartedly applaud the Review's proposals to incentivise the introduction of new drugs to replace ones that are failing as a result of mounting resistance."
Dr Margaret Chan, Director-General of the World Health Organisation, said: "WHO warmly welcomes this thorough and compelling review so brilliantly overseen by Lord O'Neill. Its 10-point platform for responding to antimicrobial resistance takes forward many issues raised in the WHO Global Action Plan on Antimicrobial Resistance. Importantly, the review tackles the burning need to find incentives that can get new products into the pipeline. If not, the scenario it paints for 2050 will surely jolt the last remaining sceptics into action."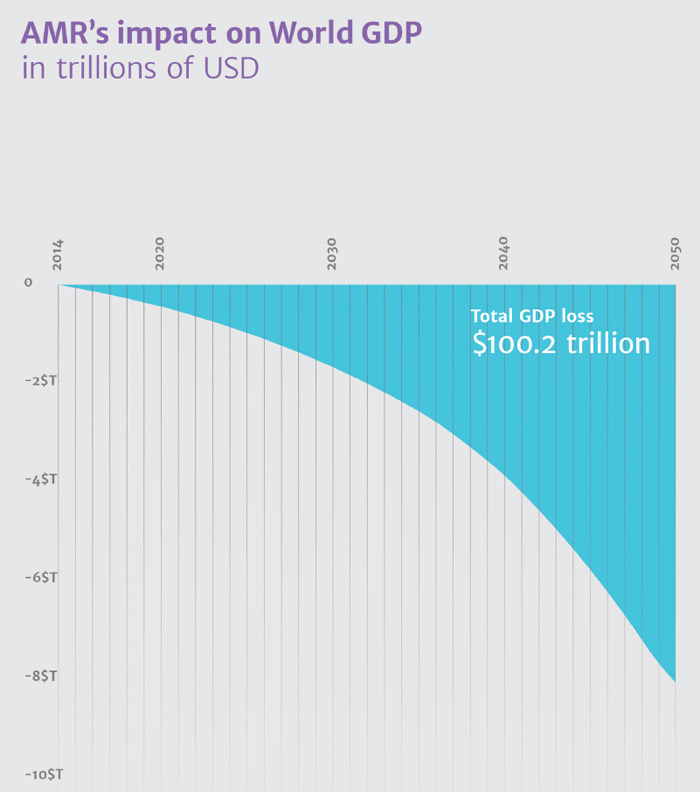 ---
• Follow us on Twitter
• Follow us on Facebook
• Subscribe to us on YouTube
Comments »