27th May 2016
Donald Trump vows to end climate change funding
At the Williston Basin Petroleum Conference on Thursday, Republican presidential nominee Donald Trump promised to end climate change funding and to greatly expand U.S. fossil fuel production.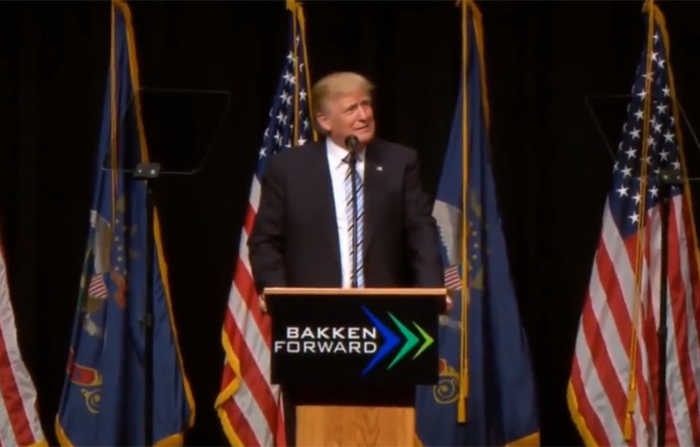 After clinching the GOP nomination for President, Donald Trump outlined his energy and environmental policies yesterday to thousands at the Williston Basin Petroleum Conference in Bismarck, North Dakota. During his speech, for which he received many standing ovations, Mr. Trump emphasised the need for an "America First" agenda.
"We're going to rescind all the job-destroying Obama Executive Actions including the Climate Action Plan and the Waters of the United States Rule," Trump said to applause from the audience.
"We're gonna save the coal industry," he said. "And other industries threatened by Clinton's extremist agenda. And it is indeed an extremist agenda. Perhaps even worse than Obama. I'm going to ask trans-Canada to renew its permit application for the Keystone Pipeline."
In December 2015, a global climate change pact was agreed at the UN COP21 summit. This represented a consensus of the 196 parties attending and included measures to reduce the global temperature rise from 4.5°C to 3.5°C by 2100. While far from adequate, it was the biggest milestone to date in terms of halting climate change, with nations around the world promising to curtail their greenhouse gas emissions and pursuing efforts to limit the rise to 2.0°C or below.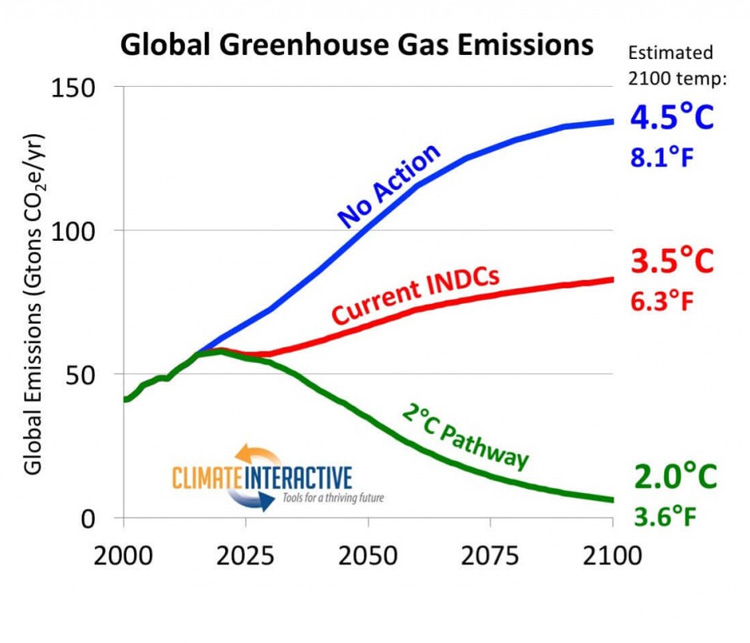 The United States pledged emission cuts of nearly 30% by 2025 (relative to 2005 levels) and claimed it was on track for an 80% cut by 2050. One of the main ways in which this goal would be achieved was through stricter regulations on power plants – the single largest source of emissions – to be introduced by the Obama administration.
In addition to boosting renewables, lowering their costs, and increasing the energy efficiency of homes and workplaces, the plan would also create tens of thousands of new jobs, improve air and water quality, prevent 3,600 premature deaths, prevent 90,000 asthma attacks in children and prevent 300,000 missed workdays and schooldays. Consumers would save an estimated $155 billion from 2020-2030.
However, in his speech yesterday, Trump made it clear that he would "cancel the Paris climate agreement" and "stop all payments of the United States tax dollars to UN global warming programs." He also criticised the Endangered Species Act for being used to limit oil and gas operations and promised to "revoke policies that impose unwarranted restrictions on new drilling."
Interestingly, Trump recently applied for permission to erect coastal defences at his seaside golf resort in County Clare, Ireland. A permit application for the wall specifically refers to erosion caused by rising sea levels and extreme weather as a result of global warming. This is despite him calling it "pseudoscience," "bullshit" and "a total hoax."
Real Clear Politics' national polling shows that Donald Trump and Hillary Clinton are now almost level, following a sharp decline in the latter's popularity over the last two months. Their average scores now stand at roughly 43% each. The full speech at the Williston Basin Petroleum Conference is available on YouTube.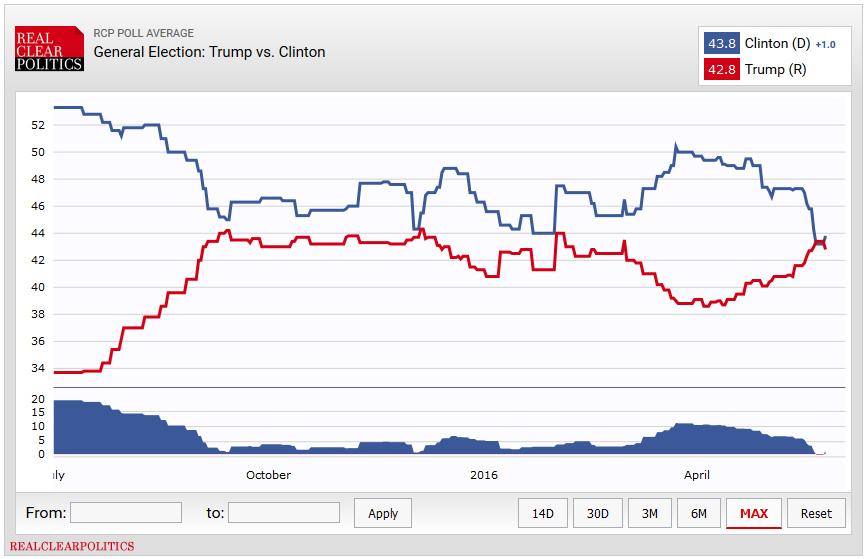 ---
• Follow us on Twitter
• Follow us on Facebook
• Subscribe to us on YouTube
Comments »