29th July 2020
Virgin Galactic reveals SpaceShipTwo cabin interior
UK aerospace and space travel company Virgin Galactic today revealed the cabin interior of its SpaceShipTwo vehicle, VSS Unity, in a virtual event streamed live on YouTube.
Founded in 2004 by Richard Branson, Virgin Galactic is developing commercial spacecraft with a long-term aim to provide suborbital flights to space tourists and suborbital launches for space science missions.
Branson had initially planned to see a maiden flight by 2009, but this date was delayed for several years – most seriously by the October 2014 in-flight loss of the SpaceShipTwo VSS Enterprise. A new spacecraft, the VSS Unity, achieved the project's first suborbital space flight in December 2018. This reached a height of 82.7 km (51.4 miles) above the Earth at supersonic speeds, carrying two pilots.
A subsequent test in February 2019 carried three people including a passenger, with a member of the team floating within the cabin during a spaceflight that reached an even higher altitude of 89.9 km (55.9 miles).
Virgin Galactic has now released images of a new cabin interior design, produced in collaboration with London design agency, Seymourpowell. If the company is successful enough to begin offering commercial flights in the coming years, future space tourists will get to experience the luxurious comfort seen here as they take in the literally out-of-this-world views, while in zero gravity.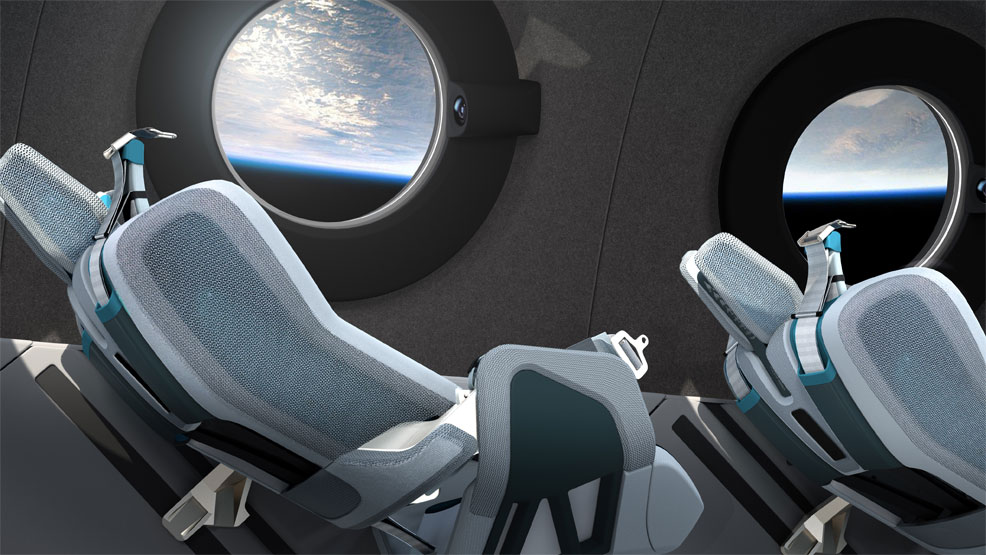 © Virgin Galactic 2020
Individually sized, reclining seats with G-force management and float zone volume will be enhanced with automated mood lighting that harmonises with each flight phase. Personal seat back screens will connect astronauts to live flight data, with 16 cameras providing high definition footage. The cabin architecture is designed to facilitate effortless movement in weightlessness, while the 12 cabin windows offer astronauts multiple observations points to gaze at Earth from. Personal, integrated communication systems complement the screens with a direct connection for each astronaut to the two pilots.
Virgin pioneered mood lighting on its commercial airliners, and that idea has been translated by Virgin Galactic, into the new era of spaceflight. Multi-colour LEDs are concealed within the "Halo" window surrounds and are used to subtly reflect back, and therefore elevate, the human responses to each of the contrasting stages of flight. At the pinnacle of the experience, as the Earth comes into view against the black sky of space, all lighting is extinguished, bringing an instant focus to the profoundly beautiful vista.
Each window has soft extended edges, which allow astronauts to perfectly position themselves for 360 degrees of awe-inspiring views – from the beauty of our home planet, to the infinity of outer space.
To further elevate the experience of floating in zero-G, the cabin includes a first for space travel: a large, circular mirror on the aft bulkhead which, by adding a tint to the reflective surface, allows astronauts to view themselves weightless – while illuminated by the natural brightness of the Earth.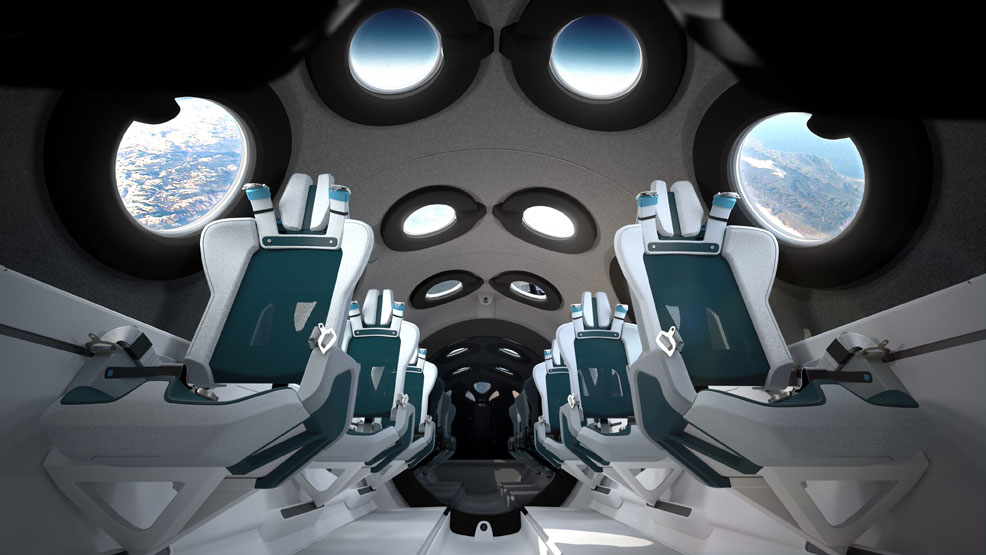 © Virgin Galactic 2020
Virgin Galactic's Future Astronaut Community, which now has 600 members, has always been clear that having photos and videos of their spaceflight experience to share is of paramount importance. The 16 cabin cameras, plus those in the cockpit and mounted externally, will generate high definition output to provide everything from the first Instagram posts, to a beautifully edited and historically significant personal movie.
"In just my second week as Virgin Galactic's CEO, it is with great pride that I can lead our talented teams in revealing this latest milestone in our journey to space," said Michael Colglazier, who now leads all business operations at the company, including its manufacturer of air and space vehicles. "The spaceship cabin interior is in many ways the design centrepiece of the astronaut journey and what has been created will both facilitate and elevate a uniquely profound and transformational journey for the thousands who will fly. The fascination with spaceflight is universal and Virgin Galactic is here to satisfy it. We are particularly proud to be able to share this latest milestone with millions around the world, particularly during these unusual times."
''When we created Virgin Galactic, we started with what we believed would be an optimal customer experience and then built the spaceship around it," said Richard Branson, who founded Virgin in 1970. "We will continue with that ethos as we expand our fleet, build operations and underpin Virgin Galactic's position as the Spaceline for Earth. This cabin has been designed specifically to allow thousands of people like you and me to achieve the dream of spaceflight safely – and that is incredibly exciting.''
Ticket prices are a little higher than your average plane flight, however – a seat will cost you $250,000. The company plans to build two more SpaceShipTwo vehicles by 2021, with a total of five by 2023, meaning potentially hundreds of scheduled flights. A total of 9,000 customers have already expressed an interest.
Virgin may eventually target its suborbital spacecraft at larger markets including high-speed, point-to-point international travel via outer space. This could see it competing against traditional long-distance airline flights. Alongside Virgin Galactic, other space travel companies will be emerging this decade. Analysts at the Swiss investment bank UBS estimate that space tourism will be a $3 billion market by 2030.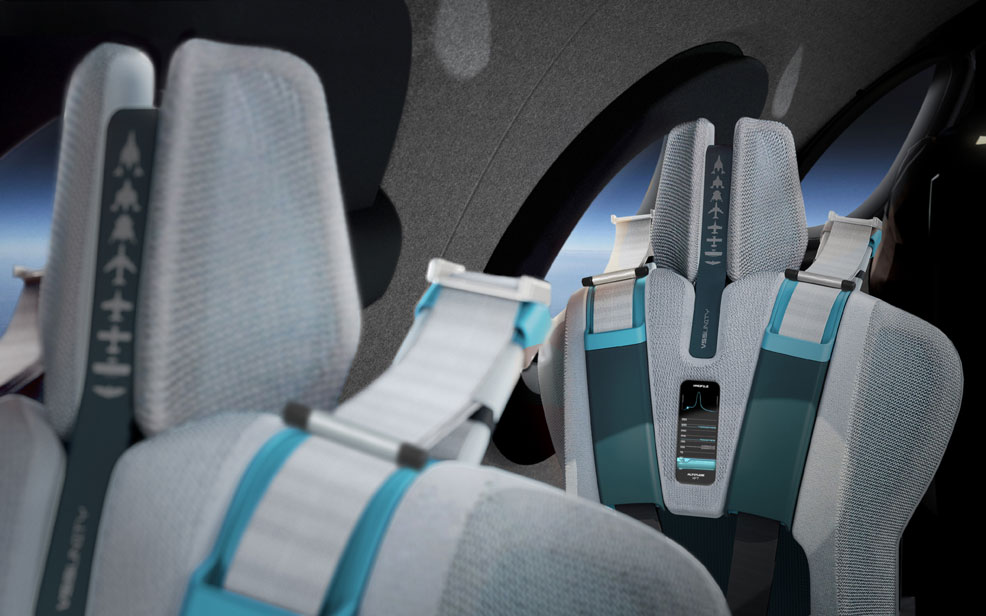 © Virgin Galactic 2020
---
Follow us: Twitter | Facebook | Instagram | YouTube
Comments »