3rd March 2021
New deepfake tool reanimates the dead
Israeli genealogy company MyHeritage has released a groundbreaking new feature to animate faces in still photos.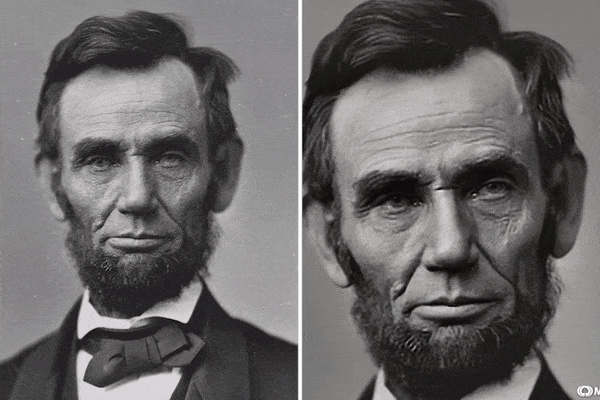 MyHeritage, an online service for creating family trees and for searching historical records, has announced the release of Deep Nostalgia, a new feature that animates the faces in still photos. Powered by an intelligent algorithm, it can provide new perspectives on the past, by generating a realistic depiction of how a person could have moved and looked if they were captured on video. MyHeritage is the only company to offer a complete suite of features for colourising, restoring, enhancing, and now animating historical photos.
The technology for animating faces has been licensed from D-ID, a company that specialises in video reenactment using deep learning. Deep Nostalgia uses several pre-recorded "driver" videos, which direct the movements in the animation and consist of sequences of real human gestures. A preferred driver is automatically selected for each face based on its orientation, and then seamlessly applied to the photo. The result is a short, high-quality video animation of an individual face that can smile, blink, and move. To achieve optimal results, the photos are enhanced prior to animation using the MyHeritage Photo Enhancer, which brings blurry and low-resolution faces into focus and increases their resolution.
Deep Nostalgia is the newest AI-based tool from MyHeritage, and follows two highly-acclaimed features that the company released last year – the MyHeritage Photo Enhancer and MyHeritage In Colour, which colourises black and white photos and was recently expanded to also restore the colours in faded colour photos. These features have gone viral and have now been used over 30 million times.
"You'll have a 'wow moment' when you see a treasured family photo come to life with Deep Nostalgia," said Gilad Japhet, Founder and CEO of MyHeritage. "Seeing our beloved ancestors' faces come to life in a video simulation lets us imagine how they might have been in reality, and provides a profound new way of connecting to our family history."
"This new product integration is an exciting collaboration between two innovative companies," said Gil Perry, Co-Founder and CEO of D-ID. "We're thrilled that our technology will be accessible to millions of people on MyHeritage and hope many will enjoy the impact of video reenactment for historical photos."
Deep Nostalgia is a freemium feature on MyHeritage. Users can animate several photos for free, regardless of the number of faces in the photo. Beyond that, continued use requires a subscription. The video can easily be shared with family and friends on Facebook, Twitter, WhatsApp and other social media.
---
• Follow us on Twitter
• Follow us on Facebook
• Subscribe to us on YouTube
Comments »